Staff Columnist Sparky LD returns after another lengthy hiatus to once again bring us behind the scenes at the Walt Disney World Resort. This time around, Sparky fills us in on the story and technical aspects that are a part of the Magic Kingdom's night spectacular, Spectromagic.
The back-story and technical aspects behind Spectromagic are both amazingly detailed. The story itself is little know, so why don't we start with that?
The SpectroMen are keepers of light.  They hold the parades magical light and transform it for you in the midst of the night.  They come from a land called LightSpriation where everything is filled with rays of light and magical bursts of color. They were always afraid to come out of hiding and share their magical light, until one day, Mickey, the SpectroMen King, asked if they would join him in a nighttime festival of magic and light, and come and bring the magical light for everyone to see. Scared to confront people, they hesitated.  After much consideration, the SpectroMen agreed.  They brought along their magical SpectroBalls and Light-Trumpets to spread the joy of their magical light to everyone.  Mickey controls the light they magically create and powers the parade through his Electro-ball, changing it from night to day, or crystal to multi-color. The story of the SpectroMen has never really been told, or even mentioned.  Creative Entertainment uses back-stories, as well as Walt Disney Imagineering, to help create the ride, show, or parade.  Like who, what, when, why and where.  The SpectroMen aren't really scary, just misunderstood creatures of the night that just want to bring you their power of magical light.
Over the years, the parade has experienced a few minor changes.  Back in its original run, the SpectroMen, Ursula, and King Tritons beard were fiber optic.  The Bubble Fish unit used to shoot bubbles from their mouths.  The Opening unit, with the trumpets, used to have a completely different trumpet music track than what's currently played.  All of these were removed when the parade began its second run in 2001. SpectroMagic originally opened October 1, 1991, and ran to May 21, 1999.  It went on hiatus and began its second run on April 2, 2001, and has been running frequently since then.
The Spectromagic parade went on a hiatus when the Main Street Electrical Parade made its return to the Magic Kingdom for its final run. SpectroMagic returned in Spring 2001 with the following changes:
Spectro-men have new heads
Genie(from Aladdin) replaced Roger Rabbit in Music scene
Sebastian(from the Little Mermaid) animatronic and bubble lighting system added to King Triton's unit
Jimmy Cricket animatronic character added to the finale unit
The parade lasts about 20 minutes from start to finish. The parade unit order was different when it first started.  It used to step off (begin) with the 2 SpectroBalls, the Trumpet unit, Mickey unit, Title unit, then two more SpectroBalls.  Today the parade steps off with the Trumpet unit, Title unit, Mickey unit, and then the 4 SpectroBalls. SpectroMagic is designed as a moving gallery with each section themed to a different area like, Music, Under the Sea, Sleeping Beauty Gardens, etc. Each section contains a large gap to give the viewers clearance or breathing room to take in that section and cleanse before the next arrives.  This way you don't overlap themes, and/or musical themes of that section with the one in front of it.
SpectroMagic is an art form in itself. It portrays classical Disney Films and characters through light.  This art form can show time change that a normal parade can't.  For instance, the Sleeping Beauty Garden Section.  The Good Fairies, Fauna, Flora, and Merriweather, change the gardens from day, with bright colored flowers and leaves, to a beautiful blue night.  A better example would be the finale section.  It takes the section from a crystal clear white, to an array of magical colors.
Creative Entertainment and John Haupt, the parades Project Lighting Designer, designed each section with some type of effect that would go off, or a transformation that would happen at the cue of music.  Its main purpose is to portray Disney in a new innovative way using newer lighting technologies.  Some of these technologies include Electro-Illuminescents, Flow Neon, Quantex (a military developed lighting technology), Holographic Prismatic Film, Fiber Optics, and Light Spreading Thermoplastics. There is also a never before seen lighting effect on the Mickey Unit.  Project Lighting Designer, John Haupt calls it the "confetti of light".  This effect is seen on the back of the Mickey Unit.  It's a 24 step cascade of light down the cape and up the back to a height of 17ft. It uses xenon flashlights and mirror balls.  "It produces six-million-beam candlepower", Haupt says.  "With a normal flashlight, you might have 125 candlepower.  It is so brilliant you may actually see little beams of light glancing through the air — thousands of them — like when sun rays come through the clouds."  It's a "first" for a float, accomplished through a custom computer.
The costumes for the parade contain metallic sections to spread the costumes' lights more.  Some costumes are even outfitted with sequins. Some materials were imported from France and Italy, while others were custom made and dyed specific colors.  Each costume is lined with tiny lights, now updated to LEDs.  Each costume also contains a battery pack and a RF transmitter unit for syncing the costumes lights to the audio track to change colors (only for the finale section).
Each unit has on-board audio that's synced to an under-liner that's played along the parade route on what's known as "zone" speakers.  The units have specialized tones, character voices, special effects audio, and unit audio that are contained in a separate track per each.  These tracks, and various other tracks used in the parade, are all synced using DTMF tones (Dual Tone Multiple Frequency), a series of digitized tones that send packets of Time-coded data to the units which is then used to sync the audio, lighting and special effects.  The audio is digitally stored on the unit, thus canceling signal dropouts between the units. The audio is stored on state-of-the-art micro-chips.  Through an abundance of electronic triggers, the audio and other effects are activated.  Electronic cross references synchronize the show.  With the previous system used, the audio was sent to the unit via RF transmissions, which caused drops outs along the route.  By storing the audio on the unit, the only thing needed to be sent was the information used to sync that audio.  Audio is all controlled and backup stored in DACS (Digital Animation Control System) where all the attractions, shows and parades are controlled from and audio is stored in, underneath the Magic Kingdom.  From here the information is sent to a park level computer. From there the DTMF tones are transmitted over a low radio frequency to the antenna on the castle, from there to each unit on the route.  The audio is a first for this parade.  It's the first time in Disney history to have parade audio in ¾ time.  The music was composed by John Debney, and arranged by John and Steven Skorija into a 14 min suite.
The lighting is all stored on the unit, and monitored, as well as the audio and special effects, through a PLC (Programmable Logic Controller) and as well as a Programmable Lighting Console.  The lighting is sent through relays and dimmers to each light or section of lights on the unit.  The units also utilize chase units, which can randomize strands of lights to chase, twinkle, blink, or flash on and off.  There are 11 colors of lights used including clear. There are also twinkle lights, and strobes on the units. A quote from John Haupt explains, "A lot of the preliminary technical work for the Fantillusion parade was proof of concept in this parade. So it's kind of the interim step between The Main Street Electrical Parade and Fantillusion." SpectroMagic is a marvel of the computer age.  Lighting utilizes about 30 mini-computers.
Here are some fun-facts about the parade:
Total Number of units: 29 units and 7 Whirly Pods (Includes hitched units)
Total Length: 596′ (with tow bars – 664″)
Estimated Total Weight: 258,000 lbs/117 tons
Total Number of Unit Batteries: 948
Longest Unit: Unit 5-F; Chernabog, total wing span – 30'6″
Unit 1-B; Title Unit – 25'6″
Shortest Unit: Unit 4-D: Bubble Fish – 7'6″
Widest Unit: Unit 3-A; Peacock – 14'0″
Thinnest Unit: Unit 4-D; Bubble Fish – 3'11"
Tallest Unit: Unit 6-E; Carousel – 24'0″
Largest Unit: Unit 1-B; Title Unit – 286 Sq. Ft.
Total Wattage for one Parade: 442,260 watts
Total # of Audio Speakers: 204
Total Audio Wattage: 72,000 watts
Total Number of Audio Batteries: 112
Total # of Miniature Lights: 600,000
Most used Color (Besides Clear): Blue
Unit with the most Mini-Lights: Unit 6-E; Carousel – 54,892
Unit with the least Mini-lights: Unit 4-G; Sebastian – 2,722
Total amount of Fiber Optics used: 100 miles
Unit with the Most Colors: Unit 6-E; Carousel – 11 colors
Total Cast: 118 (Includes performers, float drivers, coordinators, and valets)
Spectromagic Parade Units:
Entrance Unit with Trumpeters
Title Unit heralding SpectroMagic
SpectroMen on SpectroBalls (4 pods)
Mickey Unit
Music Unit (3 units hitched)
Garden Unit 1 (Peacock)
Garden Unit 2
Garden Unit 3 (Waterfall at back)
Giant Fish Unit
Bubble Fish Unit (3 units hitched)
The Little Mermaid Unit (3 units Hitched)
Whirly Fish (2 pods)
Ursula Whirly Unit (1 pod)
Fantasia Opening Unit with Spinning Hippo
Diana Unit(3 units hitched)
Fountain Unit
Chernabog Unit
First Finale Unit (3 units hitched)
Carousel Unit
Second Finale Unit (3 units hitched)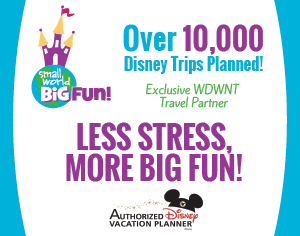 I don't know about you, but there are times when planning a Disney vacation can be overwhelming! There are so many options, where to stay, when to go, is this the best price. So, I want to introduce you all to Cindy Minor and the team at Small World Big Fun. They will help you plan your Disney vacation for FREE. Contact them today!