Chuck Canzoneri managed to sneak in another trip to Disneyland before his vacation to Walt Disney World next week, so let's get to his pictures:
Set-up for the Candlelight Processional stage in front of the Main Street Train Station.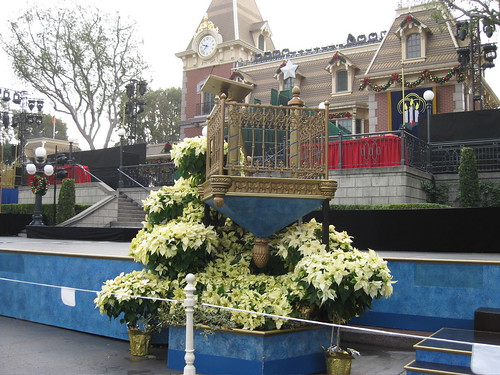 Due to construction on the stage, the Main Street Train Station is currently closed.
The Candlelight Processional will be held this upcoming Saturday & Sunday during the evening, with narrator John Stamos.
Yesterday was one of the few days of the year when Disneyland makes hand made Candy Canes on Main Street.
You can see the big roll of candy under the guy's left elbow. He keeps it warm while his partner pulls off the long strands.
After being hooked, the 3rd chef lays the candy canes down to cool.
Open for little over a week, one of the It's a Small World Holiday clock soldiers has been taken down for repairs.
Big Thunder Mountain Railroad is currently closed for a short refurbishment through this Friday.
For being a short refurbishment, it's amazing that a big chunk of the attraction is under tarps like this.
Lots of scaff-holding.
A real live Reindeer over at Santa's Reindeer Round-up.
Chuck's description that he gave for this picture isn't entirely family friendly. :)
Mr. Incredible traps his best friend Frozone in a phone booth!
Walt & Mickey looking over a beautiful Christmas night at Disneyland.
Thanks once again for your photo report Chuck!