It's once again time for one of my photo reports from the Disneyland Resort, let's see what's going on at the parks:
The Year of a Million Dreams decorations have been removed from the security tents.
The CALIFORNIA letters are back to their original gold color scheme.
Celebrate Today! banners are being put up through-out DCA.
The old Lucky Fortune Cookery is to become the new home of Concina Cucamonga.
The Golden State Amphitheater is walled off to get some enhancements for World of Color viewing.
There's lots of stuff going on in the Paradise Pier lagoon as these next batch of pictures will show.
The World of Color lenticular panel is back on the Paradise Pier bridge.
The pin trading cart as well as the face painting stands have been moved to in front of Treasures in Paradise from the other side of Paradise Pier where construction is currently going on.
Garbage Bags in Paradise!
These boards run in between the California Screamin' launch & the extended queue for Toy Story Midway Mania.
The blue shields were added around the sides of Ariel's Grotto most likely to prevent view into the lagoon.
The painting of Mickey's Fun Wheel is really coming along.
The new color scheme will mainly consist of yellow, black, & red, aka) Mickey's colors.
The new Games of the Boardwalk facades are also really starting to show.
These stores are expected to close for their make-over when the Games of the Boardwalk open up.
This Maliboomer tower has been closed forever!
Ever-increasing construction on the DVC expansion of the Grand Californian. It's amazing how close it'll be to Mulholland Madness!
The Year of a Million Dreams banners are unfortunately still up in Paradise Pier.
More work on the World of Color Amphitheater.
The front side of Mickey's Fun Wheel shows similar progress.
Grizzly River Run was closed all day, two days before its scheduled refurb.
A couple of nice sweaters.
I had really bad luck yesterday & ran into High School Musical 3: Right Here! Right Now! 4 times!
The Cars meet 'n greet is back opposite Soarin' Over California.
More Celebrate Today! banners up in Sunshine Plaza.
Off the Page in the Hollywood Pictures Backlot had both the 9 inch & 3 inch Vinylmation figures.
I don't like the fact that they're packaged & designed to be a mystery as to what you get. I like to know what I'm purchasing before I purchase it!
This updated Fantasmic! CD has been on sale for a little while. It features both Disneyland's & Walt Disney's World's versions of Fantasmic!
New Celebrate Today! popcorn buckets.
Oh no, not High School Musical again!
Awesome new DCA merchandise featuring what could be the park's new logo.
Now moving over to Disneyland… The awesome new Mickey Floral for What Will You Celebrate?
I love these new lamp-post decorations!
As you can see, there are a lot of different color ones.
The walls that were around the Christmas Tree & Mickey Pumpkin location are now gone.
Celebrate Today! decor in Celebrations Custom Printers.
The only mention of the What Will You Celebrate? name I've seen anywhere in Disneyland or Walt Disney World.
The entire east side of the Hub is still engulfed by construction walls for the Main Street re-paving project.
Along with the Bank of Main Street, the Plaza Pavilion was being used as an Annual Passport Redemption Center yesterday.
Who says 2009 is going to be a bad year for Disney!?
I guess it's too windy to put up tarps… Kinda ugly if you ask me.
Only one side of the Matterhorn was operating, & the line stretched pretty much all the way around the mountain!
Sleeping Beauty Castle is back to it's glorious original self.
I must say I do miss the Christmas decorations!
Quite a long line for the Sleeping Beauty Castle Walkthrough.
The Once Upon a Time… Disney Princess Shoppe is in the process of becoming Anaheim's first Bibbidi Bobbidi Boutique.
It's a Small World is closed for conversion back to the original version, with the addition of the Disney characters & American room.
This video shows that quite a lot of the moving parts of the facade were turned on.
They sure are taking their time with taking down the exterior holiday decorations!
While the attraction is closed, the It's a Small World Toy Shop remains open.
For some reason, the west side of Small World wasn't walled off.
It's so sad to see the stage at the Princess Fantasy Faire just sitting there. Hopefully they put a big show back in the theater sometime soon!
The line to meet the Princesses was the worst I've ever seen it! This line must of been over an hour!
As I mentioned earlier, this side of the Matterhorn wasn't operating.
A new wait time sign at Pixie Hollow. The line was more like 20 minutes though.
Everyone in the queue was getting wet thanks to these jumping fountains, very reminiscent of the ones they used to have at the Imagination pavilion in Epcot.
I have to give my greatest praise to this Iridessa actress. I noticed a lot of the guests just basically ignoring that she was there to have pictures taken with & autograph books signed, while they just wanted to meet Tinker Bell. The girl played her way through it really well, & I definitely commend her for that.
Tinker Bell was great as usual. She spent a lot of time with the young guest in front of me who didn't seem to want to look at the camera!
More work on the Main Street re-paving project.
Main Street is also back in it's original glory.
The Remember Dreams Come True attraction poster is back up under the Railroad tracks.
Snow White, Aurora, Belle, Cinderella, & oddly enough Mary Poppins came out to the main entrance for meet 'n greets. It wasn't organized all that well this time, so it was kind of hard to get pictures or even a line set up as the Princesses were all in one corner together.
I guess the sun really got to me in this picture!
And it was just too hard to get to Cinderella, so I headed out of Disneyland. Here you see more Celebrate Today! banners in the Esplanade.
Billboards for Race to Witch Mountain, Space Buddies, & Bedtime Stories.
I can't wait for Up!
A monumental mistake if you ask me, getting rid of Toon Disney for this that is.
Long lines at the ticket booths!
But we're not leaving yet! We're actually going to head back into DCA.
This billboard in the Hyperion Theater waiting area could really do with a replacement. It's all ripped up around the edges.
The best shot I could get of the new color scheme on the Timon parking lot entrance.
Now for a look at a few changes in the Pixar Play Parade, as well as a few random shots.
These costumes are new. If you want to see what they used to look like, click here.
The Finding Nemo float followed straight behind The Incredibles float, meaning that the Ratatouille float is currently not in the parade.
They're selling Celebration themed treats.
Celebrate Today! merchandise in Greetings from California.
The Celebrate Today! banners in Downtown Disney are very different from elsewhere.
The new map covers.
The coming soon section promotes the changes to It's a Small World & the new Celebration Round-up at Big Thunder Ranch.
The Sleeping Beauty Castle Walkthrough is now listed on the Disneyland map.
As is the Blue Sky Cellar on the DCA map.
The entertainment guide is now only on one piece of paper, with Disneyland on one side & DCA on the other. One thing to note from the Disneyland side is that Remember Dreams Come True is performing for a 3 day only engagement this weekend. It returns for another 3 day engagement in February.
Most of DCA's shows were performing this weekend, including Drawn to Magic which was supposed to of gone away.
Well that'll do it for this photo report. As always, stay tuned to our Image Galleries for bigger versions of these as well as many other photos!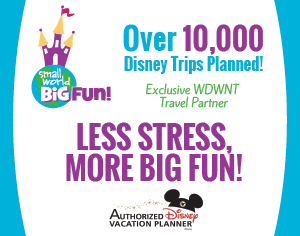 I don't know about you, but there are times when planning a Disney vacation can be overwhelming! There are so many options, where to stay, when to go, is this the best price. So, I want to introduce you all to Cindy Minor and the team at Small World Big Fun. They will help you plan your Disney vacation for FREE. Contact them today!