According to the LA Times Travel Blog:
What's the most played song in the world?

"It's a Small World," which plays on a continuous, 48-bar loop at one of five Disney theme parks around the world.

What's the most annoying song in the world?

See above.

After a yearlong rehab, Disneyland will unveil the completely revamped It's a Small World attraction on Feb. 5.

The beloved boat ride, which originally debuted at the 1964 World's Fair before moving to the Anaheim theme park, will add approximately two dozen new Disney characters throughout the attraction, install a controversial new scene and update the now-classic song.

Walt Disney Imagineering music director John Dennis was charged with blending in new musical arrangements and counterpoint melodies to the maddeningly catchy multilingual song — "plussing" in Disney-speak.

"It was really about introducing some new elements to make it exciting and to give it a new twist, but not to take it over and change it," Dennis said. "We found places and gaps to sort of fill in and create little new vignettes without taking anything away."

The changes include… 

…three new musical arrangements based on the "Small World" melody, including folk instruments, wood flute and percussion in the African scene, traditional Chinese instruments in the Asian scene and solo vocals, guitars and bass in the new pre-finale scene.

Similar existing "musical arrangements" include the gurgling mermaids, yodeling yodelers and the oh-lah-lahing can-can girls.

The biggest musical change involves the addition of five new instrumental counterpoint melodies derived from classic Disney films, including one in the Asian scene, one in the South American scene and three in the European scene.

Among the newly introduced Disney counterpoint melodies in the European scene is "All in a Golden Afternoon" from "Alice in Wonderland."

The sauntering lilt of "Golden Afternoon" was weaved into the holes and rests of "Small World" with only a few minor key and tempo adjustments, Dennis said.

"You might not catch it the first time," Dennis said. "Even if you don't catch any of these, the experience isn't diminished at all."

Beginning with a list of 40 to 50 Disney songs, Dennis selected the five new counterpoint melodies based on how well they fit thematically and musically with "Small World."

"There were cases where harmonically and structurally the two pieces of music were just too far apart and it was going to cause too much of a problem," Dennis said. "We could have done it, but it wouldn't have sounded right."

Local musicians recorded the new arrangements and counterpoint melodies at the Imagineering sound studios in Glendale.

The irksome yet ingenious original "Small World" composition cleverly arranged two distinct melodies over the same chord progression.

Walt Disney asked songwriters Robert and Richard Sherman to pen a simple tune after the original concept of a soundtrack featuring numerous national anthems proved an "insufferable cacophony."

Disney suggested a rondo — a circular song sung in round — like "Row, Row, Row Your Boat."

"For a man who wasn't a musician, wasn't a composer, Walt had a sense of music and a sense of story and a sense of presentation," Dennis said. "He knew a good tune could go straight from the head to the heart. He learned that in his feature films. He knew a song could move a story along very quickly."

The Shermans quickly wrote the song we know today as "Small World," but thought it too simple, penning several more tunes they preferred. Disney liked the simple version and the rest is musical history.

"The Shermans were so clever in creating a harmonic structure that worked for both the verse and the chorus seamlessly," Dennis said. "The nature of the music of 'Small World' is that seamless aspect. It goes and goes and goes. It never stops, it never ends."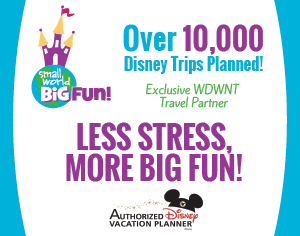 I don't know about you, but there are times when planning a Disney vacation can be overwhelming! There are so many options, where to stay, when to go, is this the best price. So, I want to introduce you all to Cindy Minor and the team at Small World Big Fun. They will help you plan your Disney vacation for FREE. Contact them today!