The LA Times have up a couple of interesting articles on the changes to It's a Small World that I wanted to share here with everyone:
As Walt Disney Co. set out to renovate It's a Small World at Disneyland, the company's Imagineers had one thing in mind: Don't mess it up.

Despite being one of the oldest attractions in the park, the ride is among the most popular — drawing about 6.7 million riders a year.

The challenge was to give the beloved attraction new vibrancy without altering the stylized look created by the Disney artist whose childlike illustrations influenced such classic animated films as "Cinderella," "Alice in Wonderland" and "Peter Pan."

The Imagineers consulted illustrator Mary Blair's original drawings for inspiration as they undertook one of the most ambitious updates of the ride since it opened at the Anaheim park in 1966.

After a yearlong renovation, it reopens Friday with a new scene that depicts the "Spirit of America," a relocated rain forest and 29 added Disney and Pixar characters inserted in the countries where their stories take place.

Whether the public will embrace the changes remains to be seen. Some Disney purists have howled at the notion of Disney characters intruding on It's a Small World — saying that their presence would destroy a historic work of art. Even the Blair family wrote a letter that labeled the move a "gross desecration."

But Marty Sklar, executive vice president of Walt Disney Parks & Resorts and Imagineering ambassador, said the changes were subtle.

"None of this jumps out at you. That was one of the principles we set out to accomplish: that this is not going to become a Disney character ride," he said. "The characters seamlessly appear in the scenes. They don't say, 'Look at me, look at me, look at me.' "

Change was unavoidable. The ride was built by Walt Disney for the 1964-65 World's Fair in New York and transplanted to Southern California. After nearly 45 years, it was showing its age.

The water flume, which in its day represented a milestone in ride design (it could effortlessly handle 3,000 passengers an hour), had been patched so many times that the boats would get hung up. Disney needed to close the attraction to replace the leaky water channel and the boats. The company wouldn't say how much the renovation cost.

These mechanical changes opened the door to a broader refurbishment — and triggered an internal debate over how aggressively to renovate a ride with a strong nostalgic appeal. Initially, the Imagineers envisioned a modest tinkering with the beginning and end of the ride, the so-called hello and goodbye scenes. But some advocated bolder changes deep within the small world itself.

Tony Baxter, senior vice president of creative development for Walt Disney Imagineering, recalled the discussion: "Do we dare touch inside the ride? And how much do we touch it? How close to Mary Blair can we get it — because if it stands out, then people are looking at it for the wrong reason.

"There's been a lot of tug of war between should it stand out or should it blend in."

"Unobtrusive" became the watchword as the Imagineers sought to add elements that had been popular at other Small World attractions at Disney's overseas parks.

Park aficionados like Oleg Chaikovsky, who has made trips to Disneyland every year since he was 5 and is now a father, knows that some Disneyphiles will consider any change inexcusable.

"I'm withholding judgment until I see it in person, because I'm not against change," said Chaikovsky, who plans to attend a preview today for annual pass holders. "But I also wonder why are we changing it if it is popular."

Disney has incorporated characters from recent films in updates of other park attractions. For example, Capt. Jack Sparrow (looking very much like Johnny Depp) now appears throughout the refurbished Pirates of the Caribbean; the "Finding Nemo" crew populates the submarine voyage.

In Small World, the characters — which look like children playing dress-up — show up in the settings of their original stories: Peter Pan and Tinker Bell fly over one tower of the London Bridge, the Pinocchio marionette appears in a puppet show in Italy; Aladdin and Jasmine ride a flying carpet in the Middle East scene.

"We wanted to add the Disney characters, because we wanted to give it a new life . . . to make it continue to be relevant to our audiences today, because we think this message is so important," Sklar said.

Threads of music from Disney and Pixar films accompany many of the characters, woven in between the familiar "Small World" melody composed by brothers Richard and Robert Sherman, who won an Academy Award for their "Mary Poppins" score.

The strains of "Bibbidi-Bobbidi-Boo" provide an almost imperceptible audio clue that the little blond doll accompanied by mice Jacques and Gus is, indeed, Cinderella.

A recording of rare Chinese instruments provides the acoustic backdrop for Mulan in China. But even that decision sparked vigorous discussion among the Imagineers, who were still adjusting the volume this week.

Art director Kim Irvine sought to emulate Blair's artistic style in creating the new America scene, which the original designer had sketched for Small World but which never made it into the attraction. The new room depicts the agricultural heartland, with a red barn towering over farmer dolls in overalls and straw hats, and the American West, with "Toy Story" characters Jessie and Woody against the backdrop of the Butte Mountains.

Evidence of just how closely Irvine's style approximated that of Blair, with whom Irvine had worked on the Small World attraction at Walt Disney World in Orlando, Fla., became apparent when Baxter found one of Blair's original sketches of the American West on sale at the Comic-Con comic book convention in San Diego.

"I said, 'Kim, you're not going to believe this,' " Baxter recalled. "So I took a picture of it, and I brought it back and I showed it to everybody. We were well along with our design, but it was so close to what our design was."

To make room for America, Disney moved the rain forest and all its whimsical creatures to the South Pacific — a transplantation the Imagineers justified by noting that Australia boasts rain forests in its northern region.

This isn't the first time Small World has undergone change. Over the years, Imagineers have incorporated parts of the world that ride designers glossed over in 1964, including China and the Philippines.

The designers have also responded to feedback from visitors who have noted when the traditional costumes aren't authentic — pointing out, for example, when a sash isn't quite right or a bow is tied too small. This time, Irvine invested long hours researching the Cherokee and Apache headdresses to ensure Native Americans are accurately portrayed.

"The point of that ride was, no matter how different we appear, there are certain things that we all share. We're all the same underneath," said Jamie O'Boyle, senior analyst for the Center for Cultural Studies and Analysis, a think tank in Philadelphia. "Apparently, the message took. The people in the boats today look like the ride."
Brady MacDonald over at the LA Times Travel Blog has an interview with costume designer Celina Lung:
Celina Lung has hundreds of children around the world. Outwardly, all are identical to the others: same age, height and facial expression. And each one is impeccably dressed. But a few of them naughty, even the occasional problem child. Not that Lung holds it against them.

"I love them all. It's true, I do," said Lung, a Walt Disney Imagineering costume designer. "Each one of them is unique."

And today, Lung will add to her growing brood with the addition of several dozen new characters to the It's a Small World ride at Disneyland.

After a yearlong rehab, all of the 300-plus existing audio-animatronic figures in the beloved boat ride at the Anaheim theme park will don new costumes thanks to Lung and her team. Among the controversial new additions: about two-dozen Disney characters and an American scene complete with cowboys and Indians.

Sensitive to criticism that the changes amount to a desecration of the classic Small World ride, Disney Imagineers labored to blend the new additions into the existing attraction.

The new characters — including Lilo, Mulan and Cinderella — will be traditional Small World dolls that "dress up" as their favorite Disney characters.

"It has to be a part of Small World. We don't want it to jump out," said Lung. "There is a fine line that we have to make sure we don't cross so it still works seamlessly with the rest of the show."

Having designed costumes for Small World attractions in Tokyo and Hong Kong, Lung consulted reference books by Small World creator Mary Blair before tackling the changes to the Anaheim ride.

And she turned to original Small World costume designer Alice Davis for creative inspiration and direction.

"Talking to her gave me a sense of how it was done originally," Lung said of Davis.

Before designing any of the costumes, Lung and her crew studied the function of all the animatronic dolls, which can move more than 1 million times per month.

Armed with costume dimensions, designers drew up sketches for each doll, developing a color palette to match the surrounding scene and taking into account the national heritage of each figure.

"Part of the research is to make sure that we are culturally sensitive," Lung said. "We want to make sure we don't offend any particular group."

Fabrics in bright, eye-catching (but not clownish) colors were imported from Africa, Europe, Central and South America.

In a costume workshop filled with bolts of fabric and a bulletin board brimming with accessories, Lung's team sewed a muslin pattern for every doll and fit the outfits on a mannequin before testing the designs in the attraction. After a year of preparation, the dolls only received their final costumes in the last week.

It's important to Lung that each doll wears a complete costume, right down to the socks, petticoat (or undershirt) and bloomers (or underwear).

"A lot of the stuff we add nobody will ever know," Lung said. "Whether the guest sees it or not, we know it's there."

Most dolls start life with two or three complete costumes. The naughty dolls — the ones Lung calls her "problem children" — go through costumes every month or two. Crews check each doll's costume daily for wear and tear before the park opens.

A complicated character like Mulan wears a 13-piece costume. It can take a team of three employees up to an hour to dress her.

A troublemaker like Aladdin, who lies on a magic carpet with his arms and legs crossed, presents an especially difficult challenge.

"It's very hard for me to put the costume on," Lung said. "The doll doesn't move. When you change them, they don't stretch their arms. They're like a baby. Actually, dressing a doll is harder than dressing a baby."

But Lung, who has no birth children of her own, holds no grudges against any of the dolls in her ever-growing family.

"It's beyond words how much I love the dolls and how much I love to dress the dolls," Lung said. "They are like my children. I'm not kidding. It's true."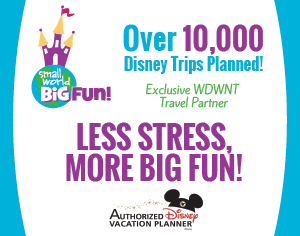 I don't know about you, but there are times when planning a Disney vacation can be overwhelming! There are so many options, where to stay, when to go, is this the best price. So, I want to introduce you all to Cindy Minor and the team at Small World Big Fun. They will help you plan your Disney vacation for FREE. Contact them today!