I have returned from a near record setting 8 days at the wonderful Disneyland Resort in Anaheim, California. This trip was mainly to spend time with members of the WDWNT staff, which for some was their first visit, and for others was their 100th visit! Let's get into the first photo report of what will be many from this past week:
On our first day, we enjoyed a meal at the recently opened Celebration Roundup and Barbecue. Left to right here you can see Matt Paul, Tom Corless, Chris Lastrapes, and Jose Castillo
Space Mountain was a favorite among everyone
The White Rabbit statue outside the restrooms near Alice in Wonderland finally has its clock-face back
The freaky looking Mickey Monsters plush have started hitting store shelves through-out the Disneyland Resort
The "What Will You Celebrate?" Disneyland Resort Harbor Blvd. entrance
Over at Disney's California Adventure, the Golden Dreams theater and the old restrooms next to it have been completely demolished
The mural has likely been moved to the Walt Disney Archives
A new structure is rising in the middle of Paradise Park. A statue maybe?
A new World of Color pin set with the artwork from the construction walls
The Blue Sky Cellar/DCA fun map merchandise is still available
A special blueberry flavored lemonade available only for Summer Nightastic
It was fun to see the progress of the Orange Stinger being "peeled" through-out the week
New rockwork being worked on next to the California Screamin' launch
The Grand Californian Disney Vacation Club addition is almost complete
Scaffolding up all through-out the Orange Stinger
Toy Story Midway Mania was closed for about 2 and a half hours last Thursday
But even though the attraction was closed, Mr. Potato Head kept on performing
Apparently the California Screamin' wave machines have been fixed and will be working once again when the lagoon is refilled
Construction workers working on infrastructure for World of Color
See if you can find Matt Paul, Shawn Hutchison, Chris Lastrapes, and Tom Corless
California Screamin' on-ride photos are now buy one, get one free
The Trash Can Trio have donned Green Army Men outfits to form this new performing group at Disney's California Adventure
Some new Toy Story Midway Mania merchandise available at Midway Mercantile
Vinylmation don't look to be selling out all that quickly here
The posters at the Hyperion Theater waiting area look to have been replaced, as before they were ripped and torn
Some nice Hollywood Tower Hotel themed robes, towels, etc.
Buy your stamps at DCA ;)
Madame Leota was not floating all week
Pinocchio's Daring Journey is currently closed for refurbishment
Some shots of Magical by It's a Small World
The Bank of Main Street is under tarps to become the new home of The Disney Gallery
The progress on the Orange Stinger on Friday, July 31st
Tom got the top score for the day on Toy Story Midway Mania
On Friday morning, our very own Myrna Litt took Tom, Matt, Jose, and I to the Soda Fountain and Studio Store in Hollywood
This is the entrance to the G-Force Experience across the street at the Kodak Theater
Disneyland's star on the Hollywood Walk of Fame at the entrance to the Soda Fountain and Studio Store
Re-releases of "Snow White and the Seven Dwarfs", as well as "Toy Story" and "Toy Story 2" in 3D, are coming soon to the El Capitan Theatre
After those, in November comes "Disney's A Christmas Carol"
But playing right now is "G-Force"
Disney has "G-Force" themed stilt-walkers walking around outside the El Capitan
Here is Mickey Mouse's star on the Hollywood Walk of Fame
The El Capitan Theatre sign
I had always wondered where the elephants at the entrance to Hollywood Pictures Backlot came from
We drove by the entrance to the Walt Disney Company headquarters in Burbank
Now back to the fabulous Disneyland Resort
Thought this was a nice, different shot of Mickey's Fun Wheel
This viewing of Disney's Electrical Parade made me realize that this parade really, really helps DCA, and that if it moves back to Disneyland next year, World of Color needs to be even more spectacular to draw the crowds
Now for some shots of Pixie Hollow Enchantment
The Honda display in the Esplanade was removed Saturday morning
The Orange Stinger "peeling" progress as of Saturday, August 1st
The new Marie Osmond dolls available at the Disneyana Store, Off the Page, and World of Disney
The Bandleader Mickey D23 piece is still available at Off the Page
Some other nice posters that are still available
Blank Vinylmation are available for you to decorate yourself
I love this statue of Donald as Han Solo in the Empire Strikes Back
WDWNT Fan Meet #5 at Disney's California Adventure began at 4pm on Saturday at the Blue Sky Cellar. Left-Right: Conner Purzycki (DLNT Photographer), Matt Paul (WDWNT Photographer and Videographer), Kyle Burbank (DLNT Fan), and Chuck Canzoneri (DLNT Photographer and Podcast Member)
L-R: Jose Castillo (WDWNT/DLNT Technical Services), Myrna Litt's daughter-in-law Jackie, and Myrna Litt (DLNT Photographer) herself
Blackjack Joe (DLNT Fan)
After a walk-through the Blue Sky Cellar, we sat down to watch the Pixar Play Parade
After the Pixar Play Parade and a group meal at Bountiful Valley Farmers Market, we went to go see Muppet Vision 3D, which is looking better than ever with the film now being shown in HD
Kodak's new logo has been digitally added into the Muppet Vision 3D pre-show
Matt fits
California Screamin' broke down quite a lot this week. I think it's time for a refurbishment
After Muppet Vision 3D and Mickey's Fun Wheel, we all saw Disney's Electrical Parade. Here are a few photos
The girls in the To Honor America section have to wait for the float to go by, as they have to walk behind it due to all the walls in Paradise Pier
Now on to Sunday at Disneyland. This doesn't look very futuristic does it?
Before our fan meets on Sunday, some of us went to the Blue Bayou
WDWNT Fan Meet #6 began at Carnation Plaza Gardens where there are some construction walls up
One of two Jungle Book/Princess barges in Fantasmic
Some of the Fantasmic crew heading over to Pirates Lair
In a surprising move, most pin prices have been LOWERED by a dollar
Our last fan meet was a group showing of Magical right in front of Sleeping Beauty Castle
Dumbo flew!
Whose ever heard of a 3 minute wait!?
On Monday morning I walked down Harbor Blvd. to get a look at Cars Land and the Red Car Trolley barn construction
The Timon parking lot is now completely closed, but they use the entrance as a U-Turn to Pumbaa or the Anaheim GardenWalk
One of the barns is coming along quite nicely
A construction worker working on the new structure in Paradise Park
A look at World of Color construction
Some painting going on near the entrance to California Screamin'
My all-time record on Toy Story Midway Mania
Some changes have been made to "Celebrate! A Street Party". First up, about 2 minutes has been cut from the opening "Pumpin Up The Party" roll-in, depending on what location you see the show from
About 30 seconds of the swing section has been cut
"Cup of Life" in the Conga section is now mainly performed in Spanish
And here's the new ending "float" (there's also a new opening float)
Of course, the first two changes are likely just for the summer
"Peeling" of the Orange Stinger as of Monday, August 3rd
Those structures for World of Color by Mickey's Fun Wheel are new
A poster for "Wizards of Waverly Place: The Movie". Oh the Disney Channel…
And a poster for the "Toy Story"/"Toy Story 2" double feature
Pushing Daisies is canceled Disney…
There are now shuttles that take guests to the Pumbaa parking lot and the Anaheim GardenWalk. If either parking lots are open, I recommend using them, as it's a lot less hassle than Mickey and Friends
"Peeling" of the Orange Stinger as of Tuesday, August 4th
The sights around Paradise Pier are already very different
Contrary to rumors last year, Drawn to the Magic is still performing multiple times every day in Hollywood Pictures Backlot
More Kitson Kids signs have been added to the windows of the store
Either the Lego store was really busy or there was some kind of signing going on
The new park ticket and Annual Passport prices
The summer issue of Disney twenty three magazine is now available through-out the Disneyland Resort
Robert Olsewski's new Mark I Monorail piece
One of the Disneyland Resort Ambassadors was filming something for Cast TV inside the Disneyana Store
The Orange Stinger peel was almost completely gone yesterday
I don't remember ever seeing these umbrellas near to Mickey's Fun Wheel before
Some of the Lucky Fortune Cookery lanterns are up
That concludes this lengthy photo report from a lenghty trip. Hope you guys enjoyed it, and be sure to stay tuned for other photo reports from the rest of the WDWNT/DLNT Staff that visited Disneyland this week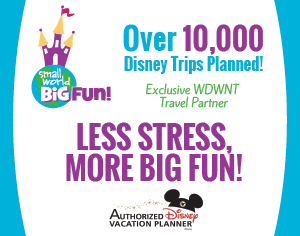 I don't know about you, but there are times when planning a Disney vacation can be overwhelming! There are so many options, where to stay, when to go, is this the best price. So, I want to introduce you all to Cindy Minor and the team at Small World Big Fun. They will help you plan your Disney vacation for FREE. Contact them today!