UPDATED 9/10/09 – 11:07PM WITH NEW PICTURES AND VIDEOS FROM DAY 1 OF THE D23 EXPO
Well, the first day of the D23 Expo is finally upon us. Not too much ground-breaking news has come out yet, but we do have some stuff for you. First up, the OC Register's Around Disney blog reports from Bob Iger's opening speech at the D23 Expo this morning:
Audience members squealed as soon as Zac Efron's face popped on the screen. They clapped when "Princess and the Frog" movie footage started. And a few random enthusiasts screamed when "Radio Disney" was mentioned during a speech.

The fans were the reason for this convention: the D23 Expo, the first-time, four-day event put on by the Walt Disney Co. that began today.

"The excitement that keeps us going year after year comes from you — the fans," said Bob Iger, the company's president.

Iger gave the opening address today on the first day of the four-day expo in front of thousands of audience members at the Anaheim Convention Center. The opening presentation included a video showing the diversity of the company — from theme-park footage to scenes of "High School Musical," starring Efron.

The opening 30 minutes of the upcoming movie, "Princess and the Frog," –one third of the film — was shown for the first time to the public three months before it goes to the theaters.

After the preview, actress Anika Noni Rose, the voice of main character Princess Tiana, came out in a sparkly, off-white dress to perform a song from the movie. Iger said Rose had been suffering from bronchitis.

Anaheim Mayor Curt Pringle followed on stage, joking that he was the frog after the princess.

The presentation concluded when an audience member — Dan Learn of Murrieta — was awarded a night's stay in the Dream Suite at Disneyland. During a followup press conference, Iger said: "I haven't stayed there."
Other news coming in from the Expo also reveals that Captain EO will not be coming back to Disneyland, at least not at the moment. According to LA Times Travel Blog:
Disneyland has "no definite plans to bring back" the Michael Jackson 3-D movie "Captain EO," Disney Chief Executive Bob Iger said today during an impromptu news conference at D23 Expo in Anaheim.

Iger and other Disney brass watched a screening of the 1980s-era sci-fi fantasy film this week and determined that the old music video needed to be further evaluated before it could be brought back into the Anaheim theme park.

Back in 1986, everybody wanted a piece of the hottest pop star in the world. So it was with much fanfare that Disneyland introduced "Captain EO," starring Jackson.

It was an association the family-friendly amusement park would eventually come to regret as the bizarre pop star became increasingly embroiled in controversy.

The 17-minute "Captain EO" cost an estimated $30 million and featured a star-studded list of credits, including executive producer George Lucas, director Francis Ford Coppola and Anjelica Huston as the evil Supreme Leader.

The 3-D movie — featuring lasers, smoke and stars that extended into the audience — told the story of Captain EO's mission to deliver a musical gift to a wicked alien queen on a dystopian planet. EO's rag-tag crew included his sidekick Fuzzbucket, security officer Major Domo and blundering shipmate Hooter.

"EO" used music — specifically the original song "We Are Here to Change the World" — to defeat the queen and her whip-wielding henchmen.

"Captain EO" opened in Disneyland's Magic Eye Theater in 1986 and ran for more than a decade, quietly closing in 1997.

Identical versions of the film eventually opened at Epcot in Florida, Tokyo Disneyland and Disneyland Paris. All closed by 1998.

Michael Jackson died in June.
@DisneylandNews on Twitter reports that Bob Iger stated "execs are 'looking at' bringing back Captain EO to Disneyland" and "We want to make sure we do it right if we do bring it back."
Here are some photos and videos Disney released from inside the Expo today:
People were lining up as early as 4am to get into the Expo!
Mickey Mouse outside the Convention Center as people are still waiting to get in
Lucky the Dinosaur greets guests of the Walt Disney Parks and Resorts pavilion from Sept. 10th to Sept. 13th at the Anaheim Convention Center during the first-ever D23 Expo
Visitors enter Walt Disney Parks and Resorts pavilion, where some great previews of Cars Land are offered
Featured are a 1/8 scale model of Cars Land, and the world's first autonomatronic, Lightning McQueen
Guests discover new magic inspired by exotic locations at Storytellers Sandbox inside the Walt Disney Parks and Resorts pavilion at the D23 Expo
Walt Disney Company President and CEO Robert Iger launched the first-ever D23 Expo with an hour-long presentation in the Anaheim Convention Center Arena, exploring the incredible future of Disney and exciting projects that are taking shape around the globe
Anika Noni Rose performed a song from "The Princess and the Frog" during the D23 Expo's opening ceremony
This Disney fan was lucky enough to win a nights stay in the Disneyland Dream Suite
Men and women who have contributed to the creative legacy of The Walt Disney Company were honored in a special presentation, hosted by Tom Bergeron and open to all D23 Expo guests. The full list of honorees includes renowned celebrities, actors and artists
Dick Cook at the Disney Legends Ceremony
Bob Iger at the Disney Legends Ceremony
Harry Archnial is the former president of Buena Vista International, who helped expand Disney's cinematic presence into regions outside of the U.S. and Canada, bringing Disney movies to audiences around the world
Don Iwerks is the son of Walt Disney's longtime friend and animator Ub Iwerks. Don Iwerks worked at Disney from 1951 to 1986, and created revolutionary film systems that were used in movies like Mary Poppins (sodium traveling matte process) and in such Disney theme park attractions as "CircleVision 360" and "Star Tours"
Tony Anselmo is a Disney animator who, since 1985, has provided the incomparable (and some would say inimitable) voice of Donald Duck in movies, cartoons, TV shows and theme-park attractions
Bill Farmer is an accomplished voice actor whose enormous body of work has included providing the voice of Goofy since 1986. Farmer has also been the voice of Pluto and Horace Horsecollar for Disney productions
Beatrice Arthur brought deadpan comic timing and enormous warmth to the role of Dorothy Zbornak in The Golden Girls from 1985 to 1992, a role that brought her a second Emmy Award (in addition to an Emmy for Maude). She was also a Tony Award-winning stage actress and is in the Academy of Television Arts & Science's Hall of Fame. Note: This award is presented posthumously
Betty White has become a television icon, especially for her role as slightly befuddled, always charming Rose Nylund in The Golden Girls – for which she received one of her six Emmy Awards. White has also been a key cast member in such hit TV shows as The Mary Tyler Moore Show, The Golden Palace, The Practice and her own series, The Betty White Show. She has been seen in 19 films and has long supported many animal-rights organizations
Robin Williams is the recipient of six Golden Globes, two Screen Actors Guild Awards, three Grammy Awards and the Oscar for Best Supporting Actor (1997). His unforgettable film work for Disney has included providing the voice of Genie in Aladdin and starring in Good Morning, Vietnam, and Dead Poets Society. He also appeared in the short film Back to Neverland at Disney theme parks. This fall, Williams stars with John Travolta in Old Dogs from Walt Disney Pictures
Here are some of the new Disney Legends making their hand-prints
ABC proudly presented "The ABCs of Disney," an exclusive D23 EXPO event in the Anaheim Convention Center, September 10 at 3:00 p.m. Hosted by Emmy¨-nominated Tom Bergeron ("Dancing with the Stars," "America's Funniest Home Videos"), "The ABCs of Disney" presentation featured Stephen McPherson, President of the ABC Entertainment Group, unveiling sneak peeks at many of the fall TV season's most anticipated new shows. "The ABCs of Disney" concluded with a thrilling dance performance by two of "Dancing with the Stars'" professional champions
A video with highlights from Day 1 of the D23 Expo, including a look around the show floor, clips from Bob Iger's keynote speech and Disney Legends Ceremony, and interviews with various Disney fans and celebrities
Here's a second video looking at set-up for the D23 Expo, including an interview with head of D23, Steven Clark
Finally, here are some photos taken by our very own Tom Corless, posted to the WDWNT Twitter:
One of the welcome banners outside the Anaheim Convention Center in the wee hours of the morning
Lost University, based on the hit ABC show "Lost"
At the Walt Disney Parks and Resorts pavilion, guests have the opportunity to take a picture with a whirly-bug from Disney's Electrical Parade, as well as Lucky the Dinosaur (seen earlier in this post), the living character Wall-E, and more
The 1/8 scale Cars Land model
The amazing Lightning McQueen autonomatronic
While day 1 of the Expo may have come to a close, there's still 3 more days of fun and excitement left. Disney theme park fans definitely should pay attention to the Jay Rasulo speech on Saturday morning. Stay tuned to Disneyland News Today for a round-up of day 2 of the Expo tomorrow afternoon.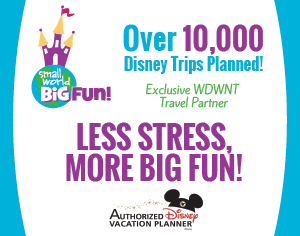 I don't know about you, but there are times when planning a Disney vacation can be overwhelming! There are so many options, where to stay, when to go, is this the best price. So, I want to introduce you all to Cindy Minor and the team at Small World Big Fun. They will help you plan your Disney vacation for FREE. Contact them today!