WDWNT Reporter Adam Roth visited Epcot yesterday to try the new La Cantina De San Angel counter service restaurant and he has a few newsworthy photos and a review to share with us:
What's this lurking in the shadows?
New directional signage hanging in the breezeways of Innoventions
Most of the booths for the Food and Wine Festival are up and ready
Work continues on the Duffy the Disney Bear meet and greet
La Hacienda wasn't open yet
It only opens for dinner
More food and wine booths
Time to eat at La Cantina De San Angel
Here's is Adam's review:
"Yesterday, I was lucky enough to be at Epcot in time for the soft opening of La Cantina de San Angel, the new quick service option of the new mixed-mode establishment at the World Showcase's Mexico pavilion. Armed with a mighty hunger and an eagerness to try something new, I had much to look forward to, especially with my vision painted so happily by my last "new experience" over at the recently opened Via Napoli across the lagoon.
Initially turned off by the prices, I figured that it'd be worth at least one go to give the place a chance. With the main entrees ranging in price from a low of $7.25 to a high of $11.95, I had my fingers crossed in the hope that the experience would be worth my walet, especially considering how comparable the pricing was to some of my favorite local table service restaurants off property.
Figuring that the priciest menu item was likely the signature feature of the menu, I gave the Tacos de Carne a try, pairing it with a Mango Jarritos, described only as a "traditional Mexican soda (coming in at a somewhat high $3.50 for a bottle). After paying and collecting my order, I walked out to the lagoon-area seating, sitting under the covered patio of sorts so that I was sitting as far out as I could be–a year ago, I would have been in the water when standing this far out.
The only flaw my party could find with the entire seating area was the oddly bolted tables and seats, with some tables only having one bench (seating a maximum of three, while one side of the table would be unoccupied). Other tables featured fixed seats in sets of four, none of which could be moved in the slightest. This made for an odd situation for our group, as we had seven in attendance, splitting us down the middle, rather than allowing us to dine together.
Despite the strange seating arrangements, we took our seats to enjoy the food. In terms of presentation, the food looked to be top notch, like something you'd expect out of a good Mexican restaurant. The combination of fresh tortillas, tri-colored tortilla chips, beautifully braised beef and a side of lime and Pico de Gallo, was nothing short of eye-catching, to say the least. One bite into the taco proved that it tasted as good, if not better than it looked. The beef was cooked perfectly, the cheese was subtle but present, and the tortilla was moist and supporting. While the Pico may have been the weakest component on the plate, it was still a welcome addition to the rest of the package.
The Mango Jarritos was extremely tasty, and somewhat familiar, reminding me of Mango gummy snacks I used to buy in the Japan pavilion when I was younger. The bottle claims that the soda is made with one hundred percent (100%) real sugar, which is a pleasant contrast to the otherwise flooded market of "no sugar added" sodas on the grocery store shelf.
To give a brief on an outside opinion, one member of our group had never eaten a taco before, out of sheer aversion to foreign foods. He happily tried the Tacos de Carne as well, and was not disappointed. It was a great moment to see that his first impression of Mexican cuisine was not Taco Bell or any other establishments of the sort, but rather a quality counter service option done right in so many ways.
With incredibly fast, accurate and friendly service, our visit to La Cantina de San Angel was an extremely pleasant one. To say that this has become my favorite quick service location on property would be an understatement, considering how impressive every aspect of the meal was (save for the seating setup, which I can only imagine will be modified in the coming months) flawless. If given the choice, I'd visit the Cantina over Moe's, Qdoba or Chipotle any day, which definitely speaks to the power of the product.
With this and Yak & Yeti's counter service options being so surprisingly good, I'm beginning to wonder if this is the direction that quick service dining should be headed. With outside entities bringing in a new culture to the otherwise simple market, we've been given a new quality standard that other quick service establishments should be modeled after from here on out."
The place was pretty busy for its first day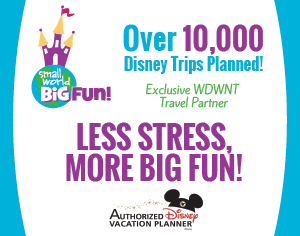 I don't know about you, but there are times when planning a Disney vacation can be overwhelming! There are so many options, where to stay, when to go, is this the best price. So, I want to introduce you all to Cindy Minor and the team at Small World Big Fun. They will help you plan your Disney vacation for FREE. Contact them today!