Update: 1/14/11 Disney has confirmed the chaser and 3 variants on their vault page.
Update: 1/7/10 The case came out today. Two 9″ came out – Pete's Dragon and Beast. We also found out all the 9″ vinylmation in this set.
Update: 1/1/11 Disney revealed 3 of the Animated 1 9″ (with 3 more to come). They also revealed the "Variant" Pinocchio which confirmed that variants would start being part of series in the future. Also added a pic of the chaser (click on the mystery chaser pic)
Update: 12/31/10 The Albuquerque Disney Store has the Animated 1 set for sale. Cost is $9.95 each. The Florida D-Street store has the set displayed getting us ready for the January 7th release.

Update: 12/27/10 Changed photos to 4 spots and added the Vinylmation artists. Click photos to see full sized pic. Added Chaser rumor.
11/26/10- Recently Japan's Disney Store released (accidentally) the figures in the upcoming Animated 1 set (Or so we've seen online, it might be a rumor). Destination Vinylmation has analyzed the photos and determined which characters were which.
Aladdin
From: Aladdin (1992)
Voiced by: Scott Weinger and Brad Kane
Vinylmation Artist: Eric Caszatt
One of the better "human" figures in the Vinylmation line. I think this works well, and love the little hat on the right ear! Genie 9″ with 3″ lamp and magic carpet anyone?
---
Alice
From: Alice in Wonderland (1951)
Voiced by: Kathryn Beaumont
Vinylmation Artist: Thomas Scott
A favorite of mine and I hope it leads to a whole line (there is already a 9″ Mad Hatter and 3″ Church Mouse set that is part of the Park 5 series announced)
Cute and straight forward.
---
Dodger
From: Oliver and Company (1988)
Voiced by: Billy Joel
Vinylmation Artist: Maria Clapsis
I can't believe Joey Lawrence (Oliver) was in a Disney animated movie.
---
Fairy Godmother
From: Cinderella (1950)
Voiced by: Ilene Woods
Vinylmation Artist: Monty Maldovan
Ah, look at that accessory! Hopefully that wand can be held as well as it seems to be in this photo. And the artwork on the face is extraordinary. It almost looks like old school animation to me.
---
Marie
From: Aristocats (1970)
Voiced by: Liz English
Vinylmation Artist: Casey Jones
Interesting choice to put the accessory hair bow on this one, instead of just painting it onto the head. I like this version of Marie better than her Big Eyes figure, however, since we already have Marie in Big Eyes, I wish they could give us a different animated character and save her for down the road.
---
Mushu
From: Mulan (1998)
Voiced by: Eddie Murphy
Vinylmation Artist: Lin Shih
Interesting choice, expanding the body to fit instead of trying to paint a skinny body. Could this have used a "neck" accessory? (I love "neck" accessories!) But we already know from Trade City back in August, Mushu will be the first Vinylmation to have a tail accessory. And come on! They give Marie the hair bow, but then draw Mushu's horns in front of his ears instead of sticking horns onto the head? It looks kind of confusing.
---
Peter Pan
From: Peter Pan (1953)
Voiced by: Bobby Driscoll
Vinylmation Artist: Monty Maldovan
Another absolutely perfect Vinylmation. Love the Hat! Love Tink in the left ear. The face is a perfect representation of Pan's child-like features and fits onto the Vinylmation just right. (M.C. hates the face) What do you think? It's been hit or miss with "human" representations of faces onto Vinylmation, but I think the artists are figuring out how to use the Mickey canvas.
---
Philoctetes
From: Hercules (1997)
Voiced by: Danny DeVito
Vinylmation Artist: Eric Caszatt
It's always sunny in Olympus? Short and stubby, he fits the canvas well. The big feet as opposed to the small hooves from the movie are a little odd. Will we see an accessory tail on the back?
---
Pinocchio
From: Pinocchio (1940)
Voiced by: Dickie Jones
Vinylmation Artist: Thomas Scott
No long nose, but he does have donkey ears! I for one am glad they did not add an accessory long nose.

Update: 1/1/11 Disney announced that there was a variant version on Pinocchio without the Donkey Ears (as well as tail we assume). Check it out.
---
Prince Naveen (as a Frog)
From: The Princess and the Frog (2009)
Voiced by: Bruno Campos
Vinylmation Artist: Thomas Scott
Looks like a croc, but only the Frog Prince could have a sly expression like this. This one seems a little forced to me… I would not have minded having the frog, or frogs, painted onto the body as whole frogs with a swamp background painted on. Maybe even put Ray, the lightning bug, in one of the ears.
---
Quasimodo
From: The Hunchback of Notre Dame (1996)
Voiced by: Tom Hulce
Vinylmation Artist: Monty Maldovan
I think it works. Don't you?
---
Mystery Chaser
From: Who Knows?
Voiced by: Any of a number of people!
First obvious note: NO PRINCESSES! Will they have their own line? Will they be part of this series? Maybe there will be Princess as a chaser in each set? Or maybe there will be a combo pack (like the Park series with the Mickey's) with a Princess with each series?
There are still lots of movies not represented – Beauty and the Beast, Lady and the Tramp, and The Little Mermaid to name just a few. It also seems like they are sticking to traditional animation, nothing from Pixar in either series.
Update: 1/1/11 Click on Mystery Chaser pic to reveal Chaser!
What do you think? Comment and start the conversation!
Update:
12/27/10 The latest rumor is that the chaser will come in 4 color schemes, only one per case, so there will be 4 chasers, and you won't be able to complete the set with only one case!
Update: 1/14/11 Disney has confirmed the chaser and 3 variants on their vault page. Click on the following images to see the variants.
The Disney Blog posted this picture earlier this month as part of the reward for "like"ing their new facebook page. We think it's Simba, but there was no Simba in this series, so is he the Mystery Chaser? a Combo pack? or park of another Animated Series.
Simba!
Update:
12/27/10 Several people are reporting both confirmation of Simba and confirmation of the fact that he's a combo pack like "Plane Crazy" Mickey and Park 4.
At Trade City 2010 three figures from this series were shown. Dodger, Fairy Godmother, and Mushu as pictured below.
Update: 1/1/11 Animated 1 9″. The first two will be released on January 7th with the rest of the Animated 1 set.

Pete and Elliot
From: Pete's Dragon (1977)
Voiced by: Elliot (Charlie Callas)
Pete (Sean Marshall)
LE: 1200
This one looks awesome and I love the detail. I also love the fact that the size makes sense! The giant Dragon is a 9″ and the little boy, Pete, is a 3″.
One interesting note is that as part of the Animated 1 series you would think that everything would be animated. In Pete's Dragon the only character who was animated was Elliot (the dragon), so Pete wasn't animated and thus seems odd to include.

The Beast
From: Beauty and the Beast (1991)
Voiced by: Robby Benson
LE: 1000
Big, Beautiful, Brilliant! (What more do we need to say?)
The following will be out later in the year (as they are trying to spread the 9 inch releases so they don't get to be too much of a burden on our wallets)


Hyacinth Hippo
From: Fantasia (1940)
LE: 1200
This is another first in Vinylmation! An accessory that isn't made of vinyl! A fabirc tutu. It's so unique that I might just bend my "No 9 inch" rule.
It's the cutest Hippo I've ever seen!
Merlin
From: The Sword and the Stone (1963)
Voiced by: Karl Swenson
LE: 1000
Genie
From: Aladdin (1992)
Voiced by: Robin Williams
LE: 1200
Bolt
From: Bolt (2008)
Voiced by: John Travolta
LE: 1000
Only figure in the animated series that is a digital animation.
Willie the Whale
From: Make Mine Music (1946) "The Whale Who Wanted to Sing at the Met"
Voiced by: Nelson Eddy
LE: 1000
Information from various Disney Sources.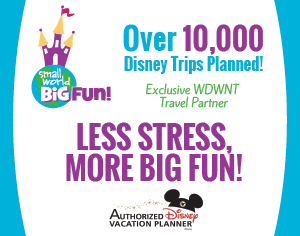 I don't know about you, but there are times when planning a Disney vacation can be overwhelming! There are so many options, where to stay, when to go, is this the best price. So, I want to introduce you all to Cindy Minor and the team at Small World Big Fun. They will help you plan your Disney vacation for FREE. Contact them today!