Today's Wedding Customs are by Jenifer Marie. She makes custom Vinylmation in a number of various wedding themed sets that you can order from her website: lilsqueakrr.etsy.com.
One Vinylmation set she makes is this darling bride and groom. They look great! Way cooler than the Celebrations boring, painted on bride and groom. These are up there near Maria Clapsis' set. While these don't focus on painting the figures, the accessories are well made and look perfect. The tux looks awesome, with little cuffs and a hand-tied bow tie. The bride's bouquet is beautiful and the earrings are just the little extra that tops this set off. Jenifer tells us that the colors of most of the pieces can change to be personalized to your particular favorites.
Jenifer also makes Bridesmaid gift sets. Check out these adorable ladies, with a bow in their hair, a necklace, and matching bouquets. I also like the boxes you can get them in. These are a bit more simple than the bride and groom, but I think they would make any bridesmaid say "yes". For the amount of wonder created by these figures, the price is amazing.
After seeing these figures online, I needed to talk to the artist.
M.C.: How long have you been creating custom Vinylmation?
Jenifer Marie: I've been creating custom VM's for about 3 months. I've created 12 pieces so far. Saving up to work on a 9″ set once summer comes!
M.C.: Which of your creations is your favorite?
JM: My favorite piece? That's a tough question.. so far I must say my favorite is the little bride that I had made for my friend for her wedding. The sentimental value is what makes it my favorite. To know that I'm going to be a part of her special day even though I can't make it to attend.
M.C.: Do you collect the Vinylmation created by Disney artists? If so, what is your favorite Vinylmation figure?
JM: Yes, I do collect the Vinylmations. They're addicting little guys! My favorite is Flowers and Fairies from Park Series 5. It was my FIRST Vinylmation purchase and it features my favorite, TINK!
M.C.: How did you come up with the idea of your wedding vinylmation pieces?
JM: I had seen the custom Vinylmations before, but NEVER saw many bride and grooms.. so I figured hey! these would make ADORABLE cake toppers or even pieces to add to your sweetheart table!
M.C.: Can you describe these figures? The inspiration. What detail went into it?
JM: The bride and groom are black and white blanks.. the groom features and hand tied miniature bow tie, shirt colors painted on, white cuffs that are hand painted around the wrist, they also feature crystal individually pieced cuff links, shoe buttons, and jacket buttons. Brides feature a tiara adorned with rhinestones, a 2 tier veil, earrings, bouquet with white flowers and pearls, and a pearl necklace. The bride and groom are fully customizable depending on who they are being made for. The crystals colors can be changed and the same goes for the flowers.
It's fully custom to that individual and their wedding day style! The bridesmaids are whichever color the bride chooses with a pearl necklace, hand-tied bow between their ears, crystal earrings (if wanted), and a bouquet in their hands.
M.C.: What materials were used?
JM: I used 3″ blank Vinylmations, pearl strands, miniature ribbon flowers, 3mm & 2mm crystals, hot glue, craft glue, acrylic paint, iridescent ribbon and black ribbon.
M.C.: What is your favorite aspect of vinylmation?
JM: I just love the creativity that you can have with them.. especially when it comes to the cake toppers! I'm currently working on a carnival themed topper and a Tower of Terror topper! No 2: Vinylmation's aren't alike.. they're all different. Plus it's great to be able to make someone's special day that much more unique for them!
M.C.: What was the hardest part in creating these figure?
JM: The hardest part was definitely finding the right materials to use to decorate the
little guys.
M.C.: What are the reactions you get to your pieces?
JM: I have gotten great reactions from the couples once they have them in their hands! They all love them and cannot thank me enough!
M.C.: Do you create any other pieces for the weddings?
JM: I also create little trinket boxes.. I'm currently working on a few projects for my own wedding.. so I'm sure I will be adding to my list of creations! I plan on making a pair of 9″ Vinylmations for my sweetheart table at my own wedding.. so I'm on the search for the right materials to use for them!
M.C.: Congrats! Where can people go to find out more about your pieces and see your work?
JM: To find out more about my work feel free to visit my etsy store: PixiiDust Creations lilsqueakrr.etsy.com
I'd like to thank Jenifer for the interview for this week of wedding posts. Let us know what you think about these vinyls in the comments below.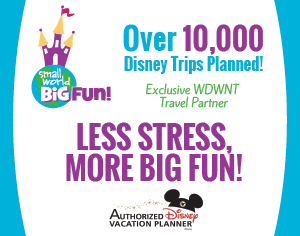 I don't know about you, but there are times when planning a Disney vacation can be overwhelming! There are so many options, where to stay, when to go, is this the best price. So, I want to introduce you all to Cindy Minor and the team at Small World Big Fun. They will help you plan your Disney vacation for FREE. Contact them today!