Hello Vinylmation fans. In this week's DSO report we'll be going over the new Urban 6 9"s, a few price variants, and unfortunately a few sell outs as well.

Introducing


At around 1 A.M. last Friday the Urban 6's made their way onto the shelves of the Disney Store Online. Varying from Vikings to Light Meter, these are quite interesting pieces of art and thankfully none are listed as sold out as of yet. All four are single 9"s priced at $39.95 and come with artist cards. Created by Susana Gay, the Light Meter 9" is a LE of 800 and is modeled off of "photographic light gauge equipment," as DSO calls it. The Light Meter is also listed as an Online Exclusive Vinylmation.

With rainbow hearts and hidden Mickeys galore, the Love Vinylmation, designed by Padla Gutierrez, is an excellent addition to the Urban 6 series. This too is a LE of 800.

This is only the second 9" Vinlymation I've picked up myself and although it hasn't arrived yet I'm pretty excited. Designed by Eric Caszatt and a LE of 600, the Star Bright 9" looks like something out of a Super Mario videogame. The purple, blue, orange, and yellow stripes and stars make it an extremely vibrant piece. Star Bright is also listed as an online exclusive.

The last of the Urban 6 9"s is the Viking, by designer Doug Strayer. A LE of 800, this Vinylmation spawns from Viking hat combo previously produced this year.

Although two out of the three Animation 9"s are still not listed under Vinylmation, all three are available this week. To find Hyacinth and Willie you need to search for "animation" in the DSO search bar. All three are priced at $39.95. The first of these 9", designed by Thomas Scott (Lead Vinylmation Designer) and from Disney's Fantasia, is Hyacinth Hippo. Hyacinth is a LE of 1200.

Designed by Maria Clapsis and from the Make Mine Music segment "The Whale Who Wanted to Sing at the Met," Willie the Whale is a lively, singing addition to the Animation 1 collection. Willie is a LE of 1000.

Comebacks


Beast, who was sold out last week but is again available online, is designed by Monty Maldovan and is from Disney's Beauty and the Beast. Beast is a LE of 1000.

Although sold out last week, the Sea Creatures Shark is once again available online for $9.95.

Seeming to disappear and reappear every week or so, the Juniors 3 mystery box series, priced at $8.95, is back up on the DSO.

Gone last week but back again is 2011 Series Black Tossed 3" for $11.95.

Price Variants


From the Urban 4 9" Series, 80's Fashion is discounted to $29.99 from $39.95.
The Clear mystery boxes are still discounted at $5.99. An alternative option to simply collecting the clear series would be treat them as another version of Create-Your-Owns and expand your creative collection.
Urban 3" individual mystery boxes are also priced down from $9.95 to $5.99 each.
The Park 3″ mystery boxes are discounted at $5.99 each.
The select group from The Animal Kingdom series; the Panther, Gorilla, Buffalo, and Bear; remain discounted at $7.99, from $9.95.
The Create Your Own 3", all but white, are marked down from $8.95 to $4.99.

Sell Outs


The Create-Your-Own Glow in the Dark 9" is up on the DSO and priced at $39.95, but is unfortunately Sold Out.
The Urban 4 Walk/Don't Walk 2 Piece 9" was discounted at $56.99 and apparently became instantly popular because it is listed as Sold Out as well.
The Walt Disney World Resort 2010 Half Marathon 3" was posted online again but is also Sold Out.

Still Around


Thomas Scott's Sushi set is priced at $99.95, is a LE of 2500, and is still available online.
Muppets 2 is still up online with individual mystery boxes at $11.95 and the usual 24 tray for $286.80.
The LE of 1000, Billiards 16 Piece Set is still available online for $255.95.

Departed


Leaving the DSO after only being up for a week is the Park 6 Combo Pack with Runaway Brain Mickey, designed by Monty Maldovan (Muppets 2).

Up for less than a week, the Urban 4 Sushi 9", designed by Maria Clapsis (Cutesters Too), is not available online anymore.

Rinzler from the Tron series is missing from the DSO and the rest of the Tron series this week.

The Walt Disney World 40th Anniversary Magic Kingdom 3" is also missing from the rest of its collection this week.

Up and Coming


There are unfortunately no online releases scheduled in the near future.
That wraps up this week's DSO Report. As usual, feel free to leave questions/comments about sections you want explained further, product descriptions/explanations, or simply anything miscellaneous.

– Nick J.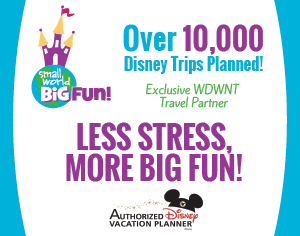 I don't know about you, but there are times when planning a Disney vacation can be overwhelming! There are so many options, where to stay, when to go, is this the best price. So, I want to introduce you all to Cindy Minor and the team at Small World Big Fun. They will help you plan your Disney vacation for FREE. Contact them today!