–
Destination Vinylmation: TRON seems to be a fun choice for custom artists, and you have a few in your portfolio. Your TRON Donald and Pooh are wonderful. What was the inspiration for these? 
Brian Shapiro: I created those two figures before TRON: Legacy came out. I've been a huge TRON
fan since I saw the original as a teenager in 1982. Like Beauty and the Beast, other
artists had already done customs that we're based on characters from the original film
and from the soon to be released sequel. That's when I decided to do mash ups with
Disney characters, since I loved the action figure mash ups of the Disney and Star Wars
characters (I can't wait to get my hands on the Disney Character Star Wars vinyls, quite
possibly my favorite set ever). I selected Donald Duck for TRON since his name
worked perfectly as TRONald, and I selected Pooh since his name worked perfectly for
Winnie the CLU. I thought it would be funny to adapt their GRID outfits to the
characters' traditional outfits, so TRONald has a bow-tie and Winnie the CLU just has a
belly shirt!
I also gave each character a back story. TRONald's is as follows:
"Once there were three young ducks who wanted their uncle to buy them the latest
video game console with motion sensing technology. Since he was a thrifty duck, the
uncle tried to build them his own game console instead. To his surprise, not only did his
homemade creation scan his movements, it scanned him right into the digital world
where he became TRONald! While his three nephews were disappointed not to get the
console they wanted, they sure had fun putting TRONald through all kinds of video
game trials on the Game Grid!"
Winnie the CLU's is as follows:
"One day, a silly ol' bear tried to digitize a pot of hunny so he could replicate an infinite
supply without having to worry about getting stuck in trees or stung by bees.
Unfortunately, the honey spilled from the pot, causing the computer to go haywire and
digitize the bear. Now, trapped in the Hundred Acre Grid, Winnie the CLU is desperate
to escape back to his home!"
When I get the time, I want to create JessiQuorra Rabbit…
Destination Vinylmation: You also have another TRON figure. When creating these, is there any rhyme or reason to the lines, or are they just a random aesthetic design choice? 
Brian: The other TRON figure I painted was inspired by the classic look of the original movie. I
love the scene when TRON, Flynn, and RAM escape the Game Grid on their light
cycles while being chased by Recognizers. I wanted to capture that on a vinyl, and I
thought the feet on the Vinylmation canvas look like two light cycles side by side. I
made one blue and one yellow. I then painted a classic Recognizer on the torso, and
covered the dark areas of it with a hand painted gloss finish to offset it from the rest of
the black areas on the figure. To keep the rest of the Vinylmation interesting, I used the
ears, head, and back for the angular light trails that the classic cycles created.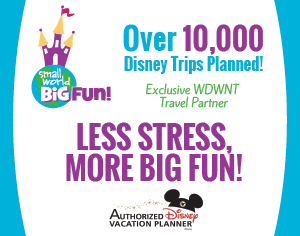 I don't know about you, but there are times when planning a Disney vacation can be overwhelming! There are so many options, where to stay, when to go, is this the best price. So, I want to introduce you all to Cindy Minor and the team at Small World Big Fun. They will help you plan your Disney vacation for FREE. Contact them today!