–
Destination Vinylmation: Today we will talk about a couple movie themed customs of yours. We will start with Thark from John Carter. Although a flop in the theaters, this figure came out spot on. You must be proud of all the detail in this one?
Brian Shapiro: Out of all my customs, this is my favorite. As you can see from my portfolio of work, I rarely ever create nine-inch figures. Besides the Thark and the Partners set, I've only done one other nine-inch design. I eschew the platform because I prefer to work in miniature. However, when I saw production stills and previews of John Carter before it came out, I was struck by the appearance of the Tharks, and I knew the only way to do them justice was to use the larger blank canvas. It allowed me to convey the height of the creature and gave me room to paint an extra set of arms. The Vinylmation took a long time to paint, consuming many little pots of Games Workshop paint and brushes, and unfortunately, I wasn't able to finish it until a week or so after the movie's release. Unlike the Tharks in the books, the ones in the movie had expressive eyes, and I think I captured them just right. I also had a little fun in that I painted the two extra hands to only have four fingers each to match the ones on the canvas' arms. I replaced the design typically seen on the creature's breastplate with a hidden Mickey, and I painted a Martian landscape on the ears. Finally, I couldn't resist making my first large accessory, the spear, from a wood dowel, some ribbon, and a custom painted spearhead crafted from dental acrylic. I was proud to see it featured on Tomopop's site, and when I posted a picture of it on Facebook, I was honored to see Thomas Scott both commend it and recommend that I post it on a John Carter fan site!
DV: Are you a fan of the books, movie, both? 
Brian: As much as I loved TRON: Legacy last year, I have to admit John Carter is a much better film. It is such a shame it didn't get the recognition it deserved. I had not heard of the character until I saw the first previews last year. In anticipation of the movie I read the first book, and I'm partway through the second. It's impressive to think they were written one hundred years ago, and it's amazing how many modern franchises from Superman to Star Wars to Avatar are derivative from them. The movie did great justice to the material. It had great acting, brilliant special effects, and some clever humor. Hopefully people will pay more attention to it when it's released on DVD on June 5. There's no doubt it will be a cult classic like TRON, and hopefully we won't have to wait thirty years for a sequel!
DV: You also created a Rocketeer. On this custom, you decided to not fill the entire Mickey head with the Rocketeer's head. I can see this one being tricky, because the side view will have split heads. I ran into this issue myself with a custom. How often do you have to alter a design that works on paper, but not once you paint it on the mold? 
Brian: My Rocketeer custom was one of my first, and it was back in the days when I thought using accessories was cheating. I felt the entire concept had to be conveyed only through painting in the details. At the time, the only way I could imagine doing the fin on the helmet was to paint the helmet on the lower portion of the canvas' head to allow room to paint the fin on the forehead. It also meant painting the non-helmet portions of the head to look like the sky. Today I would craft a fin out of acrylic. I knew when I painted the Rocketeer the design would look strange as viewed from the side, but I felt I had no choice.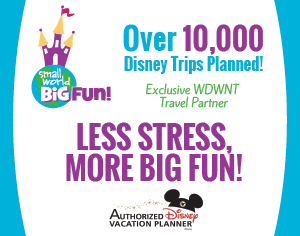 I don't know about you, but there are times when planning a Disney vacation can be overwhelming! There are so many options, where to stay, when to go, is this the best price. So, I want to introduce you all to Cindy Minor and the team at Small World Big Fun. They will help you plan your Disney vacation for FREE. Contact them today!