With the Epcot International Flower and Garden festival for 2013 now underway, here is your complete guide to everything you can expect from this year's festival.
Festival Dates: March 6th through May 19th, 2013
What's New This Year
Garden Marketplace culinary creations ranging from smokehouse barbecue and shrimp with grits and Zellwood corn to sweet "frushi" made with fresh fruits and coconut rice.  Chefs are perfecting menus for marketplaces that will include Florida Fresh at World Showcase Promenade, Smokehouse Barbecue and Brew at American Adventure courtyard, Primavera Kitchen at Italy showcase, Hanami at Japan showcase and eight others.  Around the World Showcase promenade
Garden Marketplace refreshing libations with a kick like Hot Sun Tomato Wine from Florida Orange Groves Winery and Dole Whip with Spiced Rum, as well as non-alcoholic drinks like Frozen Desert Violet Lemonade and Wild Berry Slush.  Beverage specialists will feature brews and beverages at food marketplaces and at Fruits by the Glass and Pineapple Promenade. Around the World Showcase promenade
The Land of Oz Garden circus-like play area, based on the Disney fantastical film adventure "Oz The Great and Powerful" to be released March 8, 2013. The interactive children's play zone will feature play systems adorned with giant flowers and designed to stretch kids' imaginations and muscles. Midway-style games, circus-themed game tents and the "Oz Movie Garden" of intriguing plants will capture the spirit of the upcoming film.  Also on tap: photo opportunities and the "great and powerful Oz's" crashed hot-air balloon. Imagination Walkway
Larger-than-life Fab Five Disney character topiary.  Floral versions of Mickey Mouse, Minnie Mouse, Goofy, Pluto and Donald Duck (with Daisy Duck in a cameo) star in a celebratory cookout scene in living topiary color. The 14-foot-tall Goofy topiary will bobble an anniversary cake while Donald and Daisy play badminton, Mickey fires up the grill, Pluto swipes a link of hot dogs and Minnie chills out on a colorful blanket of blossoms.  Epcot Front Entrance
Illuminated Gardens in the park's Future World and World Showcase will twinkle and glow over the festival's world-famous Disney gardens and topiaries each festival evening. Epcot Future World and World Showcase
Other Highlights
"Monsters University" topiary:  Floral representations of Mike and Sully from the hit Disney-Pixar film "Monsters, Inc." and stars of Disney-Pixar's June 2013 release, "Monsters University," will join the festivities as new topiary family members.  On the Future World Walkway
Phineas and Ferb topiary:  The popular Disney Channel animated celebs limit their shenanigans to go green for a family photo-op.  Behind Spaceship Earth
"Radiator Springs" interactive play zone:  Race car Lightning McQueen and tow truck "Mater" of the Disney-Pixar film "Cars 2″ will be the well-maintained topiary stars of this play area.  On the Test Track Walkway
Flower Power Firsts:  1970s top disco band the Village People (April 19-21) and 1960s singer-songwriter Tommy Roe (May 3-5) bring on the Flower Power beat when they take the concert stage.  At America Gardens Theatre
Tinker Bell's Butterfly House: Eight fanciful fairy topiaries of Pixie Hollow, including Tinker Bell, Fawn, Vidia and Terrence, take over the Butterfly House this year where hundreds of colorful winged beauties flit to life.  On the Imagination Walkway
Flower Power Concerts
| | |
| --- | --- |
| March 8-10 | The Monkees Lead Singer Micky Dolenz "Last Train to Clarksville" |
| March 15-17 | Chubby Checker & The Wildcats "The Twist" |
| March 22-24 | The Guess Who "American Woman" |
| March 29-31 | Nelson "Garden Party" |
| April 5-7 | The Turtles featuring Flo & Eddie "Happy Together" |
| April 12-14 | Paul Revere & The Raiders "Good Thing" |
| April 19-21 | NEW! The Village People "Y.M.C.A." |
| April 26-28 | The Orchestra featuring former members of ELO and ELO Part II "Don't Bring Me Down" |
| May 3-5 | NEW! Tommy Roe "DIZZY" |
| May 10-12 | Herman's Hermits starring Peter Noone "I'm Henry the VIII, I Am" |
| May 17-19 | Starship starring Mickey Thomas "We Built this City"  |

Fun Facts and Trivia
30 million blooms blanket the park throughout the festival, which runs 75 colorful days.
One dozen brand-new garden marketplaces surround the World Showcase Lagoon offering festival taste treats ranging from shrimp and grits with fresh Florida veggies to barbecue and brew. Each marketplace will feature a produce and  herb garden to represent the more than 50 marketplace beverage choices and more than 30 food items featured at the marketplaces.
The festival's front-entrance Party with Mickey & Friends topiary scene comprises
six topiaries – Mickey, Minnie, Donald, Daisy, Pluto and Goofy –and more than 15 varieties of flowers, plants, and other garden materials.
The Land of Oz Garden is the largest festival garden ever created for the festival at nearly one-third acre.  The garden's own "yellow brick road" is 160 feet long and includes 40 feet of  "yellow brick" decal, 40 feet of ForeverLawn yellow turf and an 80-foot-long floral path planted with 1,200 yellow viola plants, to be replaced by tropical duranta plants when the weather heats up later in April. Dozens of additional Disney character topiaries represent the largest collection of Disney character topiary in the world and include Disney and Pixar film and TV stars Mike and Sulley (new!) plus Woody, Buzz Lightyear, Cinderella, Belle and Beast, and Phineas and Ferb. At least 25 different plants, grasses and mosses of various colors, including pink and red begonias, dusty miller, palm fiber, palm seeds, ficus and lichen, are used to create and define features of additional festival topiaries.
1,000 native butterflies represent up to 10 species at the expansive Tinker Bell's Butterfly House. Among the garden's two dozen nectar plants are Cape Royal plumbago, passion flower, coral honeysuckle, blazing star, butterfly bush, scarlet milkweed and canna lily.
More than 500,000 plants, trees and shrubs are planted for the festival; 250,000 of those are annual blossoms installed for the festival.
Festival plants include 60 different species of trees, 47 types of palms, and 48 varieties of bedding plants.
150 hands-on gardening demonstrations and seminars will be presented.
30 "flower towers" of of several varieties of blooms and plants line Innoventions Plaza.
225 floating mini-gardens, each three feet in diameter, of multi-hued impatiens provide splashes of color on two ponds that border the walkway between Future World and World Showcase.
700 container gardens of flowers, herbs, plants and vegetables in clay pots, barrels and urns enhance the landscape throughout Epcot.
400 Walt Disney World horticulturists are needed to install the festival landscape, topiaries and many exhibits; 100 Epcot horticulturists maintain topiaries and other festival displays.
It takes more than one full year and about 24,000 cast member hours to prepare for the annual festival.
The festival's weekend Flower Power concert series includes 11 artists and groups known for their Top 40 hits.  This year's musical hit-makers from the 1960s and '70s include The Monkees Lead Singer Micky Dolenz, The Village People (new!), Tommy Roe (new!), Starship starring Mickey Thomas, The Guess Who, Chubby Checker & The Wildcats, Paul Revere & The Raiders, Nelson, The Turtles featuring Flo & Eddie, The Orchestra starring former members of ELO, Herman's Hermits Starring Peter Noone.
Food & Drink at Flower & Garden
(** indicates TRYit items, Disney's new campaign that encourages children to try something new.)
Fruits by the Glass – World Showcase Plaza
Watermelon Passion Fruit Cocktail
Wild Berry Slush – Non Alcoholic
Sea Dog Blue Paw Wild Blueberry**
New Planet™ 3R Raspberry Ale (Gluten Free)
Florida Orange Groves, Mango Mama, Mango Wine
Florida Orange Groves, Blueberry Blue, Blueberry Wine
DeLoach Vineyards Heritage Reserve Chardonnay
DeLoach Vineyards Heritage Reserve Pinot Noir
Florida Fresh – World Showcase Promenade
Watermelon Salad with pickled Red Onions, Baby Arugula, Feta Cheese and Balsamic Reduction**
Shrimp and Stone Ground Grits with Andouille Sausage, Zellwood Corn, Tomatoes and Cilantro
Angel Food Cake with macerated Florida Berries**
Florida Orange Groves, Hot Sun, Tomato Wine
Florida Orange Groves, 40 Karat, Carrot Wine
Orange Blossom Pilsner
Strawberry Slush – Non Alcoholic
Jardin de Fiestas – Mexico
Tacos de Carnitas (Pork Tacos topped with Tamarindo salsa, served on a flour tortilla with Chicharrón)
Tostada (Crab tostada served with Chipotle Mayo and Valentina Salsa)
Flan de Guayaba (Guava Custard)
Conga Fruit Punch – Non Alcoholic
Corona Light Draft Beer
Rosita Margarita
Organic Tequila Flight
Lotus House – China
Beijing-Style Candied Strawberries
Spring Pancake with Grilled Chicken and Green Apple**
Pan-Fried Vegetable Bun
Peach-Oolong Bubble Tea
Kung Fu Punch (Vodka and Triple Sec with Mango and Orange Juice)
South Sea Storm (Guava with Light and Dark Rum)
Plum Wine
Tsing – Tao Beer
Lychee Aerated Water
Peach Aerated Water
Bauernmarkt: Farmer's Market – Germany
Savory Bread Pudding with Spring Peas and Wild Mushroom Ragout
German Meatloaf Sandwich with Sweet Mustard and Fried Shallots
Potato Pancakes with house made Apple Sauce**
Florida Avenue American Wheat Ale
Krombacher Hefeweizen
Goose Island Brewing Company's Honker Ale
Blue Point's Toasted Lager
Beer Flight
Hugo – Charles De Fere "Organic" Brut with Elderflower and Mint
Krombacher Hefeweizen
Primavera Kitchen – Italy
Asparagi con Aragosta all'Ortolana (Green asparagus, lobster, garden cocktail sauce)
Lasagna Primavera (Spinach Lasagna, green peas, zucchini, mushrooms, broccolini, béchamel and fresh tomatoes, with garlic and basil leaves) **
Panna Cotta al Limoncello (Limoncello flavored Panna Cotta, wild berries)
Fontana Candida, Pinot Grigio
Castello di Querceto, Chianti
Bosco del Merlo, Prosecco
White Peach Bellini
Strawberry Rossini
Italian Primavera
Birrificio Del Ducato – Nuova Mattina (Spring Saison Ale)
Birrificio Le Baladin – Nora (Specialty Ale)
Birra Del Borgo – Rubus Lamponi (Specialty Wild Fruit Ale)
Beer Flight
The Smokehouse: Barbeque and Brews – American Adventure Courtyard
Pulled Pig Slider with Cole Slaw
Smoked Beef Brisket with Collard Greens and Jalapeño Corn Bre
ad
Rocky Road Brownie Mousse
Mama's Little Yella Pils (Czech style Pilsner)
Liberty Ale from Anchor Brewing Company,  San Francisco, Ca. (India Pale Ale)
Red Ale from Orlando Brewing, Orlando, Fla. (Red Ale- Organic)
Blackwater Porter from Orlando Brewing Company, Orlando, Fla. (Stout- Organic)
The Original Rib Shack Red Wine
Beer Flight
Hanami — Japan
Frushi (Fresh strawberries, pineapple and cantaloupe rolled with coconut rice, atop a raspberry sauce sprinkled with toasted coconut and whipped cream)**
Chirashi Hanazushi (Grilled Salmon, cooked shrimp and crab stick served over a bed of fragrant ginger rice with Volcano and Dynamite sauce)
YakiSoba Pan (Fresh grilled carrots, onions and cabbage with Japanese noodles and teriyaki sauce served on a bun with mayonnaise and Beni Shoga)
Green Tea Flan (Silky custard with macha green tea and caramel glaze)
Yuzu Rita
Fruit Sake
Hana Awaka
Frozen Kirin Ichiban
A Taste of Marrakesh – Morocco
Spiced Lamb Kebab with Vegetable Couscous Salad
Harissa and Lamb Confit Chicken Drumettes with Chermoula and Cucumber Salad
Baghrir (Moroccan pancake with honey, almonds and Argan Oil)**
Desert Rose
White Sangria
Guerrouane Red
Casa Beer
Mint Iced Tea
L'Orangerie – France
Tarte à la ratatouille et fromage de chèvre (Zucchini, eggplant, bell peppers, onions and tomato tart with goat cheese)**
Terrine Campagnarde, baguette et compote de cerises (Country style pâté served with baguette and cherry compote)
Verrine charlotte au pèches (Caramelized peaches and rosemary and light vanilla cream)
La Vie en Rose Frozen Slush (Grey Goose Vodka Orange,
St. Germain liquor with White and Red Cranberry Juice)
Muscat Pétillant, Sparkling Muscat Charles de Fère
Chardonnay, White Burgundy, Macon Village Georges Duboeuf
Cabernet Sauvignon, Bordeaux Beau-Rivage
Kronenbourg Blanc 1664, (Fruity White Beer with Citrus Notes)
The Cottage: Savories, Trifles and Teas – United Kingdom
Potato, Chive and Cheddar Cheese Biscuit with Smoked Salmon Tartare and Sour Cream
Baked Goat's Brie with Kumquat Chutney**
Waterkist Farms Heirloom Tomatoes   with house-made Mozzarella, Minus 8 Vinegar and Basil**
Chocolate Trifle
Berry Trifle
Ginger and Tea Trifle
Trio of Trifles
Hot Teas (Earl Grey, English Breakfast, Lemon Green Tea, Jasmine Green Tea, Spiced Apple Chai, Pumpkin Chai, Mixed Berry Black Tea, Pomegranate and Raspberry, Camomile Honey & Vanilla, Honeybush, Mandarin and Orange, Pure Peppermint, Lemon & Ginger)
Peach Cold Brewed Iced Tea
Mixed Berries Cold Brewed Iced Tea
Poema Cava Brut Rosé
Chilled Rose Blush Lemonade – Non alcoholic
Pineapple Promenade – World Showcase Promenade
Dole® Whip
Dole® Whip with Siesta Key Spiced Rum
Pineapple Upside Down Cake featuring Dole® Pineapple
Dole® Pineapple Fruit Cup
Frozen Desert Violet Lemonade – Non Alcoholic
Samuel Adams® Cream Stout
Intermissions Café
Beet Lollipop**
Grapes
Fruit & Cheese Plate
Vegan Trio
Southwest Chicken Wrap
Tuna Salad with Pita
Italian Salad
Asian Tuna Salad with Noodles
New Planet™ 3R Raspberry Ale (Gluten Free) (12 oz.)
Blue Point's Spring Fling (12 oz.)
Florida Orange Groves, Mango Mama, Mango Wine
Florida Orange Groves, Blueberry Blue, Blueberry Wine
DeLoach Vineyards Heritage Reserve Chardonnay
DeLoach Vineyards Heritage Reserve Pinot Noir
Poema Cava Brut Rosé
HGTV and DIY Network Seminars
 March 8-10 – Chris Lambton, Going Yard:  "Going Yard for Your Lifestyle"
 March 15-17 – Chris Grundy, DIY Network's Cool Tools: "Keepin' It Green with Grundy"
March 22-24 – Egypt Sherrod, host of Property Virgins: "Getting the Inside Scoop on HGTV's Top Home Features for 2013″
March 29-31 – Brandon Johnson, My Yard Goes Disney: "Bringing More Disney Inspiration and HGTV Design to Your Backyard"
April 5-7 – Meg Caswell, Meg's Great Rooms: "Discovering Design Tips to Personalize Your Space & Make a Good Room Great"
April 12-14 – Jason Cameron, DIY Network's Desperate Landscapes and Man Caves: "Desperate Landscapes . . . Where Do We Grow from Here?"
April 19-21 – Sara Peterson, Editor-in-Chief, HGTV Magazine: "Boosting Your Curb Appeal! 25 Easy Ideas from Front Doors to Flower Pots"
April 26-28 – Carter Oosterhouse, Million Dollar Rooms: "Million Dollar Trends"
May 3-5 – Casey Noble, Design on a Dime: "Creating Luxury Hotel Floral Arrangements in Your Home"
May 10-12 – Dan Faires, HGTV.com, DanMade: "Easy Ideas for Creating a Designer Garden"
May 17-19 – David Bromstad, HGTV Design Star, ColorSplash, Design Star All-Stars: "The Power of Color"
For More Information: www.epcotinspring.com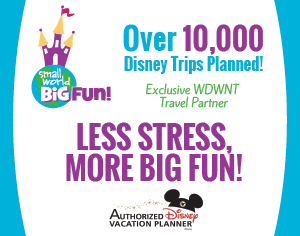 I don't know about you, but there are times when planning a Disney vacation can be overwhelming! There are so many options, where to stay, when to go, is this the best price. So, I want to introduce you all to Cindy Minor and the team at Small World Big Fun. They will help you plan your Disney vacation for FREE. Contact them today!