Disney's Hollywood Studios has been home to several memorable daytime parades.  The themes of these parades include: Aladdin, Hercules, Mulan, Pixar, and more.
The first parade began in September 1991 and was titled Dinosaurs Live.  It starred the Sinclair Family from the hit ABC television sitcom Dinosaurs; this parade ran around the area that now encompasses the Sorcerer's Hat.  After about two and a half minutes of its seven minute production, the main floats stopped in front of The Great Movie Ride for a short, live show.  This parade ended in August 1992.
In December 1992, a parade titled Aladdin's Royal Caravan followed in the footsteps of Dinosaurs Live.  A duplicate version also ran in Disneyland beginning in 1992.  Three floats of Aladdin's Royal Caravan showcased the very amicable Genie; this included the headlining float of the parade which depicted him as 32-feet tall.  This float was later re-used in The Magic Kingdom's Remember the Magic parade.  Aladdin's Royal Caravan was seen on an episode of the ABC television sitcom Full House.  This parade was the first home of the water-spitting camels that now inhabit The Magic Carpets of Aladdin in the Magic Kingdom.  Before they were permanently relocated to this attraction, the two camels were used as decorations in the Soundstage Restaurant in Hollywood Studios.  Aladdin's Royal Caravan closed in August 1995 to make way for a new parade oriented around the first feature-length Pixar film: Toy Story.
Toy Story – The Parade first delighted guests of Hollywood Studios in November 1995.  This parade consisted of the major Toy Story characters, including Woody and Buzz who were walking freely, and others who were built onto the float structures such as Mr. Potato Head and Hamm.  After this parade ended, the floats were later used in the small show "Operation Toy Story."  This was a focal point of the brief "Toy Story Weekends" that allowed for Buzz and Woody to hold meet-and-greets before they were given a set location in Hollywood Studios.  Toy Story – The Parade's first float was themed for the Green Army Men and was later refurbished to be transformed into the Giraffe float in the Animal Kingdom's Festival of the Lion King show.  The parade was cancelled in June, 1997.
Also in June 1997, the Hercules Zero to Hero Victory Parade debuted.  Running twice a day, this parade allowed for a random family inside Hollywood Studios to be chosen for each performance, dressed in Hercules-inspired Greek attire, and be members of the "Theban Family of the Day."  As of May 1998, the Hercules cast of characters no longer marched down Hollywood Boulevard.
The successor of Hercules Zero to Hero Victory Parade was the Mulan Parade.  The opening day of Mulan, the film, was also the first day of the accompanying parade in Hollywood Studios.  The parade utilized fifty-three performers, and its primary theme was an instrumental version of Honor to Us All.  As of March 2001, the Mulan Parade ended its tenure.
May 2001 marked the beginning of the longest running parade in Hollywood Studios–Disney Stars and Motor Cars Parade.  This parade was brought to Walt Disney World as a part of the 100 Years of Magic Celebration and ran from around the Backlot Tour to the side of what used to be Sid Cahuenga's One-of-a-Kind shop.  Disney characters either rode in or walked alongside an intricately themed car.  These characters frequently interacted with those in the crowd which gave the parade a unique element.  There was a Toy Story car that was designed to resemble Andy's bed.  The parade had a Mary Poppins car that had two carousel horses.  The car themed for Jim Henson's The Muppets was topped by an attached blimp.  Star Wars was represented in its own car that had Luke Skywalker and Princess Leia riding inside.  Mulan's car featured a Chinese umbrella hanging over her.  Pixar's Monsters, Inc. characters Sully and Mike Wazowski sat inside a red convertible that resembled the car in the Disney/Pixar's short film Mike's New Car.  The car that held Aladdin and Jasmine was the Genie transformed into the shape of an automobile.  Serving as the finale of the parade, Mickey Mouse, Minnie Mouse, Donald Duck, and Goofy rode in a 1929 Cadillac.  Other movies and characters who appeared in the parade include: Hercules, Disney Villains, Lilo & Stitch, The Little Mermaid, Power Rangers, Playhouse Disney characters, Snow White and the Seven Dwarfs, Cars, Alice in Wonderland, and Pinocchio.  Disney Stars and Motor Cars ran until March 2008.
Block Party Bash began in Disney's Hollywood Studios in March 2008.  This stage show/parade first debuted in Disney California Adventure and was then transported to Walt Disney World.  Block Party Bash touched upon unprecedented elements within Walt Disney World parades because of its heavy emphasis on dance music.  The floats and characters of this parade were representative of most Pixar movies released at that point: Toy Story, A Bug's Life, Toy Story 2, Monsters, Inc., and The Incredibles.  It was replaced in January 2011 by a very similar production, Pixar Pals Countdown to Fun!
Pixar movies that were released after what was encompassed in Block Party Bash became a part of Pixar Pals Countdown to Fun!; these movies include Ratatouille, UP, and Toy Story 3.  Many of the floats from Block Party Bash were recycled for this parade.  Pixar Pals Countdown to Fun! was the latest parade to run in Hollywood Studios, and it ended on April 6, 2013.
Until a new parade surfaces the streets of Hollywood Studios, guests will need to settle for already existing forms of entertainment within the park.  The rock band, "Mulch, Sweat n' Shears," still performs on a regular basis, as well as the other live stage shows: Beauty and the Beast Live on Stage, The Voyage of the Little Mermaid, Disney Junior Live on Stage, and Fantasmic.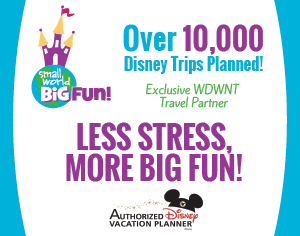 I don't know about you, but there are times when planning a Disney vacation can be overwhelming! There are so many options, where to stay, when to go, is this the best price. So, I want to introduce you all to Cindy Minor and the team at Small World Big Fun. They will help you plan your Disney vacation for FREE. Contact them today!