The release of a new "Star Wars" film has always been more than just a movie release, it has been more of an "event" where you will see long lines of fans camping out in front of theaters for days. Without a doubt, "Star Wars" has always been one of those movies that you have to experience on the big screen. The next chapter in the "Star Wars" saga will be no different. On second thought, this time there will be a "big" difference.
On December 18th, "Star Wars: The Force Awakens" will be released in theaters and the best possible way to experience it is at an IMAX theater. Last year Disney announced that certain segments of "Star Wars: The Force Awakens" would be filmed using IMAX camera's. They also released the following images showing exactly what we could expect from seeing the movie in an IMAX theater as apposed to your standard movie theater, which will display all scenes in the widescreen format.
The clear advantage that the IMAX version has is that even though it may lose a small portion of the image horizontally, it more than makes up for it by what the image gains vertically. Keep in mind that not all of the movie was filmed using IMAX cameras, so there will be times you will experience shifting aspect ratios. Plus Disney has still not revealed exactly how may minutes will take advantage of IMAX footage.
This week MakingStarWars.com received their first description of one of the scenes that was filmed using IMAX cameras. Be warned, some "minor" SPOILERS ahead:
Later on in the film after Rey and Finn take their flight in the Falcon is where we get the IMAX sequences. The Falcon is chased by TIE Fighters and we apparently move by some familiar landmarks in the film's one-sun desert setting. This is the big chase and action sequence which dominates the film's first act. TIEs are in hot pursuit of the Falcon as it rockets away from the salvage station. Rey and BB-8 pilot the ship. Finn gets on the Falcon's turret. There's a lot of banter between the two and to an extent they don't seem to really know what they're doing. But most of all, Finn is rather inept. As TIEs shoot at the Falcon, Rey has to ask Finn if he plans on "answering back." Its a situation he can't talk himself out of and he has figure out how to use the turret and actually hit one. To save their skins, Rey pilots them into the insides of the giant crashed Star Destroyer she was scavenging from during her introduction sequence. The Falcon and the TIEs "slalom" around debris and the insides of the downed ship, eventually losing their persuers.

Presumably they give us a moment to catch our breath, the IMAX sequence ends and then the Falcon end up being swallowed by another huge ship in space. Monomyth fans are going to have a fun time with those "belly of the whale" analogies. It appears the IMAX sequence is going to seriously rock as its the flight of the Falcon being chased by TIE Fighters into Star Destroyer wreckage.
I think that scene says it all. IMAX, here I come!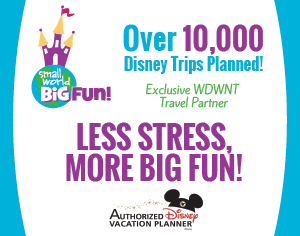 I don't know about you, but there are times when planning a Disney vacation can be overwhelming! There are so many options, where to stay, when to go, is this the best price. So, I want to introduce you all to Cindy Minor and the team at Small World Big Fun. They will help you plan your Disney vacation for FREE. Contact them today!