One of the coolest ways to check out the past, present, and future of Vinylmation is to compare and contrast the evolution of certain themes or licenses. The best example of this, in my opinion, is Star Wars. Looking at the debacle that is Star Wars Series #1 and comparing it to the other series and limited edition vinyls shows how artists started to not only understand the platform, but the theme as well, ultimately making better art. But since Nick is pretty much the Star Wars guy and has been on a 5 week high with Star Wars Weekends, I figured this was a good time to give attention to my favorite Disney-owned property, Marvel.
Even though Disney purchased Marvel Entertainment on August 31, 2009 (for 4 BILLION $$$$$!!!!) the property didn't make its debut on the Vinylmation platform until October, 2013. While it took some time to add Marvel Vinylmation into our collection, its also interesting to note that Marvel Series #1 was the first piece of merchandise created by the Disney Design Group. And these figures certainly did not disappoint. They arrived at one of the most exciting times for collecting Vinylmation, and showed amazing detail and representations of characters that blew even extremely "vocal" collectors away. The set became an instant hit, and quickly sold out. It wasn't long until Series #2 was released (focusing on Spider-Man and his foes), which continued to push the envelope for how licenses could be represented on the platform.
The newest series was released on May 1, 2015, tying in perfectly with the release of Marvel's biggest movie to date, "Avengers: Age of Ultron". While being careful not to refer to itself as Marvel Series #3, this new Avengers Series featured six character designs including Iron Man, Captain America, Thor, Hulk, Hawkeye, and Black Widow, each sporting their MCU look. Sprinkled in the set were variant figures of a few of the designs. Unique to the set was also an interesting distribution method, with all of the commons (except Iron Man) having the same distribution rate, the Hulk chaser and two of the variants having 1/24 odds, and an even more rare variant having 1/96 odds. I originally wrote a scathing review of this series, however this was based on blurry and leaked photos. It wasn't until I got the set in hand that I realized how amazing some of these designs were. And seeing as how we are beginning to get character redesigns, I thought I would go figure-by-figure, noting the similarities and differences and deciding which I liked better. So here we go!
IRON MAN: Iron Man was the breakout hit when Marvel Studios began making their own films in-house, and therefore, was one of the most popular figures in Marvel Series #1. The detail on him is great, ranging from the bolts on his chest plate to the lights inside his hands. But to me, I think I like the MCU version better. This is a great example of how the Vinylmation artists are continuing to improve their craft. The designs on the suit are so much smoother, especially the helmet. The look in the faceplate is captured perfectly!! Definitely one of my favorite figures in the set.
HULK: This one is very tough. With Marvel Series #1, we have a perfect representation of the Jack Kirby design, especially in the ears. On the other, we have the chaser of the MCU set, which, in person, you can actually see Mark Ruffalo's face behind that Hulk rage. I think, in the end, I have to go with the Hulk from Series #1, there's just too much nostalgia painted all over this guy. (But special recognition to the hidden 'A' logo on the MCU Hulk's pant pockets!)
BLACK WIDOW: This is where things start getting difficult, because we are dealing with variants. Starting with Black Widow I will now have to compare three designs of figures. Series #1 featured just one design of Black Widow, and I thought the artist, Thomas Scott, did a really good job with her. Females are particularly hard to draw on the platform because their faces tend to look fat. But using hair to cover up the sides usually works really well. This is the example here and I think Thomas Scott did a great job. However, I'm leaning toward the common in the MCU series being my favorite out of the three. You can really see Scarlett Johansson in the face here, the hair is drawn on perfectly, and I LOVE how the suit is lit up, wow!! The variant here is an interesting choice, where it's pretty much the same design but a non-lit up suit, thus omitting my favorite part of the figure (side-note, the MCU version includes an electric night-stick)
HAWKEYE: Hawkeye was chosen to be the combo topper in Series #1. The design chosen for this version of Hawkeye is his look in his newer run of comics, a series that Thomas Scott told me he was a huge fan of. I really like this choice, and I think he is one of the stronger figures in this set. In terms of the MCU version, I think the Jeremy Renner attempt here is a total miss. The entire expression is wrong, and I think it is the weakest design in the series. Hawkeye does, however, have a variant in this series, which I think is much stronger, and bears a resemblance to the combo topper from Series #1. Still, I think the original wins out for me here.
THOR: The Series #1 design of Thor is a pretty basic design, although at the time it was a hugely detailed figure, and extremely popular. The Hammer accessory he comes with is an amazing touch. He even had a variant in this series, featuring a beard on his face. The Thor that was released in the MCU series looks more like the variant (since Chris Hemsworth is bearded), but I still like the variant from Series #1 better than this design. I really don't think this looks like Chris Hemsworth at all, proving just how difficult it is to replicate an actor onto the Vinylmation platform, as opposed to the comic book version. The bearded Thor variant is definitely a must have!
CAPTAIN AMERICA: Last but not least, Captain America. The Series #1 version of Steve Rodgers looks great. He comes with a shield accessory that attaches to his arm, which is still one of the coolest accessories I've ever seen on a Vinylmation. He's also one of the best figures in the series. The detail on him is insane! And I love the expression on his face as well. The MCU version definitely had its work cut out for it. However, I think it's also one of the best ones in its respective series. I absolutely love Chris Evan's suit in the new Avengers movie, and Thomas Scott did an amazing job replicating it here. What really shines in this series though, is the 1/96 variant of this figure. This figure features an unmasked Chris Evans design, and it is easily one of my favorite figures I own. I'm a sucker for unmasked designs, and this one looks fantastic. Therefore, it has my vote for best Captain America vinyl.
So while the first set of Marvel Vinylmation definitely pushed the envelope in terms of what we can expect from licensed merchandise being transferred to the platform, I definitely think this new MCU series continues to show how the medium can evolve. Transferring actors onto the Mickey platform is no easy task, and I'm glad that, for the most part, Thomas Scott did a great job here. In terms of the future, I'm still holding out hope for an X-Men set for Series #3. However, at this point I feel like a Guardians of the Galaxy set is becoming more and more likely. Only time will tell, True Believers!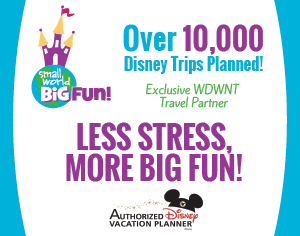 I don't know about you, but there are times when planning a Disney vacation can be overwhelming! There are so many options, where to stay, when to go, is this the best price. So, I want to introduce you all to Cindy Minor and the team at Small World Big Fun. They will help you plan your Disney vacation for FREE. Contact them today!