This post may contain affiliate links; please read the disclosure for more information.
Ale and Compass Lounge in Disney's Yacht Club Resort, Disney's Yacht Club Resort, Walt Disney World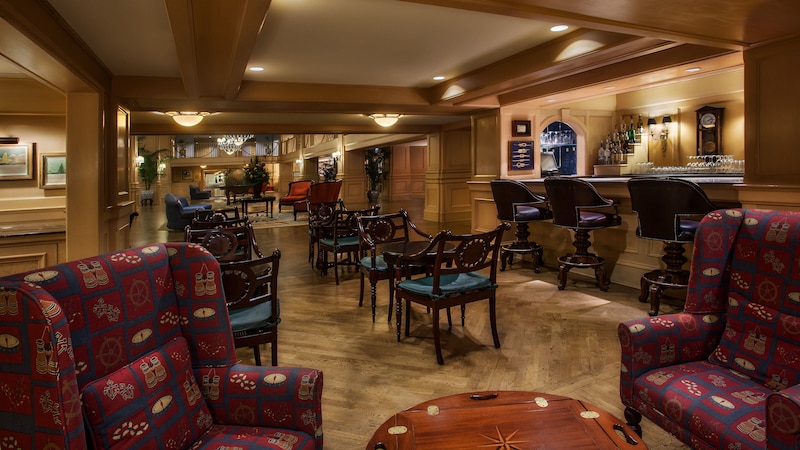 Details, tips, and information for Ale and Compass Lounge
Find yourself here for a beer! High-end liquors are poured at this nautical nook in the evening, along with such cocktails as the Captain's Daiquiri. Enjoy light snacks like the fruit and cheese board and coffee and pastries in the morning.

Cuisine:
American
WDWNT Reviews
Coming soon!
Menu for Ale and Compass Lounge
Menu
Experience: Lounges
Price level: $ ($14.99 and under per adult)
Appetizers
Hearth Oven "Pies" – Caramelized Leek and Chorizo – $18.00
Hearth Oven "Pies" – White Clam – $19.00
Parker House Rolls and Spreads – $12.00
Bacon Jam, Pub Cheese, and Smoked Trout Spread
Oven-roasted Littlenecks – $13.00
with Potatoes and Bacon
Grape Leaf-wrapped Baked Goat Cheese – $9.00
Oven-roasted Tomatoes and Toasted Pumpkin Seeds with Grilled Baguette
Roasted Garlic Shrimp – $15.00
Duck Rillette and Skirt Steak Jerky – $12.00
with Crostini and Pickles
Roasted Buffalo-style Cauliflower – $9.00
with Hearts of Romaine and Herb Ranch
Oven-roasted Oysters – $12.00
with Creamed Kale, White Cheddar, and Cornbread Crumbs
Non-Alcoholic Beverages
Strawberry Hibiscus No-Jito – $4.49
Flavors of Strawberry and Hibiscus, fresh Lime Juice, and Mint topped with Soda Water
Sparkling No-Jito – $4.49
Fresh Lime Juice, Simple Syrup, and Mint topped with Soda Water
Grapefruit Spritzer – $4.99
Juices of Ruby Red Grapefruit and fresh Lime Juice topped with Soda Water
No-Kick Mule – $4.99
Ginger Beer with Simple Syrup, and fresh Lime Juice
Wines
Banfi Rosa Regale Brachetto d'Acqui, Piedmont – Per Glass – $13.00 / Per Bottle – $55.00
Nino Franco Rustico Prosecco di Valdobbiadene, Veneto – Per Glass – $10.00 / Per Bottle – $45.00
Paul Cheneau Cava, Spain – Per Glass – $10.00 / Per Bottle – $45.00
Veuve Clicquot Ponsardin Brut Yellow Label, Champagne – Per Bottle – $89.00
Villa Rosa Moscato d'Asti, Piedmont – Per Glass – $9.00 / Per Bottle – $39.00
Dr. Loosen, Dr. L. Riesling, Mosel – Per Glass – $10.00 / Per Bottle – $45.00
Placido Pinot Grigio, Veneto – Per Glass – $9.00 / Per Bottle – $39.00
Kim Crawford Sauvignon Blanc, Marlborough – Per Glass – $11.00 / Per Bottle – $49.00
Conundrum White Blend, California – Per Glass – $14.00 / Per Bottle – $59.00
Domaine Savary Chablis, Burgundy – Per Glass – $13.00 / Per Bottle – $55.00
Jackson Estate Chardonnay, Santa Maria Valley – Per Glass – $11.00 / Per Bottle – $49.00
Chalk Hill Chardonnay, Sonoma Coast – Per Glass – $12.00 / Per Bottle – $53.00
Gérard Bertrand Cote de Roses Rosé, Languedoc – Per Glass – $10.00 / Per Bottle – $45.00
Kenwood Vineyards Yulupa White Zinfandel, California – Per Glass – $8.00 / Per Bottle – $35.00
MacMurray Estate Vineyards Pinot Noir, Russian River Valley – Per Glass – $13.00 / Per Bottle – $55.00
Meiomi Pinot Noir, California – Per Glass – $13.00 / Per Bottle – $55.00
Canyon Road Merlot, California – Per Glass – $9.00 / Per Bottle – $39.00
Chateau Ste. Michelle Canoe Ridge Merlot, Columbia Valley – Per Glass – $14.00 / Per Bottle – $59.00
Don Miguel Gascón Malbec, Mendoza – Per Glass – $10.00 / Per Bottle – $45.00
Yangarra Shiraz, McLaren Vale – Per Glass – $14.00 / Per Bottle – $59.00
Oberon Cabernet Sauvignon, Napa Valley – Per Glass – $13.00 / Per Bottle – $55.00
Simi Cabernet Savignon, Alexander Valley – Per Glass – $14.00 / Per Bottle – $59.00
Classic Cocktails
Royal Manhattan – $11.25
Knob Creek Straight Rye Whiskey, Carpano Antica Sweet Vermouth, and Angostura Bitters
Hudson Mule – $13.00
Hudson Baby Bourbon, fresh Lime Juice, Simple Syrup, and Fever-Tree Ginger Beer
Captain's Mai Tai – $10.50
Captain Morgan Original Spiced Rum, Bols Amaretto, and Tropical Juices topped with a float of Myers's Original Dark Rum
Ultimate Long Island Iced Tea – $11.25
Bacardi Superior Rum, Tito's Handmade Vodka, Hendrick's Gin, Cointreau, and Sweet-and-Sour with a splash of Coca-Cola
Dark and Stormy – $10.25
Myers's Original Dark Rum and Fever-Tree Ginger Beer
Seaworthy Breeze – $10.00
Yacht Club Vodka with Juices of Grapefruit and Cranberry
Galleon Gimlet – $11.25
Plymouth Navy Strength Gin with fresh Lime Juice and Simple Syrup
Original Cocktails
Maple Old Fashioned – $10.25
Jim Beam Black Extra-aged Bourbon, Maple Syrup, Orange Juice, and Angostura Bitters
NE Avenue – $11.25
Jack Daniel's Tennessee Whiskey, Busnel Calvados, Passion Fruit, Pomegranate Juice, and Cardamom Bitters
The Big Apple – $11.25
Buffalo Trace Bourbon, Crisp Apple Purée, and Carpano Antica Sweet Vermouth
How Dare You – $11.25
Fernet Branca Menta, fresh Lemon Juice, and Simple Syrup topped with Tonic Water
Purple Mariner – $11.25
Hendrick's Gin, Crème de Violette, Simple Syrup, and fresh Lemon Juice topped with Soda Water
Just Peachy – $11.25
Cîroc Peach Vodka, Aperol, Peychaud's Bitters, Peach and Blood Orange
Spicy Pomegranate Margarita – $11.25
El Mayor Blanco Tequila, Ancho Reyes Chile Liqueur, Pomegranate Juice, Simple Syrup, and fresh Lime Juice
Draft Beers
Bud Light Draft – St. Louis, MO – $6.50
Samuel Adams Boston Lager Draft – Boston, MA – $8.25
Yuengling Traditional Lager Draft – Pottsville, PA – $7.25
Blue Moon Belgian White (Witbier) Draft – Golden, CO – $8.25
New Belgium Fat Tire Amber Ale Draft – Ft. Collins, CO – $8.25
Cigar City Jai Alai IPA Draft – Tampa, FL – $8.25
Related