This post may contain affiliate links; please read the disclosure for more information.
Artist Point in Disney's Wilderness Lodge, Disney's Wilderness Lodge, Walt Disney World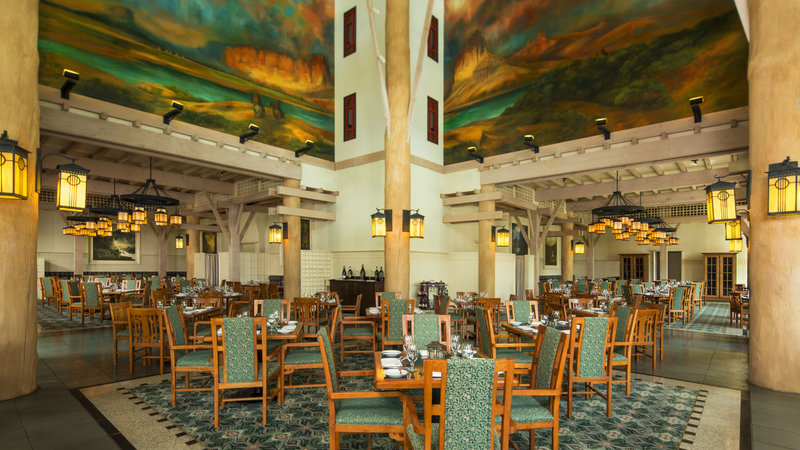 Details, tips, and information for Artist Point
Today's Hours
4:00PM - 9:00PM
Celebrate the culinary heritage of the Pacific Northwest with seasonal specialties and stunning waterfront views.

Cuisine:
American

Details:
Disney Dining Plan Accepted
WDWNT Reviews
Coming soon!
Menu for Artist Point
Menu
Experience: Signature Dining
Price level: $$$ ($35 to $59.99 per adult)
Signature Dining and Storybook Dining with Snow White Information
Signature Dining and Storybook Dining with Snow White Information –
Beginning December 16, 2018, Artist Point Restaurant will introduce a unique Character Dining experience every evening. An opportunity to meet Snow White, The Queen, and other Characters in a setting that brings the beloved film Snow White and the Seven Dwarfs to life! The current Signature Dining experience will be available through November 10, 2018. Please see below for the Signature Dining menus and the menu that will be offered after December 16, 2018, when Storybook Dining with Snow White at Artist Point begins
Signature Dining Appetizers (available through November 10, 2018)
Ahi Tuna Tataki – $19.00
Rice, Avocado, Daikon, Nori, Soy, Thai Chili Aïoli
Artisanal Cheeses – $17.00
Handcrafted Breads and Seasonal Accompainments
Hand-harvested Oysters – $16.00
Ramp Mignonette, Wood Oil, Celery, Sorrel
Handcrafted Charcuterie – $19.00
Butchers' Meats, Pickles, Mustards, Preserves, Lardo Toast
Venison Tartare – $18.00
Lemon, Elderberries, Farm Egg Yolk, Sunchoke Chips, Tarragon Aïoli
Steamed Mussels – $18.00
Roasted Tomato Cream, Cavatelli, Fennel, Charred Tomatoes, Crispy Pancetta
Signature Dining Soups & Salads (available through November 10, 2018)
Romaine Salad – $14.00
Caesar Dressing, Guanciale, Cojita Cheese, Amaranth Seed, Cubeb Pepper
Land Greens Salad – $14.00
Florida Peaches, Radish, Seed Granola, Goat's Milk Cheese, Peach Vinaigrette
Smoked Mushroom Bisque – $13.00
Nettle Pistou, Sunflower Seed, Salsify
Signature Dining Butchers' Cuts (available through November 10, 2018)
7-oz Filet Mignon – $49.00
Choice of House Side
8-oz Hanger Steak – $41.00
Choice of House Side
14-oz Berkshire Pork Porterhouse – $46.00
Choice of House Side
32-oz Aged Bone-In Rib-Eye For Two – $119.00
Choice of House Side
Signature Dining Entrées (available through November 10, 2018)
Slow-braised Venison Osso Buco – $46.00
Cauliflower-crushed Potato, Carrot, Wilted Greens, Spring Turnip
Cedar Plank Skuna Bay Salmon – $46.00
Wheatberries, Garden Squash, Frisée, Blood Orange, Ramp, Fines Herbes
Farm Egg Pappardelle – $34.00
Duck Ragoût, English Peas, Dandellion Greens, Aged Cow's Milk Cheese
Roasted Heritage Chicken – $36.00
Smoked Cheddar Taquitos, Elote, Masa, Verde Tomatillo Sauce
Seared Diver Sea Scallops – $40.00
Jasmine Rice, Mung Beans, Daikon, Braised Shiitakes, Mizuna
Wild Halibut Paella for Two – $78.00
Clams, Mussels, Bay Scallops, Carolina Gold Rice, Pigeon Peas, Baby Fennel
Signature Dining Desserts (available through November 10, 2018)
Almond Butter Cookies – $10.00
Orange Creamsicle Milk Shake
Warm Donuts – $12.00
Roasted Banana Anglaise, Blooms
Dark Chocolate Crémeux – $12.00
Espresso, Lingonberry, Chocolate Soup
Vanilla Bean Crème Brûlée – $11.00
Florida Peaches, Matcha, Gooseberry
Cobbler – $13.50
Seasonal Berries, Forest Berry Ice Cream
Signature Dining Kids' Appetizers (available through November 10, 2018)
Mixed Green Salad – $5.20
Seasonal Fruit – $4.00
Signature Dining Kids' Disney Check Meals (available through November 10, 2018)
Grilled Chicken Breast – $16.00
with "Land" Greens, Pears, Celery, and Seasonal Fruit served with choice of Small Lowfat Milk or Small Dasani Water. Meets Disney Nutrition Guidelines for Complete Meals without substitution
Roasted Cedar Plank Salmon – $18.00
with Fregola Pasta, Tomato, Arugula, and Seasonal Fruit served with choice of Small Lowfat Milk or Small Dasani Water. Meets Disney Nutrition Guidelines for Complete Meals without substitutions
Signature Dining Kids' Meals (available through November 10, 2018)
Grilled Chicken Breast – $12.00
with Roasted Potatoes and Petit Vegetables served with choice of Small Lowfat Milk, Small Dasani Water, or Small Minute Maid Apple Juice
Roasted Cedar Plank Salmon – $14.00
with Fregola Pasta, Tomato, and Arugula served with choice of Small Lowfat Milk, Small Dasani Water, or Small Minute Maid Apple Juice
Pasta – $10.00
with Marinara Sauce served with choice of Small Lowfat Milk, Small Dasani Water, or Small Minute Maid Apple Juice
Petit Steak – $16.00
with Roasted Potatoes and Petit Vegetables served with choice of Small Lowfat Milk, Small Dasani Water, or Small Minute Maid Apple Juice
Signature Dining Kids' Dessert (available through November 10, 2018)
Artists Palette – $10.00
with a Cupcake
Stoybook Dining with Snow White Information and Details
Storybook Dining with Snow White Information and Details (Beginning December 16, 2018) –
Beginning December 16, 2018 / Adults (ages 10+) $55.00, Children (ages 3-9) $33.00 / One (1) Disney Dining Plan Entitlement per Adult/Child
Storybook Dining…Shared Appetizers for the Table (Beginning December 16, 2018)
Winter Squash Bisque –
Caramel Loli, Granola
Hunter's Pie –
Chicken, Black Truffle, Stone Fruit Preserve
Wicked Shrimp Cocktail –
Soy, Miso, Avocado, Thai Chili, Greens
From the Garden –
Fruit, Vegetables, Cheese, and Create-Your-Own Honey Butter
Storybook Dining Adult Entrées – choose one (Beginning December 16, 2018)
Seafood Stew –
Shrimp, Bay Scallops, Mussels, Tomato, Fennel
Royal Prime Rib Roast –
Horseradish Mashed Potato, Hay-smoked Carrots, Popover, Jus
A Stroll through Nature –
Butternut Squash, Arugula, Gnocchi, Sage, Parmesan
Brother's Grimm Roasted Chicken –
Confit Potatoes, Roasted Brussels Sprouts, Apples, and Chestnut Butter
Magic Mirror Slow-braised Veal Shank –
Celery Root Mashed, Wilted Winter Greens, Jus
Bashful's Butter-poached Snapper –
Root Vegetable Risotto, Wild Mushroom, Citrus-Butter Sauce
Storybook Dining Children's Entrées (ages 3-9) – choose one (Beginning December 16, 2018)
Royal Prime Rib Roast –
Roasted Potatoes, Broccolini
Princess Pasta –
Choice of Red Sauce or Cheese Sauce
Vegetarian Steam Bun –
Crisp Shiitake, Hoisin, Pickles, and Cilantro
Grilled Chicken –
Roasted Potatoes, Broccolini
Chicken Tenders available upon request –
Storybook Dining…Shared Desserts for the Table (Beginning December 16, 2018)
Miner's Treasures –
Sponge Cake, Chocolate Gems, and Buttercream Icing
"Poison" Apple –
White Chocolate-Apple Mousse, Sour Center
Fairy Tale Gooseberry Pie –
Meringue, Gooseberry
The Hunter's Gift to the Queen –
Crackled Maple Popcorn, Ganache Heart
Allergy-Friendly Offerings
Allergy-Friendly menus available upon request –
Related