This post may contain affiliate links; please read the disclosure for more information.
Creature Comforts in Discovery Island, Disney's Animal Kingdom, Walt Disney World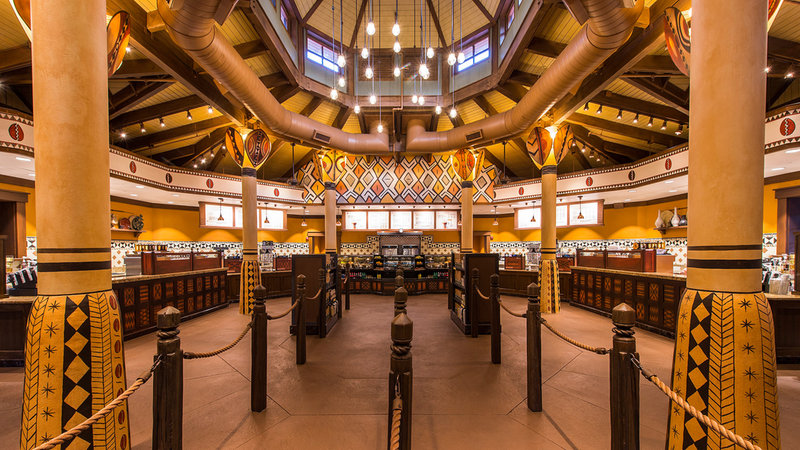 Details, tips, and information for Creature Comforts
Today's Hours
7:00AM - 8:00AM, 8:00AM - 10:00PM
Discover the delightfully re-imagined Creature Comforts in Discovery Island at Disney's Animal Kingdom theme park—now an exciting new STARBUCKS® coffee and specialty beverages location serving a selection of Disney baked goods and La Boulange™ pastry items!

Cuisine:
American/Bakery

Details:
Disney Dining Plan Accepted
WDWNT Reviews
Coming soon!
Menu for Creature Comforts
Menu
Experience: Quick Service Restaurant
Price level: $ ($14.99 and under per adult)
Frappuccino® and Smoothies
Caramel Frappuccino – Tall – $4.99
Caramel Frappuccino – Grande – $5.49
Caramel Frappuccino – Venti – $5.79
Mocha Frappuccino – Tall – $4.99
Mocha Frappuccino – Grande – $5.49
Mocha Frappuccino – Venti – $5.79
Java Chip Frappuccino – Tall – $4.99
Java Chip Frappuccino – Grande – $5.49
Java Chip Frappuccino – Venti – $5.79
Coffee Frappuccino – Tall – $4.49
Coffee Frappuccino – Grande – $4.99
Coffee Frappuccino – Venti – $5.49
Vanilla Bean Crème Frappuccino – Tall – $4.49
Vanilla Bean Crème Frappuccino – Grande – $4.99
Vanilla Bean Crème Frappuccino – Venti – $5.49
Strawberries & Crème Frappuccino – Tall – $4.99
Strawberries & Crème Frappuccino – Grande – $5.49
Strawberries & Crème Frappuccino – Venti – $5.79
Double Chocolaty Chip Frappuccino – Tall – $4.99
Double Chocolaty Chip Frappuccino – Grande – $5.49
Double Chocolaty Chip Frappuccino – Venti – $5.79
Green Tea Frappuccino – Tall – $4.99
Green Tea Frappuccino – Grande – $5.49
Green Tea Frappuccino – Venti – $5.79
Strawberry Banana Smoothie – $4.99
Starbucks Refreshers
Very Berry Hibiscus – Tall – $3.99
Very Berry Hibiscus – Grande – $4.49
Very Berry Hibiscus – Venti – $4.99
Strawberry Açaí – Tall – $3.99
Strawberry Açaí – Grande – $4.49
Strawberry Açaí – Venti – $4.99
Espresso & Coffee
Caramel Macchiato – Tall – $4.79
Caramel Macchiato – Grande – $5.29
Caramel Macchiato – Venti – $5.79
White Chocolate Mocha – Tall – $4.79
White Chocolate Mocha – Grande – $5.29
White Chocolate Mocha – Venti – $5.79
Flat White – Tall – $4.79
Flat White – Grande – $5.29
Flat White – Venti – $5.79
Cappuccino – Tall – $3.99
Cappuccino – Grande – $4.29
Cappuccino – Venti – $4.79
Caffè Latte – Tall – $3.99
Caffè Latte – Grande – $4.29
Caffè Latte – Venti – $4.79
Caffè Mocha – Tall – $4.49
Caffè Mocha – Grande – $4.99
Caffè Mocha – Venti – $5.49
Caffè Americano – Tall – $2.99
Caffè Americano – Grande – $3.29
Caffè Americano – Venti – $3.49
Freshly Brewed Coffee – Tall – $2.49
Regular or Decaf
Freshly Brewed Coffee – Grande – $2.79
Regular or Decaf
Freshly Brewed Coffee – Venti – $2.99
Regular or Decaf
Cold Brew & More
Iced Coffee – Tall – $3.29
Iced Coffee – Grande – $3.49
Iced Coffee – Venti – $3.99
Nariño 70 Cold Brew – Tall – $3.69
Nariño 70 Cold Brew – Grande – $4.29
Nariño 70 Cold Brew – Venti – $4.49
Vanilla Sweet Cream Cold Brew – Tall – $4.29
Vanilla Sweet Cream Cold Brew – Grande – $4.79
Vanilla Sweet Cream Cold Brew – Venti – $4.99
Teavana® Tea – Hot or Iced
Teavana Shaken Iced Tea – Tall – $2.69
Black, Green, Passion or White
Teavana Shaken Iced Tea – Grande – $3.29
Black, Green, Passion or White
Teavana Shaken Iced Tea – Venti – $3.49
Black, Green, Passion or White
Teavana Iced Tea Lemonade – Tall – $3.79
Teavana Iced Tea Lemonade – Grande – $4.29
Teavana Iced Tea Lemonade – Venti – $4.49
Teavana Shaken Iced Pineapple Black Tea Infusion – Tall – $3.79
Teavana Shaken Iced Pineapple Black Tea Infusion – Grande – $4.29
Teavana Shaken Iced Pineapple Black Tea Infusion – Venti – $4.49
Teavana Shaken Iced Strawberry Green Tea Infusion – Tall – $3.79
Teavana Shaken Iced Strawberry Green Tea Infusion – Grande – $4.29
Teavana Shaken Iced Strawberry Green Tea Infusion – Venti – $4.49
Teavana Shaken Iced Peach Citrus White Tea Infusion – Tall – $3.79
Teavana Shaken Iced Peach Citrus White Tea Infusion – Grande – $4.29
Teavana Shaken Iced Peach Citrus White Tea Infusion – Venti – $4.49
Teavana Shaken Iced Tea Pinapple Black Tea Lemonade – Tall – $3.99
Teavana Shaken Iced Tea Pinapple Black Tea Lemonade – Grande – $4.49
Teavana Shaken Iced Tea Pinapple Black Tea Lemonade – Venti – $4.99
Teavana Shaken Iced Tea Strawberry Green Tea Lemonade – Tall – $3.99
Teavana Shaken Iced Tea Strawberry Green Tea Lemonade – Grande – $4.49
Teavana Shaken Iced Tea Strawberry Green Tea Lemonade – Venti – $4.99
Teavana Shaken Iced Tea Peach Citrus White Tea Lemonade – Tall – $3.99
Teavana Shaken Iced Tea Peach Citrus White Tea Lemonade – Grande – $4.49
Teavana Shaken Iced Tea Peach Citrus White Tea Lemonade – Venti – $4.99
Classic Chai Tea Latte – Tall – $4.29
Classic Chai Tea Latte – Grande – $4.69
Classic Chai Tea Latte – Venti – $4.99
Lightly Sweetened Chai Tea Latte – Tall – $4.29
Lightly Sweetened Chai Tea Latte – Grande – $4.69
Lightly Sweetened Chai Tea Latte – Venti – $4.99
Seasonal Offerings
Pumpkin Spice Latte – Tall – $4.99
Pumpkin Spice Latte – Grande – $5.49
Pumpkin Spice Latte – Venti – $5.99
Salted Caramel Mocha Frappuccino – Tall – $5.29
Salted Caramel Mocha Frappuccino – Grande – $5.79
Salted Caramel Mocha Frappuccino – Venti – $6.29
Related