This post may contain affiliate links; please read the disclosure for more information.
End Zone Food Court in Disney's All-Star Sports Resort, Disney's All-Star Sports Resort, Walt Disney World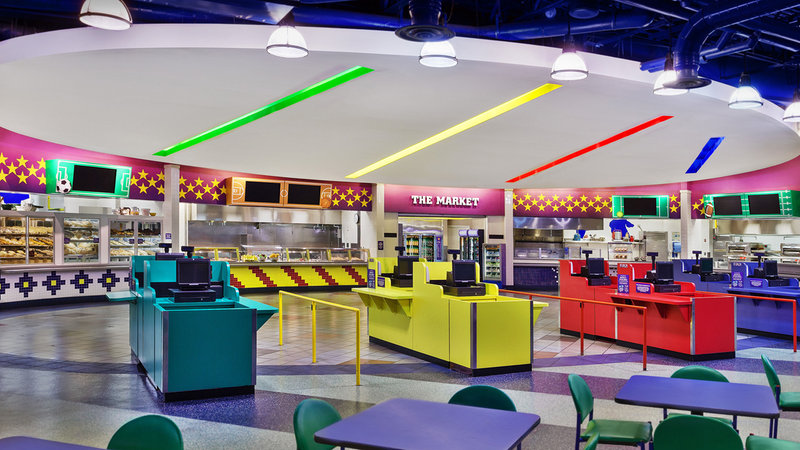 Details, tips, and information for End Zone Food Court
Sack your hunger with a preset line-up of fan favorites—pizza, nachos, hot dogs, smoothies, gelato and more—or create your own burgers and pasta, all while TVs play popular Disney cartoons and sporting events amid ample indoor seating.

Cuisine:
American

Details:
Disney Dining Plan Accepted
WDWNT Reviews
Coming soon!
Menus for End Zone Food Court
[mks_tabs nav='horizontal']
[mks_tab_item title='Breakfast']
Experience: Quick Service Restaurant
Price level: $ ($14.99 and under per adult)
Average entrée price: $8.46
Entrées – Grill Shop
Egg and Cheese Croissant – $8.79
served with Potato Barrels
Grilled Ham and Cheese – $8.49
served with Potato Barrels
Pancakes – $8.49
served with Bacon and Sausage
Chocolate-Chip Pancakes – $9.49
served with Bacon and Sausage
Entrées – Pizza Shop
Bounty Platter – $11.29
Scrambled Eggs, Breakfast Potatoes, Bacon, Sausage and a small Mickey-shaped Waffle
Mickey-Shaped Waffles – $9.49
served with Bacon and Sausage
Flatbread Breakfast Pizza – $11.99
Biscuits and Gravy – $3.99
Bacon – $2.99
Turkey Bacon – $2.99
Sausage – $2.99
Entrées – Specialty Shop
Breakfast Burger – $13.99
topped with Bacon, Cheddar and Fried Egg and served with Breakfast Potatoes
Egg White Vegetable Omelet – $10.99
served with Breakfast Potatoes
Western Omelet – $10.99
with Breakfast Potatoes and choice of Bacon or Sausage
Cheese Omelet – $10.99
served with Breakfast Potatoes and choice of Bacon or Sausage
Pastries – Bakery Shop
Bagel with Cream Cheese – $3.49
Chocolate Croissant – $3.99
Cinnamon Roll – $4.29
Banana Bread – $3.99
Cheesecake – $5.29
Assorted Muffins – $3.49
Assorted Danish – $3.99
Croissant – $3.49
Entrées – Ice Cream Shop
Bounty Platter – $11.29
Scrambled Eggs, Breakfast Potatoes, Bacon, Sausage and a small Mickey-shaped Waffle
Mickey-Shaped Waffles – $9.49
served with Bacon and Sausage
Smoothie with Protein Powder – $6.49
Strawberry and Banana, Mango or Wildberry
Smoothie – $5.49
Strawberry and Banana, Mango or Wildberry
Kids' Meals – Pizza Shop
Breakfast Platter – $6.49
Eggs and choice of Bacon or Sausage served with a small Lowfat Milk or small Dasani Water and choice of Side
Mickey-Shaped Waffles – $6.49
includes choice of small Lowfat Milk or small Dasani Water with Bacon and Fruit
Kids' Meals – Speciality Shop
Assorted Kellogg's Cereal – $5.19
served with Lowfat Milk
Breakfast Platter – $6.49
Eggs and choice of Bacon or Sausage served with a small Lowfat Milk or small Dasani Water and choice of Side
Kids' Meals – Ice Cream Shop
Breakfast Platter – $6.49
Eggs and choice of Bacon or Sausage served with a small Lowfat Milk or small Dasani Water and choice of Side
Mickey-Shaped Waffles – $6.49
includes choice of small Lowfat Milk or small Dasani Water with Bacon and Fruit
[/mks_tab_item]
[mks_tab_item title='Lunch']
Experience: Quick Service Restaurant
Price level: $ ($14.99 and under per adult)
Average entrée price: $12.24
Entrées – Grill Shop
Double American Classic Burger – $16.99
Two Angus Burger Patties, Bacon and American Cheese served with Coleslaw and French Fries
American Classic Burger – $14.49
Angus Burger, Bacon and American Cheese served with Coleslaw and French Fries
Barbecued Pulled Pork Burger – $15.49
Angus Burger, Honey Barbecued Pulled Pork, Cheddar Cheese and Fried Onions served with Coleslaw and French Fries
Vegetable Burger – $11.49
served with Coleslaw and French Fries
Chicken Breast Nuggets – $9.99
8-pieces served with French Fries
Chili-Cheese All-Beef Foot Long Hot Dog – $12.99
served with Coleslaw and French Fries
Sides – Grill Shop
Chili-Cheese Fries – $6.49
Entrées – Pizza Shop
Flatbread Pepperoni Pizza – $11.49
served with Side Salad and Breadstick
Flatbread Vegetable Pizza – $11.99
served with Side Salad and Breadstick
Flatbread Cheese Pizza – $10.99
served with Side Salad and Breadstick
Flatbread Breakfast Pizza – $11.99
Chicken Wings – $12.99
9 Wings tossed in Honey Barbecue, Buffalo or Asian Zing Sauce served with Celery and Carrot Sticks
Chicken Penne Alfredo – $12.79
served with Side Salad and Breadstick
3-Cheese Bacon Macaroni & Cheese – $12.49
served with Side Salad and Breadstick
Pasta with Meatballs – $12.29
served with Marinara Sauce, Side Salad and Breadstick
Large Pepperoni Pizza – $15.49
Large Vegetable Pizza – $17.99
Large Cheese Pizza – $13.99
Sides – Pizza Shop
Six Breadsticks – $5.99
served with Marinara Sauce
Entrées – Specialty Shop
Turkey Panini – $11.99
House-roasted Turkey, Cranberry Mayo, Muenster Cheese, Field Greens on Multigrain Bread served with Chips
Cuban Sandwich – $10.99
Ham, Pulled Pork, Swiss Cheese, Roasted Garlic Dijon Mustard and served with Chips
Gourmet Grilled Cheese – $9.99
Provolone, Swiss, and White American served with Tomato Bisque Soup
Fish Tacos – $10.49
Tilapia, Avocado, Sriracha Aïoli and Pineapple Mango Salsa served with Black Beans and Rice
Chicken Quesadilla – $10.79
Chicken, Cheddar, White Cheddar, Red Pepper, Corn, Red Onion and Poblano Pepper served with Black Beans and Rice
Plant Based Chicken Quesadilla – $10.79
Cheddar, White Cheddar, Red Pepper, Corn, Red Onion and Poblano Pepper served with Black Beans and Rice
Freshly Tossed Power Salad – $9.99
Freshly Tossed Power Salad with Chilled Chicken – $10.99
Freshly Tossed Power Salad with Chilled Salmon – $12.99
Freshly Tossed Caesar Salad – $7.99
Freshly Tossed Caesar Salad with Chilled Chicken – $9.99
Freshly Tossed Caesar Salad with Chilled Salmon – $11.99
Sides – Speciality Shop
Vegetable Soup – $3.69
Desserts – Bakery Shop
Banana Bread – $3.99
Cheesecake – $5.29
Brownie – $4.29
Freshly Baked Cookie – $3.29
Assorted Muffins – $3.49
Crispy Treat – $4.79
Desserts – Ice Cream Shop
Mickey Ice Cream Sundae – $6.19
Double Scoop Cup or Cone – $5.49
Smoothie with Protein Powder – $6.49
Strawberry and Banana, Mango or Wildberry
Smoothie – $5.49
Strawberry and Banana, Mango or Wildberry
Ice Cream Cookie Sandwich – $6.49
Ice Cream Sundae – $5.59
Hot Fudge, Caramel or Strawberry
Brownie Sundae – $6.49
Milkshake – $5.49
Double Scoop Waffle Cone – $5.99
Single Scoop Waffle Cone – $4.99
Single Scoop Cup or Cone – $4.49
Kids' Meals – Grill Shop
Grilled Cheese – $6.19
includes choice of small Lowfat Milk or small Dasani Water with Grapes and Carrot Sticks
Chicken Nuggets – $7.19
includes choice of small Lowfat Milk or small Dasani Water with Grapes and Carrot Sticks
Cheeseburger – $7.49
includes choice of small Lowfat Milk or small Dasani Water with Grapes and Carrot Sticks
Hamburger – $7.29
includes choice of small Lowfat Milk or small Dasani Water with Grapes and Carrot Sticks
All-Beef Hot Dog – $6.99
includes choice of small Lowfat Milk or small Dasani Water with Grapes and Carrot Sticks
Macaroni & Cheese – $6.69
includes choice of small Lowfat Milk or small Dasani Water with Grapes and Carrot Sticks
Kids' Meals – Pizza Shop
Pasta with Meatballs – $6.99
includes choice of small Lowfat Milk or small Dasani Water with Grapes and Carrot Sticks
Pepperoni Pizza – $6.99
includes choice of small Lowfat Milk or small Dasani Water with Grapes and Carrot Sticks
Cheese Pizza – $6.69
includes choice of small Lowfat Milk or small Dasani Water with Grapes and Carrot Sticks
Macaroni & Cheese – $6.69
includes choice of small Lowfat Milk or small Dasani Water with Grapes and Carrot Sticks
Kids' Meals – Speciality Shop
Turkey Sandwich – $6.99
includes choice of small Lowfat Milk or small Dasani Water with Grapes and Carrot Sticks
Grilled Chicken Tenders – $7.19
includes choice of small Lowfat Milk or small Dasani Water with Grapes and Carrot Sticks
Uncrustables Sandwich – $6.19
includes choice of small Lowfat Milk or small Dasani Water with Grapes and Carrot Sticks
Macaroni & Cheese – $6.69
includes choice of small Lowfat Milk or small Dasani Water with Grapes and Carrot Sticks
[/mks_tab_item]
[mks_tab_item title='Dinner']
Experience: Quick Service Restaurant
Price level: $ ($14.99 and under per adult)
Average entrée price: $12.79
Entrées – Grill Shop
Double American Classic Burger – $16.99
Two Angus Burger Patties, Bacon and American Cheese served with Coleslaw and French Fries
American Classic Burger – $14.49
Angus Burger, Bacon and American Cheese served with Coleslaw and French Fries
Barbecued Pulled Pork Burger – $15.49
Angus Burger, Honey Barbecued Pulled Pork, Cheddar Cheese and Fried Onions served with Coleslaw and French Fries
Vegetable Burger – $11.49
served with Coleslaw and French Fries
Chicken Breast Nuggets – $9.99
8-pieces served with French Fries
Chili-Cheese All-Beef Foot Long Hot Dog – $12.99
served with Coleslaw and French Fries
Sides – Grill Shop
Chili-Cheese Fries – $6.49
Entrées – Pizza Shop
Flatbread Pepperoni Pizza – $11.49
served with Side Salad and Breadstick
Flatbread Vegetable Pizza – $11.99
served with Side Salad and Breadstick
Flatbread Cheese Pizza – $10.99
served with Side Salad and Breadstick
Flatbread Breakfast Pizza – $11.99
Chicken Wings – $12.99
9 Wings tossed in Honey Barbecue, Buffalo or Asian Zing Sauce served with Celery and Carrot Sticks
Chicken Penne Alfredo – $12.79
served with Side Salad and Breadstick
3-Cheese Bacon Macaroni & Cheese – $12.49
served with Side Salad and Breadstick
Pasta with Meatballs – $12.29
served with Marinara Sauce, Side Salad and Breadstick
Large Pepperoni Pizza – $15.49
Large Vegetable Pizza – $17.99
Large Cheese Pizza – $13.99
Sides – Pizza Shop
Six Breadsticks – $5.99
served with Marinara Sauce
Entrées – Specialty Shop
Grilled Steak – $15.99
served with choice of two Sides and a Dinner Roll
Baked Chicken – $12.99
served with choice of two Sides and a Dinner Roll
Carved Roast Turkey – $10.99
served with choice of two Sides and a Dinner Roll
Salmon – $15.49
served with choice of two Sides and a Dinner Roll
Freshly Tossed Caesar Salad – $7.99
Freshly Tossed Caesar Salad with Chilled Chicken – $9.99
Freshly Tossed Caesar Salad with Chilled Salmon – $11.99
Freshly Tossed Power Salad – $9.99
Freshly Tossed Power Salad with Chilled Chicken – $10.99
Freshly Tossed Power Salad with Chilled Salmon – $12.99
Sides – Speciality Shop
Vegetable Soup – $3.69
Desserts – Bakery Shop
Banana Bread – $3.99
Cheesecake – $5.29
Brownie – $4.29
Freshly Baked Cookie – $3.29
Assorted Muffins – $3.49
Crispy Treat – $4.79
Desserts – Ice Cream Shop
Mickey Ice Cream Sundae – $6.19
Double Scoop Cup or Cone – $5.49
Smoothie with Protein Powder – $6.49
Strawberry and Banana, Mango or Wildberry
Smoothie – $5.49
Strawberry and Banana, Mango or Wildberry
Ice Cream Cookie Sandwich – $6.49
Ice Cream Sundae – $5.59
Hot Fudge, Caramel or Strawberry
Brownie Sundae – $6.49
Milkshake – $5.49
Double Scoop Waffle Cone – $5.99
Single Scoop Waffle Cone – $4.99
Single Scoop Cup or Cone – $4.49
Kids' Meals – Grill Shop
Grilled Cheese – $6.19
includes choice of small Lowfat Milk or small Dasani Water with Grapes and Carrot Sticks
Chicken Nuggets – $7.19
includes choice of small Lowfat Milk or small Dasani Water with Grapes and Carrot Sticks
Cheeseburger – $7.49
includes choice of small Lowfat Milk or small Dasani Water with Grapes and Carrot Sticks
Hamburger – $7.29
includes choice of small Lowfat Milk or small Dasani Water with Grapes and Carrot Sticks
All-Beef Hot Dog – $6.99
includes choice of small Lowfat Milk or small Dasani Water with Grapes and Carrot Sticks
Macaroni & Cheese – $6.69
includes choice of small Lowfat Milk or small Dasani Water with Grapes and Carrot Sticks
Kids' Meals – Pizza Shop
Pasta with Meatballs – $6.99
includes choice of small Lowfat Milk or small Dasani Water with Grapes and Carrot Sticks
Pepperoni Pizza – $6.99
includes choice of small Lowfat Milk or small Dasani Water with Grapes and Carrot Sticks
Cheese Pizza – $6.69
includes choice of small Lowfat Milk or small Dasani Water with Grapes and Carrot Sticks
Macaroni & Cheese – $6.69
includes choice of small Lowfat Milk or small Dasani Water with Grapes and Carrot Sticks
Kids' Meals – Speciality Shop
Turkey Sandwich – $6.99
includes choice of small Lowfat Milk or small Dasani Water with Grapes and Carrot Sticks
Grilled Chicken Tenders – $7.19
includes choice of small Lowfat Milk or small Dasani Water with Grapes and Carrot Sticks
Uncrustables Sandwich – $6.19
includes choice of small Lowfat Milk or small Dasani Water with Grapes and Carrot Sticks
Macaroni & Cheese – $6.69
includes choice of small Lowfat Milk or small Dasani Water with Grapes and Carrot Sticks
[/mks_tab_item]
[/mks_tabs]
Related