This post may contain affiliate links; please read the disclosure for more information.
Frontera Cocina in Town Center, Disney Springs, Walt Disney World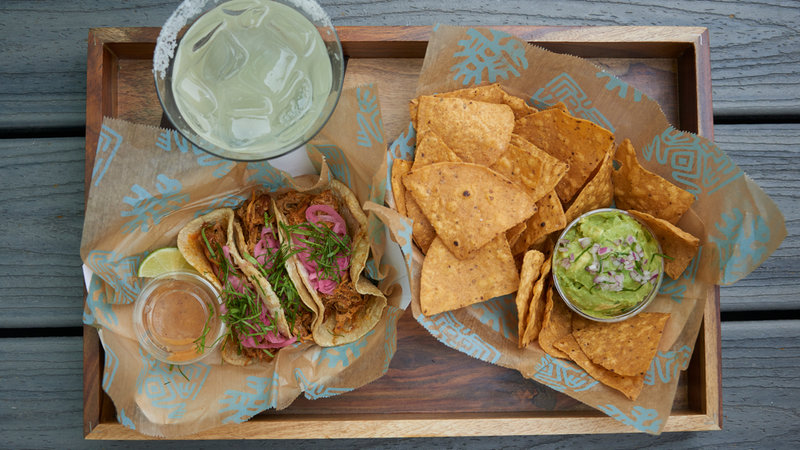 Details, tips, and information for Frontera Cocina
Share fresh, gourmet Mexican dishes with your closest friends in an upbeat atmosphere headed up by celebrity Chef Rick Bayless. Delicious picks include bacon guacamole, red chili chicken enchiladas, and the coconut lime quattro leches cake.

Book Frontera Cocina Dining Reservations

Cuisine:
Mexican

Details:
Disney Dining Plan Accepted
WDWNT Reviews
Coming soon!
Menus for Frontera Cocina
Lunch
Experience: Casual Dining
Price level: $$ ($15 to $34.99 per adult)
Average entrée price: $28.12
Starters
Chips & Salsa – $4.00
Smoky chipotle, herby salsa verde
Toasted Pumpkin Seed "Hummus" – $9.00
Creamy Yucatecan pumpkin seed-habanero dip, crispy cucumber and jícama, warm tortilla chips (contains seeds)
Guacamole & Chips – Verde – $10.00
Roasted poblanos, roasted tomatillo, toasted pepitas, cilantro, and onions (contains seeds)
Guacamole & Chips – Bacon – $10.00
Nueske bacon, tomatillos toasted pepitas, cilantro, and onions (contains seeds)
Guacamole & Chips – Atomic – $10.00
Diced cucumbers, habanero salsa, cilantro, and onions
Tortilla Soup – $9.00
Red chile chicken broth, chipotle chicken, avocado, Chihuahua cheese, tortilla strips, cilantro, red onion, and lime (contains dairy, gluten)
Coctel Tropical – $14.00
Florida Pink Shrimp and Baja bay scallops, tangy serrano-tomatillo salsa, lime, jícama, pineapple, avocado, warm tortilla chips (contains shellfish)
Queso Fundido – $12.00
Queso Chihuahua melted with roasted poblanos and caramelized onions, warm corn tortillas (contains dairy). Add Gunthrop Farms Chorizo +2
Chipotle Chicken Tostada – $13.00
Crispy chipotle chicken tortilla "flutes," roasted tomatillo avocado salsa, crema, Cotija cheese, fresh herbs (contains dairy and gluten)
Zucchini and Poblano Rajas Tostada – $12.00
Crispy tostadas, garlicky grilled squash with poblano rajas, fresh goat cheese, creamy black beans, pea shoots and frisée (contains dairy)
Salads
Taqueira Salad – $9.00
Petite baby gem lettuces, poblano rajas, carrot, radish, avocado, crunchy tortilla strips, Cotija cheese, avocado-lime vinaigrette (contains dairy)
Caesar – $11.00
Petite baby gem lettuces, Cotija cheese, caramelized red onion, avocado, croutons, chipotle-lime Caesar dressing (contains dairy, gluten, fish)
Add Grilled Chicken Breast – $6.00
Add Mojo Garlic Grilled Shrimp – $8.00
Add Creekstone Natural Carne Asada – $8.00
Tacos and Tortas
Carne Asada for making Soft Tacos – $23.00
Grilled steak, poblano rajas, black beans refritos with queso fresco, salsa verde, guacamole, served with corn tortillas (contains dairy)
Grilled Chicken for making Soft Tacos – $18.00
Grilled chicken, poblano rajas, black beans refritos with queso fresco, guacamole, chipotle salsa, served with corn tortillas (contains dairy)
Pepito Torta – $16.00
Slow-cooked shortribs, Chihuahua cheese, black beans, pickled jalapeños, arugula, cilantro cream, chipotle salsa, taqueria salad (contains dairy, gluten)
Mushroom Torta – $14.00
Woodland mushrooms, chipotle-garlic mojo, goat cheese, arugula, lime, chipotle salsa, taqueria salad (contains dairy, gluten)
Entrees
Carnitas – $22.00
Slow-cooked pork shoulder with garlic and lime, black beans refritos with queso fresco, guacamole, pickled red onions, salsa verde, warm corn tortillas (contains dairy)
Cochinita Pibil – $24.00
Achiote marinated slow roasted tender pork, black beans, poblano rajas, pickled red onions, habanero salsa (contains pork and gluten)
Oaxacan Red Chile Chicken – $27.00
Crispy half chicken, Oaxacan red mole, plantain rice, warm corn tortillas (contains gluten)
Red Chile Chicken Enchiladas – $22.00
Just-made corn tortillas, chipotle chicken filling, guajillo chile sauce, Queso Chihuahua, crispy onions, black beans (contains dairy, gluten)
Grilled Zucchini, Mushroom, and Potato Enchiladas – $22.00
Just-made tortillas, creamy roasted tomatillo sauce, pea shoot and frisée salad (contains dairy)
Shrimp Mojo de Ajo – $27.00
Pan-roasted Florida Pink Shrimp with mojo de ajo (slow-cooked garlic, olive oil, lime, chipotle), plantain rice, grilled calabacitas, warm corn tortillas (contains shellfish)
Creekstone Ribeye Steak – $45.00
Ancho chile rubbed Creekstone ribeye steak, crispy onion strings, Cotija Mashed potatoes, caramelized plantains with crema and Cotija cheese, tomatillo salsa, warm corn tortillas (contains dairy, gluten)
Carne Asada – $36.00
Garlic and red chile-marinated Creekstone Natural Black Angus steak, black beans refritos with queso fresco, caramelized plantains with crema and Cotija cheese, tomatillo salsa, warm corn tortillas (contains dairy, pork)
Sides
Arroz con Plantains – $5.00
White rice studded with plantains and cilantro
Fried Plantains – $5.00
With crema and Cotija cheese (contains dairy)
Black Beans Refritos with Queso Fresco – $5.00
Classic mashed black beans (contains pork, dairy)
Queso Añejo Mashed Potatoes – $5.00
Mashed Yukon potatoes, aged Cotija cheese (contains dairy)
Grilled Calabacitas – $5.00
Grilled Mexican squash with garlic mojo
Desserts
Seasonal Sorbet – $7.00
House-made sorbet with fresh fruit
Pecan Pie Bar – $9.00
with Mexican vanilla ice cream and chocolate sauce
Ancho Chile Chocolate Cake – $9.00
Triple layer moist chocolate cake, ancho chile chocolate frosting, candied Tajin orange zest (contains gluten and dairy)
Coconut-Lime Cuatro Leches – $9.00
sponge cake soaked with four milks topped with whipped cream, toasted coconut, fresh blackberries, and lime zest (contains gluten, dairy, seeds)
Kids' Meals
Quesadillas – $9.00
warm flour tortillas, artisan Jack cheese served with plantain rice, and grilled zucchini
Chicken Enchiladas – $9.00
flour tortillas with grilled chicken, Jack cheese, and red chile enchilada sauce served with plantain rice and grilled zucchini – contain dairy, gluten
Chicken Tacos – $9.00
(2) flour tortillas with grilled chicken, queso fresco, and cilantro served with plantain rice and grilled zucchini – contain dairy, gluten
Kid's Dessert
Mexican Vanilla Soft Service – $3.00
with optional chocolate sauce – contain dairy, gluten
Margaritas
Frontera Margarita – $15.00
Casa Noble blanco tequila, Royal Combier, fresh lime juice, agave nectar, salt rim
La Cava Avocado – $15.00
Casa Noble blanco tequila, melon liqueur, avocado, fresh lime juice and hibiscus salt rim
Topolo Margarita – $17.00
Herradura añejo tequila, Torres orange liqueur, house-made limonada
Blood Orange Jalapeño Margarita – $14.00
Casa Noble blanco tequila, orange liqueur, blood orange juice, habanero bitters, jalapeño, tajin chile rim
Lucy – $15.00
Por Siempre sotol, fresh carrot juice, Torres orange liqueur, ginger cordial, fresh lime, candied mango
Watermelon Pink Flamingo – $16.00
Ambhar blanco tequila, watermelon juice, fresh lime and Torres orange liqueur
Latitude Adjustment – $16.00
Avión blanco tequila, Royal Combier, fresh lime juice, agave and a splash of soda
Play With Fire – $15.00
Choice of Avión blanco tequila or Montelobos blanco mezcal with cucumber, jalapeño, fresh lime juice, agave nectar, hibiscus salt rim
Cocktails
Mezcal Mule – $14.00
Mezcal Montelobos Blanco, Ancho Reyes – Ancho Chile Liqueur, Fresh Lime Juice, Chocolate Mole bitters and Ginger Beer
Barcelona Nights – $14.00
Grey Goose vodka, fresh lime, red wine syrup
Cocina Gin & Tonic – $13.00
Hendricks gin, tonic water, St. Germain elderflower liqueur, lime and cucumber
Frontera Old Fashioned – $15.00
Zacapa 23 Solera rum, agave syrup, orange tiki bitters, lemon, orange peel
All The Pretty Girls – $13.00
St. Germain elderflower liqueur, fresh grapefruit, dried mango and cava sparkling wine
Agave Flights
Traditional Tequila – $23.00
Avión blanco, Casa Noble reposado and Ambhar añejo
Premium Tequila – $37.00
Casa Dragones blanco, Clase Azul reposado and Avión Reserva 44 Extra añejo
Mezcal – $32.00
Ilegal blanco, Bozal Cuixe, Gracias a Dios Tepextate
Sangria
Jamaica Sangria – $11.00
Agua de Jamaica, Malbec Red Wine, Torres Orange Liquor and fresh Limonada
Sparkling Wine
Mas Fi Cava, Spain – Per Glass – $8.00 / Per Bottle – $31.00
Bellafina Pink Moscato, Italy – Per Glass – $9.00 / Per Bottle – $33.00
Moet & Chandon Imperial Champagne, France – Per Bottle – $82.00
Sparkling Wine Split – Per Glass – $13.00
White Wine
Kim Crawford Sauvignon Blanc, New Zealand – Per Glass – $11.00 / Per Bottle – $49.00
Riff Progetto Lagedar Pinot Grigio, Italy – Per Glass – $9.00 / Per Bottle – $35.00
Simi Chardonnay, Sonoma Valley, CA – Per Glass – $12.00 / Per Bottle – $51.00
Viño Maipo Chardonnay, Chile – Per Glass – $9.00 / Per Bottle – $34.00
Thomas Schmitt Kabinett Riesling, Germany – Per Glass – $10.00 / Per Bottle – $39.00
Red Wine
Torres, Sangre de Toro Garnacha Blend, Spain – Per Glass – $9.00 / Per Bottle – $37.00
Viño Maipo Cabernet Sauvignon, Chile – Per Glass – $9.00 / Per Bottle – $35.00
Simi Cabernet, Alexander Valley – Per Glass – $13.00 / Per Bottle – $52.00
Monte Xanic, Gran Ricardo Cabernet Blend, California, Mexico – Per Bottle – $85.00
Meiomi Pinot Noir, California – Per Glass – $12.00 / Per Bottle – $52.00
Belle Glos Las Alturas Pinot Noir, California – Per Bottle – $64.00
Paso Creek Merlot, California – Per Glass – $9.00 / Per Bottle – $40.00
Zolo Malbec, Argentina – Per Glass – $9.00 / Per Bottle – $37.00
Doña Paula Estate Malbec, Argentina – Per Glass – $12.00 / Per Bottle – $49.00
Non-Alcoholic Beverages
Agua de Jamaica – $4.00
Tangy jamaica "flower" tea (no refills)
Fiesta Mexicana Iced Tea – $3.00
Black tea with mango, melon and papaya
Agua de Jamaica –
Grown by small family farmers in Zihuatanejo, Mexico and perfectly roasted at Columbia Street Roastery in Champaign, Illinois. Lively acidity with strawberry and cinnamon notes and cocoa undertones
Fresh Brewed Coffee – $3.00
Espresso – $4.00
Cappuccino – $6.00
Assorted Fountain Beverages – $3.00
Coca-Cola, Diet Coke, Coke Zero, Sprite
Evian, Perrier – Small – $4.00
Evian, Perrier – Large – $6.00
Bottle & Draft Beer
Heineken – $7.00
Dos Equis Amber – $7.00
Corona – $7.00
Tecate – $7.00
Bohemia – $7.00
Budweiser – $6.00
Bud Light – $6.00
Coors Light – $6.00
Blue Moon Belgium Style Wheat Beer – $9.00
Modelo Especial Draft – $7.00
Modelo Negra Draft – $7.00
Corona Light Pale Lager Draft – $7.00
Coppertail Brewing Co. Two to Mango IPA – $9.00
Crooked Can Brewing Co Mr. Tractor – $9.00
Goose Island IPA Draft – $9.00
Goose Island 312 Draft – $9.00
Crooked Can Brewing Co. Mc Swagger's Own Amber Ale Draft – $9.00
Pacifico American Style Lager Draft – $7.00
SweetWater 420 Extra Pale Ale Draft – $9.00
Dinner
Experience: Casual Dining
Price level: $$ ($15 to $34.99 per adult)
Average entrée price: $28.12
Starters
Chips & Salsa – $4.00
Smoky chipotle, herby salsa verde
Toasted Pumpkin Seed "Hummus" – $9.00
Creamy Yucatecan pumpkin seed-habanero dip, crispy cucumber and jícama, warm tortilla chips (contains seeds)
Guacamole & Chips – Verde – $10.00
Roasted poblanos, roasted tomatillo, toasted pepitas, cilantro, and onions (contains seeds)
Guacamole & Chips – Bacon – $10.00
Nueske bacon, tomatillos toasted pepitas, cilantro, and onions (contains seeds)
Guacamole & Chips – Atomic – $10.00
Diced cucumbers, habanero salsa, cilantro, and onions
Tortilla Soup – $9.00
Red chile chicken broth, chipotle chicken, avocado, Chihuahua cheese, tortilla strips, cilantro, red onion, and lime (contains dairy, gluten)
Coctel Tropical – $14.00
Florida Pink Shrimp and Baja bay scallops, tangy serrano-tomatillo salsa, lime, jícama, pineapple, avocado, warm tortilla chips (contains shellfish)
Queso Fundido – $12.00
Queso Chihuahua melted with roasted poblanos and caramelized onions, warm corn tortillas (contains dairy). Add Gunthrop Farms Chorizo +2
Chipotle Chicken Tostada – $13.00
Crispy chipotle chicken tortilla "flutes," roasted tomatillo avocado salsa, crema, Cotija cheese, fresh herbs (contains dairy and gluten)
Zucchini and Poblano Rajas Tostada – $12.00
Crispy tostadas, garlicky grilled squash with poblano rajas, fresh goat cheese, creamy black beans, pea shoots and frisée (contains dairy)
Salads
Taqueira Salad – $9.00
Petite baby gem lettuces, poblano rajas, carrot, radish, avocado, crunchy tortilla strips, Cotija cheese, avocado-lime vinaigrette (contains dairy)
Caesar – $11.00
Petite baby gem lettuces, Cotija cheese, caramelized red onion, avocado, croutons, chipotle-lime Caesar dressing (contains dairy, gluten, fish)
Add Grilled Chicken Breast – $6.00
Add Mojo Garlic Grilled Shrimp – $8.00
Add Creekstone Natural Carne Asada – $8.00
Tacos and Tortas
Carne Asada for making Soft Tacos – $23.00
Grilled steak, poblano rajas, black beans refritos with queso fresco, salsa verde, guacamole, served with corn tortillas (contains dairy)
Grilled Chicken for making Soft Tacos – $18.00
Grilled chicken, poblano rajas, black beans refritos with queso fresco, guacamole, chipotle salsa, served with corn tortillas (contains dairy)
Pepito Torta – $16.00
Slow-cooked shortribs, Chihuahua cheese, black beans, pickled jalapeños, arugula, cilantro cream, chipotle salsa, taqueria salad (contains dairy, gluten)
Mushroom Torta – $14.00
Woodland mushrooms, chipotle-garlic mojo, goat cheese, arugula, lime, chipotle salsa, taqueria salad (contains dairy, gluten)
Entrees
Carnitas – $22.00
Slow-cooked pork shoulder with garlic and lime, black beans refritos with queso fresco, guacamole, pickled red onions, salsa verde, warm corn tortillas (contains dairy)
Cochinita Pibil – $24.00
Achiote marinated slow roasted tender pork, black beans, poblano rajas, pickled red onions, habanero salsa (contains pork and gluten)
Oaxacan Red Chile Chicken – $27.00
Crispy half chicken, Oaxacan red mole, plantain rice, warm corn tortillas (contains gluten)
Red Chile Chicken Enchiladas – $22.00
Just-made corn tortillas, chipotle chicken filling, guajillo chile sauce, Queso Chihuahua, crispy onions, black beans (contains dairy, gluten)
Grilled Zucchini, Mushroom, and Potato Enchiladas – $22.00
Just-made tortillas, creamy roasted tomatillo sauce, pea shoot and frisée salad (contains dairy)
Shrimp Mojo de Ajo – $27.00
Pan-roasted Florida Pink Shrimp with mojo de ajo (slow-cooked garlic, olive oil, lime, chipotle), plantain rice, grilled calabacitas, warm corn tortillas (contains shellfish)
Creekstone Ribeye Steak – $45.00
Ancho chile rubbed Creekstone ribeye steak, crispy onion strings, Cotija Mashed potatoes, caramelized plantains with crema and Cotija cheese, tomatillo salsa, warm corn tortillas (contains dairy, gluten)
Carne Asada – $36.00
Garlic and red chile-marinated Creekstone Natural Black Angus steak, black beans refritos with queso fresco, caramelized plantains with crema and Cotija cheese, tomatillo salsa, warm corn tortillas (contains dairy, pork)
Sides
Arroz con Plantains – $5.00
White rice studded with plantains and cilantro
Fried Plantains – $5.00
With crema and Cotija cheese (contains dairy)
Black Beans Refritos with Queso Fresco – $5.00
Classic mashed black beans (contains pork, dairy)
Queso Añejo Mashed Potatoes – $5.00
Mashed Yukon potatoes, aged Cotija cheese (contains dairy)
Grilled Calabacitas – $5.00
Grilled Mexican squash with garlic mojo
Desserts
Seasonal Sorbet – $7.00
House-made sorbet with fresh fruit
Pecan Pie Bar – $9.00
with Mexican vanilla ice cream and chocolate sauce
Ancho Chile Chocolate Cake – $9.00
Triple layer moist chocolate cake, ancho chile chocolate frosting, candied Tajin orange zest (contains gluten and dairy)
Coconut-Lime Cuatro Leches – $9.00
sponge cake soaked with four milks topped with whipped cream, toasted coconut, fresh blackberries, and lime zest (contains gluten, dairy, seeds)
Kids' Meals
Quesadillas – $9.00
warm flour tortillas, artisan Jack cheese served with plantain rice, and grilled zucchini
Chicken Enchiladas – $9.00
flour tortillas with grilled chicken, Jack cheese, and red chile enchilada sauce served with plantain rice and grilled zucchini – contain dairy, gluten
Chicken Tacos – $9.00
(2) flour tortillas with grilled chicken, queso fresco, and cilantro served with plantain rice and grilled zucchini – contain dairy, gluten
Kid's Dessert
Mexican Vanilla Soft Service – $3.00
with optional chocolate sauce – contain dairy, gluten
Margaritas
Frontera Margarita – $15.00
Casa Noble blanco tequila, Royal Combier, fresh lime juice, agave nectar, salt rim
La Cava Avocado – $15.00
Casa Noble blanco tequila, melon liqueur, avocado, fresh lime juice and hibiscus salt rim
Topolo Margarita – $17.00
Herradura añejo tequila, Torres orange liqueur, house-made limonada
Blood Orange Jalapeño Margarita – $14.00
Casa Noble blanco tequila, orange liqueur, blood orange juice, habanero bitters, jalapeño, tajin chile rim
Lucy – $15.00
Por Siempre sotol, fresh carrot juice, Torres orange liqueur, ginger cordial, fresh lime, candied mango
Watermelon Pink Flamingo – $16.00
Ambhar blanco tequila, watermelon juice, fresh lime and Torres orange liqueur
Latitude Adjustment – $16.00
Avión blanco tequila, Royal Combier, fresh lime juice, agave and a splash of soda
Play With Fire – $15.00
Choice of Avión blanco tequila or Montelobos blanco mezcal with cucumber, jalapeño, fresh lime juice, agave nectar, hibiscus salt rim
Cocktails
Mezcal Mule – $14.00
Mezcal Montelobos Blanco, Ancho Reyes – Ancho Chile Liqueur, Fresh Lime Juice, Chocolate Mole bitters and Ginger Beer
Barcelona Nights – $14.00
Grey Goose vodka, fresh lime, red wine syrup
Cocina Gin & Tonic – $13.00
Hendricks gin, tonic water, St. Germain elderflower liqueur, lime and cucumber
Frontera Old Fashioned – $15.00
Zacapa 23 Solera rum, agave syrup, orange tiki bitters, lemon, orange peel
All The Pretty Girls – $13.00
St. Germain elderflower liqueur, fresh grapefruit, dried mango and cava sparkling wine
Agave Flights
Traditional Tequila – $23.00
Avión blanco, Casa Noble reposado and Ambhar añejo
Premium Tequila – $37.00
Casa Dragones blanco, Clase Azul reposado and Avión Reserva 44 Extra añejo
Mezcal – $32.00
Ilegal blanco, Bozal Cuixe, Gracias a Dios Tepextate
Sangria
Jamaica Sangria – $11.00
Agua de Jamaica, Malbec Red Wine, Torres Orange Liquor and fresh Limonada
Sparkling Wine
Mas Fi Cava, Spain – Per Glass – $8.00 / Per Bottle – $31.00
Bellafina Pink Moscato, Italy – Per Glass – $9.00 / Per Bottle – $33.00
Moet & Chandon Imperial Champagne, France – Per Bottle – $82.00
Sparkling Wine Split – Per Glass – $13.00
White Wine
Kim Crawford Sauvignon Blanc, New Zealand – Per Glass – $11.00 / Per Bottle – $49.00
Riff Progetto Lagedar Pinot Grigio, Italy – Per Glass – $9.00 / Per Bottle – $35.00
Simi Chardonnay, Sonoma Valley, CA – Per Glass – $12.00 / Per Bottle – $51.00
Viño Maipo Chardonnay, Chile – Per Glass – $9.00 / Per Bottle – $34.00
Thomas Schmitt Kabinett Riesling, Germany – Per Glass – $10.00 / Per Bottle – $39.00
Red Wine
Torres, Sangre de Toro Garnacha Blend, Spain – Per Glass – $9.00 / Per Bottle – $37.00
Viño Maipo Cabernet Sauvignon, Chile – Per Glass – $9.00 / Per Bottle – $35.00
Simi Cabernet, Alexander Valley – Per Glass – $13.00 / Per Bottle – $52.00
Monte Xanic, Gran Ricardo Cabernet Blend, California, Mexico – Per Bottle – $85.00
Meiomi Pinot Noir, California – Per Glass – $12.00 / Per Bottle – $52.00
Belle Glos Las Alturas Pinot Noir, California – Per Bottle – $64.00
Paso Creek Merlot, California – Per Glass – $9.00 / Per Bottle – $40.00
Zolo Malbec, Argentina – Per Glass – $9.00 / Per Bottle – $37.00
Doña Paula Estate Malbec, Argentina – Per Glass – $12.00 / Per Bottle – $49.00
Non-Alcoholic Beverages
Agua de Jamaica – $4.00
Tangy jamaica "flower" tea (no refills)
Fiesta Mexicana Iced Tea – $3.00
Black tea with mango, melon and papaya
Agua de Jamaica –
Grown by small family farmers in Zihuatanejo, Mexico and perfectly roasted at Columbia Street Roastery in Champaign, Illinois. Lively acidity with strawberry and cinnamon notes and cocoa undertones
Fresh Brewed Coffee – $3.00
Espresso – $4.00
Cappuccino – $6.00
Assorted Fountain Beverages – $3.00
Coca-Cola, Diet Coke, Coke Zero, Sprite
Evian, Perrier – Small – $4.00
Evian, Perrier – Large – $6.00
Bottle & Draft Beer
Heineken – $7.00
Dos Equis Amber – $7.00
Corona – $7.00
Tecate – $7.00
Bohemia – $7.00
Budweiser – $6.00
Bud Light – $6.00
Coors Light – $6.00
Blue Moon Belgium Style Wheat Beer – $9.00
Modelo Especial Draft – $7.00
Modelo Negra Draft – $7.00
Corona Light Pale Lager Draft – $7.00
Coppertail Brewing Co. Two to Mango IPA – $9.00
Crooked Can Brewing Co Mr. Tractor – $9.00
Goose Island IPA Draft – $9.00
Goose Island 312 Draft – $9.00
Crooked Can Brewing Co. Mc Swagger's Own Amber Ale Draft – $9.00
Pacifico American Style Lager Draft – $7.00
SweetWater 420 Extra Pale Ale Draft – $9.00
Related