This post may contain affiliate links; please read the disclosure for more information.
Gurgling Suitcase in Disney's Old Key West Resort, Disney's Old Key West Resort, Walt Disney World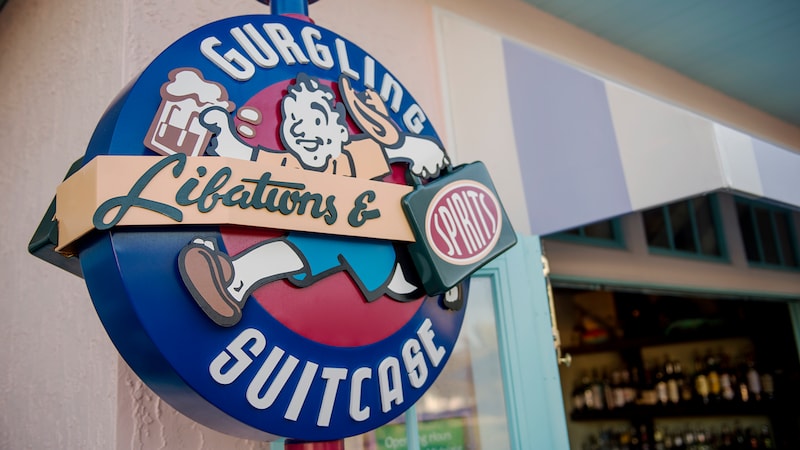 Details, tips, and information for Gurgling Suitcase
Today's Hours
11:00AM - 12:00AM
Belly up to this cozy little Key West-style bar and try the Turtle Krawl, Sultry Seahorse or your drink of choice inside or by the pool. Wine and domestic and imported beer are also served. Hungry, too? The lunch and dinner menu from Olivia's Cafe is available!

Cuisine:
American
WDWNT Reviews
Coming soon!
Menu for Gurgling Suitcase
Menu
Experience: Pool Bars
Price level: $ ($14.99 and under per adult)
Average entrée price: $12.14
Entrees
Conch Fritters – $12.00
Olivia's Famous Recipe served with Key Lime-Mustard and Remoulade Sauce
Buffalo Boneless Chicken Bites – $10.00
served with House-made Blue Cheese Dressing and Celery Sticks
Shrimp Salad – $12.00
Bell Peppers, Bermuda Onions, Jalapeños and cilantro tossed in a fresh Citrus Vinaigrette
Fish Tacos – $15.00
Fried Mahi-Mahi served on Flour Tortillas topped with Zesty Chipotle Sauce, Marinated Slaw and Mico-Cilantro
Deep-fried Pickle Chips – $8.00
served with House-made Ranch Dressing
Barbecued Pulled Pork Nachos – $10.00
House-made Potato Chips topped with Jalapeños, Pepper Jack and Mozzarella, Pico de Gallo and Sour Cream
Duval Street Burger – $18.00
topped with Shrimp, Pepper Jack, Avocado and Pico de Gallo served on our Signature Pineapple-Coconut Roll with House-made Potato Chips
Specialty Drinks for Two
Purple Hooter (serves 2) – $21.00
Vodka, Chambord, Sprite and Sour Mix
Key West Freeze (serves 2) – $19.00
Vodka, Melon Liquor, Piña Colada Mix, Pineapple Juice and Strawberry Syrup
Electric Lemonade (serves 2) – $19.00
Rum, Vodka, Triple Sec, Sweet-and-Sour topped with Sprite
Blue Hawaii (serves 2) – $19.00
Sliver Rum, Blue Curaço, Pineapple Juice and Sweet-and-Sour Mix
Papa's Den (serves 2) – $19.00
Jack Daniels, Peach Schnapps, Cherry Brandy, Orange Juice, Pineapple Juice and Grenadine
Goombay Smash (serves 2) – $19.00
Meyers's Original Dark Rum, Captain Morgan Original Spiced Rum, Crème de Banana, Orange Juice and Pineapple Juice
Parrot Punch (serves 2) – $19.00
Parrot Bay Rum, Peach Schnapps, Melon Liquor and Pineapple Juice
Apple Chiller (serves 2) – $19.00
Sour Apple Pucker, Vodka, Melon Liquor and Sweet-and-Sour Mix
Poolside Sipper (serves 2) – $19.00
Raspberry Bacardi, Odwalla Lemonade, Unsweetened Iced Tea and Agave Nectar
Strawberry Lemonade (serves 2) – $21.00
Patrón Silver Tequila, Odwalla Lemonade, Agave Nectar Syrup, Strawberry Syrup and Lime Juice
Turtle Krawl (serves 2) – $19.00
Siesta Key White Rum, Parrot Bay Coconut Rum, Sailor Jerry Spiced Rum with Grenadine, Pineapple Orange, and Key Lime Juices
Grand Maragarita (serves 2) – $19.00
Jose Cuervo Tequila, Grand Mariner, Sweet-and-Sour Mix and Lime Juice
Specialty Drinks
Turtle Krawl – $10.50
Siesta Key White Rum, Parrot Bay Coconut Rum, Sailor Jerry Spiced Rum with Grenadine, Pineapple Orange, and Key Lime Juices
Sultry Seahorse – $11.50
Disaronno Originale, Crème de Banana, Pineapple Juice, Orange Juice and a float of Cherry Brandy
Olivia's Strawberry Lemonade – $13.00
Patrón Silver Tequila, fresh Key Lime Juice, Strawberry and Odwalla Lemonade with a Sugared Rim
Key West Loaded Bloody Mary – $10.50
Our Premium Bloody Mary is made with Ketel One Vodka, Bacon, Shrimp, Jumbo Olives, Celery and Limes
Rum Runner – $10.50
Myers's Original Dark Rum, Crème de Banana, Blackberry Brandy, Orange and Pineapple Juices with a float of Goslings 151 Rum
Beer
7 Mile Bridge IPA – $8.75
Two Henrys Brewing Company, Plant City, Florida
Conch Republic Key Lime Wheat Ale – $8.75
Big Top Brewing Company, Sarasota, Florida
Corona Extra – $8.50
Blue Moon Belgium Wheat Ale – $8.25
New Belgium Fat Tire – $9.75
Cigar City Jai Alai IPA – $8.75
Stella Artois – $9.00
Schöfferhofer Pink Grapefruit Hefeweizen – $10.00
Sierra Nevada Pale Ale – $9.75
Guinness – $9.50
Crooked Can Mr. Tractor Kolsch – $8.75
Angry Orchard Crisp Apple Hard Cider – $9.00
Goose Island 312 Urban Wheat Ale – $8.75
Key West Sunset Ale – $9.00
Bud Light – $7.25
Yuengling Traditional Lager – $7.75
Samuel Adams Seasonal – $9.25
Non-Alcoholic Beverages
Assorted Fountain Beverage – $3.49
Dasani Bottled Water – $3.00
Related