This post may contain affiliate links; please read the disclosure for more information.
Mama Melrose's Ristorante Italiano in Grand Avenue, Disney's Hollywood Studios, Walt Disney World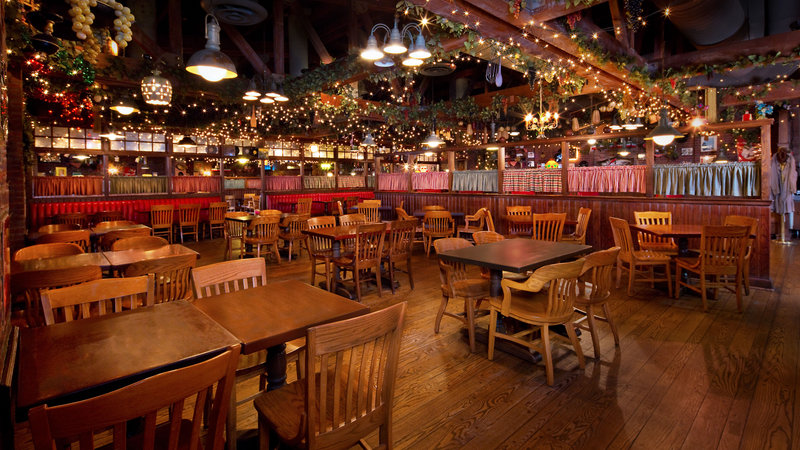 Details, tips, and information for Mama Melrose's Ristorante Italiano
Today's Hours
11:30AM - 9:00PM
Mangia in the backlot of Disney's Hollywood Studios at this casual but colorful Italian eatery with a California twist.

Cuisine:
American/Italian

Details:
Disney Dining Plan Accepted
WDWNT Reviews
Coming soon!
Menus for Mama Melrose's Ristorante Italiano
Lunch
Experience: Casual Dining
Price level: $$ ($15 to $34.99 per adult)
Average entrée price: $23.50
Appetizers
Oak-fired Mussels – $13.00
Cooked in a Cioppino Broth with Grilled Onions and Herb Crostini
Crispy Calamari – $13.00
Tossed with Red Peppers and served with spicy Aïoli and Charred Lemon
Arugula-Prosciutto Flatbread – $16.00
Vidalia Onion Spread, Green Apple, and Asiago Cheese finished with Lemon Aïoli
Vegetarian Minestrone – $8.00
with Ditalini Pasta
Mama's Caesar Salad – $10.00
Crisp Romaine Lettuce, Green Goddess Dressing, and Herb Croutons
Margherita Flatbread – $15.00
Fresh Vine-ripened Tomatoes, Mozzarella, House-made Marinara Sauce, fresh Basil, and drizzled with Extra Virgin Olive Oil
Carne d'Italia Flatbread – $17.00
with Pepperoni, House-made Sausage, Pancetta, and spicy Marinara Sauce
Fresh Mozzarella and Vine-ripened Tomatoes – $10.00
Balsamic Drizzle, Olive Oil, and Sweet Basil Leaves
Mixed Green Salad – $10.00
with fresh Tomatoes, Cucumbers, Artichoke Hearts, Feta Cheese, and Red Wine-Oregano Vinaigrette
Mushroom Flatbread – $15.00
Roasted Cremini and Button Mushrooms with a Roasted Vidalia Onion Spread topped with a Fontina and Asiago Cheese finished with Balsamic Reduction and fresh Herbs
Entrées
Seafood Cioppino – $25.00
Shrimp, Mussels, Calamari, Fish, and Spaghetti tossed with spicy Cioppino Sauce
Charred Strip Steak – $33.00
Four-Cheese Macaroni with Pancetta, Aged Balsamic-Shallot Butter, and Chianti Wine Reduction
Polenta Cake, Mushroom, and Herb Cauliflower – $19.00
Polenta layered with Sautéed Mushroom, Spinach, and Red Pepper with a Cashew-Cheese Sauce
Wood-grilled Chicken and Penne Pasta – $21.00
with House-made Four-Cheese Sauce garnished with Pecorino Romano Cheese and Parsley
Oven-baked Chicken alla Parmigiana – $23.00
Breaded Chicken Breast with Marinara Sauce topped with Melted Mozzarella over Spaghetti
Saltimbocca – $28.00
Pork Tenderloin topped with Prosciutto, Sage, Fontina Cheese, Tuscan Mashed Potatoes, Broccolini, and Lemon Caper Sauce
Shrimp Campanelle – $25.00
Sautéed Shrimp and Campanelle Pasta tossed in a Four-Cheese Sauce with Cauliflower, Sun-dried Tomatoes, fresh Spinach, and Sweet Onions
Chicken Campanelle – $22.00
Wood-grilled Chicken and Campanelle Pasta tossed in a Four-Cheese Sauce with Cauliflower, Sun-dried Tomatoes, fresh Spinach, and Sweet Onions
Mama's Italian Pasta – $18.00
Spaghetti tossed with Roasted Garlic, Tomato, fresh Basil, and Asiago-Herb Crostini
Seasonally-inspired Chef's Selection (Market Price) –
Featuring Authentic Italian Ingredients
Spaghetti and Meatballs – $21.00
with House-made Marinara, garnished with Pecorino Romano Cheese and Parsley
Sustainable Fish (Market Price) –
with Pappardelle Pasta tossed with Puttanesca Sauce and Grilled Asparagus
Desserts
Tiramisú – $8.00
Layers of Mascarpone and Espresso soaked Lady Fingers topped with Cocoa Powder and Whipped Cream
Traditional Cannoli – $7.00
House-made creamy Cannoli Filling with a hint of Citrus and dusted with Cocoa Powder
Gelato – $6.00
Choice of Chocolate or Vanilla
Cheesecake – $7.00
A No Sugar Added Cheesecake with Strawberry Sauce and topped with Whipped Cream
Dessert Sampler – $6.50
Miniature versions of Mama's favorite Desserts Valencia Blood Orange Cake, Lemon Cheesecake topped with Passion Fruit Pearls, and Tiramisù
Chocolate and Cherry Tort – $7.50
Made with Ghirardelli Creamy Chocolate infused with Morello Cherries served with Cherry Coulis topped with Whipped Cream
Lemon Sorbet, A No Sugar Added Sorbet – $6.00
Kids' Appetizers
Garden Salad – $3.00
Vegetarian Minestrone Soup – $3.00
Celery and Carrot Sticks – $3.00
Kids' Disney Check Meals
Fish of the Day – $12.00
with Whole-Grain Pilaf, Green Beans, Carrots, and Sliced Apples served with choice of Small Lowfat Milk or Small Dasani Water. Meets Disney Nutrition Guidelines for Complete Meals without substitution
Whole-Wheat Spaghetti – $11.00
served with Meat Sauce, Cauliflower, and Mixed Fruit. Choice of Small Lowfat Milk or Small Dasani Water. Meets Disney Nutrition Guidelines for Complete Meals without substitution
Grilled Chicken Breast – $10.00
served with Whole-Grain Pilaf, Green Beans, Carrots, and Sliced Apples. Choice of Small Lowfat Milk or Small Dasani Water. Meets Disney Nutrition Guidelines for Complete Meals without substitution
Kids' Meals
Cheese Pizza – $10.00
served with choice of one (1) Beverage and one (1) Dessert
Chicken Parmigiana – $11.00
served over Spaghetti with choice of one (1) Beverage and one (1) Dessert
Spaghetti or Penne Pasta – $11.00
with Meatballs and House-made Marinara Sauce served with choice of one (1) Beverage and one (1) Dessert
Kids' Desserts
Spaghetti & Meatball Cupcake – $3.00
A Chocolate Cupcake with "Spaghetti" Frosting and a Chocolate "Meatball"' with a Strawberry "Marinara Sauce" and White Chocolate "Cheese"
Ice Cream Sundae –
Sliced Apples –
Kids' Beverages
Small Lowfat Milk –
Small Dasani Water –
Small Minute Maid Apple Juice –
Non-Alcoholic Beverages
Ariel or Buzz Lightyear Punch – $8.00
Minute Maid Light Lemonade Punch served in a souvenir Ariel or Toy Story 3 Cup with a glowing Ariel or Buzz Lightyear Clip-on Light
Espresso –
Cappuccino –
Latte –
Café Mocha –
Frozen Cappuccino –
Freshly Brewed Joffrey's Coffee –
Assorted Fountain Drinks –
Coca-Cola, Diet Coke, Coca-Cola Zero Sugar, Sprite, or Minute Maid Light Pomegranate Lemonade
Alto Mayo Protected Forest Coffee Roasted by Joffrey's Coffee Press Pot (Serves Two) – $9.00
Disney supports Conservation International's Alto Mayo Protected Forest project in Peru, which promotes sustainable coffee growing and economic growth
Specialty & Dessert Cocktails
Magical Star Cocktail – $13.75
X-Fusion Organic Mango and Passion Fruit Liqueur, Parrot Bay Coconut Rum, Pineapple Juice, and a souvenir Multicolored Glow Cube
Mama's Margarita – $12.50
Jose Cuervo Tradicional Tequila, Triple Sec, Lime Juice, Sweet-and-Sour, and Orange Juice
Bellini Cocktail – $9.25
A refreshing combination of Sparkling Wine,White Peach, and Raspberry
Italian Surfer – $11.50
Disaronno Originale, Parrot Bay Coconut Rum, and Pineapple and Cranberry Juice
Red Sangria – Per Glass – $10.00 / Carafe – $30.00
Beso Del Sol Red Sangria made from a 100% natural marriage of Spanish Tempranillo Grapes, Orange, Blood Orange, and Lemon Juices with a touch of natural Cinnamon
Tiramisù Martini – $10.25
Stoli Vanil Vodka, Kamora Coffee Liqueur, and Vanilla Cream in a Chocolate-drizzled glass
Double Espresso Martini – $10.25
Van Gogh Double Espresso Vodka, Kamora Coffee Liqueur, Baileys Irish Cream, and Half & Half
Bella Cappuccino – $12.00
with Baileys Irish Cream and Frangelico
Wines
Amore di Amanti Prosecco, Veneto – Per Glass – $10.00 / Per Bottle – $45.00
Banfi Rosa Regale, Brachetto d'Acqui DOCG, Piedmont – Per Glass – $13.00 / Per Bottle – $55.00
slightly sweet red sparkling wine with rose petal aromas and strawberries, raspberries, and cranberries on the palate
Tenuta Marchesa Gavi, Piedmont – Per Glass – $10.00 / Per Bottle – $45.00
Coppo Moncalvina Moscato d'Asti Bosc, Piedmont – Per Glass – $9.00 / Per Bottle – $39.00
Placido Pinot Grigio, Veneto – Per Glass – $9.00 / Per Bottle – $39.00
Infamous Goose Sauvignon Blanc, Marlborough – Per Glass – $10.00 / Per Bottle – $45.00
Damilano Barbera d'Asti, Piedmont – Per Glass – $11.00 / Per Bottle – $49.00
MacMurray Estate Pinot Noir, Russian River Valley – Per Glass – $14.00 / Per Bottle – $59.00
Allegrini Valpolicella Classico, Veneto – Per Glass – $10.00 / Per Bottle – $45.00
William Hill Chardonnay, Central Coast – Per Glass – $10.00 / Per Bottle – $45.00
Luigi Einaudi Dolcetto di Dogliani, Piedmont – Per Glass – $11.00 / Per Bottle – $49.00
Antinori Bramito del Cervo Chardonnay, Umbria – Per Glass – $14.00 / Per Bottle – $59.00
Frescobaldi Nipozzano Chianti Reserva, Tuscany – Per Glass – $14.00 / Per Bottle – $59.00
Azienda Vitivinicola Rizzi Nebbiolo Langhe, Piedmont – Per Glass – $14.00 / Per Bottle – $59.00
Banfi Chianti Superiore, Tuscany – Per Glass – $10.00 / Per Bottle – $45.00
Francis Coppola Diamond Collection Merlot, California – Per Glass – $10.00 / Per Bottle – $45.00
Seghesio Zinfandel, Sonoma County – Per Glass – $11.00 / Per Bottle – $49.00
Estancia Cabernet Sauvignon, Paso Robles – Per Glass – $11.00 / Per Bottle – $49.00
Francis Ford Coppola Diamond Colelction Merlot, California – Per Glass – $10.00 / Per Bottle – $45.00
Luce Della Vite Lucente, Tuscany – Per Glass – $14.00 / Per Bottle – $59.00
Insama Soave Classico, Veneto – Per Glass – $10.00 / Per Bottle – $45.00
Oberon Cabernet Sauvignon, Napa Valley – Per Glass – $13.00 / Per Bottle – $55.00
Featured Beers on Draft
Italian-brewed Moretti – $9.25
Yuengling Traditional Lager – $7.25
Blue Moon Belgian – $7.25
Liqueurs (2-oz pour)
Limoncello (2-oz pour) – $10.00
Sambuca Romano (2-oz pour) – $12.00
Disaronno Originale – $17.00
Frangelico (2-oz pour) – $12.00
Allergy-friendly Offerings
Allergy-Friendly menus available upon request –
Dinner
Experience: Casual Dining
Price level: $$ ($15 to $34.99 per adult)
Average entrée price: $23.50
Appetizers
Oak-fired Mussels – $13.00
Cooked in a Cioppino Broth with Grilled Onions and Herb Crostini
Crispy Calamari – $13.00
Tossed with Red Peppers and served with spicy Aïoli and Charred Lemon
Arugula-Prosciutto Flatbread – $16.00
Vidalia Onion Spread, Green Apple, and Asiago Cheese finished with Lemon Aïoli
Vegetarian Minestrone – $8.00
with Ditalini Pasta
Mama's Caesar Salad – $10.00
Crisp Romaine Lettuce, Green Goddess Dressing, and Herb Croutons
Margherita Flatbread – $15.00
Fresh Vine-ripened Tomatoes, Mozzarella, House-made Marinara Sauce, fresh Basil, and drizzled with Extra Virgin Olive Oil
Carne d'Italia Flatbread – $17.00
with Pepperoni, House-made Sausage, Pancetta, and spicy Marinara Sauce
Fresh Mozzarella and Vine-ripened Tomatoes – $10.00
Balsamic Drizzle, Olive Oil, and Sweet Basil Leaves
Mixed Green Salad – $10.00
with fresh Tomatoes, Cucumbers, Artichoke Hearts, Feta Cheese, and Red Wine-Oregano Vinaigrette
Mushroom Flatbread – $15.00
Roasted Cremini and Button Mushrooms with a Roasted Vidalia Onion Spread topped with a Fontina and Asiago Cheese finished with Balsamic Reduction and fresh Herbs
Entrées
Seafood Cioppino – $25.00
Shrimp, Mussels, Calamari, Fish, and Spaghetti tossed with spicy Cioppino Sauce
Charred Strip Steak – $33.00
Four-Cheese Macaroni with Pancetta, Aged Balsamic-Shallot Butter, and Chianti Wine Reduction
Polenta Cake, Mushroom, and Herb Cauliflower – $19.00
Polenta layered with Sautéed Mushroom, Spinach, and Red Pepper with a Cashew-Cheese Sauce
Wood-grilled Chicken and Penne Pasta – $21.00
with House-made Four-Cheese Sauce garnished with Pecorino Romano Cheese and Parsley
Oven-baked Chicken alla Parmigiana – $23.00
Breaded Chicken Breast with Marinara Sauce topped with Melted Mozzarella over Spaghetti
Saltimbocca – $28.00
Pork Tenderloin topped with Prosciutto, Sage, Fontina Cheese, Tuscan Mashed Potatoes, Broccolini, and Lemon Caper Sauce
Shrimp Campanelle – $25.00
Sautéed Shrimp and Campanelle Pasta tossed in a Four-Cheese Sauce with Cauliflower, Sun-dried Tomatoes, fresh Spinach, and Sweet Onions
Chicken Campanelle – $22.00
Wood-grilled Chicken and Campanelle Pasta tossed in a Four-Cheese Sauce with Cauliflower, Sun-dried Tomatoes, fresh Spinach, and Sweet Onions
Mama's Italian Pasta – $18.00
Spaghetti tossed with Roasted Garlic, Tomato, fresh Basil, and Asiago-Herb Crostini
Seasonally-inspired Chef's Selection (Market Price) –
Featuring Authentic Italian Ingredients
Spaghetti and Meatballs – $21.00
with House-made Marinara, garnished with Pecorino Romano Cheese and Parsley
Sustainable Fish (Market Price) –
with Pappardelle Pasta tossed with Puttanesca Sauce and Grilled Asparagus
Desserts
Tiramisú – $8.00
Layers of Mascarpone and Espresso soaked Lady Fingers topped with Cocoa Powder and Whipped Cream
Traditional Cannoli – $7.00
House-made creamy Cannoli Filling with a hint of Citrus and dusted with Cocoa Powder
Gelato – $6.00
Choice of Chocolate or Vanilla
Cheesecake – $7.00
A No Sugar Added Cheesecake with Strawberry Sauce and topped with Whipped Cream
Dessert Sampler – $6.50
Miniature versions of Mama's favorite Desserts Valencia Blood Orange Cake, Lemon Cheesecake topped with Passion Fruit Pearls, and Tiramisù
Chocolate and Cherry Tort – $7.50
Made with Ghirardelli Creamy Chocolate infused with Morello Cherries served with Cherry Coulis topped with Whipped Cream
Lemon Sorbet, A No Sugar Added Sorbet – $6.00
Kids' Appetizers
Garden Salad – $3.00
Vegetarian Minestrone Soup – $3.00
Celery and Carrot Sticks – $3.00
Kids' Disney Check Meals
Fish of the Day – $12.00
with Whole-Grain Pilaf, Green Beans, Carrots, and Sliced Apples served with choice of Small Lowfat Milk or Small Dasani Water. Meets Disney Nutrition Guidelines for Complete Meals without substitution
Whole-Wheat Spaghetti – $11.00
served with Meat Sauce, Cauliflower, and Mixed Fruit. Choice of Small Lowfat Milk or Small Dasani Water. Meets Disney Nutrition Guidelines for Complete Meals without substitution
Grilled Chicken Breast – $10.00
served with Whole-Grain Pilaf, Green Beans, Carrots, and Sliced Apples. Choice of Small Lowfat Milk or Small Dasani Water. Meets Disney Nutrition Guidelines for Complete Meals without substitution
Kids' Meals
Cheese Pizza – $10.00
served with choice of one (1) Beverage and one (1) Dessert
Chicken Parmigiana – $11.00
served over Spaghetti with choice of one (1) Beverage and one (1) Dessert
Spaghetti or Penne Pasta – $11.00
with Meatballs and House-made Marinara Sauce served with choice of one (1) Beverage and one (1) Dessert
Kids' Desserts
Spaghetti & Meatball Cupcake – $3.00
A Chocolate Cupcake with "Spaghetti" Frosting and a Chocolate "Meatball"' with a Strawberry "Marinara Sauce" and White Chocolate "Cheese"
Ice Cream Sundae –
Sliced Apples –
Kids' Beverages
Small Lowfat Milk –
Small Dasani Water –
Small Minute Maid Apple Juice –
Non-Alcoholic Beverages
Ariel or Buzz Lightyear Punch – $8.00
Minute Maid Light Lemonade Punch served in a souvenir Ariel or Toy Story 3 Cup with a glowing Ariel or Buzz Lightyear Clip-on Light
Espresso –
Cappuccino –
Latte –
Café Mocha –
Frozen Cappuccino –
Freshly Brewed Joffrey's Coffee –
Assorted Fountain Drinks –
Coca-Cola, Diet Coke, Coca-Cola Zero Sugar, Sprite, or Minute Maid Light Pomegranate Lemonade
Alto Mayo Protected Forest Coffee Roasted by Joffrey's Coffee Press Pot (Serves Two) – $9.00
Disney supports Conservation International's Alto Mayo Protected Forest project in Peru, which promotes sustainable coffee growing and economic growth
Specialty & Dessert Cocktails
Magical Star Cocktail – $13.75
X-Fusion Organic Mango and Passion Fruit Liqueur, Parrot Bay Coconut Rum, Pineapple Juice, and a souvenir Multicolored Glow Cube
Mama's Margarita – $12.50
Jose Cuervo Tradicional Tequila, Triple Sec, Lime Juice, Sweet-and-Sour, and Orange Juice
Bellini Cocktail – $9.25
A refreshing combination of Sparkling Wine,White Peach, and Raspberry
Italian Surfer – $11.50
Disaronno Originale, Parrot Bay Coconut Rum, and Pineapple and Cranberry Juice
Red Sangria – Per Glass – $10.00 / Carafe – $30.00
Beso Del Sol Red Sangria made from a 100% natural marriage of Spanish Tempranillo Grapes, Orange, Blood Orange, and Lemon Juices with a touch of natural Cinnamon
Tiramisù Martini – $10.25
Stoli Vanil Vodka, Kamora Coffee Liqueur, and Vanilla Cream in a Chocolate-drizzled glass
Double Espresso Martini – $10.25
Van Gogh Double Espresso Vodka, Kamora Coffee Liqueur, Baileys Irish Cream, and Half & Half
Bella Cappuccino – $12.00
with Baileys Irish Cream and Frangelico
Featured Beers on Draft
Italian-brewed Moretti – $9.25
Yuengling Traditional Lager – $7.25
Blue Moon Belgian – $7.25
Wines
Amore di Amanti Prosecco, Veneto – Per Glass – $10.00 / Per Bottle – $45.00
Banfi Rosa Regale, Brachetto d'Acqui DOCG, Piedmont – Per Glass – $13.00 / Per Bottle – $55.00
slightly sweet red sparkling wine with rose petal aromas and strawberries, raspberries, and cranberries on the palate
Tenuta Marchesa Gavi, Piedmont – Per Glass – $10.00 / Per Bottle – $45.00
Coppo Moncalvina Moscato d'Asti Bosc, Piedmont – Per Glass – $9.00 / Per Bottle – $39.00
Placido Pinot Grigio, Veneto – Per Glass – $9.00 / Per Bottle – $39.00
Infamous Goose Sauvignon Blanc, Marlborough – Per Glass – $10.00 / Per Bottle – $45.00
Damilano Barbera d'Asti, Piedmont – Per Glass – $11.00 / Per Bottle – $49.00
MacMurray Estate Pinot Noir, Russian River Valley – Per Glass – $14.00 / Per Bottle – $59.00
Allegrini Valpolicella Classico, Veneto – Per Glass – $10.00 / Per Bottle – $45.00
William Hill Chardonnay, Central Coast – Per Glass – $10.00 / Per Bottle – $45.00
Luigi Einaudi Dolcetto di Dogliani, Piedmont – Per Glass – $11.00 / Per Bottle – $49.00
Antinori Bramito del Cervo Chardonnay, Umbria – Per Glass – $14.00 / Per Bottle – $59.00
Frescobaldi Nipozzano Chianti Reserva, Tuscany – Per Glass – $14.00 / Per Bottle – $59.00
Azienda Vitivinicola Rizzi Nebbiolo Langhe, Piedmont – Per Glass – $14.00 / Per Bottle – $59.00
Banfi Chianti Superiore, Tuscany – Per Glass – $10.00 / Per Bottle – $45.00
Francis Coppola Diamond Collection Merlot, California – Per Glass – $10.00 / Per Bottle – $45.00
Seghesio Zinfandel, Sonoma County – Per Glass – $11.00 / Per Bottle – $49.00
Estancia Cabernet Sauvignon, Paso Robles – Per Glass – $11.00 / Per Bottle – $49.00
Francis Ford Coppola Diamond Colelction Merlot, California – Per Glass – $10.00 / Per Bottle – $45.00
Luce Della Vite Lucente, Tuscany – Per Glass – $14.00 / Per Bottle – $59.00
Insama Soave Classico, Veneto – Per Glass – $10.00 / Per Bottle – $45.00
Oberon Cabernet Sauvignon, Napa Valley – Per Glass – $13.00 / Per Bottle – $55.00
Liqueurs (2-oz pour)
Limoncello (2-oz pour) – $10.00
Sambuca Romano (2-oz pour) – $12.00
Disaronno Originale – $17.00
Frangelico (2-oz pour) – $12.00
Allergy-friendly Offerings
Allergy-Friendly menus available upon request –
Related