This post may contain affiliate links; please read the disclosure for more information.
Outer Rim in Disney's Contemporary Resort, Disney's Contemporary Resort, Walt Disney World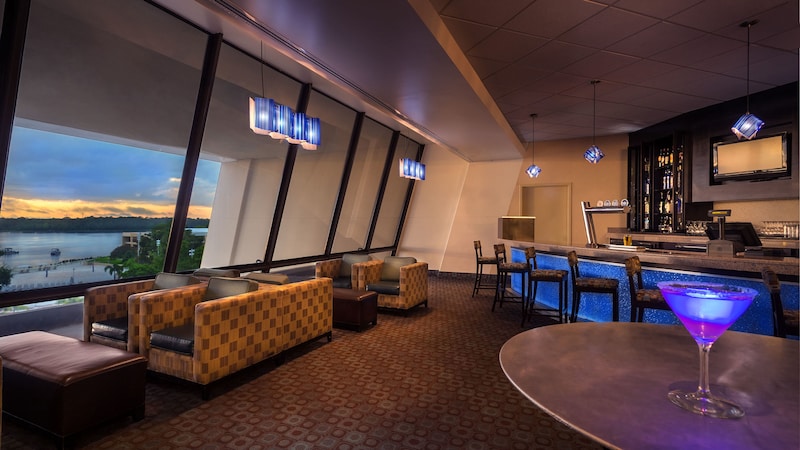 Details, tips, and information for Outer Rim
Today's Hours
11:30AM - 10:00PM
Admire stunning views of Bay Lake with specialty cocktails before—or after—dinner. Try a Piña CoLAVA, Red Stag Lemonade, Blue "Glow-tini" or more! A full bar menu is also available.

Cuisine:
American
WDWNT Reviews
Coming soon!
Menu for Outer Rim
Menu
Experience: Lounges
Price level: $ ($14.99 and under per adult)
Sparkling Wine
Maschio Prosecco, Vento – Per Glass – $9.00 / Per Bottle – $39.00
Bouquet of white peach and orange blossoms with a lively froth and a nutty finish
White Wine
Villa Rosa Moscato d'Asti, Piedmont – Per Glass – $9.00 / Per Bottle – $39.00
Mildly fizzy with a fresh, fragrant bouquet composed of peach and apricot aromas. On the palate, it is clean and pleasantly sweet with a crisp, refreshing finish
Two Princes Riesling, Nahe – Per Glass – $9.00 / Per Bottle – $39.00
Balances tart acidity with just a touch of sweetness and has notes of peach and nectarine
Placido Pinot Grigio, Veneto – Per Glass – $9.00 / Per Bottle – $39.00
Light, fresh floral and mineral aromas with refreshing flavors of citrus and green apple, and a clean, fresh lemon finish
Honig Sauvignon Blanc, Napa Valley – Per Glass – $11.00 / Per Bottle – $49.00
Sustainably Farmed – Aromas of honeysuckle, grapefruit, and lemongrass mingled with mango, kiwi, and peach with a crisp, minerally finish
Esser Chardonnay, Monterey – Per Glass – $9.00 / Per Bottle – $39.00
Hints of tropical fruit aromas and accents of citrus and lemon blossom. Rich and round on the palate and complemented by ample acidity
Jackson Estate Chardonnay, Santa Maria Valley – Per Glass – $11.00 / Per Bottle – $49.00
Golden mango, pineapple, yellow peach, and honeysuckle flower flavors with oak barrel notes of buttered biscuits and vanilla bean
Blush & Red Wine
Kenwood Vineyards Yulupa White Zinfandel, California – Per Glass – $8.00 / Per Bottle – $35.00
Fresh red berry, citrus, and melon flavors and aromas rounded out with subtle hints of nutmeg and clove
Carmel Road Pinot Noir, Monterey – Per Glass – $11.00 / Per Bottle – $49.00
Sustainability in Practice – elegant mix of blackberry, strawberries, spices, and great acidity on the finish
Canyon Road Merlot, California – Per Glass – $9.00 / Per Bottle – $39.00
Black cherry and juicy plum notes, balanced with a round, velvety texture
Zen of Zin Old Vine Zinfandel, Sonoma County – Per Glass – $9.00 / Per Bottle – $39.00
Zesty black and red fruits come alive on the palate, balanced with spicy notes of pepper and oak, extending to a full, complex finish
Beaulieu Vineyard Cabernet Sauvignon, Napa Valley – Per Glass – $11.00 / Per Bottle – $49.00
Velvety layers of blackberry, plum, chocolate, and violet
Simi Cabernet Sauvignon, Alexander Valley – Per Glass – $14.00 / Per Bottle – $59.00
Richly extracted black currant and dark cherry flavors extend to a long, polished finish
Specialty Cocktails
Blood Orange Margarita – $11.75
Sauza Conmemorativo Añejo Tequila, Cointreau, fresh Lime Juice, and Blood Orange Sour
Habañero-Lime Margarita – $11.25
Patrón Silver Tequila, Habañero Lime, and House-made Sweet-and-Sour
Watermelon Margarita – $11.75
Patrón Silver Tequila, Watermelon, and fresh Lime Juice
Paloma – $11.25
Don Julio Blanco Tequila with juices of Rudy Red Grapefruit and Lime topped with Soda Water
Whiskey Breeze – $11.25
Jim Beam Black Extra-aged Bourbon, Cointreau, and fresh Lime Juice with flavors of Guava and Mango
Moscow Mule – $11.00
Russian Standard Vodka, fresh Lime Juice, and Agave Nectar topped with Ginger Beer
Kentucky Mule – $12.25
Buffalo Trace Kentucky Straight Bourbon, fresh Lime Juice, and Agave Nectar topped with Ginger Beer
Smoked Turkey – $12.00
Wild Turkey 101 Bourbon, Red Stag Black Cherry Bourbon, Grenadine, and Odwalla Lemonade with a hint of Hickory Smoke garnished with Luxardo Gourmet Maraschino Cherries
Negroni – $11.25
Bombay Sapphire Gin, Campari, and Carpano Antica Sweet Vermouth
Captain's Mai Tai – $10.50
Captain Morgan Original Spiced Rum, Bols Amaretto, and Tropical Juices topped with a float of Myers's Original Dark Rum
Ultimate Long Island Iced Tea – $11.50
Bacardi Superior Rum, Tito's handmade Vodka, Hendrick's, Cointreau, and Sweet-and-Sour with a splash of Coca-Cola
Bahama Mama – $10.25
Parrot Bay Coconut Rum, Myers's Original Dark Rum, Bols Crème de Banana, and Tropical Juices
Piña Colava – $10.75
Bacardi Raspberry Rum with Piña Colada Mix and Raspberry Purée
Magical Star Cocktail – $12.50
X-Fusion Organic Mango and Passion Fruit Liqueur, Parrot Bay Coconut Rum, Pineapple Juice, and a souvenir multicolored Glow Cube
Blue "Glow-tini" – $12.50
Skyy Infusions Citrus Vodka, Bols Peach Schnapps, Bols Blue Curaçao, and Pineapple Juice with a Sugared Rim and a souvenir Glow Cube
Cold Brew XO – $9.75
Patrón XO Cafe Coffee Liqueur, Heavy Cream, and Cold brew Joffrey's Coffee
Godiva Chocolate Martini – $11.25
Godiva Chocolate Liqueur, Stoli Vanil Vodka, Bols White Crème de Cacao, and Frangelico
Red Sangria – $9.50
Beso Del Sol Red Sangria made from 100% natural mirage of Spanish Tempranillo Grapes, Orange, Blood Orange, and Lemon Juices with a touch of natural Cinnamon
White Sangria – $9.50
Beso Del Sol White Sangria made from 100% natural blend of Airén White Spanish Grapes, Lemon, Peach, and Mango Juices
Beer & Cider
Budweiser or Bud Light – St. Louis, MO –
Coors Light – Golden, CO –
Corona Extra – Mexico –
Heineken – Netherlands –
Michelob Ultra – St. Louis, MO –
Miller Lite – Milwaukee, WI –
Modelo Especial – Mexico –
Stella Artois – Belgium –
Goose Island Four Star Pils – Chicago, IL –
Crooked Can Mr. Tractor – Winter Garden, FL –
Blue Moon Belgian White – Golden, CO –
Goose Island 312 Urban Wheat Ale – Chicago, IL –
Schöfferhoffer Pink Grapefruit Hefeweizen – Germany –
Boulevard Tank 7 Farmhouse Ale – Kansas City, MO –
New Belgium Fat Tire – Ft. Collins, CO –
Angry Orchard Crisp Apple Hard Cider – Cincinnati, OH –
Sierra Nevada Pale Ale – Chico, CA –
Sierra Nevada Pale Ale – Chico, CA –
New Belgium Citradelic Tangerine IPA – Ft. Collins, CO –
Cigar City Jai Alai IPA – Tampa, FL –
Orlando Brewing I-4 IPA – Orlando, FL –
Samuel Adams Seasonal – Boston, MA –
Non-Alcoholic Specialties
All-Natural Lemonade – $4.49
Odwalla Lemonade topped with Wildberry Foam
Grapefruit Spritzer – $4.99
Juices of Ruby Red Grapefruit and fresh Lime Juice topped with Soda Water
Sparkling No-Jito – $4.49
Fresh Lime Juice, Agave Nectar, and Mint topped with Soda Water
Watermelon Lemonade – $4.79
Odwalla Lemonade and Watermelon topped with Lemon-Lime Foam
Related