Shula's Steak House in Walt Disney World Dolphin Hotel, Walt Disney World Dolphin Hotel, Walt Disney World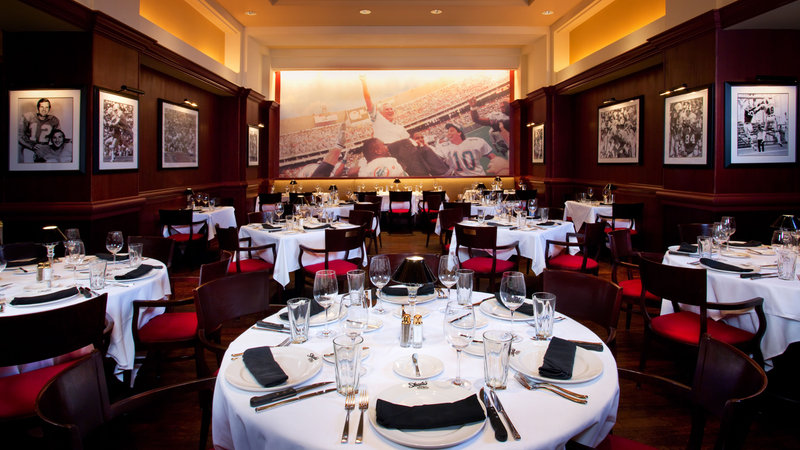 Details, tips, and information for Shula's Steak House
Today's Hours
EMPTY api-answer: No JSON received - is the API down? Check the URL you use in the shortcode!
Sizzling steaks and seafood impress at this award-winning steakhouse—honoring the only undefeated team in NFL history! Please note: Disney Dining Plans are not accepted at this location.

Cuisine:
American/Seafood/Steakhouse
WDWNT Reviews
Coming soon!
Menu for Shula's Steak House
[mks_tabs nav='horizontal']
[mks_tab_item title='Menu']
Experience: Signature Dining
Price level: $$$ ($35 to $59.99 per adult)
Average entrée price: $60.82
Appetizers
Barbequed Shrimp Stuffed with Basil – $19.00
Stuffed with Basil, wrapped in Applewood Smoked Bacon tossed in a Tangy BBQ Sauce
Premium Black Angus Steak Tartare – $18.00
Ground Center Cut Filet served with Capers, Cornichons, Red Onions, Parsley and Anchovy Paste
Colossal Shrimp Cocktail – $18.00
Jumbo Shrimp with our signature Cocktail Sauce
Seared Ahi Tuna – $19.00
Togarashi Seasoned, topped with Truffle Ponzu, Avocado Cream, and Tempura Crunch
Half Dozen Seasonal Oysters – $18.00
Served on the Half Shelf with our signature Cocktail Sauce
Jumbo Lump Crab Cake – $18.00
Jumbo Lump and Blue Crab Mix with Remoulade Sauce
Pan Seared Sea Scallops – $18.00
Served over Roasted Garlic Mashed Potatoes with a Truffle Ponzu Ragout
Shellfish Trio – $25.00
Shrimp cocktail, Jumbo Lump Crab Meat, and Half of a Maine Lobster Tail served with a trio of Sauces
8-ounce Cold Water Lobster Tail – $41.00
Topped with Paprika Butter
Entrées
12-ounce Filet Mignon – $55.00
16-ounce New York Strip – $49.00
20-ounce Kansas City Strip – $51.00
22-ounce Cowboy Ribeye – $54.00
24-ounce Porterhouse – $51.00
48-ounce Porterhouse – $105.00
20-ounce Prime Rib – $49.00
Herb-Crusted and served with Yorkshire Pudding and Au Jus
10-ounce Steak Mary Anne – $48.00
Two 5 oz. Filets with a Cognac-Peppercorn Sauce
Twin 11-ounce Lamb Porterhouse – $44.00
Lamb Jus Reduction
Surf and Turf – $88.00
Bearnaise, Drawn Butter and Lemon
Australian Lobster Tail – $130.00
Topped With Paprika Butter
4 Pound Maine Lobster – $95.00
Steamed or Broiled, Topped With Paprika Butter
Twin Cold Water Lobster Tails – $82.00
Topped with Paprika Butter
Chicken Breast – $28.00
House Herb Seasoning and Roasted Garlic
Norwegian Salmon – $33.00
Sauteed, Grilled or Blackened with choice of Beurre Blanc or Truffle Ponzu Sauce
Daily Market Fish –
Sauteed, Grilled or Blackened with choice of Beurre Blanc or Truffle Ponzu Sauce. Market Price
Jumbo Lump Crab Cakes – $36.00
Jumbo Lump Blue Crab Mix with Remoulade Sauce
Pan Seared Sea Scallops – $36.00
Served over Roasted Corn and Topped with a Beurre Blanc Sauce
Soups and Salads
French Onion Soup – $11.00
Caramelized Onions and Croutons in a Rich Beef Broth with Gruyere and Provolone Cheese
Lobster Bisque – $13.00
Traditional Bisque with Lobster Meat, Cream and Sherry
Shula's House Salad – $12.00
Spring Mix, Hearts of Palm, Cherry Tomatoes, Cucumber, Asparagus and House Vinaigrette
The Wedge Salad – $12.00
Iceberg lettuce, Tomatoes, Applewood Smoked Bacon, Red & Green Onions and Blue Cheese Dressing
Tomato and Mozzarella Chopped Salad – $13.00
Tomatoes, Fresh Mozzarella, Basil, Red Onion and Balsamic Glaze
Traditional Caesar Salad – $12.00
Romaine Hearts, Sourdough Croutons, Parmesan Cheese and Caesar Dressing
Side Items
Fresh Asparagus Spears – $9.00
Grilled or Steamed
Roasted Corn – $9.00
Red Bell Pepper and Applewood Smoked Bacon
Broccoli with Hollandaise Sauce – $9.00
Steamed with Hollandaise Sauce
Baked Potato – $9.00
Cheddar Cheese, Sour Cream, Butter, Bacon and Chives
Double Baked Potato – $9.00
Applewood Smoked Bacon, Vermont White Cheddar Cheese and Green Onion
Mashed Potatoes – $9.00
Roasted Garlic and Butter
Crab Macaroni and Cheese – $15.00
Jumbo Lump Crab, Boursin Herb Cheese Sauce, Parmesan Cheese and Bread Crumbs
Spinach – $9.00
Sauteed or Creamed
Sautéed Mushrooms – $9.00
Seasonal Organic Mushrooms sautéed in Garlic Thyme Oil
Potato Gratin – $9.00
Garlic Cream Reduction Topped with Panko Parmesan Crust
Green Beans – $9.00
Sauteed in Shallots and Garlic, finished with fresh lemon
Desserts
Apple Crisp – $9.00
Chocolate Soufflé – $11.00
Molten Chocolate Lava Cake – $12.00
Crème Brûlée Trio – $10.00
Carrot Cake – $9.00
Häagen-Dazs Ice Cream – $8.00
Key Lime Pie – $8.00
Seven Layer Chocolate Cake – $9.00
Vanilla Cheesecake – $9.00
Seasonal Berries – $9.00
Kids' Appetizers
Chicken Noodle Soup – $7.00
Kids' Entrées
French-cut Chicken Breast – $14.00
Cheeseburger – $9.00
Kids' Sides
Mashed Potatoes – $5.00
Macaroni & Cheese – $5.00
Kids' Desserts
Häagen-Dazs – $3.00
Chocolate or Vanilla
Sparkling Wines by the Glass
Col de' Salici Prosecco Superiore, Valdobbiadene, Treviso, Italy – Per Glass – $12.00
Chandon Rose, CA 187mL – Per Glass – $11.00
Chandon Brut Classic, CA – Per Glass – $11.00
White Wines by the Glass
Nine Vines Moscato, South Eastern Australia – Per Glass – $9.00
Kim Crawford Sauvignon Blanc, Marlborough, New Zealand – Per Glass – $12.00
Erath Pinot Gris, OR – Per Glass – $11.00
Santa Margherita Pinot Grigio, Alto Aldige, Italy – Per Glass – $16.00
Conundrum White Blend, CA – Per Glass – $13.00
Cakebread Cellars Chardonnay, Napa Valley – Per Glass – $25.00
Tom Gore Vineyards Chardonnay, CA – Per Glass – $11.00
Landmark "Overlook" Chardonnay, Sonoma-Monterey-Santa Barbara, CA – Per Glass – $13.00
Robert Mondavi Chardonnay, Napa Valley, CA – Per Glass – $14.00
Newton "Red Label" Chardonnay Napa County, CA – Per Glass – $18.00
Red Wines by the Glass
Estancia Pinot Noir, Monterey County, CA – Per Glass – $10.00
Acrobat by King Estate Pinot Noir, OR – Per Glass – $13.00
La Crema Pinot Noir, Sonoma Coast, CA – Per Glass – $16.00
Meiomi Pinot Noir, Monterey-Sonoma-Santa Barbara Counties, CA – Per Glass – $15.00
Terrazas de Los Andes Malbec, Mendoz, Argentina – Per Glass – $9.00
Banfi "Centine", Tuscany, Italy – Per Glass – $9.00
Guenoc Petite Sirah, CA – Per Glass – $10.00
Penfolds "Bin 8" Cabernet-Shiraz, South Australia – Per Glass – $14.00
Chateau Ste. Michelle "Eroica" Riesling, Columbia Valley, WA – Per Glass – $13.00
Alexander Valley Vineyards "Sin Zin" Zinfandel, Alexander Valley, CA – Per Glass – $12.00
Folie A Deux Merlot, Alexander Valley, Sonoma County, CA – Per Glass – $13.00
Chateau Ste. Michelle "Indian Wells" Merlot, Columbia Valley, WA – Per Glass – $12.00
Duckhorn Vineyards Merlot, Napa Valley, CA – Per Glass – $19.00
Joel Gott "815" Cabernet Sauvignon, CA – Per Glass – $12.00
Kendall Jackson "Grand Reserve" Cabernet Sauvignon, Sonoma County, CA – Per Glass – $17.00
Louis Martini Cabernet Sauvignon, Sonoma County, CA – Per Glass – $12.00
Caymus Cabernet Sauvignon, Napa Valley, CA – Per Glass – $32.00
Justin Vineyards Cabernet Sauvignon Paso Robles, CA – Per Glass – $16.00
Les Cardrans de Lassegue St. Emilion, Bordeaux, France – Per Glass – $15.00
Stag's Leap Wine Cellars "Hands of Time" Red Blend, Napa Valley, CA – Per Glass – $20.00
Ferrari-Carano "Siena" Red Blend, Sonoma County, CA – Per Glass – $12.00
Paraduxx Red Blend, Napa Valley, CA – Per Glass – $22.00
Chateau Ste. Michelle "Artist Series" Meritage, Columbia Valley, WA – Per Glass – $22.00
Justin Vineyards "Isosceles" Red Blend, Paso Robles, CA – Per Glass – $26.00
New Year's Eve Appetizers (Choice of one)
Barbequed Shrimp Stuffed with Basil –
Jumbo Lump Crab Cake –
New Year's Eve Salads (Choice of one)
Tomato and Mozzarella Chopped Salad –
Traditional Caesar Salad –
New Year's Eve Entrées (Choice of one)
Surf & Turf –
10 oz. Filet Mignon –
16 oz. New York Strip –
22 oz. Cowboy Ribeye –
20 oz. Prime Rib –
French Cut Chicken Breast –
Twin 11 oz. Lamb Porterhouse –
Norwegian Salmon –
New Year's Eve Sides (Choice of one)
Grilled Asparagus Spears with Truffle Ponzu Sauce –
Broccoli with Hollandaise Sauce –
Double Baked Potato –
Garlic Mashed Potatoes –
New Year's Eve Desserts (Choice of one)
Key Lime Pie –
Vanilla Cheesecake –
Molten Chocolate Lava Cake –
New Year's Eve Kid's Appetizers (Choice of one)
Colossal Shrimp Cocktail –
Chicken Noodle Soup –
New Year's Eve Kid's Entrées (Choice of one)
8 oz. Filet Mignon –
French-cut Chicken Breast –
Norwegian Salmon –
New Year's Eve Kid's Sides (Choice of one)
Broccoli with Hollandaise Sauce –
Garlic Mashed Potatoes –
New Year's Eve Kid's Desserts (Choice of one)
Key Lime Pie –
Vanilla Cheesecake –
[/mks_tab_item]
[/mks_tabs]
Related