This post may contain affiliate links; please read the disclosure for more information.
The Diamond Horseshoe in Liberty Square, Magic Kingdom, Walt Disney World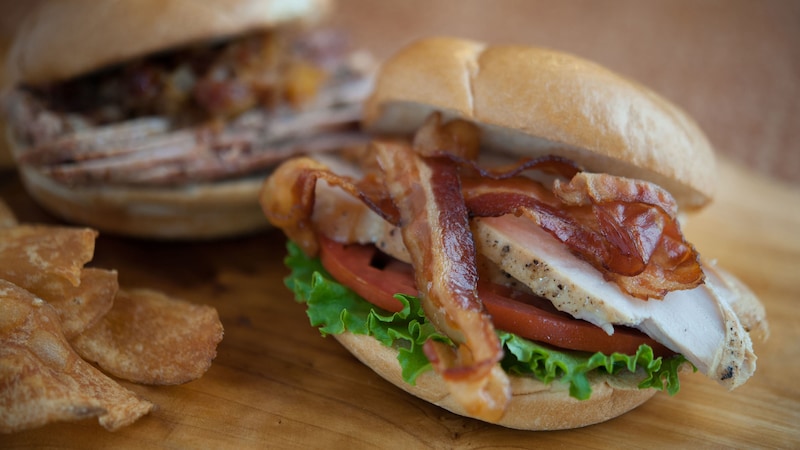 Details, tips, and information for The Diamond Horseshoe
Today's Hours
1:00PM - 8:00PM
Hit the trail for heaping helpings of classic American fare, made fast so you can head back out on the open range.
WDWNT says…
Under no circumstances should you waste your time and/or money here. You will be much better off indulging in the new menu nearby at Pecos Bill's or even eating the mediocre BBQ sandwiches from Tortuga Tavern.

Book The Diamond Horseshoe Dining Reservations

Cuisine:
American

Details:
Disney Dining Plan Accepted
WDWNT Reviews
Coming soon!
Menus for The Diamond Horseshoe
Lunch
Experience: Casual Dining
Price level: $$$ ($35 to $59.99 per adult)
Sandwiches and More
Grilled Chicken Sandwich – $17.00
served with Barbecue Mayonnaise, Lettuce, Tomato, and Onion on a Brioche Bun
Creamy Turkey Salad Sandwich – $16.00
with Lettuce, Tomato, and Onion on Multigrain Bread
Carved Beef Brisket Sandwich – $18.00
with creamy Coleslaw and Barbecue Sauce served on a Brioche Bun
Cowboy Mac – $17.00
Creamy Macaroni and Cheese topped with Barbecue Pulled Pork and crispy Onions
Barbecue Pulled Pork Sandwich – $17.00
with Macaroni and Cheese and crispy Onions on a Brioche Bun
Mixed Green Prarie Salad – $18.00
Choice of Brisket, Pork, or Chicken served with Cucumber, Tomato, Onion, and Cornbread
Chuck Wagon Platters
Carved Beef Brisket – $22.00
served with Cornbread and your choice of two fix 'ins
Barbecue Pulled Pork – $21.00
served with Cornbread and your choice of two fix 'ins
Grilled Chicken – $21.00
served with Cornbread and your choice of two fix 'ins
Vegetable – $19.00
served with Cornbread and your choice of two fix 'ins
The Fix 'Ins
Potato Salad –
Macaroni & Cheese –
Barbecue Baked Beans –
Watermelon Salads –
House Salad –
Corn on the Cob –
Creamy Coleslaw –
Corn Fritters –
Jalapeño-Cheddar Cornbread –
Desserts
Buttermilk-Chocolate Cake – $7.00
with Bourbon-Caramel Sauce
Peaches and Cream Cheesecake – $7.00
with crisp Streusel topping
Seasonal Berry Cobbler – $7.00
with Whipped Cream
Saloon Feast
Saloon Feast (All-You-Care-to-Enjoy) – Per Adult – $36.00 / Per Child – $20.00
Mixed Greens Salad, Creamy Potato Salad, Fresh Watermelon Salad, Carved Beef Brisket, Grilled Chicken, Corn on the Cob, Barbecue Pulled Pork, Macaroni and Cheese, Barbecue Baked Beans, Creamy Coleslaw, and Dessert Trio with Buttermilk-Chocolate Cake, Peaches and Cream Cheesecake, and Seasonal Berry Cobbler
Beverages
Prairie Slushy – $6.00
A refreshing combination of frozen Watermelon and Odwalla All-Natural Lemonade
Pirates Punch or Ariel Punch – $6.00
Minute Maid light Pomegranate Lemonade Punch
Fountain Sodas –
Nestea Iced Tea –
Whole or 1% Lowfat Milk –
Fresh-brewed Coffee –
Beer
Michelob Ultra – $7.00
Samuel Adams Sesaonal – $8.25
Yuengling – $7.00
Blue Moon – $9.00
Bud Light – $7.00
Cigar City Jai Alai IPA – $9.00
Angry Orchard Crisp Apple – $8.50
Wine
Domaine Ste. Michelle Brut – Per Glass – $9.00 / Per Bottle – $39.00
Chateau Ste Michelle Riesling – Per Glass – $8.00 / Per Bottle – $35.00
Kenwood Sauvignon Blanc – Per Glass – $9.00 / Per Bottle – $39.00
Cambria Benchmark Chardonnay – Per Glass – $11.00 / Per Bottle – $49.00
MacMurray Ranch Pinot Noir – Per Glass – $13.00 / Per Bottle – $55.00
Fess Parker Frontier Red – Per Glass – $10.00 / Per Bottle – $45.00
J. Lohr Seven Oaks Cabernet Sauvignon – Per Glass – $9.00 / Per Bottle – $39.00
Western Sangria – $9.50
Dinner
Experience: Casual Dining
Price level: $$$ ($35 to $59.99 per adult)
Saloon Feast
Saloon Feast (All-You-Care-to-Enjoy) – Per Adult – $36.00 / Per Child – $20.00
Mixed Greens Salad, Creamy Potato Salad, Fresh Watermelon Salad, Carved Beef Brisket, Grilled Chicken, Corn on the Cob, Barbecue Pulled Pork, Macaroni and Cheese, Barbecue Baked Beans, Creamy Coleslaw, and Dessert Trio with Buttermilk-Chocolate Cake, Peaches and Cream Cheesecake, and Seasonal Berry Cobbler
Beverages
Prairie Slushy – $6.00
A refreshing combination of frozen Watermelon and Odwalla All-Natural Lemonade
Pirates Punch or Ariel Punch – $6.00
Minute Maid light Pomegranate Lemonade Punch
Fountain Sodas –
Nestea Iced Tea –
Whole or 1% Lowfat Milk –
Fresh-brewed Coffee –
Wine
Domaine Ste. Michelle Brut – Per Glass – $9.00 / Per Bottle – $39.00
Chateau Ste Michelle Riesling – Per Glass – $8.00 / Per Bottle – $35.00
Kenwood Sauvignon Blanc – Per Glass – $9.00 / Per Bottle – $39.00
Cambria Benchmark Chardonnay – Per Glass – $11.00 / Per Bottle – $49.00
MacMurray Ranch Pinot Noir – Per Glass – $13.00 / Per Bottle – $55.00
Fess Parker Frontier Red – Per Glass – $10.00 / Per Bottle – $45.00
J. Lohr Seven Oaks Cabernet Sauvignon – Per Glass – $9.00 / Per Bottle – $39.00
Western Sangria – $9.50
Beer
Michelob Ultra – $7.00
Samuel Adams Sesaonal – $8.25
Yuengling – $7.00
Blue Moon – $9.00
Bud Light – $7.00
Cigar City Jai Alai IPA – $9.00
Angry Orchard Crisp Apple – $8.50
Related