This post may contain affiliate links; please read the disclosure for more information.
The Plaza Restaurant in Main Street, U.S.A., Magic Kingdom, Walt Disney World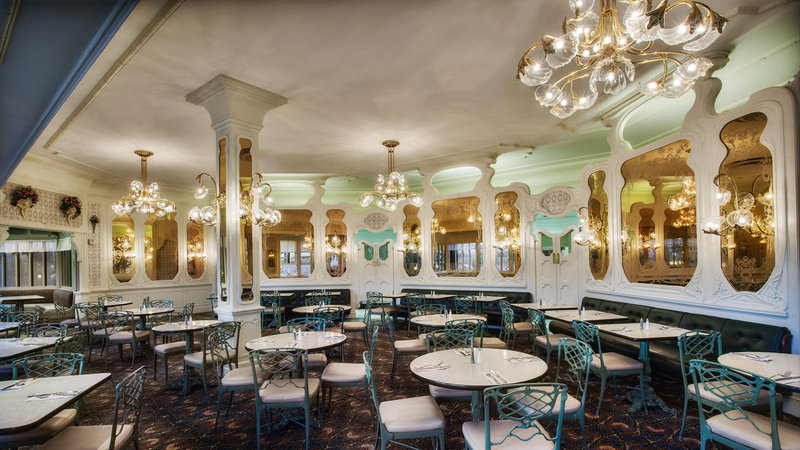 Details, tips, and information for The Plaza Restaurant
Today's Hours
EMPTY api-answer: No JSON received - is the API down? Check the URL you use in the shortcode!
This hidden gem at Magic Kingdom park is a favorite for its fantastic family-friendly fare and accessible location.
Tom says…
Overall, I am massively disappointed with Plaza Restaurant. This was a place I often visited once a trip and the experience we had food-wise was pretty awful. Our server was amazing, but the cuisine just wasn't as good as it had been in years past.
Rating:
1.5 out of 7 (yeah, 7)

Cuisine:
American

Details:
Disney Dining Plan Accepted
WDWNT Reviews
Coming soon!
Menus for The Plaza Restaurant
Lunch
Experience: Casual Dining
Price level: $$ ($15 to $34.99 per adult)
Average entrée price: $18.58
Appetizers
Plaza Loaded Fries – $9.00
French Fries topped with Melted Cheese, Bacon, Lettuce, Tomatoes, and Ranch Dressing
Wedge Salad – $8.00
Half Wedge of Iceberg Lettuce served with Tomatoes, Onions, and Cucumbers topped with Gorgonzola and Ranch Dressing
Seasonal Soup – $8.00
Ask your server for today's selection
Entrées
Home-style Meatloaf – $22.00
Hearty Slices of Meatloaf served with Red Skinned Garlic-Mashed Potatoes and Seasonal Vegetables
Angus Chuck Cheeseburger – $20.00
Served on a Brioche Bun with Lettuce, Tomato, Onion and choice of Toppings – Bacon, Cheddar, American Cheese, Grilled Mushrooms, or Grilled Onions. Served with your choice of Seasonal Vegetables, Homemade Chips, or French Fries
Baked Honey-Barbecued Brisket Mac & Cheese – $21.00
Baked Pasta in Cheddar Cheese Sauce sprinkled with Crispy-fried Onions and Scallions topped with a Savory Barbecued Beef Brisket
Grilled Reuben – $16.00
Thinly Sliced Corned Beef on Grilled Marble Rye with Sauerkraut, Swiss, and Thousand Island Dressing with choice of Seasonal Vegetables, Homemade Chips, or French Fries
Chicken-Strawberry Salad – $18.00
Fresh Garden Greens, Grilled Chicken Breast, Cucumbers, fresh Strawberries, and Gorgonzola tossed in a White Zinfandel Vinaigrette Dressing
Fried Green Tomato Sandwich – $17.00
A Deep-fried Green Tomato served with Bacon, Arugula, Tomato, and Pepper Jack Cheese topped with Alabama White Barbecue Sauce on a toasted Brioche Bun with choice of Seasonal Vegetables, Homemade Chips, or French Fries
Cheese Steak Sandwich – $19.00
Shaved Beef grilled with Onions, Mushrooms, Red Peppers, and White American Cheese served on a Hoagie Roll with choice of Seasonal Vegetables, Homemade Chips, or French Fries
Grilled Chicken Sandwich – $18.00
Grilled Chicken Breast topped with Bacon, Rémoulade, Bruschetta, Provolone, and Arugula served on a Brioche Bun with choice of Seasonal Vegetables, Homemade Chips, or French Fries
Tuna Salad Sandwich – $16.00
Tuna Salad with Lettuce and Tomato on a Freshly Baked Multigrain Croissant with choice of Seasonal Vegetables, Homemade Chips, or French Fries
Plaza Club – $17.00
Smoked Ham, Turkey, Bacon, Lettuce, Tomato, and Mayonnaise layered on Texas Toast with choice of Seasonal Vegetables, Homemade Chips, or French Fries
Vegetable Burger – $17.00
Served on a Brioche Bun with Lettuce, Tomato, Onion and choice of Toppings – Cheddar, American Cheese, Grilled Mushrooms, or Grilled Onions. Served with choice of Seasonal Vegetables, Homemade Chips, or French Fries
Honey-Barbecued Beef Brisket Burger – $22.00
Cakes, Pie, and Shakes
Signature Chocolate Cake – $9.50
Four-layer Chocolate Cake filled with Dark Chocolate Ganache
Butterscotch Bread Pudding with Vanilla Ice Cream – $9.00
Warm Butterscotch Bread Pudding topped with Caramel Sauce, Butterscotch Morsel, and Vanilla Ice Cream
Seasonal Specialty Cake – $9.50
Ask your server for today's selection
All-You-Care-To-Enjoy Milk Shake – $9.00
Hand-dipped Milk Shake topped with Whipped Cream and a Cherry. Choose from the following flavors: Chocolate, Vanilla, Strawberry, or Mint Chocolate Chip
Ice Cream and Sundaes
Original Banana Split – $10.00
A ripe Banana, three scoops of Ice Cream (Vanilla, Chocolate, and Strawberry) topped with Hot Fudge, Strawberry Sauce, crushed Pineapple, chopped Nuts, Whipped Cream, and a Cherry
Brownie Sundae – $8.00
Fudge Brownie served with Vanilla Ice Cream and topped with Chocolate Sauce and Chocolate Shavings
The Plaza Restaurant Sundae – $7.00
Ice Cream of your choice topped with choice of Hot Fudge, Strawberry Sauce, crushed Pineapple, chopped Nuts, Whipped Cream, and a Cherry
Kids' Appetizers (à la carte)
Tomato Soup – $3.00
Grapes – $3.00
Carrots and Ranch Dressing – $3.00
Sliced Apples – $3.00
Garden Salad – $3.00
with Fat-free Ranch Dressing
Kids' Create-Your-Own Entrées (choose one)
Turkey Sandwich – $10.00
on Honey-Wheat Bread served with choice of two (2) Selections and choice of Small Lowfat Milk, Small Dasani Water, or Small Minute Maid Apple Juice
Grilled Chicken Strips – $11.00
served with choice of two (2) Selections and choice of Small Lowfat Milk, Small Dasani Water, or Small Minute Maid Apple Juice
Peanut Butter & Jelly Sandwich – $9.00
on Honey-Wheat Bread served with choice of two (2) Selections and choice of Small Lowfat Milk, Small Dasani Water, or Small Minute Maid Apple Juice
Cheeseburger – $11.00
served with choice of two (2) Selections and choice of Small Lowfat Milk, Small Dasani Water, or Small Minute Maid Apple Juice
Grilled Cheese Sandwich – $9.00
served with choice of two (2) Selections and choice of Small Lowfat Milk, Small Dasani Water, or Small Minute Maid Apple Juice
Kids' Create-Your-Own Selections (choose two)
Baby Carrots –
Seasonal Vegetables –
Mashed Potatoes –
Sliced Apples –
Seasonal Fruit –
Bananas –
Mickeylodeon –
Mini Chocolate-Chip Cookies and Milk –
Kid's Specialty Drink
Specialty Character Drink – $8.00
Minute Maid Light Lemonade served in a souvenir Character Cup with a glowing Character Clip-on Light
Beverages
Assorted Fountain Beverages –
Fresh-brewed Iced Tea –
Freshly Brewed Joffrey's Coffee or Hot Tea –
Allergy-Friendly Offerings
Allergy-Friendly menus available upon request –
Wine
Domaine Ste. Michelle Brut – Per Glass – $9.00 / Per Bottle – $39.00
Not too dry, apples and citrus with persistent bubbles and a crisp finish
Fess Parker Riesling – Per Glass – $9.00 / Per Bottle – $39.00
Slightly sweet, filled with peach, apricot, and melon aromas and flavors
Kenwood Sauvignon Blanc – Per Glass – $9.00 / Per Bottle – $39.00
Dry, zesty citrus and tropical flavors that are crisp and refreshing
Cambria Benchmark Chardonnay – Per Glass – $11.00 / Per Bottle – $49.00
Dry, flavors of lemon, pineapple, and apple with vanilla and a creamy texture
MacMurray Estate Pinot Noir – Per Glass – $13.00 / Per Bottle – $55.00
Dry, layers of cherry and boysenberry with baking spices and a silky finish
J. Lohr Seven Oaks Cabernet Sauvignon – Per Glass – $9.00 / Per Bottle – $39.00
Dry, juicy dark cherries and blueberry-filled with cocoa powder and roasted coffee
Sangria – $10.25
Kenwood Sauvignon Blanc with Pineapple Juice, Spice, and Fruit
Beer
Bud Light Lager – $7.25
Michelob Ultra Lager – $7.75
Blue Moon Belgian Wheat – $7.75
Cigar City Jai Alai IPA – $9.25
Dinner
Experience: Casual Dining
Price level: $$ ($15 to $34.99 per adult)
Average entrée price: $18.58
Appetizers
Plaza Loaded Fries – $9.00
French Fries topped with Melted Cheese, Bacon, Lettuce, Tomatoes, and Ranch Dressing
Wedge Salad – $8.00
Half Wedge of Iceberg Lettuce served with Tomatoes, Onions, and Cucumbers topped with Gorgonzola and Ranch Dressing
Seasonal Soup – $8.00
Ask your server for today's selection
Entrées
Home-style Meatloaf – $22.00
Hearty Slices of Meatloaf served with Red Skinned Garlic-Mashed Potatoes and Seasonal Vegetables
Angus Chuck Cheeseburger – $20.00
Served on a Brioche Bun with Lettuce, Tomato, Onion and choice of Toppings – Bacon, Cheddar, American Cheese, Grilled Mushrooms, or Grilled Onions. Served with your choice of Seasonal Vegetables, Homemade Chips, or French Fries
Baked Honey-Barbecued Brisket Mac & Cheese – $21.00
Baked Pasta in Cheddar Cheese Sauce sprinkled with Crispy-fried Onions and Scallions topped with a Savory Barbecued Beef Brisket
Grilled Reuben – $16.00
Thinly Sliced Corned Beef on Grilled Marble Rye with Sauerkraut, Swiss, and Thousand Island Dressing with choice of Seasonal Vegetables, Homemade Chips, or French Fries
Chicken-Strawberry Salad – $18.00
Fresh Garden Greens, Grilled Chicken Breast, Cucumbers, fresh Strawberries, and Gorgonzola tossed in a White Zinfandel Vinaigrette Dressing
Fried Green Tomato Sandwich – $17.00
A Deep-fried Green Tomato served with Bacon, Arugula, Tomato, and Pepper Jack Cheese topped with Alabama White Barbecue Sauce on a toasted Brioche Bun with choice of Seasonal Vegetables, Homemade Chips, or French Fries
Cheese Steak Sandwich – $19.00
Shaved Beef grilled with Onions, Mushrooms, Red Peppers, and White American Cheese served on a Hoagie Roll with choice of Seasonal Vegetables, Homemade Chips, or French Fries
Grilled Chicken Sandwich – $18.00
Grilled Chicken Breast topped with Bacon, Rémoulade, Bruschetta, Provolone, and Arugula served on a Brioche Bun with choice of Seasonal Vegetables, Homemade Chips, or French Fries
Tuna Salad Sandwich – $16.00
Tuna Salad with Lettuce and Tomato on a Freshly Baked Multigrain Croissant with choice of Seasonal Vegetables, Homemade Chips, or French Fries
Plaza Club – $17.00
Smoked Ham, Turkey, Bacon, Lettuce, Tomato, and Mayonnaise layered on Texas Toast with choice of Seasonal Vegetables, Homemade Chips, or French Fries
Vegetable Burger – $17.00
Served on a Brioche Bun with Lettuce, Tomato, Onion and choice of Toppings – Cheddar, American Cheese, Grilled Mushrooms, or Grilled Onions. Served with choice of Seasonal Vegetables, Homemade Chips, or French Fries
Honey-Barbecued Beef Brisket Burger – $22.00
Cakes, Pie, and Shakes
Signature Chocolate Cake – $9.50
Four-layer Chocolate Cake filled with Dark Chocolate Ganache
Butterscotch Bread Pudding with Vanilla Ice Cream – $9.00
Warm Butterscotch Bread Pudding topped with Caramel Sauce, Butterscotch Morsel, and Vanilla Ice Cream
Seasonal Specialty Cake – $9.50
Ask your server for today's selection
All-You-Care-To-Enjoy Milk Shake – $9.00
Hand-dipped Milk Shake topped with Whipped Cream and a Cherry. Choose from the following flavors: Chocolate, Vanilla, Strawberry, or Mint Chocolate Chip
Ice Cream and Sundaes
Original Banana Split – $10.00
A ripe Banana, three scoops of Ice Cream (Vanilla, Chocolate, and Strawberry) topped with Hot Fudge, Strawberry Sauce, crushed Pineapple, chopped Nuts, Whipped Cream, and a Cherry
Brownie Sundae – $8.00
Fudge Brownie served with Vanilla Ice Cream and topped with Chocolate Sauce and Chocolate Shavings
The Plaza Restaurant Sundae – $7.00
Ice Cream of your choice topped with choice of Hot Fudge, Strawberry Sauce, crushed Pineapple, chopped Nuts, Whipped Cream, and a Cherry
Kids' Appetizers (à la carte)
Tomato Soup – $3.00
Grapes – $3.00
Carrots and Ranch Dressing – $3.00
Sliced Apples – $3.00
Garden Salad – $3.00
with Fat-free Ranch Dressing
Kids' Create-Your-Own Entrées (choose one)
Turkey Sandwich – $10.00
on Honey-Wheat Bread served with choice of two (2) Selections and choice of Small Lowfat Milk, Small Dasani Water, or Small Minute Maid Apple Juice
Grilled Chicken Strips – $11.00
served with choice of two (2) Selections and choice of Small Lowfat Milk, Small Dasani Water, or Small Minute Maid Apple Juice
Peanut Butter & Jelly Sandwich – $9.00
on Honey-Wheat Bread served with choice of two (2) Selections and choice of Small Lowfat Milk, Small Dasani Water, or Small Minute Maid Apple Juice
Cheeseburger – $11.00
served with choice of two (2) Selections and choice of Small Lowfat Milk, Small Dasani Water, or Small Minute Maid Apple Juice
Grilled Cheese Sandwich – $9.00
served with choice of two (2) Selections and choice of Small Lowfat Milk, Small Dasani Water, or Small Minute Maid Apple Juice
Kids' Create-Your-Own Selections (choose two)
Baby Carrots –
Seasonal Vegetables –
Mashed Potatoes –
Sliced Apples –
Seasonal Fruit –
Bananas –
Mickeylodeon –
Mini Chocolate-Chip Cookies and Milk –
Kid's Specialty Drink
Specialty Character Drink – $8.00
Minute Maid Light Lemonade served in a souvenir Character Cup with a glowing Character Clip-on Light
Allergy-Friendly Offerings
Allergy-Friendly menus available upon request –
Beverages
Assorted Fountain Beverages –
Fresh-brewed Iced Tea –
Freshly Brewed Joffrey's Coffee or Hot Tea –
Beer
Bud Light Lager – $7.25
Michelob Ultra Lager – $7.75
Blue Moon Belgian Wheat – $7.75
Cigar City Jai Alai IPA – $9.25
Wine
Domaine Ste. Michelle Brut – Per Glass – $9.00 / Per Bottle – $39.00
Not too dry, apples and citrus with persistent bubbles and a crisp finish
Fess Parker Riesling – Per Glass – $9.00 / Per Bottle – $39.00
Slightly sweet, filled with peach, apricot, and melon aromas and flavors
Kenwood Sauvignon Blanc – Per Glass – $9.00 / Per Bottle – $39.00
Dry, zesty citrus and tropical flavors that are crisp and refreshing
Cambria Benchmark Chardonnay – Per Glass – $11.00 / Per Bottle – $49.00
Dry, flavors of lemon, pineapple, and apple with vanilla and a creamy texture
MacMurray Estate Pinot Noir – Per Glass – $13.00 / Per Bottle – $55.00
Dry, layers of cherry and boysenberry with baking spices and a silky finish
J. Lohr Seven Oaks Cabernet Sauvignon – Per Glass – $9.00 / Per Bottle – $39.00
Dry, juicy dark cherries and blueberry-filled with cocoa powder and roasted coffee
Sangria – $10.25
Kenwood Sauvignon Blanc with Pineapple Juice, Spice, and Fruit