This post may contain affiliate links; please read the disclosure for more information.
The Sand Bar in Disney's Contemporary Resort, Disney's Contemporary Resort, Walt Disney World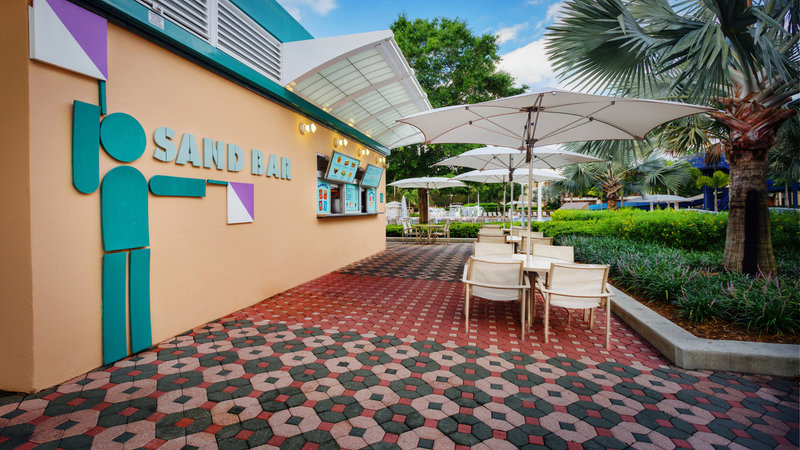 Details, tips, and information for The Sand Bar
Today's Hours
11:00AM - 7:00PM
Picnic poolside with burgers, hot dogs, sandwiches and more. Tropical cocktails, draft beer, sangria and wine make it even more fun! Or cool off with a full bar menu and some AC inside the enclosed bar. Dessert items are also available.

Cuisine:
American

Details:
Disney Dining Plan Accepted
WDWNT Reviews
Coming soon!
Menu for The Sand Bar
Menu
Experience: Pool Bars
Price level: $ ($14.99 and under per adult)
Average entrée price: $10.07
Entrées
1/3 lb Angus Bacon Cheeseburger – $12.99
served with House-made Chips
Foot-long All-Beef Hot Dog – $11.49
served with House-made Chips
Chicken Pita – $8.49
served with Hummus, Cucumber Raita, Quinoa, and Kale
Chicken Quesadilla – $10.49
served with a Black Bean Corn Relish, Chive Sour Cream and Shredded Lettuce
Pressed Turkey Sandwich – $9.49
served with White Cheddar, Cranberry Aïoli, Arugula, Bacon, Brioche, and House-made Chips
Chef Salad – $7.49
Turkey, Ham Hard-cooked Egg and Tomatoes
Sides
Nachos with Chili and Cheese – $5.49
French Fries – $4.49
Mickey Pretzel – $5.59
House-made Chips – $3.29
Whole Fruit – $2.29
Kids' Disney Check Meal
Kids' Disney Check Meal – Turkey Sandwich – $6.99
includes Grapes, Carrot Sticks and choice of small Lowfat Milk or small Dasani Water. Meets Disney Nutrition Guidelines for Complete Meals without substitutions
Kids' Meals
All-Beef Hot Dog – $6.99
includes Grapes, Carrot Sticks and choice of small Lowfat Milk or small Dasani Water
Hamburger – $7.49
includes Grapes, Carrot Sticks and choice of small Lowfat Milk or small Dasani Water
Desserts
Mixed Fruit Cup – $3.99
Frozen Novelties – Range Min – $4.99 / Range Max – $5.39
Beverages
odwalla All-Natural Lemonade – $4.99
also available in Strawberry or Raspberry for $5.49
Strawberry Smoothie – $5.99
Strawberry Purée blended with Nonfat Yogurt
Lava Smoothie – $5.99
Raspberry Purée blended with Piña Colada Mix
smartwater – $5.50
Zico Coconut Water – $4.49
Assorted Fountain Beverages – $3.99
Dasani Bottled Water – $3.50
Lowfat Milk – $2.99
Milk – $2.99
Nestlé Nesquik Chocolate Milk – $2.99
Alcoholic Beverages
Piña CoLAVA – $12.00
Bacardi Raspberry Rum blended with Piña Colada Mix and Raspberry Purée
Strawberry Margarita – $13.50
Herradura Reposado Tequila and fresh Lime juice blended with Strawberry Purée
Bourbon Breeze – $13.25
Bulleit Bourbon with Cranberry, Lime and Pomegranate Juices topped with Fever Tree Ginger Beer
Captain's Mai Tai – $11.75
Captain Morgan Original Spiced Rum, Bols Amaretto, and Tropical Juices topped with a float of Myer's Original Dark Rum
Poolside Iced Tea – $13.50
Absolut Vodka, Bacardi Superior Rum, Beefeater Gin, Jose Cuervo Tradicional Tequila Cointreau, and Sweet-and-Sour topped with Coca-Cola
Blueberry Lemonade – $12.25
Three Olives Blueberry Vodka, Bols Blue Curaçao, and odwalla Lemonade with Juices of Lemon and Pomegranate topped with Sprite
Banana Cabana – $11.75
Cruzan Mango Rum, Coruba Coconut Rum, Bols Crème de Banana, Orange and Pineapple Juice and a float of Grenadine
Frosé – $12.50
Meiomi Rose and Tito's Handmade Vodka
Sunshine Margarita – $13.00
Lunazul Reposado Tequila, Cointreau, and Sweet-and-Sour with Juices of Orange and Lime
Cucumber & Mint Vojito – $12.50
Ketel One Botanical Cucumber & Mint Vodka, Lime Juice and Pure Cane Sugar topped with Soda Water
Assorted Draft Beer – Range Min – $7.25 / Range Max – $10.00
Assorted Bottle Beer – Range Min – $7.25 / Range Max – $10.00
Assorted Can Beer – Range Min – $7.25 / Range Max – $10.00
Beso Del Sol Sangria – $10.00
Red or White
Woodbridge by Robert Mondavi Chardonnay – $9.00
Woodbridge by Robert Mondavi Cabernet Sauvignon – $9.00
Related