This post may contain affiliate links; please read the disclosure for more information.
World Premiere Food Court in Disney's All-Star Movies Resort, Disney's All-Star Movies Resort, Walt Disney World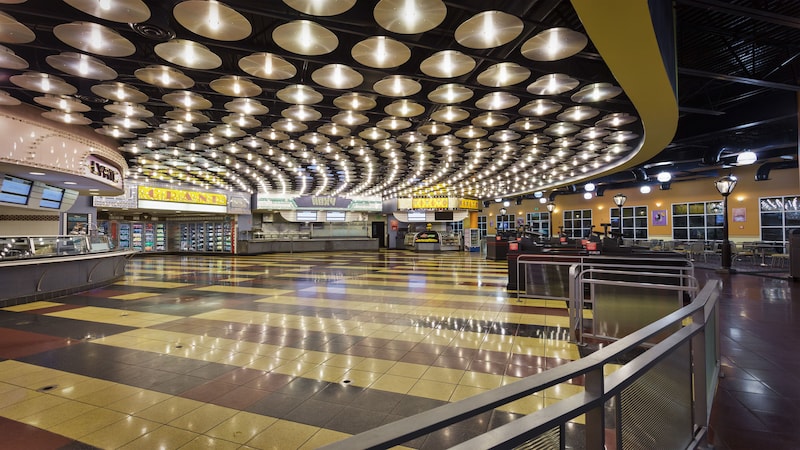 Details, tips, and information for World Premiere Food Court
Get the red-carpet treatment at this cinema-themed food court with 5 stations: pizza and pasta, grill items, traditional favorites, specialties, and bakery items and ice cream, served until midnight. Breakfast is available until 11:00 AM.

Cuisine:
American

Details:
Disney Dining Plan Accepted
WDWNT Reviews
Coming soon!
Menus for World Premiere Food Court
Late Night Dining
Experience: Quick Service Restaurant
Price level: $ ($14.99 and under per adult)
Average entrée price: $13.92
Entrées – Roxy Shop (Available 11am-12am)
Chicken Breast Nuggets – 8 piece – $10.49
served with French Fries and Coleslaw
All-American Classic Burger – $13.99
served with French Fries and Coleslaw
Double Bacon Cheeseburger – $16.99
served with French Fries and Coleslaw
Country Fried Steak – $11.99
served with Pepper Gravy Mash Potatoes and Vegetables
Chili-Cheese All-Beef Foot Long Hot Dog – $13.49
served with French Fries and Coleslaw
Vegetarian Burger – $11.49
Plant-based Patty, Sun-dried Tomato Hummus, Charred served with French Fries and Coleslaw
Italian Chicken Sandwich – $12.99
Grilled Chicken Breast, Bruschetta and Mozzarella served with French Fries and Coleslaw
Sriracha Pulled Pork Burger – $15.99
Angus Burger, Sriracha BBQ Pulled Pork, Cheese Sauce and Friend Onions served with French Fries and Coleslaw
Entrées – Majestic Shop
Pizza – Whole or by the Monster Slice – Range Min – $10.79 / Range Max – $20.99
Cheese, Pepperoni or Vegetable
Grand Market (Available 6:30am-12:00am)
Fresh Fruits and Vegetables – Range Min – $1.79 / Range Max – $5.69
Assorted Yogurts – Range Min – $3.19 / Range Max – $5.79
Fruit and Cheese Plate – $6.99
Assorted Cereal – $2.99
Assorted Wraps and Sandwiches – Range Min – $7.99 / Range Max – $8.49
Assorted Salads – Range Min – $7.99 / Range Max – $11.49
Assorted Baked Goods – Range Min – $2.49 / Range Max – $4.79
Create-Your-Own Yogurt Bar –
0.65 per ounce. Available 06:30am-12:00pm
Create-Your-Own Sundae Bar –
0.75 per ounce. Available 12:00pm to 12:00am
Assorted Kids' Meals – Range Min – $6.19 / Range Max – $6.99
Kids' Meals – Majestic Shop
Cheese Pizza – $6.49
choice of small Lowfat Milk or small Dasani Water with Grapes and Carrot Sticks
Breakfast
Experience: Quick Service Restaurant
Price level: $ ($14.99 and under per adult)
Average entrée price: $10.11
Entrées – Roxy Shop (Available 7am-11am)
Country Fried Steak – $12.49
served with choice of one Pancake or one Biscuit and choice of Breakfast Potatoes or Potato Barrels
Egg White Frittata Sandwich – $8.49
served with Potato Barrels
Grilled Ham and Cheese Sandwich – $8.49
served with Potato Barrels
Bacon, Egg and Cheese Croissant – $8.49
served with Potato Barrels
Chicken Sandwich – $9.49
served with Potato Barrels
Pancakes – $9.49
served with Bacon and Sausage
Entrées – Majestic Shop (Available 7am-11am)
Bounty Platter – $11.26
Scrambled Eggs, Potatoes, Bacon, Sausage and a Mickey Waffle
Meat Flatbread – $11.99
Sausage Gravy, Eggs, Sausage and Cheese served with Potato Barrels
Vegetable Flatbread – $11.49
Pesto, Eggs, Peppers, Tomatoes, Onions, Spinach and Cheese served with Potato Barrels
Sausage and Potato Bowl – $9.49
Potato Barrels, Eggs, Peppers, Onions, Smoked Sausage and Cheese
Entrées – Lyric Shop (Available 6:30am -11:30am)
Bounty Platter – $11.26
Scrambled Eggs, Potatoes, Bacon, Sausage and a Mickey Waffle
Waffles – $9.49
served with Bacon and Sausage
Pancakes – $9.49
served with Bacon and Sausage
Grand Market (Available 6:30am-12:00am)
Fresh Fruits and Vegetables – Range Min – $1.79 / Range Max – $5.69
Assorted Yogurts – Range Min – $3.19 / Range Max – $5.79
Fruit and Cheese Plate – $6.99
Assorted Cereal – $2.99
Assorted Wraps and Sandwiches – Range Min – $7.99 / Range Max – $8.49
Assorted Salads – Range Min – $7.99 / Range Max – $11.49
Assorted Baked Goods – Range Min – $2.49 / Range Max – $4.79
Create-Your-Own Yogurt Bar –
0.65 per ounce. Available 06:30am-12:00pm
Create-Your-Own Sundae Bar –
0.75 per ounce. Available 12:00pm to 12:00am
Assorted Kids' Meals – Range Min – $6.19 / Range Max – $6.99
Kids' Meals – Majestic Shop (Available 7am-11am)
Toy Story Waffle – $4.99
Kids' Meals – Lyric Shop (Available 6:30am -11:30am)
Pancakes – $4.99
choice of small Lowfat Milk or small Dasani Water with Bacon and Fruit
Kellogg's Frosted Flakes – $4.99
with Apple Slices and Peanut Butter
Breakfast Platter – $6.29
includes choice of small Lowfat Milk or small Dasani Water
Mickey-Shaped Waffles – $4.99
includes choice of small Lowfat Milk or small Dasani Water with Bacon and Fruit
Lunch
Experience: Quick Service Restaurant
Price level: $ ($14.99 and under per adult)
Average entrée price: $12.63
Entrées – Roxy Shop (Available 11am-12am)
Chicken Breast Nuggets – 8 piece – $10.49
served with French Fries and Coleslaw
All-American Classic Burger – $13.99
served with French Fries and Coleslaw
Double Bacon Cheeseburger – $16.99
served with French Fries and Coleslaw
Country Fried Steak – $11.99
served with Pepper Gravy Mash Potatoes and Vegetables
Chili-Cheese All-Beef Foot Long Hot Dog – $13.49
served with French Fries and Coleslaw
Vegetarian Burger – $11.49
Plant-based Patty, Sun-dried Tomato Hummus, Charred served with French Fries and Coleslaw
Italian Chicken Sandwich – $12.99
Grilled Chicken Breast, Bruschetta and Mozzarella served with French Fries and Coleslaw
Sriracha Pulled Pork Burger – $15.99
Angus Burger, Sriracha BBQ Pulled Pork, Cheese Sauce and Friend Onions served with French Fries and Coleslaw
Entrées – Majestic Shop (Available 11am-12am)
House-made Meatball Sub – $11.49
House-made Beef and Pork Meatballs, Marinara Sauce, and Mozzarella Cheese with House-made Chips and Side Salad
Chicken Parmesan Sandwich – $12.49
Parmesan Breaded Chicken, Marinara Sauce, and Mozzarella Cheese with House-made Chips and Side Salad
Spinach Artichoke Pasta – $10.49
Served with Dinner Roll, and Side Salad
Vegetarian Ziti – $11.49
(Plant-based Bolognaise, Penne Pasta, and Mozzarella Cheese) Served with Dinner Roll, and Side Salad
Pizza – Whole or by the Monster Slice – Range Min – $10.79 / Range Max – $20.99
Cheese, Pepperoni or Vegetable
Entrées – Lyric Shop (Available 12pm-5pm)
Roast Beef Sandwich – $13.99
served with choice of two sides: Broccoli Slaw, Coleslaw, House-made Chips or Potato Salad
Blackened Chicken Panini – $11.49
served with choice of two sides: Broccoli Slaw, Coleslaw, House-made Chips or Potato Salad
Ultimate Grilled Cheese – $12.99
served with choice of two sides: Broccoli Slaw, Coleslaw, House-made Chips or Potato Salad
Soup of the Day – $3.69
Grand Market (Available 6:30am-12:00am)
Fresh Fruits and Vegetables – Range Min – $1.79 / Range Max – $5.69
Assorted Yogurts – Range Min – $3.19 / Range Max – $5.79
Fruit and Cheese Plate – $6.99
Assorted Cereal – $2.99
Assorted Wraps and Sandwiches – Range Min – $7.99 / Range Max – $8.49
Assorted Salads – Range Min – $7.99 / Range Max – $11.49
Assorted Baked Goods – Range Min – $2.49 / Range Max – $4.79
Create-Your-Own Yogurt Bar –
0.65 per ounce. Available 06:30am-12:00pm
Create-Your-Own Sundae Bar –
0.75 per ounce. Available 12:00pm to 12:00am
Assorted Kids' Meals – Range Min – $6.19 / Range Max – $6.99
Kids' Meals – Roxy Shop (Available 11am-12am)
Grilled Cheese – $5.99
includes choice of small Lowfat Milk or small Dasani Water with Grapes and Carrot Sticks
Macaroni & Cheese – $6.29
includes choice of small Lowfat Milk or small Dasani Water with Grapes and Carrot Sticks
Chicken Nuggets – $6.49
8 Pieces with Coleslaw or French Fries
Hamburger – $6.49
includes choice of small Lowfat Milk or small Dasani Water with Grapes and Carrot Sticks
All-Beef Hot Dog – $5.99
includes choice of small Lowfat Milk or small Dasani Water with Grapes and Carrot Sticks
Kids' Meals – Majestic Shop (Available 11am-12am)
Cheese Pizza – $6.49
choice of small Lowfat Milk or small Dasani Water with Grapes and Carrot Sticks
Turkey Meatball with Whole Wheat Pasta – $6.79
choice of small Lowfat Milk or small Dasani Water with Grapes and Carrot Sticks
Kids' Meals – Lyric Shop
Turkey Sandwich – $5.99
choice of small Lowfat Milk or small Dasani Water with Grapes and Carrot Sticks
Grilled Chicken Tenders – $6.99
includes choice of small Lowfat Milk or small Dasani Water with Grapes and Carrot Sticks
Macaroni & Cheese – $6.29
includes choice of small Lowfat Milk or small Dasani Water with Grapes and Carrot Sticks
Desserts – Rialto Shop
Variety of Desserts – Range Max – $6.49 / Range Min – $4.49
Pastries and Specialty Shakes
Ice Cream Cookie Sandwich –
Brownie Sundae –
Assorted Milkshakes –
Seasonal Cupcakes –
Chocolate Cake –
Carrot Cake –
Cheesecake –
Hand-Scooped Edy's Ice Cream –
Cold Brew Coffee – $3.79
flavored with your selection of Vanilla, Caramel, Hazelnut and No Sugar Added Vanilla Syrups
Alcoholic Drinks – Range Min – $7.50 / Range Max – $13.25
Draft Beer and Wine by the glass also available
Dinner
Experience: Quick Service Restaurant
Price level: $ ($14.99 and under per adult)
Average entrée price: $13.30
Entrées – Roxy Shop (Available 11am-12am)
Chicken Breast Nuggets – 8 piece – $10.49
served with French Fries and Coleslaw
All-American Classic Burger – $13.99
served with French Fries and Coleslaw
Double Bacon Cheeseburger – $16.99
served with French Fries and Coleslaw
Country Fried Steak – $11.99
served with Pepper Gravy Mash Potatoes and Vegetables
Chili-Cheese All-Beef Foot Long Hot Dog – $13.49
served with French Fries and Coleslaw
Vegetarian Burger – $11.49
Plant-based Patty, Sun-dried Tomato Hummus, Charred served with French Fries and Coleslaw
Italian Chicken Sandwich – $12.99
Grilled Chicken Breast, Bruschetta and Mozzarella served with French Fries and Coleslaw
Sriracha Pulled Pork Burger – $15.99
Angus Burger, Sriracha BBQ Pulled Pork, Cheese Sauce and Friend Onions served with French Fries and Coleslaw
Entrées – Majestic Shop (Available 11am-12am)
House-made Meatball Sub – $11.49
House-made Beef and Pork Meatballs, Marinara Sauce, and Mozzarella Cheese with House-made Chips and Side Salad
Chicken Parmesan Sandwich – $12.49
Parmesan Breaded Chicken, Marinara Sauce, and Mozzarella Cheese with House-made Chips and Side Salad
Spinach Artichoke Pasta – $10.49
Served with Dinner Roll, and Side Salad
Vegetarian Ziti – $11.49
(Plant-based Bolognaise, Penne Pasta, and Mozzarella Cheese) Served with Dinner Roll, and Side Salad
Pizza – Whole or by the Monster Slice – Range Min – $10.79 / Range Max – $20.99
Cheese, Pepperoni or Vegetable
Entrées – Lyric Shop – Daily Chef's Specials (Available 5pm-10pm)
Sunday: Asian Night – Range Min – $7.99 / Range Max – $10.79
Orange Chicken, Korean Beef, Ginger-glazed Shrimp or Lo Mein served with choice of Rice, Stir Fry Vegetables and Lo Mein
Monday: BBQ Night – Range Min – $12.99 / Range Max – $16.99
Steak Dinner, BBQ Ribs, BBQ Chicken or BBQ Beef served with choice of Corn on the Cob, Baked Beans, Broccoli and Cornbread
Tuesday: Country Fixin's Night – Range Min – $12.49 / Range Max – $17.99
Fried Chicken, Steak Dinner, Fried Catfish, or Steak and Shrimp Dinner served with choice of Mashed Potatoes, Corn on the Cob, Broccoli and Cheddar Biscuits
Wednesday: Create-Your-Own Pasta Night – Range Min – $9.99 / Range Max – $13.79
Spaghetti, Penne or Lasagna with choice of Sauce (Alfredo, Marinara or Pesto) and Protein (Grilled Chicken, Meatballs, Shrimp or variety of Vegetables) served with Garlic Texas Toast
Thursday: BBQ Night – Range Min – $12.99 / Range Max – $16.99
Steak Dinner, BBQ Ribs, BBQ Chicken or BBQ Beef served with choice of Corn on the Cob, Baked Beans, Broccoli and Cornbread
Friday: Country Fixin's Night – Range Min – $12.49 / Range Max – $17.99
Fried Chicken, Steak Dinner, Fried Catfish, or Steak and Shrimp Dinner served with choice of Mashed Potatoes, Corn on the Cob, Broccoli and Cheddar Biscuits
Saturday: Create-Your-Own Pasta Night – Range Min – $9.99 / Range Max – $13.79
Spaghetti, Penne or Lasagna with choice of Sauce (Alfredo, Marinara or Pesto) and Protein (Grilled Chicken, Meatballs, Shrimp or variety of Vegetables) served with Garlic Texas Toast
Grand Market (Available 6:30am-12:00am)
Fresh Fruits and Vegetables – Range Min – $1.79 / Range Max – $5.69
Assorted Yogurts – Range Min – $3.19 / Range Max – $5.79
Fruit and Cheese Plate – $6.99
Assorted Cereal – $2.99
Assorted Wraps and Sandwiches – Range Min – $7.99 / Range Max – $8.49
Assorted Salads – Range Min – $7.99 / Range Max – $11.49
Assorted Baked Goods – Range Min – $2.49 / Range Max – $4.79
Create-Your-Own Yogurt Bar –
0.65 per ounce. Available 06:30am-12:00pm
Create-Your-Own Sundae Bar –
0.75 per ounce. Available 12:00pm to 12:00am
Assorted Kids' Meals – Range Min – $6.19 / Range Max – $6.99
Kids' Meals – Roxy Shop (Available 11am-12am)
Grilled Cheese – $5.99
includes choice of small Lowfat Milk or small Dasani Water with Grapes and Carrot Sticks
Macaroni & Cheese – $6.29
includes choice of small Lowfat Milk or small Dasani Water with Grapes and Carrot Sticks
Chicken Nuggets – $6.49
8 Pieces with Coleslaw or French Fries
Hamburger – $6.49
includes choice of small Lowfat Milk or small Dasani Water with Grapes and Carrot Sticks
All-Beef Hot Dog – $5.99
includes choice of small Lowfat Milk or small Dasani Water with Grapes and Carrot Sticks
Kids' Meals – Majestic Shop (Available 11am-12am)
Cheese Pizza – $6.49
choice of small Lowfat Milk or small Dasani Water with Grapes and Carrot Sticks
Turkey Meatball with Whole Wheat Pasta – $6.79
choice of small Lowfat Milk or small Dasani Water with Grapes and Carrot Sticks
Kids' Meals – Lyric Shop
Turkey Sandwich – $5.99
choice of small Lowfat Milk or small Dasani Water with Grapes and Carrot Sticks
Grilled Chicken Tenders – $6.99
includes choice of small Lowfat Milk or small Dasani Water with Grapes and Carrot Sticks
Macaroni & Cheese – $6.29
includes choice of small Lowfat Milk or small Dasani Water with Grapes and Carrot Sticks
Desserts – Rialto Shop
Variety of Desserts – Range Max – $6.49 / Range Min – $4.49
Pastries and Specialty Shakes
Ice Cream Cookie Sandwich –
Brownie Sundae –
Assorted Milkshakes –
Seasonal Cupcakes –
Chocolate Cake –
Carrot Cake –
Cheesecake –
Hand-Scooped Edy's Ice Cream –
Cold Brew Coffee – $3.79
flavored with your selection of Vanilla, Caramel, Hazelnut and No Sugar Added Vanilla Syrups
Alcoholic Drinks – Range Min – $7.50 / Range Max – $13.25
Draft Beer and Wine by the glass also available
Related