Hey there Vinylmation fans. This is the first edition of the Disney Store Online Report. For those living next to one of the two U.S. Disney parks or one of the Disney stores throughout the country, purchasing Vinylmations is fairly convenient. However, a great number of Vinylmation fans don't live within driving distance of the locations and are left to purchase them from third party sellers, eBay, or what we'll be going over here, the Disney Store Online (DSO).

Any frequent users of DSO know that their products, prices, and availability change sporadically. Products are up one day and down the next, labeled with a price but then marked as "sold out" when added to your cart, and simply put on sale without notice. These reports are targeted towards helping Vinylmation fans who aren't able to drop by a Disney store, still have as much information about what's available online as possible.

This report certainly won't be listing every product on the online store, being that there's upwards of 80-100 regularly, but will rather be focusing on a few major categories of Vinylmation, the first of which is titled "Introducing." "Introducing" will be recently released Vinylmations which are available online. Next will be "Price Variants," which will note both the beginning and ending of Vinylmations on sale. The occasional "Comebacks" are Vinylmations that Disney is re-entering into the online marketplace and although a rarity, are fun to find and don't stay up for long! "Sellouts" are those annoying items that Disney has listed as for sale but are unfortunately unavailable once selected. Lastly, "Up and Comings" are Vinylmations that are planned for online release in the upcoming weeks.

Introducing


New to the DSO are the Sea Creature individual open boxes, all of which are available for $9.95.
Urban 6 also made its introduction recently with individual mystery boxes, although no cases as of yet, at $11.95.
Muppets 2 also stepped onto the online shelves with both individual mystery boxes at $11.95 and the usual 24 tray for $286.80.
Lastly, the first of the Urban 6 9" made it into the store with the Gumball Machine 3" combo for $74.95.

Comebacks


This week's Comebacks include an entire series as well as a few topper combos. The entire open box TRON series is back online at $9.95.
The whole open box The Nightmare Before Christmas series (including the chaser Pumpkin King!) at $11.95.
Both the Urban 5 & 6 Topper Combos, with two-tone Mickeys, as well as the Animation 1 Topper Combo, with Simba, are available for $24.95.
Lastly for the Comebacks, the 3" Figure and Pocket Watch combo, modeled similarly to the upcoming Steamboat collection, is again available at $150.00.

Price Variants


The Price Variants for this week are a select group from The Animal Kingdom series (the Panther, Gorilla, Buffalo, and Bear), which dropped from $9.95 to $7.99.
The Create Your Own 3", all but white and yellow, are marked down from $8.95 to $4.99 while the Create Your Own 9", all but white and black, are marked down from $39.95 to $14.99! A pretty good deal for you creative Vinylmation fans out there!
The other Vinylmation on sale is the 2010 Marathon figure for $5.99, originally $14.99.

Sell Outs


Thankfully this week Disney is up to date on all its products! There are no Sell Outs as of writing this report.

Still Around


The few Still Around figures that are left are the open box Flag series, all but U.S.A., for $9.95 and the open box 2011! series, at $11.95.

Up and Coming


This month, scheduled for May 20th, is the release of additional Urban 6 9" figures. These can be found under the 9″ Urban 6 Vinylmation: The Complete List post. The solo 9"s will be priced at $39.95.

Well that's it for this week's Disney Store Online Report Vinylmation fans. Hopefully this has been helpful in your online search for Vinylmations. Till next time.

– Nick J.

Pics from disneystore.com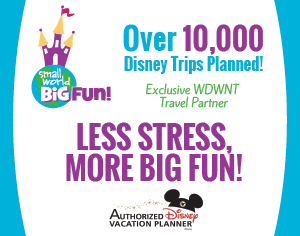 I don't know about you, but there are times when planning a Disney vacation can be overwhelming! There are so many options, where to stay, when to go, is this the best price. So, I want to introduce you all to Cindy Minor and the team at Small World Big Fun. They will help you plan your Disney vacation for FREE. Contact them today!