In Part 1 of my accessibility guide, I focused on Disney's services for people with mobility, hearing, and visual disabilities. In this second part, I'll be focusing on visiting the parks with a cognitive disability.
As I mentioned in part 1, I am autistic, so I have much more personal experience with this subject than with physical disabilities. Of course, even two people with the same disability can have different experiences and needs. Because of this, Disney doesn't provide as many specific services for people with cognitive disabilities as they do for people with physical disabilities. I'll re-iterate some of the services I mentioned in part 1 that might still be useful for people with cognitive disabilities, and then I'll dive deeper into my recommendations for planning your trip, what to expect from different Disney park experiences, and how to be prepared.
[Picture ID: Dory, a blue tang fish from Finding Nemo and Finding Dory. Dory has short-term memory loss, which means she can sometimes get confused.]
General Information
First things first, every Walt Disney World park has a specific guide map for guests with disabilities. This will be available at Guest Relations. This disability guide includes extensive information for people with mobility, visual, and hearing disabilities, as well as for people with service animals. While every guide map has accessibility information, this guide will list relevant resources all together so you don't have to search the map for what you're looking for. If you would rather not carry a paper map, accessibility information is also available on the My Disney Experience App.
You may find it helpful to utilize the Rider Switch pass at one time or another. This pass is designed for parents who want to ride something that their child does not or is not able to ride, but it's useful for disabled adults as well. With Rider Switch, one adult or whole party may board the attraction while another adult waits with the non-rider(s). When the first adult returns, the second may use the pass to ride the attraction without waiting in line. This pass can be helpful if someone in your party does not wish to ride an attraction because of their disability, but everyone else in the party does, or if a service animal is not able to ride the attraction (more information below). If you want a Rider Switch pass, ask the Cast Member at the front of the attraction. Note that not all attractions have Rider Switch, but most with a height or service animal restriction do. A full list of attractions with Rider Switch is on the Disney World website.
Walt Disney World has companion restrooms in all of the parks. They are marked on all maps, and can be found in the My Disney Experience app. They're usually next to the other restrooms, and there's at least one or two companion restrooms in each land. All restrooms have multiple accessible stalls of varying sizes. Some restrooms are smaller and dirtier, so look for restrooms in less busy areas of the park that are trafficked less.
Walt Disney World's FastPass+ system is a great way to plan ahead and can be helpful for disabled folks who anticipate having a hard time waiting in line or need a plan. For free, you can select three FastPasses a day beforehand either on the Walt Disney World website or through the My Disney Experience app. You can also select FastPasses at kiosks throughout the parks, but it's best to get these ahead of time. With FastPass+, you will be given a specific time to board an attraction and therefore get to wait in a shorter line. When selecting your FastPasses, you will first choose the people in your party who will be using the FastPass and the date that you wish to use them. You are limited to three FastPasses per day, and only one park per day. FastPasses use a tier system which means that usually out of the park's three most popular rides, you can only select one. My Disney Experience will give you different options for rides and times that are available. You cannot have more than one FastPass at the same time, and each FastPass window lasts for an hour. For example, you might have a FastPass for Peter Pan's Flight at 10:15am-11:15am, and then a second FastPass for Splash Mountain at 11:30am-12:30pm. Most attractions have a FastPass+ option, but some of the shows and less busy attractions don't. You can book up to 60 days ahead of your trip if you're staying at a Walt Disney World resort or 30 days for off-property, and it's best to do this as soon as possible as FastPasses are limited, especially for the most popular rides.
Disability Access Service
Disability Access Service (DAS) is something Disney can provide if you have a cognitive disability that makes waiting in a regular queue for a long time difficult. It's not unlike the FastPass+ system, but you cannot reserve through DAS before your trip.
When you arrive at a Walt Disney World park, you can head immediately to Guest Services to register for DAS. Guest Services is located at City Hall in Magic Kingdom, to the left after entering Disney's Animal Kingdom, to the left after entering Disney's Hollywood Studios, and to the left after Spaceship Earth at EPCOT.
The disabled guest who will be using DAS should be present at this registration to have their photo taken, but a parent or guardian can have their photo taken instead. There is no "proof" such as a doctor's note required for this registration (legally, they cannot demand to see documentation like this) and Cast Members work on a case-by-case basis to determine what accommodations are best for your needs. Tickets for everyone in your party will need to be presented to electronically associate them to the DAS party.
Like FastPass+, DAS allows you to reserve a return time for an attraction instead of waiting in the queue. Unlike FastPass+, you cannot make these reservations beforehand and you can only have one at a time. After you get registered for DAS, you can approach any attraction and they will assign a return time based on the current wait time for the attraction. For example, if you go to Peter Pan's Flight at 12pm, and the wait time is an hour, your return time will be 1pm. After receiving your return time, you are free to do anything else in the park. You can redeem your return time at any point before park close, so in the example above, you wouldn't have to return at exactly 1pm. However, you can only have one return time active at a time so if you want to use DAS for other attractions, you will need to return to the first attraction you signed up for. The disabled guest using DAS does not need to be present when receiving the return time but must board the attraction at the same time as the rest of their party. Once you have finished this first attraction, you can get a return time for the same or other attraction.
You can use both DAS and FastPass+, which I recommend if you want to ride a lot of attractions. That way you will have three attractions you definitely have short lines for, and then can use DAS for additional attractions.
DAS is valid for 14 days after sign up (60 days for Annual Passholders) and can be used at any of Walt Disney World's four theme parks, so you don't need to keep signing up at the beginning of every day. You can read more about DAS in this document from the Disney website.
Service Animals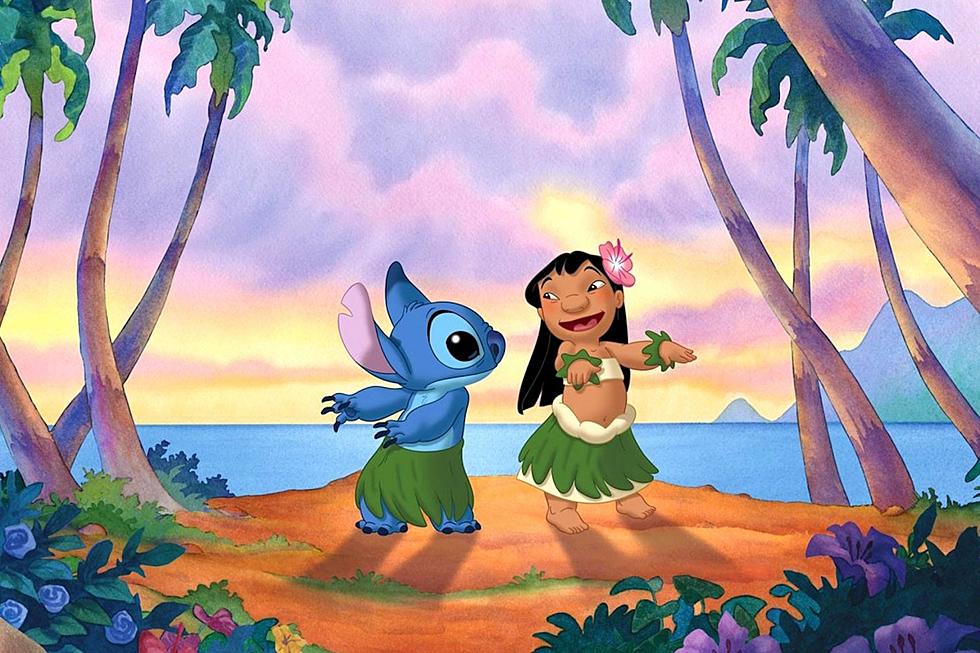 [Picture ID: Lilo, a little Hawaiian girl, teaching Stitch, a blue alien, how to hula dance. Lilo buys Stitch under the assumption that he is a weird dog and they become best friends. He is actually a weird alien and should not be brought to the parks as a service dog.]
Service animals are welcome at Walt Disney World, and these days you can't take a stroll through any of the parks without at least spotting one or two. Most attractions allow service animals. If the attraction has some sort of seatbelt for you, such as Dumbo at Magic Kingdom, you can put this belt through your service animal's harness for better security.
Rides that do not allow service animals are usually more turbulent and liable for the animal to fall or be injured. With these attractions, you can ask a Cast Member about a Rider Switch pass, so you can ride while someone from your party watches your animal. You can also ask for a portable kennel, which each of these attractions has on hand, for your animal to stay in while you ride. Applicable attractions can be found on a guide map or on the Disney World website.
I beg people who do not have service animals to not try to bring your pets into the park. Service animals are carefully trained animals and are just as important as a wheelchair for some disabled people. While your pet may be trained, if it does act out at all, it can create a bad name for working animals, not to mention mess with the quality of other guests' vacations.
That being said, if you see someone with an animal that you don't believe is a service animal for one reason or another, it's best not to confront them. Service animals can come in many different shapes and sizes, and provide different services. You may not be able to tell what service the animal is providing just from looking. If an animal is acting dangerous towards guests, then tell the nearest Cast Member.
Planning Ahead
I definitely recommend planning your trip as much as possible before leaving. I personally like to know exactly what I'm doing before arriving, and then I'm more comfortable even if plans have to change slightly later. My family always has an agenda of FastPass+ and dining reservations that we then plan the rest of our trip around.
It's important to remember that Disney theme parks can be overwhelming no matter what with the big crowds, loud sounds, long waits, and even the weather. No matter what time of year you go, you need to expect the parks will be busy, as even "slow season" can get packed these days. Use the My Disney Experience app to check wait times while you're in the park, and even on days before you visit so you can get an idea of what rides will be the most popular. Each park has its own "E-ticket" attractions that can have lines hours long, and if you really want to ride one, you might want to try to get a FastPass or use DAS. And of course there's Rider Switch available if someone doesn't want to ride a particular attraction and others in the party don't want to wait in line twice.
If you want to eat at a table service restaurant in the parks, then you will need to make a reservation beforehand. Depending on what time of year you are visiting, the restaurants can be more or less busy, but they are almost always booked up by the day of. You can book dining reservations through the Disney website or My Disney Experience App. When booking a dining experience, you can narrow it down with several different options so as to find the best restaurant for you. Of course you can select specific days, times, and the size of your party, but you can also narrow down by…
Location: You can choose from one of the four main theme parks, the two water parks, any of the resort hotels, Disney Springs, Disney's BoardWalk, or ESPN Wide World of Sports and see all the restaurant options for each location.
Dining Experience: There are tons of different types of dining experiences at Walt Disney World. With this feature, you can choose if you want a buffet-style meal, a character dining experience where characters come to your table, a dinner or dessert show, fine dining, etc.
Price Range: This is a great tool for anyone with a budget. You can narrow search results down by approximately how expensive an adult meal is. There are four price ranges. $14.99 and below, $15 to $34.99, $35 to $59.99, and $60 and above.
Cuisine: This is the best for any picky eaters out there. The cuisine option lets you choose from American, Chinese, Greek, Italian, Japanese, and more! Or if you aren't thinking about a specific world location, you can choose from options such as bakery, seafood, or steakhouse.
Florida is hot and often rainy. If you're sensitive to Florida's excessive heat, avoid the summer months. If you don't like the cold, avoid January and February. My favorite time of the year to go to the parks is fall. I find that September is usually a little less busy and has nice weather. Plus, you get to see all the Halloween decorations.
Keep an eye on the weather through your phone and know that if there is lightning and/or heavy rain in the area, outdoor attractions and shows may shut down. Thankfully, Florida rainstorms usually only last an hour or so, and the park is equipped to deal with weather, so stuff opens back up quickly. Big events like the parade and fireworks shows may be delayed because of rain, but the park will still put them on if they can. In place of a regular parade, Magic Kingdom may have a Rainy Day Cavalcade, where characters come out in covered vehicles and rain gear instead of their parade floats.
If you don't handle changes in plan well, just be aware that weather, technical difficulties, and regular human error do happen even at the most magical place on Earth. Know what to do if you start to get upset, and make sure any friends or family traveling with you know how to help you.
What to Bring
Speaking of weather, it's important to put sunscreen on in the morning and maybe even bring some to the park to re-apply. Definitely bring an umbrella and/or raincoats, even if rain isn't in the forecast. It is always liable to rain in Florida.
Because of the heat, it's also smart to bring things like sunglasses, a fan, a cooling towel, and water. Especially water. Of course all of these items are available for purchase inside the theme parks and resort hotels, but they can be expensive, so it's better to bring your own supplies.
You might want to bring stuff to the park that will help you in case of a meltdown. I have noise-cancelling headphones to wear when the environment gets too loud, and they're great for fireworks time. If you prefer, you can bring ear-plugs. Ear-plugs are also available for purchase at every Disney resort hotel. If you're already in a park and decide you want ear-plugs, ask in a gift shop as some of them sell basics like that, or at the park's first aid center.
Carry snacks if you're someone who gets cranky when you don't eat (like me). There are snack items available throughout the parks at outside vendor carts, but it's cheaper to bring your own. And then you know you always have something on hand that you'll actually like eating. If you do expect to be waiting in lines and have trouble with that, bring something to keep you entertained, whether it's a tablet, a book, something to listen to, or just games on your phone. I'll admit, as a fully-grown adult, I also like to bring a stuffed animal sometimes.
Attractions
If you are worried about a ride experience, Disney has an attraction guide for guests with cognitive disabilities that you can find on this page. This is up-to-date enough to include Rise of the Resistance, although does not include Mickey and Minnie's Runaway Railway yet. The guide breaks down every attraction's sensory experience, so you'll know if there are smells, flashing lights, sudden movements, loud noises, etc. It also lists the type of restraint used in the attraction (if any) and how long the attraction is. Honestly, this guide is a great resource for people with almost any disability, as well as abled people who just like to know exactly what to expect without completely "spoiling" the ride.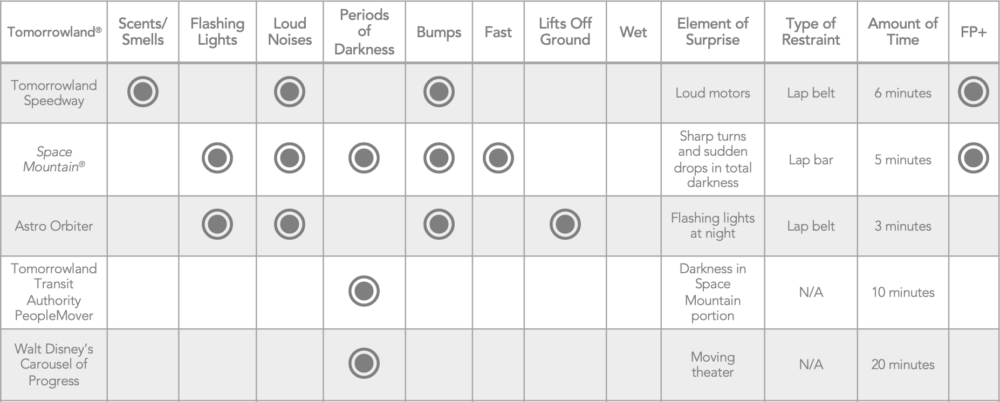 [Picture ID: An example from the Tomorrowland section of the attraction guide, further described below.]
As shown above, Tomorrowland Speedway has scents/smells, loud noises, bumps, loud motors, and a lap belt. Tomorrowland Speedway is personally one of my least favorite rides given the jolting movements and loud sounds. A less intense ride in Tomorrowland would be Carousel of Progress (one of my favorites), which only lists periods of darkness and a moving theater, and is a more comfortable sensory experience. That being said, Tomorrowland Speedway is only six minutes long, while Carousel of Progress is twenty minutes long, which might be too long for some people to sit still. It always depends on your wants and needs.
If you have more specific triggers than those listed on the guide, you might want to look up descriptions or POV videos of some of the rides, which you can find in our archive or on the WDWNT YouTube channel. This isn't related to disability, but I'm super scared of spiders (and bugs in general to be honest). Any time a ride opens that I suspect might have some creepy-crawlies, I look up the description of the ride so I know to skip it or to close my eyes for a bit.
Disney rides are mostly family-friendly, so aren't going to be too scary or thrilling. The biggest rides all have specific warnings on the maps and posted at the ride itself. You can also always ask a Cast Member at an attraction about specific worries you have and they would be happy to tell you about their ride.
Quiet Rest Areas
If you find that you need a quiet place to calm down, there are a few different options in each park and I'll list some below. Keep in mind, these quiet spots can also vary depending on how busy the park is.
Magic Kingdom
Main Street's side street: About halfway down Main Street U.S.A., between Crystal Arts and Uptown Jewelers, is a small side street of faux buildings. Other than some access doors to backstage areas, it doesn't lead anywhere and isn't heavily trafficked. While it is outside, so might not be ideal depending on the weather, it has a few tables with umbrellas and is tucked away from the big Main Street crowds so can be a nice place to sit for a few minutes.
Behind the Tomorrowland stage: Between Space Mountain and Carousel of Progress is a stage where Tomorrowland will sometimes host shows or dance parties. The stage mostly goes unused during the day, and behind it are Tomorrowland's big restrooms. It's a quiet, shaded area to sit on a bench, as long as you don't mind the people going in and out of the restrooms. Double-check the park's times guide to know if there are shows going on at the stage.
Next to the Fantasyland railroad station: The Walt Disney World Railroad hasn't been running for a while now, so the stations have been pretty quiet. The Fantasyland station, in the back of Storybook Circus, is far away from most of the action of the park. It also houses a restroom, but to the left of it is a small space with no attractions and no train going by right now. The nearby courtyard area in front of Pete's Silly Side Show also tends to be empty and has umbrella covering, but I find that specific spot next to the railroad a nice place to sit.
The second floor of Pinocchio Village Haus: This is my first spot that's actually indoors. Pinocchio Village Haus in Fantasyland has an abundance of downstairs seating, but there's also a small balcony upstairs that's usually open. You might only be allowed in if you order food, and sometimes the upstairs balcony is blocked off, but it's further away from other people so tends to be quieter. I like to sit up there with my headphones on. There's also an outside balcony accessible on the second floor that gives a great view of Fantasyland.
The second floor of Columbia Harbour House: If you're hungry for some food over in Liberty Square, you can sit on the second floor of Columbia Harbor House. While this has much more seating than Pinocchio's second floor, this quick-service restaurant's atmosphere is generally calmer, and has some nooks and crannies where you can find a table further away from other people. Depending on where you can sit, you can also get some nice views out a window.
Behind Ye Olde Christmas Shoppe: There's a courtyard area behind Ye Olde Christmas Shoppe in Liberty Square that is generally empty. There is a gazebo that sometimes houses special character meet-and-greets, depending on the time of year. There aren't many benches or tables, but there are short walls to sit on. This spot happens to also have one of the service dog relief areas.
Tom Sawyer Island: This special island is only accessible by raft boat from Frontierland, but it's often forgotten by guests and therefore pretty quiet. It's kind of like a big wooded playground with a fort, manmade caves, and some great patios with rocking chairs where you can rest and watch the park from a distance. There's also a quick-service restaurant that operates only on the busiest weeks of the year. Because Tom Sawyer Island doesn't have rides, shows, or lighting, it always closes by dusk.
EPCOT
Behind Journey Into Imagination: With EPCOT currently under major construction, I hesitate to recommend many Future World spots that might change in the near future, but this area behind Journey Into Imagination is generally a sure bet. If you're facing the attraction and head to the right, you'll find a restroom and service dog relief area that are almost completely hidden away. There's not a lot of shade or seating, but it's definitely one of the quietest, least-trafficked areas in all four parks.
Canada Pavilion: The upper level of the Canada pavilion doesn't usually have many people, but has air-conditioned shops to walk through. The lower level of the pavilion leads to the movie theatre, but has some nice garden pathways that people don't linger on too much, so it's a nice place to walk around.
United Kingdom gardens: Like the Canada pavilion, the UK pavilion has some garden space to the back and on the same side as the bridge. There will sometimes be music shows in the back and there is also a Winnie the Pooh meet-and-greet that may have a line, but if there's nothing going on, it can be another quiet space to just breath fresh air.
International Gateway shop: The International Gateway is between the UK and France pavilions. While it is busier than it used to be with the new Skyliner station, the shop there still doesn't have guests most of the time. It's another good place to soak up the air-conditioning before braving the EPCOT crowds again.
Back of China pavilion: Some of these pavilions are just so deep, nobody ever goes all the way in. If you walk to the far back of the China pavilion, past the restaurants and movie theatre, you'll find a big store with lots of awesome stuff to look at and usually not very many guests.
Boats: While not exactly a quiet area, if looking at a map of EPCOT's World Showcase is daunting, there are boats that cross the lake periodically throughout the day, so you can sit for a few minutes instead of walk for fifteen.
Hollywood Studios
Walt Disney Presents: This is technically an attraction, but it's an entirely self-guided walkthrough. You can enjoy the AC while walking through the history of Walt Disney and his theme parks, and at the end of the walkthrough are benches as well as a movie theatre where you can get some much-needed sit-down time (as long as you're okay with watching a movie about Walt Disney). This attraction is never very busy, except for the meet-and-greet area all the way at the end of it. This meet-and-greet rotates characters and is so set off from the rest of the attraction that it won't get in the way of your quiet time.
Behind MuppetVision 3D: With the recent updates to Hollywood Studios, this space where MuppetVision 3D exits, as well as where you can find table service restaurant Mama Melrose's and a Christmas store, now finds itself as an awkward dead-end. While there will be people exiting MuppetVision 3D every 25 minutes, this area has some places to sit and some shops to walk through that are far from the Star Wars crowds.
Animal Kingdom
Walkway between Pandora and Africa: If you've been to Animal Kingdom, you're probably familiar with the regular entrance to Pandora – The World of Avatar near the front of the park. You might not be familiar with the long, winding pathway that leads from the back of Pandora into the Africa section of the park. I know "long, winding pathway" doesn't sound fun, but it actually isn't that long of a walk and it has some cool views and benches along the way. Most people don't travel along this path, so it's virtually devoid of guests.
Discovery Island Trails: This is another walking suggestion, but there are places to sit if you want. These trails are around the Tree of Life, and give you a good look at some of the animal carvings in the roots of the tree. Because it's a self-guided walkthrough attraction, you can take as much or as little time as you need and there are never big crowds.
Dinosaur courtyard: If you veer past the rest of Dinoland U.S.A. and head straight towards the Dinosaur ride, you'll find a lot of open space to walk through or sit in before reaching the ride itself. Because most people go straight to the ride, this area is largely empty except for DinoSue, a reproduction of a T-Rex skeleton.
You can also ask at each park's first aid station for a place to rest. They have plenty of beds and, provided they aren't too busy with medical emergencies, should be happy to let you spend some time resting there.
Character Meet-and-Greets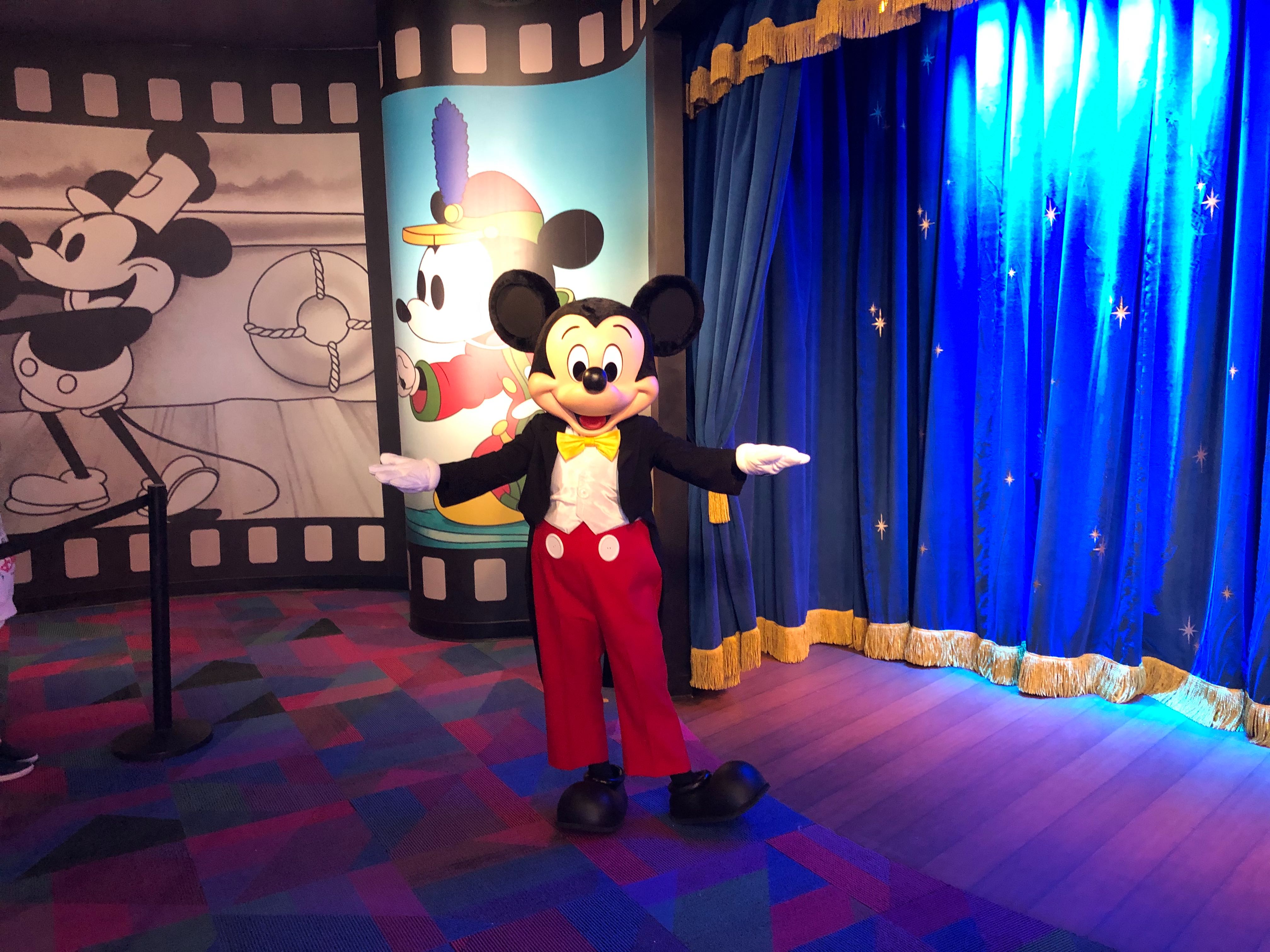 [Picture ID: Mickey Mouse at his meet-and-greet location in EPCOT.]
As an autistic person, I know character meet-and-greets can be exciting but also scary and awkward, so I thought I would go over what to expect with meeting characters.
There are two main ways you might meet a character: a meet-and-greet area or a character dining experience.
The first would be a set place where a specific character meets with guests. These are indicated on park maps with Mickey head silhouettes. The maps don't always indicate the exact character at that spot, but a times guide or the My Disney Experience app will.
Some characters meet in outdoor locations and some meet indoors. The times guide will list the hours of the day they meet. Characters who meet indoors will meet for longer hours, while characters who meet outdoors usually meet until sunset. Some characters will only meet for specific blocks of time. For example, they might meet from 12pm to 1pm, 2pm to 3pm, and 4pm to 5pm. The times guide might not get this specific, so you will need to check at Guest Relations or the character's location, where a sign or Cast Member will be able to tell you. Even characters who don't have these blocked off times will need to take breaks occasionally, so don't worry if you are in line and see a character leave. They should be back in less than five minutes.
Some meet-and-greets will alternate between two different characters. For example, in Fantasyland at Magic Kingdom, there's one spot where you can meet the Fairy Godmother or Anastasia and Drizella. They switch off periodically throughout the day, so if you want to meet one of them specifically, you will need to speak to a Cast Member about the best time to stop by.
Most meet-and-greets do not have FastPass+, so expect to wait in a line. However, character meet-and-greets are never as busy as attractions, so you usually won't have to wait too long. As you might expect, characters who meet outside will have queues outside, and characters who meet inside will have queues inside (unless their queue happens to go out the door). If you want to meet a character outside, expect to face the elements. And remember, outdoor characters might have to skip a meeting time due to adverse weather.
If you arrive at a meet-and-greet area before a character's start time, a Cast Member should be there or should arrive soon, and they will be able to facilitate the line process. Characters very rarely meet without an attendant or two. Most characters will also have a PhotoPass photographer with them to take your picture. PhotoPass photographers can take pictures with their own camera and add them to your PhotoPass or MemoryMaker account, or they can use a camera/phone that you have brought with you. Always have your own device ready, in case there isn't a PhotoPass photographer with this character. If there is no photographer, the character's attendant will be able to take your photo.
Most character attendants will instruct you to place your bags in a specific spot when you get to the front of the line, so you don't have to worry about having them in your photos. Just remember to have any autograph books and cameras ready before this point.
[Picture ID: Princess Elena of Avalor at Princess Fairytale Hall, where she meets guests.]
Princess Elena of Avalor is a face character. Face characters are characters who don't have a full-head face covering. Characters like the Princesses, Peter Pan, Alice, and Jack Sparrow are face characters and can talk to you. Most face characters have "scripts" that they follow when meeting guests. They basically have several different planned things that they will say to guests to lead a conversation. If you're dressed as them or one of their friends, they will excitedly point that out. Characters are mostly trained for making conversation with children, so you really only need to respond "yes" or "no" to their questions. If you walk away from a character interaction and think "Oh no, I was so awkward and weird," don't worry. They meet hundreds of people a day who are awkward and weird, it's not just you.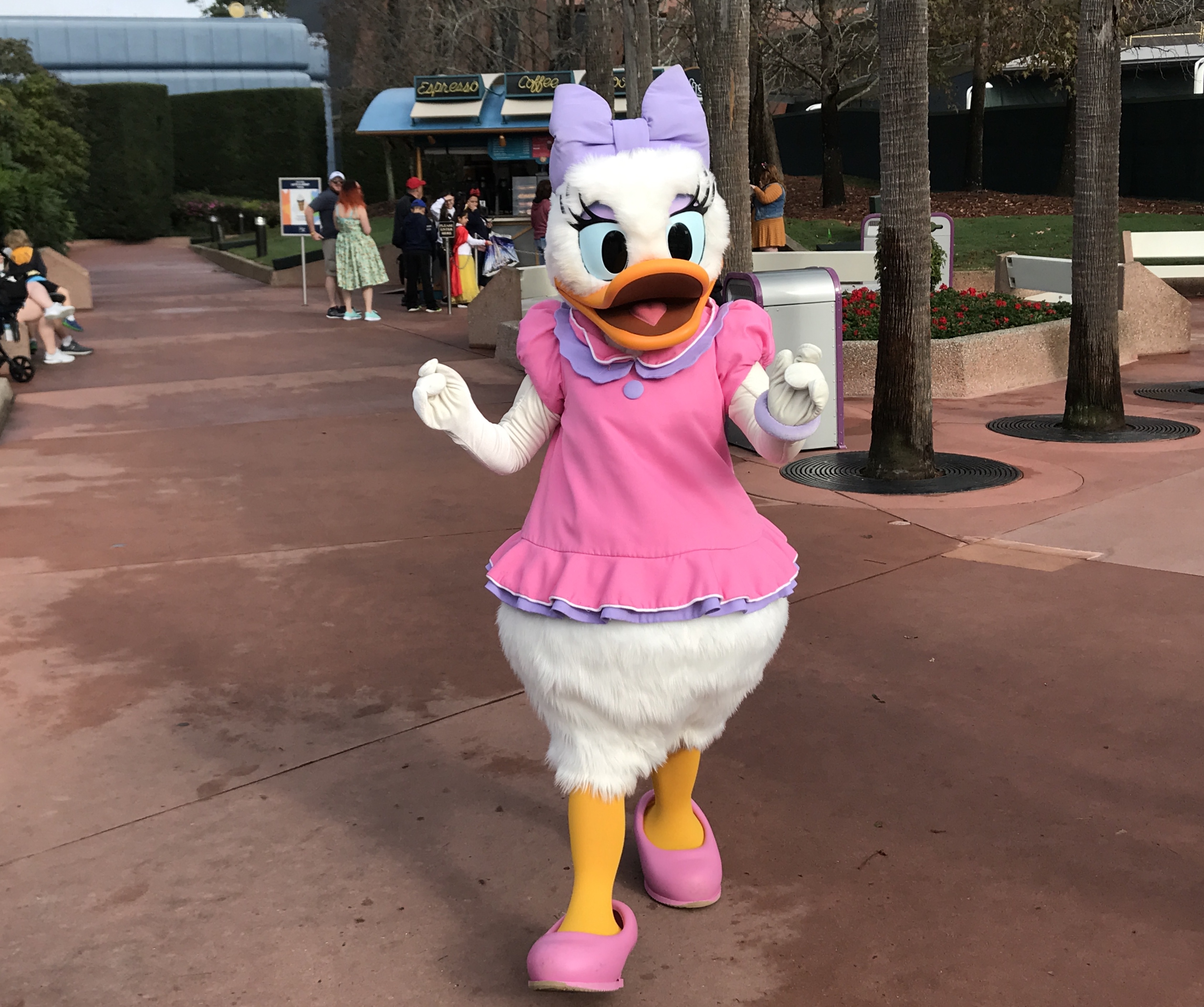 [Picture ID: Daisy Duck taking a stroll through EPCOT.]
Fur characters, like Daisy, can't talk. (Mickey could talk for a short amount of time at his Magic Kingdom meet-and-greet, but they removed this feature.) They are very good at miming though, and again will get excited if you're dressed as them and point it out. Mickey and Minnie might point at ears that you're wearing. Daisy, being a fashionista, might get excited about any cute dresses. These interactions can definitely be difficult, since there's no real conversation happening. It can be hard to understand what the character is trying to say, but character attendants will often chime in to interpret, or ask you and the character questions. If you want to ask one of these characters something, just keep in mind that they can't give very complex answers, but they can nod "yes" or shake their head "no."
Any conversation with a face or fur character will usually only last a minute or two, and then they will pose for a picture with you. They might give you a prompt for how to pose, especially if you're dressed as a character. If they don't give you an instruction, they might put a hand at your back and it's then generally acceptable for you to do the same.
[Picture ID: Rapunzel kisses the cheek of a young guest in her own Rapunzel dress at Cinderella's Royal Table restaurant.]
Character dining experiences are a little different from meet-and-greets. Character dining restaurants will usually have 4-5 characters who will walk around and greet you at your table. Some restaurants will also have one main character that you'll meet before you're seated, and you would be directed to them by a Cast Member.
At character dining, you will need your own camera if you want to take a picture because PhotoPass photographers do not usually walk around with the characters. They aren't always character attendants either, so if you want a group photo, you might have to take a selfie or grab one of the waiters, who will be happy to take your picture if their hands are free.
Characters have a specific path that they follow to move through the restaurant, and will periodically take five-minute breaks just like meet-and-greet characters. You can guess how quickly a character will be stopping at your table by watching their path through the restaurant. They might reach you before your food has arrived or after, and they are usually spread apart enough so that you won't be meeting all the characters at the same time. Keep an eye on where in the restaurant each character is and when they are close to your table, stop eating and prepare any autograph books or cameras.
These characters are on a tight schedule and don't stop at tables for very long. They might comment on an outfit or ask if you saved any food for them, but they don't have long-form scripted conversations like at meet-and-greets.
Often a waiter or manager will double-check with you that you have met all the characters before the end of your dining experience, and they will ensure that any characters you haven't met visit your table. Many character dining experiences also do a small parade around the restaurant and encourage kids to join them. This will be announced and last about five minutes.
Pretty much any character at a dining experience will also have their own meet-and-greet, but a dining experience is a good way to meet a bunch of characters at once. Plus fur characters are always dressed up to the theme of the restaurant.
Fireworks
Of course, fireworks are a big part of the Walt Disney World experience. That being said, it's super easy to skip fireworks if they aren't important or are distressing to you. Let's cover each park's shows.
Magic Kingdom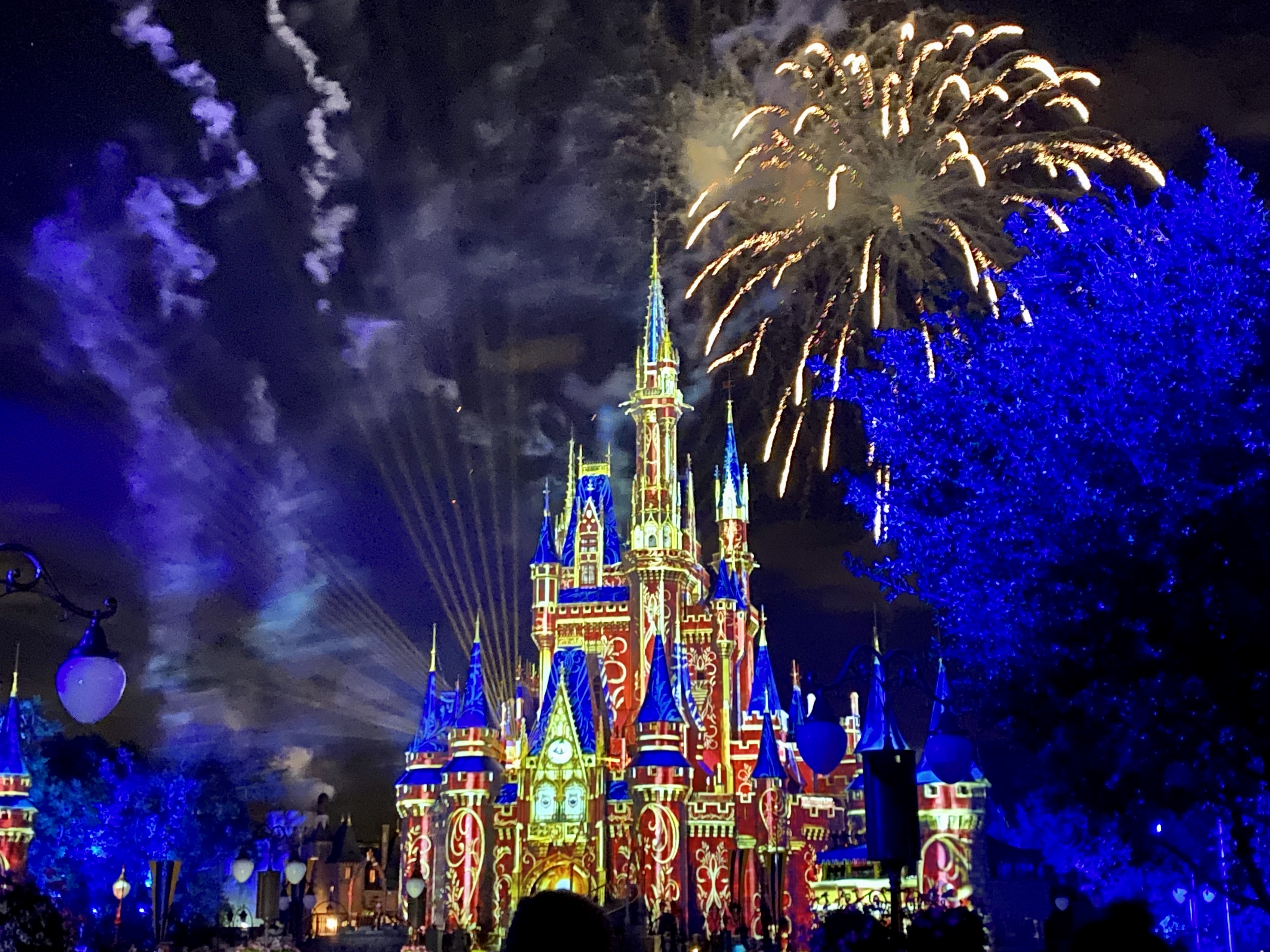 [Picture ID: Fireworks go off behind Cinderella's Castle.]
Happily Ever After happens each night at the Magic Kingdom, unless there is a special event that causes the park to close early or that has its own fireworks show. Happily Ever After usually starts at 8pm or 9pm, and you can double-check the park's times guide to be sure. The show is almost exactly 18 minutes long. It happens behind Cinderella's Castle, with fireworks being shot off from key locations around Fantasyland. The fireworks themselves can be seen and heard from pretty much anywhere in the park, but there are projections on the castle that can only be seen well from the castle hub or Main Street USA.
People will start gathering for Happily Ever After an hour or even two hours before the show, so expect big crowds forming in front of Cinderella's Castle at this time. If you want a good view of the castle but don't want to stand in a crowd, stand on Main Street closer to the entrance of the park.
If you want to watch the fireworks but avoid the big crowds entirely, you can watch from Tomorrowland near the Speedway. You won't be able to see the projections from here, but you'll get a good view of the fireworks themselves.
The best way to avoid fireworks entirely would be to leave the park before the fireworks happen. This also means you avoid the crowds of people leaving right after the fireworks end. But if you don't want to end your Magic Kingdom day early, you can steer clear of the sights and sounds of the fireworks by heading to one of the park's indoor attractions, preferably in Adventureland or Frontierland. For example, the Country Bear Jamboree in Frontierland is fifteen minutes long, so will cover most of the fireworks show.
Something extra to note about Magic Kingdom: They have stage shows in front of Cinderella's Castle throughout the day, and at the end of each show, a firework is set off. You might see or hear this firework if you are elsewhere in the park.
Magic Kingdom has a second nighttime spectacular in the form of a projection-mapping show on Cinderella's Castle called Once Upon A Time. This show usually happens about 45 minutes after Happily Ever After, and might be preferable to fireworks. However, just like the stage shows, Once Upon A Time does shoot off a couple of fireworks right at the end.
EPCOT Forever
[Picture ID: Fireworks go off at EPCOT as part of EPCOT Forever.]
I'll be honest, I haven't seen EPCOT Forever, but I can still give you a rundown of the experience. It recently replaced the beloved Illuminations, and is a temporary show before a new nighttime spectacular takes its place.
All of EPCOT's nighttime spectaculars take place on the lake in World Showcase. The shows incorporate some non-fireworks elements, such as kites and projections. If you're looking to avoid crowds while watching EPCOT Forever or a future show, it's honestly going to be difficult. Unlike Magic Kingdom, there isn't one centralized viewing location, and instead, people gather all around World Showcase to watch. Your best bet will probably be to watch from afar near the bridges from World Showcase to Future World.
If you want to avoid the fireworks entirely at EPCOT, hang out in Future World. You might hear them from a distance, so you can always head to an indoor attraction to avoid that. EPCOT has many more indoor options than Magic Kingdom. One place would be the Land pavilion, which houses Living with the Land, Soarin', and the new Planet Earth film. EPCOT Forever is about 12 minutes long, so any of these attractions will be able to occupy this time.
Hollywood Studios
Hollywood Studios has a few nighttime spectaculars. The biggest and most famous is Fantasmic. Fantasmic is part stage show, part water projection show, with a few fireworks at the end. Unlike Happily Ever After or EPCOT Forever, Fantasmic has its own amphitheater to view the show from. Because it's so popular, Fantasmic also has FastPass+ and if you want to guarantee a good seat, you might want to use that service. Otherwise, you wait for a seat at Fantasmic just like any other attraction. The nice thing about Fantasmic is that you do sit on a bench, so while it's crowded, it's not wall-to-wall standing people. Fantasmic is a very sensory experience and is actually listed on the attraction guide linked above. I have a screenshot of the page with Fantasmic below.

[Picture ID: A screenshot from the cognitive disabilities attraction guide including multiple Hollywood Studios attractions. Fantasmic is listed as having scents/smells, flashing lights, loud noises, periods of darkness, and water. It has no restraints, is 30 minutes long, and has FastPass+.]
Like I said, Fantasmic only has fireworks at the end of the show, but there are also fire elements throughout. If you want to avoid Fantasmic, it's easy as not going to see it, though you may hear some of it if you are nearby in the park.
Hollywood Studios' full fireworks show is Star Wars: A Galactic Spectacular. These fireworks, along with some projection mapping, happen at the Chinese Theatre in the center of the park. To enjoy the show but avoid the crowds, try standing closer to the entrance of the park and looking down Hollywood Boulevard. To avoid the show, I would suggest going into Galaxy's Edge or Toy Story Land, which are further from the center of the park. And again, go to an indoor ride.
Finally, Hollywood Studios has their own projection-mapping show called Wonderful World of Animation. Like Once Upon A Time at Magic Kingdom, this is a more tame alternative to fireworks, though there are a few shot off at the end of the 12 minute show.
Animal Kingdom
Animal Kingdom doesn't have a fireworks show because of the animals at the park. Instead, they have a light show on the water called Rivers of Light, which is a tame and beautiful show with no loud sounds. It might be boring to some, but if you prefer a calm nighttime spectacular, this show is for you.
[Picture ID: One of the Rivers of Light floats shaped like a flower is lit up blue and pink. A large torch rising from the center of it has several small flames. Behind the float, projected on water, is the image of a realistic lion and an animated lion from The Lion King.]
And that's it for my accessibility guide for Walt Disney World's four main theme parks! I know there's a lot I wasn't able to cover, but I hope even this little bit will be helpful to people planning their vacations. If you have any major concerns or corrections about something in this article or in part 1, please email me at [email protected]
Have you visited the parks while disabled? Did you have a good experience?