This post may contain affiliate links; please read the disclosure for more information.
Summer has officially arrived, and now that we're able to get back into World of Disney at Disney Springs, we're enjoying the chance to update our family's closets once more. Three adorable new collections of youth apparel have just arrived in-store, and we can't wait to show you what we've found…
Minnie Mouse Rainbow Collection
The first collection is all themed around Minnie Mouse. Best of all, the items are covered in rainbows. Let's take a closer look…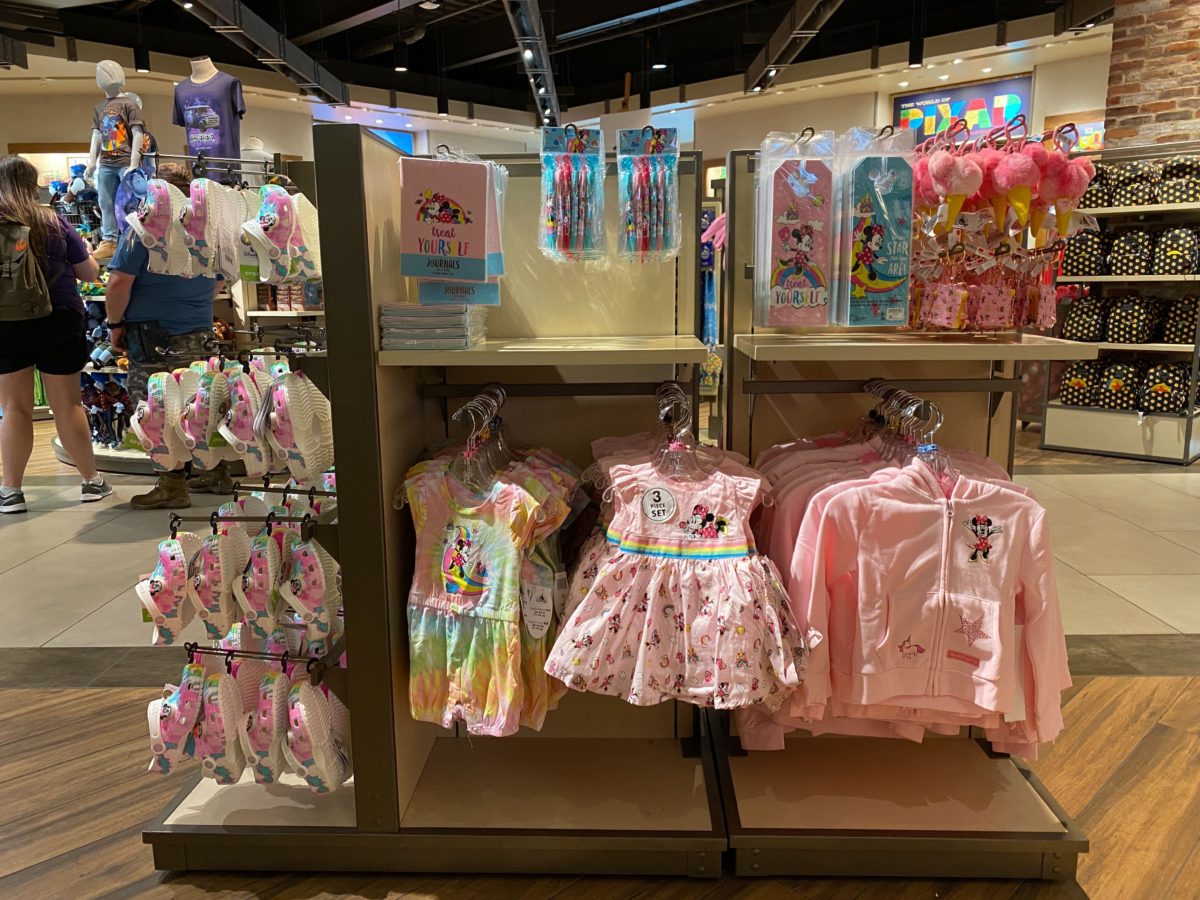 Minnie Mouse Two-Way Sequined T-Shirt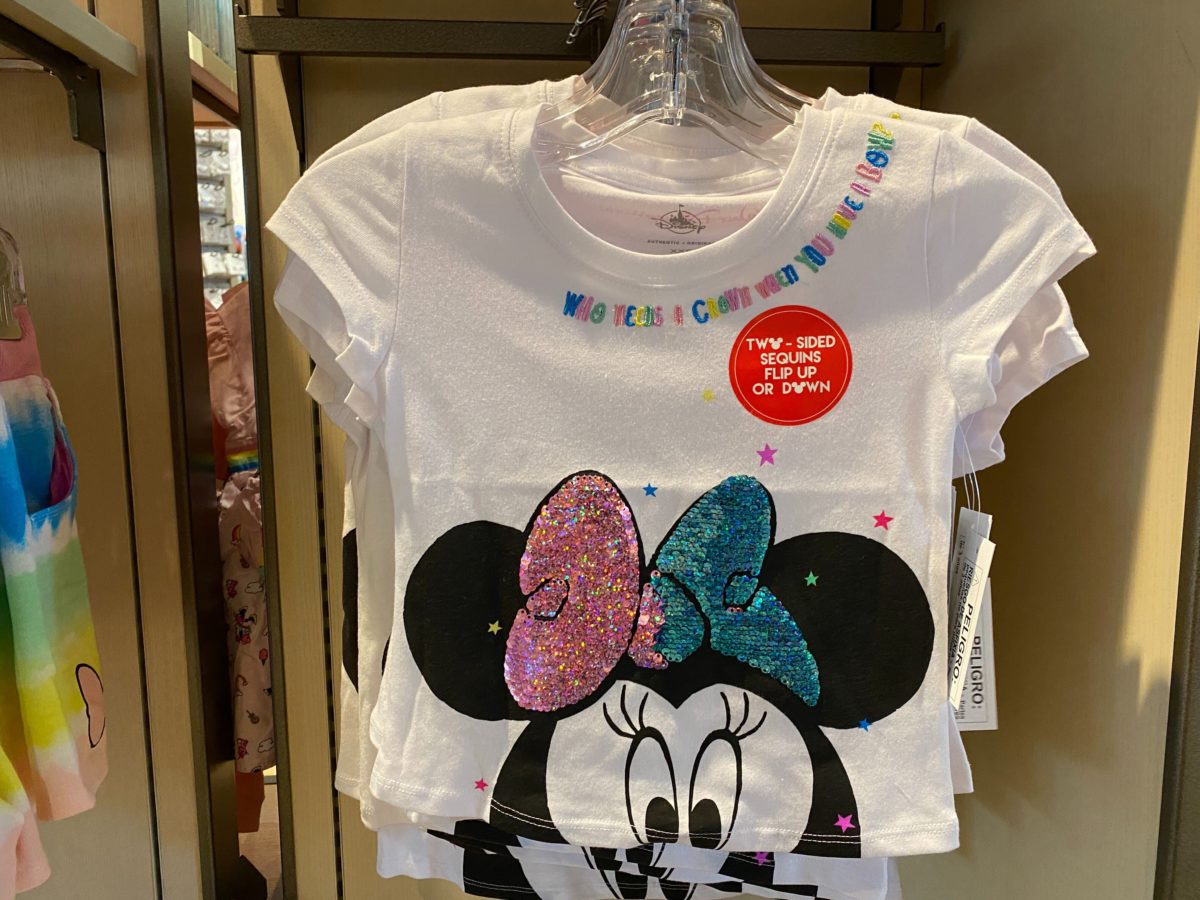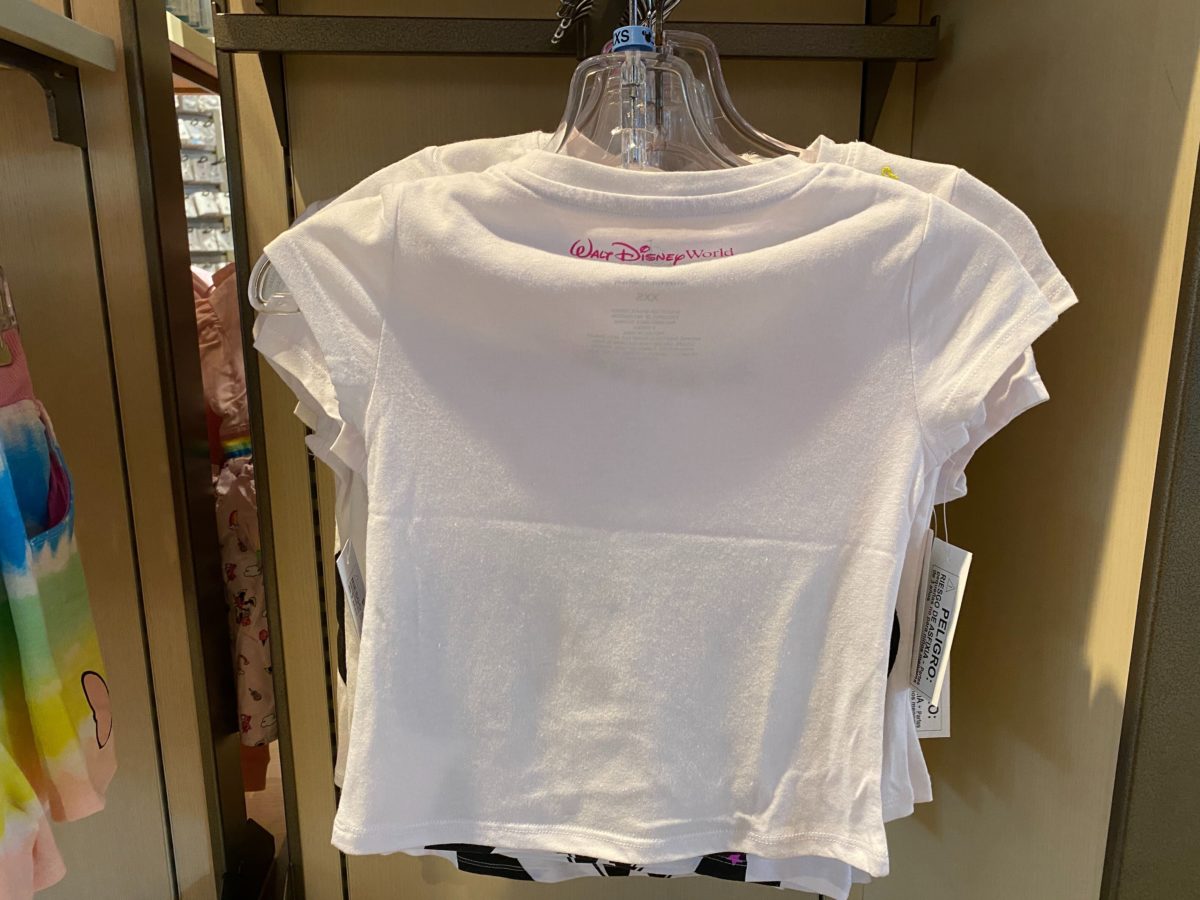 This cute white tee features a graphic of Minnie Mouse, with that addictive two-way sequin detailing on her bow. It's blue on one side and pink on the other, so can be styled any way you like. Around the neckline on the front of the tee, rainbow letters spell out the slogan 'Who needs a crown when you have a bow?', proving once more that Minnie is rightfully a Disney Princess. The back is plain, with the Walt Disney World logo in pink just below the collar. This costs $29.99.
Tie-Dye Minnie Mouse Rainbow Baby Romper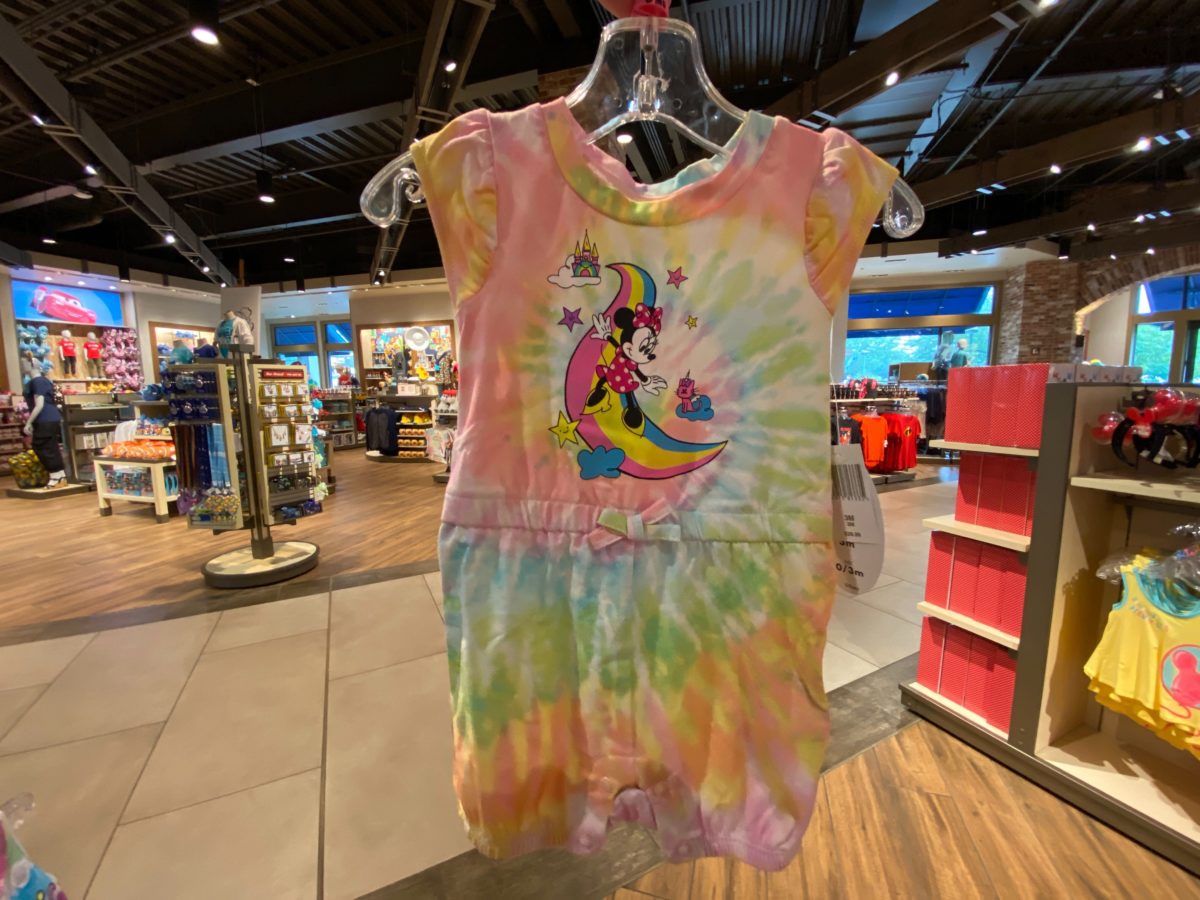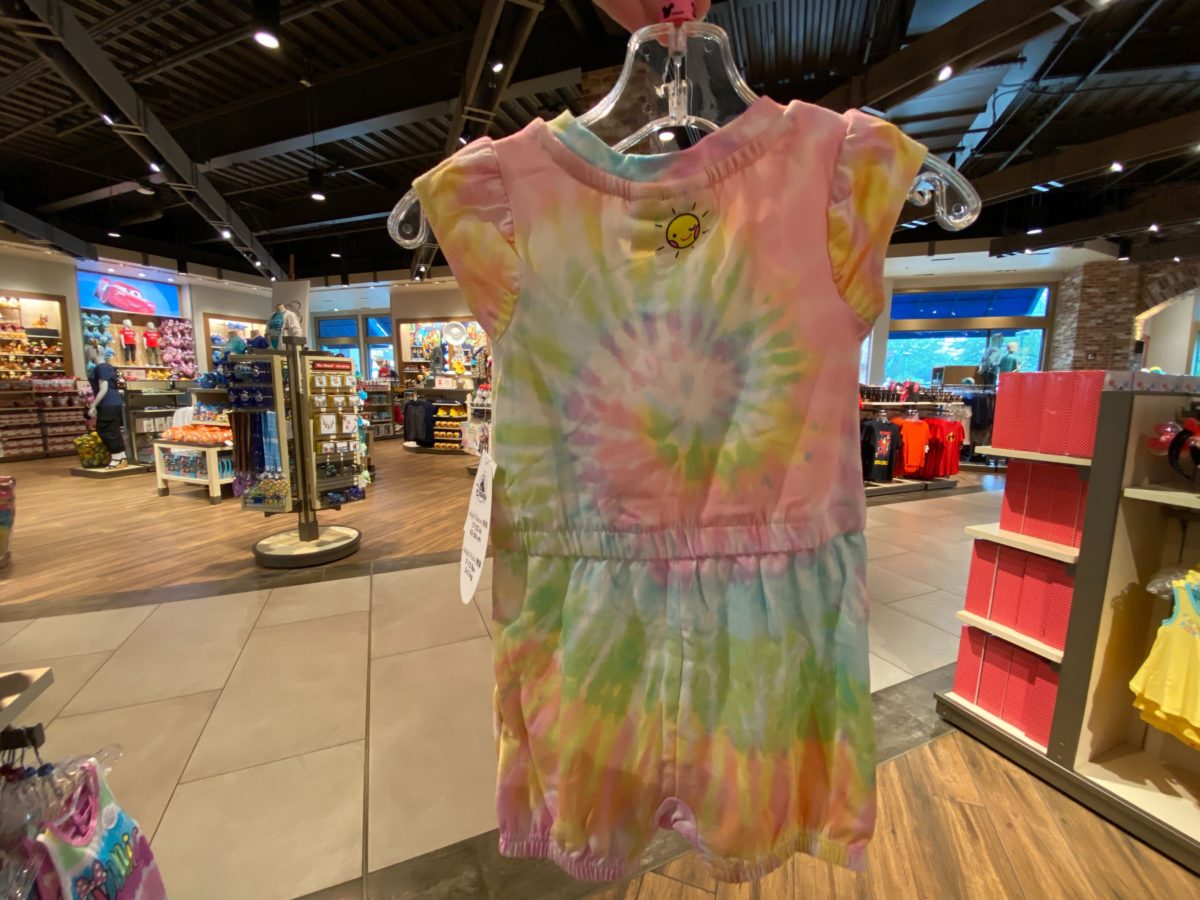 This incredibly sweet baby romper is tie-dyed with soft, pastel rainbow shades, making it the perfect piece for summertime. On the front, a graphic shows Minnie sliding along a bright rainbow, with cute icons surrounding her including a castle, stars, and an adorable pink unicorn cat. The romper has elastic around the legs and waist, and frilled sleeves. This costs $29.99
Minnie Mouse Rainbow Crocs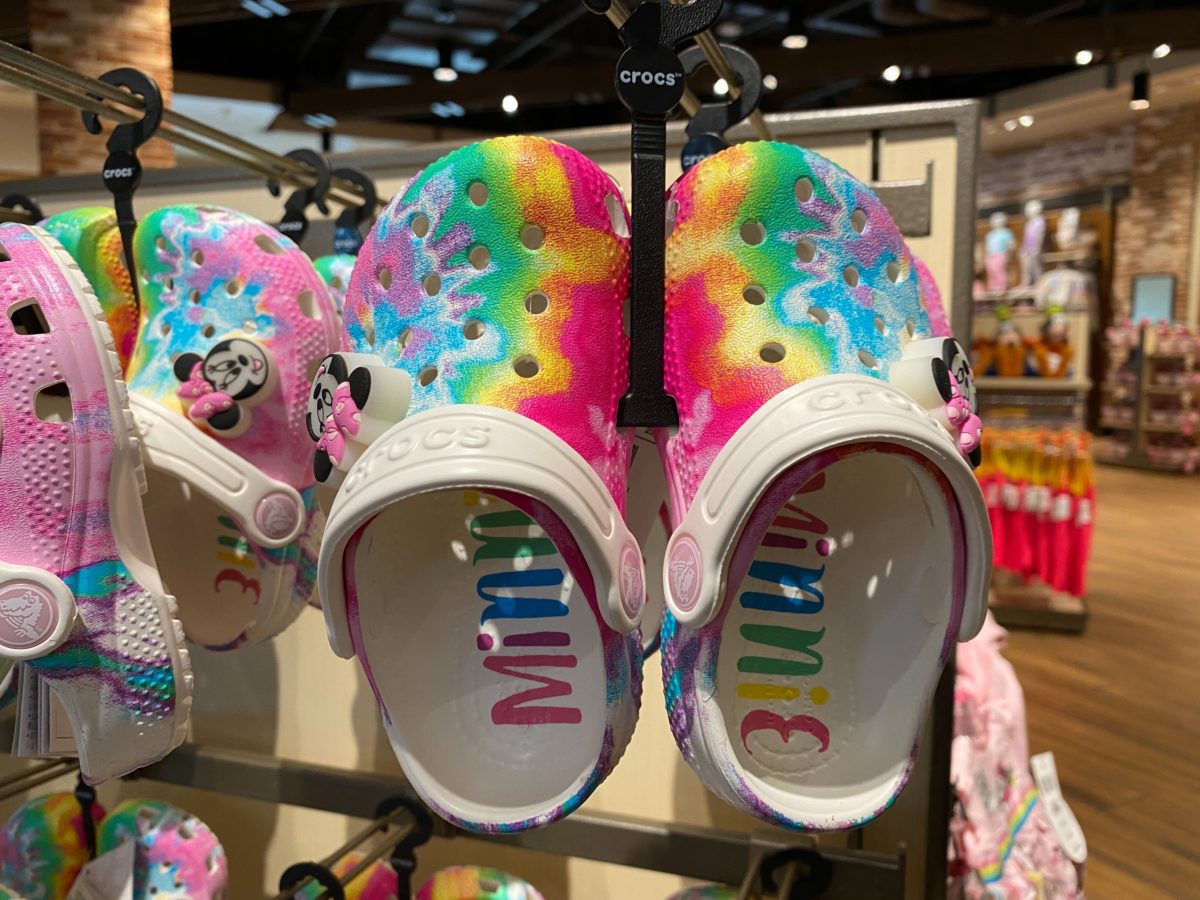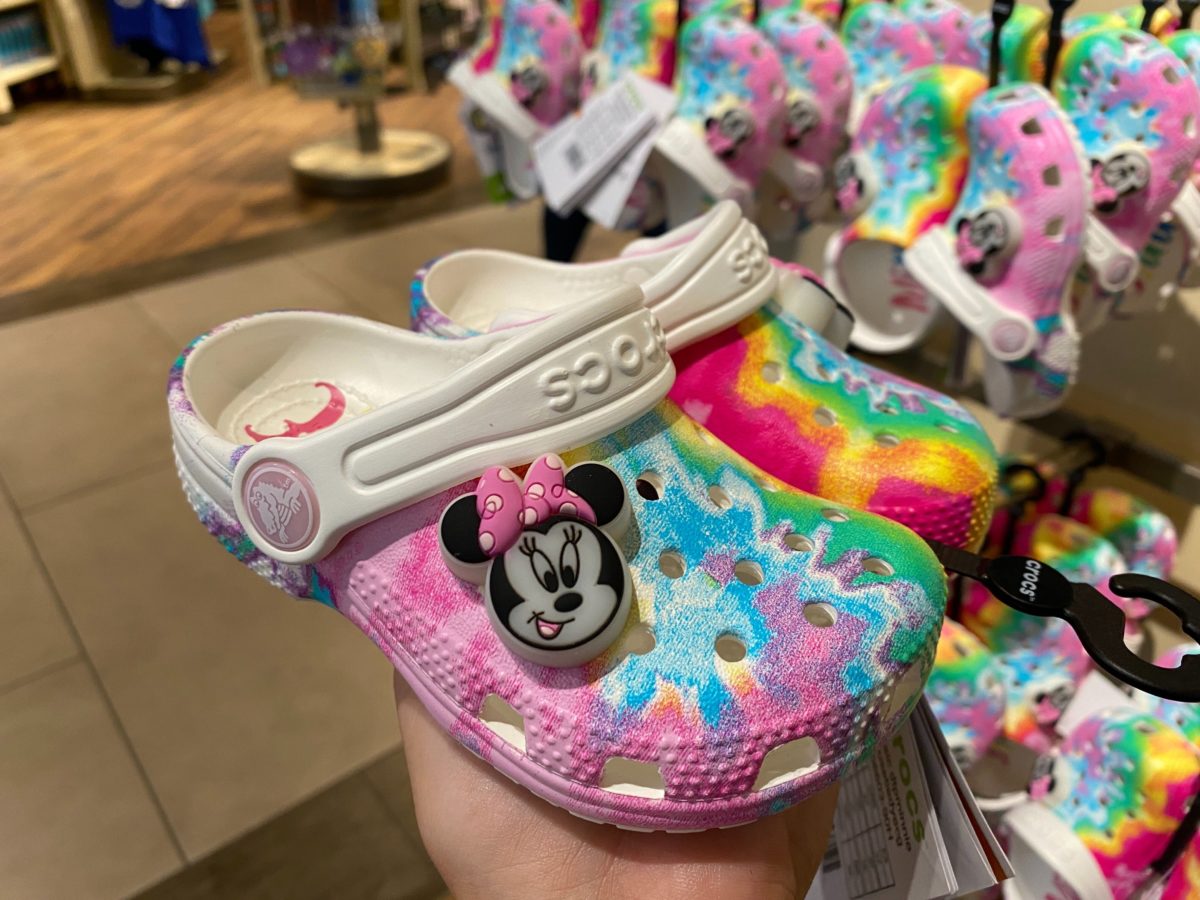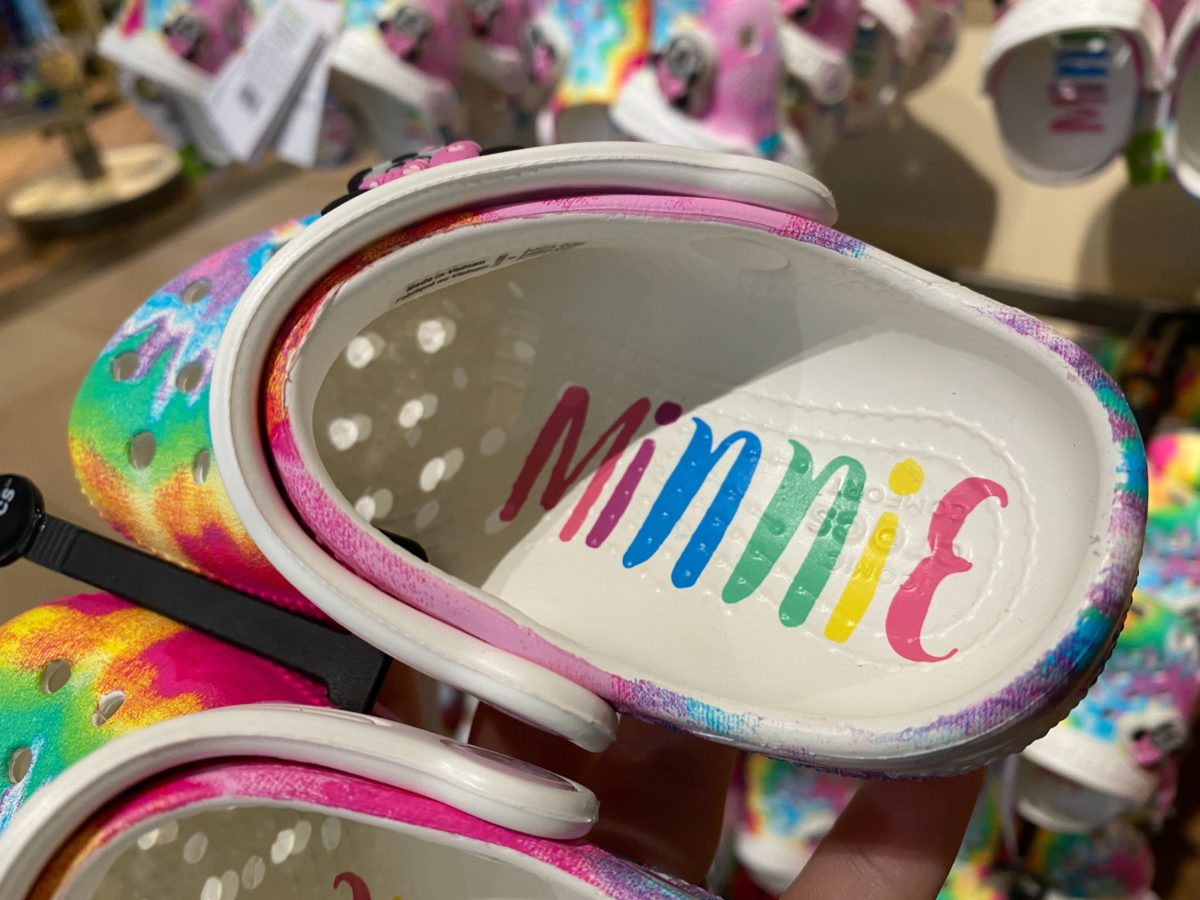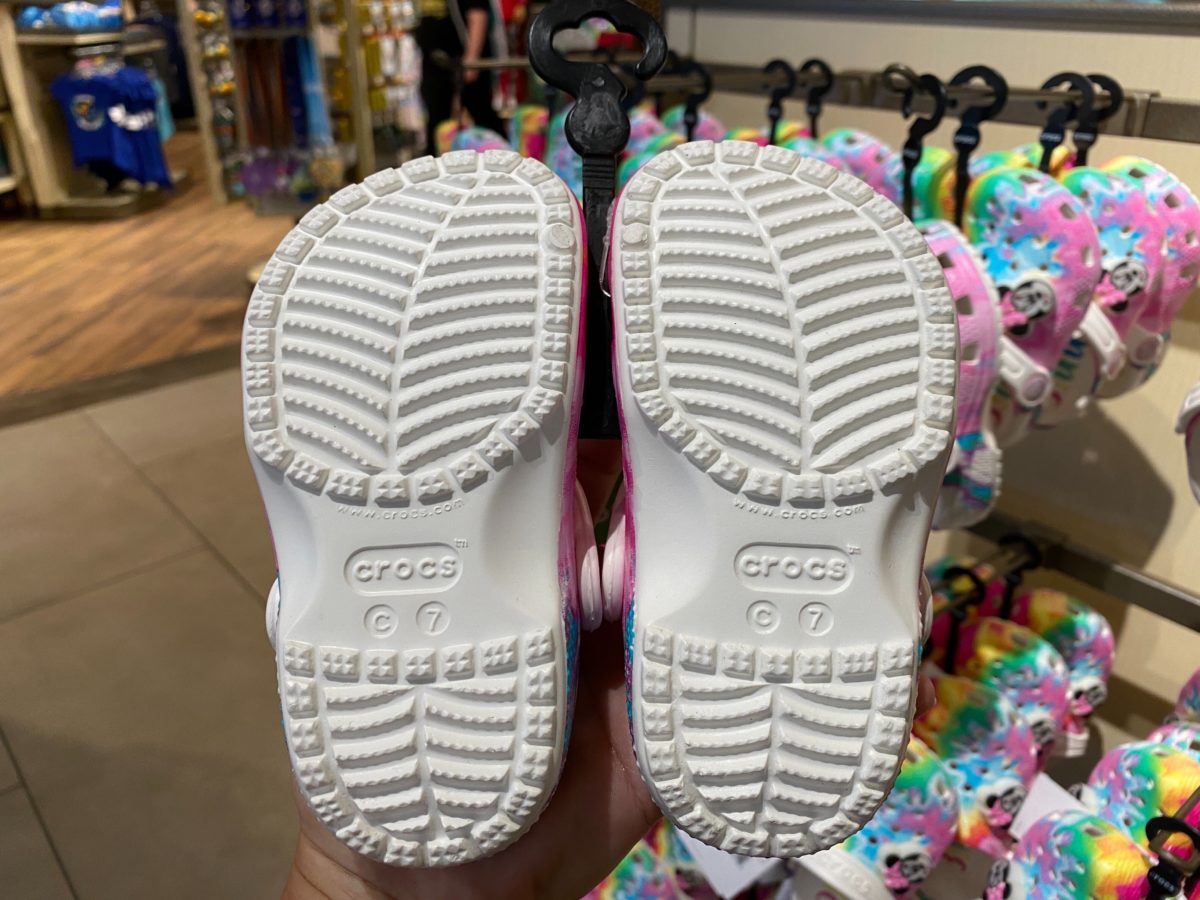 We love these bold and colorful Crocs, which would be perfect to wear for a hot summer day in the parks! These have an all-over splash of rainbow color, with white soles and straps. Wording on the inside spells out "Minnie" in colorful calligraphy, and an adorable Minnie Mouse charm is pushed through one of the holes on top of the shoe. These retail for $39.99.
Minnie Mouse Rainbow Three-Piece Baby Dress Set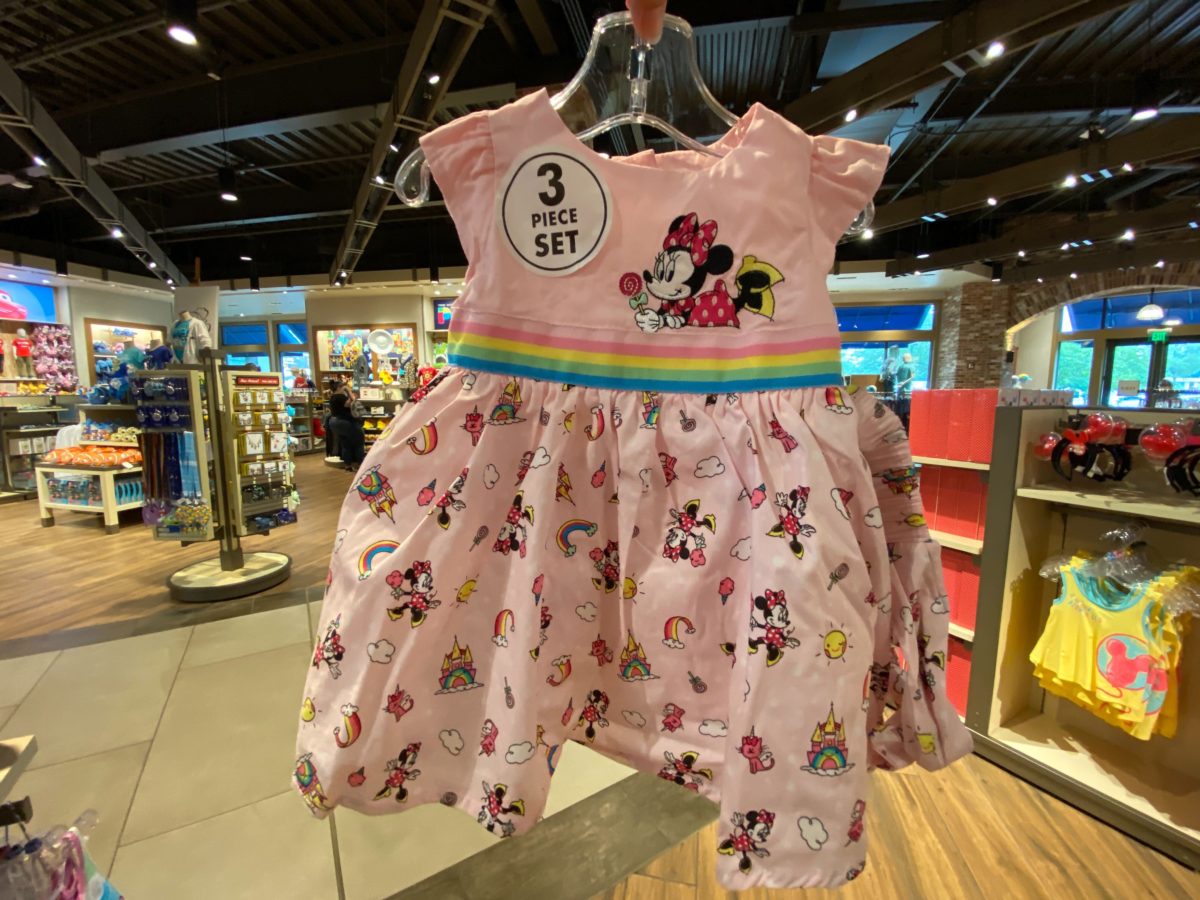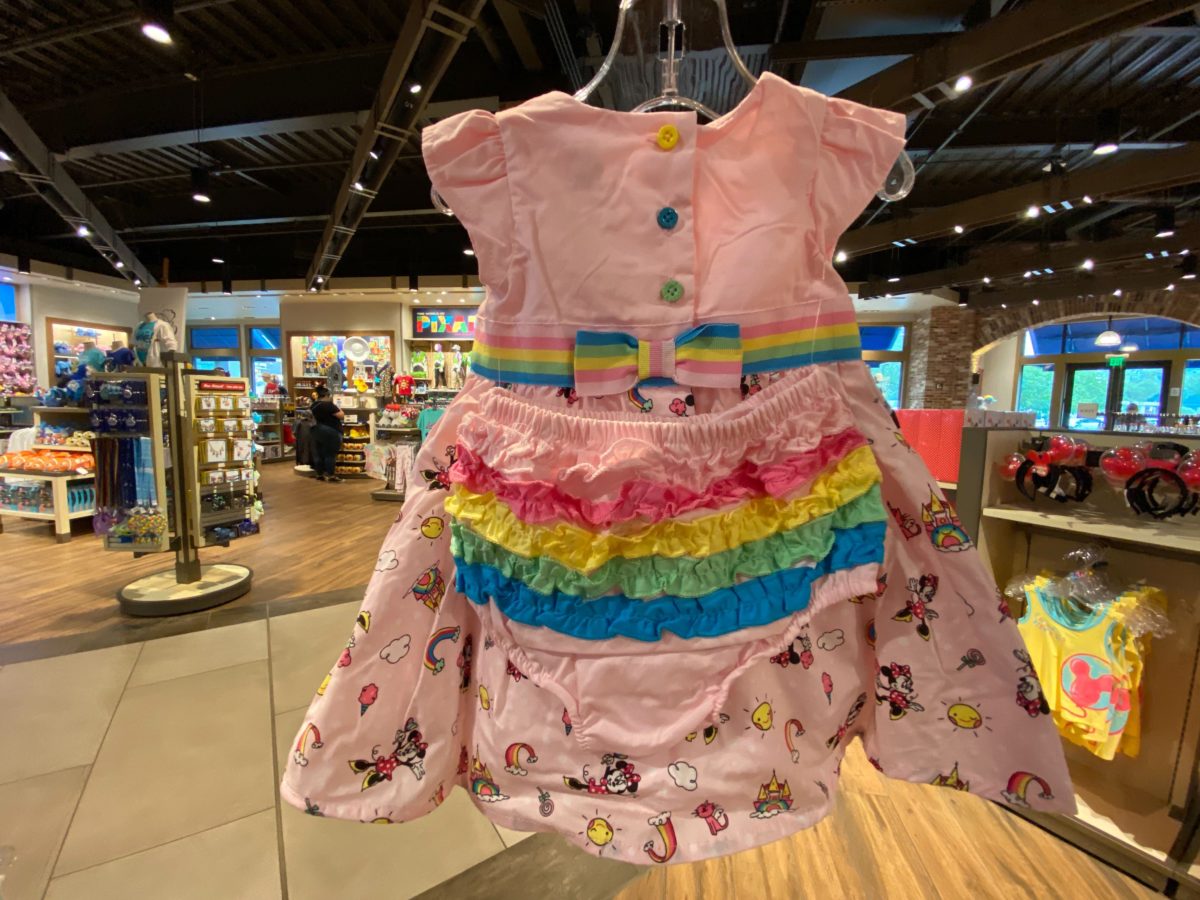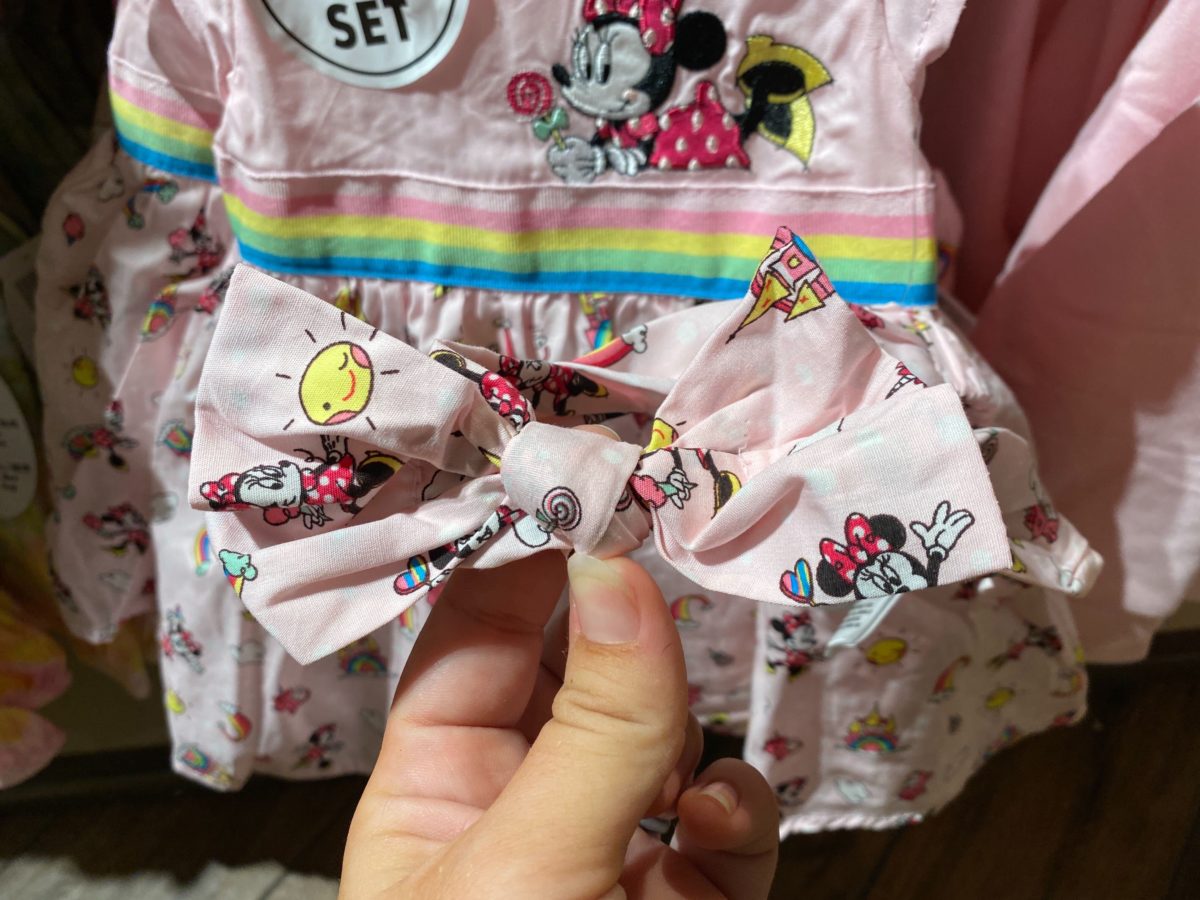 This three-piece set has to be the cutest item ever! Included is an adorable pink dress, with a sash of rainbow belting the middle. The top features a dreamy Minnie embroidered esign, and the skirt features an all-over pattern of Minnie and fun, summery icons, such as sunshine, rainbows, castles and more. The dress comes with a sweet head bow to match the skirt, and a pair of frilly, rainbow knickers to go underneath. The set costs $34.99, and we just love it!
Minnie Mouse Pink Rhinestone Hoodie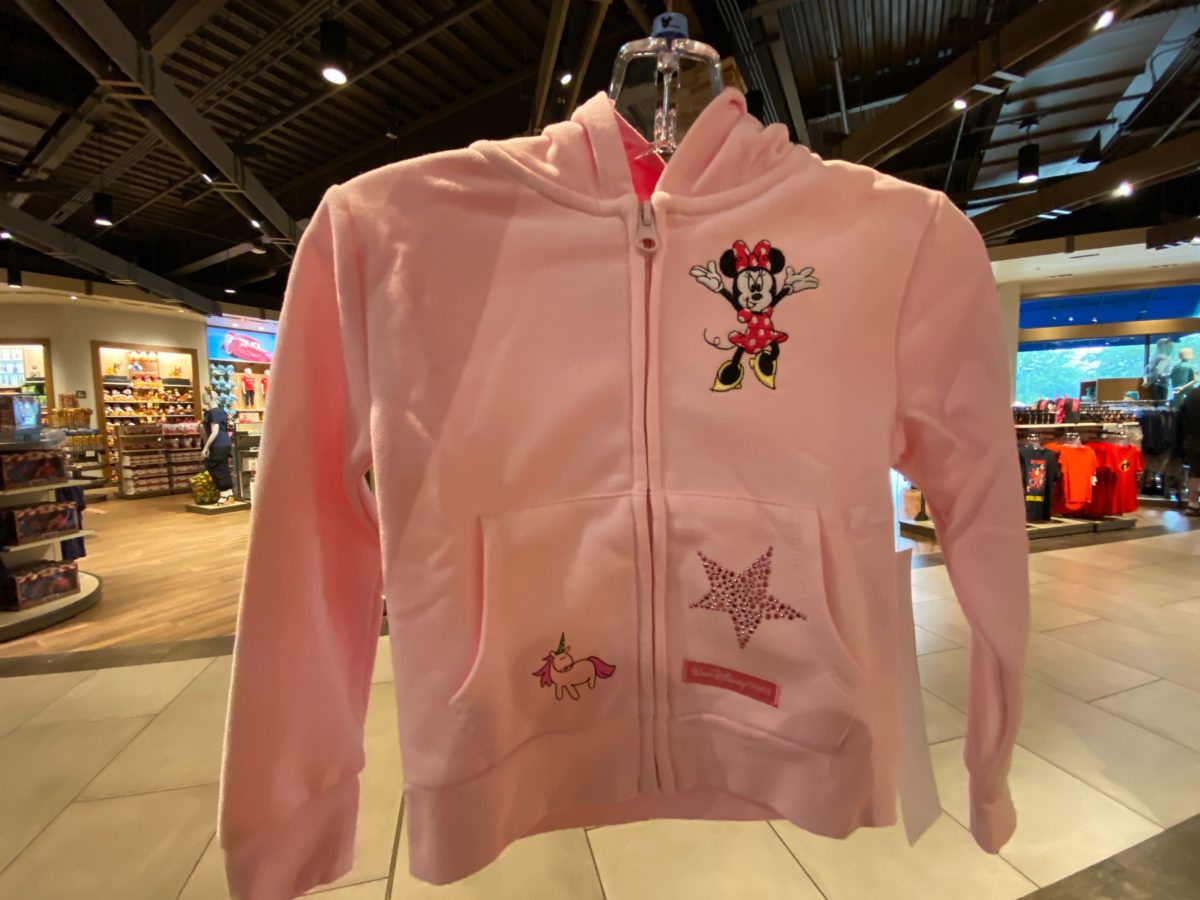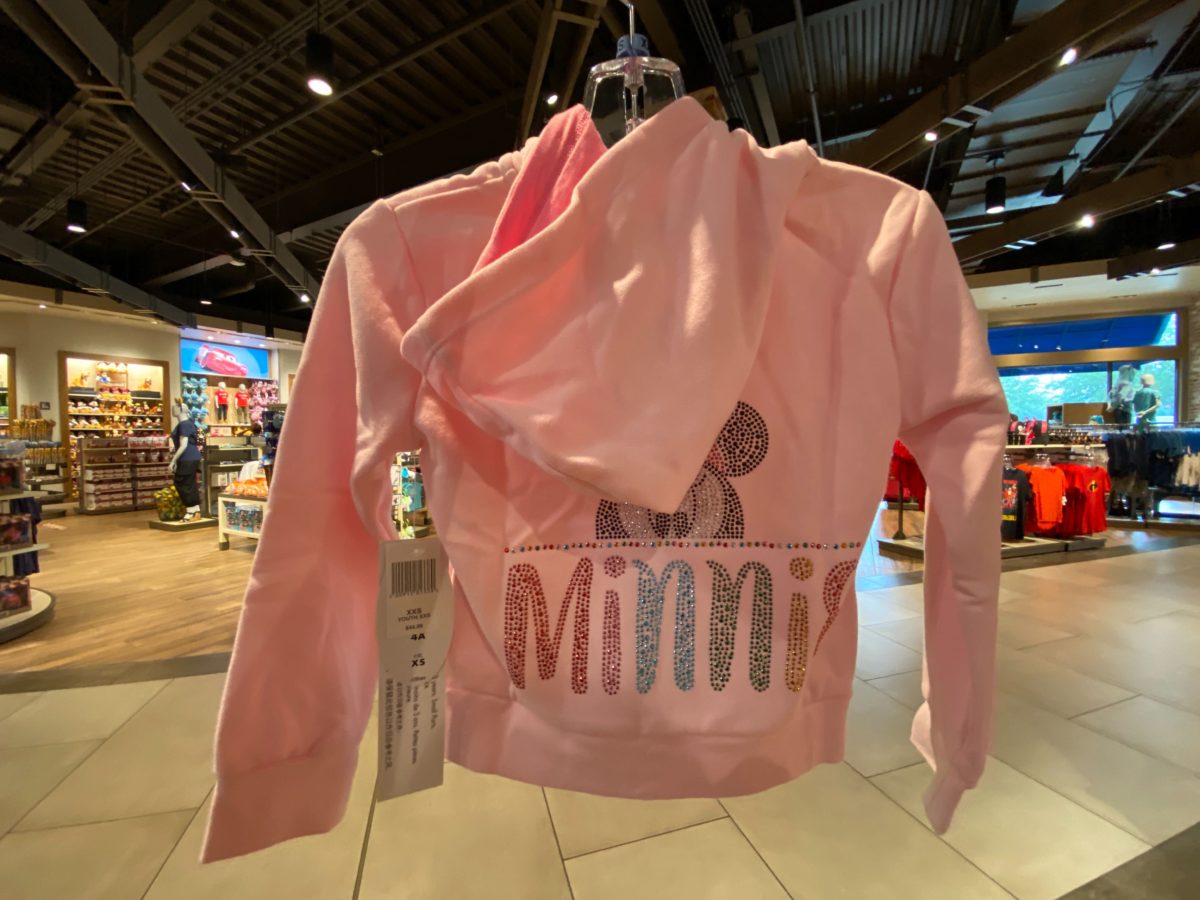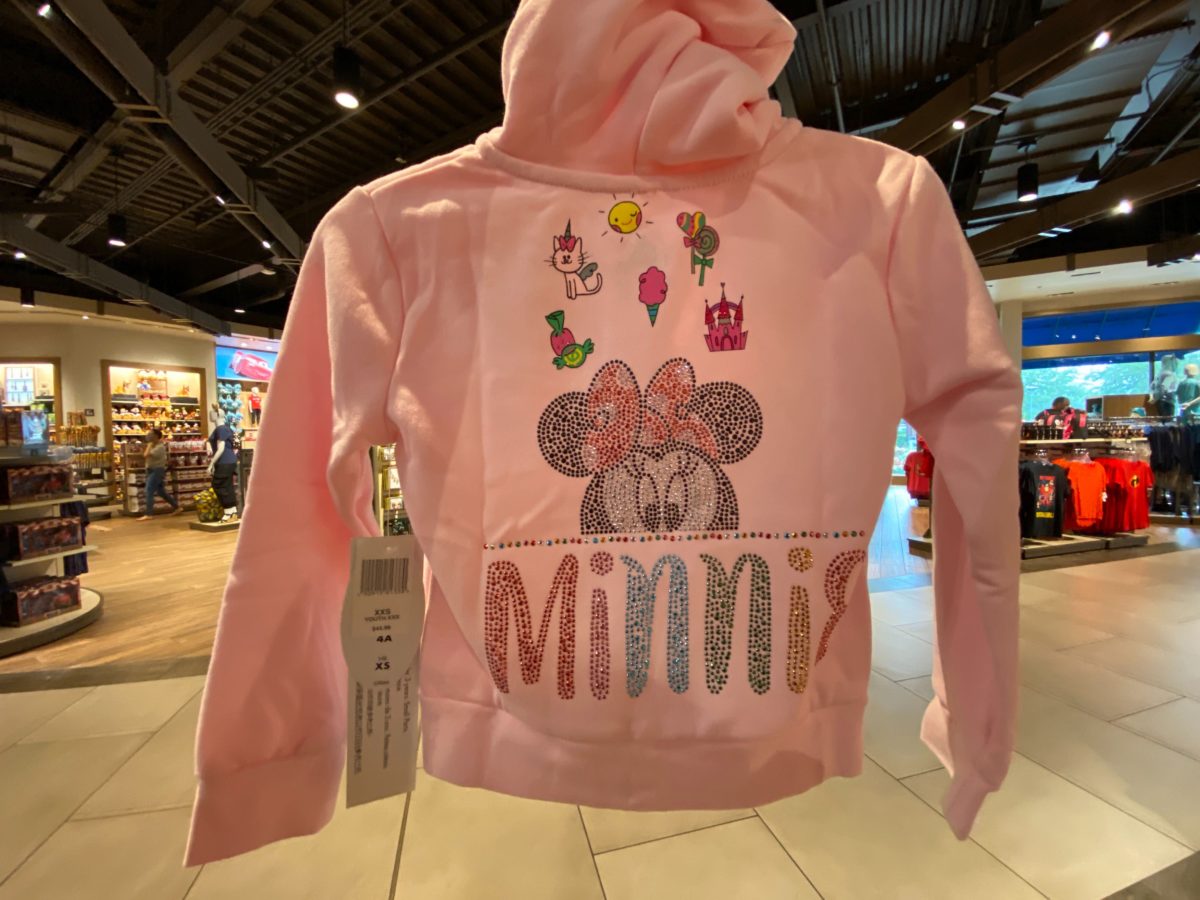 This zip-up hoodie is a sparkly sensation! It is pink in color, with a shiny array of multicolored rhinestones on the back, spelling out "Minnie". Scattered around are those adorable icons of the collection, including a unicorn, castle, and that sweet unicorn kitten. This piece costs $44.99.
Minnie Mouse Rainbow Tie-Dye Vest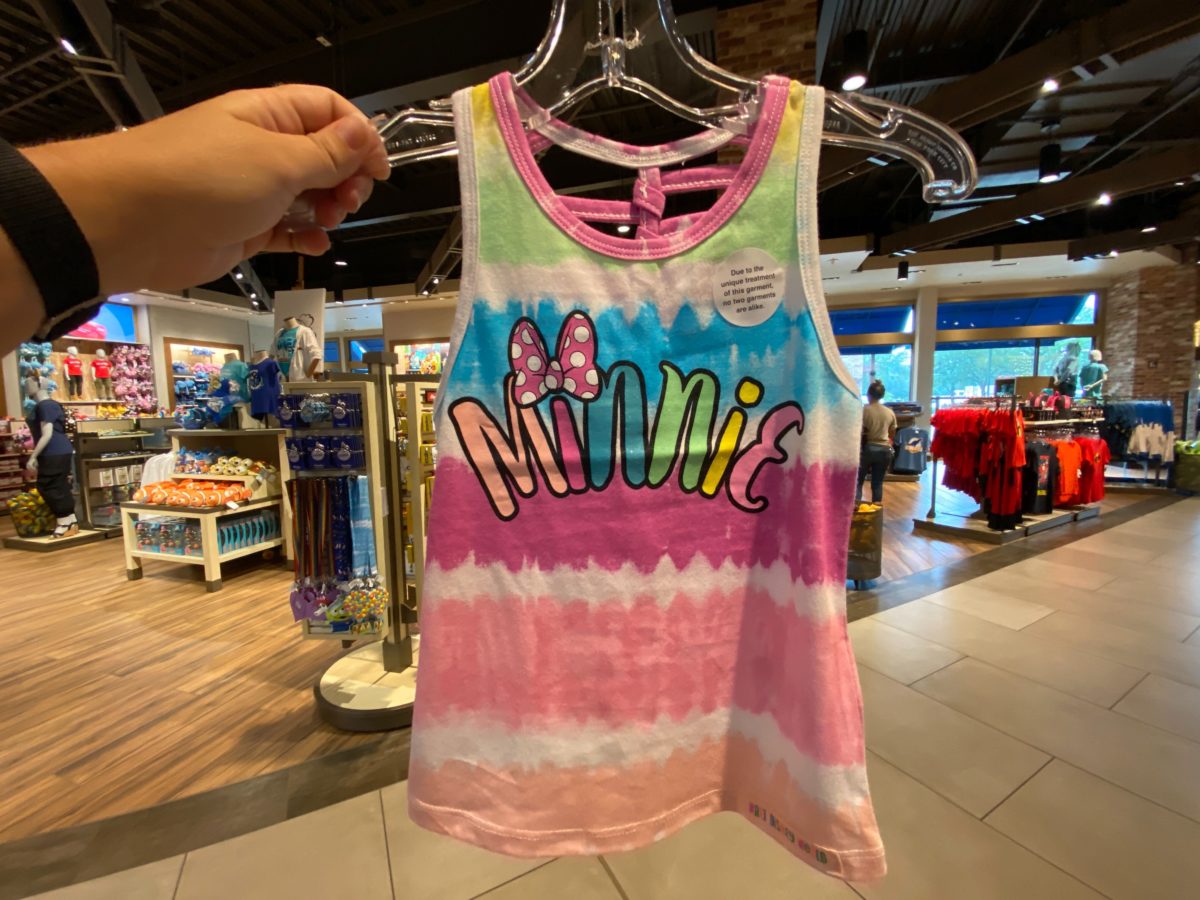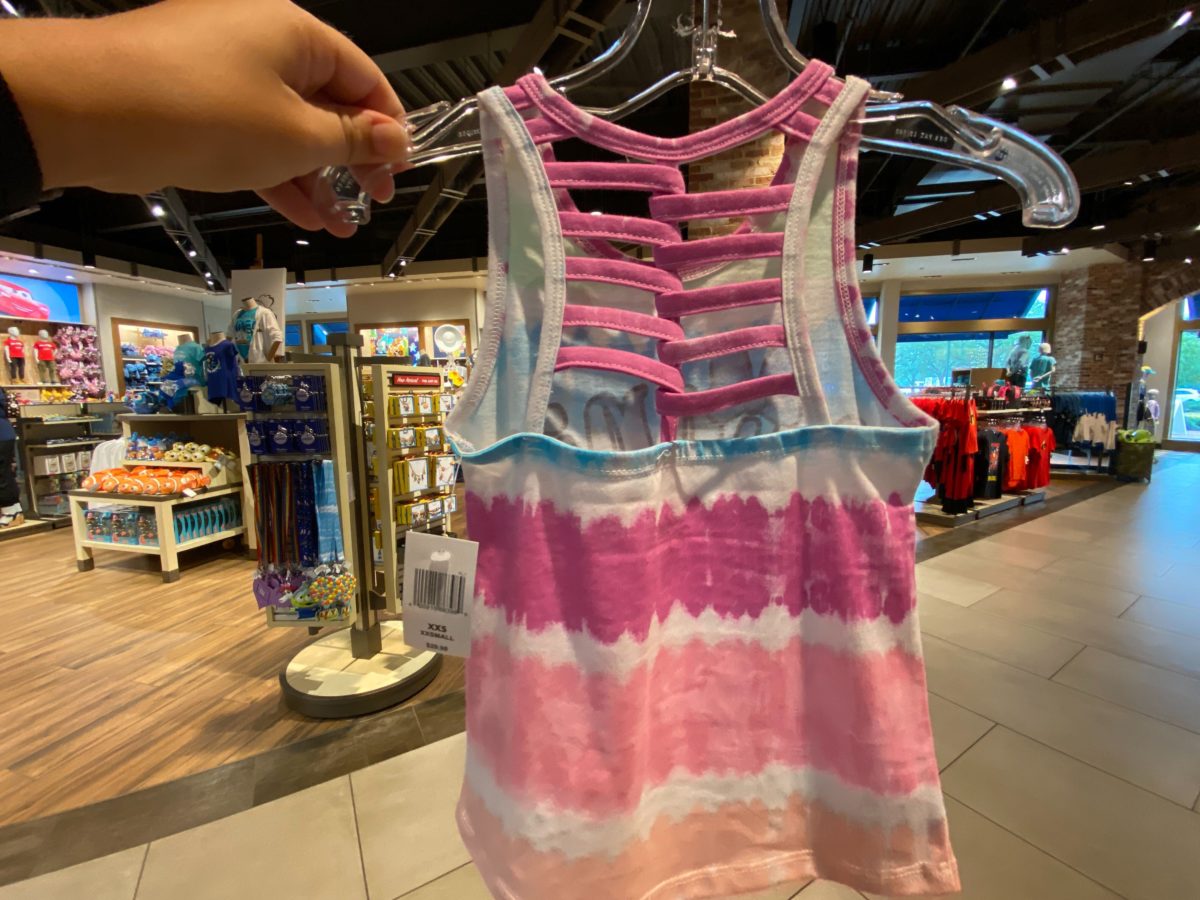 This summery vest is boldly tie-dyed in all the colors of the rainbow, with "Minnie" spelled out in cute bubble calligraphy on the front. The back has a unique strap design, and the top costs $29.99.
Minnie Mouse Rainbow Tie-Dye Shorts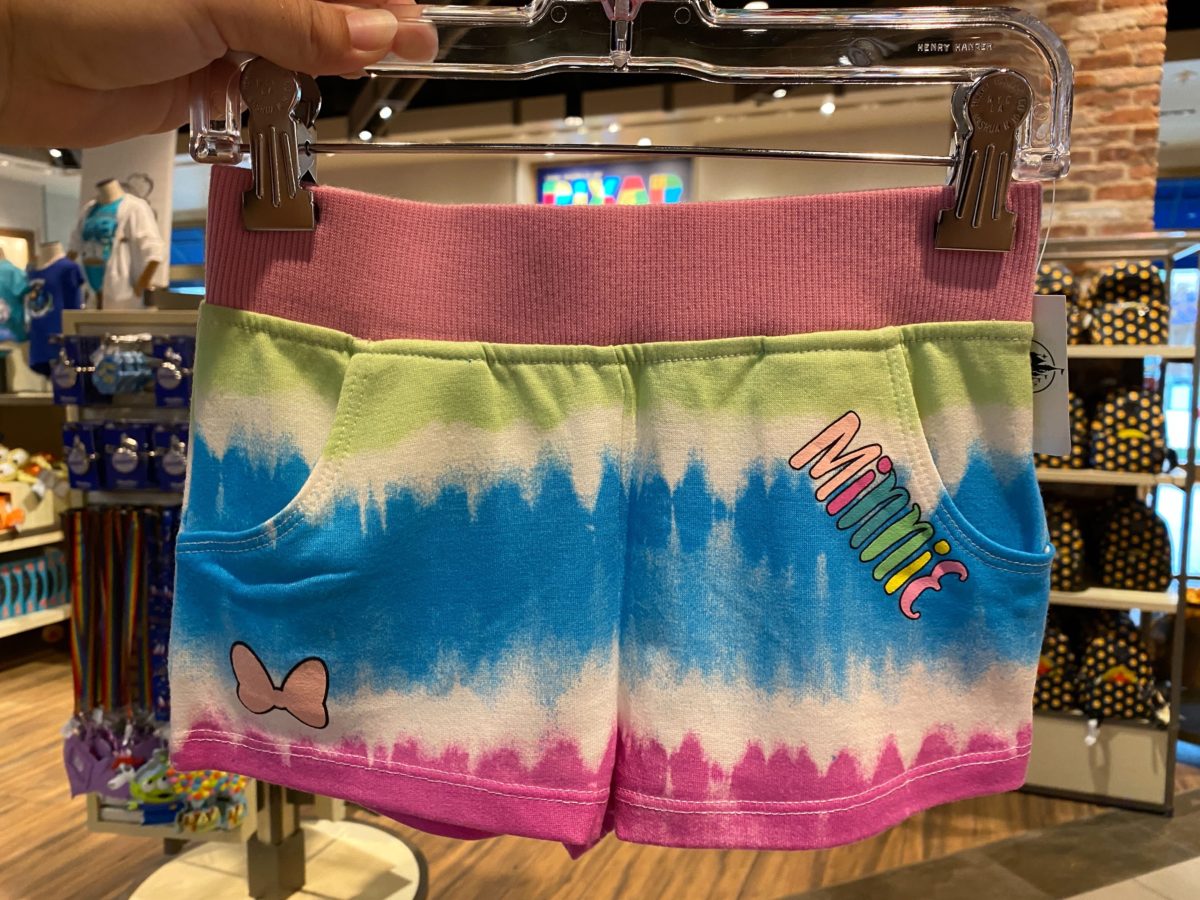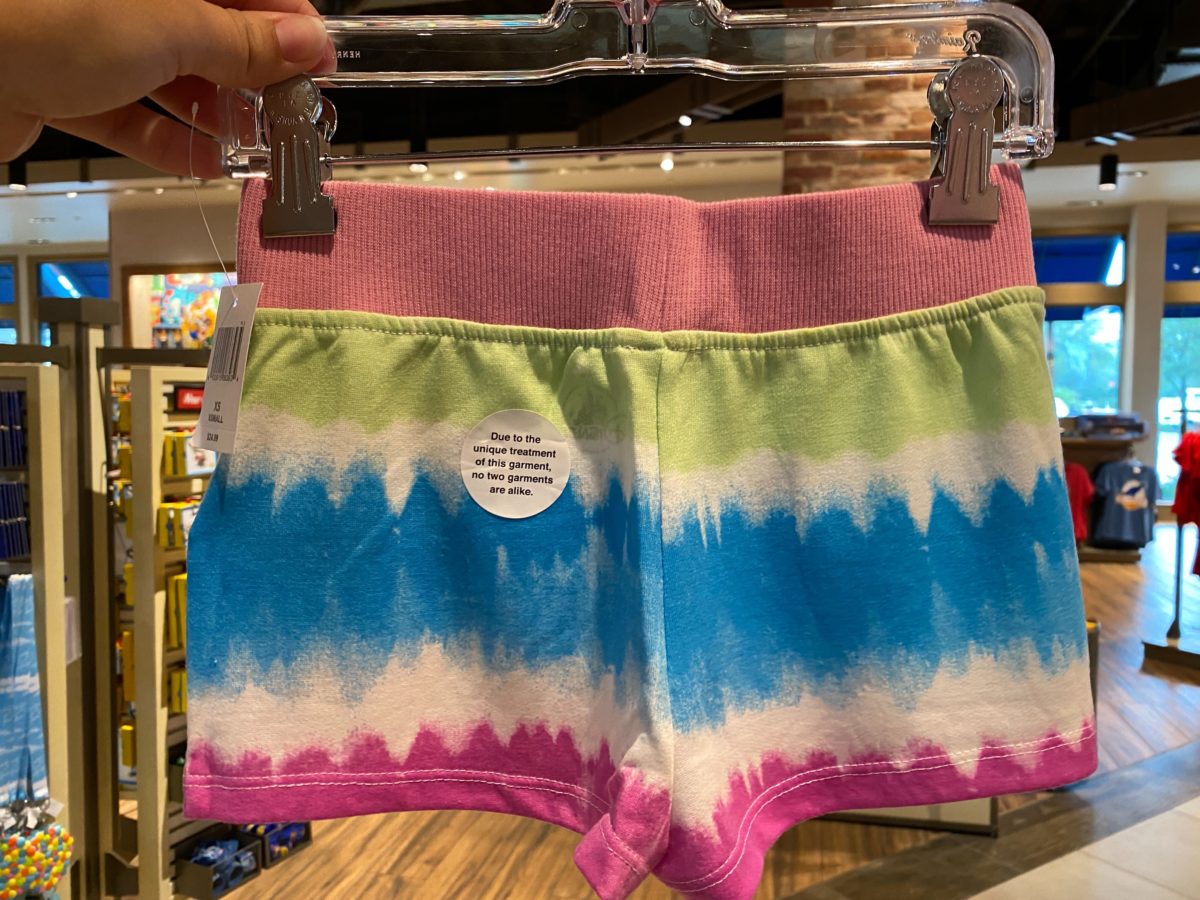 These rainbow shorts match the top above perfectly, making for the perfect tie-dye getup for summer! They are fabric with an elasticated waistband, and colored green, blue, white and pink. These shorts cost $24.99.
Minnie Mouse Rainbow Hair Accessory Set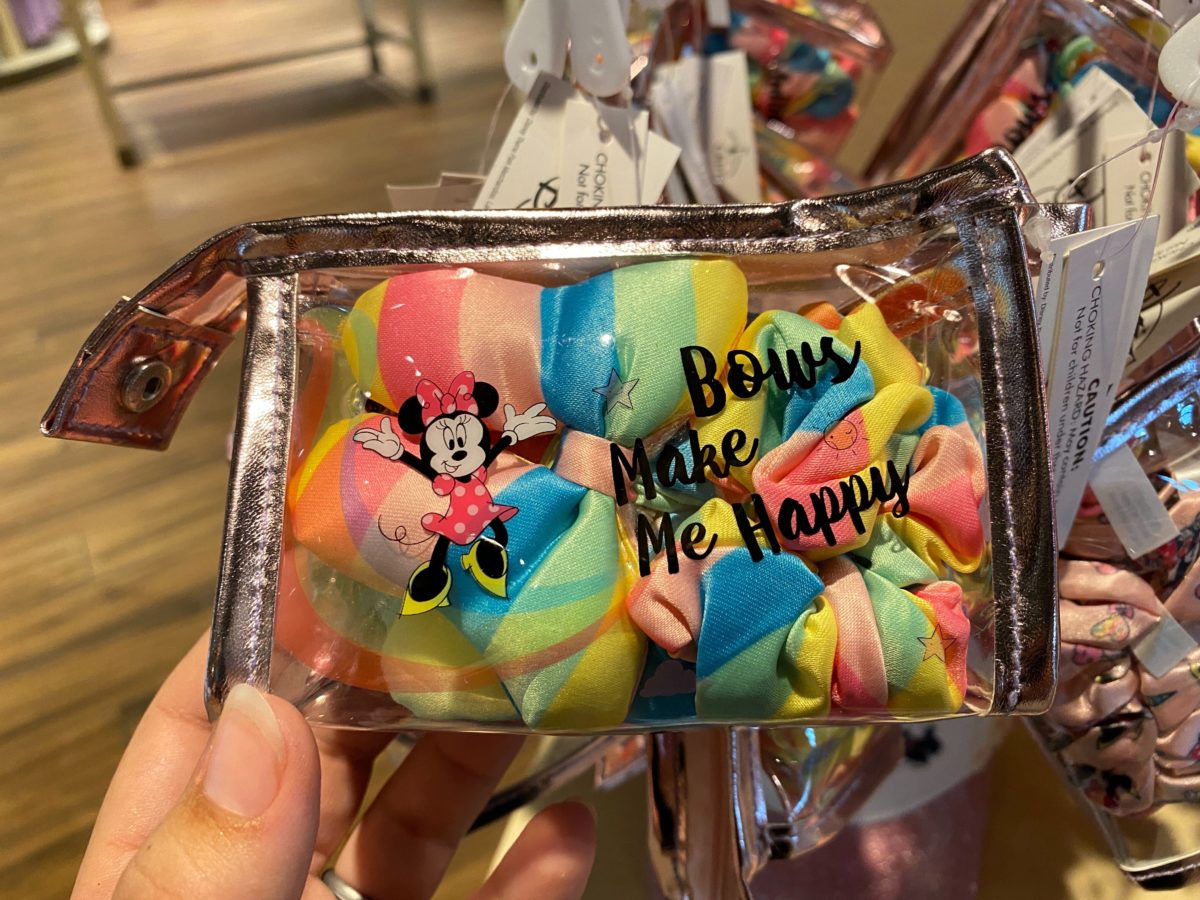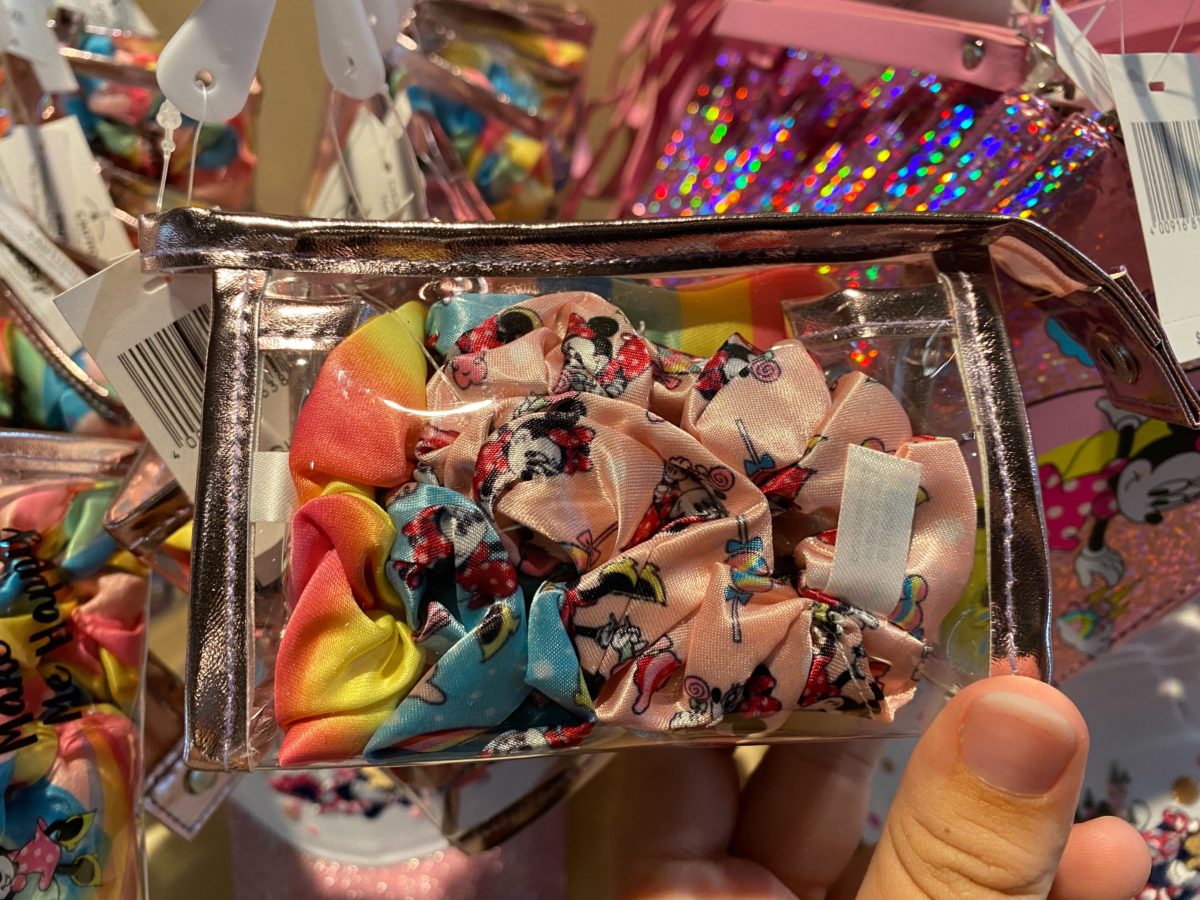 This cute pouch features a collection of rainbow bows and scrunchies, perfect for adding some classic Minnie Mouse style to your hair. This costs $14.99 for the set.
Minnie Mouse Rainbow Wallet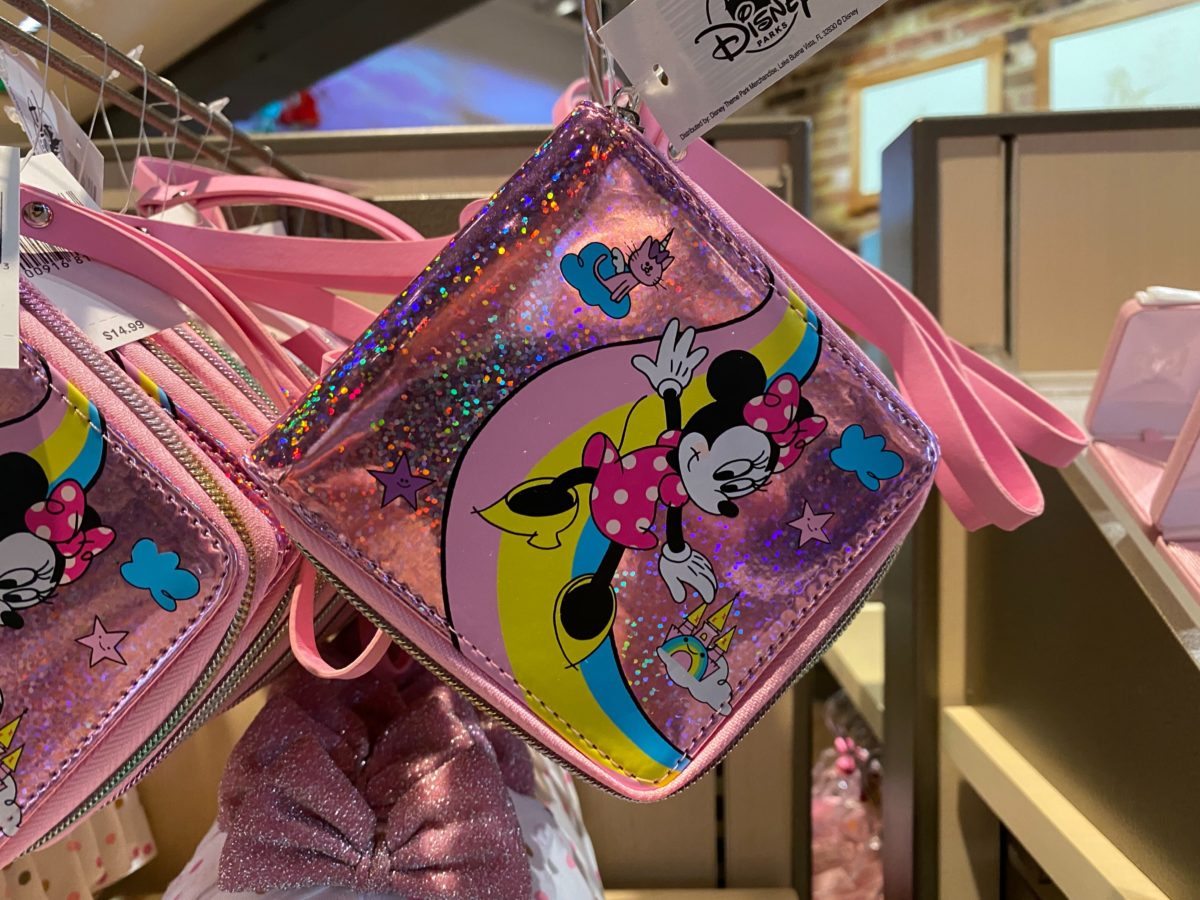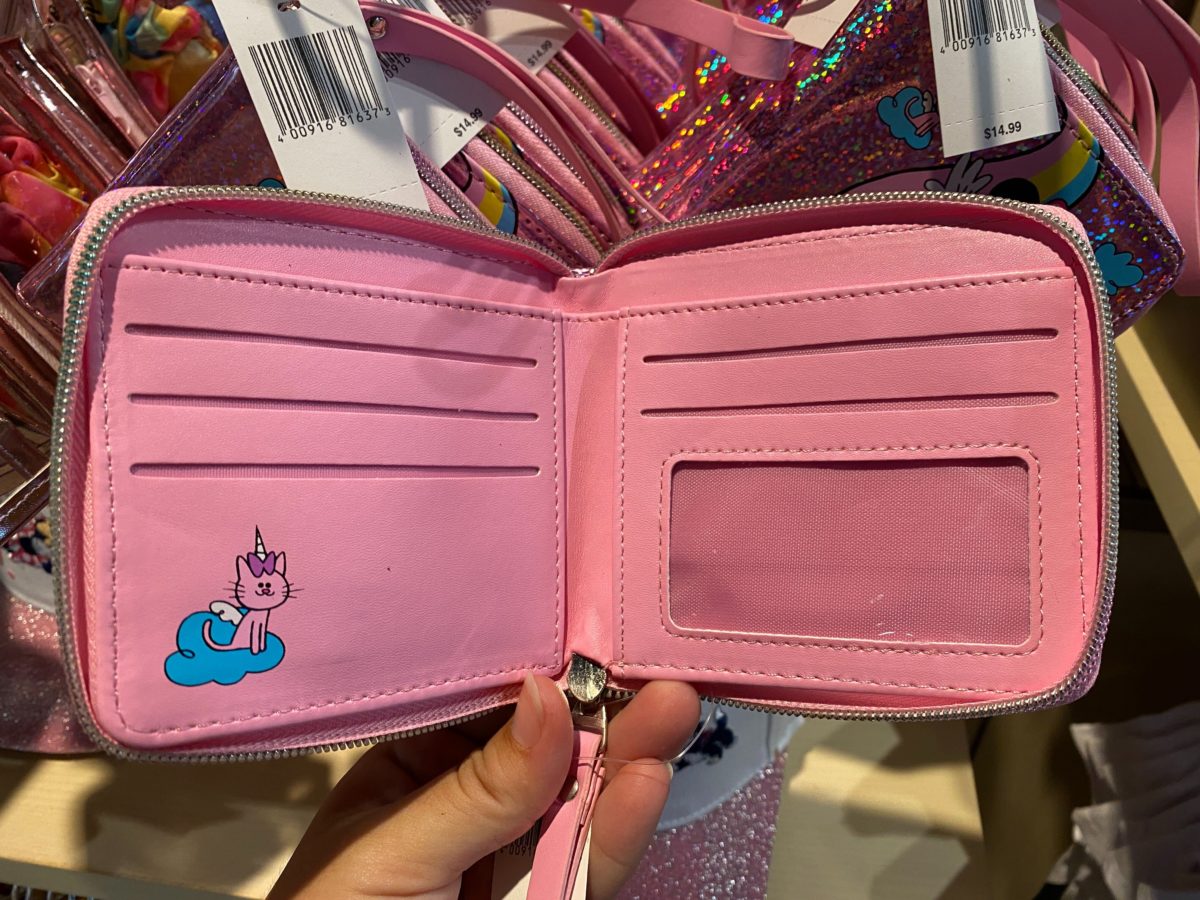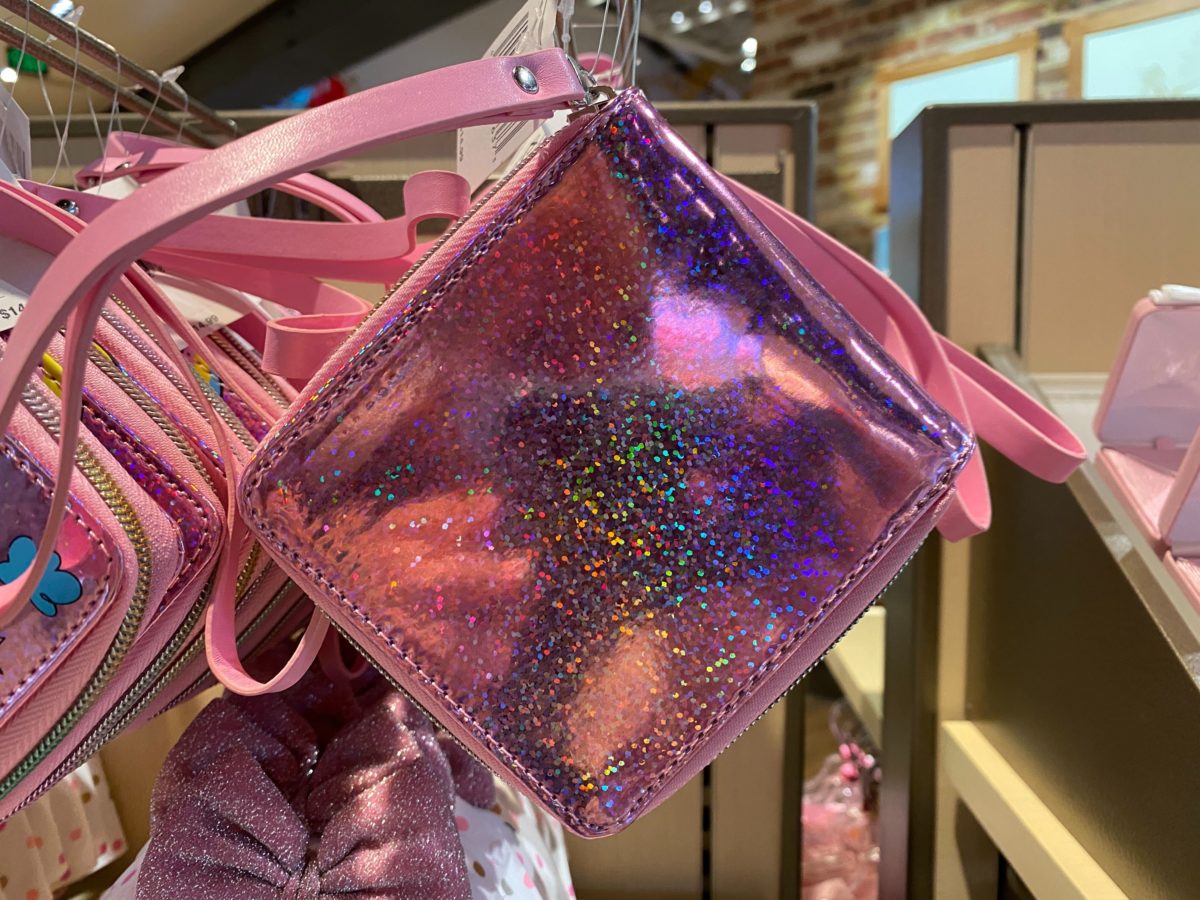 This stunning, sparkly wallet is pink in color, but with that gorgeous glittery shimmer which reflects all colors too. On the front is Minnie sliding down a rainbow, and the wallet has a pink carry strap attached to the zipper. Inside is that adorable unicorn kitten again, and plenty of room for card storage. This costs $14.99.
Minnie Mouse Journal Set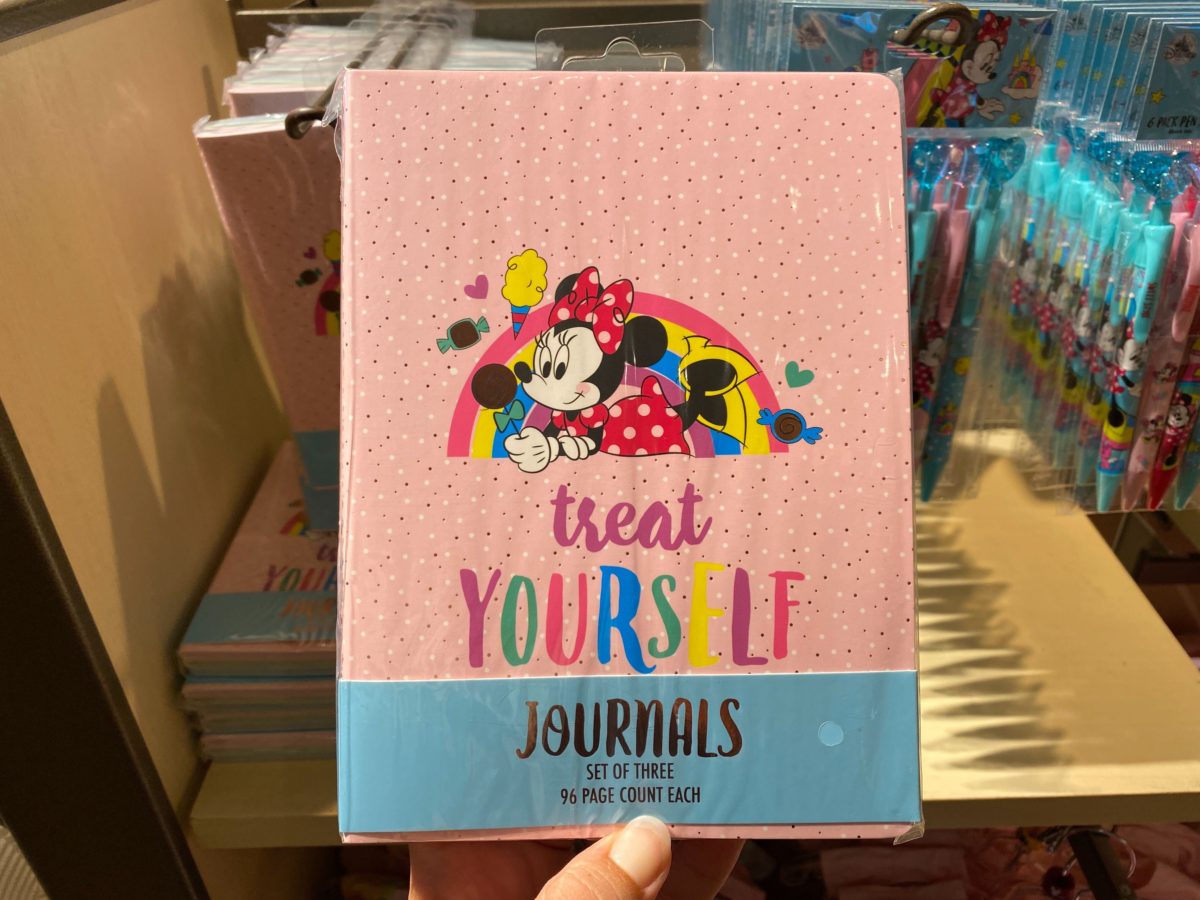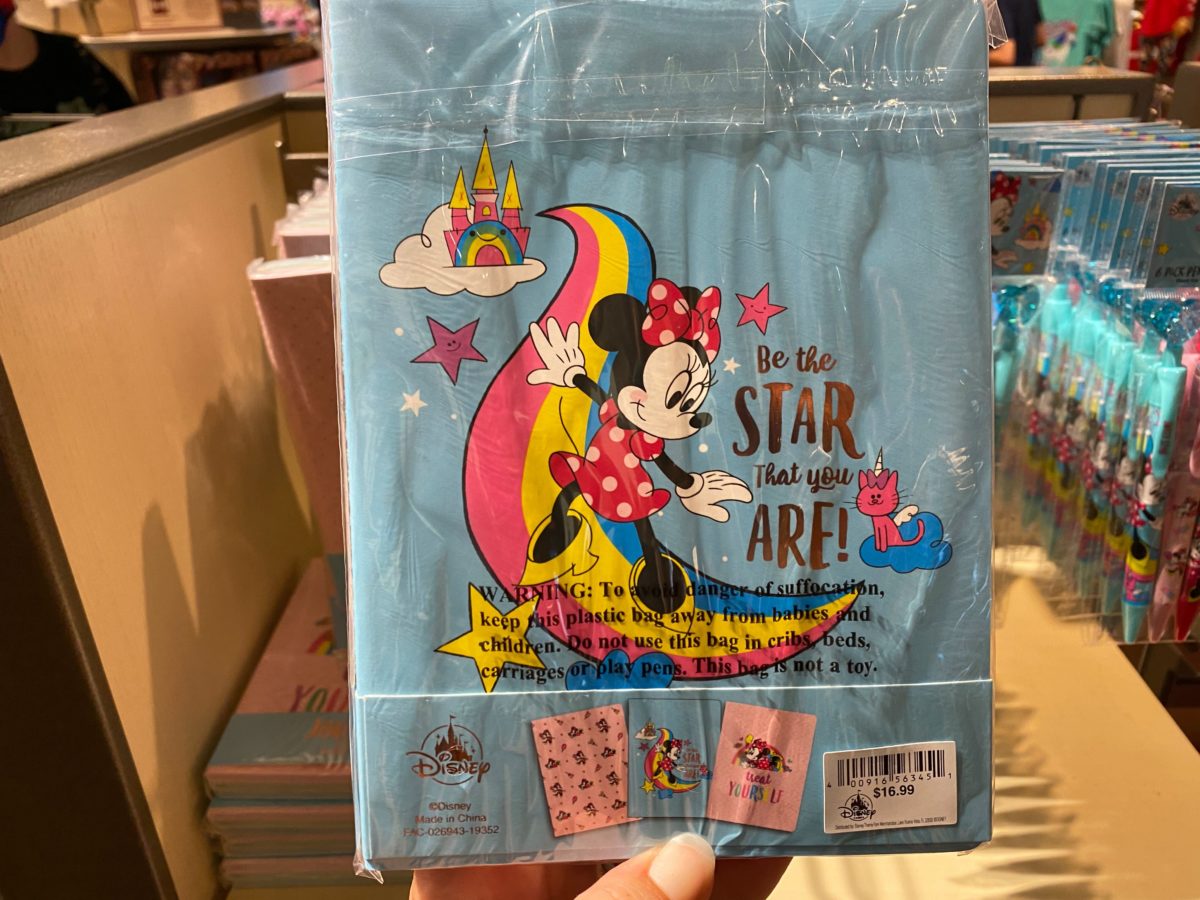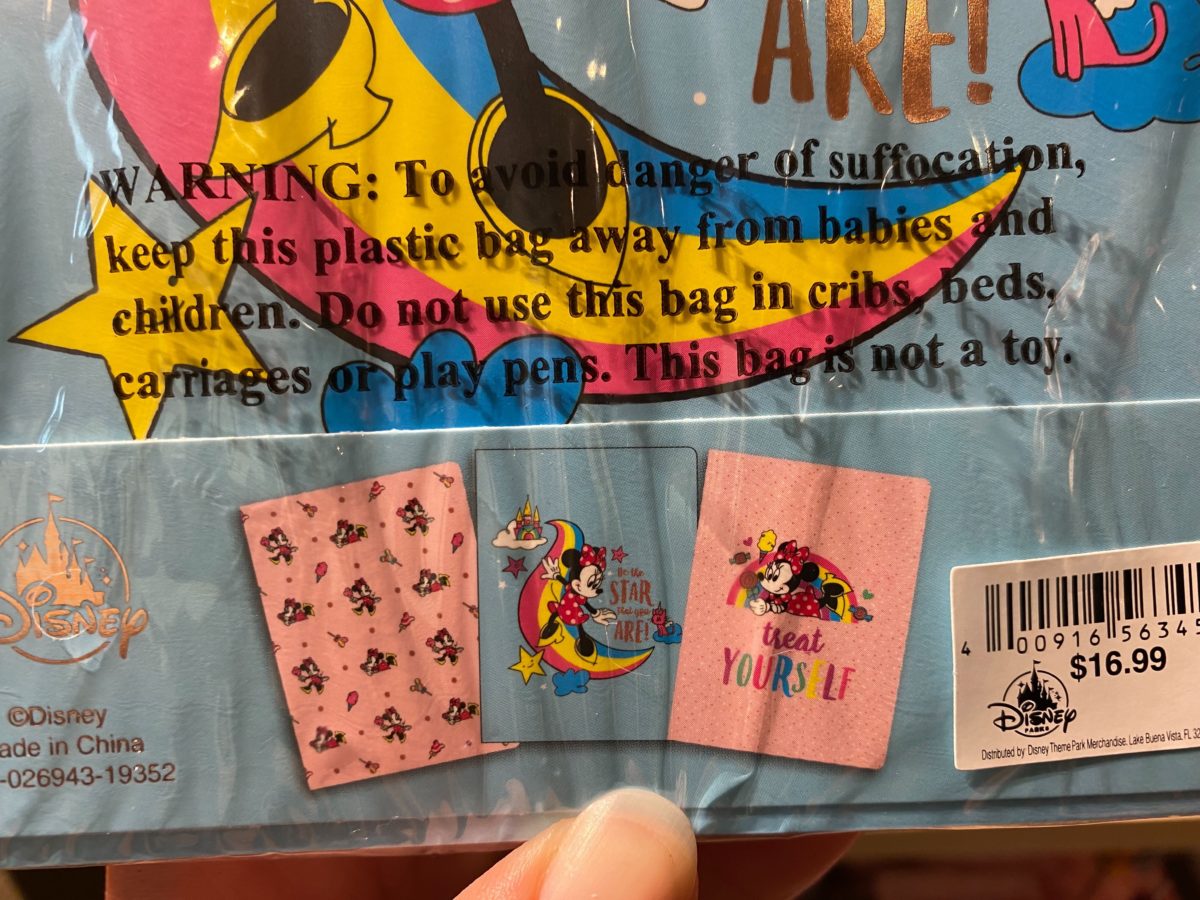 This is a cute three-piece collection of journals, featuring rainbow Minnie Mouse and two all-important slogans: 'treat yourself' and 'be the star you are'. Good advice, Minnie! The set costs $16.99.
Minnie Mouse Pen Set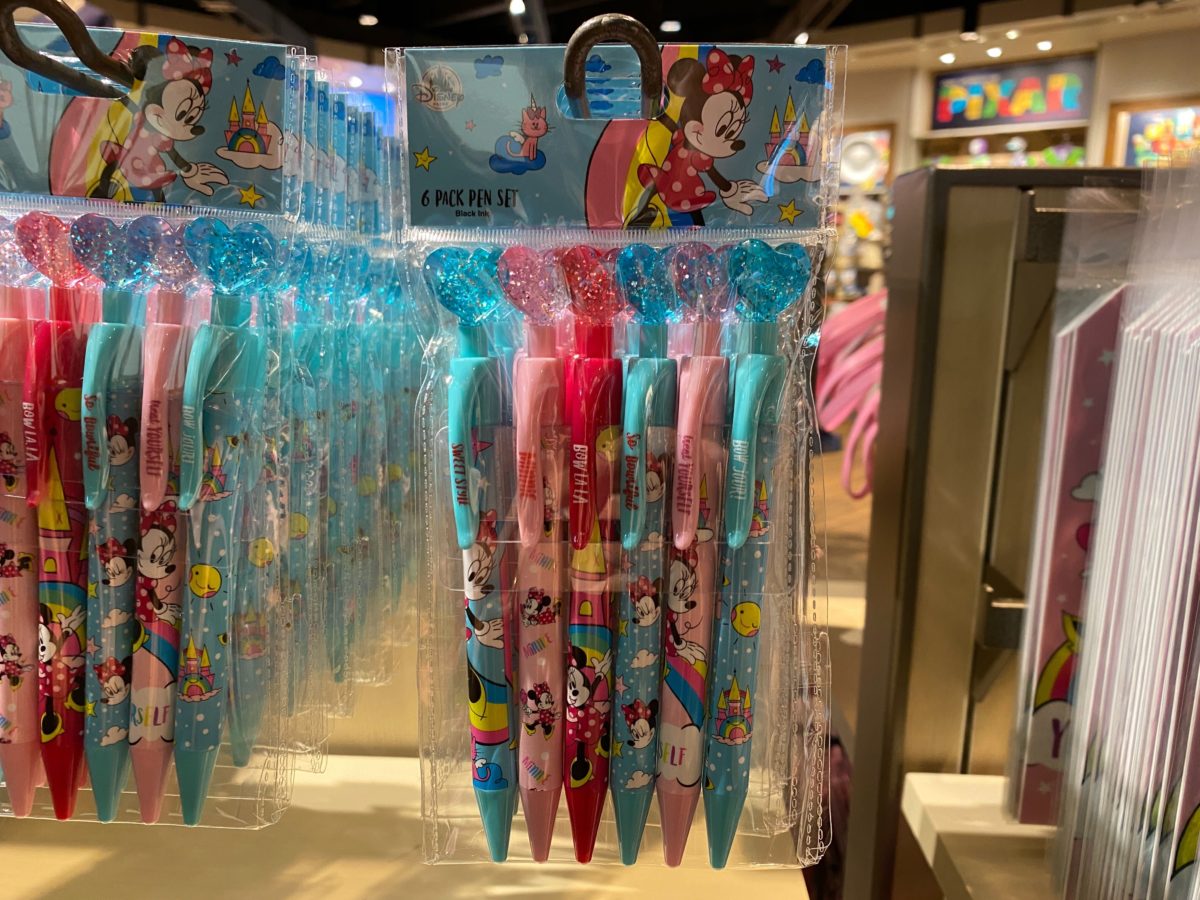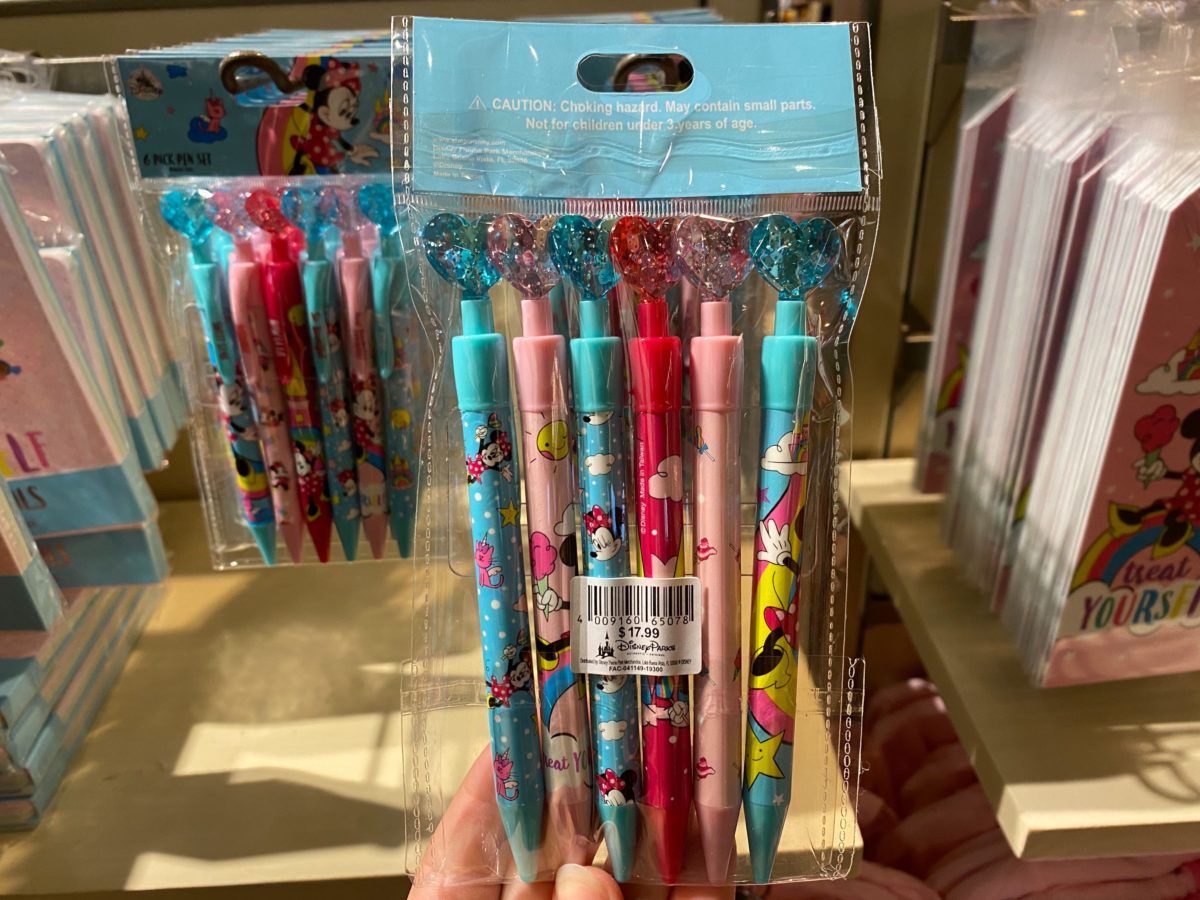 There's no point having journals if you've nothing to write in them with! These super-colorful rainbow pens feature bold, all-over patterns of Minnie, rainbows, starts, and all that good and magical stuff. The pack includes six pens, and costs $17.99.
Minnie Mouse Rainbow Door Hanger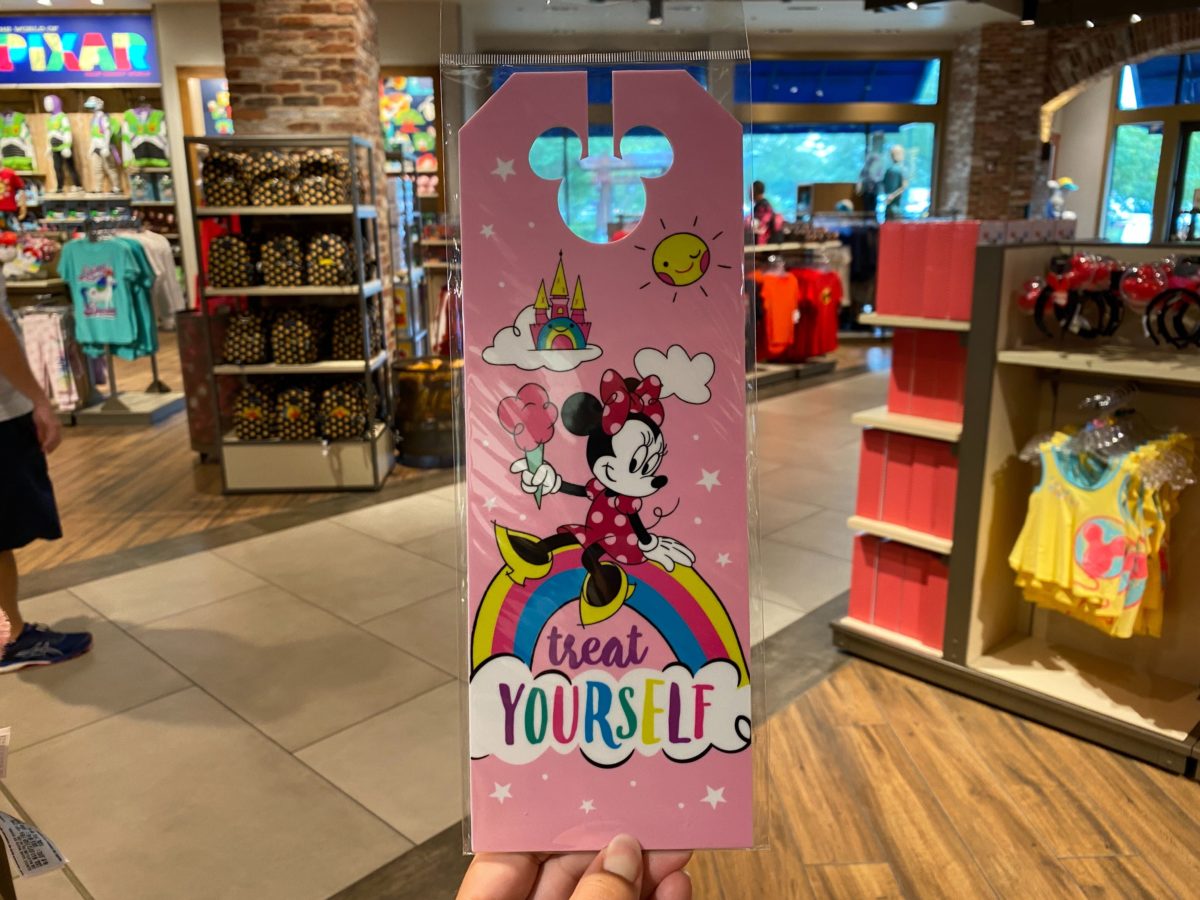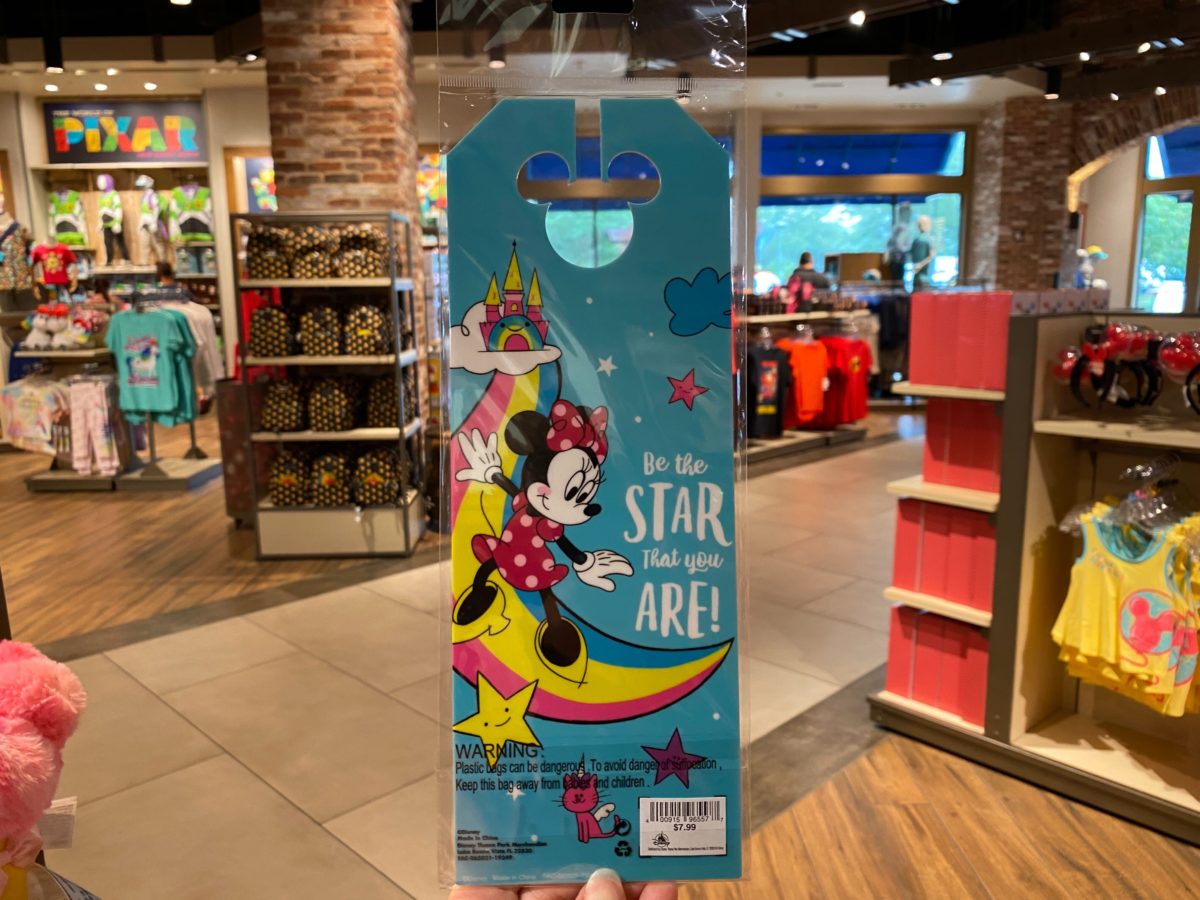 Put a smile on your face every time you come through the door, with this rainbow hanger. On one side it says 'Be the star that you are' in blue, and on the reverse it says 'Treat yourself' in pink. It's magical, Minnie, and we love it! This costs $7.99.
Minnie Mouse Ice-Cream Pom-Pom Keychain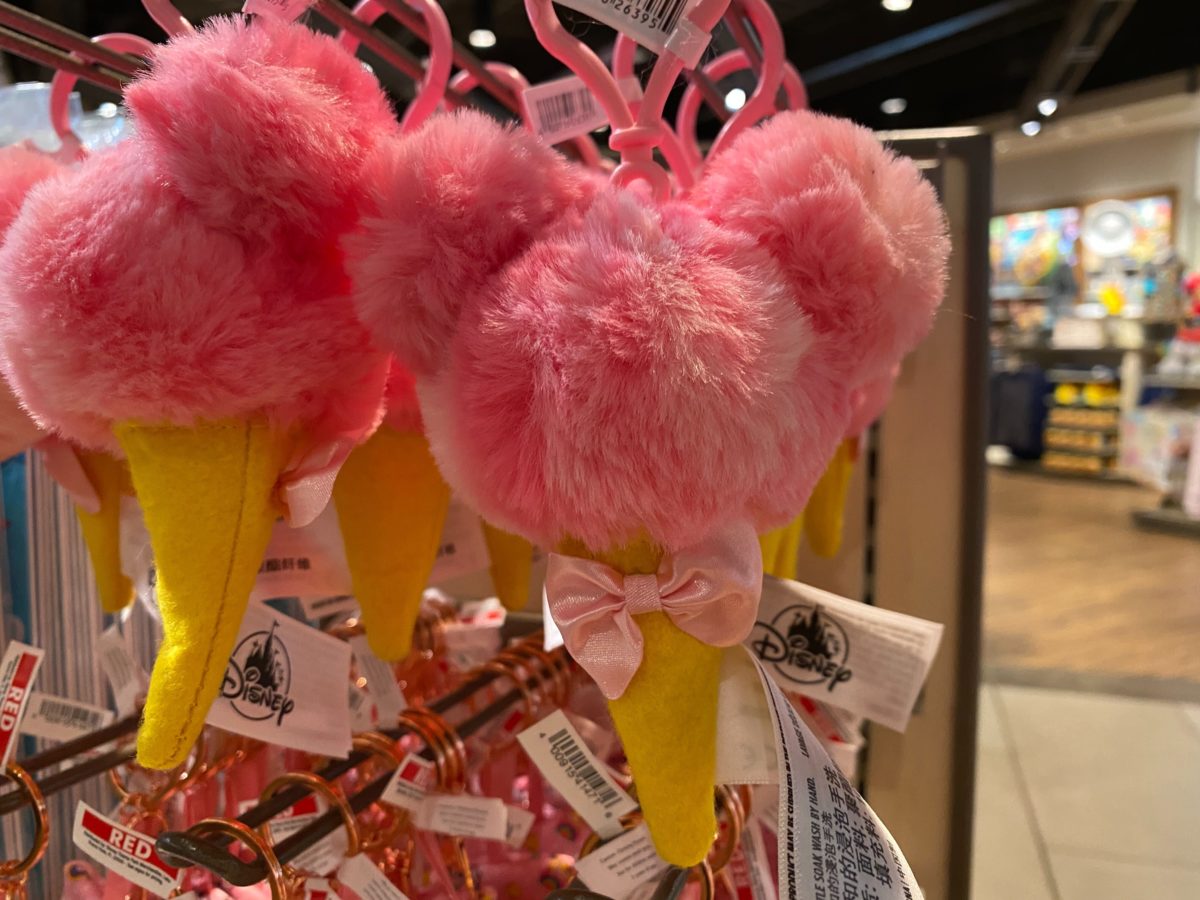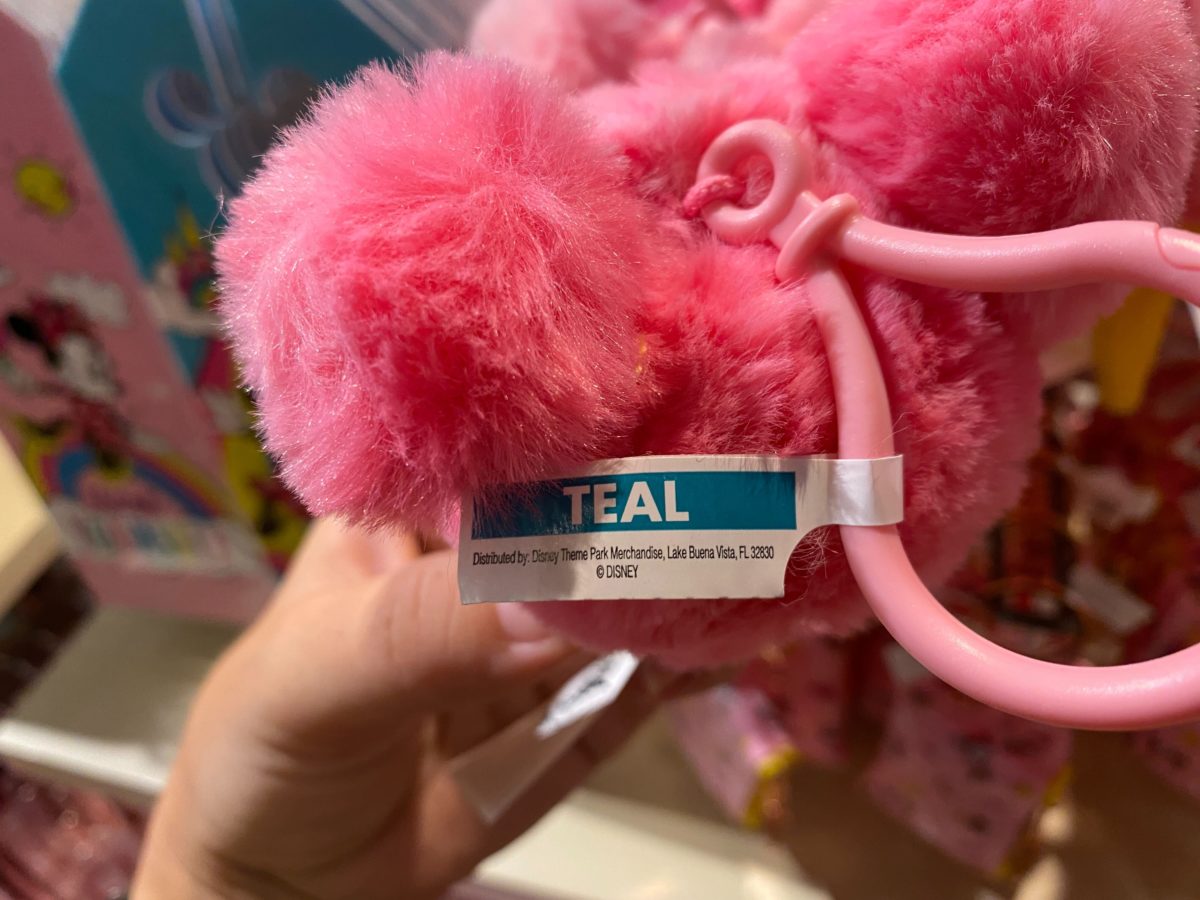 This keychain is everything pink, fluffy and sweet mixed in to one! The "ice cream" is Minnie-shaped, with a pink bow on the fuzzy yellow cone. This keychain has a big, pink, plastic loop hook, and costs $12.99 (Teal).
Minnie Mouse Rainbow Coin Purse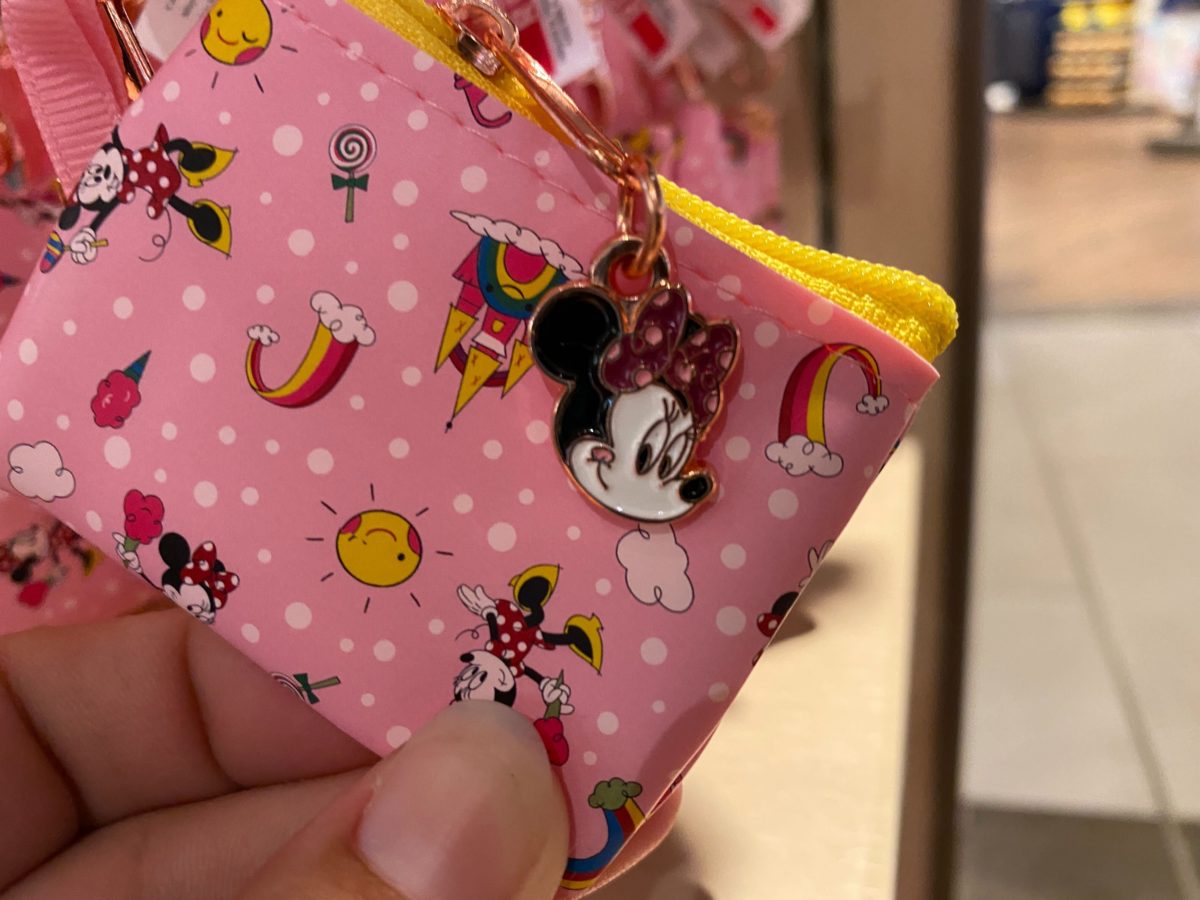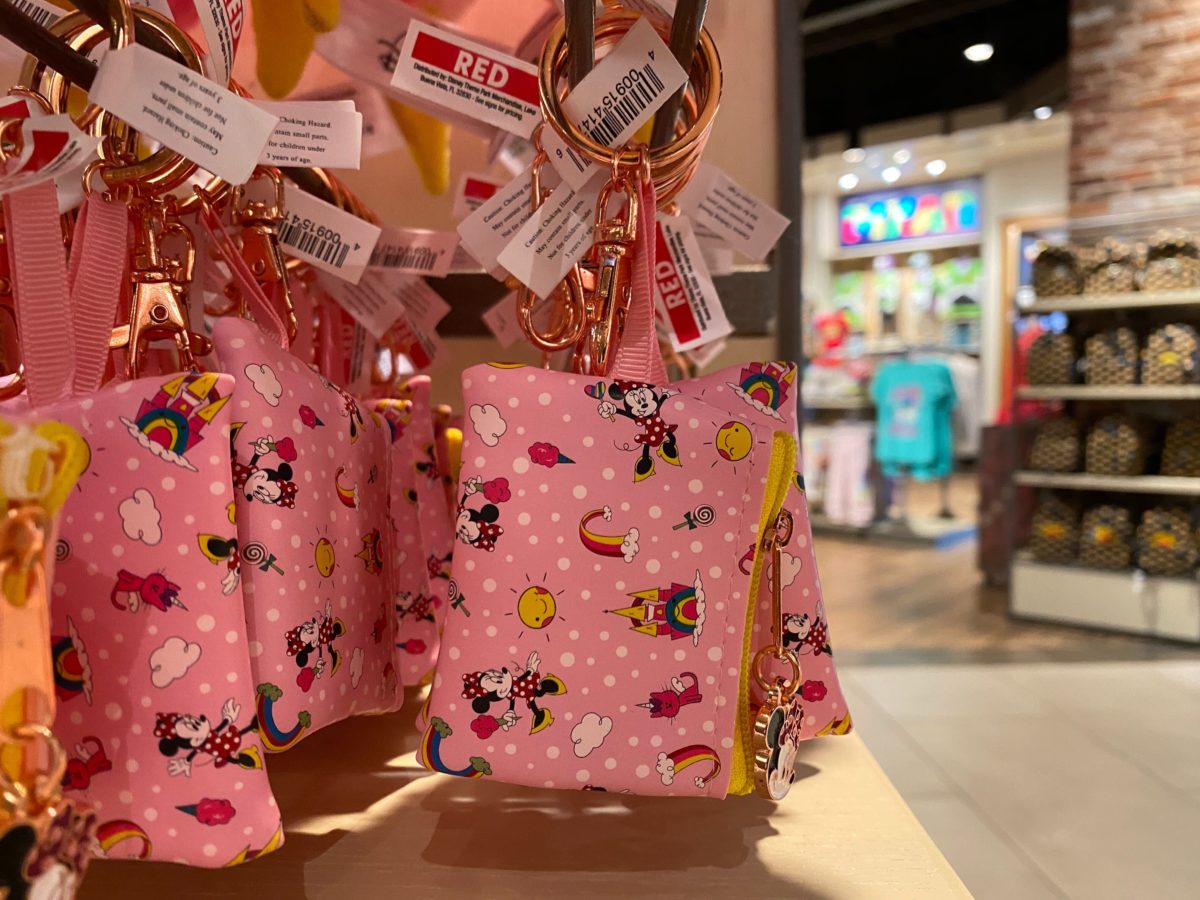 This cute coin purse is pink with white polka-dots, and an all-over magical print of rainbows, castles, Minnie Mouse and more. The zipper is yellow with a shiny Minnie pull charm, and the keychain is rose gold with a clip hook attached too. This costs $9.99 (Red).
Walt Disney World Youth Neon Collection
This next collection is bold, bright, and perfect for the summer! Neon definitely seems like the in-style this season, so kids are sure to love these new pieces.
Walt Disney World Coral Crop T-Shirt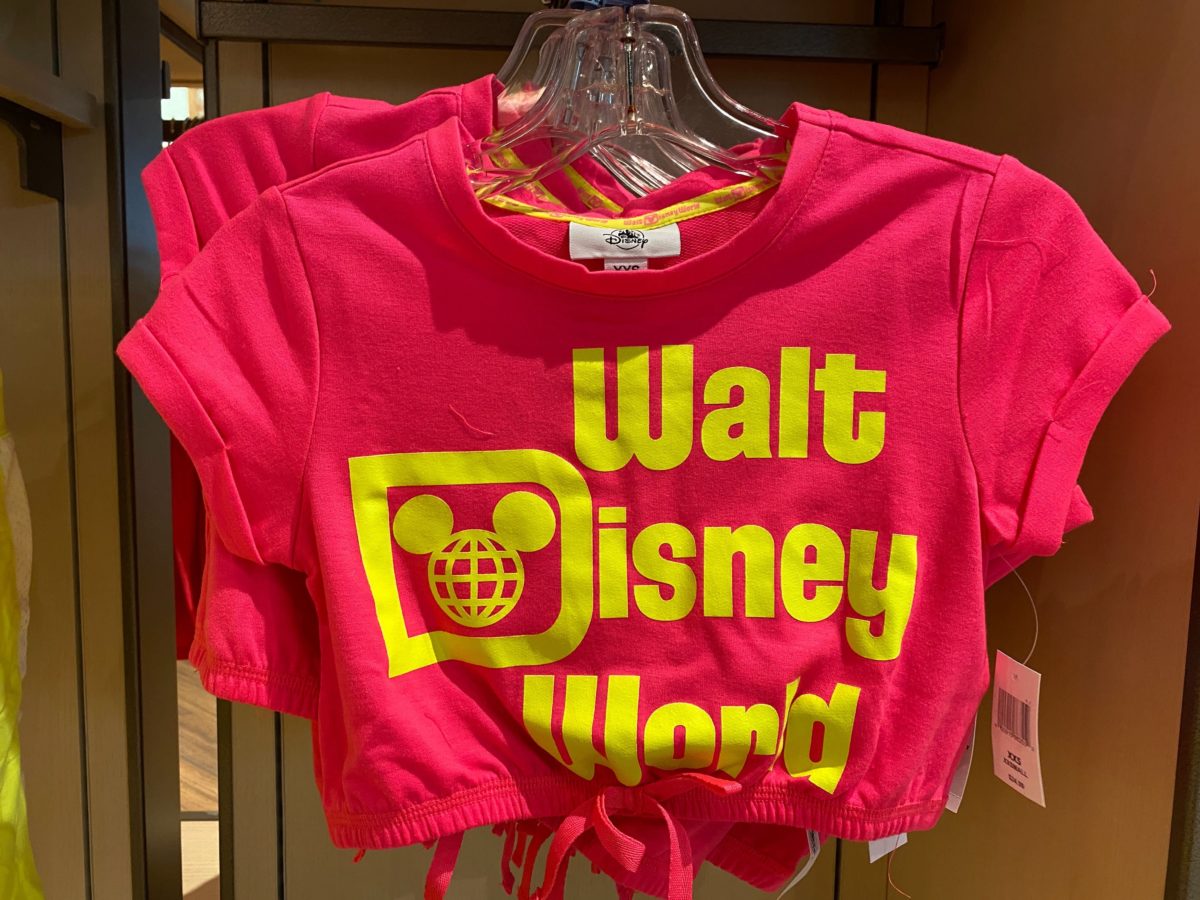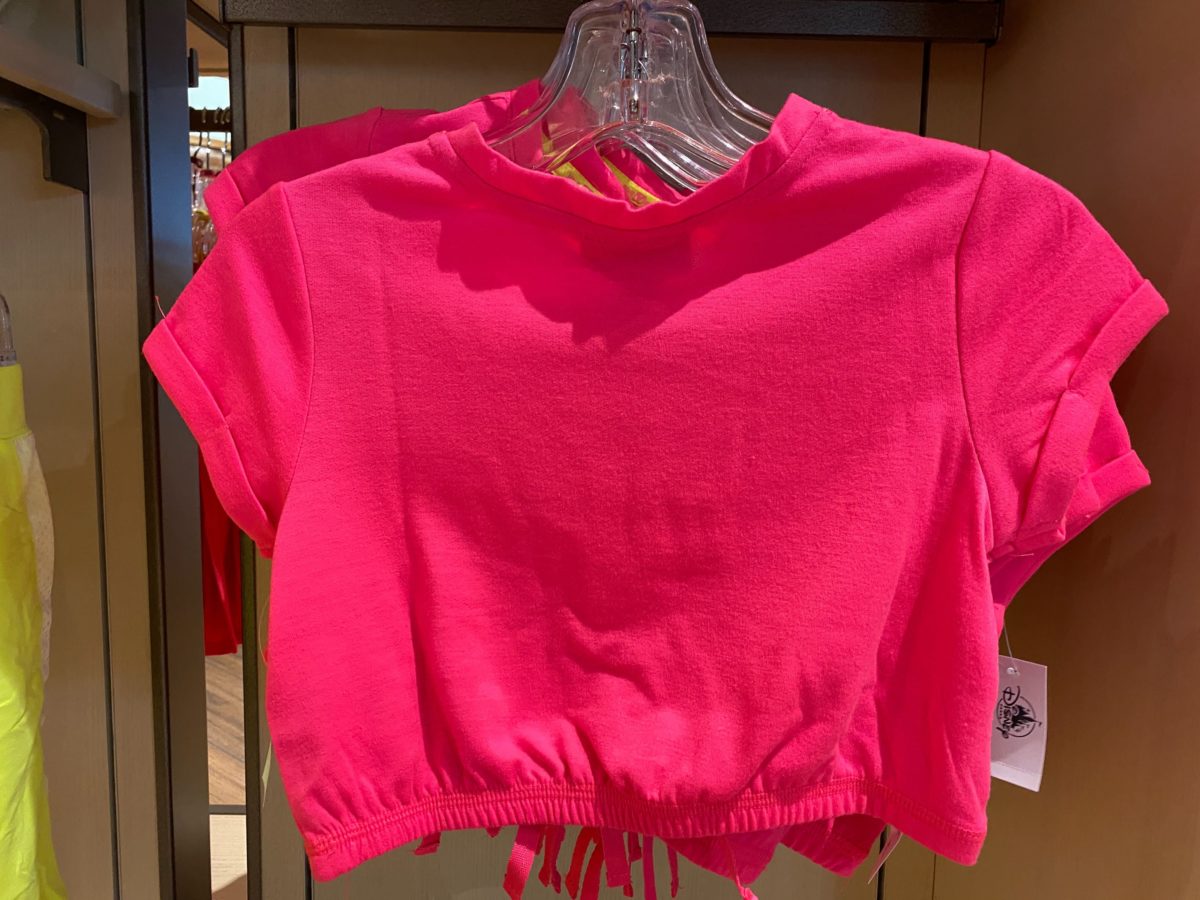 This crop-top is colored with a bold neon clash of coral pink and yellow, with the Walt Disney World logo emblazoned on the front. The top has rolled-up short sleeves and a tied, cropped hem. It costs $24.99.
Disney Life Balloon Vest Top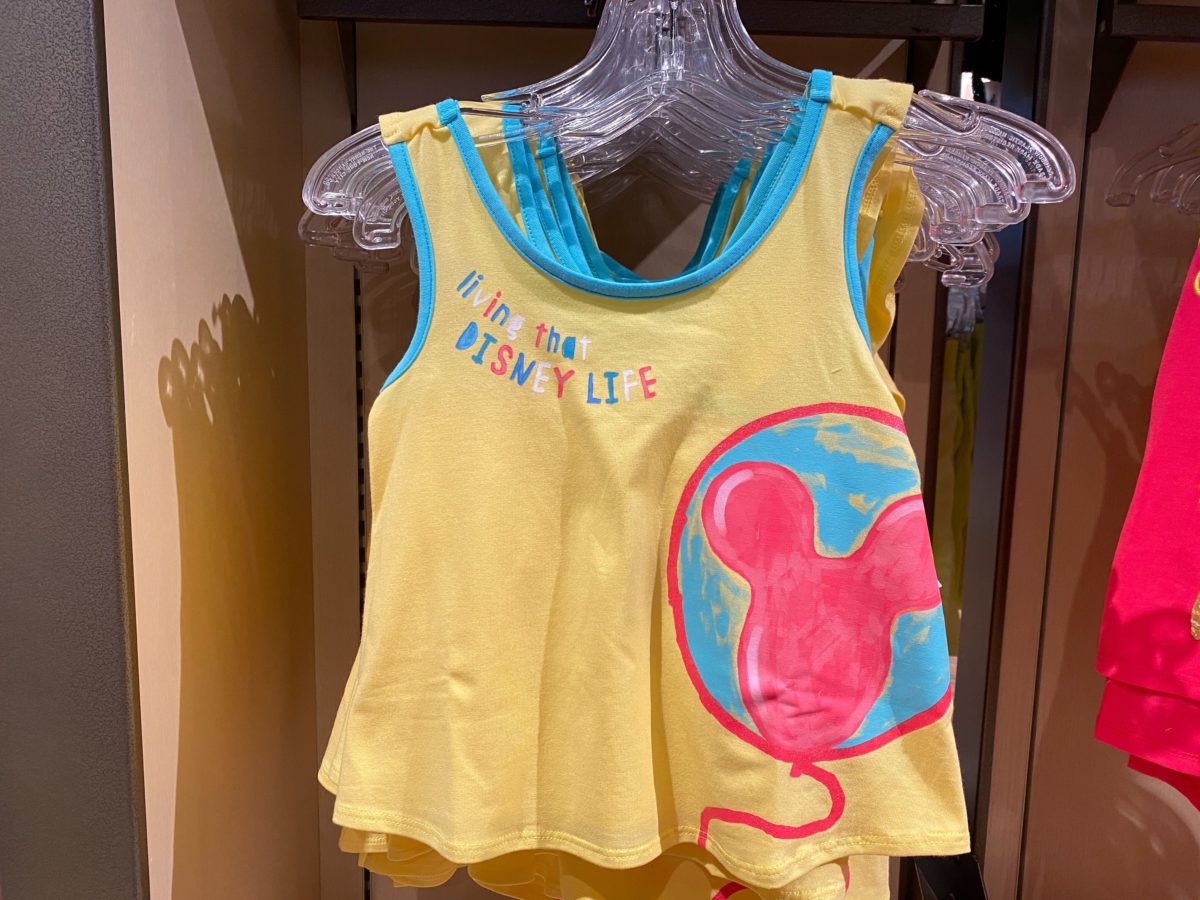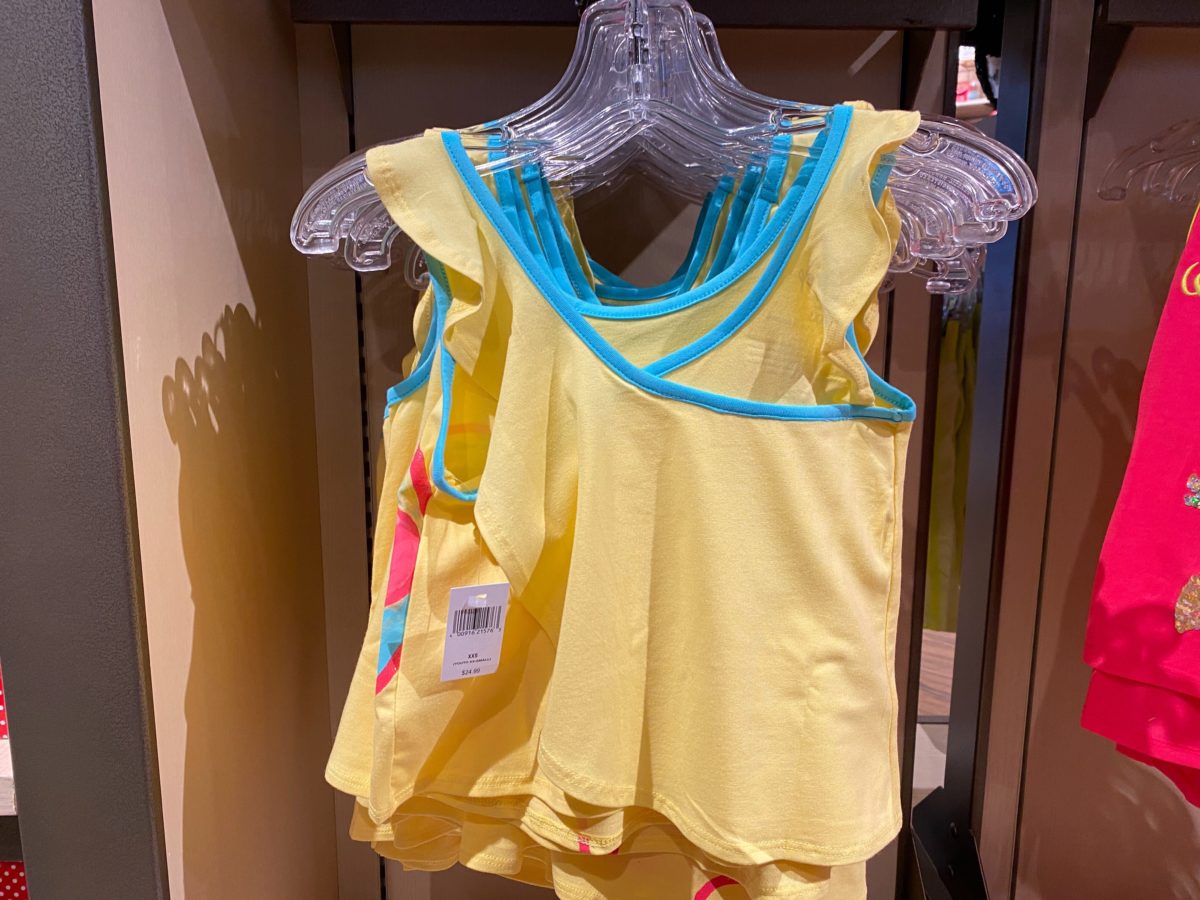 This bright and summery yellow top features a cute, painted graphic of a Mickey Mouse balloon, and a dreamy slogan reading "Living that Disney Life". We particularly love the crossed-back detailing on this top, and the neon blue strap detail. This costs $24.99.
Walt Disney World Logo Neon Cycle Shorts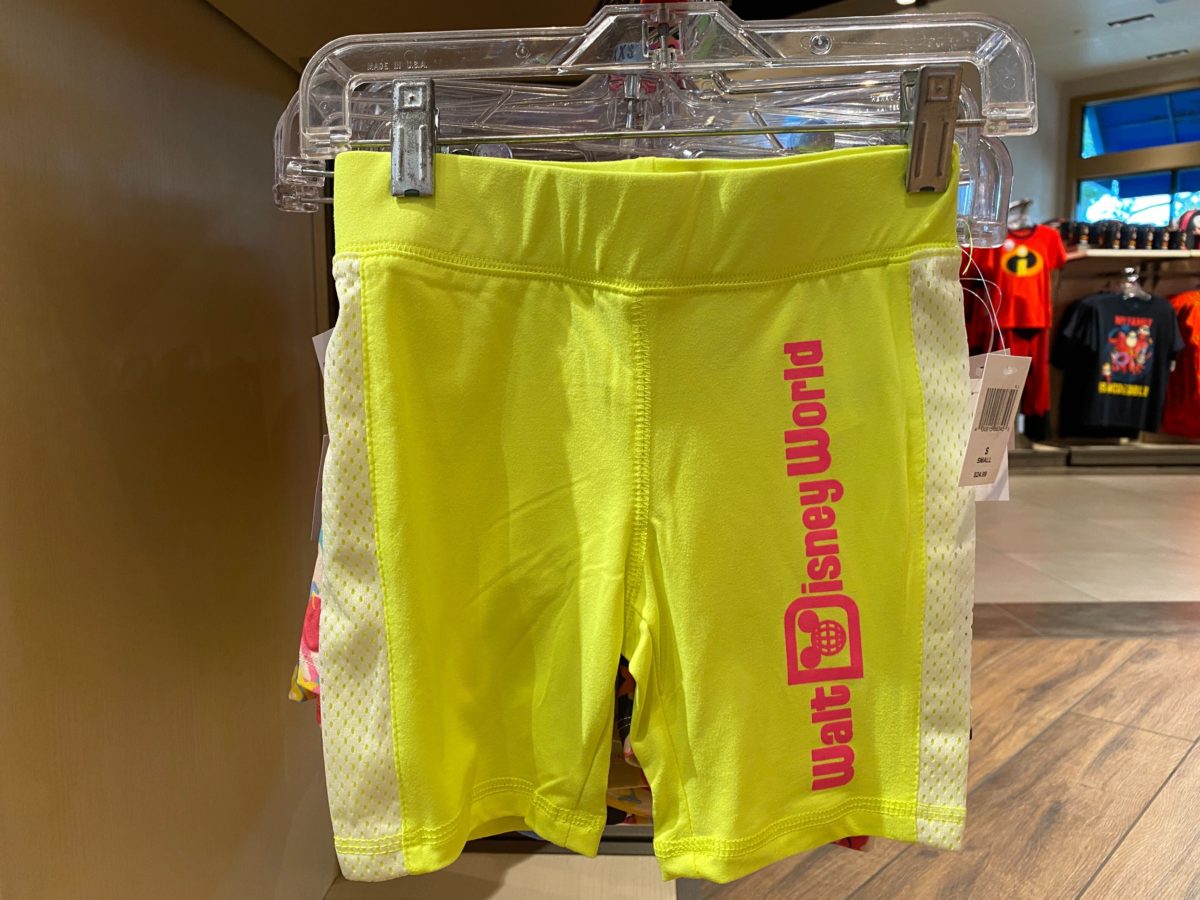 These lime-green neon cycle shorts are super cute, with the Walt Disney World logo printed down the front of the leg in red. These have an athletic style to them, and cost $24.99.
Bold Cycle Shorts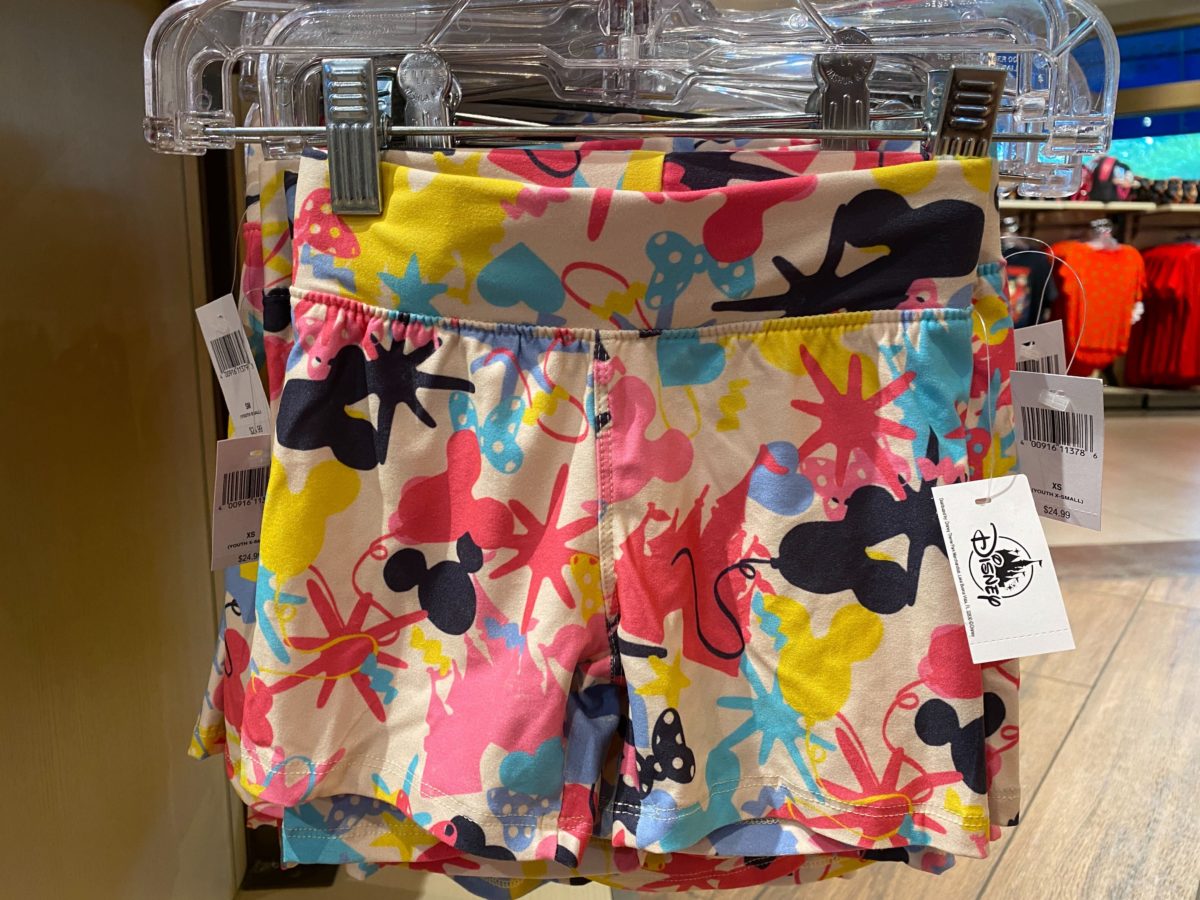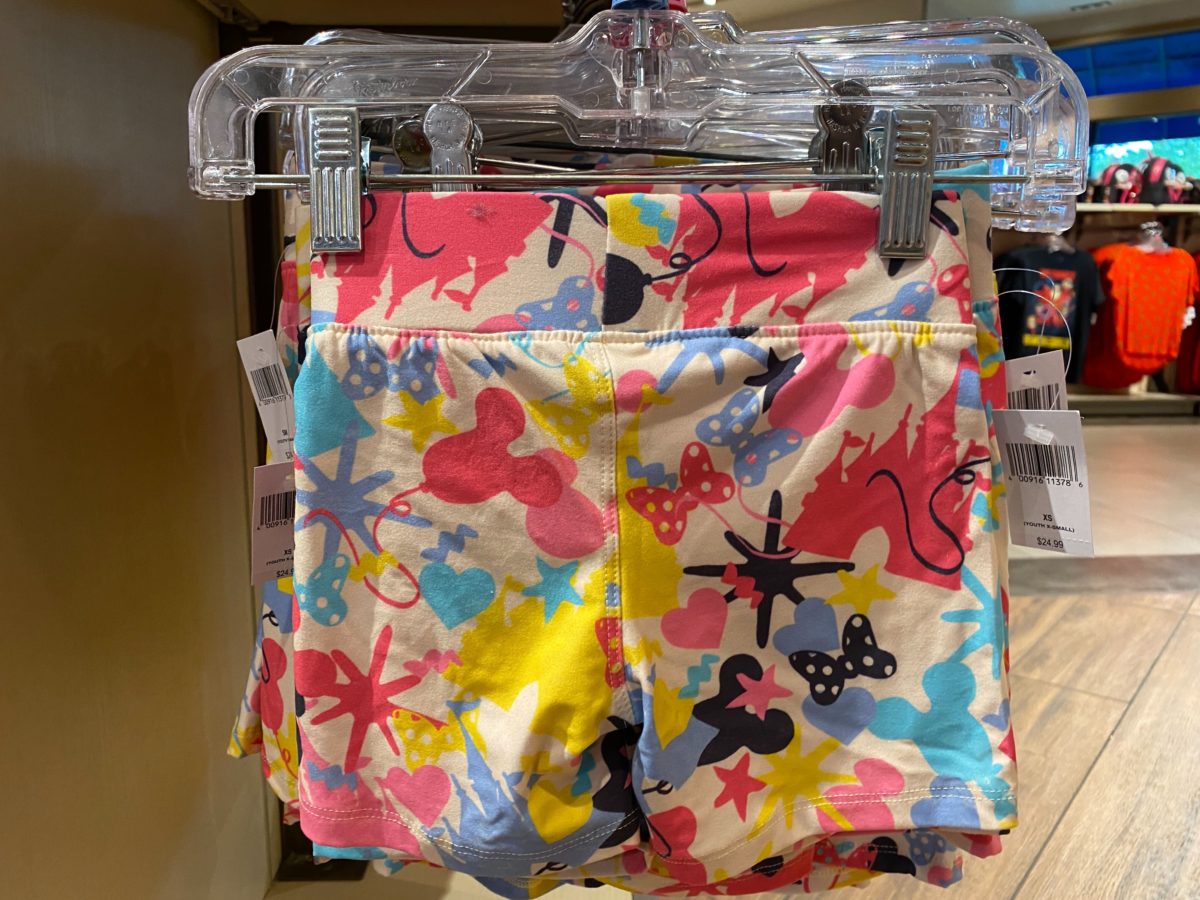 This second pair of cycle shorts is just as bold, but this time with a busy, all-over pattern of park icons. I can see Cinderella Castles, Mickey balloons, Minnie bows and more, all in technicolor. These also cost $24.99.
Walt Disney World Two-Way Sequin Vest Top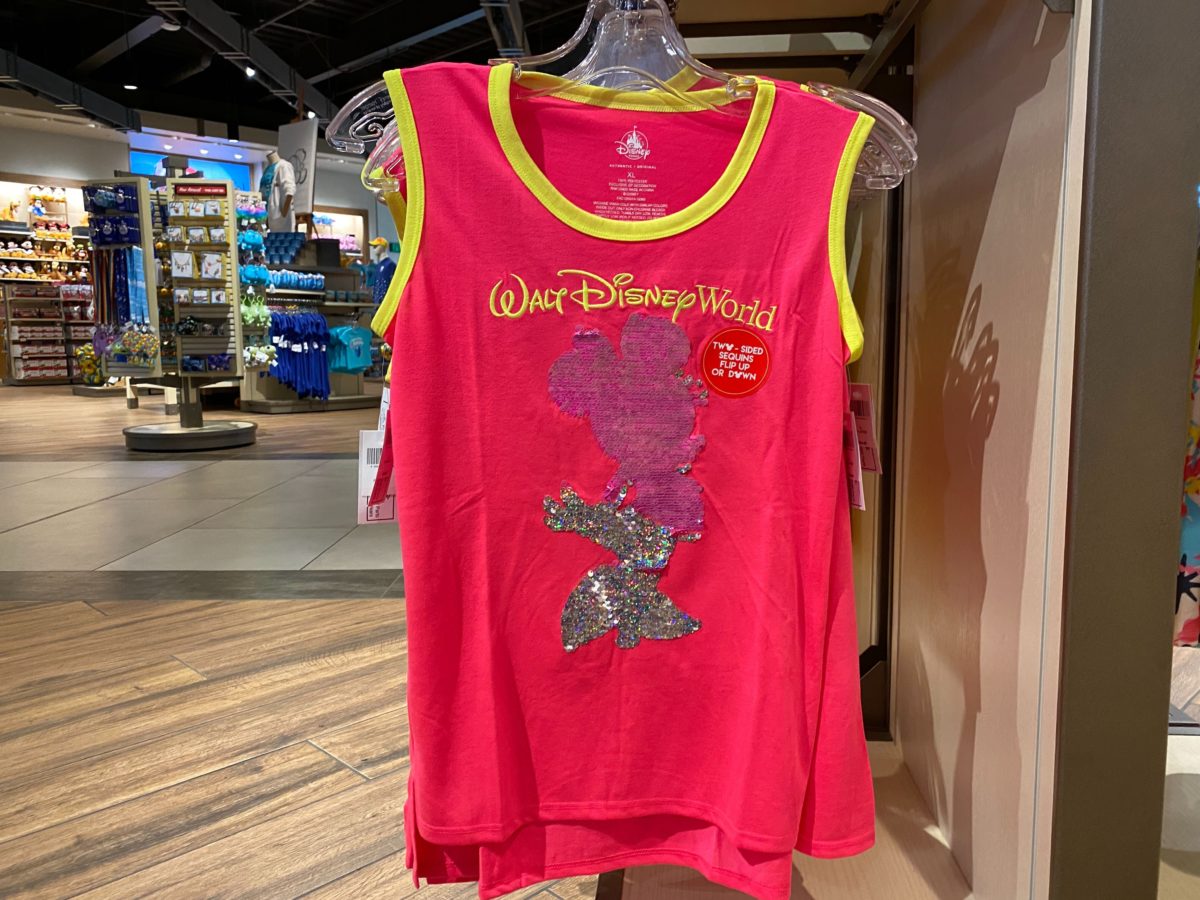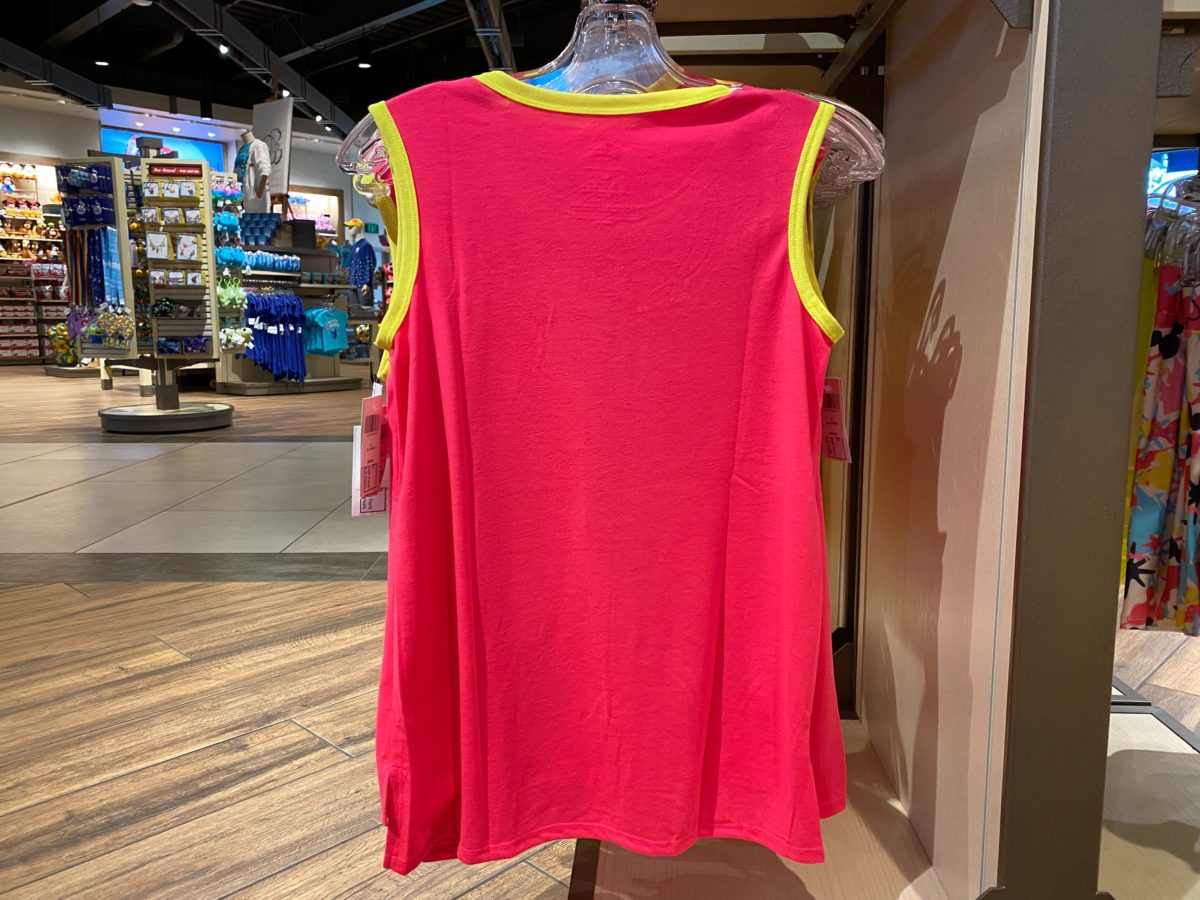 We're loving the neon coral color of this tank top, which has a bright yellow hem around the sleeves and neckline. Most importantly, the top features that amazing reversible sequin fabric, in a Minnie Mouse design on the front of the top. This costs $24.99.
Walt Disney World Youth Park Snacks Collection
What kid doesn't love a yummy Disney park snack? Whether you're a churros or Mickey Premium Bar kind of person, you'll love this delicious new selection of clothing…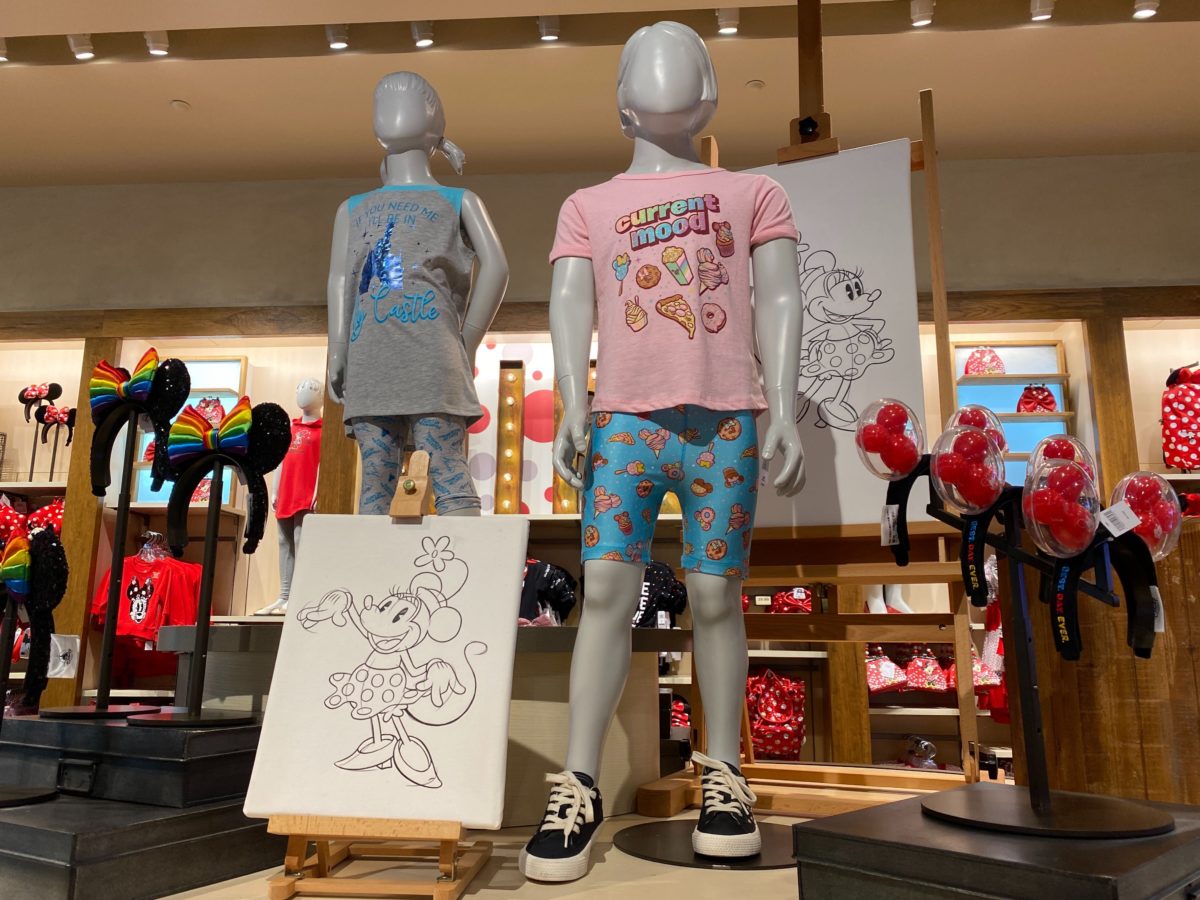 Walt Disney World Donuts & Cupcakes Vest Top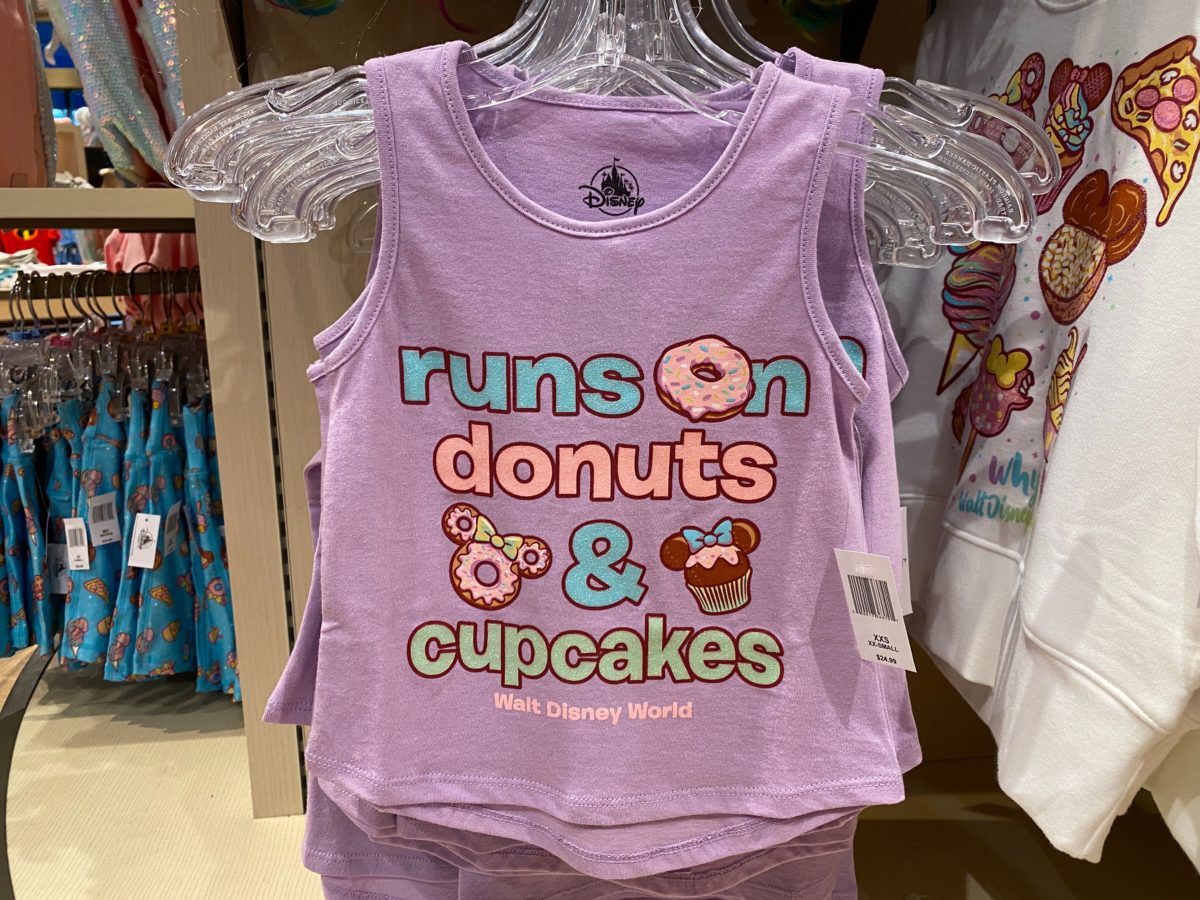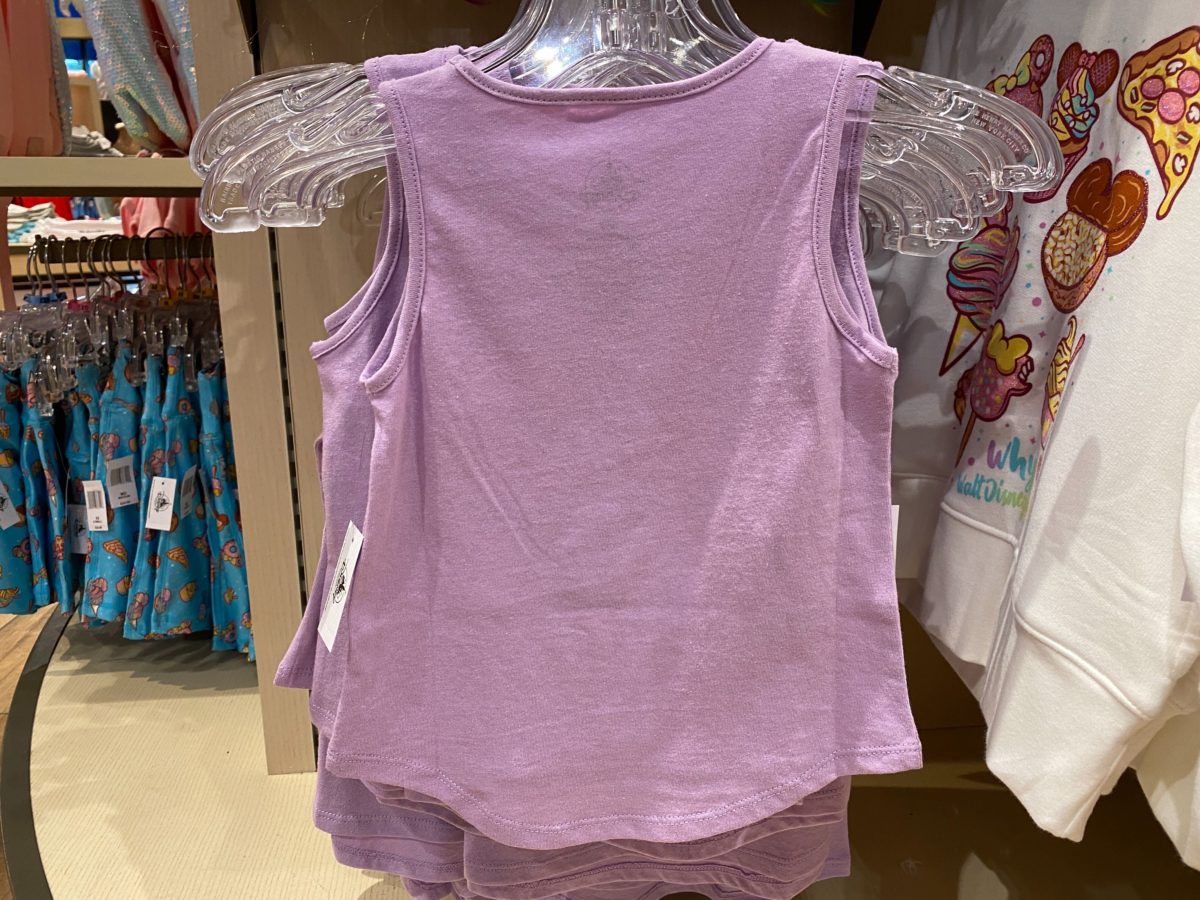 This lilac vest top lets everyone know that its wearer "Runs on Donuts & Cupcakes", all of which must be Mickey-shaped, of course! This top costs $24.99, and has the Walt Disney World logo at the bottom.
Why I Love Walt Disney World Snack Hoodie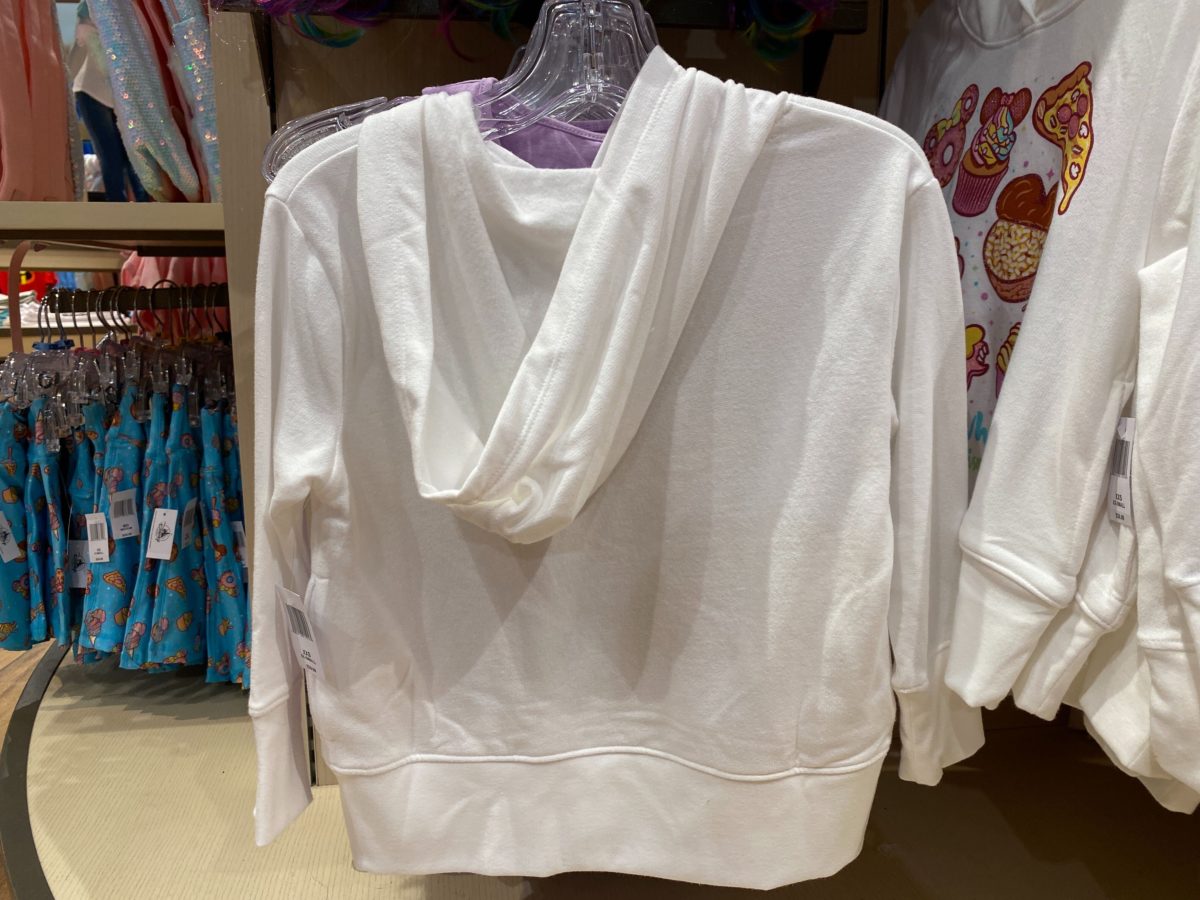 This cosy white pullover hoodie features the perfect list of "Why I love Walt Disney World"… the snacks! With graphics of a Dole Whip, cupcakes, pizza and more, this sweater is bound to make anyone peckish. This retails for $39.99.
Disney Park Snacks Cycling Shorts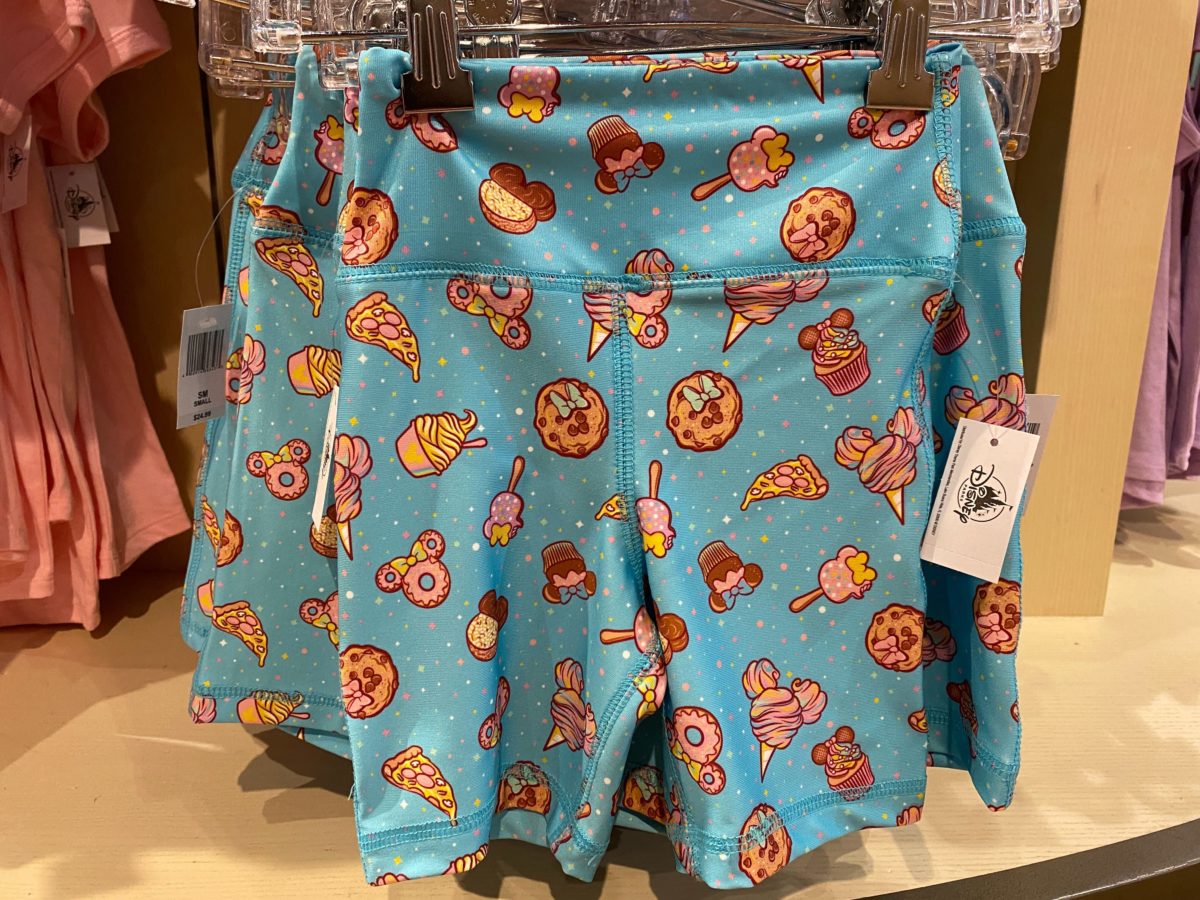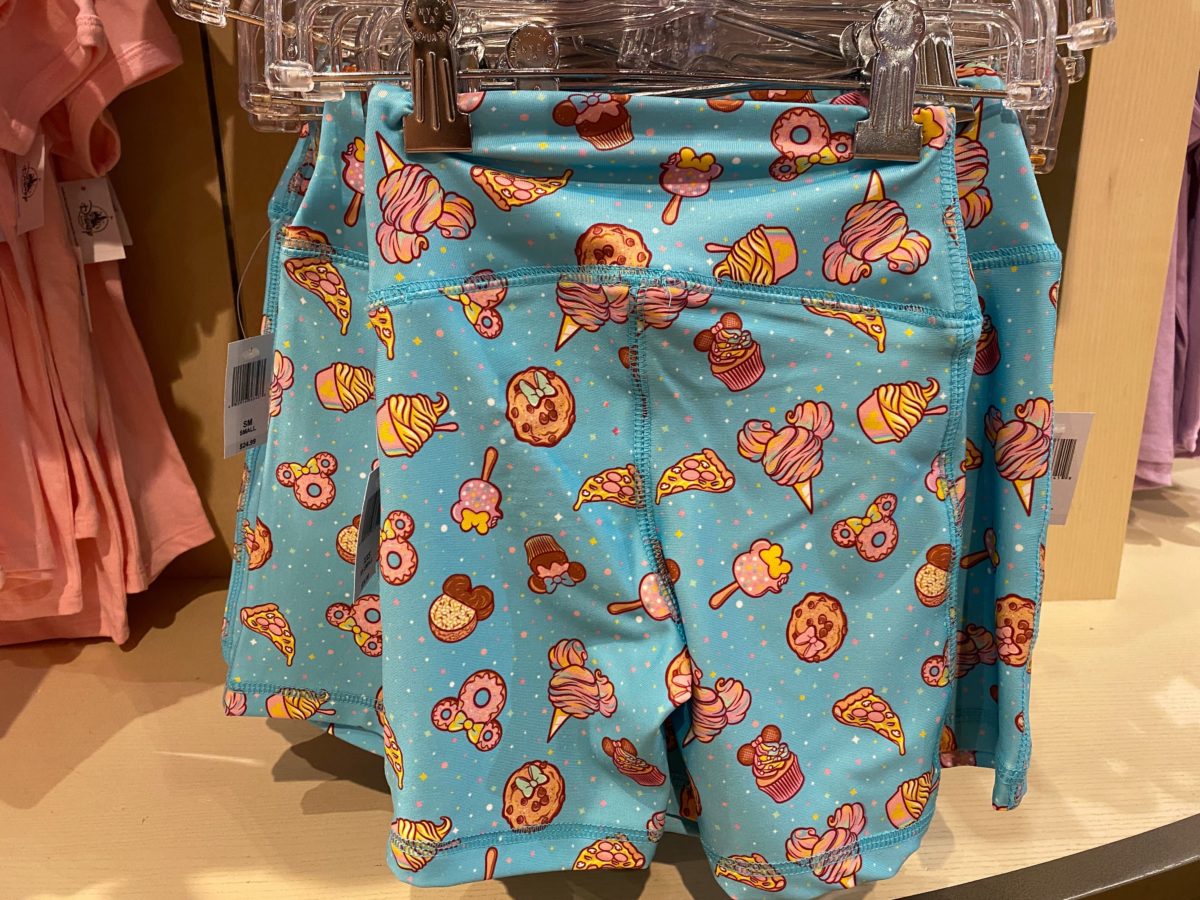 These bright blue shorts feature and all-over print of those beloved Disney park snacks. We've got cookies, ice creams, donuts, cupcakes and more. These cost $24.99.
Disney Snacks "Current Mood" T-Shirt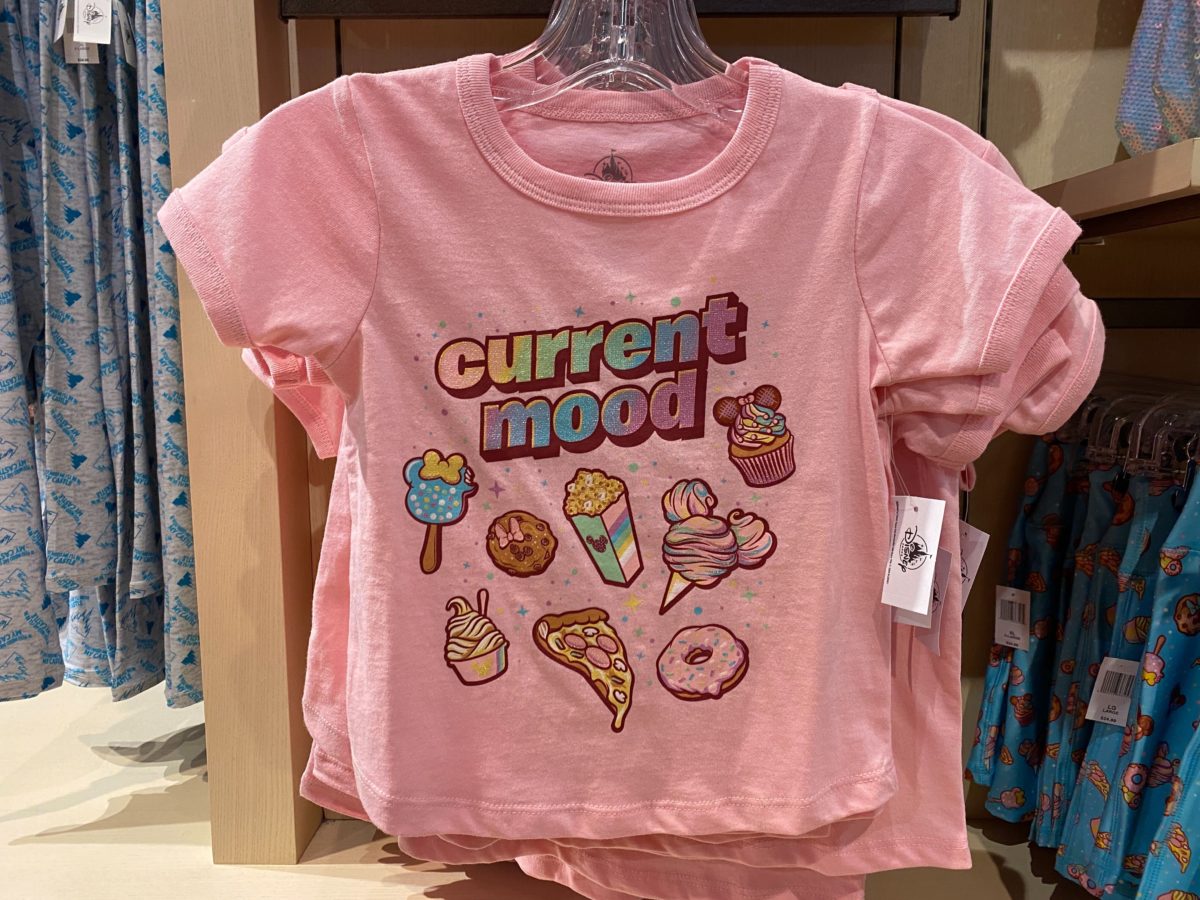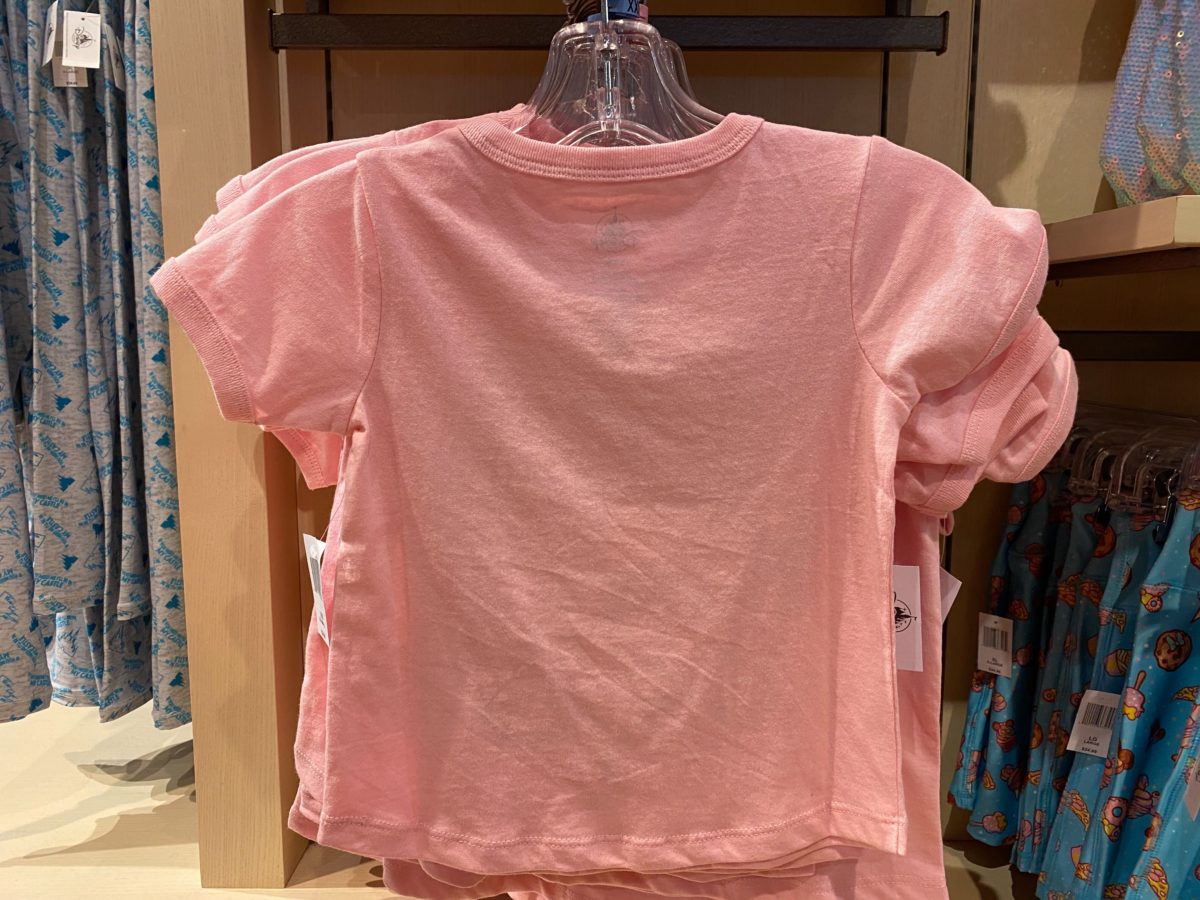 This pink t-shirt hits the nail on the head with its slogan, letting everyone know that your "Current Mood" is yummy Disney park treats. This baby-pink tee costs $24.99.
And that's it! Which are your favorite items in the collection? We found all of these items in World of Disney in Disney Springs. Will you be treating your kiddos to some cool new Disney Swag for the summer? Let us know!