After nearly seven months of closure, Disneyland Paris announced today that they will reopen on June 17th, 2021, the first time all six Disney resorts will be open since January 2020.
After being teased last week, this brings a close to what will become 230 days of closure, and the final Disney park to reopen from COVID-19. The reopening of Disneyland Paris will be the first time all six Disney Resorts have been open since January 24th, 2020 when Shanghai Disneyland first closed due to COVID-19.
Disneyland Paris released a video today to commemorate the resort's reopening after nearly eight months. Additionally, Disneyland Paris President Natacha Rafalski gave the following statement:
"We have all been dreaming of this moment, the moment we can reunite and enjoy unforgettable moments with our family and friends. When Disneyland Paris reopens, our Guests will be able to enjoy the outstanding experiences we are known for, from iconic attractions and new heart-warming Character moments to unique interactions with our Cast Members and even a few surprises along the way."
Disneyland Paris will reopen along with Walt Disney Studios Park, Disney's Newport Bay Club, and Disney Village. Disney's Hotel Cheyenne will reopen on July 1st, while Disney's Davy Crockett Ranch will reopen on July 13th. No further reopening dates were announced for Disney's Hotel Santa Fe or Disney's Sequoia Lodge. The Disneyland Hotel remains closed for refurbishment.
There will be plenty of Selfie Spots and surprise appearances in the parks with Characters from Disney, Pixar, Marvel and Star Wars. Favorite Characters will appear in new ways and sometimes unexpected places, encouraging Guests to keep their eyes and ears open for one magical surprise after another. A new galactic experience with Star Wars Legends will be added, along with the return of The Cheshire Cat Express Train featuring friends from Alice in Wonderland, Mickey, Minnie & the Gang, Heroic Experiences with Marvel Super Heroes and Kingdom of Arendelle Enchanted Moments.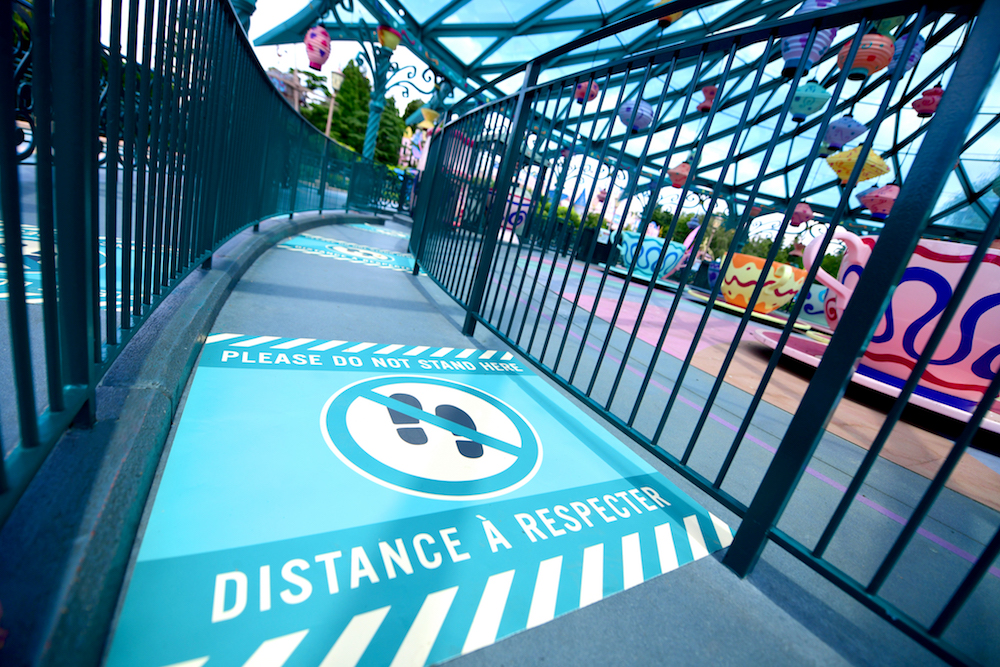 Disneyland Paris will welcome Guests back to the magic with a limited number of tickets available each day using an online reservation system. To ensure admission, Guests – including Annual Pass holders – must register on the system and obtain a reservation for park entry prior to their arrival. Guests who already have a dated ticket do not need to register and reserve a date. Likewise, Guests with packages that include park admittance will receive admission for the duration of their stay and do not need to use the system. Dated tickets also offer flexibility as they can be cancelled up to 3 days prior to visit date.
To provide Guests with peace of mind, current booking conditions allow flexibility on packages and include cancellations and modifications without fees for stays in Disney Hotels anytime up until 7 days before the arrival date (excluding insurance and/or travel fees) as well as the possibility to pay in several installment without fee.
As the health and well-being of Guests and Cast Members remains a top priority, Disneyland Paris' reopening will take a deliberate approach with enhanced health and safety measures that were successfully implemented last year. Our measures continue to reflect current government guidelines, demonstrating our ability to improve the Guest experience while providing a safe environment for all. As authorities recommend the wearing of an appropriate face covering in public spaces, Disneyland Paris asks all guests ages 6 and older to do so. This reopening will also implement limited attendance, required advanced ticketing and reservations to support physical distancing, per government guidance. As a result, some experiences, shows or events will not be available or may be modified, depending on evolving guidance from authorities. Visit the Disneyland Paris official website for more information about booking conditions and available experiences.
Are you looking forward to returning to Disneyland Paris? Be sure to let us know in the comments below! And stay tuned to WDWNT as we update this story with further details.