This post may contain affiliate links; please read the disclosure for more information.
Cinderella's Royal Table in Fantasyland, Magic Kingdom, Walt Disney World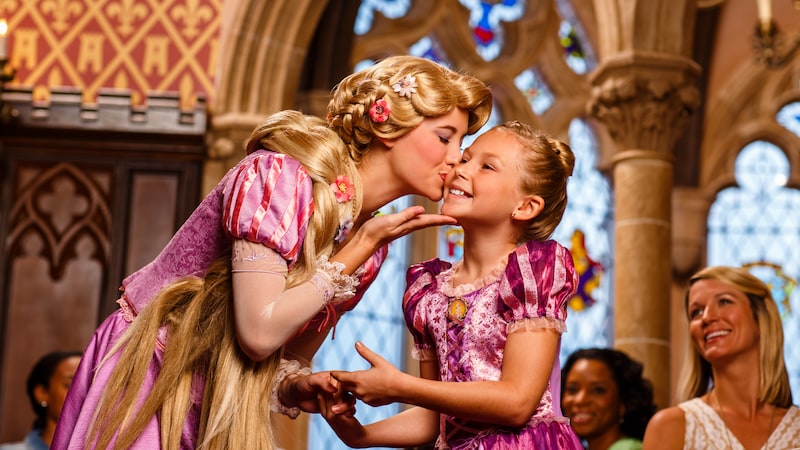 Details, tips, and information for Cinderella's Royal Table
Today's Hours
8:00AM - 10:15PM
Dine with Disney Princesses inside Cinderella Castle during this one-of-a-kind Fairytale Dining experience.

Cuisine:
American

Details:
Disney Dining Plan Accepted
WDWNT Reviews
Coming soon!
Menus for Cinderella's Royal Table
Breakfast
Experience: Character Dining
Price level: $$$ ($35 to $59.99 per adult)
Pastry Plate
Assorted Breakfast Pastries –
Entrées Royale (choose one)
Traditional Breakfast –
Scrambled Eggs, Sausage, Bacon, and Potatoes
Caramel Apple-stuffed French Toast –
Decadent French Toast stuffed with sweet Cream Cheese, baked with Caramel Apples, and drizzled with a Calvados Caramel Sauce
Healthy Choice –
Hearty Oatmeal with Dried Fruit and Seeds, Mulitigrain Croissant with Avocado, and a Poached Egg, with Arugula and Tomatoes
Beef Tenderloin and Egg –
Potatoes and Cheese Frittata with Broccolini, Boursin Cheese Sauce, and Chive Oil
Shrimp and Grits –
Pepper Jack Cheese Grits with a Cornbread Crouton and Andouille-Beurre Blanc
Baked Quiche –
Goat Cheese, Spinach, and Mushroom Quiche with a dollop of Goat Cheese Cream served with Arugula and Roasted Bell Peppers
Kids' Disney Check Meal
Cheese Frittata –
with Yogurt Parfait and served with choice of Small Lowfat Milk or Small Dasani Water. Meets Disney Nutrition Guidelines for Complete Meals without substitutions
Kids' Meals
Royal Children's Breakfast –
Waffle, Turkey Sausage, and Fruit served with choice of Small Lowfat Milk, Small Dasani Water, or Small Minute Maid Apple Juice
Traditional Children's Breakfast –
Scrambled Egg, Bacon, and Home Fries served with choice of Small Lowfat Milk, Small Dasani Water, or Small Minute Maid Apple Juice
Cereal –
Assorted Cold Cereals served with Milk and choice of Small Lowfat Milk, Pure, chilled Water with or without Bubbles, or Small Minute Maid Apple Juice
Specialty Wine Cocktails
Mimosa with Paul Cheneau Lady of Spain Cava and Orange Juice – $11.00
Bellini with Canella Prosecco and Peach Juice – $10.00
Beso del Sol Sangria – $10.00
Allergy-friendly Offerings
Allergy-Friendly menus available upon request –
Lunch
Experience: Character Dining
Price level: $$$$ (over $60 per adult)
Appetizer of the Court (choose one)
Soup of the Day –
Charcuterie Plate –
A selection of Cured Meats, Cheeses, and other specialty selections of the Castle
Castle Salad –
Citrus-marinated Buffalo Mozzarella, Heirloom Tomatoes, Mixed Greens, Parmesan Crisps, and Balsamic Reduction
Entrées Royale (Choose one)
Braised Pork Shank –
Roasted Rainbow Carrots, Buttered Mashed Potatoes, and Citrus Gremolata
Beef and Shrimp –
Beef Tenderloin, Buttered Shrimp, Fingerling Potatoes with Nueske's Bacon and Blue Cheese, Summer Vegetables, and a Shallot-Herb Compound Butter
Vegetable Couscous –
Portobello Mushroom, Seared Tofu, and a Charred Tomato Vinaigrette
Pan-seared All-Natural Chicken –
Seared Chicken Breast over Smashed Fingerling Potatoes with Seasonal Vegetables in Madeira-Mushroom Sauce
Beef Tenderloin Salad –
Beef Tenderloin, Mixed Greens, Roasted Marinated Mushrooms, Blue Cheese Crumbles, and Fried Leeks in an Herb Vinaigrette
Chef's Fish of the Day –
On Cinderella's request, the Royal Chef has prepared a delectable dish to showcase the Kingdom's Freshest Fish
Finales (Choice of one)
Jaq & Gus –
Amaretto Cheesecake with an Almond Crust, Macerated Peaches, and Hibiscus Meringue
The Clock Strikes Twelves –
Dark Chocolate Mousse with a Dark Chocolate Ganache served with a Raspberry Coulis
Lady Teralyn's Citrus Chiffon Cake –
Citrus Chiffon Cake, Mascarpone Cream, Raspberry Purée, and Coconut Brittle
Lemon Sorbet –
Garnished with Blueberries, a No Sugar Added Dessert
Kids' Appetizers
Bite-sized Cheddar Cheese and Grapes –
Garden Salad –
with Fat-free Ranch Dressing
Kids' Disney Check Meals
Kids' Mickey Check Meal – Turkey Pot Pie –
topped with a Cheese Biscuit and Yogurt Parfait served with choice of Small Lowfat Milk or Small Pure, chilled Water with or without Bubbles. Meets Disney Nutrition Guidelines for Complete Meals without substitution
Kids' Mickey Check Meal – Roasted Chicken Leg –
with Seasonal Vegetables and Sliced Apples served with choice of Small Lowfat Milk or Small Pure, chilled Water with or without Bubbles. Meets Disney Nutrition Guidelines for Complete Meals without substitutions
Seared Fish of the Day –
Pan-seared Fish with Cauliflower, Rice, and Seasonal Vegetables served with choice of Small Lowfat Milk, or Small Pure, chilled Water with or without Bubbles. Meets Disney Nutrition Guidelines for Complete Meals without substitutions
Kids' Meals (choose one)
Chicken Nuggets –
served with Mashed Potatoes and Seasonal Vegetables and choice of one (1) Beverage and one (1) Dessert
Beef Tenderloin –
served with Mashed Potatoes and Seasonal Vegetables and choice of one (1) Beverage and one (1) Dessert
Macaroni & Cheese –
Creamy Macaroni and Cheese with Seasonal Vegetables and choice of one (1) Beverage and one (1) Dessert
Kids' Beverages (choose one)
Small Lowfat Milk –
Pure, chilled Water with or without Bubbles –
Small Minute Maid Apple Juice –
Kids' Desserts (choose one)
Build-Your-Own-Cupcake –
Vanilla Cupcake with Cinderella's Blue Icing and decorations to garnish your Royal Dessert
Yogurt Parfait –
Sliced Apples –
No Sugar Added Seasonal Sorbet –
Beverages of the Court
Assorted Fountain Drinks –
Freshly Brewed Joffrey's Coffee –
Twinings of London Hot Tea –
Iced Tea –
Hot Cocoa –
Minute Maid Lemonade –
Minute Maid Apple Juice –
Minute Maid Orange Juice –
1% Milk –
Chocolate Milk –
Champagne & Sparkling Wine
Paul Cheneau 'Lady of Spain' Brut Cava, Spain – Per Glass – $11.00 / Per Bottle – $49.00
Enchantée Champagne Brut, Champagne – Per Glass – $19.00 / Per Bottle – $79.00
Banfi Rosa Regale Sparkling Red, Piedmont – Per Glass – $14.00 / Per Bottle – $59.00
Cuvée Dom Pérignon Brut, Champagne – Per Bottle – $350.00
White Wine
Fess Parker Riesling, Santa Barbara County – Per Glass – $10.00 / Per Bottle – $45.00
King Estate Pinot Gris, Willamette Valley – Per Glass – $13.00 / Per Bottle – $55.00
Infamous Goose Sauvignon Blanc, Marlborough – Per Glass – $10.00 / Per Bottle – $45.00
MacMurray Estate Vineyards Chardonnay, Sonoma Coast – Per Glass – $13.00 / Per Bottle – $55.00
Silverado Vineyards Chardonnay, Carneros – Per Bottle – $65.00
Kurt Russell's Gogi Wines Goldie Chardonnay, Sta. Rita Hills – Per Bottle – $89.00
Red Wine
MacMurray Estate Vineyards Pinot Noir, Russian River Valley – Per Glass – $15.00 / Per Bottle – $56.00
Meiomi Pinot Noir, California – Per Glass – $13.00 / Per Bottle – $55.00
Francis Coppola Diamond Collection Merlot, California – Per Glass – $13.00 / Per Bottle – $55.00
J. Lohr 7 Oaks Cabernet Sauvignon, Paso Robles – Per Glass – $10.00 / Per Bottle – $45.00
Beringer Cabernet Sauvignon, Knights Valley – Per Glass – $15.00 / Per Bottle – $65.00
Sequoia Grove Cabernet Sauvignon, Napa Valley – Per Bottle – $75.00
Frank Family Vineyards Cabernet Sauvignon, Napa Valley – Per Bottle – $99.00
Beer
Kronenbourg 1664 Pale Ale Lager, France – $9.00
Trois Pistoles Dark Ale, Canada – $9.75
Allergy-friendly Offerings
Allergy-Friendly menus available upon request –
Dinner
Experience: Character Dining
Price level: $$$$ (over $60 per adult)
Appetizer of the Court (choose one)
Soup of the Day –
Charcuterie Plate –
A selection of Cured Meats, Cheeses, and other specialty selections of the Castle
Castle Salad –
Citrus-marinated Buffalo Mozzarella, Heirloom Tomatoes, Mixed Greens, Parmesan Crisps, and Balsamic Reduction
Entrées Royale (Choose one)
Braised Pork Shank –
Roasted Rainbow Carrots, Buttered Mashed Potatoes, and Citrus Gremolata
Beef and Shrimp –
Beef Tenderloin, Buttered Shrimp, Fingerling Potatoes with Nueske's Bacon and Blue Cheese, Summer Vegetables, and a Shallot-Herb Compound Butter
Vegetable Couscous –
Portobello Mushroom, Seared Tofu, and a Charred Tomato Vinaigrette
Pan-seared All-Natural Chicken –
Seared Chicken Breast over Smashed Fingerling Potatoes with Seasonal Vegetables in Madeira-Mushroom Sauce
Beef Tenderloin Salad –
Beef Tenderloin, Mixed Greens, Roasted Marinated Mushrooms, Blue Cheese Crumbles, and Fried Leeks in an Herb Vinaigrette
Chef's Fish of the Day –
On Cinderella's request, the Royal Chef has prepared a delectable dish to showcase the Kingdom's Freshest Fish
Finales (Choice of one)
Jaq & Gus –
Amaretto Cheesecake with an Almond Crust, Macerated Peaches, and Hibiscus Meringue
The Clock Strikes Twelves –
Dark Chocolate Mousse with a Dark Chocolate Ganache served with a Raspberry Coulis
Lady Teralyn's Citrus Chiffon Cake –
Citrus Chiffon Cake, Mascarpone Cream, Raspberry Purée, and Coconut Brittle
Lemon Sorbet –
Garnished with Blueberries, a No Sugar Added Dessert
Kids' Appetizers
Bite-sized Cheddar Cheese and Grapes –
Garden Salad –
with Fat-free Ranch Dressing
Kids' Disney Check Meals
Kids' Mickey Check Meal – Turkey Pot Pie –
topped with a Cheese Biscuit and Yogurt Parfait served with choice of Small Lowfat Milk or Small Pure, chilled Water with or without Bubbles. Meets Disney Nutrition Guidelines for Complete Meals without substitution
Kids' Mickey Check Meal – Roasted Chicken Leg –
with Seasonal Vegetables and Sliced Apples served with choice of Small Lowfat Milk or Small Pure, chilled Water with or without Bubbles. Meets Disney Nutrition Guidelines for Complete Meals without substitutions
Seared Fish of the Day –
Pan-seared Fish with Cauliflower, Rice, and Seasonal Vegetables served with choice of Small Lowfat Milk, or Small Pure, chilled Water with or without Bubbles. Meets Disney Nutrition Guidelines for Complete Meals without substitutions
Kids' Meals (choose one)
Chicken Nuggets –
served with Mashed Potatoes and Seasonal Vegetables and choice of one (1) Beverage and one (1) Dessert
Beef Tenderloin –
served with Mashed Potatoes and Seasonal Vegetables and choice of one (1) Beverage and one (1) Dessert
Macaroni & Cheese –
Creamy Macaroni and Cheese with Seasonal Vegetables and choice of one (1) Beverage and one (1) Dessert
Kids' Beverages (choose one)
Small Lowfat Milk –
Pure, chilled Water with or without Bubbles –
Small Minute Maid Apple Juice –
Kids' Desserts (choose one)
Build-Your-Own-Cupcake –
Vanilla Cupcake with Cinderella's Blue Icing and decorations to garnish your Royal Dessert
Yogurt Parfait –
Sliced Apples –
No Sugar Added Seasonal Sorbet –
Specialty Wine Cocktails
Mimosa with Paul Cheneau Lady of Spain Cava and Orange Juice – $11.00
Bellini with Canella Prosecco and Peach Juice – $10.00
Beso del Sol Sangria – $10.00
Champagne & Sparkling Wine
Paul Cheneau 'Lady of Spain' Brut Cava, Spain – Per Glass – $11.00 / Per Bottle – $49.00
Enchantée Champagne Brut, Champagne – Per Glass – $19.00 / Per Bottle – $79.00
Banfi Rosa Regale Sparkling Red, Piedmont – Per Glass – $14.00 / Per Bottle – $59.00
Cuvée Dom Pérignon Brut, Champagne – Per Bottle – $350.00
White Wine
Fess Parker Riesling, Santa Barbara County – Per Glass – $10.00 / Per Bottle – $45.00
King Estate Pinot Gris, Willamette Valley – Per Glass – $13.00 / Per Bottle – $55.00
Infamous Goose Sauvignon Blanc, Marlborough – Per Glass – $10.00 / Per Bottle – $45.00
MacMurray Estate Vineyards Chardonnay, Sonoma Coast – Per Glass – $13.00 / Per Bottle – $55.00
Silverado Vineyards Chardonnay, Carneros – Per Bottle – $65.00
Kurt Russell's Gogi Wines Goldie Chardonnay, Sta. Rita Hills – Per Bottle – $89.00
Red Wine
MacMurray Estate Vineyards Pinot Noir, Russian River Valley – Per Glass – $15.00 / Per Bottle – $56.00
Meiomi Pinot Noir, California – Per Glass – $13.00 / Per Bottle – $55.00
Francis Coppola Diamond Collection Merlot, California – Per Glass – $13.00 / Per Bottle – $55.00
J. Lohr 7 Oaks Cabernet Sauvignon, Paso Robles – Per Glass – $10.00 / Per Bottle – $45.00
Beringer Cabernet Sauvignon, Knights Valley – Per Glass – $15.00 / Per Bottle – $65.00
Sequoia Grove Cabernet Sauvignon, Napa Valley – Per Bottle – $75.00
Frank Family Vineyards Cabernet Sauvignon, Napa Valley – Per Bottle – $99.00
Beer
Kronenbourg 1664 Pale Ale Lager, France – $9.00
Trois Pistoles Dark Ale, Canada – $9.75
Allergy-friendly Offerings
Allergy-Friendly menus available upon request –
Related