This post may contain affiliate links; please read the disclosure for more information.
The Hollywood Brown Derby in Hollywood Boulevard , Disney's Hollywood Studios, Walt Disney World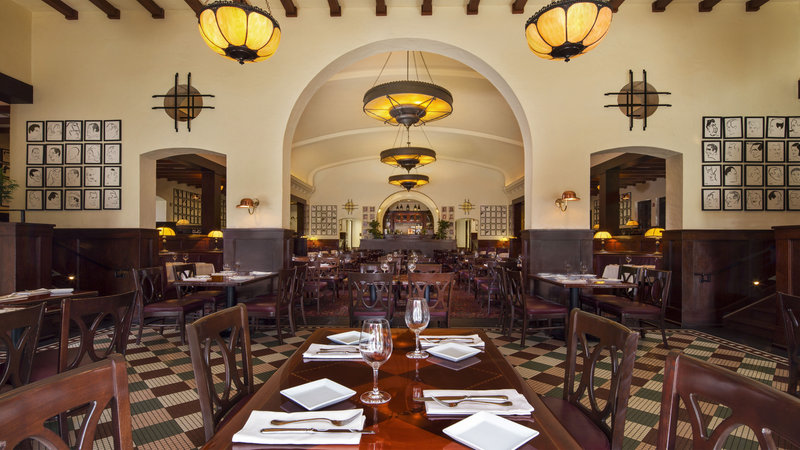 Details, tips, and information for The Hollywood Brown Derby
Today's Hours
12:00PM - 9:00PM
Step into the Golden Age of Hollywood at this warm, wood-paneled restaurant serving contemporary American cuisine.

Cuisine:
American

Details:
Disney Dining Plan Accepted
WDWNT Reviews
Coming soon!
Menus for The Hollywood Brown Derby
Lunch
Experience: Signature Dining
Price level: $$$ ($35 to $59.99 per adult)
Average entrée price: $26.15
Appetizers
Beef Carpaccio – $17.00
Capers, Lemon-Mustard Aïoli, Petite Salad Greens, Caesar Dressing, Toasted French Bread
Blue Lump Crab Crispy Wonton – $16.00
Crispy Rice Noodles, Lolla Rosa, Cucumber, Tomato, Ponzu Vinaigrette, Wasabi Aïoli, Piquillo Pepper Sauce
Curried Butternut Squash Soup – $11.00
Local Greens and Baby Spinach Salad – $11.00
Warm Bacon Vinaigrette, Asian Pears, Strawberries, Midnight Moon Goat Cheese, Watermelon Radish
Togarashi-crusted Ahi Tuna – $15.00
Wakame Coleslaw, Pork Belly Jam, Crispy Nori, Chili Garlic Aïoli
Entrées
Charred Filet of Beef – $49.00
Port Wine Glazed, Sweet Potato Silk, Wild Mushrooms, Brussels Sprouts, Sweetie Drop Peppers
Shrimp and Grits – $26.00
Andouille-crusted Shrimp, Cotswald Chive and Onion Grits, Poblano Cream Sauce, Mango Pico de Gallo, Espellette Oil
Braised Beef Short Rib – $24.00
Truffle Pomme Frites, Mushroom Ragoût, M2 Sauce
Vegetarian Pho – $29.00
Ginger-Lemon Grass Broth, Mushroom and Tofu Spring Rolls, Ginger-Soy Dipping Sauce
Faroe Island Salmon – $37.00
Saffron Potato Silk, Beluga Lentils, Tomato Confit, Watercress, Crispy Capers
Bell & Evans Chicken Breast – $32.00
Pancetta, Guajillo Pepper, Tomato Stuffing, Roasted Fingerling Potatoes, Seasonal Mushrooms, Romanesco, Sun-dried Tomato Sauce
Black Grouper and Lobster Cioppino – $46.00
Seared Scallops, Fregola Pasta, Blistered Tomatoes, Red Onions, Fennel, Poblano Pepper, Fontina, Cioppino Broth
Our Famous Cobb Salad – $18.00
with Finely Chopped Greens, Turkey Breast, Bacon, Egg, Tomatoes, Crumbled Blue Cheese, Avocado, Chives, and Cobb Dressing
Add Shrimp to Our Famous Cobb Salad – $9.00
Add Chicken to Our Famous Cobb Salad – $6.00
Grilled Wagyu Beef Burger – $23.00
Gruyère, Pastrami, Heirloom Tomato, Avocado, Fried Egg, Toasted Brioche, Cognac-Mustard Aïoli, Hand-cut Steak Fries
Pork Belly Pastrami BLT – $22.00
Grilled Ciabatta Roll, Whiskey Aïoli, Arugula, Watercress, Pickled Onions, Gruyère, Heirloom Tomato, Prosciutto
Andouille-crusted Chicken Breast – $19.00
Smoked Bacon, White Cheddar, Arugula, Pickled Cucumber, Onion Kaiser Roll, Vegetable Slaw
Enhancement
Garlic-Herb Butter-crusted Cold Water Lobster Tail – $28.00
Pan-seared Georges Bank Sea Scallops – $20.00
Marinated Shrimp Skewer – $19.00
Mini Dessert Trio (Select three)
Brown Derby Original Mini Grapefruit Cake –
Warm Blueberry Cobbler –
Crème Fraîche, Orange Blossom Honey
Banana-Toffee Cake –
French Macaroon, Banana Fosters, Cocoa Crunch, Banana Mousse, White Chocolate Ring, Heath Bar
Cappuccino Brûlée –
Coffee, Caramel Latte Custard
Lemon Cheesecake –
White Chocolate Cream, Local Blueberries
Dark Chocolate Crémeux –
Apricot Marmalade, White Chocolate Amber Ring
Kids' Appetizers
Chicken Noodle Soup – $3.00
Chopped Salad – $3.00
with Tomatoes, Cucumbers, and Carrots
Celery and Carrot "Dippers" – $3.00
with Ranch Dressing
Kids' Disney Check Meals
Grilled Breast of Chicken – $14.00
with Roasted Potatoes, Blanched Broccoli, Carrots, and Fruit Cup with Raspberry Ice served with choice of Small Lowfat Milk or Small Dasani Water. Meets Disney Nutrition Guidelines for Complete Meal without substitutions
Grilled Black Grouper – $16.00
with Roasted Potatoes, Blanched Carrots, Green Beans, and Fruit Cup with Raspberry Ice. Choice of Small Lowfat Milk or Small Dasani Water. Meets Disney Nutrition Guidelines for Complete Meal without substitutions
Whole-Grain Penne Pasta – $12.00
with Marinara Sauce, Blanched Carrots, Green Beans and Fruit Cup with Raspberry Ice. Choice of Small Lowfat Milk or Small Dasani Water. Meets Disney Nutrition Guidelines for Complete Meals without substitutions
Kids' Meals
Hot Dog – $8.00
with Baked Potato Chips and served with choice of Small Lowfat Milk, Small Dasani Water, or Small Minute Maid Apple Juice
Fried Fish Sticks – $13.00
with Potato Wedges, Carrots, and Green Beans served with choice of Small Lowfat Milk, Small Dasani Water, or Small Minute Maid Apple Juice
Grilled Cheese on Whole-Wheat Bread – $8.00
with Sliced Apples and Baked Potato Chips served with choice of Small Lowfat Milk, Small Dasani Water, or Small Minute Maid Apple Juice
Kids' Desserts
Fresh Fruit Cup – $4.00
with Raspberry Ice
Hidden Treasures – $5.00
Vanilla Ice Cream, Oreo Cookie Crumbs, Gummy Worms, and a Fresh-baked Chocolate-Chip Cookie
Strawberry and Yogurt Parfait – $4.00
with Granola
Non-Alcoholic Beverages
Alto Mayo Protected Forest Coffee Roasted by Joffrey's Coffee – $8.00
Disney supports Conservation International's Alto Mayo Protected Forest project in Peru, which promotes sustainable coffee growing and economic growth – French Press Pot serving two
Premium Tea Selections –
Featured Wines
Domaine Serene Evenstad Reserve Pinot Noir, Willamette Valley – Per Glass – $27.00
Caymus Cabernet Sauvignon, Napa Valley – Per Glass – $29.00
Castello Banfi Brunello di Montalcino, Tuscany – Per Glass – $26.00
Jarvis Estate Chardonnay, Napa Valley – Per Glass – $37.00
Allergy-friendly Offerings
Allergy-Friendly menus available upon request –
Dinner
Experience: Signature Dining
Price level: $$$ ($35 to $59.99 per adult)
Average entrée price: $30.10
Appetizers
Beef Carpaccio – $17.00
Capers, Lemon-Mustard Aïoli, Petite Salad Greens, Caesar Dressing, Toasted French Bread
Blue Lump Crab Crispy Wonton – $16.00
Crispy Rice Noodles, Lolla Rosa, Cucumber, Tomato, Ponzu Vinaigrette, Wasabi Aïoli, Piquillo Pepper Sauce
Curried Butternut Squash Soup – $11.00
Local Greens and Baby Spinach Salad – $11.00
Warm Bacon Vinaigrette, Asian Pears, Strawberries, Midnight Moon Goat Cheese, Watermelon Radish
Togarashi-crusted Ahi Tuna – $15.00
Wakame Coleslaw, Pork Belly Jam, Crispy Nori, Chili Garlic Aïoli
Entrées
Char-grilled Filet of Beef – $49.00
Port Wine Glazed, Sweet Potato Silk, Chanterelle Mushrooms, Brussels Sprouts, Sweetie Drop Peppers
Spitfire-roasted Cheshire Pork Chop – $37.00
Yukon Gold Smashed, Asparagus, Maker's Mark Bourbon, Mustard Glaze, Apricot Jam
Vegetarian Pho – $29.00
Ginger-Lemon Grass Broth, Mushroom and Tofu Spring Rolls, Ginger-Soy Dipping Sauce
Faroe Island Salmon – $37.00
Saffron Potato Silk, Beluga Lentils, Tomato Confit, Watercress, Crispy Capers
Bell & Evans Chicken Breast – $32.00
Pancetta, Guajillo Pepper, Tomato Stuffing, Roasted Fingerling Potatoes, Seasonal Mushrooms, Romanesco, Sun-dried Tomato Sauce
Duck Breast – $38.00
Duck Confit-Pumpkin Ravioli, Asparagus, Parsnip-Lemon Grass Silk, Pumpkin Purée, Plum-Beet Marmalade
Black Grouper and Lobster Cioppino – $46.00
Seared Scallops, Fregola Pasta, Blistered Tomatoes, Red Onions, Fennel, Poblano Pepper, Fontina, Cioppino Broth
Our Famous Cobb Salad – $18.00
with Finely Chopped Greens, Turkey Breast, Bacon, Egg, Tomatoes, Crumbled Blue Cheese, Avocado, Chives, and Cobb Dressing
Add Shrimp to Our Famous Cobb Salad – $9.00
Add Chicken to Our Famous Cobb Salad – $6.00
Enhancement
Garlic-Herb Butter-crusted Cold Water Lobster Tail – $28.00
Pan-seared Georges Bank Sea Scallops – $20.00
Marinated Shrimp Skewer – $19.00
Mini Dessert Trio (Select three)
Brown Derby Original Mini Grapefruit Cake –
Warm Blueberry Cobbler –
Crème Fraîche, Orange Blossom Honey
Banana-Toffee Cake –
French Macaroon, Banana Fosters, Cocoa Crunch, Banana Mousse, White Chocolate Ring, Heath Bar
Cappuccino Brûlée –
Coffee, Caramel Latte Custard
Lemon Cheesecake –
White Chocolate Cream, Local Blueberries
Dark Chocolate Crémeux –
Apricot Marmalade, White Chocolate Amber Ring
Kids' Appetizers
Chicken Noodle Soup – $3.00
Chopped Salad – $3.00
with Tomatoes, Cucumbers, and Carrots
Celery and Carrot "Dippers" – $3.00
with Ranch Dressing
Kids' Disney Check Meals
Grilled Breast of Chicken – $14.00
with Roasted Potatoes, Blanched Broccoli, Carrots, and Fruit Cup with Raspberry Ice served with choice of Small Lowfat Milk or Small Dasani Water. Meets Disney Nutrition Guidelines for Complete Meal without substitutions
Grilled Black Grouper – $16.00
with Roasted Potatoes, Blanched Carrots, Green Beans, and Fruit Cup with Raspberry Ice. Choice of Small Lowfat Milk or Small Dasani Water. Meets Disney Nutrition Guidelines for Complete Meal without substitutions
Whole-Grain Penne Pasta – $12.00
with Marinara Sauce, Blanched Carrots, Green Beans and Fruit Cup with Raspberry Ice. Choice of Small Lowfat Milk or Small Dasani Water. Meets Disney Nutrition Guidelines for Complete Meals without substitutions
Kids' Meals
Hot Dog – $8.00
with Baked Potato Chips and served with choice of Small Lowfat Milk, Small Dasani Water, or Small Minute Maid Apple Juice
Fried Fish Sticks – $13.00
with Potato Wedges, Carrots, and Green Beans served with choice of Small Lowfat Milk, Small Dasani Water, or Small Minute Maid Apple Juice
Grilled Cheese on Whole-Wheat Bread – $8.00
with Sliced Apples and Baked Potato Chips served with choice of Small Lowfat Milk, Small Dasani Water, or Small Minute Maid Apple Juice
Kids' Desserts
Fresh Fruit Cup – $4.00
with Raspberry Ice
Hidden Treasures – $5.00
Vanilla Ice Cream, Oreo Cookie Crumbs, Gummy Worms, and a Fresh-baked Chocolate-Chip Cookie
Strawberry and Yogurt Parfait – $4.00
with Granola
Non-Alcoholic Beverages
Alto Mayo Protected Forest Coffee Roasted by Joffrey's Coffee – $8.00
Disney supports Conservation International's Alto Mayo Protected Forest project in Peru, which promotes sustainable coffee growing and economic growth – French Press Pot serving two
Premium Tea Selections –
Featured Wines
Domaine Serene Evenstad Reserve Pinot Noir, Willamette Valley – Per Glass – $27.00
Caymus Cabernet Sauvignon, Napa Valley – Per Glass – $29.00
Castello Banfi Brunello di Montalcino, Tuscany – Per Glass – $26.00
Jarvis Estate Chardonnay, Napa Valley – Per Glass – $37.00
Allergy-friendly Offerings
Allergy-Friendly menus available upon request –
Related