This post may contain affiliate links; please read the disclosure for more information.
Tony's Town Square Restaurant in Main Street, U.S.A., Magic Kingdom, Walt Disney World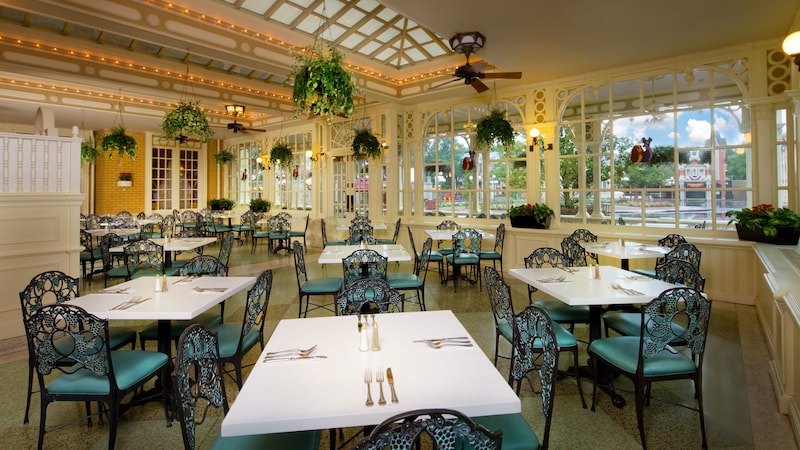 Details, tips, and information for Tony's Town Square Restaurant
Today's Hours
11:30AM - 9:30PM
Everyone loves Italian, but this is no ordinary Italian restaurant! It's where Lady and the Tramp had their first kiss.
WDWNT says…
The much maligned Main Street restaurant is one of my favorites. While they have one of the most disgusting marinara sauces I have ever tried, they have a truly delightful creamy alfredo-like sauce. Get the Chicken Parmesan and sub alfredo for marinara. The chicken is huge and juicy and perfectly cooked. The cream sauce makes it decadent and one of my favorite meals in all of Walt Disney World. Start your meal with a Ceasar Salad to round out the experience.

WDWNT recommends this!

Short code:
tony

Cuisine:
American/Italian

Details:
Disney Dining Plan Accepted
WDWNT Reviews
Coming soon!
Menus for Tony's Town Square Restaurant
Lunch
Experience: Casual Dining
Price level: $$ ($15 to $34.99 per adult)
Antipasti
Caprese – $11.00
Vine-ripened Tomatoes, fresh Mozzarella, and Balsamic Glaze
House Salad – $11.00
Mixed Greens, Shaved Cheese, Cured Meats, Pickled Vegetables, and Italian Vinaigrette
Seasonal Soup – $9.00
Ask your server for today's specialty
Eggplant Involtini – $12.00
Tomato Basil Sauce, Pine Nuts, Prosciutto, and Romano Cheese
Calamari – $16.00
House-made Marinara
Caesar Salad – $11.00
Shaved Romano and House-made Focaccia Croutons
Pasta Fagioli – $9.00
Traditional Italian Soup with Pasta and Beans
Vegetable Fritto Misto – $13.00
Seasons Peak Vegetables Lightly-breaded and Fried with Herb Aïoli
Secondi Piatti
Chicken Parmigiana – $26.00
Lightly-breaded Chicken Breast with Melted Mozzarella, Tony's Marinara Sauce over Spaghetti, and Local Vegetables
Spaghetti – $22.00
Choice of Pork-Beef Meatballs or Italian Sausage with Tony's Marinara Sauce
Tony's House-made Pizza Pie – $19.00
Blend of Cheeses, Tony's Pizza Sauce, and fresh Basil
Tony's House-made Pizza Pie – $21.00
with Pepperoni, Sausage, or Garden Vegetables
Ravioli – $22.00
Spinach and Ricotta Ravioli, Heirloom Tomatoes, Wilted Chard, and Lemon-Parmesan Crema
Ravioli with Grilled Chicken Breast – $27.00
Cheese-filled Ravioli with Seasonal Vegetables and Sun-dried Tomato-Pesto Cream
Ravioli with Grilled Jumbo Shrimp – $30.00
Cheese-filled Ravioli with Seasonal Vegetables and Sun-dried Tomato-Pesto Cream
Chicken Fettuccine Alfredo – $22.00
Herb-grilled Chicken Breast with Fettuccine and Alfredo Sauce
Shrimp Fettuccine Alfredo – $24.00
Shrimp with Fettuccine and Alfredo Sauce
Italian Trio – $32.00
Three classic favorites on one dish! Chicken Parmigiana, Fettuccine Alfredo, and Spaghetti with Pork-Beef Meatball
Today's Sustainable Fish (Market Price) –
served with Seasonal Accompaniments. Ask your server for today's selection
Grilled Jumbo Shrimp – $29.00
Risotto di Parma, crispy Pancetta, and Pinot Gris Nage
Roman-style Steak – $32.00
Grilled 8-oz Angus Hanger Steak, Caramelized Onions, Rosemary-crushed Potatoes, and Local Vegetables
House-made Gnocchi Primavera – $20.00
Potato Gnocchi, Garden Vegetables, Basil Pesto, and Parmigiano-Reggiano
House-made Gnocchi Primavera with Grilled Chicken Breast – $26.00
Potato Gnocchi, Garden Vegetables, Basil Pesto, and Parmigiano-Reggiano
House-made Gnocchi Primavera with Jumbo Shrimp – $28.00
Potato Gnocchi, Garden Vegetables, Basil Pesto, and Parmigiano-Reggiano
Desserts
Chocolate Cake – $9.50
Rich Chocolate-layered Cake
Tiramisù – $8.00
Kahlúa Espresso-soaked Lady Fingers and Whipped Mascarpone topped with Mocha Cream
Gelato – $7.00
Italian-style Ice Cream–Chocolate or Vanilla
Cannoli – $8.00
Ricotta Cream-filled Shells dusted with Powdered Sugar
Raspberry Sorbet – A No Sugar Added Dessert – $7.00
Seasonal Cheesecake – $8.50
Ask your server for today's specialty
Kids' Appetizers (à la carte)
Celery and Carrot Sticks – $3.00
Garden Salad – $3.00
with Fat-free Ranch Dressing
Sliced Apples – $3.00
Grapes – $3.00
Kids' Create-Your-Own Entrées (choose one)
Grilled Chicken with Roasted Potatoes – $11.00
served with choice of two (2) Selections and choice of Small Lowfat Milk, Small Dasani Water, or Small Minute Maid Apple Juice
Whole-Wheat Spaghetti and Turkey Meatball – $11.00
served with choice of two (2) Selections and choice of Small Lowfat Milk, Small Dasani Water, or Small Minute Maid Apple Juice
Sautéed Shrimp with Whole-Wheat Spaghetti – $12.00
served with choice of two (2) Selections and choice of Small Lowfat Milk, Small Dasani Water, or Small Minute Maid Apple Juice. Meets Disney Nutrition Guideline criteria
Spaghetti and Meatball – $10.00
served with choice of two (2) Selections and choice of Small Lowfat Milk, Small Dasani Water, or Small Minute Maid Apple Juice
Cheese Pizza – $10.00
served with choice of two (2) Selections and choice of Small Lowfat Milk, Small Dasani Water, or Small Minute Maid Apple Juice
Macaroni & Cheese – $10.00
served with choice of two (2) Selections and choice of Small Lowfat Milk, Small Dasani Water, or Small Minute Maid Apple Juice
Kids' Create-Your-Own Selections (choose two)
Broccoli –
Green Beans and Carrots –
Celery and Carrot Sticks –
House Salad –
Buttered Noodles –
Sliced Apples –
Grapes –
Fruit Cup –
Cupcake –
Gelato Sundae –
Kid's Specialty Drink
Specialty Character Drink – $8.00
Minute Maid Light Lemonade served in a souvenir Character Cup with a glowing Character Clip-on Light
Bevande
Beverages –
Coca-Cola, Diet Coke, Sprite, Barq's Root Beer, or Minute Maid Light Pomegranate Lemonade
Twinings of London Hot Tea –
Freshly Brewed Joffrey's Coffee –
Espresso, Cappuccino, or Latte
Alto Mayo Protected Forest Coffee Roasted by Joffrey's Coffee Press Pot (Serves Two) – $9.00
Disney supports Conservation International's Alto Mayo Protected Forest project in Peru, which promotes sustainable coffee growing and economic growth
Vino
Nino Franco 'Rustico' Prosecco, Veneto – Per Glass – $11.00 / Per Bottle – $49.00
Banfi 'Rosa Regale' Sparkling Red, Piedmont – Per Glass – $14.00 / Per Bottle – $59.00
Coppo 'Moncalvina' Moscato d'Asti, Piedmont – Per Glass – $10.00 / Per Bottle – $45.00
Benvolio Pinot Grigio, Friuli – Per Glass – $10.00 / Per Bottle – $45.00
Inama Vin Soave Classico, Veneto – Per Glass – $10.00 / Per Bottle – $45.00
Antinori Bramito del Cervo Chardonnay, Umbria – Per Glass – $14.00 / Per Bottle – $59.00
Allegrini Valpolicella, Veneto – Per Glass – $11.00 / Per Bottle – $49.00
Banfi Chianti Superiore, Tuscany – Per Glass – $11.00 / Per Bottle – $49.00
Frescobaldi 'Nipozzano' Chianti Rufina Riserva, Tuscany – Per Glass – $14.00 / Per Bottle – $59.00
Caparzo Brunello di Montalcino, Tuscany – Per Bottle – $89.00
Luce delle Vite 'Lucente' Super Tuscan, Tuscany – Per Glass – $16.00 / Per Bottle – $69.00
Arcanum 'il fauno di Arcanum' Super Tuscan, Tuscany – Per Glass – $16.00 / Per Bottle – $69.00
G.D. Vajra Barolo, Piedmont – Per Bottle – $79.00
Birra
Peroni 'Nastro Azzurro' Euro Pale Lager, 16-oz draft – Per Glass – $8.00
Stella Artois Belgian Pilsner, 14.9-oz can – $10.00
Moretti 'La Rossa' Dopplebock, 16-oz draft – Per Glass – $9.25
Allergy-friendly Offerings
Allergy-Friendly menus available upon request –
Dinner
Experience: Casual Dining
Price level: $$ ($15 to $34.99 per adult)
Antipasti
Caprese – $11.00
Vine-ripened Tomatoes, fresh Mozzarella, and Balsamic Glaze
House Salad – $11.00
Mixed Greens, Shaved Cheese, Cured Meats, Pickled Vegetables, and Italian Vinaigrette
Seasonal Soup – $9.00
Ask your server for today's specialty
Eggplant Involtini – $12.00
Tomato Basil Sauce, Pine Nuts, Prosciutto, and Romano Cheese
Calamari – $16.00
House-made Marinara
Caesar Salad – $11.00
Shaved Romano and House-made Focaccia Croutons
Pasta Fagioli – $9.00
Traditional Italian Soup with Pasta and Beans
Vegetable Fritto Misto – $13.00
Seasons Peak Vegetables Lightly-breaded and Fried with Herb Aïoli
Secondi Piatti
Chicken Parmigiana – $26.00
Lightly-breaded Chicken Breast with Melted Mozzarella, Tony's Marinara Sauce over Spaghetti, and Local Vegetables
Spaghetti – $22.00
Choice of Pork-Beef Meatballs or Italian Sausage with Tony's Marinara Sauce
Tony's House-made Pizza Pie – $19.00
Blend of Cheeses, Tony's Pizza Sauce, and fresh Basil
Tony's House-made Pizza Pie – $21.00
with Pepperoni, Sausage, or Garden Vegetables
Ravioli – $22.00
Spinach and Ricotta Ravioli, Heirloom Tomatoes, Wilted Chard, and Lemon-Parmesan Crema
Ravioli with Grilled Chicken Breast – $27.00
Cheese-filled Ravioli with Seasonal Vegetables and Sun-dried Tomato-Pesto Cream
Ravioli with Grilled Jumbo Shrimp – $30.00
Cheese-filled Ravioli with Seasonal Vegetables and Sun-dried Tomato-Pesto Cream
Chicken Fettuccine Alfredo – $22.00
Herb-grilled Chicken Breast with Fettuccine and Alfredo Sauce
Shrimp Fettuccine Alfredo – $24.00
Shrimp with Fettuccine and Alfredo Sauce
Italian Trio – $32.00
Three classic favorites on one dish! Chicken Parmigiana, Fettuccine Alfredo, and Spaghetti with Pork-Beef Meatball
Today's Sustainable Fish (Market Price) –
served with Seasonal Accompaniments. Ask your server for today's selection
Grilled Jumbo Shrimp – $29.00
Risotto di Parma, crispy Pancetta, and Pinot Gris Nage
Roman-style Steak – $32.00
Grilled 8-oz Angus Hanger Steak, Caramelized Onions, Rosemary-crushed Potatoes, and Local Vegetables
House-made Gnocchi Primavera – $20.00
Potato Gnocchi, Garden Vegetables, Basil Pesto, and Parmigiano-Reggiano
House-made Gnocchi Primavera with Grilled Chicken Breast – $26.00
Potato Gnocchi, Garden Vegetables, Basil Pesto, and Parmigiano-Reggiano
House-made Gnocchi Primavera with Jumbo Shrimp – $28.00
Potato Gnocchi, Garden Vegetables, Basil Pesto, and Parmigiano-Reggiano
Desserts
Chocolate Cake – $9.50
Rich Chocolate-layered Cake
Tiramisù – $8.00
Kahlúa Espresso-soaked Lady Fingers and Whipped Mascarpone topped with Mocha Cream
Gelato – $7.00
Italian-style Ice Cream–Chocolate or Vanilla
Cannoli – $8.00
Ricotta Cream-filled Shells dusted with Powdered Sugar
Raspberry Sorbet – A No Sugar Added Dessert – $7.00
Seasonal Cheesecake – $8.50
Ask your server for today's specialty
Kids' Appetizers (à la carte)
Celery and Carrot Sticks – $3.00
Garden Salad – $3.00
with Fat-free Ranch Dressing
Sliced Apples – $3.00
Grapes – $3.00
Kids' Create-Your-Own Entrées (choose one)
Grilled Chicken with Roasted Potatoes – $11.00
served with choice of two (2) Selections and choice of Small Lowfat Milk, Small Dasani Water, or Small Minute Maid Apple Juice
Whole-Wheat Spaghetti and Turkey Meatball – $11.00
served with choice of two (2) Selections and choice of Small Lowfat Milk, Small Dasani Water, or Small Minute Maid Apple Juice
Sautéed Shrimp with Whole-Wheat Spaghetti – $12.00
served with choice of two (2) Selections and choice of Small Lowfat Milk, Small Dasani Water, or Small Minute Maid Apple Juice. Meets Disney Nutrition Guideline criteria
Spaghetti and Meatball – $10.00
served with choice of two (2) Selections and choice of Small Lowfat Milk, Small Dasani Water, or Small Minute Maid Apple Juice
Cheese Pizza – $10.00
served with choice of two (2) Selections and choice of Small Lowfat Milk, Small Dasani Water, or Small Minute Maid Apple Juice
Macaroni & Cheese – $10.00
served with choice of two (2) Selections and choice of Small Lowfat Milk, Small Dasani Water, or Small Minute Maid Apple Juice
Kids' Create-Your-Own Selections (choose two)
Broccoli –
Green Beans and Carrots –
Celery and Carrot Sticks –
House Salad –
Buttered Noodles –
Sliced Apples –
Grapes –
Fruit Cup –
Cupcake –
Gelato Sundae –
Kid's Specialty Drink
Specialty Character Drink – $8.00
Minute Maid Light Lemonade served in a souvenir Character Cup with a glowing Character Clip-on Light
Bevande
Beverages –
Coca-Cola, Diet Coke, Sprite, Barq's Root Beer, or Minute Maid Light Pomegranate Lemonade
Twinings of London Hot Tea –
Freshly Brewed Joffrey's Coffee –
Espresso, Cappuccino, or Latte
Alto Mayo Protected Forest Coffee Roasted by Joffrey's Coffee Press Pot (Serves Two) – $9.00
Disney supports Conservation International's Alto Mayo Protected Forest project in Peru, which promotes sustainable coffee growing and economic growth
Vino
Nino Franco 'Rustico' Prosecco, Veneto – Per Glass – $11.00 / Per Bottle – $49.00
Banfi 'Rosa Regale' Sparkling Red, Piedmont – Per Glass – $14.00 / Per Bottle – $59.00
Coppo 'Moncalvina' Moscato d'Asti, Piedmont – Per Glass – $10.00 / Per Bottle – $45.00
Benvolio Pinot Grigio, Friuli – Per Glass – $10.00 / Per Bottle – $45.00
Inama Vin Soave Classico, Veneto – Per Glass – $10.00 / Per Bottle – $45.00
Antinori Bramito del Cervo Chardonnay, Umbria – Per Glass – $14.00 / Per Bottle – $59.00
Allegrini Valpolicella, Veneto – Per Glass – $11.00 / Per Bottle – $49.00
Banfi Chianti Superiore, Tuscany – Per Glass – $11.00 / Per Bottle – $49.00
Frescobaldi 'Nipozzano' Chianti Rufina Riserva, Tuscany – Per Glass – $14.00 / Per Bottle – $59.00
Caparzo Brunello di Montalcino, Tuscany – Per Bottle – $89.00
Luce delle Vite 'Lucente' Super Tuscan, Tuscany – Per Glass – $16.00 / Per Bottle – $69.00
Arcanum 'il fauno di Arcanum' Super Tuscan, Tuscany – Per Glass – $16.00 / Per Bottle – $69.00
G.D. Vajra Barolo, Piedmont – Per Bottle – $79.00
Birra
Peroni 'Nastro Azzurro' Euro Pale Lager, 16-oz draft – Per Glass – $8.00
Stella Artois Belgian Pilsner, 14.9-oz can – $10.00
Moretti 'La Rossa' Dopplebock, 16-oz draft – Per Glass – $9.25
Allergy-friendly Offerings
Allergy-Friendly menus available upon request –
Related