Over the past few days, I've done quite a bit of research on modern-day gondola projects to get an idea for what the Disney system is going to look like, and how it's going to operate. This article is pure speculation on my part, but I've linked to much of the information so you can evaluate it for yourself. As I'm a techie person, there is a lot of technical information in this article.
As you might imagine, there are only a few companies in the world that are specialized in building these cable-propelled transit systems. Doppelmayr/Graventa is probably the most prominent maker, and several of their systems are shown below. Another company active in this area is Leitner-Poma, which is the organization behind the 2010 renovation of the Roosevelt Island Tramway in New York City.
This photo is a gondola from a Doppelmayr system installed in Ischgl, Austria. Another system, pictured below, was installed in Whistler, BC, Canada. Called Peak2Peak, it connects the tops of the two mountains of the Whistler Blackcomb ski resort. The Peak2Peak opened in 2009. These systems are both Doppelmayr's 3S model, otherwise known as a TGD system, which stands for "tricable gondola detachable." I'll explain more about what this means later in the article.
These gondola systems are state-of-the-art transportation systems – nothing like the old Skyway at Disneyland and Walt Disney World. Where the Skyway would hold 4 riders in each open-air ride vehicle, the Doppelmayr systems can carry up to 35 passengers in enclosed, climate-controlled comfort. These gondolas are fully wheelchair-accessible without the need for any sort of ramp like those required for the monorail.
How will the gondolas be an improvement upon busses? Well, how could you get any less magical than a bus?  Even parking lot trams are more fun. So gondolas have the wow factor that will make guests want to stay at the Caribbean Beach Resort or the Art of Animation, and will make DVC members want to buy at the upcoming Caribbean Beach DVC addition.
But beyond the wow, there are a number of practical advantages. A standard transit bus holds around 55 people.  Because of how long it takes to load 55 people onto a bus, make sure they are seated, make sure the strollers are folded, it's not really possible to dispatch a bus more often than about every 90 seconds, in the most optimal situations.  Using these figures, we can calculate the hourly capacity of a bus line at 2200 passengers per hour, using 40 bus trips per hour, in a given direction. It is possible to increase this capacity by several means, including articulated busses, which have a rider capacity of 50%-100% more than standard busses, but the load time is also correspondingly longer, mitigating the capacity increase.  Articulated busses would also require reconfiguration of the bus stops at most resorts and possibly even at the parks, which is an additional infrastructure cost.
The capacity of the Whistler Blackcomb Peak2Peak gondola is 2500 people per hour using a 28-person vehicle and a dispatch interval of 49 seconds.  And this is at a ski resort, where riders will be carrying ski equipment with them. The BUGA system in Koblenz, Germany uses eighteen 35-passenger vehicles and has a capacity of 3800 passengers per hour per direction.
So we've got a more magical transportation system that is also more efficient at moving guests. Additionally, the gondola system will require fewer cast members to operate.  A bus system connecting Epcot, Disney's Hollywood Studios, and three hotels, is basically 5 routes. Moving 2200 people per hour across 5 routes is roughly 10,000 people per hour, which would require 100 busses according to Doppelmayr. At one driver per bus plus support personnel, that's around 120 cast members. A gondola system can be safely operated with an order of magnitude fewer cast members. Four stations, staffed with 3-6 cast members each, is a huge improvement in labor costs.
The outlook for energy consumption is similarly amazing.  I won't go into the details here, but the energy requirement for the motors the cable of the Whistler system is less than 3000 kWh per day.  At a cost of 12c per kWh, that's $360 per day to operate the gondola. At today's rates, that buys you around 150 gallons of diesel. Can you operate 100 busses on 150 gallons of fuel per day? Even if you take into account all the efficiencies Disney likely squeezes out of their bus operation, it's still way cheaper to operate a gondola, not to mention the environmental benefits.
The entire length of the gondola system will be under 3 miles (4.8 km). For comparison, the Peak2Peak system is 4.4 km and was built for $57 million in 2009. The current Gillig busses used by Disney cost between $500,000-$700,000 each, and have a lifespan of around 12 years. The entire gondola system would cost less than the Seven Dwarfs Mine Train, which reportedly cost around $100 million. It's pretty clear that cost will not be an obstacle to this project.
The safety and comfort level of the system itself will also be a far cry from the Skyway of old. In addition to having climate-controlled vehicles that are fully wheelchair-accessible, the cabins can also be outfitted with infotainment systems and Wi-Fi. As many of these systems are installed at ski resorts, guests carrying bulky ski gear are not a problem.  Likewise, guests carrying luggage and strollers aboard will also be easy. And imagine not having to wait for a bus! You'll be able to see your ride coming down the rope to the station, and never have to wonder if you just missed the last bus!
This picture of a Doppelmayr installation in Sochi, Russia, shows a view of the eight wheels on the carriage that support the gondola.  These systems utilize three cables (thus the "tricable" part of the TGD moniker). Two cables are fixed and provide the support to the gondola vehicle. The third cable moves and provides the propulsion. This gives the system maximum stability even in windy conditions. The eight wheels ride on the two fixed cables (called "ropes" in the industry) and thus give a very smooth ride.  You might remember the old Skyway jostling when going over support poles. This was because there was a single cable providing both support and propulsion, so the vehicle's connection to the rope went right over those bumpy pulleys. In the TGD case, the fixed support cables go over the pulleys (or rather, the functional equivalent of pulleys in this system), and the gondola rides on top of the fixed support cables, thus ensuring a smooth journey.
And lastly, one similarity to the Skyway system is that these gondolas are "detachable" (the D in the TGD acronym). This means that the vehicles detach from the propulsion cable in the station, so that the vehicle can slow or stop to load and unload while the rest of the vehicles in motion are traveling at a higher speed. The videos below show this in detail. The WDW Skyway system also did this, but many other ski-lift-type systems do not, so you have to position yourself in front of the moving seat, sit, and pull down the lap bar, all while the system is moving at its full speed. This detachability also allows for the vehicles to be moved off the system for storage or maintenance (see the Penkenbahn video around the 2:05 mark). This is also how the system can make 90 degree turns: the vehicles can actually be detached from one ropeway and moved onto another ropeway that is situated perpendicular to the first.
Doppelmayr has also designed these TGD systems with safety in mind.  According to the product description:
To enable all passengers to be safely returned to solid ground in an emergency scenario, an innovative recovery concept was developed for 3S lifts. All functionally relevant parts and equipment are duplicated and independent of one another. The aim of this novel development was to provide the technical and organizational means to ensure that all cabins can always be safely returned to the nearest station.
This is actually a step up from safety in the monorail system, in which a disabled train must be towed to a station by a work tractor. The duplicate backup equipment can actually run the entire gondola system on its own, returning guests to the nearest station.
Below are some videos of various Doppelmayr TGD gondola systems for your enjoyment. Doppelmayr has also produced a 20-page brochure highlighting the advantages of its ropeways called "Ropeways in the Urban Environment" that is a free download. Additionally, the company's 2016 Annual Report has details about the 103 ropeway installations the company performed in 2015.
I'll be happy to try and answer questions in the comments section. Please note the Merriam Webster dictionary lists busses as a perfectly acceptable plural form of the word bus, so yes, this post was spell-checked and passed with flying colors.
UPDATE: WFTV contacted me for comments on the gondola system. The video of the news clip is embedded below.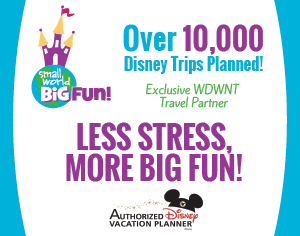 I don't know about you, but there are times when planning a Disney vacation can be overwhelming! There are so many options, where to stay, when to go, is this the best price. So, I want to introduce you all to Cindy Minor and the team at Small World Big Fun. They will help you plan your Disney vacation for FREE. Contact them today!