Editor's Note: This series is a look at how one staff member would re-imagine Epcot pavilions. Previous articles in the series can be found here.
We now move away from Imagination to the center of Future World, where there has been a noticeable absence of kinetic energy in the area, ever since Innoventions East and West were mostly closed down.
This absence has been felt for quite some time now, ever since Disney opened Epcot Character Spot in 2007, which took up a significant chunk of what used to be space taken up by Communicore, an original Epcot attraction which lasted until 1994 when it was replaced by Innoventions.
Now, since it is permanently closed, Innoventions is just empty space in two giant buildings, hence the reason why in the new renderings for Future World that were revealed to the public at the Parks & Resorts Panel at the D23 Expo showed the two pavilions completely destroyed.
This also included MouseGear, the flagship Epcot store, and Electric Umbrella (one of two counter-service restaurants in Future World), Club Cool, the Fountain View, and Innoventions Plaza, which includes Pin Central and the wait time boards.
Most importantly, the plans might spell the end of the Innoventions Music Loop, one of the greatest compilations of Disney Parks music ever!
Before that area is no more, I'd like to throw an idea of mine into the mix, a plan that revitalizes Innoventions and the surrounding areas. The two attraction/exhibit buildings would continue to be called Innoventions, since it still sticks with the new theme.
The facade of both structures will be given a facelift, with a completely new color scheme, with blues, greens, purples, blacks, and neon, similar to that of Test Track, shown below.
The internal building structure will be unchanged, but the new color scheme and logo will be very noticeable throughout both buildings. The logo from the original Innoventions, the hand holding the lightbulb, will be re-used, but instead of having two colors for East and West, the blue color wave will be the only one used.
Tom Morrow 2.0 will not be returning to this version of Innoventions, unfortunately, but instead, a new version of SMRT-1.
The exhibitions in the new Innoventions will take up the existing attraction space in both buildings.
As for the attractions themselves, there will be many new exhibitions with the biggest corporate sponsors currently: Tesla, SpaceX, Apple, Samsung, Microsoft, Amazon, etc.
Much like my idea for the new Wonders of Life, incorporating the newest technologies into said exhibitions would attract so many people. Things like VR, smartphone technology, augmented reality, robotics, and touch screen demonstrations would do the trick. I mean, if kids could be entertained by a human art farm exhibit, these ideas should surely bring in more guests.
It's really tough to specifically think of every new exhibition that will be included. However, with the sponsors that were previously given, you should be able to get a good idea of what will be coming into the space.
One thing I distinctly remember from Innoventions was the video game wall right near it where the former Segway exhibit. The new Innoventions will keep the video game wall, with updated Xbox One, PS4, VR, and Nintendo Switch titles.
There will be subtle nods to Communicore in both buildings, with the original logo incorporated in mosaics and collages, very similar to what was done with the World of Motion logo in the new Test Track.
As for the rest of the space taken up by the two buildings, MouseGear will be given a facelift, with a completely redesigned interior and a new logo.
Club Cool and Fountain View will be left unchanged because riots would ensue if Disney got rid of a Starbucks and Beverly, specifically Beverly.
The Electric Umbrella will also be completely re-designed, but the 2nd floor and the wall carpet will be untouched and will stay off-limit to guests, out of nostalgia.
The space that was previously taken up by the Epcot 25th Anniversary Gallery will be replaced with an art gallery celebrating the past, present, and future of Epcot. Pieces within the gallery will circulate and be replaced from time to time. The timeline will stay and will continue to be updated.
Pin Central will be kept in its current location, but the wait times boards will be removed as they are no longer a necessity.
Last and most importantly for families, the Epcot Character Spot will stay in its current location, and character meet-and-greets will change periodically as new movies, TV shows, and other events happen.
Unfortunately, this idea is not going to happen with the Future World renderings shown at the D23 Expo, but it's always fun to dream.
Next time, we will take a trip to try to solve the mess that's been going on with The Land.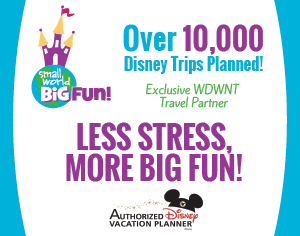 I don't know about you, but there are times when planning a Disney vacation can be overwhelming! There are so many options, where to stay, when to go, is this the best price. So, I want to introduce you all to Cindy Minor and the team at Small World Big Fun. They will help you plan your Disney vacation for FREE. Contact them today!