Just yesterday, the Jungle Navigation Co. Ltd. Skipper Canteen in Adventureland at the Magic Kingdom went through yet another major menu adjustment. This comes after two menu changes last year, with the last significant changes coming in December of 2016. You can check out all of our Skipper Canteen reviews below:
Here's what the new menu for November 2017 looks like…
New in the appetizers is the Jungle Green Salad, replacing the Chicken Soup. Otherwise, the appetizer menu remains the same (thankfully).
Under entrees, the Head-On Shrimp, Noodle Bowl, and Skip's Beefy Mac and Cheese all met their demise, replaced by the Perkins Thai Noodles and Sankuru Sadie's Seafood Stew. Modifications were made to the "A Lot at Steak Salad", Dr. Falls Signature Grilled Steak, and the Baa Baa Berber Lamb Chops. It is also worth noting that the Whole Fried Fish is now a Yellow Tail Snapper, since the Lion Fish was apparently not coming in on a consistent basis (personally, I think the Yellow Tail has more flavor anyway). The sustainable fish is a Red Tail Snapper, which is quite good as well.
Here we find the drink menu.
As far as themed-restaurants and wonderful spaces to dine in, Skipper Canteen is at the top of my list at Walt Disney World. It exudes tons of story, tying together Disney Park mythology from the Jungle Cruise, to the Adventurer's Club, to Jock Lindsey's Hangar Bar, to the Society of Explorers and Adventurers (S.E.A.), and more. The interior is jaw-dropping in many places and a pleasure to dine in, no matter how the menu may change.
The servers are also a HUGE part of the story and most we have had in our many journeys to the Jungle have been exceptional. Many cast members go above and beyond to make Skipper canteen the best restaurant at the Magic Kingdom.
A side note, the complimentary bread was removed from Skipper Canteen a few months ago sadly. While this is a definite loss for me, many guests found it strange and enjoyable. Regardless, most portions here are quite large, so you likely won't go hungry without it.
So, let's not waste another moment, let's explore the new items that guests will find on their expeditions!
Jungle Green Salad ($9.00)
From the depths of the Jungle…Skipper Bill's Hearty Mixed Greens, Seasonal Squash, Green Apples, Preserved Lemons, and Spiced Walnuts tossed with an Apple Cider Vinaigrette
The new appetizer salad is okay, with nothing really special about it, and is very small for $9. Spend just over twice the amount and get the steak salad as an entree, or get the Shiriki Noodle Salad which is also an appetizer.
Dr. Falls' Signature Grilled Steak ($35.00)
Marinated New York Strip, Pico de Gallo Butter, Jasmine Rice, and Braised Black Beans with Applewood-smoked Bacon
The steak changed sides and the butter on top, giving it a more Latin flare. This is a welcome change as we found the pico de gallo butter on top already melted when the food arrived, but it added a nice fresh flavor to the charred steak. Sadly, the steak was fatty and a bit rubbery, so under no circumstance can I recommend this. Also, what are you doing ordering a steak in the Magic Kingdom? The beans and tomatoes are a big change from the past side dish, but they work well with the new butter.
Perkins Thai Noodles ($22.00)
Chicken, Tofu, Seasonal Vegetables, and Rice Noodles tossed in a Spicy Soy-Chili-Garlic Sauce. A favorite of our friend Pamelia Perkins, President of the Adventurers Club
While i lament the loss of the noodle bowl, this turned out fantastic. The noodles were a great portion for the price, very filling. The menu and server asked if we were okay with spice, and the spice was present but not overbearing, which was a nice change to the typical Magic Kingdom digs. That being said, he noted that they could make it spicier upon request. The dish has a lot chicken mixed in with the noodles made for a great unique dish, which feels almost like the new Kona Cafe noodle dishes (which is a good thing).
Sankuru Sadie's Seafood Stew ($27.00)
Shrimp, Sustainable Fish, Mussels, and Octopus simmered in a fragrant Coconut Sauce. Served with Jasmine Rice
Again, the Head-On Shrimp was a favorite of mine, but this replacement is likely just as enjoyable. The coconut seafood stew came out as a heaping plate of random seafood. The octopus was cut in different tentacle sections and cooked to a tenderness that was just not found at Food & Wine Festival Greece booth.
The head-on shrimp live on in the dish, accompanied by bunch of muscles and chunks of sustainable fish above a generous portion of jasmine rice. The coconut broth created a porridge-like consistency towards the end, soaking in all the flavors of the mix of seafood. Overall a very solid dish that continues the adventurous theme of Skipper Canteen and plays well to the palate. I will be ordering this again.
"A Lot at Steak" Salad ($19.00)
We're betting it all on this one! Grilled Steak, Romaine Lettuce, Spring Mix, Pickled Jalapeños, Red Onion, Queso Fresco, and Pumpkin Seeds tossed with Chimichurri Vinaigrette
The reimagined steak salad comes out in a seemingly endless bowl full of fresh greens, cheese, and a large portion of meat. Easily the biggest entree salad we've seen at Walt Disney world, outside of the Via Napoli group salad and buffets at least. It's big, it's fresh, and you can split this with an order of Sea Shu Mai to make for a quick refreshing lunch with a partner. It's worth noting that the steak with this dish was much more tender, flavorful, and free of fat which may have been cut away in the preparation.
OVERALL
In review, I think these changes are fine and do little to hurt the restaurant. The steak is kind of a "safety dish", so we don't lament that being bad, and the other entree changes are at the very least a lateral move. While personally I will miss the noodle bowl and the head-on shrimp, and I know many who will miss the beefy mac and cheese, I believe the quality is being upheld at Skipper Canteen and it remains the finest table service restaurant at Magic Kingdom.
SaveSave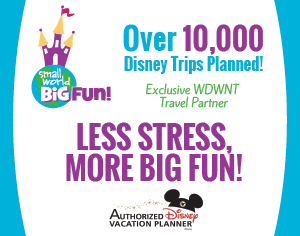 I don't know about you, but there are times when planning a Disney vacation can be overwhelming! There are so many options, where to stay, when to go, is this the best price. So, I want to introduce you all to Cindy Minor and the team at Small World Big Fun. They will help you plan your Disney vacation for FREE. Contact them today!