Editor's note: Uniquely Disney! is a new column focusing on what makes Disney unique in the world of theme parks. Be sure to let us know what you think of the column, and if you have any additions to the lists, in the comments at the end of the article!
People often want me to explain what it is about Disney that I love so much; some just assume it's because I'm a big kid who loves princesses and hugging Disney characters while wearing Mickey ears- which is all true of course. But, there is another huge reason why Walt Disney World is one of my favourite places ever: the absolutely incredible attention to detail! The effort and the fine art that goes into everything in the parks is astounding (even the washrooms- hello Tangled area fans!). Once you look a little closer and really notice what has been put into creating the immersive experience of the parks and resorts, it makes them even more amazing! It's something that has always fascinated me and been my favourite part of Disney World!
Today let's focus on the beauty of Animal Kingdom, and the details that bring it all together! Here are my (so far!) Top 3 Disney Details in Animal Kingdom!
The Nomad Lounge menu
One of the newer additions to Animal Kingdom, Nomad Lounge is a stop for travellers to reflect on their journeys while recharging with food and drink inspired by dishes and flavours from around the world. Everything about your surroundings lends itself to the 'story' of the location, coming together in a complete theme- inside the lounge the curtains are reminiscent of mosquito netting, subtly reinforcing the illusion that you are in an exotic location; banners hang from the ceiling inside, posing questions to encourage you to reflect on your own travel experiences (for example: "How has travel changed you?", and "What was the most memorable food?"), along with accompanying answers from Disney Imagineers from their research excursions for Disney attractions; and -my favourite, and our first Top 3- even the menu adds to the 'story'!
The menu (or 'travelog') is a bound book full of not only tempting dishes and drinks inspired by distant locales and flavours, but also Imagineer travel notes from research trips and beautiful sketches to accompany both the menu items and notes. I never thought I'd call a menu a fascinating read, but this one really is!
Expedition Everest queue
Disney attraction queues are always the best; though standing in a long line is never fun, there's at least always something interesting to look at, and Expedition Everest has got to be one of the most amazingly themed and fascinating queues in the parks!
This attraction places you at the foot of Mount Everest, about to begin an expedition up the myth-shrouded mountain. If the surrounding 'village' of Serka Zong wasn't immersive enough before you enter, your trek through the Himalayan Escapes booking office, then the peaceful yet ominous temple dedicated to the protector of the mountain, and finally a yeti artifact-packed museum will definitely place you right in the Himalayas and in the shoes of a climber before the summit!
The 'Himalayan Escapes' booking office is so detailed and immersive it honestly looks like a location from a documentary; it is full of authentic items such as climbing gear sourced from Everest base and various items from actual stores in Nepal.
Once through the booking office, you find yourself outside in the temple dedicated to the 'protector of the mountain' (aka the yeti!), which is strewn with 'offerings' such as fruit, and adorned with beautiful prayer flags, completing the feeling that you are somewhere else entirely.
Your last (but certainly not least) view before the train ride to base camp is the Yeti Museum curated by Professor Pema Dorje, which is piled with fascinating artifacts such as totems and actual photos from expeditions (you'll see that classic photo of the yeti footprint in the snow!)
Just one of these areas would have transported you to the beautiful and mysterious Himalayas, but Disney doesn't stop at just the bare minimum when crafting a story!
Harambe Market
Animal Kingdom as a whole is a shining example of Disney detail. Wherever you step in the park there's another subtle aspect, something that lends itself to the setting you're supposed to be in yet is so seamless you could walk right by it; but pulled together, these 'tiny' features weave an immersive experience like no other. However, there's one area that really sticks in my mind as an amazing representation of this art: our third Disney Detail in Animal Kingdom is the Harambe Market.
Building on the already awe-inspiring setting of the Africa area of the park, the Harambe Market is a fairly new counter-service addition, and it fully and satisfyingly continues the theming of the area.
As a hub for food and goods for travellers in Africa, the market is filled with posters, wall art, and wares- such as a display of handmade baskets for sale with a sign declaring 'Best Baskets'. The area is dotted with water containers, brought by locals and travellers alike to collect drinking water, and just outside the market entrance the 'Malimwengu Guest House' has a cart of guest baggage out front, and worn bicycles lean against walls nearby while their owners browse the market.
While most of the time it's hard to forget where you really are when you visit a theme park, Disney makes the opposite true, and I find this especially in Animal Kingdom- it's hard to remember you're actually in central Florida, and not in a village market in Africa!
While there are so many things that make Disney unique and one of the most amazing places to visit, the details are definitely one of the features that pushes this destination over the top and into the best of the best. There are so many details- these Top 3 barely scratch the surface! What are your favourite Disney details?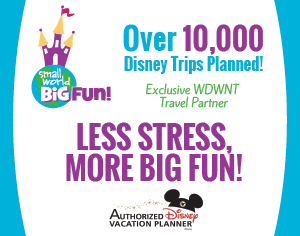 I don't know about you, but there are times when planning a Disney vacation can be overwhelming! There are so many options, where to stay, when to go, is this the best price. So, I want to introduce you all to Cindy Minor and the team at Small World Big Fun. They will help you plan your Disney vacation for FREE. Contact them today!