Ordering Star Wars merchandise seems like the perfect way to pass the time during a quarantine! Hey, I don't make the rules, this is the way. Luckily EntertainmentEarth.com just released three new bags for pre-order inspired by the Disney+ original show, "The Mandalorian". And yes, they do all feature "Baby Yoda", so let's see what's new…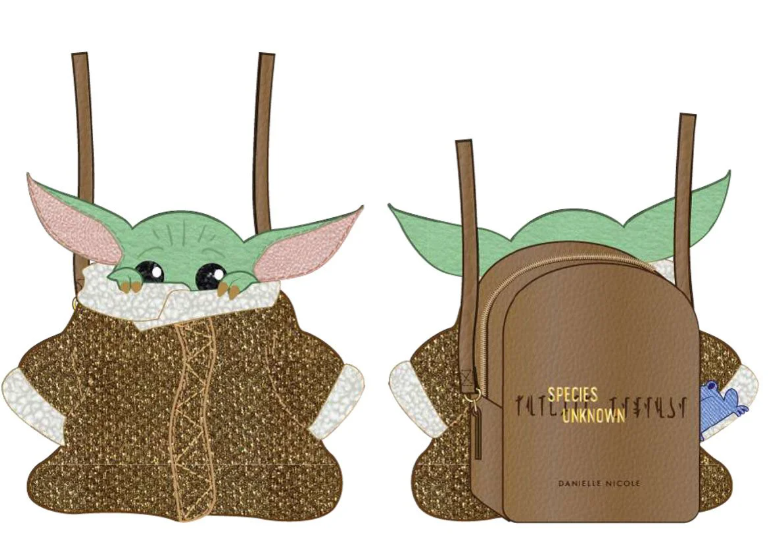 The first bag available to pre-order is a Danielle Nicole crossbody. Featuring a tiny "Baby Yoda" peaking over the top of his shimmery cloak, this is the perfect accessory for someone looking for a small but thematic purse. The back of the bag also has the words "Species Unknown" printed with the same thing stamped in a galactic language. Perhaps Aurebesh? I'm not fluent, so you'll have to let me know in the comments.

Next up is a backpack with "The Child" prominently displayed on the front. From the looks of this rendering, the textures and fabrics on both his cloak and body seem to be very elaborate, especially the glitter accenting his ears.
Keep in mind a "Baby Yoda" Loungefly is set to hit stores in June, however, if that's not your cup of tea, this design may be the way to go.

Last but not least, is yet another crossbody purse, and my personal favorite of the bunch. This shimmery silver bag is reminiscent of the floating pod that "Baby Yoda" spends his time in. With an adjustable strap for maximum comfort, this is perfect for someone looking for a more understated Star Wars accessory. And just to add a bit more detail, the bag also comes with a small keychain depicting "The Child" which can be attached/detached at will.
All three of these bags are available to pre-order now and will be released in September of 2020. But if I were you, I'd grab them now. "The Child" merchandise tends to sell out quickly, even on pre-order.
So, do you have a favorite from the new collection? Let us know below!