For film buffs and Francophiles, Michel Piccoli starred in Luis Buñuel's Belle de Jour and The Discreet Charm of the Bourgeoisie. And who could forget his role opposite Brigitte Bardot in Jean-Luc Godard's Contempt in 1963?
But for Disney fans across the world, he's known as Jules Verne in the popular Le Visionarium and The Timekeeper attractions.
The attraction first opened as Le Visionarium in Disneyland Paris in 1992, then as The Timekeeper at Tokyo Disneyland in 1993, followed by the Magic Kingdom.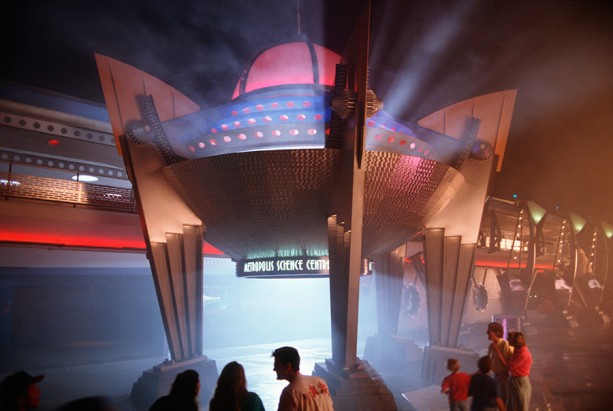 1994, The Timekeeper opened at the Metropolis Science Center in Tomorrowland. Hosted by a wacky robotics tour director named Timekeeper, this Circle-Vision 360 movie took guests in their "time-machine" theater through dramatic moments in the past and also into the future. This was the first time Imagineers attempted to tell an immersive story through Circle-Vision complete with light-hearted dialogue––instead of just the typical switching of scenes. While the Magic Kingdom version had a lively Robin Williams play The Timekeeper, Michel Piccoli played Jules Verne, alongside Patrick Bauchau as Mr. Verne's translator and Jeremy Irons as H.G. Wells, among others.
The attraction was eventually replaced with the Monsters, Inc. Laugh Floor in Tomorrowland, but we have a full recording of the attraction from 2005, just one year before the attraction closed:
Piccoli was incredibly accomplished, and passed away at the age of 94 in the arms of his wife and children after experiencing a stroke.
Despite his vast career, and four nominations, he never won a Cesar, also known as a French Oscar. He did, however, win best actor at the Cannes film festival in 1980 for Marco Bellocchio's A Leap in the Dark.
Source: France 24 | Featured Image: Pansophist (Jules Verne)