Trying to survive Disney withdrawal is tough! In order to get through it, all I can do is dream about home and hope we can visit again soon! The weather has been crazy where I live. It's May and we are experiencing some snowfall and freeze warnings almost every night for a week now…. definitely not ideal for May. So I have been yearning for the Florida sun and Disney's warm and relaxing hot tubs. I have been yearning for it so much, I shared with you my Top 5 Favorite Walt Disney World Hot Tubs that you can read about here!
I originally had a trip planned to visit Walt Disney World this week. So I am sulking a little bit at the thought that I could've been in a Disney hot tub right now, instead of being here all huddled in warm clothing! But I am thankful that I am healthy and I cannot wait until we all can visit our home again soon!
After I shared my favorite hot tubs, I asked all of you to tell me where your favorite hot tubs are, too. So let's take a look at the poll results and see what some of you had to say!
Reader Poll Results
6. Other: Port Orleans French Quarter, Coronado Springs, and the Grand Floridian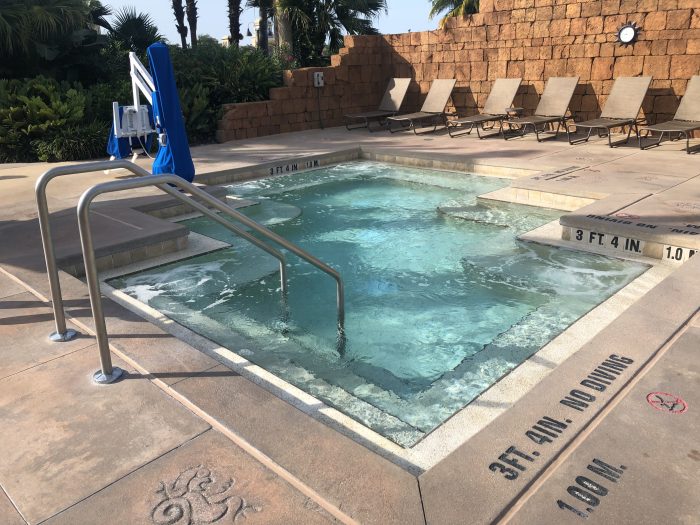 The "Other" category hit number 6 on the list. And I received voted for resorts such as Port Orleans French Quarter, Grand Floridian, and Coronado Springs.
Jeffrey Joel Hernandez said "Port Orleans – French Quarter's are the best! They're a good distance from the pool area, which means they're usually quiet and they have the beautiful park ambiance. Also, not far from the bar!" Oh yes! French Quarter has a great hot tub! It's further from the pool, has plenty of space for chairs, and the greenery adds to the overall charm!
Galactic Hero Pilot of the Millennium Falcon voted for Coronado. "I don't agree with the 5 choices. The hot tub at Coronado Springs is the largest on property. Awesome hot tub." I have only stayed at Coronado Springs one time but I do remember that the spa was great!
Tom Morrow's favorite is at the Grand Floridian. "My favorite wasn't on the list, but my second favorite was Wilderness Lodge. I used to be a WDW Cast Member, and I lived in Winter Garden. Grand Floridian was just a short drive away, and it was the most relaxing thing to head over there in the middle of the night and soak in the hot tub all by myself. After soaking, I'd head over to Gasparilla Grill and enjoy a snack."
5. Bay Lake Tower at Disney's Contemporary Resort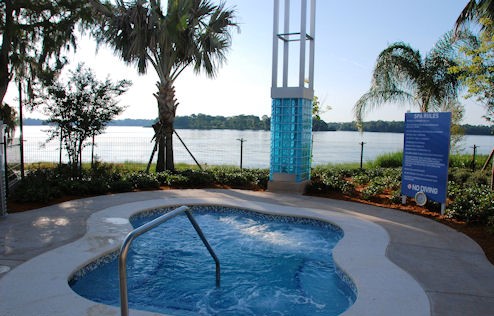 Ahh yes … Bay Lake! Not many of you voted for this resort. In fact, it only beat the "Other" category by 3 votes. I know it lacks charm and privacy, but the view is worth a dip anytime! Last time I stayed at Bay Lake, we had the best evening on our last night there. We were visiting with family and friends in the hot tub and around the fire pit. The weather was perfect, the sunset created a beautiful backdrop, we played at the ping pong table, and the Cove Bar was right there where we could fill up our resort mugs and grab a snack. It is a really nice evening hang-out spot!
4. Disney's Wilderness Lodge
Your votes put the Wilderness Lodge hot tubs at number 4. I love Wilderness Lodge so much and there is not a hot tub there that I do not like. It is on my bucket list to stay in one of the Cascade Cabins so that someday I can relax in my very own hot tub after a day in the parks. Well, that and to experience the awesome cabin itself, of course… but mostly for the hot tub.
3. Disney's Animal Kingdom Lodge –  Jambo House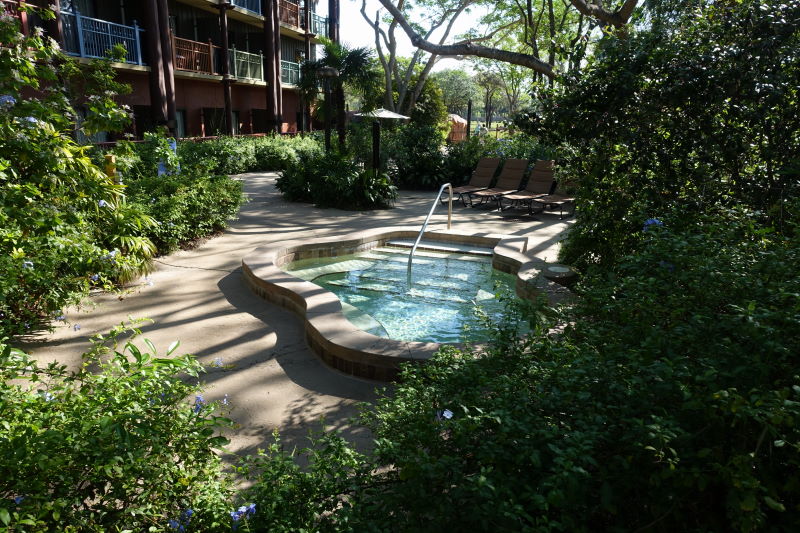 I love how Animal Kingdom Lodge – Jambo House hot tubs make you feel so secluded. They are the perfect little oasis for your relaxing getaway. When I stay there, I love to spend my evenings by the fire, using the night vision goggles to find animals, and then ending my evenings in the spa. The Lodge is vert peaceful, which makes for a lovely spa-side experience.
2. Disney's Yacht and Beach Club Resort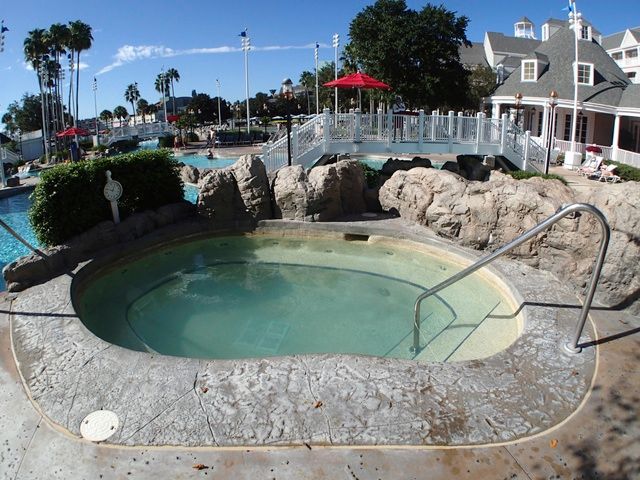 The Yacht and Beach Club had a huge jump in the polls. I noticed it was not doing that great in the beginning and then all of the sudden the votes spiked, bringing it to the number two spot. This resort also has a few different hot tubs, Lillian Donaldson said her favorite is "the one closer to the hotel behind all the rocks." I couldn't agree more! That is my favorite location as well. It is a nice peaceful place to unwind, but provides easy access to the pool when you are ready to dive back in!
1. Disney's Polynesian Village Resort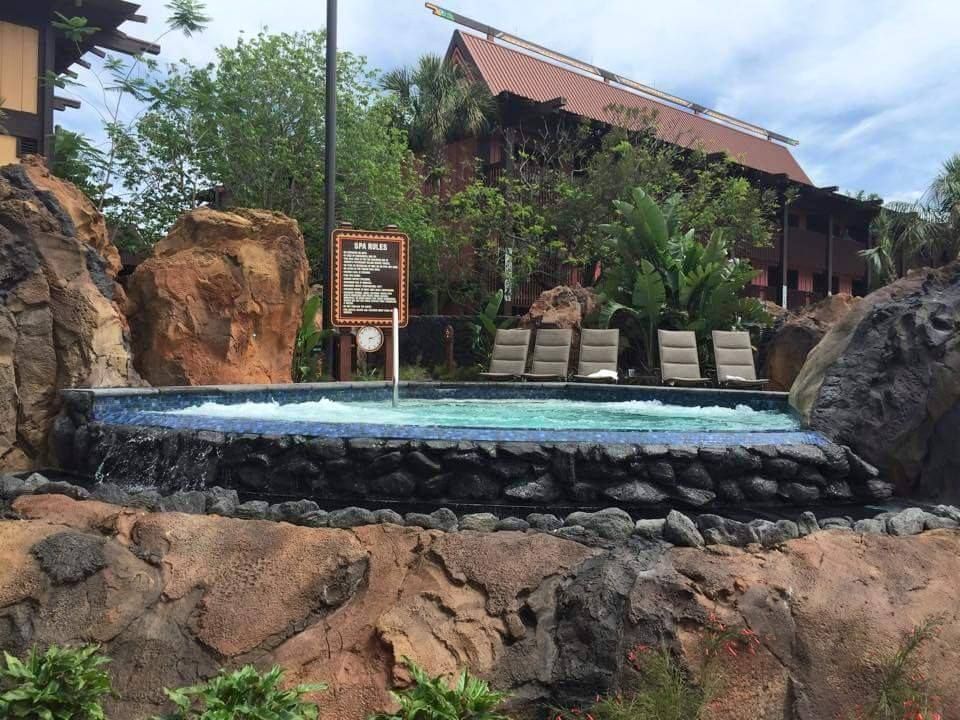 Well, here you have it folks, your number one favorite hot tub is at Disney's Polynesian Village Resort! I get it. This resort screams vacation. The overall feel is so calming that you cannot help but unwind and take it all in. Plus, let's be honest, it's hard to beat Seven Seas Lagoon views, endless Dole Whips, Magic Kingdom fireworks, and a front-row hot tub viewing of the Electrical Water Pageant.
Honorable Mention
Since this hot tub was not located at a Walt Disney World resort, I could not count it in this poll. But I wanted to give it an honorable mention since it seems to be a reader favorite. Saraha Skyranger voted for the hot tub at Disney's Aulani, saying that "Hawaii Disney has the best view." David Addiss agreed with her, saying that it is the "Best Disney hot tub for sure." Visiting Disney Aulani is also on my bucket list. I really hope to visit there someday and when I do, you'd better believe I'll be checking out that hot tub!
Thank you all for reading, voting, and commenting! I love hearing your favorite things about Walt Disney World!
Bonus Tip
Here is your Extra Magic Tip: While not every hot tub on Walt Disney property has a chair lift device for those who need mobility assistance, there are a lot of them that do! You can also find a chair lift device at every main pool on property. Just ask a lifeguard for assistance.