I am going through major Disney withdrawal right now! I know that most of you are going through the same thing. I have a trip planned in May and even though I am a super positive person, I am not getting my hopes up about going. But like most of you, I hope and pray that things will get back to normal soon and that our beloved home can reopen soon!
I'm thankful that while we're stuck inside, we can still dive into activities that keep us close to the magic. So far, I've made delicious Dole Whip, watched the Dapper Dans sing, and even spent an afternoon cooking Canadian Cheddar Cheese Soup with Tyler. All of those things and so much more have been my lifesavers! But there is one more thing that without a doubt always gives me my Disney fix. Sharing my favorite things about Walt Disney World with you and then hearing what you love in return!
Hot Tubs, Jacuzzis, and Spas… oh my!
The weather has been insane where I live. We have had such a fluctuation in temperature in just a few days. One day, we had severe thunderstorms, and the next day, it snowed. Right now, it is chilly and kind of gloomy, so all I can think about is being at Disney in the warm Florida weather. (Who am I kidding? It doesn't matter what the weather is like, I always want to be at Disney!) But for me, a Disney vacation also means spending time at the resorts swimmin' and hot tubbin'.
I love hot tubs. I rarely visit a pool area without getting into one. My family sometimes thinks that I am a little strange because even if it's hot outside, I still want to take a dip in the hot tub. It is so relaxing after a full day of walking around in the parks! I also love meeting new people. I don't see strangers, I see new friends and the hot tub is a great place to chat and meet other guests enjoying the magic too. I know that there are a lot of you out there that probably want peace and quiet while enjoying your pool time. So if by some crazy chance we ever happen to meet at a Disney pool, I will apologize now for making conversation to try to get to know you.
Since I visit every hot tub I come across, I do consider myself kind of a Walt Disney World hot tub connoisseur. There are many factors to consider when choosing the perfect hot tub, like temperature, jet pressure, location, and more. Taking those factors into consideration and adding my personal preferences, I would love to share with you my top 5 favorite Walt Disney World Resort hot tubs.
Let the Countdown Begin
Are you ready to hear my top five hot tubs? Let's count them down now. After I share my top five favorite hot tubs, I want to know what your favorites are, too! Please vote at the end of this article, and do not forget to comment and tell me why you love your pick!
5. Disney's Animal Kingdom Lodge –  Jambo House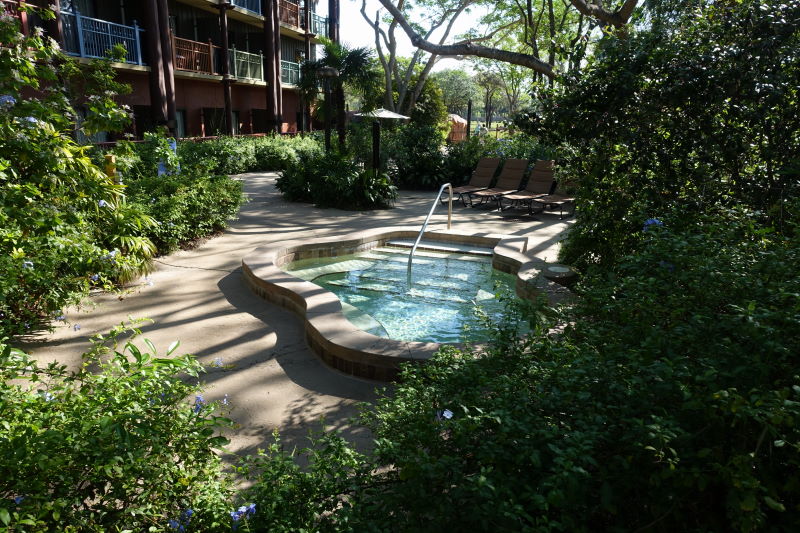 Jambo, everyone! Disney's Animal Kingdom Lodge is by far one of the most peaceful resorts on property. And when you find a peaceful resort, you find a peaceful hot tub! There are two spas at the Uzima Pool in Disney's Animal Kingdom Lodge – Jambo House. In my experience, both have proven to be a quiet getaway. Both locations are surrounded by lush greenery. It makes you feel secluded, like you've found your very own oasis and an animal from the savanna could sneak up on you at anytime.
I also really like the shapes of these hot tubs. I know that liking the shape may sound strange, but the shape can effect the overall feel. By not being a circle or a square, both spa configurations provide the option for guests to sit in a different arrangement. And that can allow for better grouping if you prefer to have a small section of the hot tub just for you and your party.
4. Bay Lake Tower at Disney's Contemporary Resort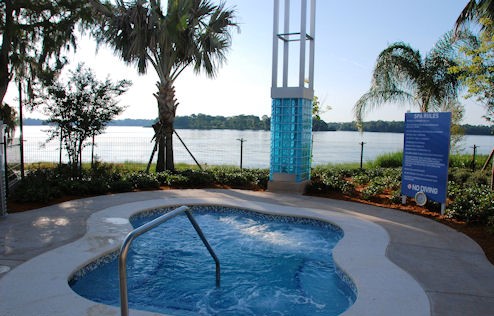 I have stayed at Bay Lake Tower a few times and there are things that I do love about it, but I have to admit there are also some elements that are not my favorite. *Gasp* Yes, it's true, I do not love everything about Disney World, and the pool here is not one of my favorite features of the resort. There is nothing wrong with it, I just prefer a more immersive theme and creative landscaping. But if the pool isn't my favorite, you're probably wondering why I even like the hot tub at all.
Well, the location is great! The spa is right next to the Cove Bar. You don't have to walk far to fill up your resort mug, grab a beverage, or even a snack. There's extra seating, tables, a ping pong table, and even a fire pit all surrounding the hot tub. But wait, there's more! The biggest reason this hot tub made it into my top 5 is because of the beautiful view. You can sit and relax while taking in the serene sights of Bay Lake. It is the perfect place for an evening hang-out spot!
3. Disney's Wilderness Lodge
At first, I was only going to focus on one spa at this resort. But between the Boulder Ridge Cove and Copper Creek Springs, I had a hard time choosing which one I liked better. All of them are wonderful and have similar features, but still offer two different feels. The overall theme of Wilderness Lodge will win me over every time. I love everything about the American Northwest. The mountains, moose, bears, cowboys, horses, pine forests, etc. There's so much excitement happening in one of the most tranquil settings.
Both hot tub areas provide views of the rustic lodge. But both views give off two different vibes. The spas at Copper Creek Springs provide a little more excitement. You can see almost everything! You have the breathtaking lodge on one side and the Fire Rock Geyser and Bay Lake on the other side. You can see guests having fun in the pool and children playing in their splash zone. It is a great hot tub for taking a break, but still feeling like you're a part of the excitement.
When I'm looking for a more peaceful location, I would visit Boulder Ridge Cove. I love that you can still see the main pool, but you are surrounded by boulders and greenery. It makes you feel like you have found your very own hot spring off the beaten path. I also love that there are chairs and small tables right next to the spa. Not all of the hot tubs on property have large enough areas to accommodate furniture and I appreciate having a place to put my things.
A special mention goes out to the Cascade Cabin hot tubs. Having your very own spa on the back porch of your amazing cabin over looking a beautiful lake view is hard to beat! Those hot tubs would totally have been in my top 5, but I wanted to stick with the normal guest pool hot tubs for this countdown.
2. Disney's Polynesian Village Resort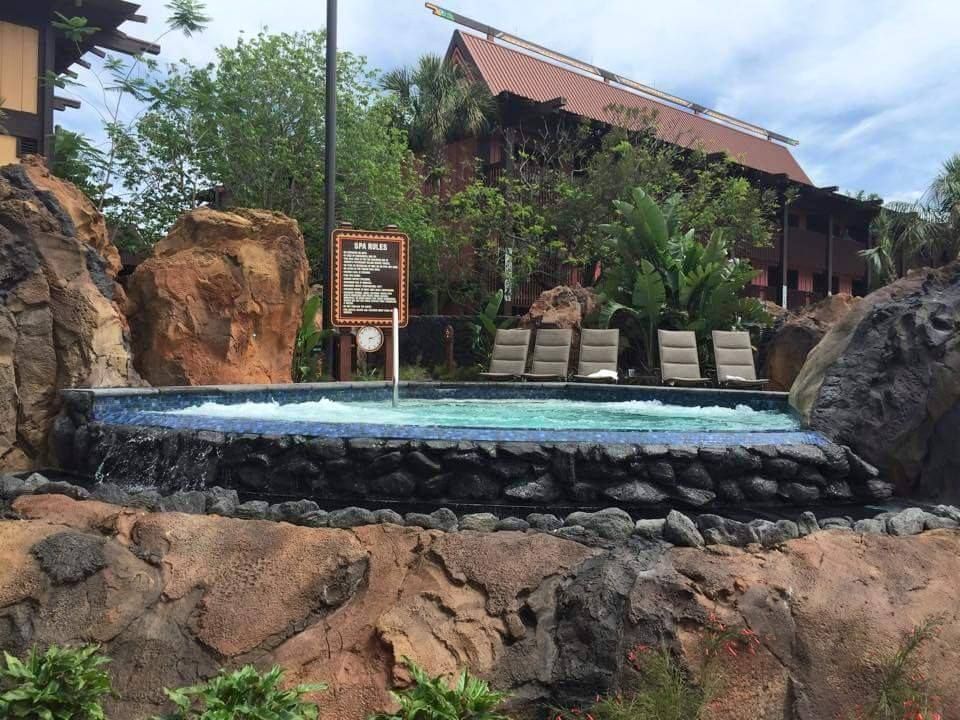 I have only had the pleasure of staying at Disney's Polynesian Village Resort one time and it was not nearly a long enough stay. I do get to visit on every trip because 'Ohana is my favorite restaurant, but actually staying there as a guest is very special. I would love to stay there again someday. The Polynesian Village Lava Pool has one of my favorite spas. I love it so much, it managed to grab the number 2 spot.
This hot tub is beautiful! Looking at it from the outside, you can see its clever water feature. The water flows over the side falling down and covering the rocks. And then once you are in the spa, that water feature also creates an infinity hot tub. The view is spectacular. You can see the Seven Seas Lagoon and the charming Grand Floridian in the distance. And at night, you have a perfect view of the Electrical Water Pageant.
The only downside is that I felt it was too small. It holds 12 people, but almost every single time I visited the hot tub, more than 12 people wanted to be in there. It seems they should have built two hot tubs or made this one bigger. However, there is another spa that is rather large and offers a little more quiet next to two beautiful palm trees! But regardless of the size, it is still a really great, beautiful, relaxing hot tub! There is nothing better than grabbing a Dole Whip and eating it on the beach while taking in the view of the Magic Kingdom and surrounding resorts, and then ending your day with a dip in that hot tub!
1. Disney's Yacht and Beach Club Resort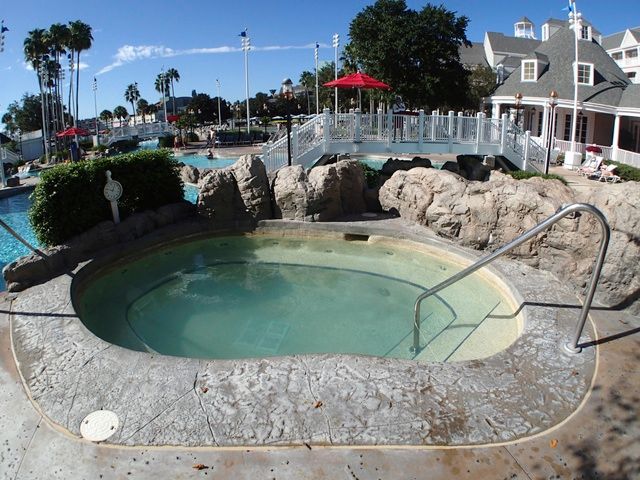 The Yacht and Beach Club has the best pool in all of Walt Disney World, in my opinion. If I ever do a countdown of my favorite pools, spoiler alert… it's Stormalong Bay. Before we ever stayed there, we were definitely those people who would walk by wishing we could swim there. Before they even started gating off pool areas, Stormalong Bay was always off-limits to those who were not staying at the resort. Very exclusive! So I will never forget the first time I stayed there and finally had the opportunity to partake in all of its glory! Being the best pool on property also means there are high expectations. And Stormalong Bay not only fulfills those expectations, but it also exceeds them. And the hot tubs are no exclusion! They are my all-time favorite!
There are three spas to choose from and they all offer different experiences. The locations are perfect. The first spa is right in the middle of the action in between the main pool and the kids pool. You can enjoy the jets while taking in all of the sites or watching the kiddos play in the sand. This hot tub is also great for conversation. It draws in the crowd that wants to keep an eye on the family, but is still seeking a quick break.
The other two hot tubs are a little harder to find, which is a plus for many! They are hidden by rocks for those who want to find a more secluded place to relax. These two spas are elevated, so when you stand up, you have a lovely have a view of Stormalong Bay. In fact, the elevation is one reason I love this spot so much. When I visit Disney World, I travel with my whole family. When we swim, we are spread out all over the pool area. It is so nice to be able to stand up and look around to find my party. Another great feature is the staircase that leads into the pool located in between the two spas. If you love to switch from pool to hot tub, you will love this spot!
I am sure that Disney keeps all spas the same temperature across the board. But for some reason, whatever it may be, the temperature is perfect for me. All hot tubs serve the same purpose, but I always feel the most relaxed at Stormalong Bay. All of the elements come to together for the perfect spa experience for me!
Vote Now
Now that I have shared my favorites with you, it's your turn! I love hearing from you and learning all about why you love Disney, too! Vote for your favorite resort hot tub below, then leave a comment telling me why you voted for it!
Loading ...
Bonus Tip
Here is your Extra Magic Tip: You can create a whole night of entertainment for yourself at the Polynesian Village. Start off by watching the Magic Kingdom fireworks from the beach and then hit the hot tub for the Electrical Water Pageant.