Due to the outbreak of COVID-19 in China, Shanghai Disney Resort has been closed since late January. With the park scheduled to reopen this coming Monday, we now have video of a tour given to the press showcasing the new operating procedures.
Video of New Shanghai Disneyland Operating Procedures
Walk Through of Shanghai Disneyland Before it Opens
The Shanghai park has a capacity of 80,000 people, but under government restrictions, it must be capped at 30 percent. In Disney's reopening announcement it was noted the park would open with an unspecified capacity lower than the 30 percent, but after a few weeks, it would be increased to 30 percent.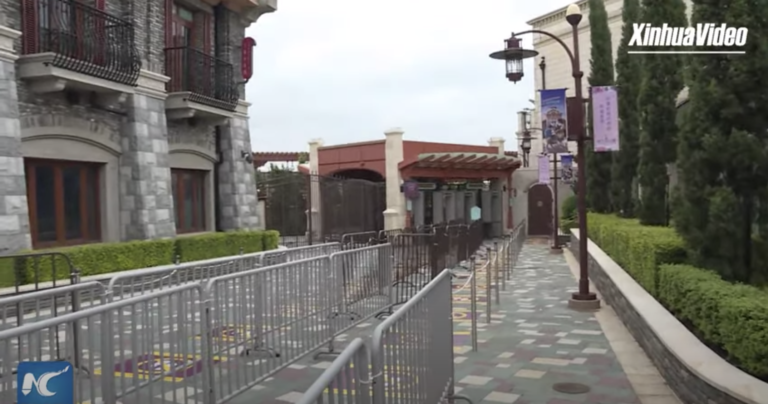 The tour starts with a look at the area guests will need to wait in to have their temperature checked. Then you will be allowed to enter the typical security screening area. Of course, both of these areas you will find markers on the ground so guests know where to stand to ensure proper social distancing. Purple and yellow mats line the ground, one meter apart, with the instructions "Please do not stand."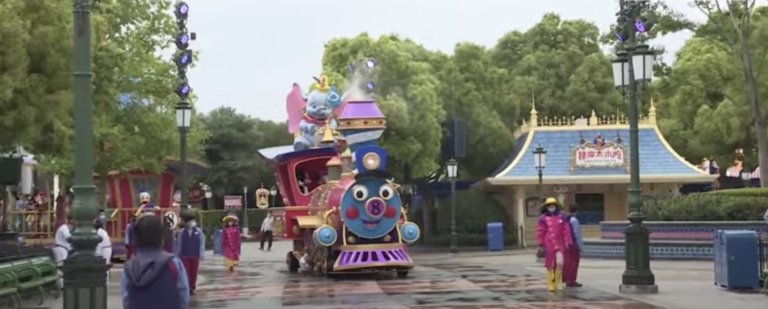 "In order to maintain safe social distancing for our characters, we won't have any up-close meet and greets, but we still want our guests to have a chance to see our favorite Disney friends and get a chance to take photos of them."  Instead we got see a look at a small parade of characters on a few floats. This is intended to be a happy surprise for guests. Once again it was pointed out that the ground is pre-tapped with boxes so guests understand where to stand.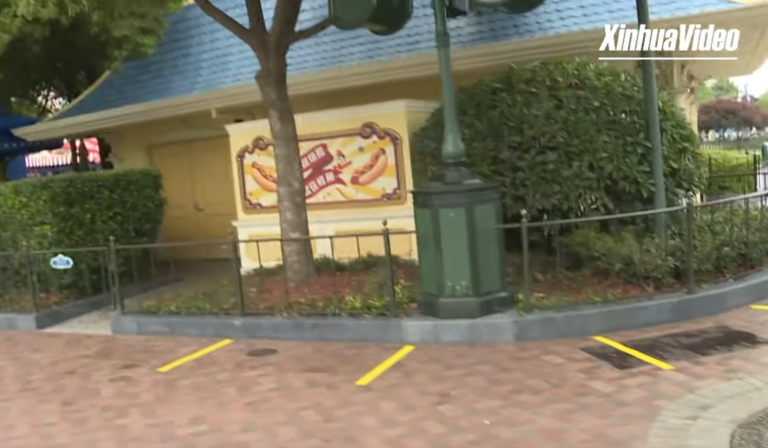 As they walked by food kiosks it was once again pointed out that the ground was marked so people would know where to stand when waiting in a a queue. Any space where a line would form will be marked.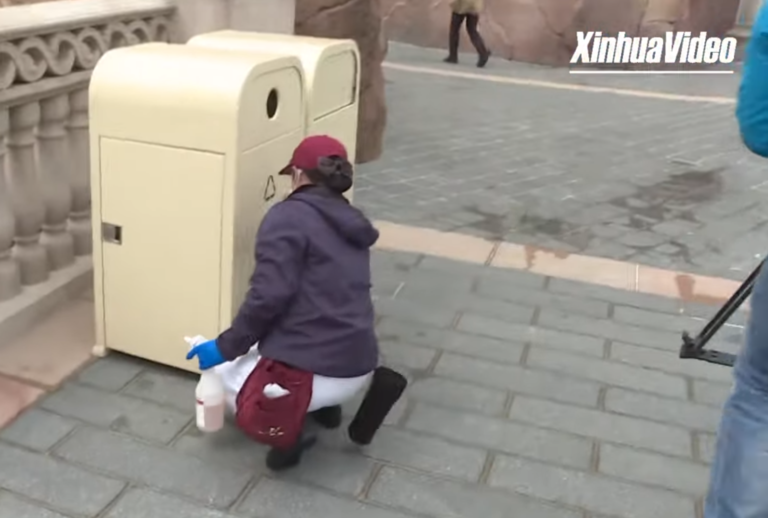 All the high touch points will be sanitized throughout the day and will have Cast Members who are focused on cleaning all these elements down. This was brought up as they walked by a Cast Member cleaning down a trash can.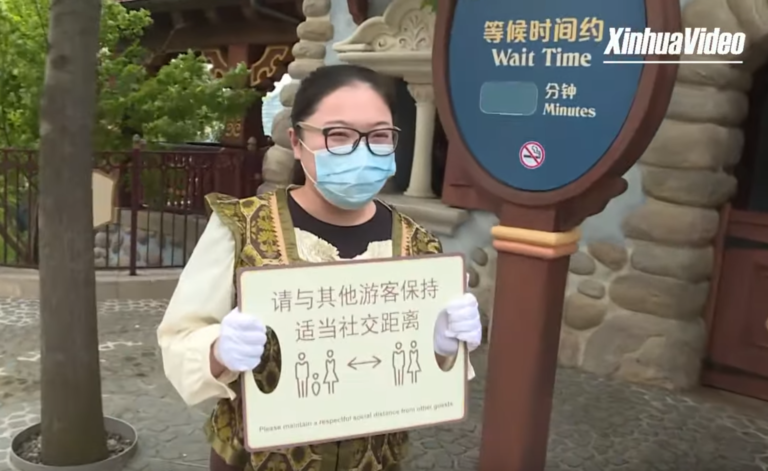 As for attractions, the entrance to every one will have a Cast Member standing with a sign that reminds guests to stand apart from one another an maintain social distancing. Once inside the queue the railings will have yellow makers. This notes where guests need to stop and wait so they do not get to close to the party in front of them. As well there will be cast members stationed in the queue to help enforce these new rules.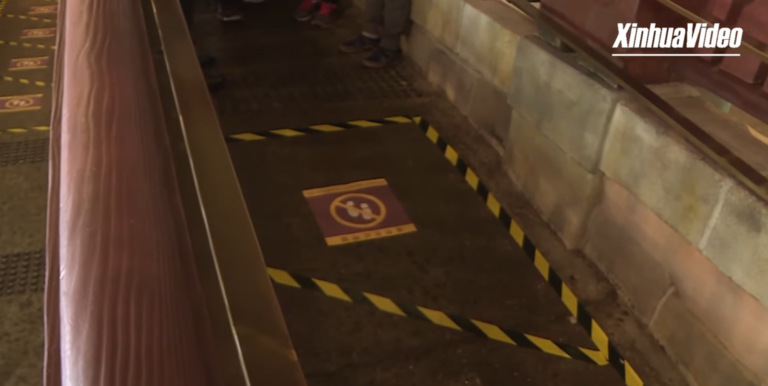 Wonder how they will stop guests from standing to close side by side in queues? Well they will have designated do not stand areas to help prevent this from happening.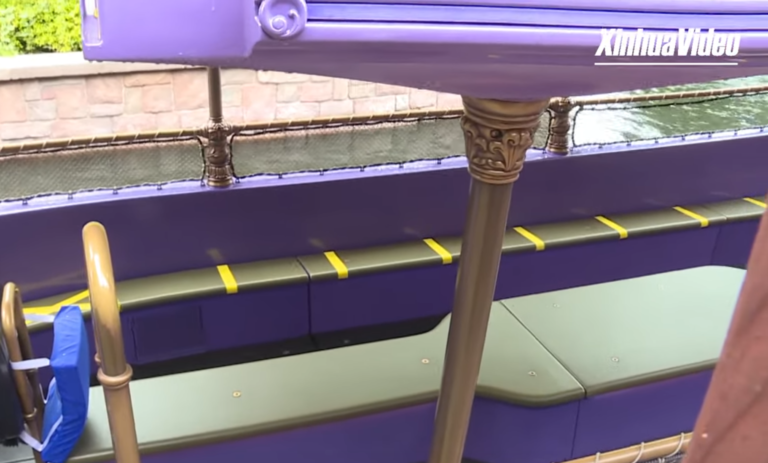 Even the ride vehicles are also getting marked with tape to show where guests are allowed to sit.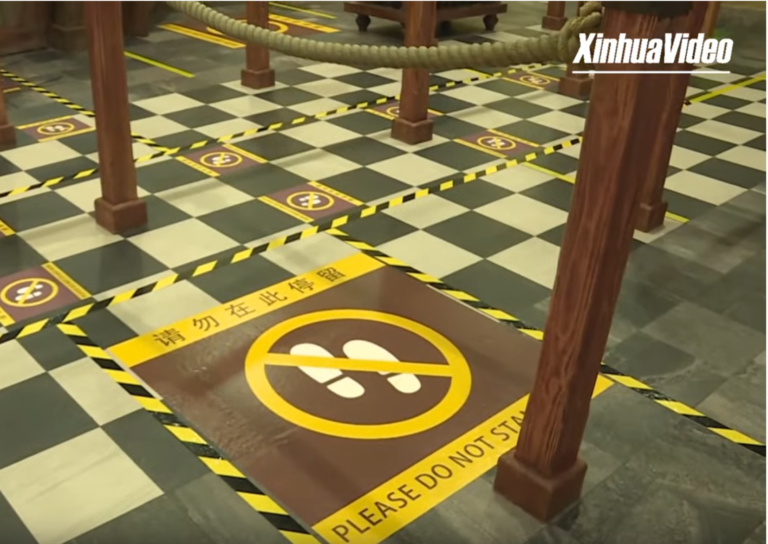 As for dining in restaurants at Shanghai Disneyland, they are planning to allow no more than 50% occupancy. Due to this restriction they have prepared queue lines outside each. Once again inside it setup similar to attractions. There is markings on the floor for where to stand and where you are not allowed to stand. Select tables will also be marked as unavailable to help space people throughout the inside of the restaurant.
Ever optimistic, it was added during the tour that "with our limited numbers of attendees every day, we believe everyone will be able to see almost everything they want." I think we are all eager to see how this reopening goes and if these new social distancing measures will be implemented in the US Disney Parks.
For more on Shanghai Disneyland's Reopening Read: