It was a brutally hot day here in Florida, but some parks are worth melting for, and we're just in training for when the first of the Walt Disney World parks reopen in just over two weeks!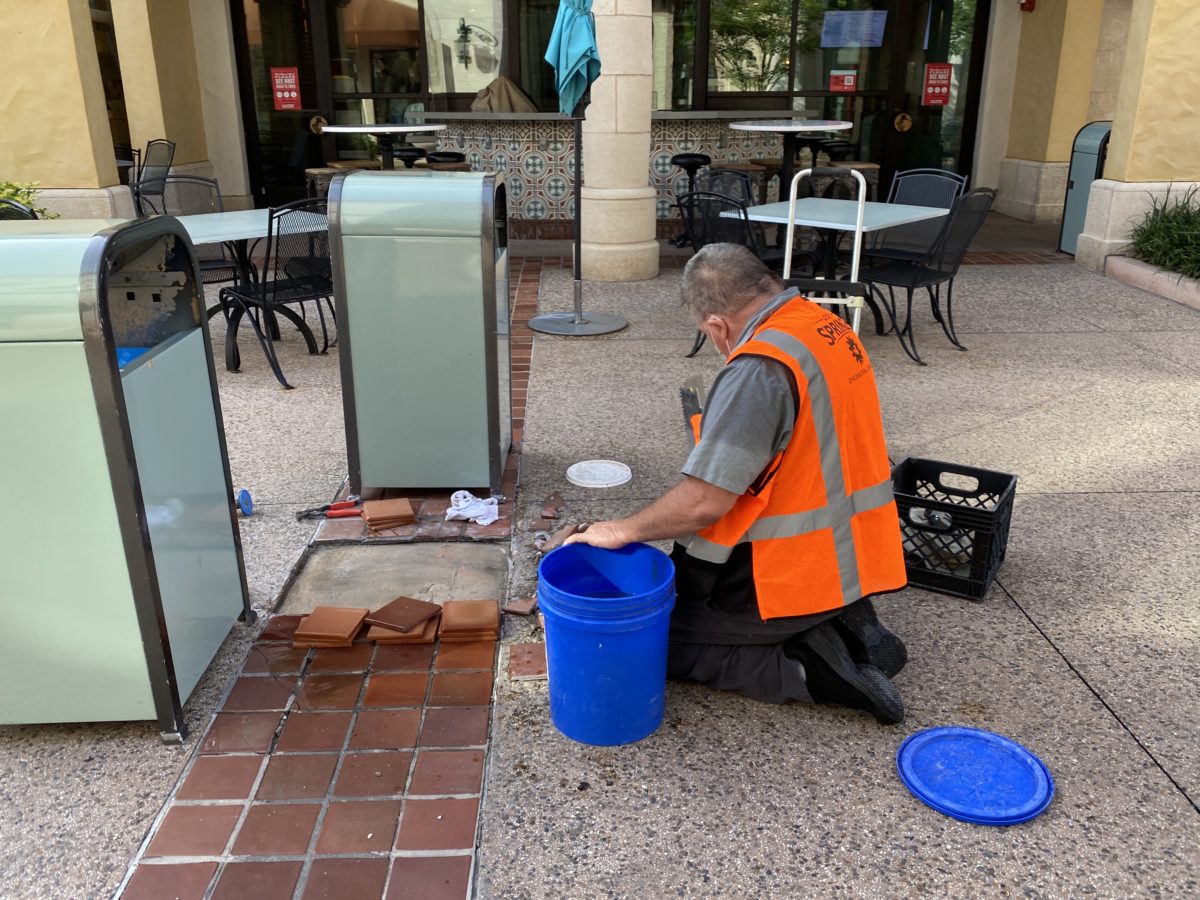 In construction and repair news, some much-needed tile replacement work was done this morning just outside of The Polite Pig. We had been watching for the past few days as these garbage cans were placed in the flow of traffic over top of some broken tiles, and today they were finally taken care of.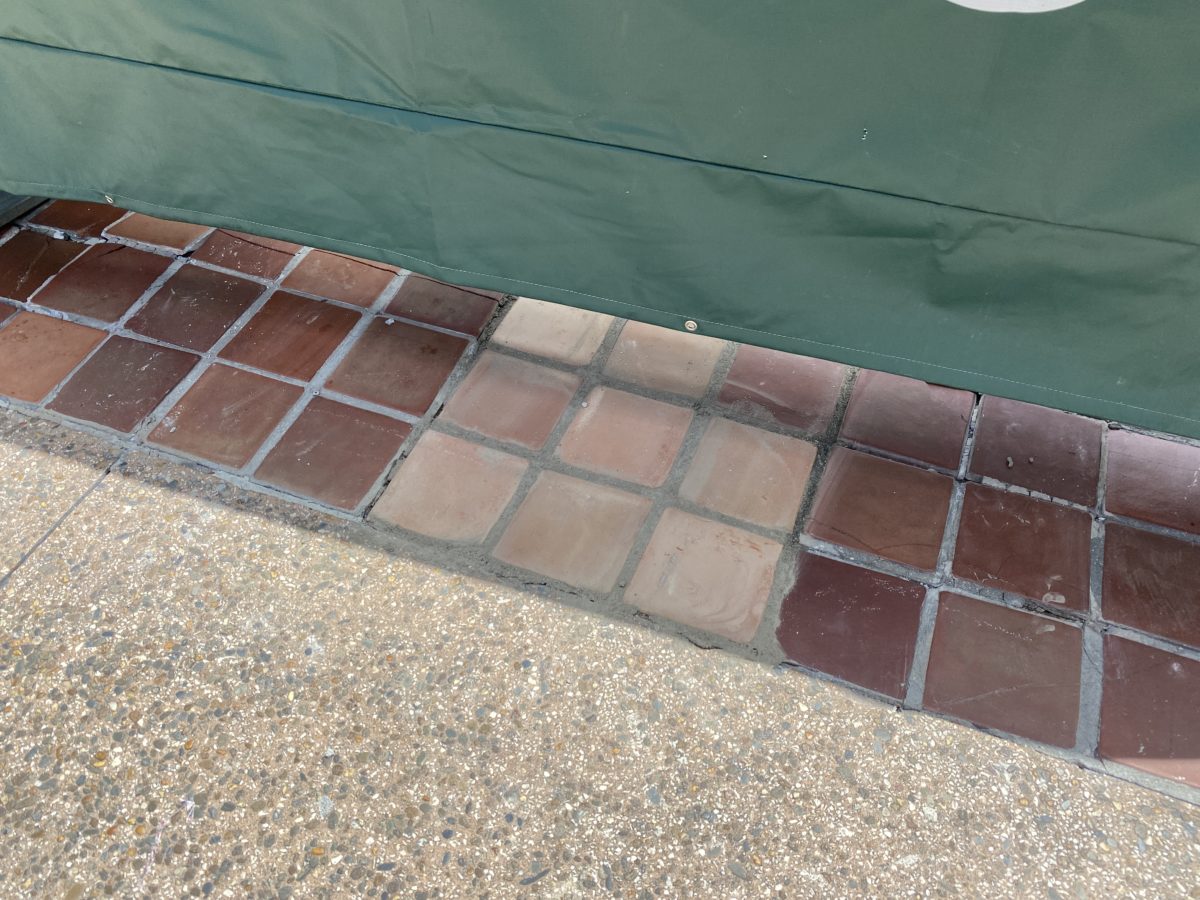 They were left to dry and set with a crowd barrier over the top of them to keep them from being stepped on prematurely.
The mystery of Erin McKenna's closure yesterday was solved today, as this note was found on their door. They reopened midday and quickly began stocking their cold case with delicious treats.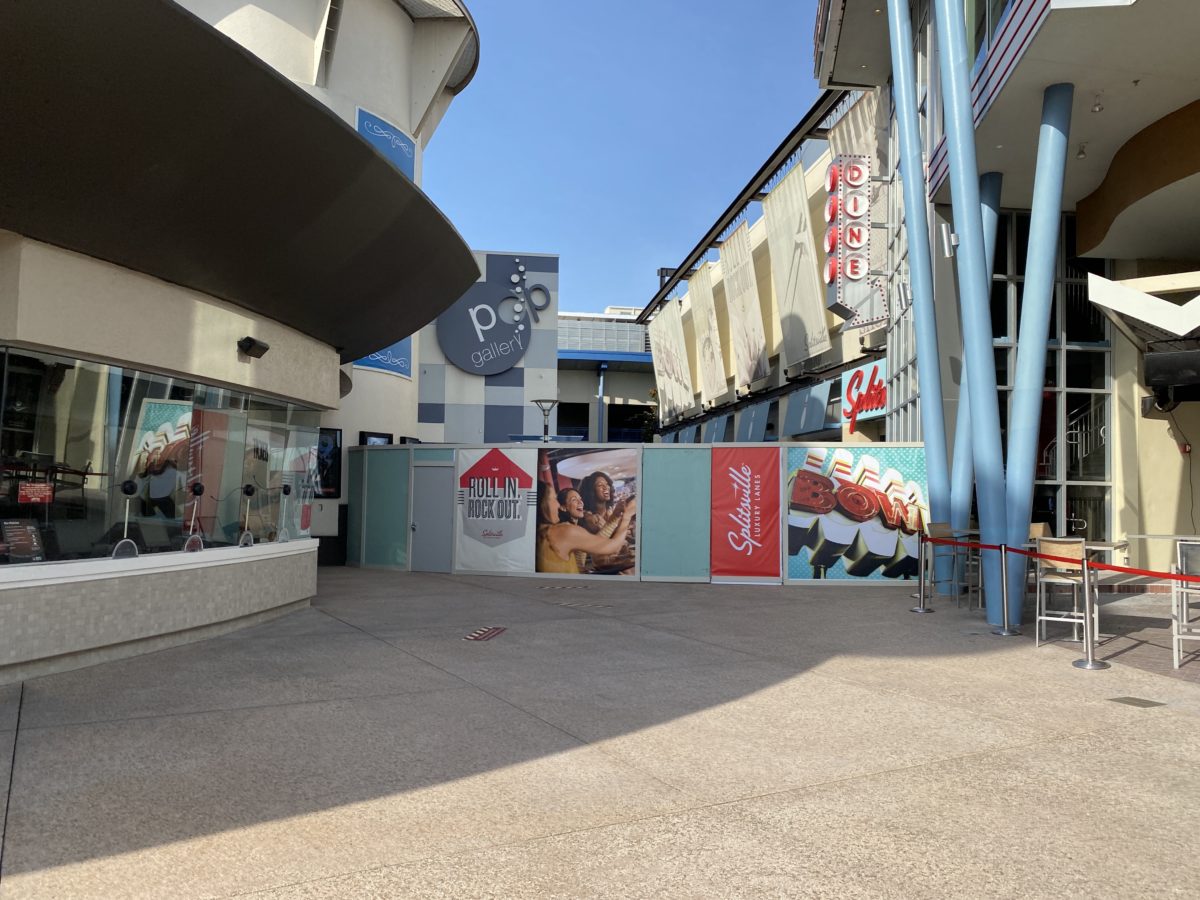 The construction wall between Splitsville Luxury Lanes and AMC Theaters remains in place, and work can still be heard actively underway behind it.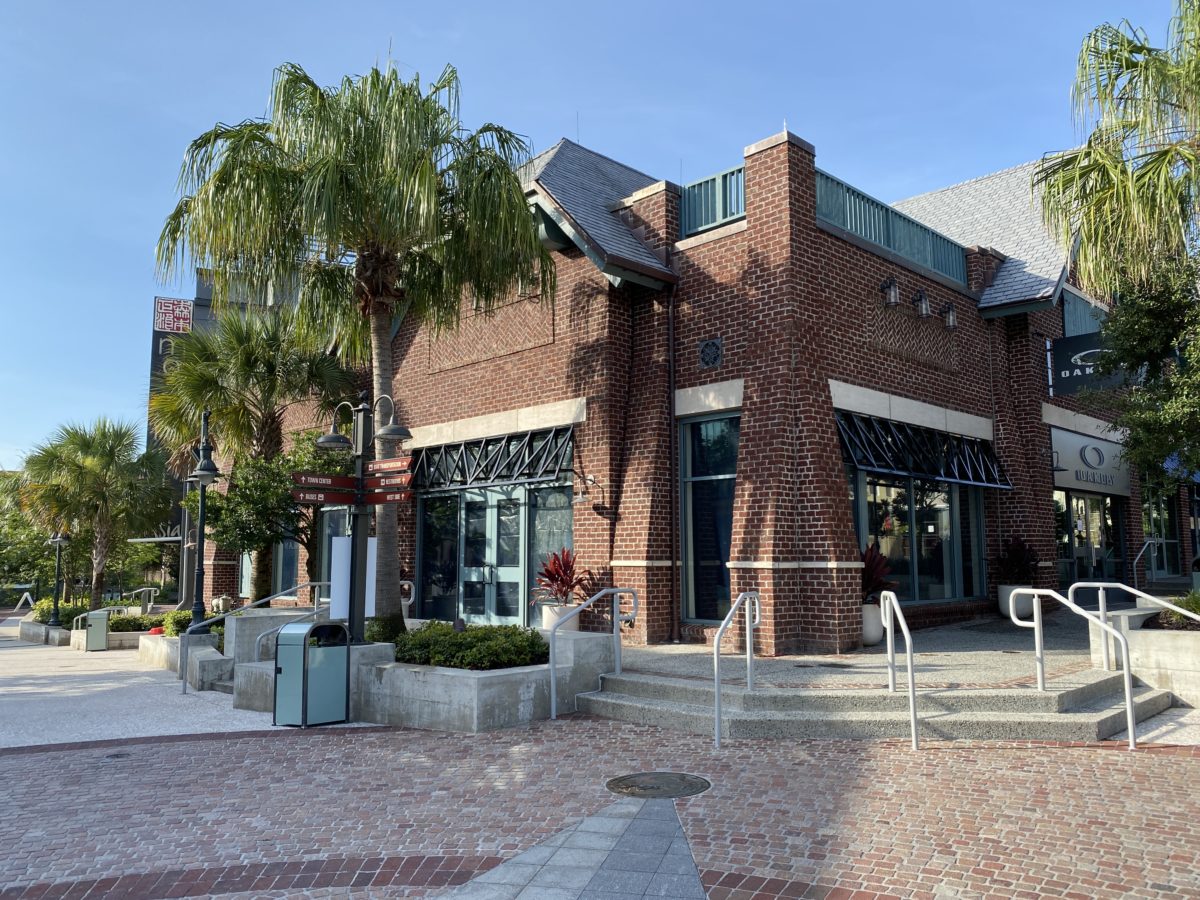 Yesterday we saw that Rustic Cuff was closed, and today they have removed their sign and awnings. Rumor has it that this is the future location of Gideon's Bakehouse. Are you a Gideon's fan, or would you have preferred to have Rustic Cuff stay in this spot? Let us know in the comments!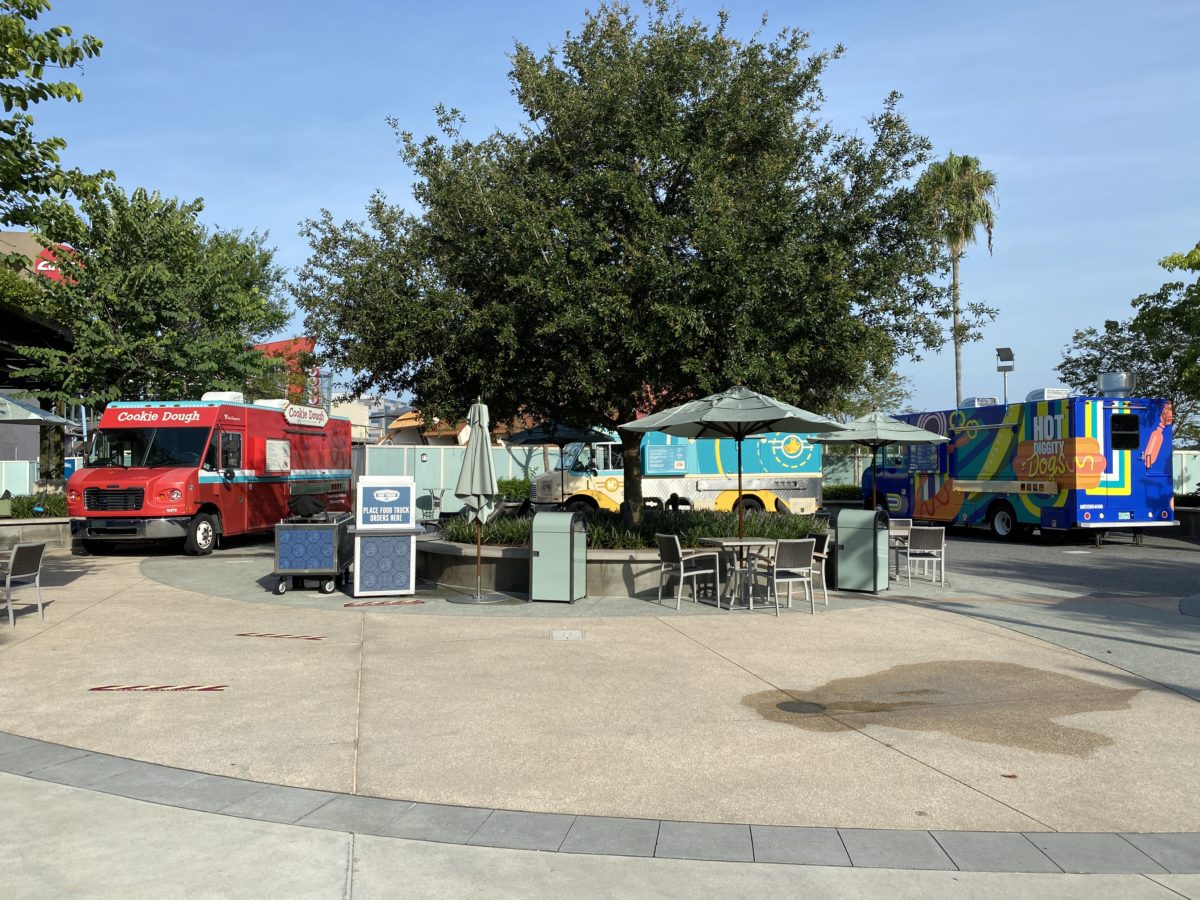 Over on the West Side, all of the food trucks have returned, as well as the food truck ordering stand, although it has changed orientation to the trucks. We hope all the trucks are back for good!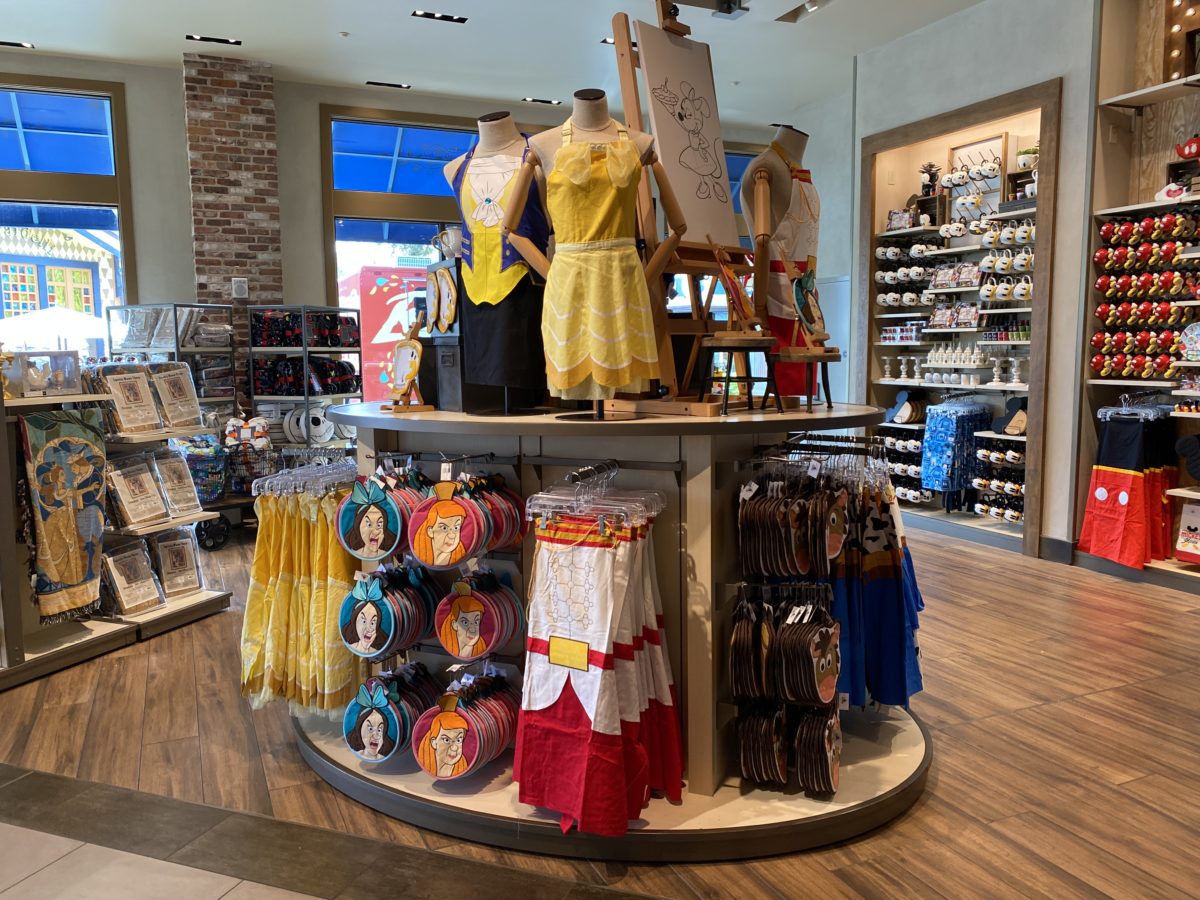 Over at the World of Disney, the new character aprons and oven mitts finally got a beautiful display in the home wares area. We love the Ugly Stepsisters oven mitts!
While at Pin Traders we spotted this new Grand Floridian Resort & Spa pin featuring the new Beauty and the Beast theming. It retails for $12.99.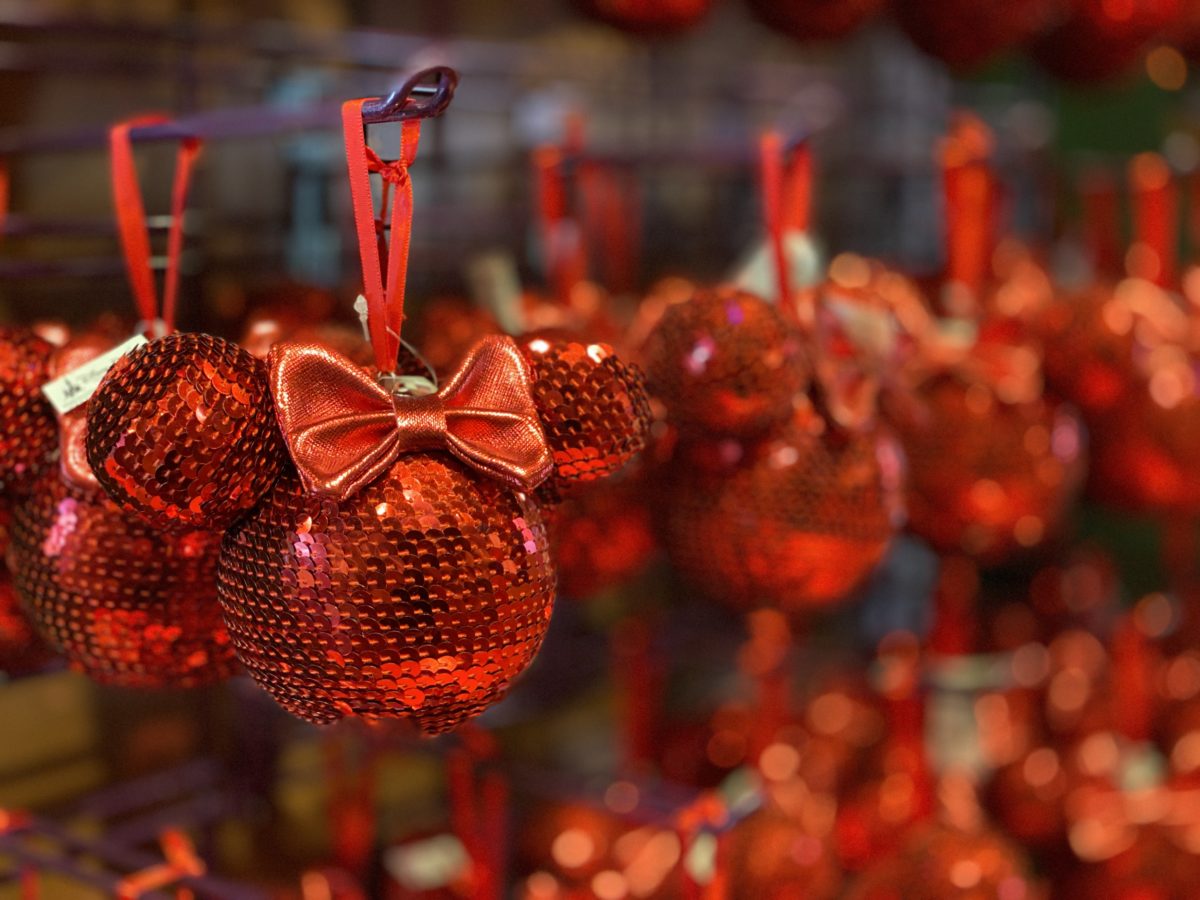 At Days of Christmas, we found this shiny new sequined Minnie Mouse ornament. It retails for $26.99.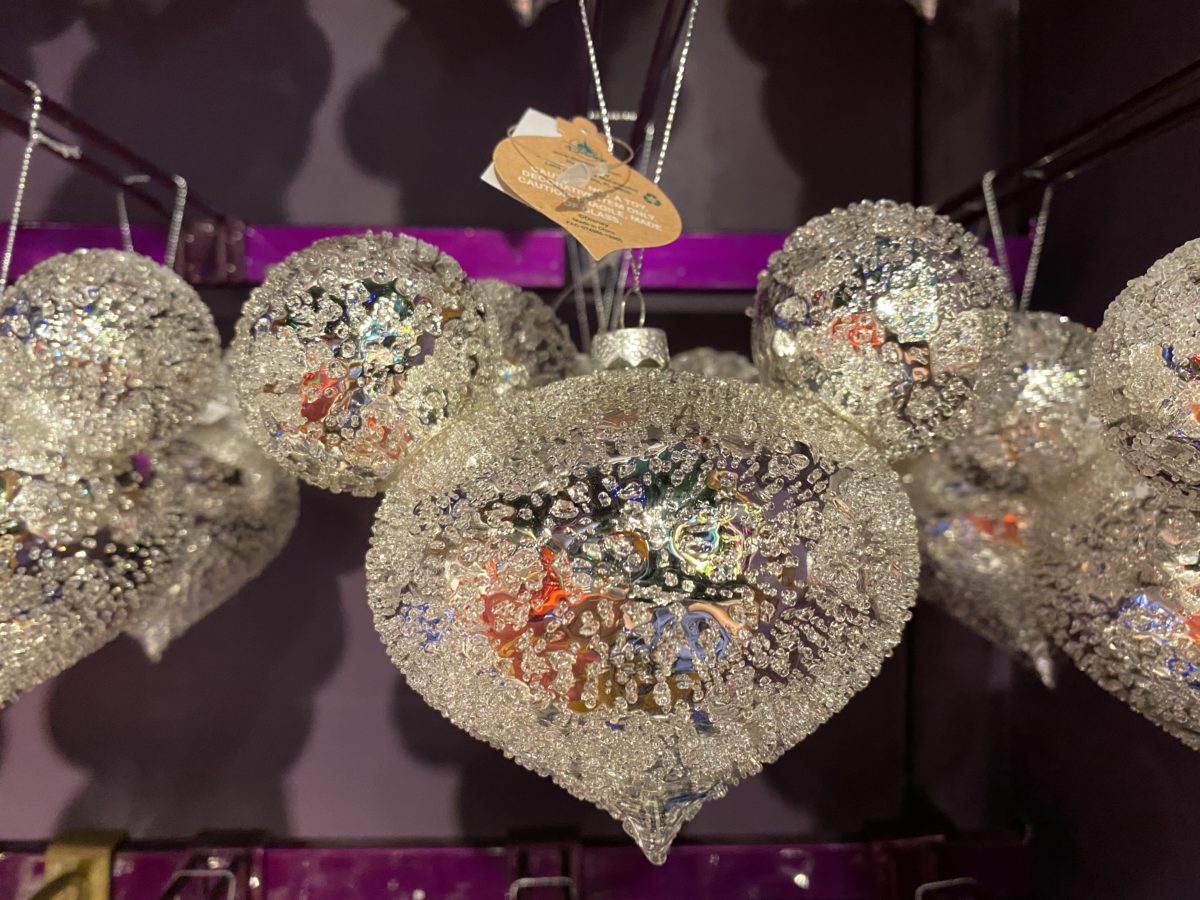 We also found this impressive blown glass Mickey Mouse ornament. Photos just don't do this ornament justice. It retails for $27.99.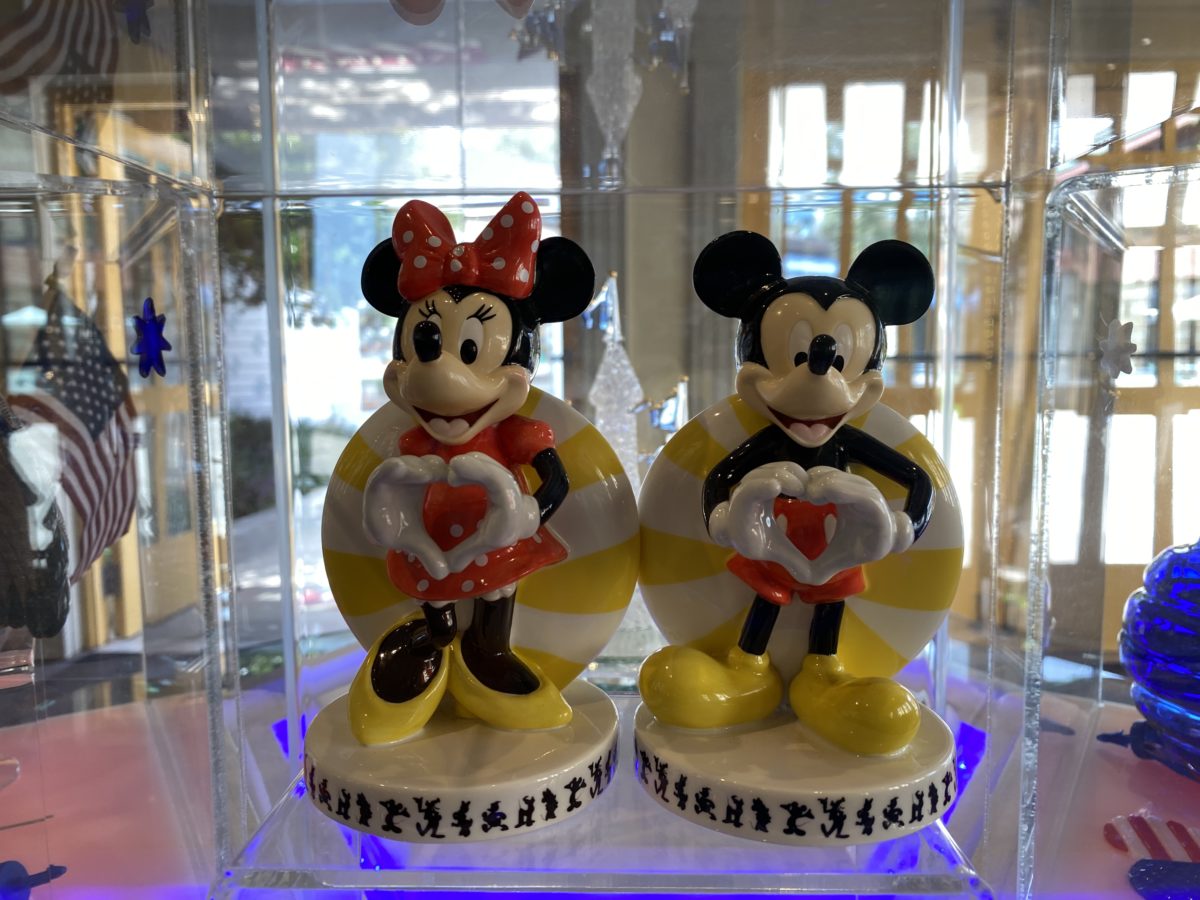 Speaking of glass, we spotted these cute Mickey and Minnie Mouse figures at Arribas Brothers. We miss you too guys, we'll see ya real soon!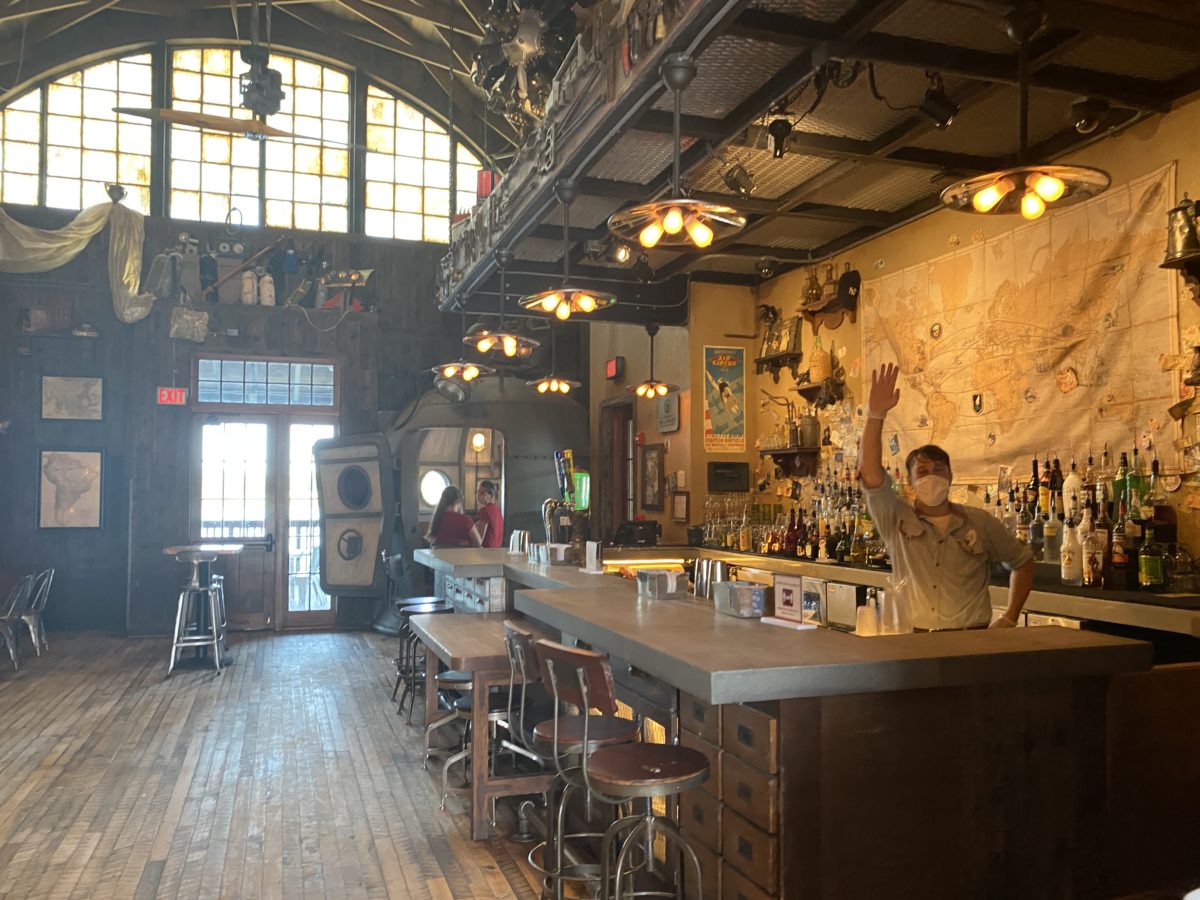 Jock Lindsey's Hangar Bar & Lounge reopened today with a reduced menu and limited seating. For more information and pictures, see our full article here. (Do note that as of publishing, the bar is now temporarily closed due to COVID-19 restrictions.)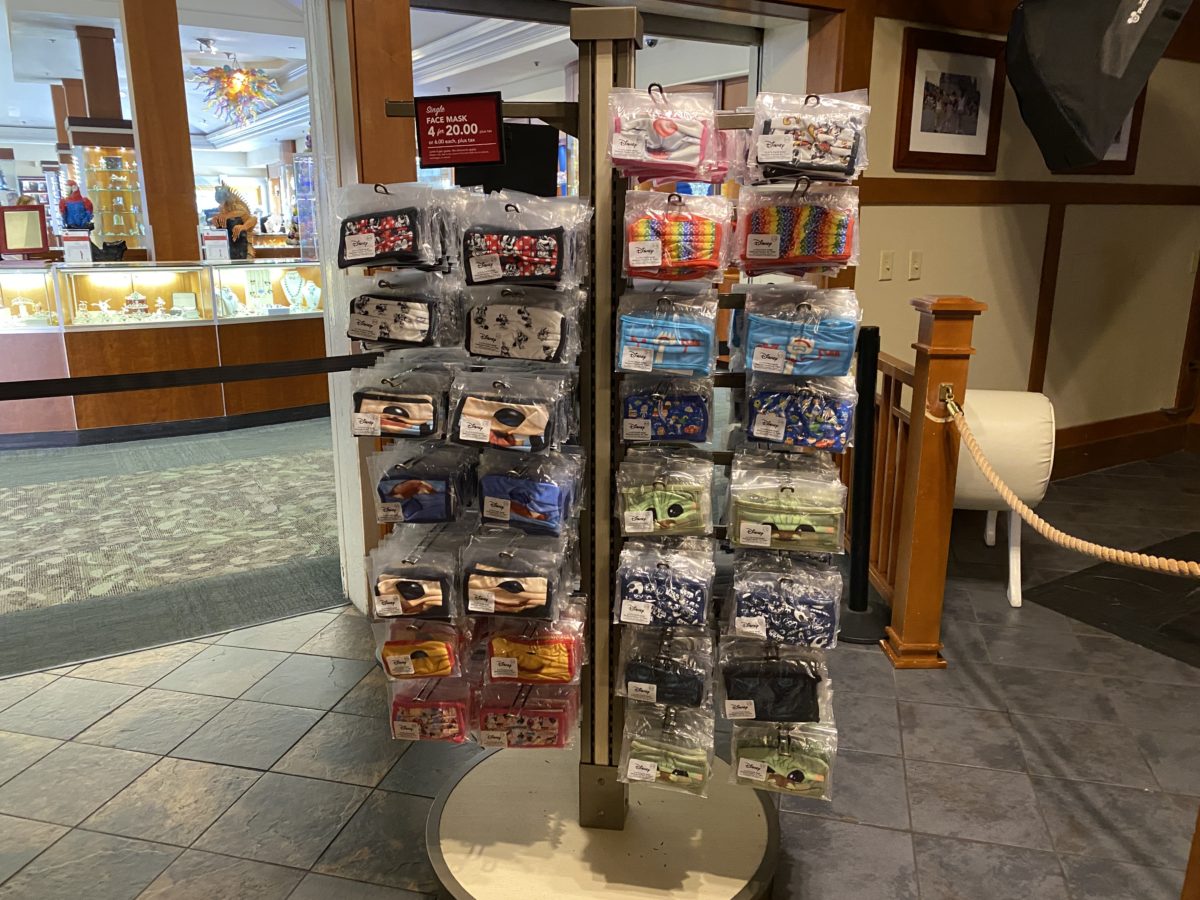 There's been a shift in the way face masks are offered for sale at Marketplace Co-Op today. Previously all masks have been behind the counter and, after filling out the form you receive outside of the building, a Cast Member fulfills your order from their stock behind the counter. Two of the three stations remain with that system, but now one station has moved to a self-service situation. All available masks are on this merchandise tree, and you can pick and choose the ones you want before moving into the Co-Op to pay for your choices.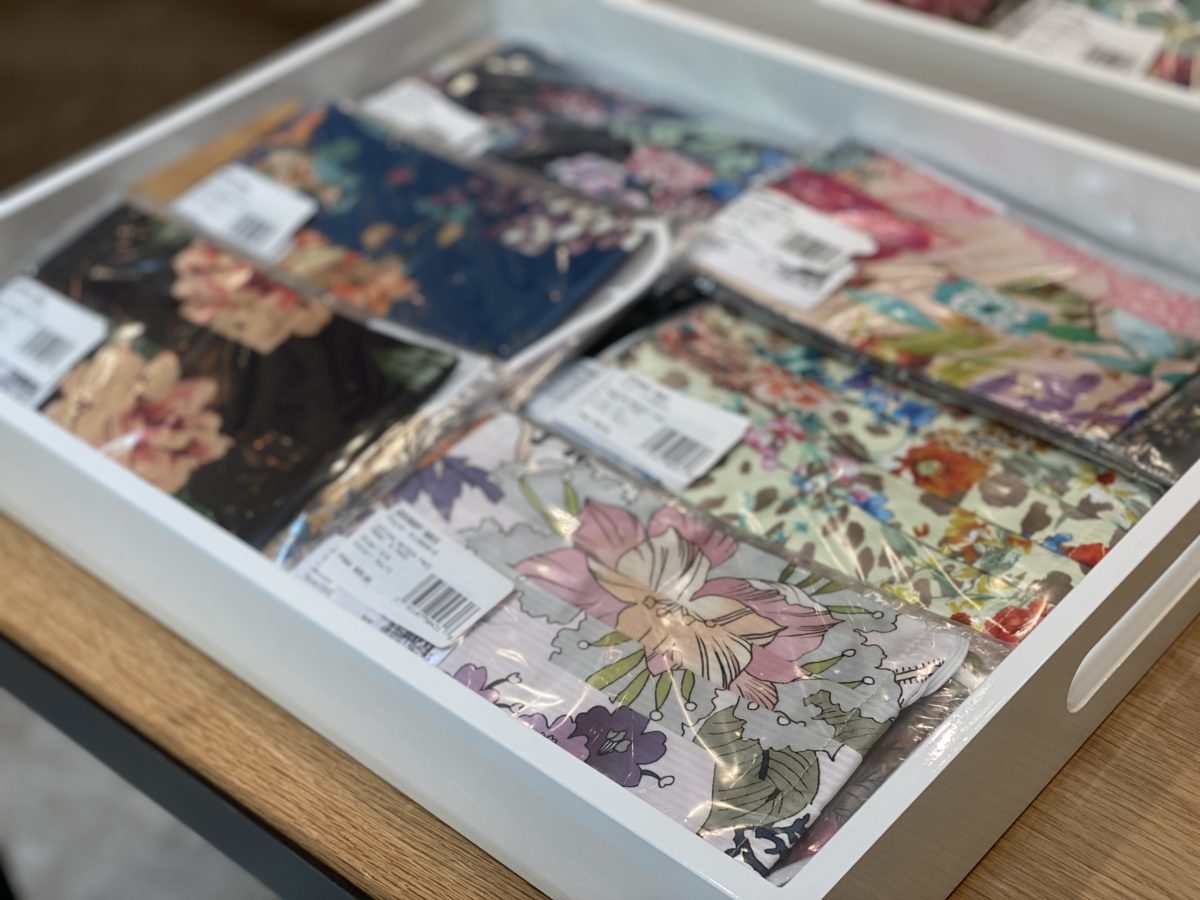 In other face mask news, we got a special hands-on look at the beautiful face masks available from JOHNNY WAS today.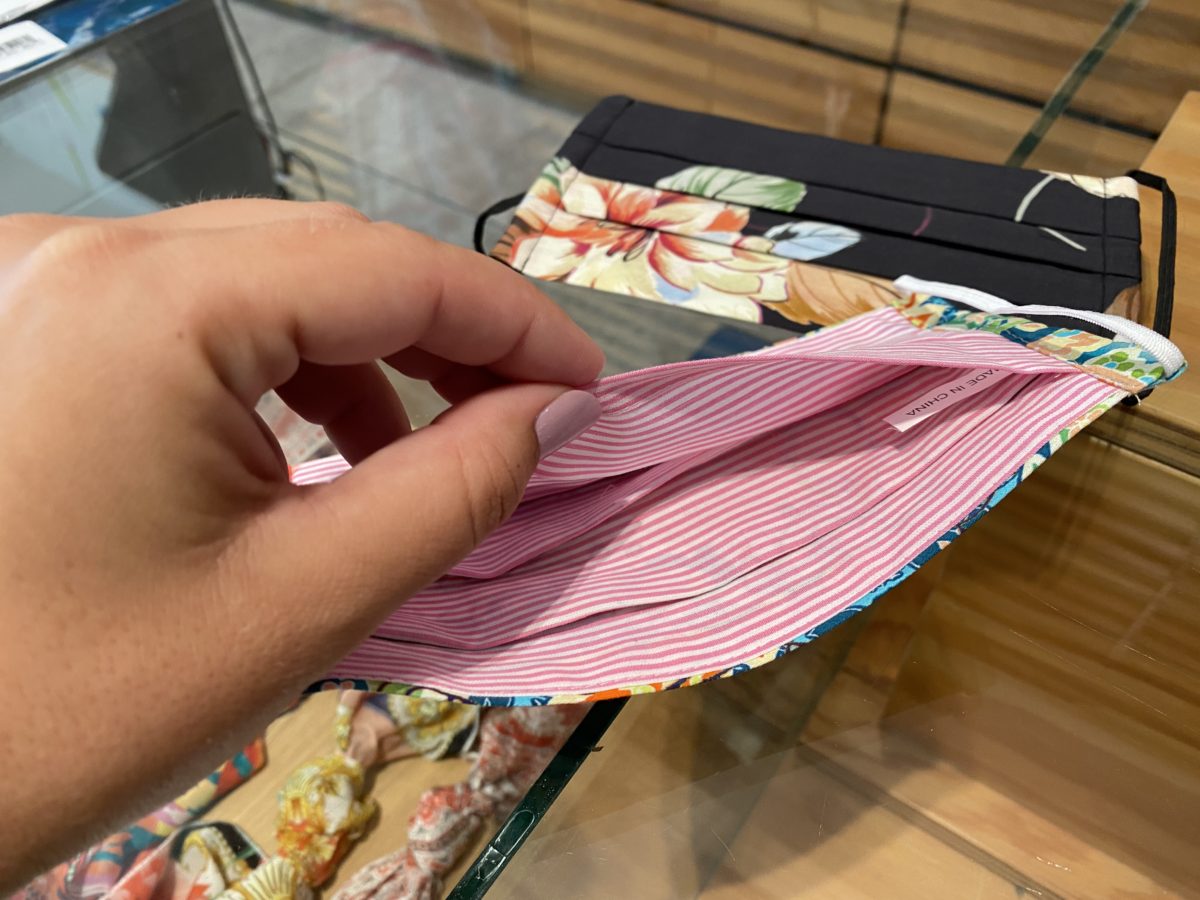 All their masks are lined in cotton and have a generously sized pocket for a filter. Don't worry, these masks were destined to be worn by the mannequins in the store, so it's ok that we were touching them. They're the next fashion statement!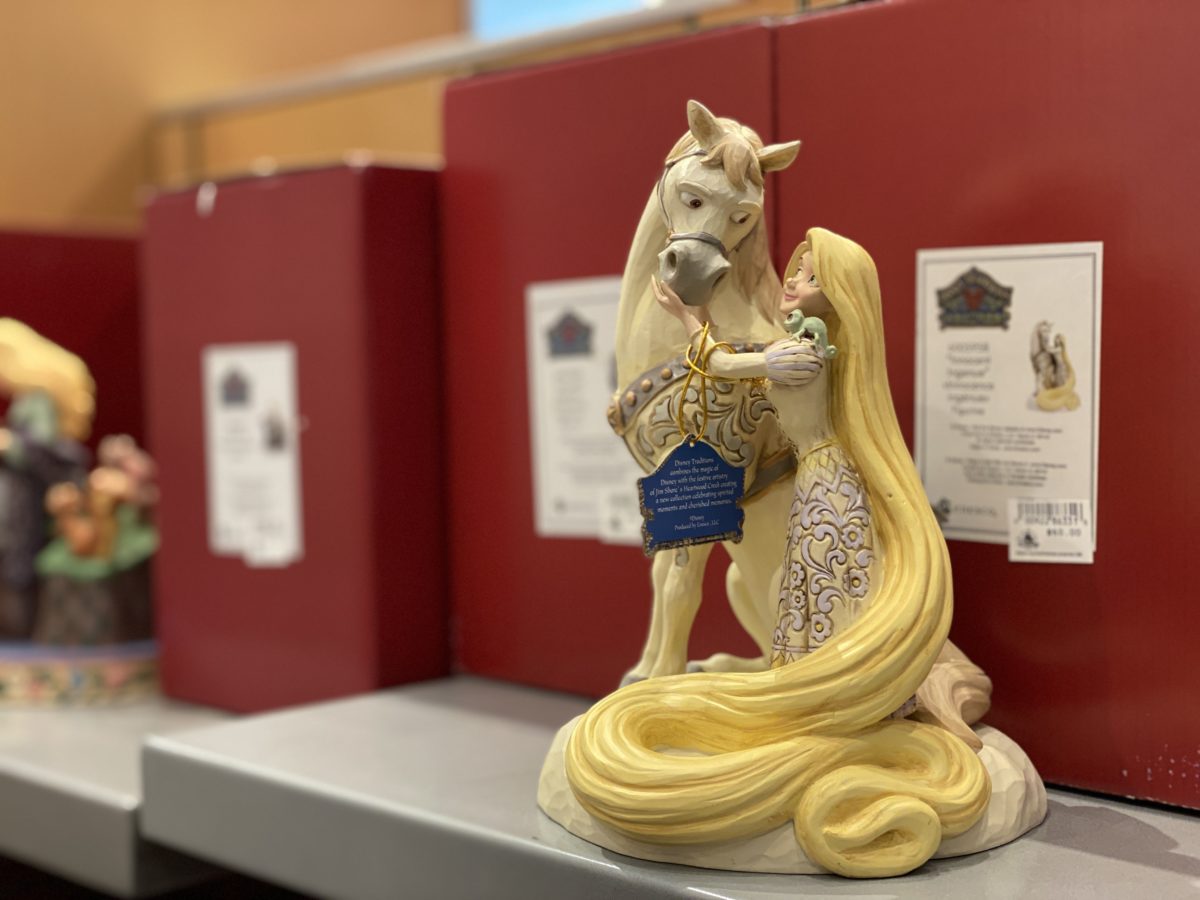 We had a wonderful day at Disney Springs, and are glad you came along with us. Don't forget, Park Pass reservations are now available, and Disney has released an official tutorial to getting the passes you want. Are you ready? We can't wait to leave our tower and head to the parks!