This post may contain affiliate links; please read the disclosure for more information.
Another month, another super-snazzy, super-collectable Mickey Mouse up for grabs. 2020 has been branded the "Year of the Mouse", and D23 have been commemorating by offering their members exclusive access to an adorable collection of Mickey Mouse plushes, which are released monthly over on Amazon. So far, we've seen everything from a Movie Star Mickey to a Golden Mickey, and June's release is just as fabulous, bringing tropical flair to the set.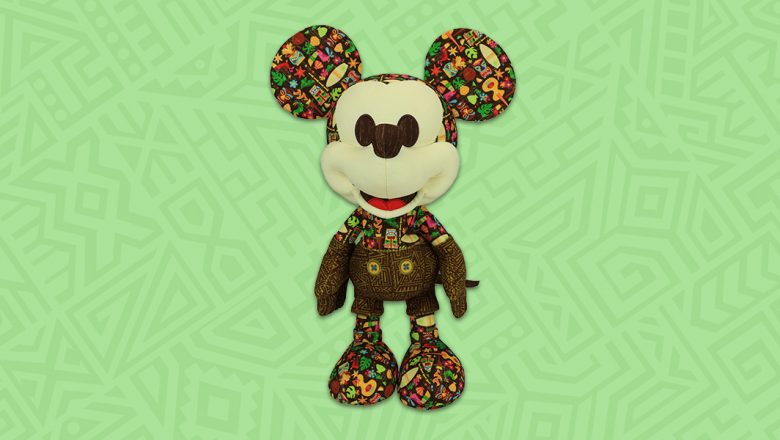 We may only just have entered July, but it's looking like a month to remember. This Tiki Mickey plush, made from twill and corduroy fabrics, captures summer perfectly. His adorable smile stands out from the loud and colorful tiki print which adorns his body, making him the best of pals to share a refreshing Dole Whip with.
Read up on the inspiration for selecting this Tiki theme for Mickey in July, according to D23:
In 1934 Walt Disney made his first visit to Hawaii and asked a theater full of local children, "Would you like Mickey to come to Honolulu on a surf board? When I go back I will make a 'Mickey' on a surf board, as I have been on and off one since coming here, and know just how it feels." Walt kept his promise and created the classic short "Hawaiian Holiday" (1937) where Mickey Mouse, Minnie Mouse, Donald Duck, Pluto and Goofy all enjoy their own tropical vacation on a sunny Hawaiian beach, complete with surfing antics and hula dancing.
The plush will go on sale to D23 members on Monday, July 6 at 9am PST, over on D23.com. Since this is an exclusive access offer, be sure to be signed in to your account.
Have you been collecting each Mickey that has been released so far in the set? Let us know, and don't forget to set your alarms for Monday 6!