One of our favorite restaurants has just reopened at Universal CityWalk Orlando, and while it's taken them a while to set up the location and finally welcome back guests, it seems they've saved the best for last! Join us as we head into The Cowfish for our first meal at this funky, newly-reopened burger and sushi bar.
The Cowfish Exterior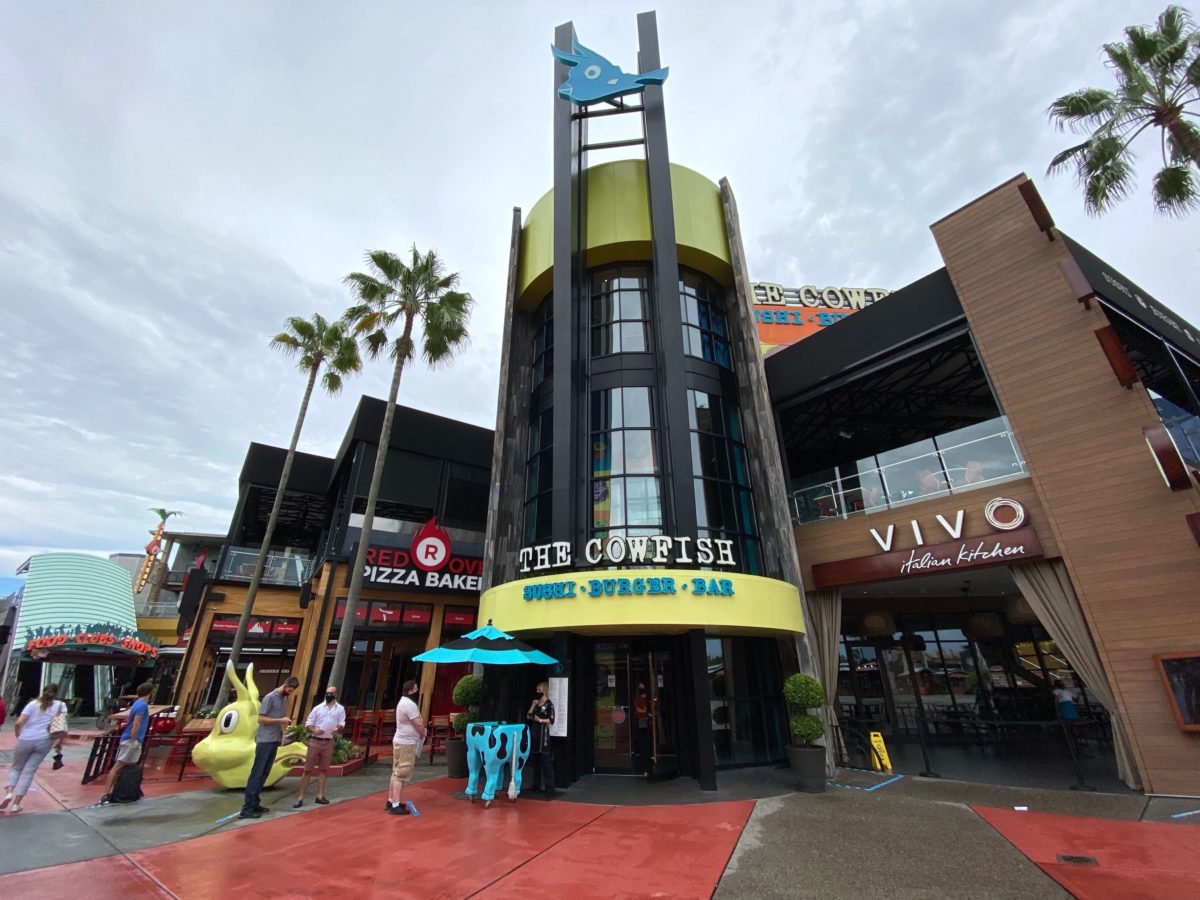 If you've never been to The Cowfish, you can't miss it—the exterior features a tall, three story glass-window pillar topped with the restaurant's mascot. Sandwiched between Red Oven Pizza Bakery and Vivo Italian Kitchen, Cowfish features two levels of interior dining, plus an outdoor patio on the second floor on top of Vivo, and a smaller outdoor eating area to the rear of the restaurant.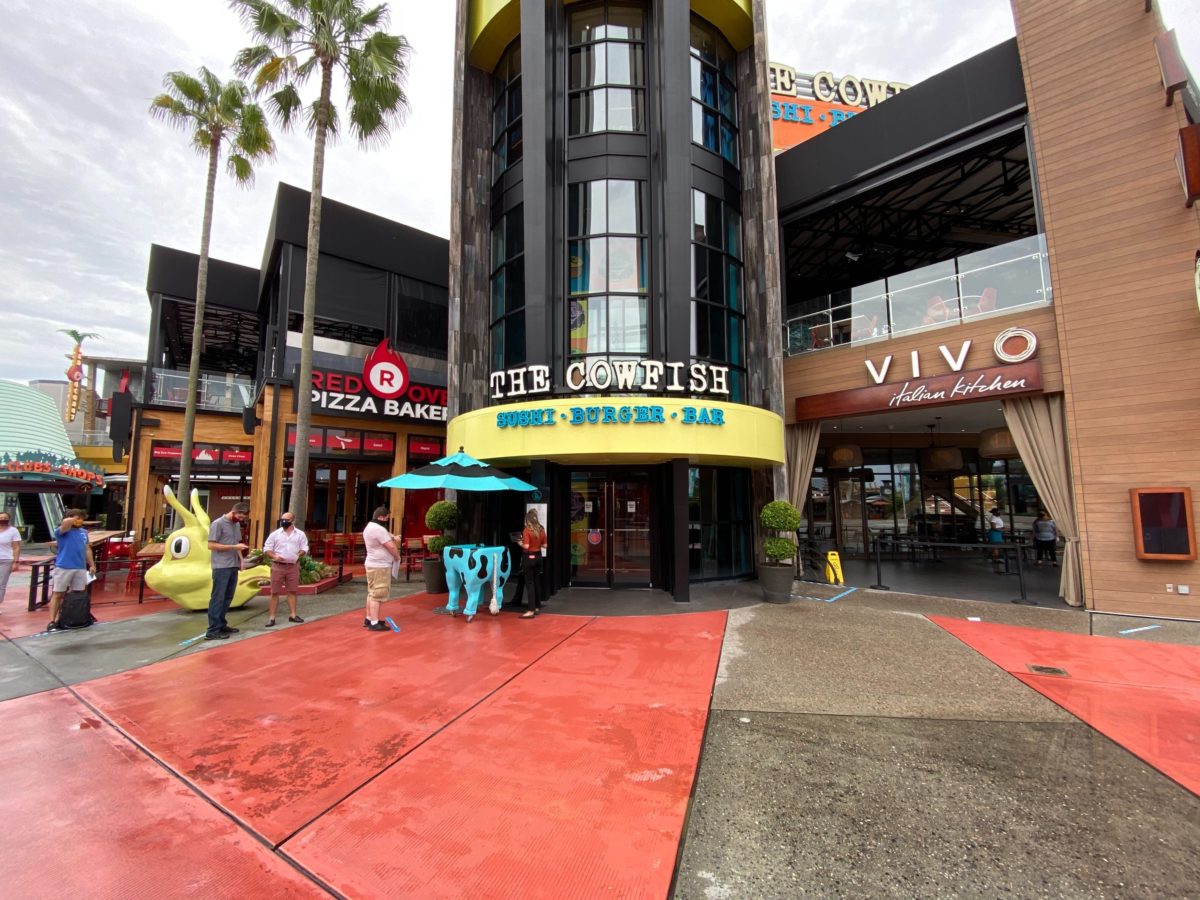 Reservations are currently not available, but guests are encouraged to line up along the socially-distanced floor markers to check in at the blue cow podium. The restaurant is open Thursday through Sunday for now, from 4:00 PM to 10:00 PM. We expect the biggest waits to happen shortly after park close, or during peak hours.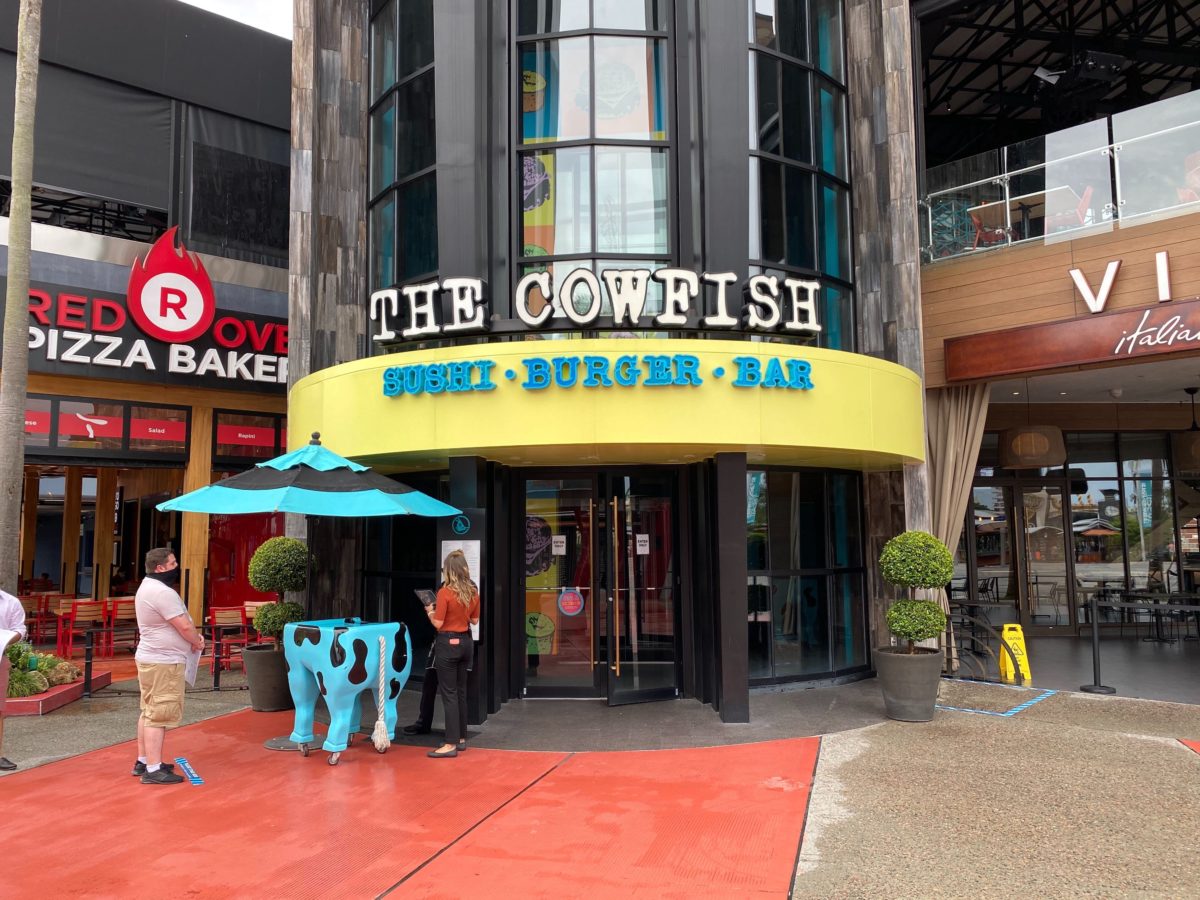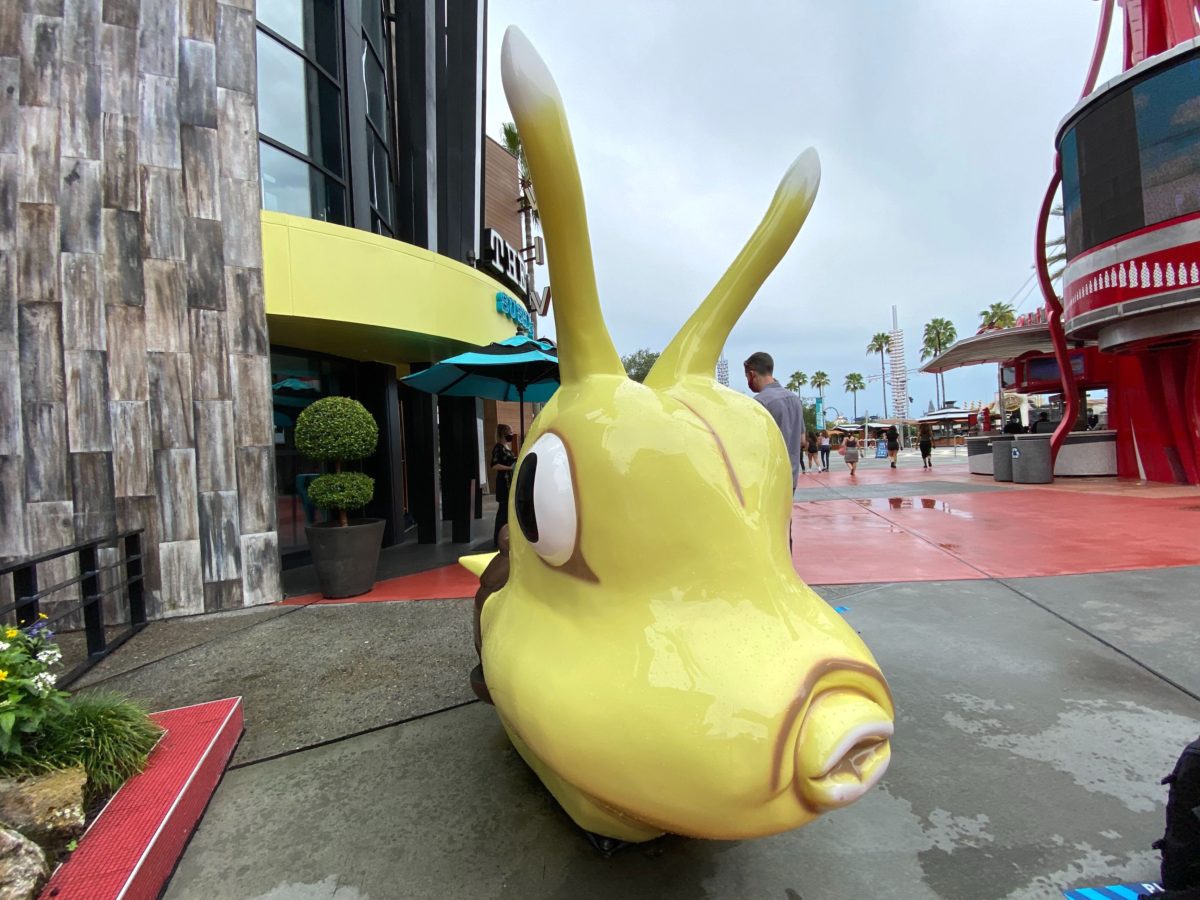 The Cowfish Menu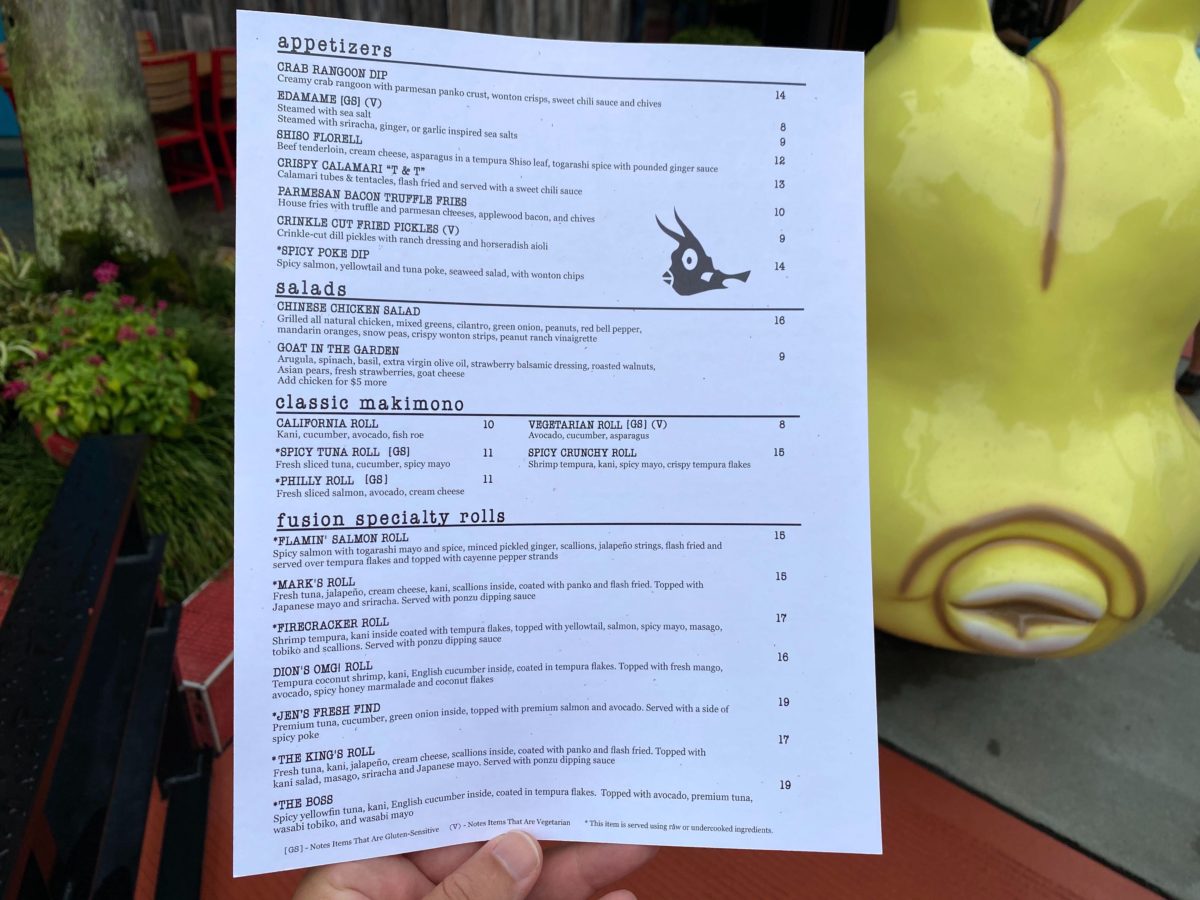 While still fairly expansive and eclectic, you'll find that the Cowfish menu has been cut back somewhat, with some favorites like the The Taste Explosion Roll and The High-Class Hillbilly-Southern Style Bar-B-Q-Shi gone from the menu.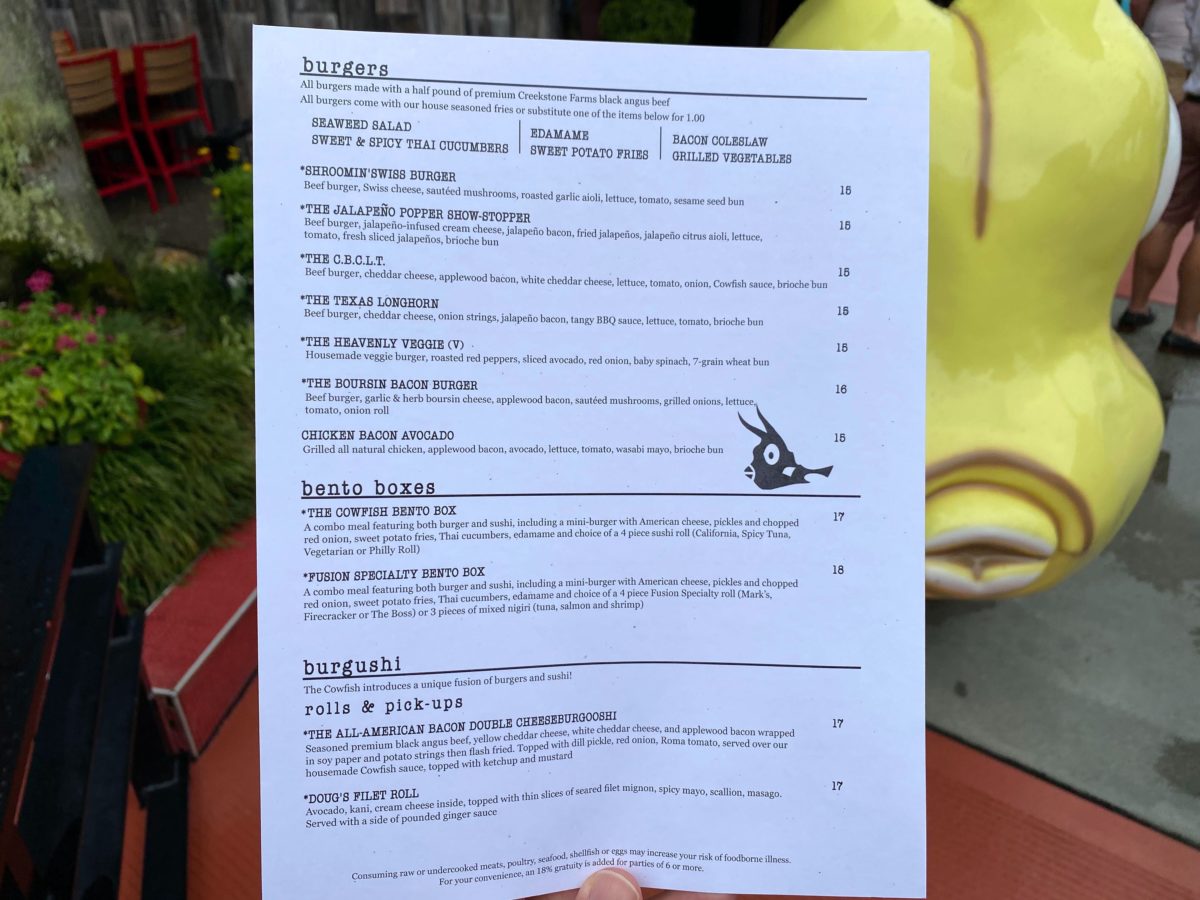 Considering that they're one of their most popular dishes, it's somewhat shocking to see just 2 options under their iconic Burgushi section.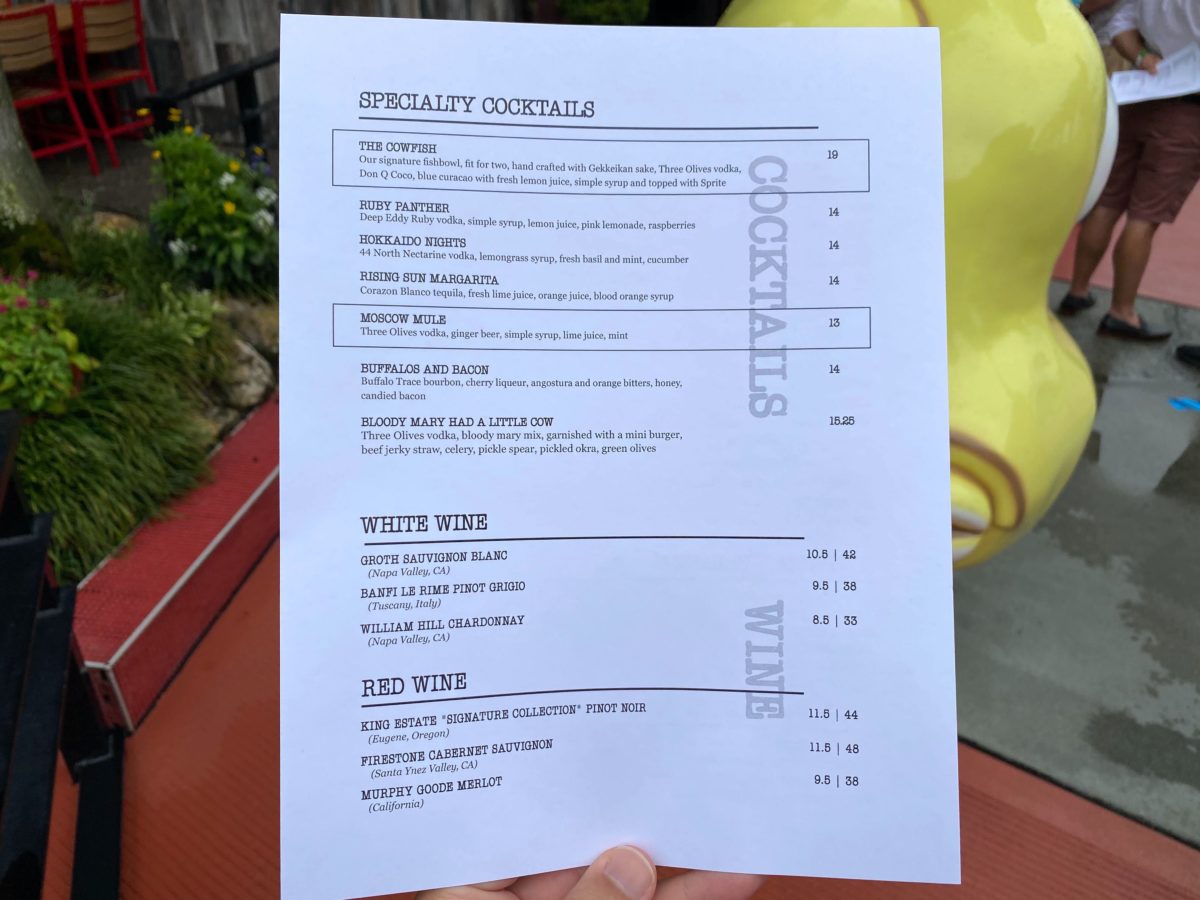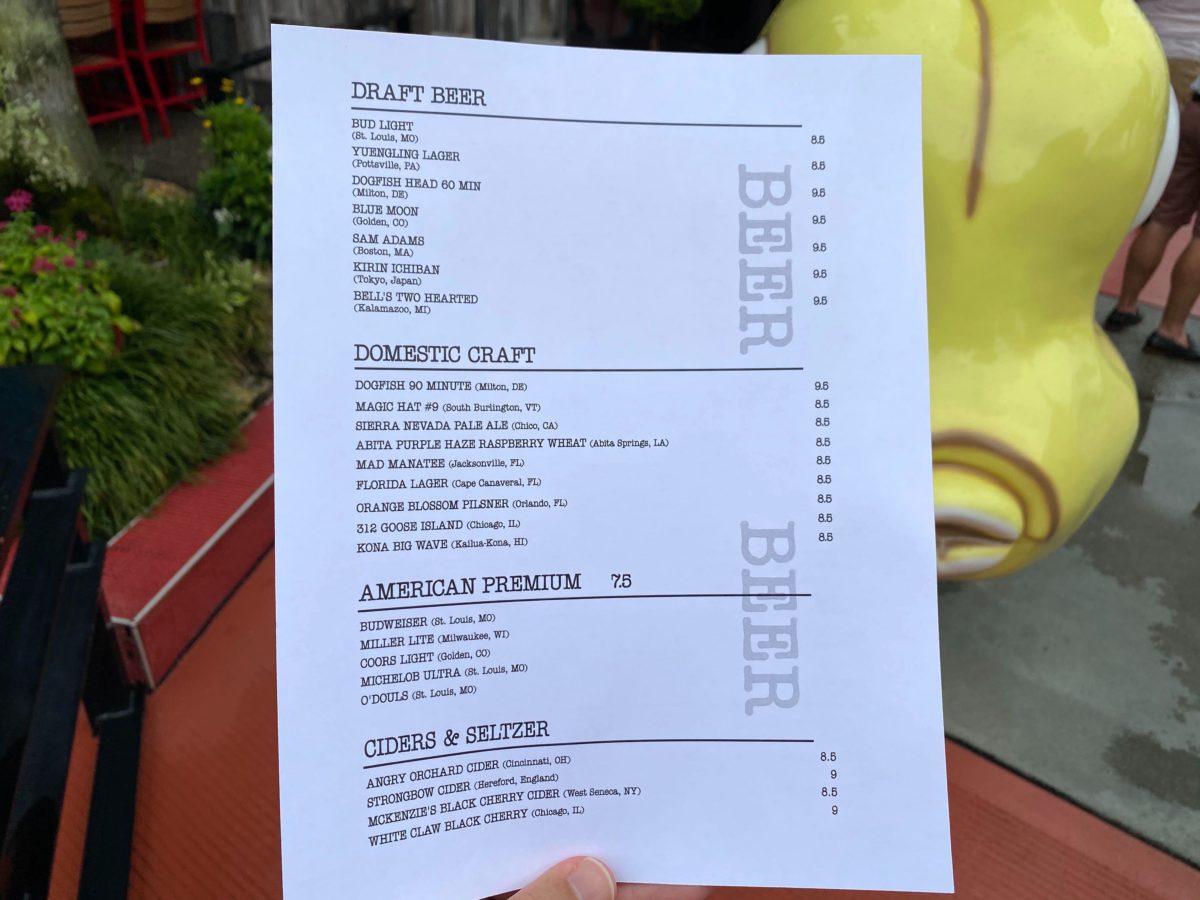 The Cowfish Interior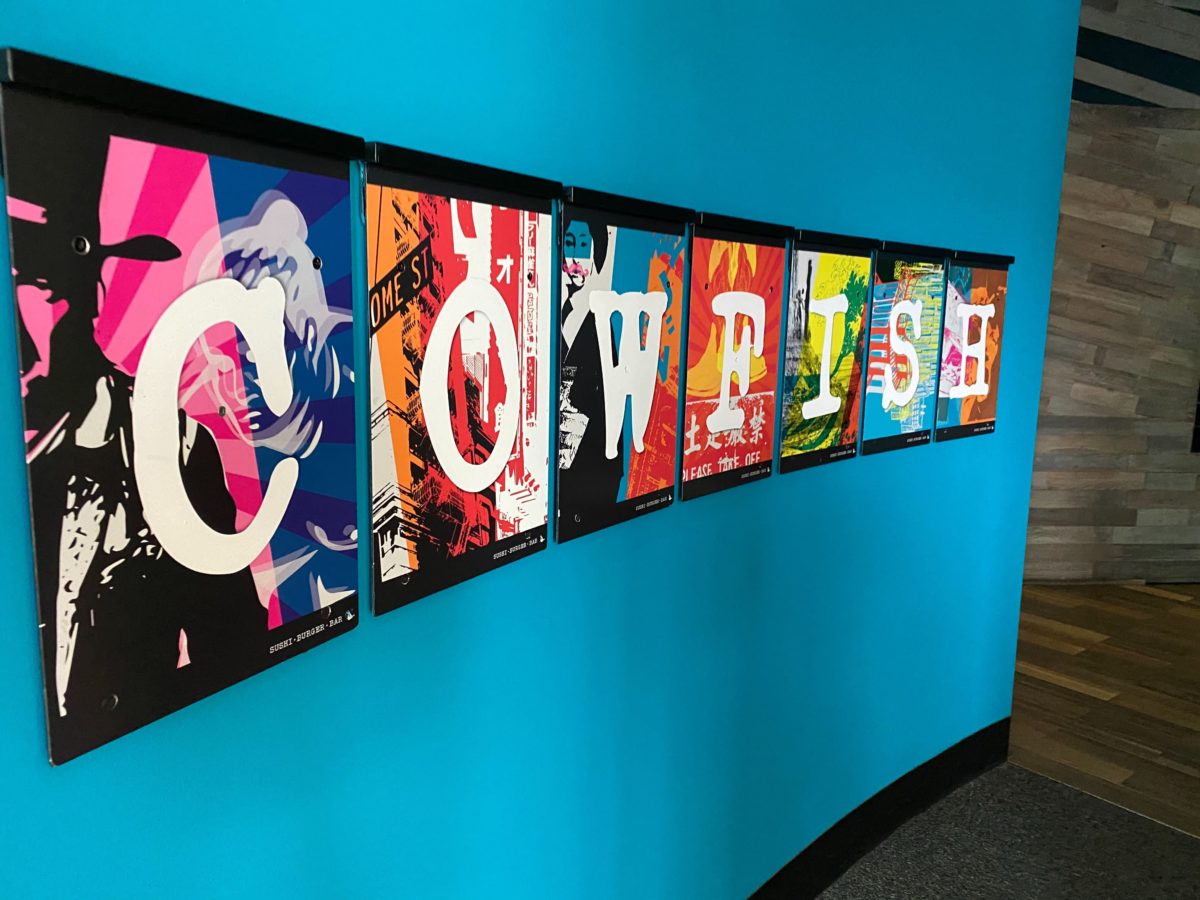 Inside the restaurant, it's a modern locale, with hardwood floors, industrial tables, and fun, yet slightly fishy fixtures throughout.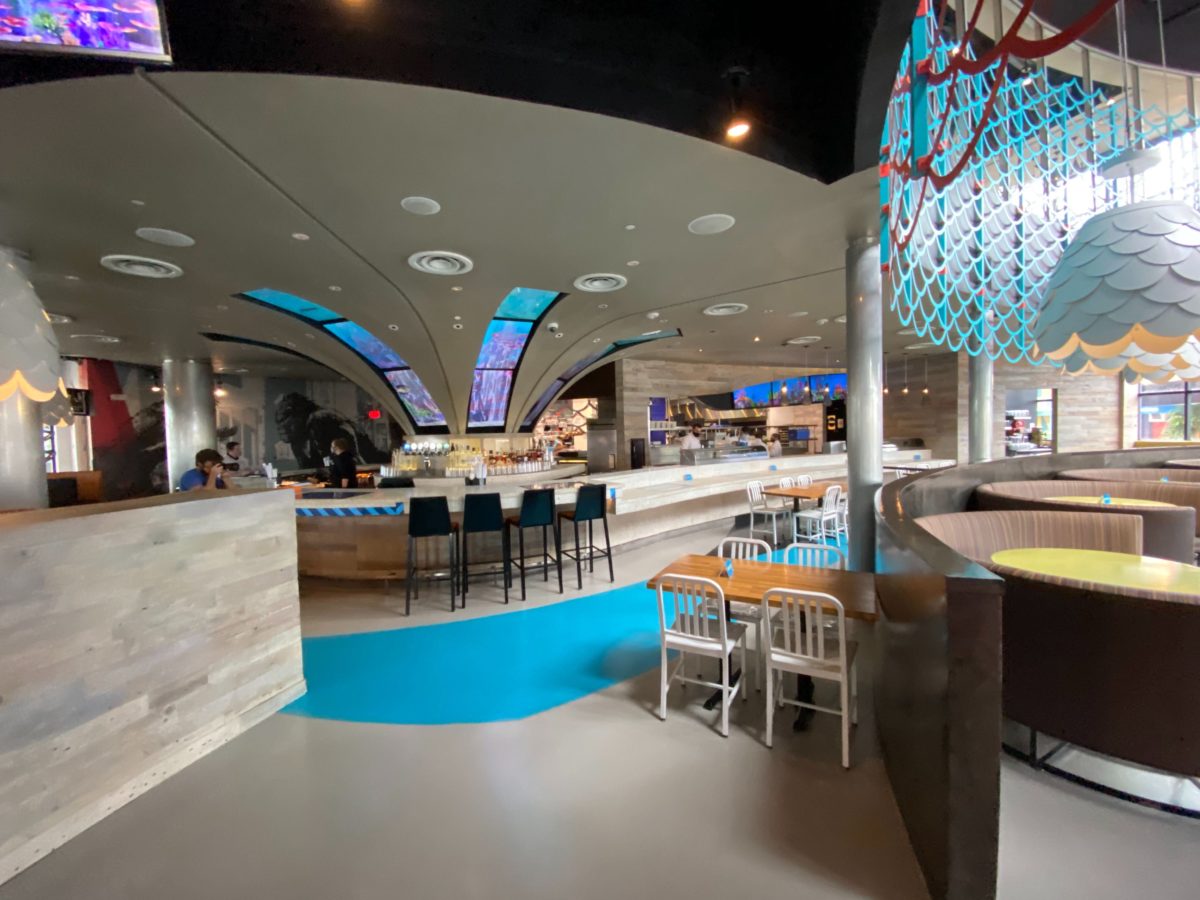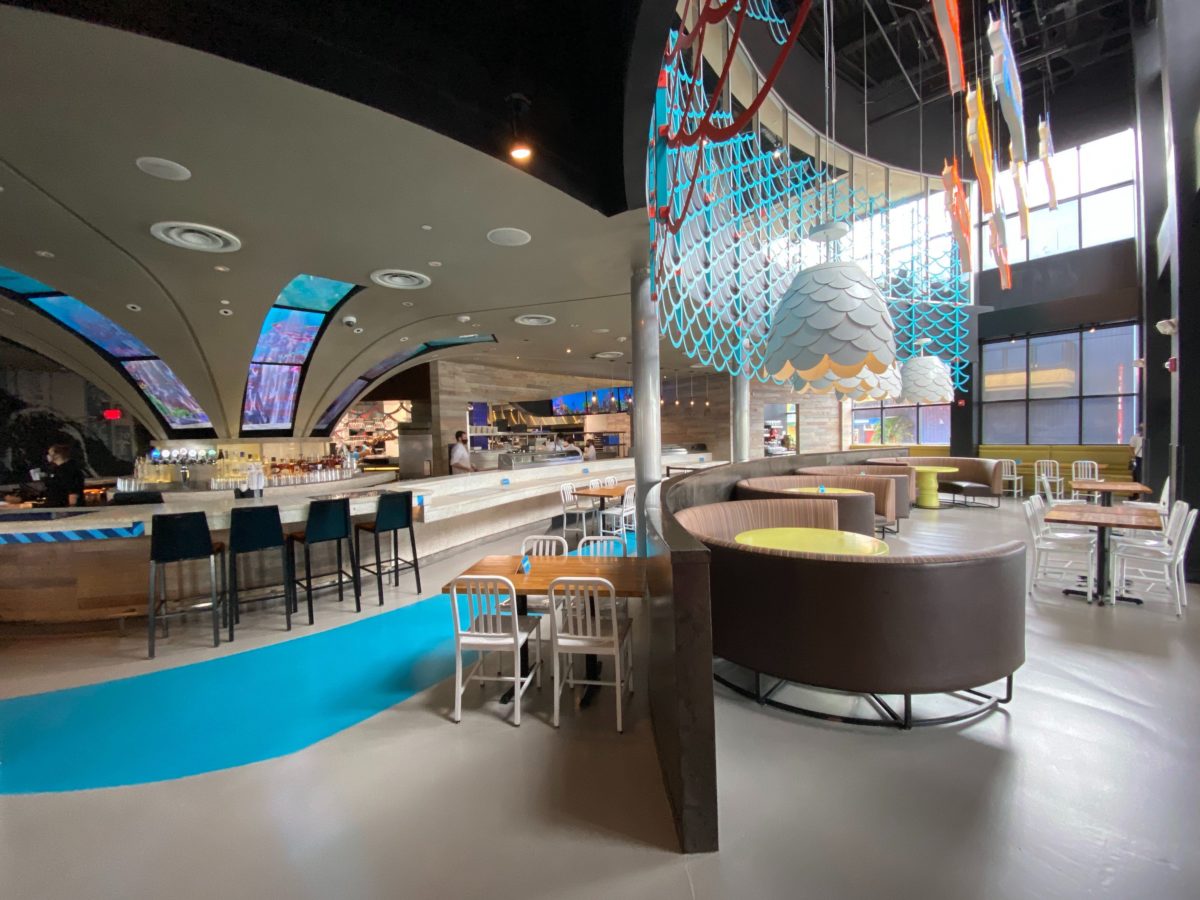 There's a variety of seating still available, from traditional 4-tops to big, round booths and some bar stools.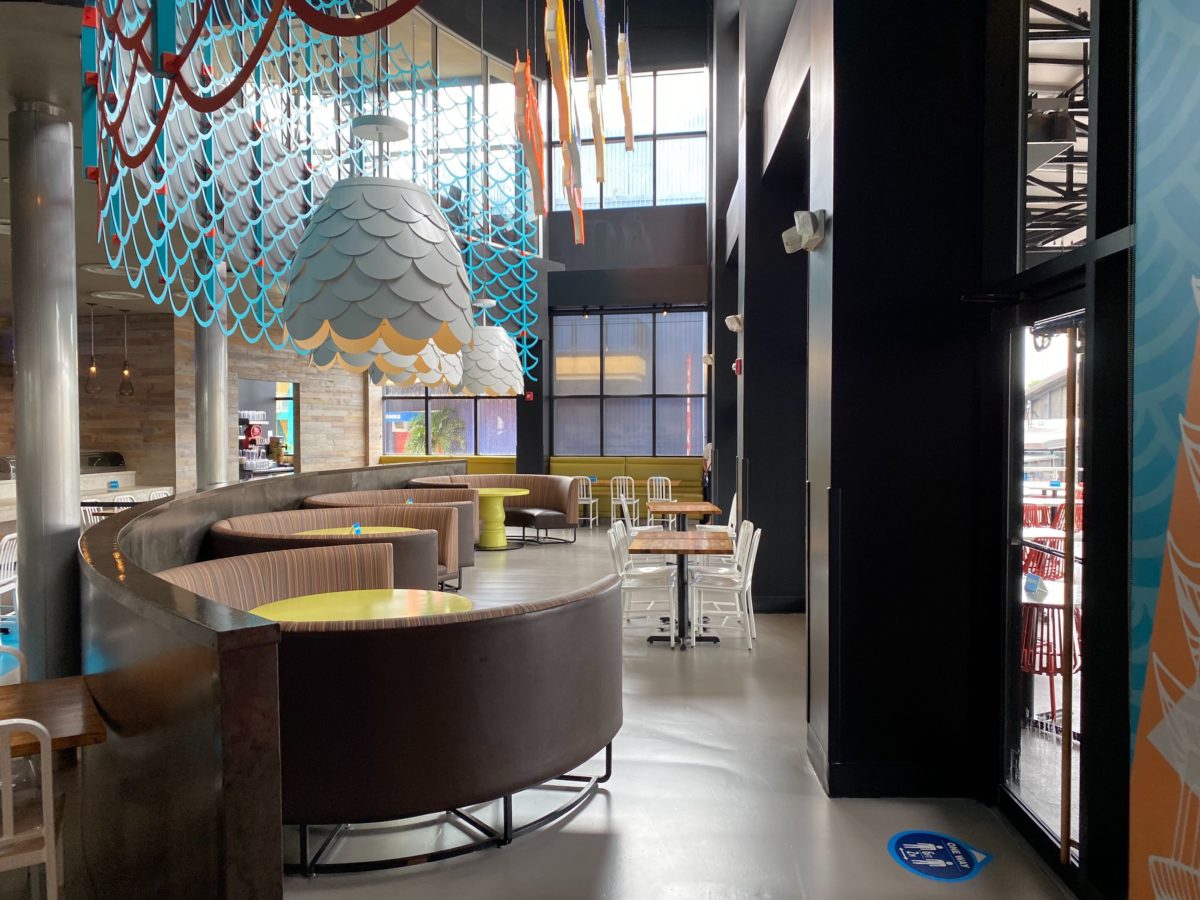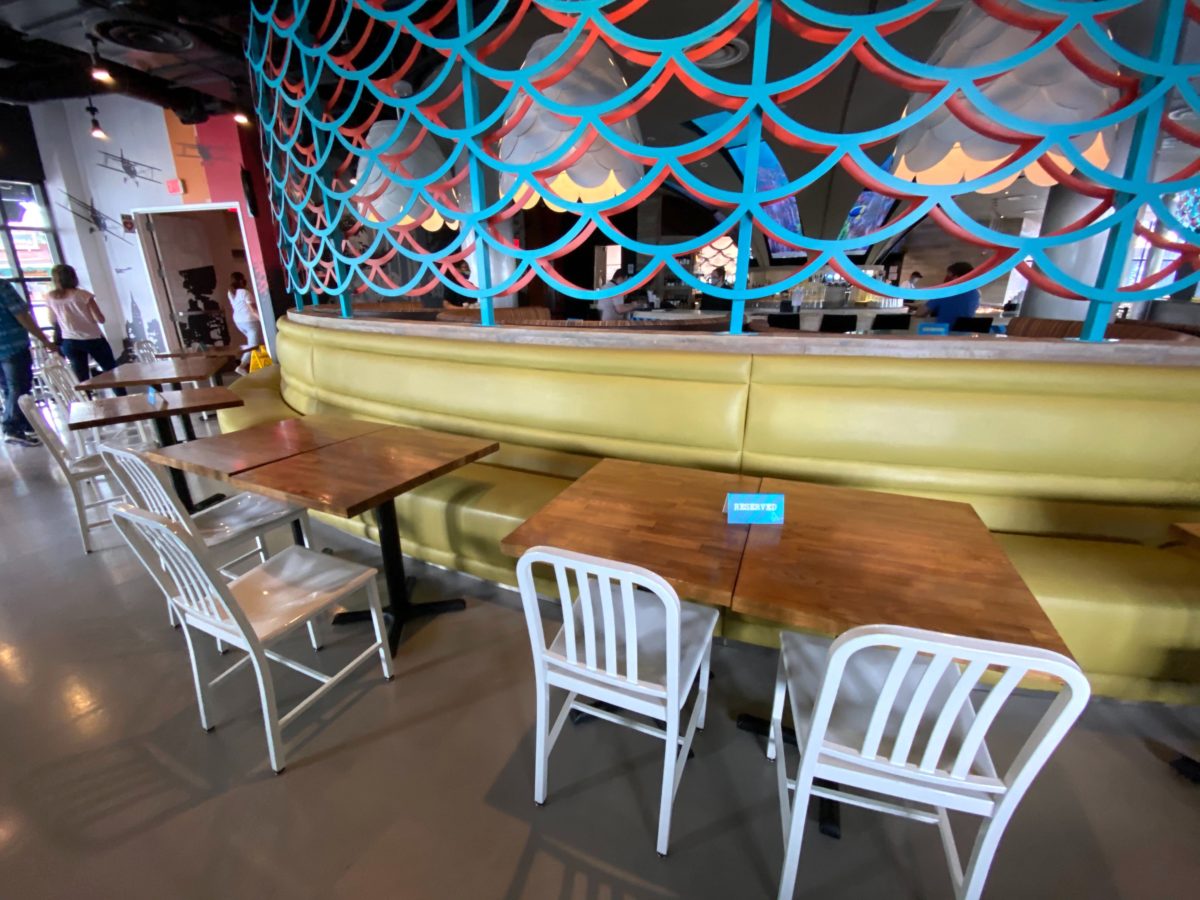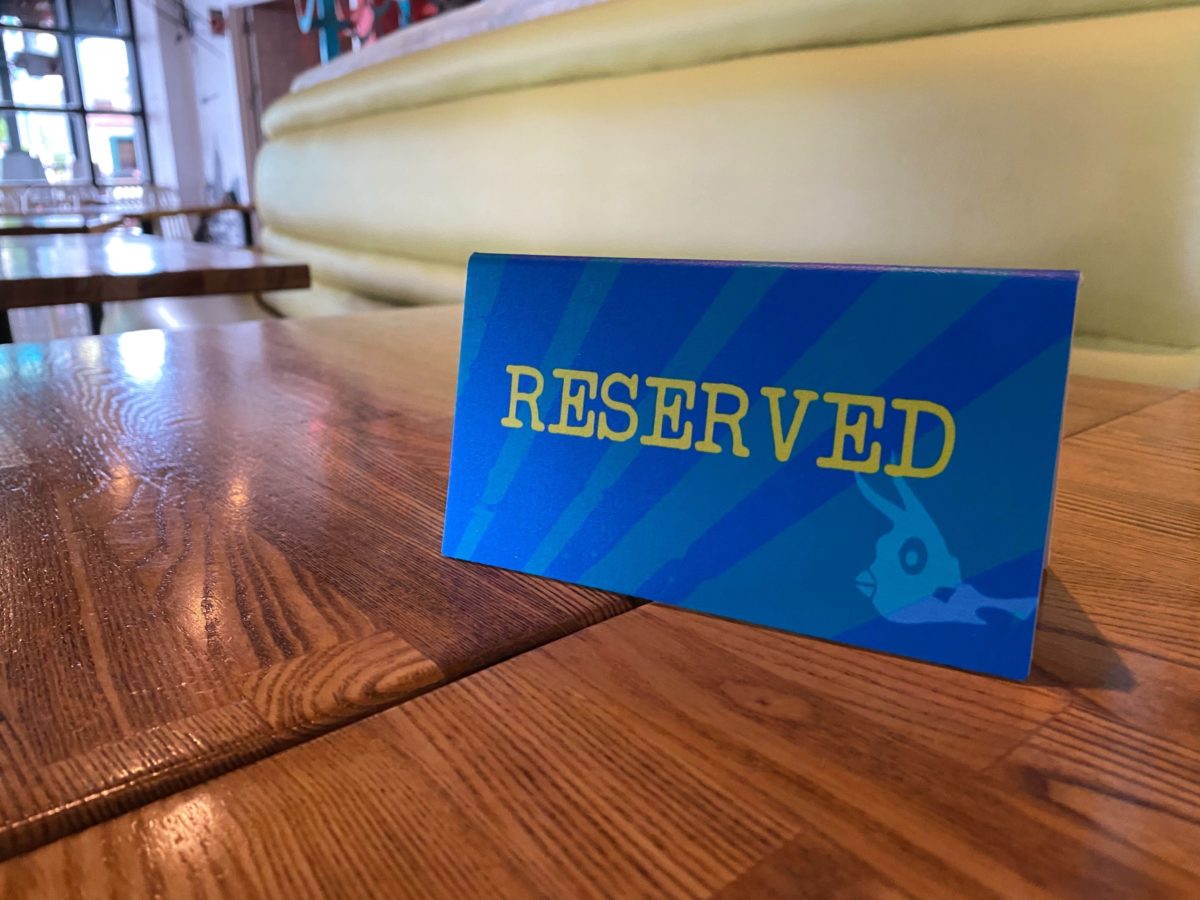 Some tables have been marked as "Reserved" to encourage social distancing and ensure that there's enough space between all of the guests dining.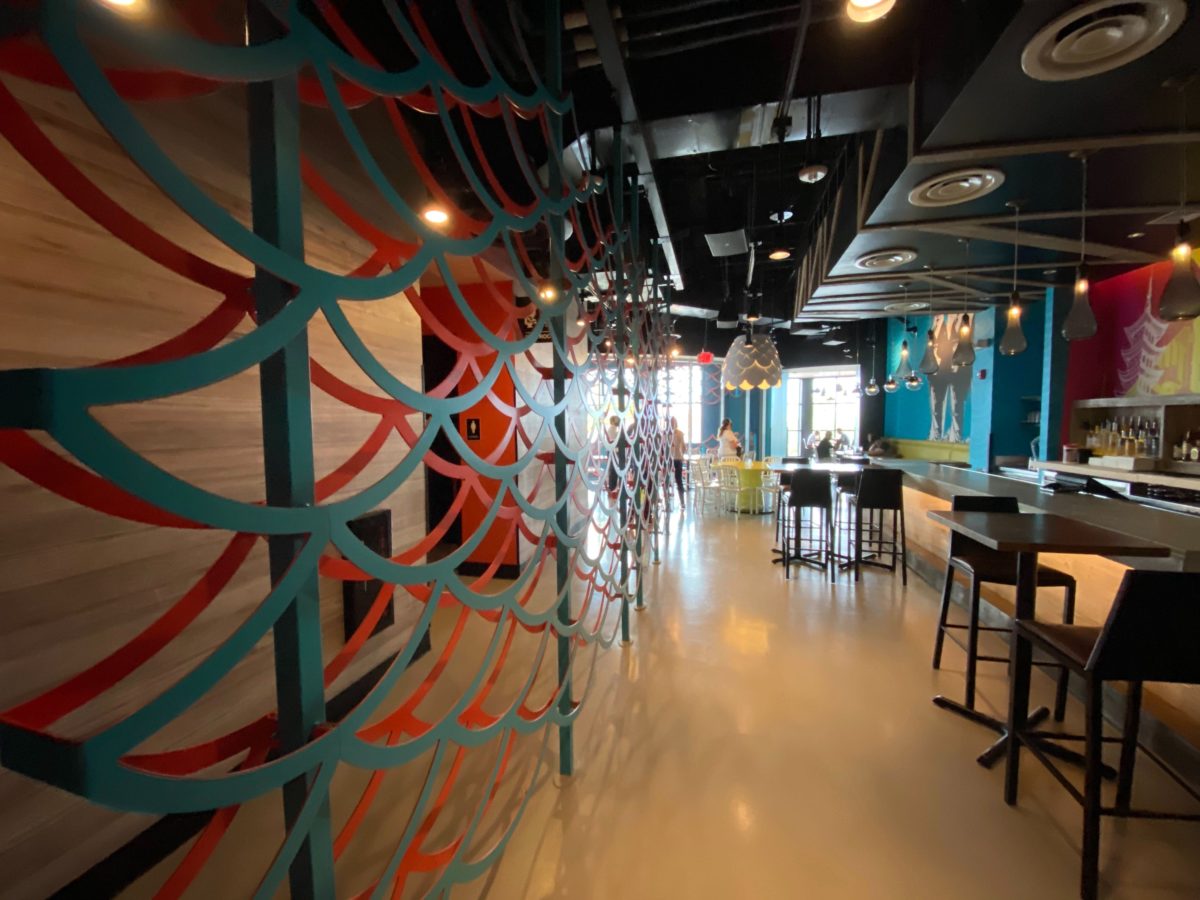 On the third floor, you'll find additional tables and seating, plus the restrooms.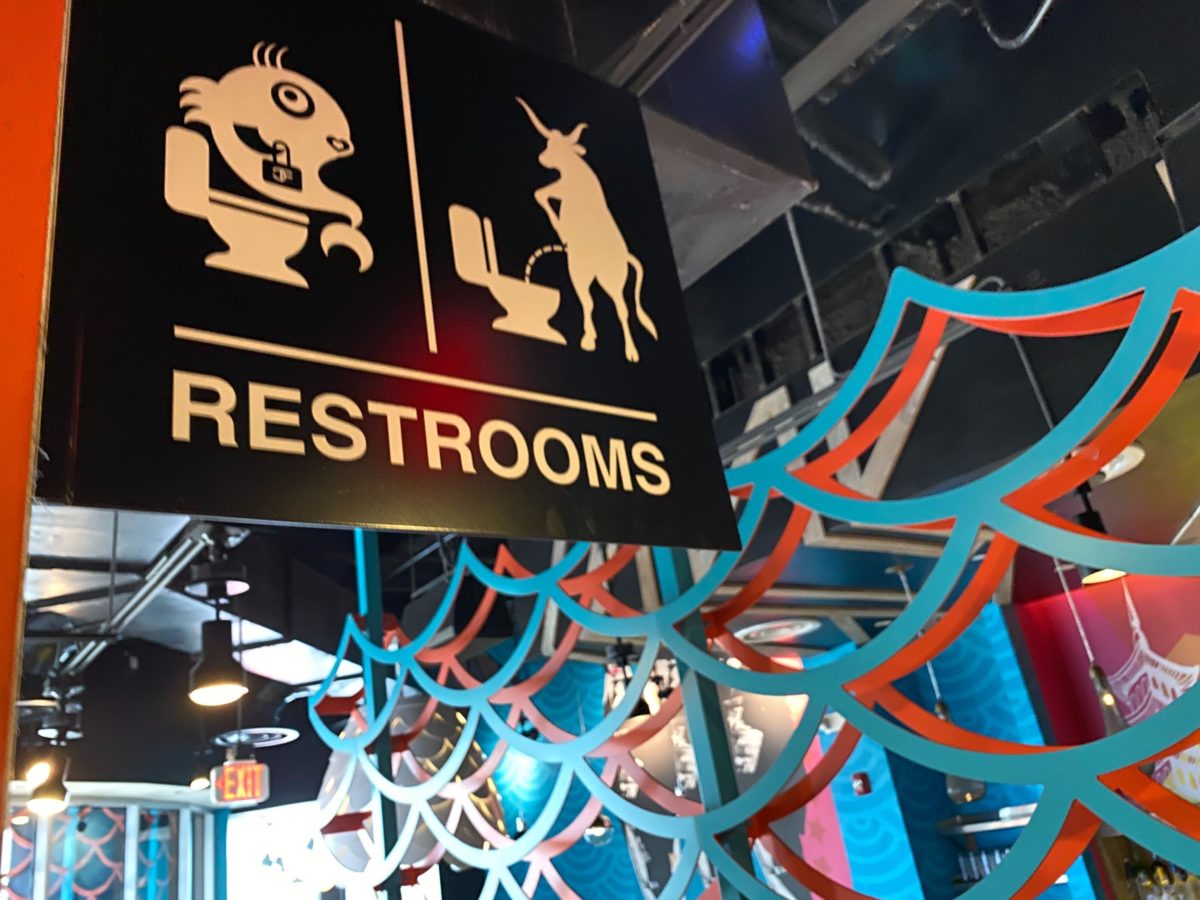 Yes, this is Universal. Shield your eyes.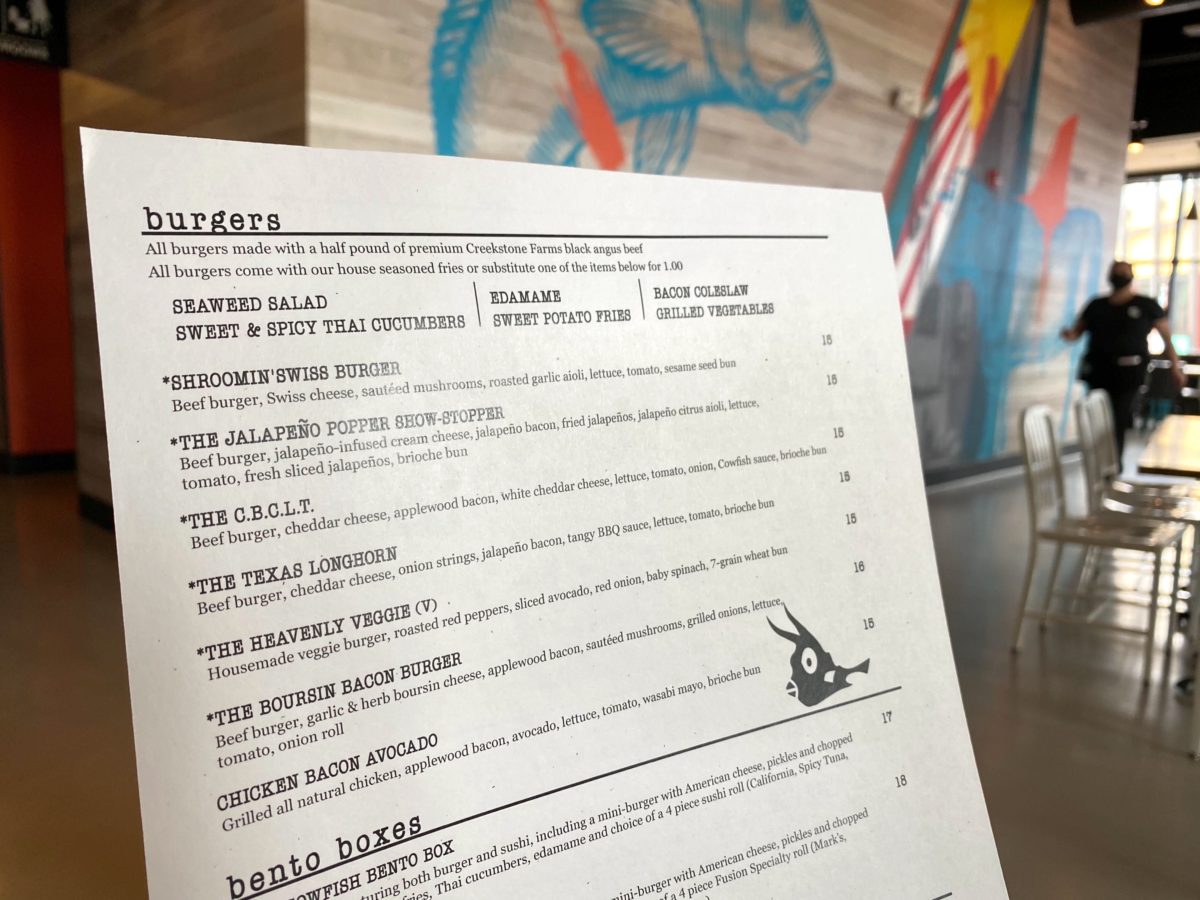 In case you forgot what the menu was like, here's a closer look at all of the current options. Have your favorites made the cut?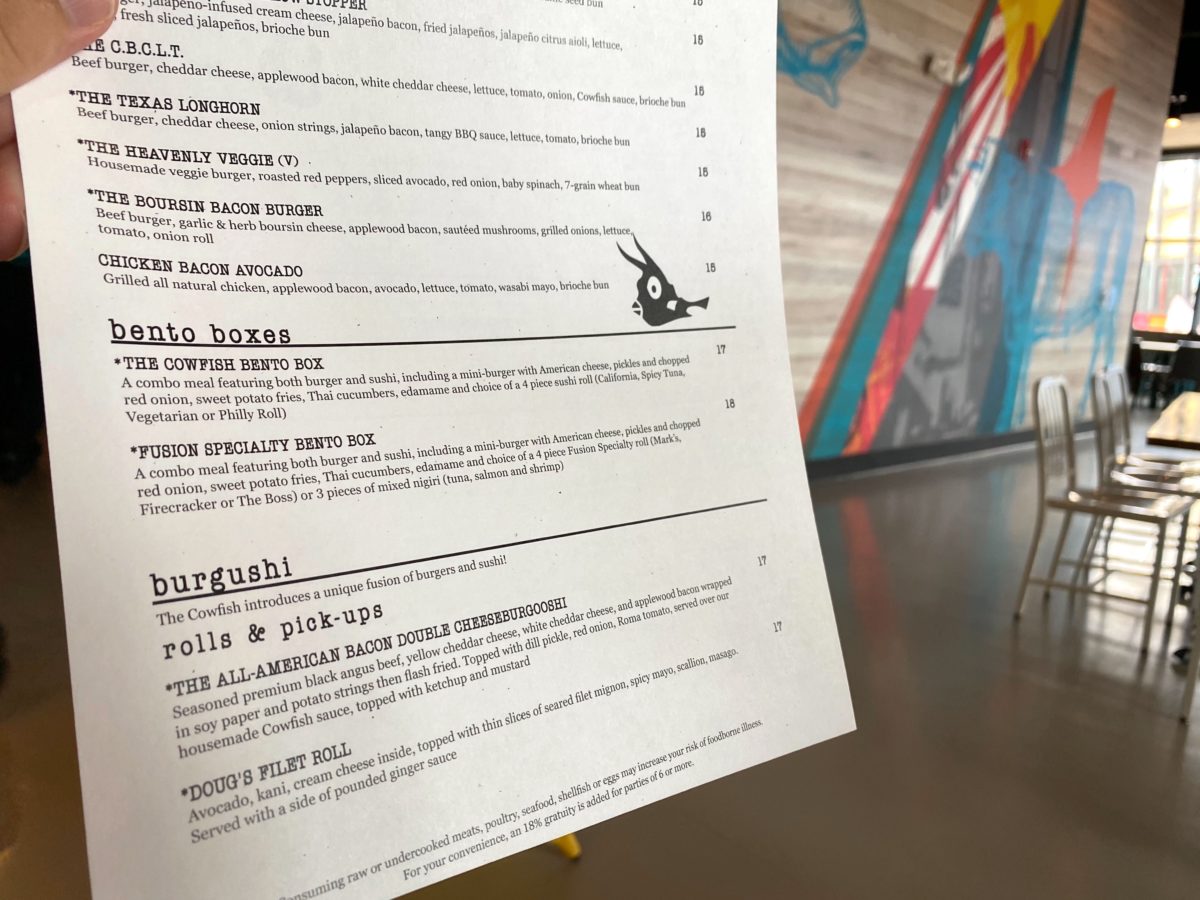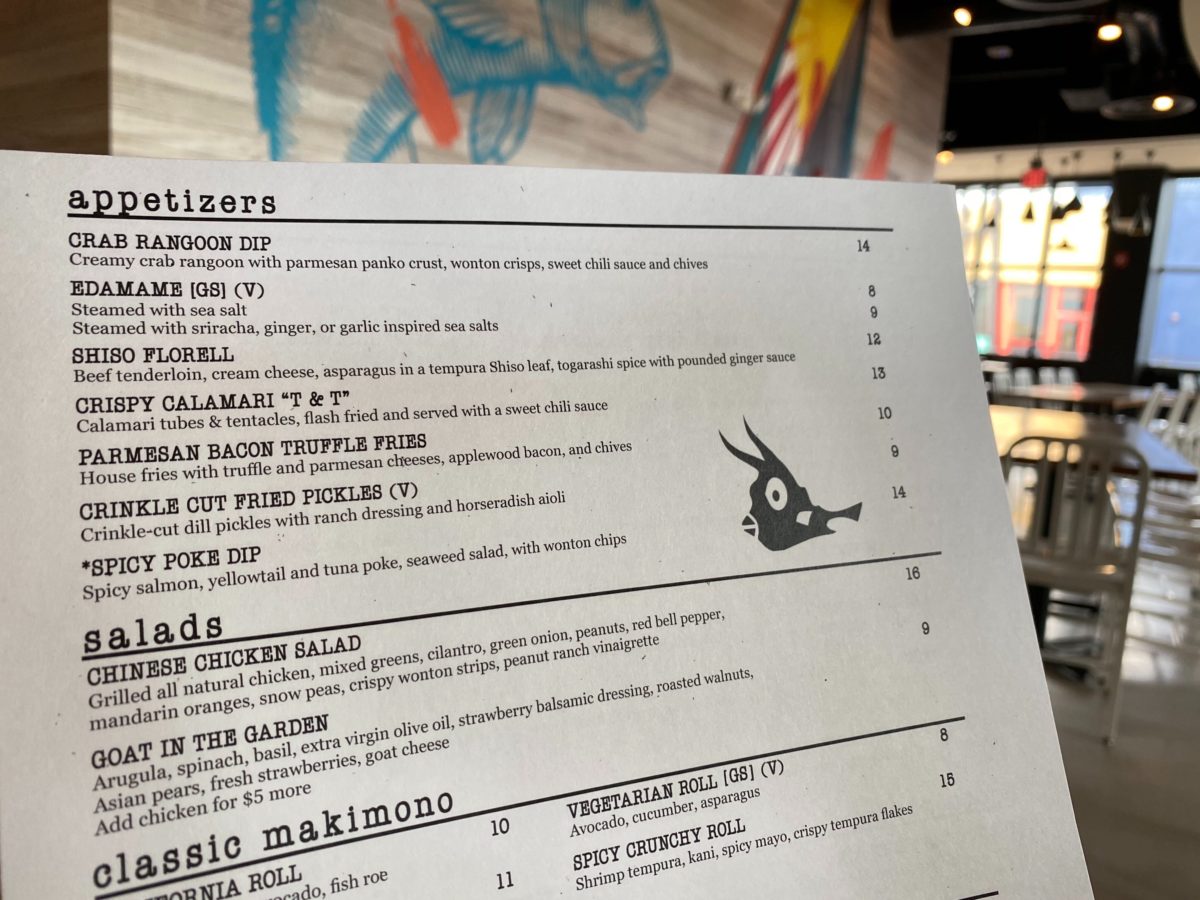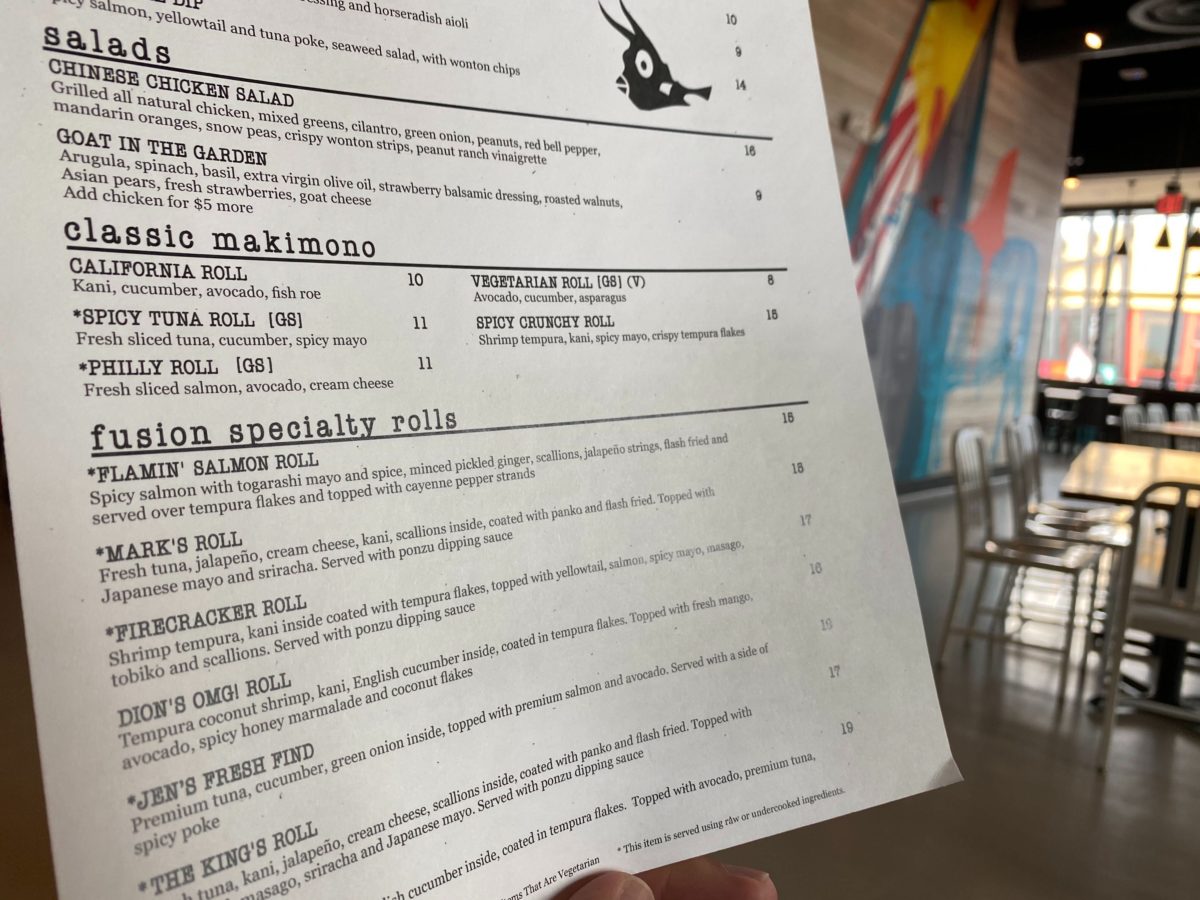 If you aren't in the mood for burgers or Burgushi, there are plenty of fresh options here as well, like classic sushi rolls, specialty rolls, and some salads.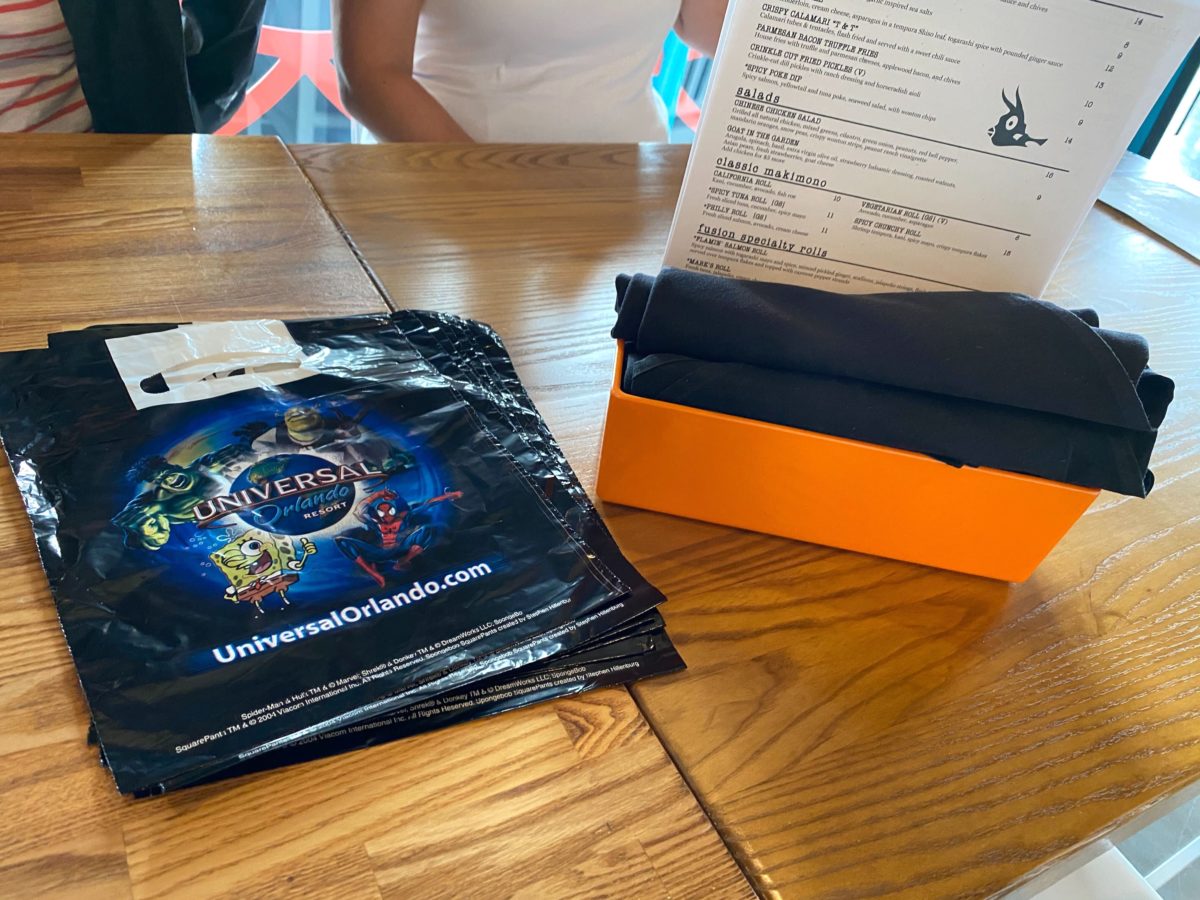 New health and safety protocols mean you get a stack of Universal Orlando Resort bags to put your face masks in while you dine. A stack of paper menus and cutlery in cloth napkins are stacked in an orange container, which is brought to the table. Throughout the meal, dishes are placed at the end of the table, so your tablemates can pass down dishes. Any condiments and such, like ketchup, are brought in tiny plastic tubs with lids, so there's no more communal bottles of condiments at each table.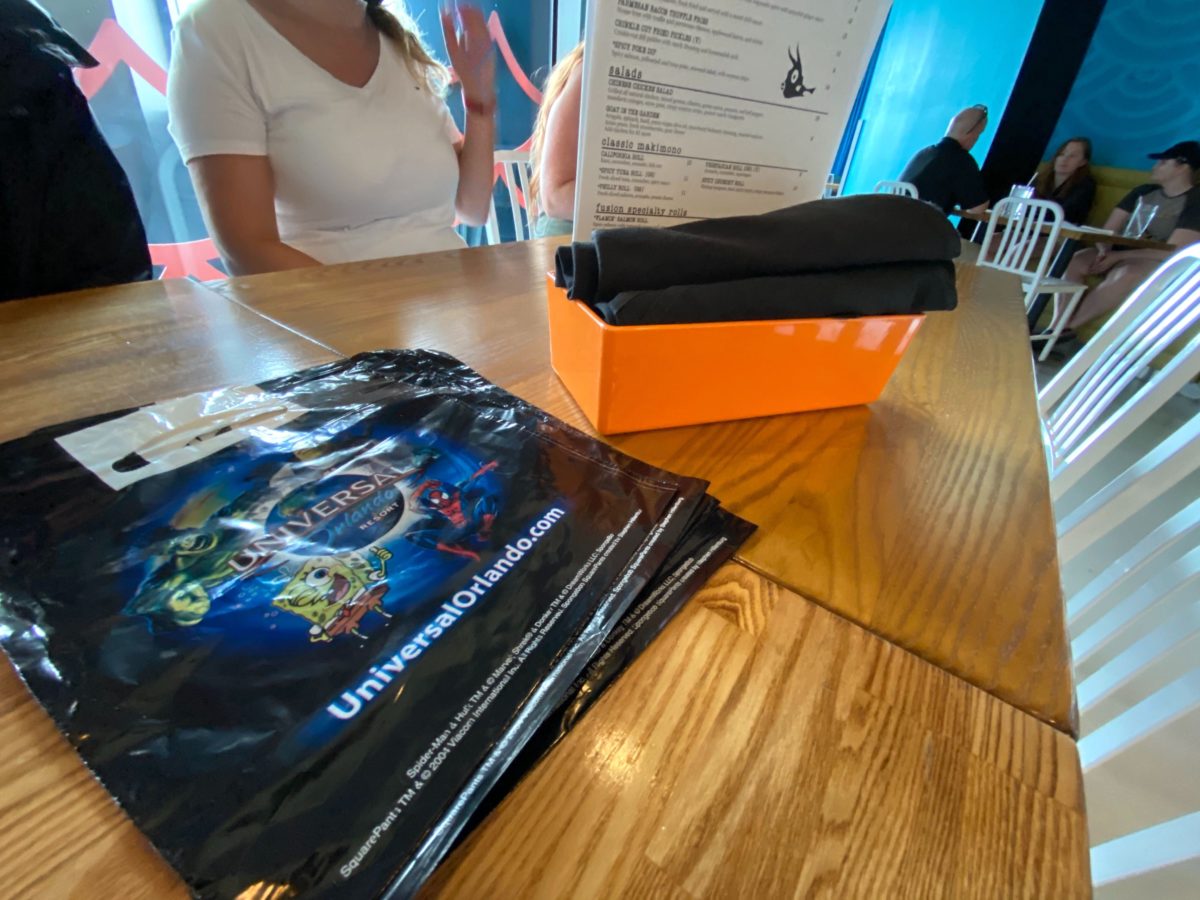 And with that, it's on to the food.
The Cowfish – Appetizers
Parmesan Bacon Truffle Fries – $10.00
House fries with truffle and parmesan cheeses, applewood bacon and chives.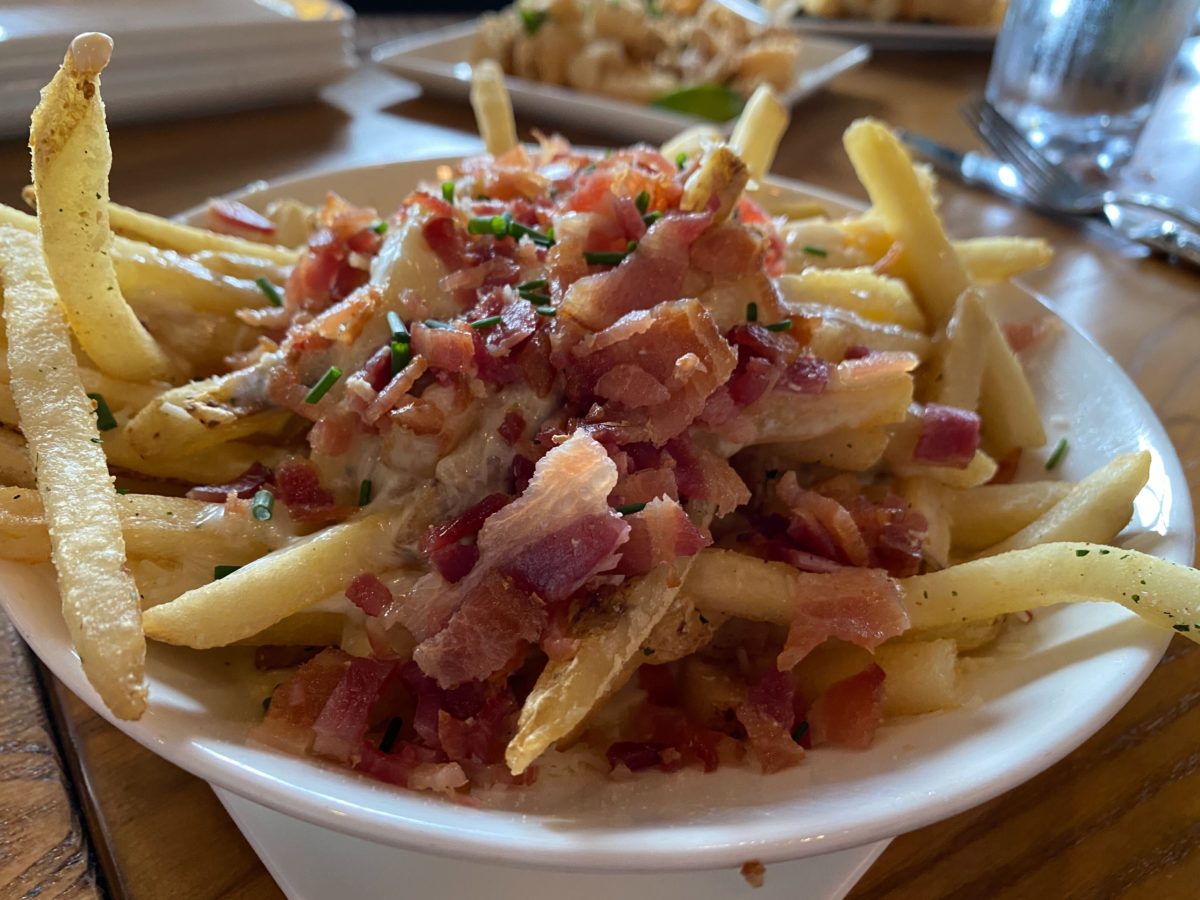 Despite their grand appearance, the fries were okay, but not great. The bacon was a little too undercooked, and we think it would have been better if served crispier.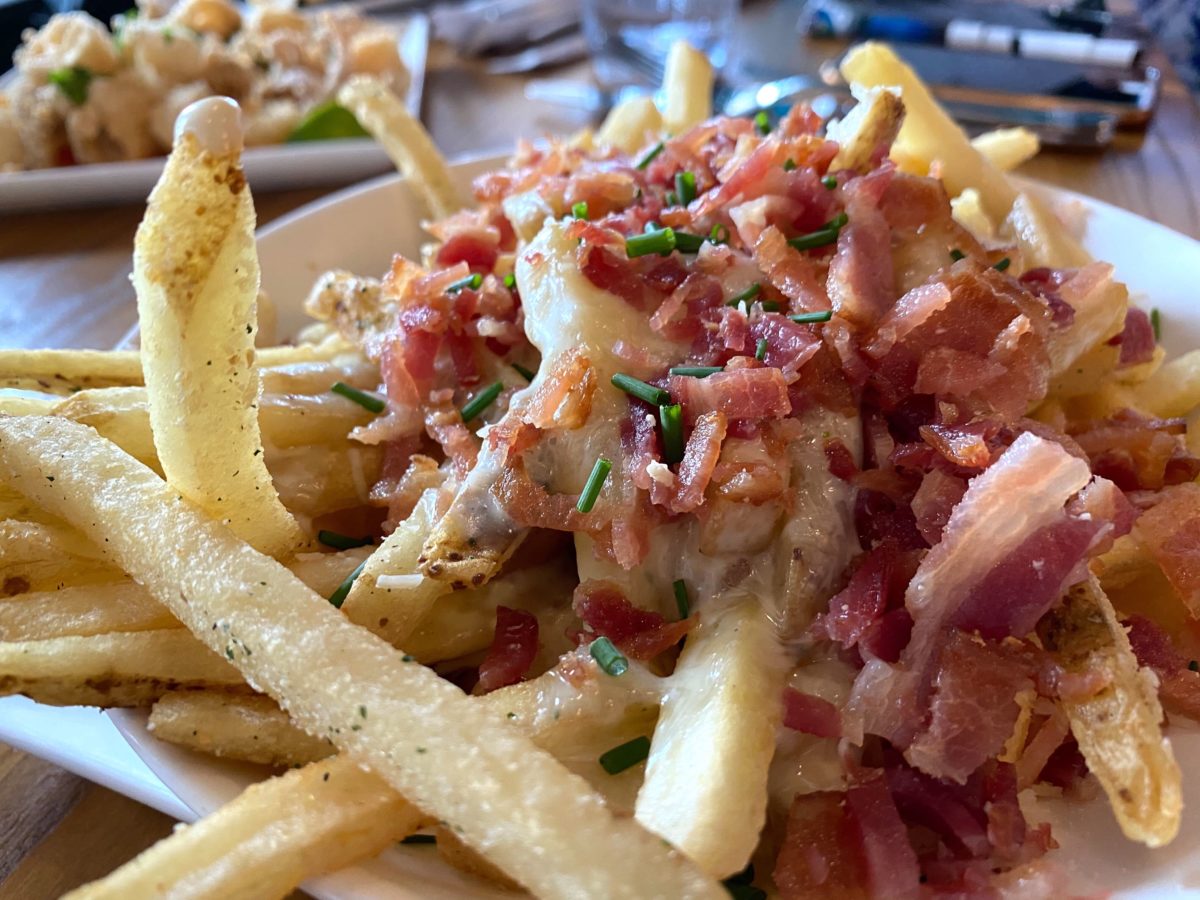 There was a lot of cheese sauce at the bottom of the bowl, and it made the fries too soggy. If they were just a little crispier, they could have survived the sauce. For the price, it's expensive, and the Calamari (seen below, past the poke dip) is so much better for just a few dollars more.
Spicy Poke Dip – $14.00
Spicy salmon, yellowtail and tuna poke, seaweed salad, with wonton chips.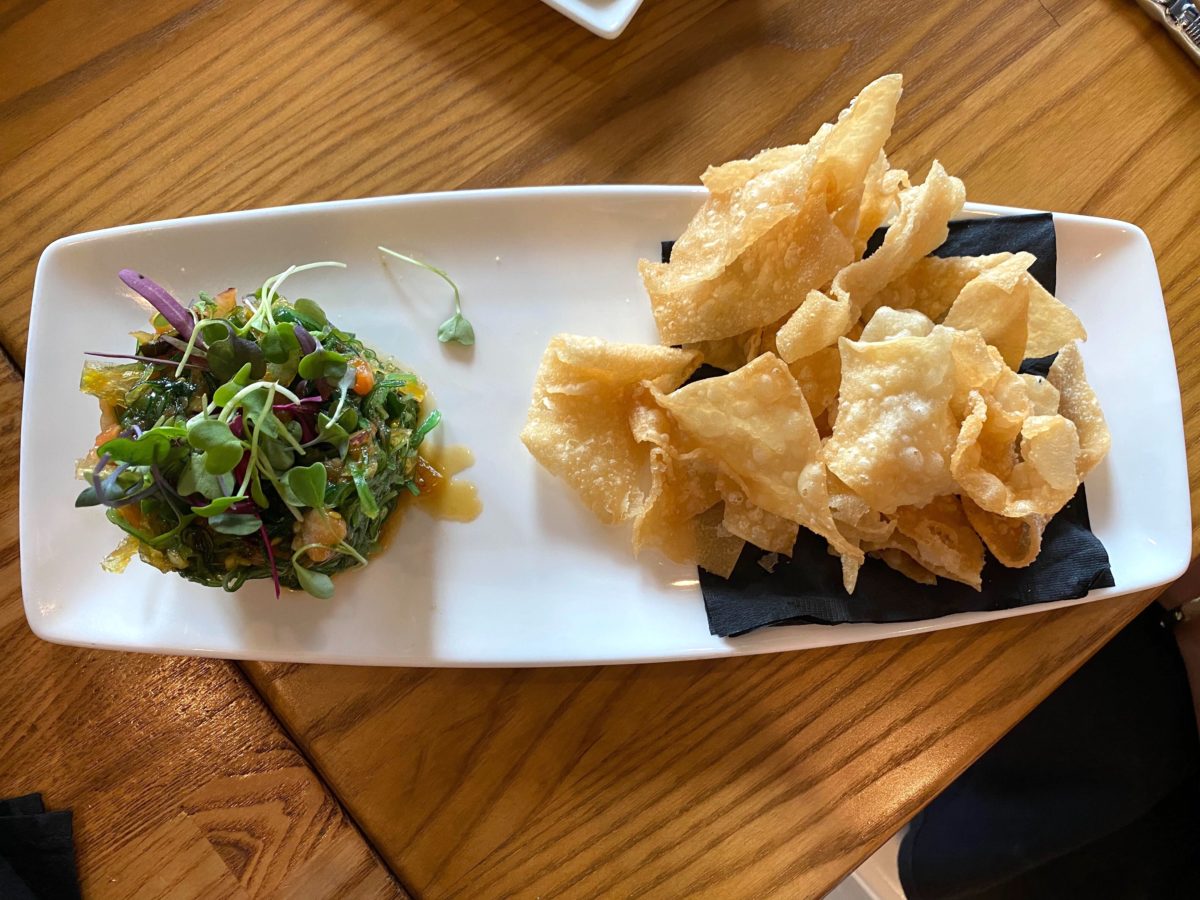 This is a delicious, perfectly shareable, and fresh appetizer, however we all seemed to agree that once you start getting into the poke, there's actually very little fish in there.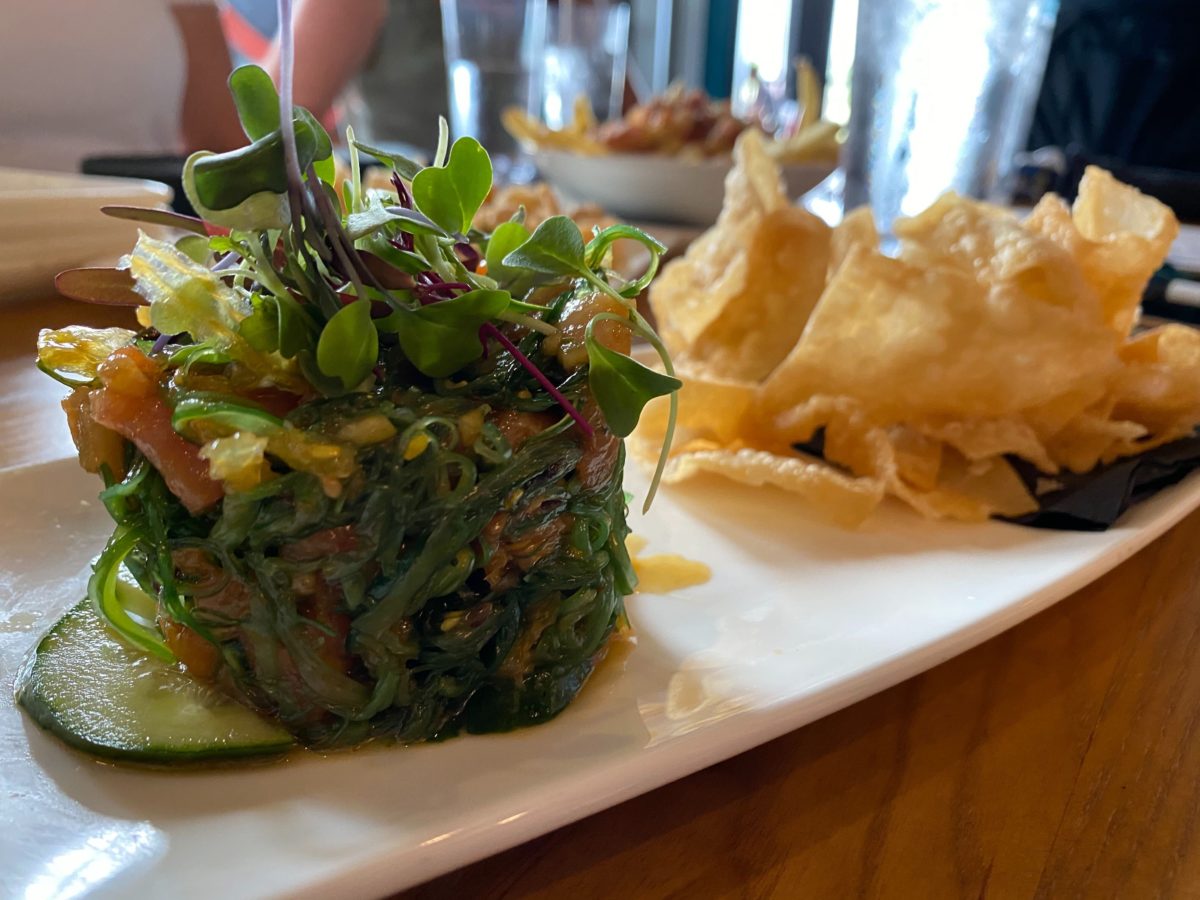 As you can see from the overwhelming hue of the wakame seaweed salad, it's fairly heavy on the greens. Still, there are a few gems of perfectly marinated salmon tucked in there, and they're absolutely delicious.
Most of the table will end up fighting over these deliciously crispy wontons, anyway.
Crispy Calamari "T and T" – $13.00
Calamari tubes & tentacles, flash fried and served with a sweet chili sauce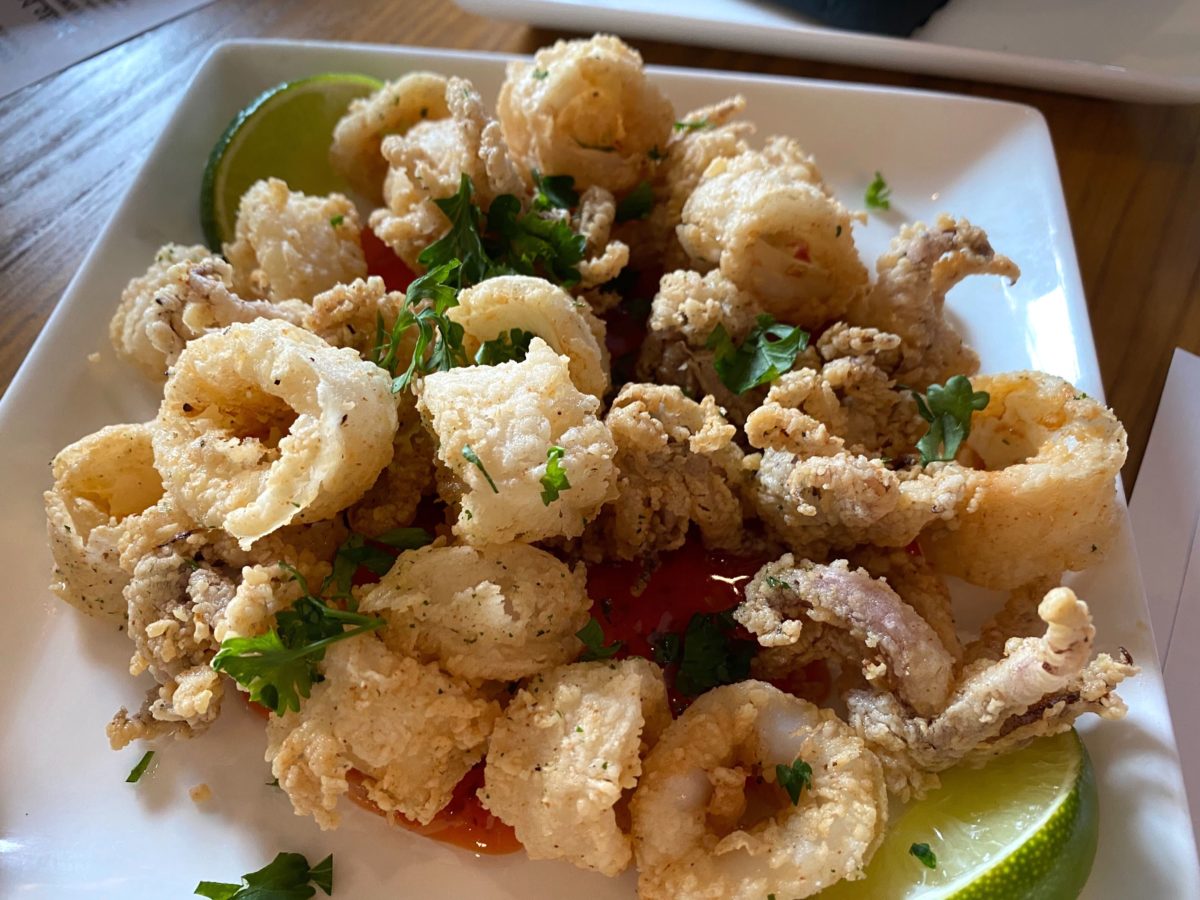 Don't dismiss this as "just another calamari appetizer", because it's truly incredible. Our very own Tom Corless has said that he would—and I quote, "die for that [sweet chili] sauce." The sauce is spicy, but not too much, and packed with flavor. The calamari here is cooked perfectly, and not chewy at all.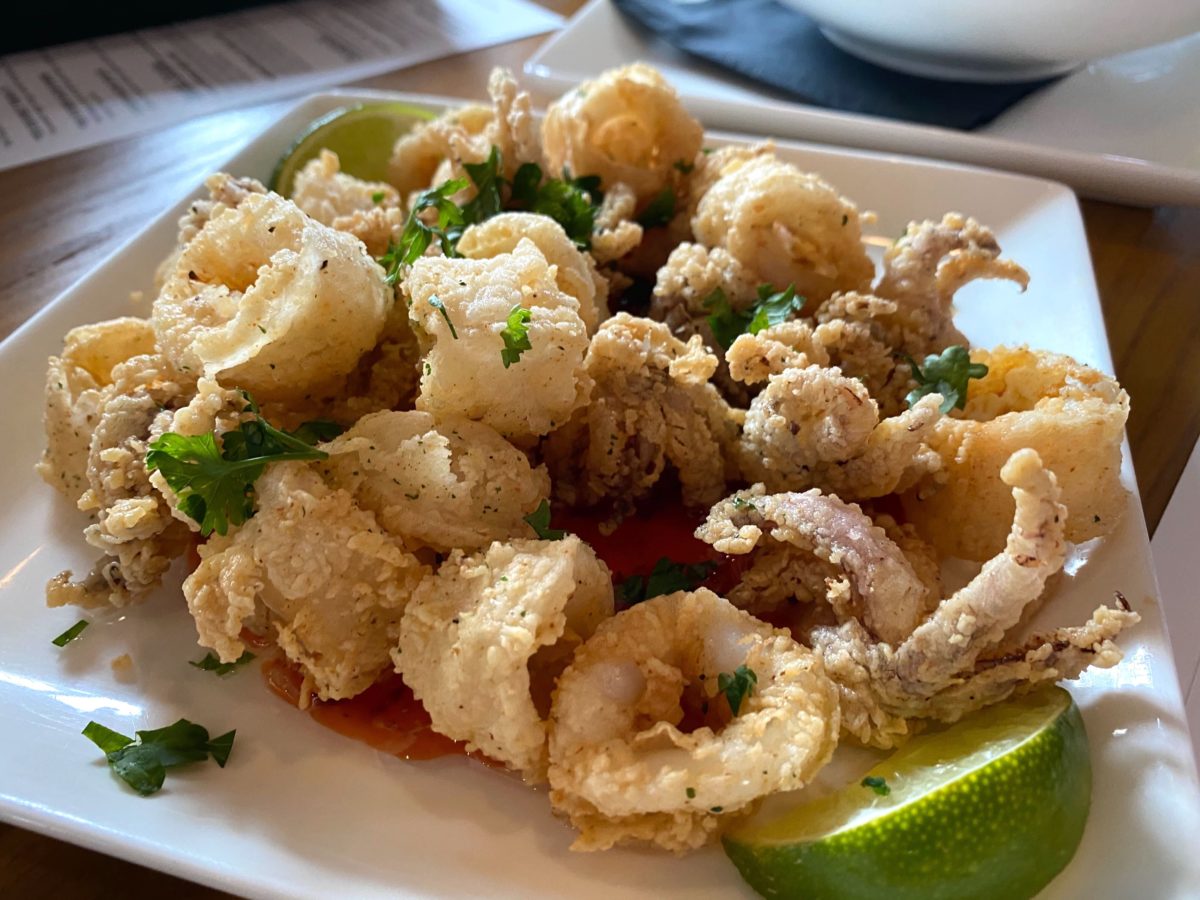 Battered just lightly with pepper and spices worked into the coating, you'll find these fried morsels to be light, yet incredibly tasty.
The Cowfish – Specialty Cocktails
The Cowfish – $19
Our signature fishbowl, fit for two, hand crafted the Gekkeikan sake, Three Olives vodka, Don Q Coco, blue curacao with fresh lemon juice, simple syrup, and topped with Sprite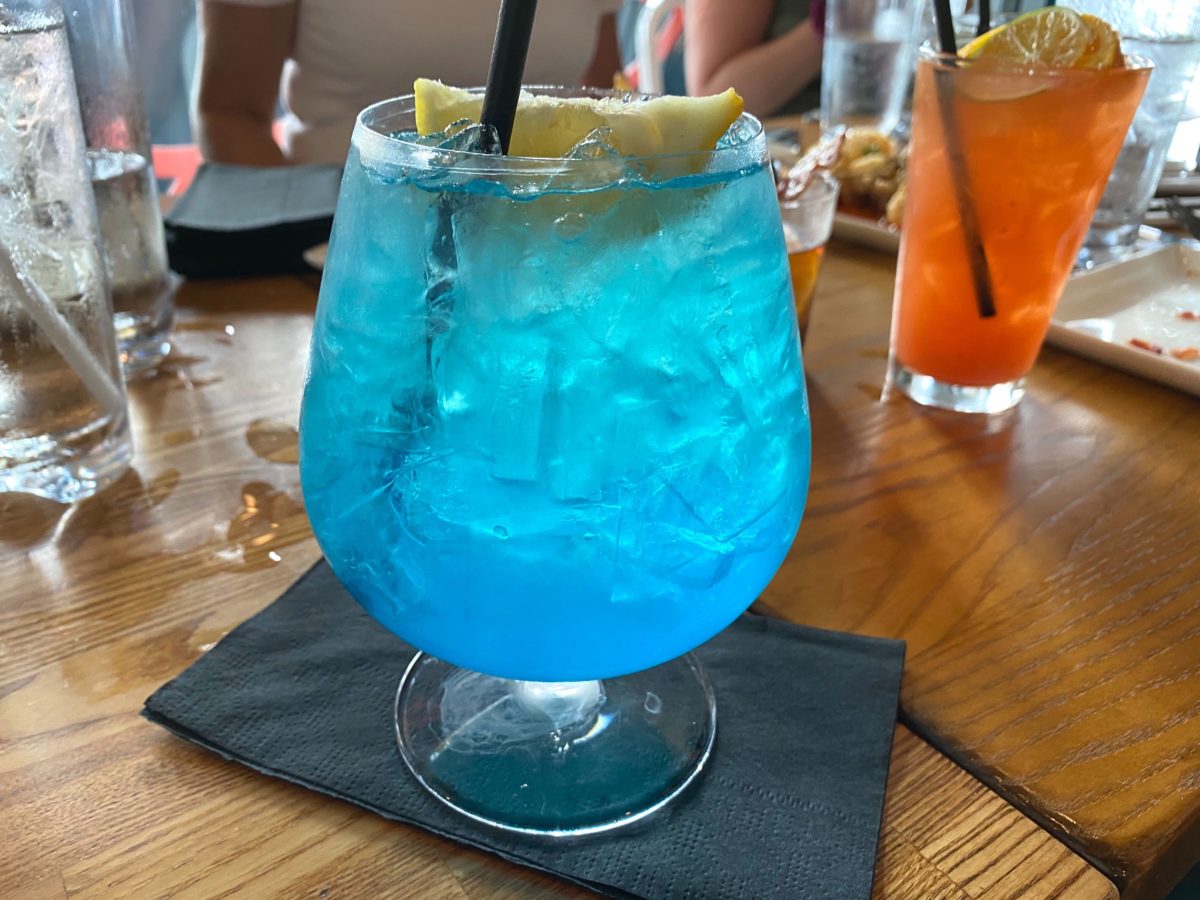 The fishbowl. Everyone looked at it and thought it was going to be a "girly drink" based on the coloring and presentation, but it really just tasted like sake and vodka. It says it can be shared between two people, but we won't judge you if you drink it all on your own. Tom and Pete tried it and both were shocked by how good it was.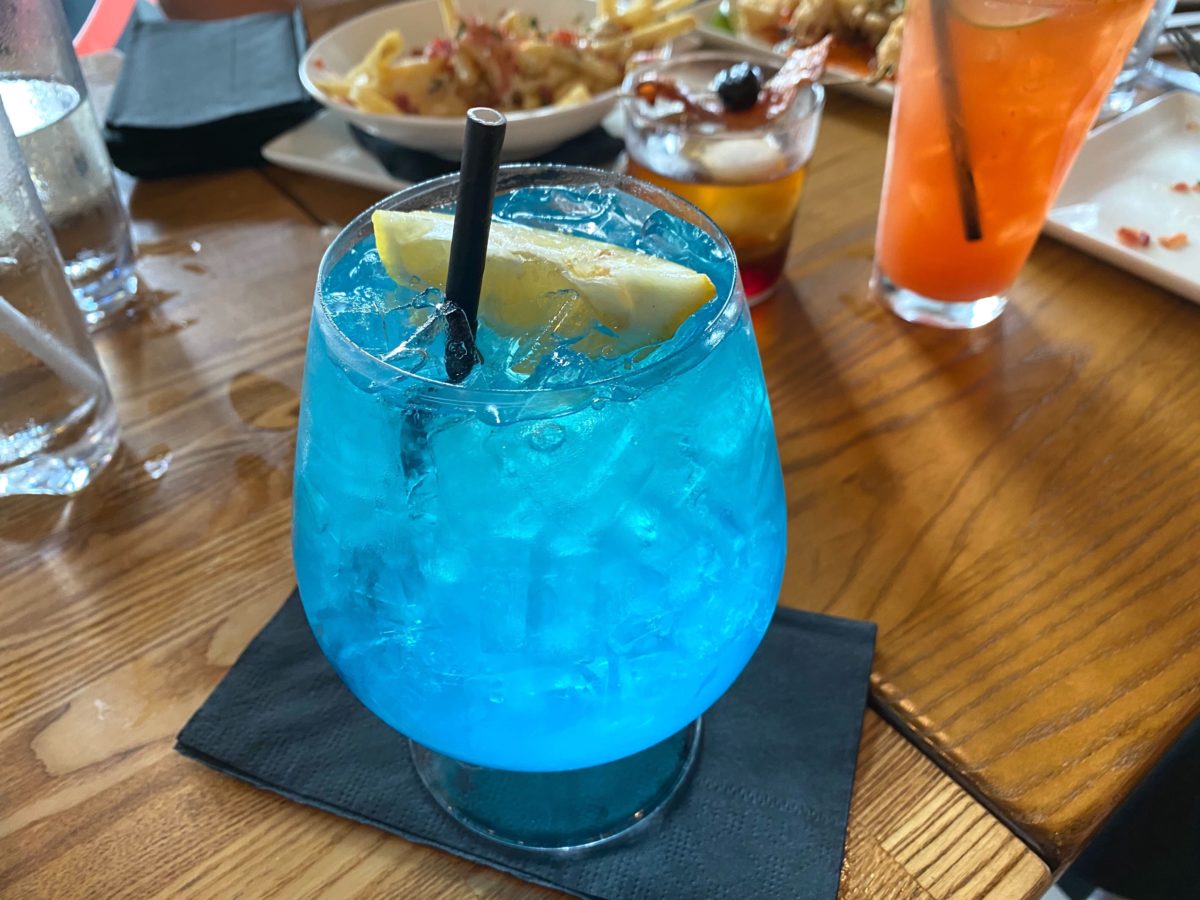 It's not sweet, and you could taste the alcohol in it, but it wasn't offensive or strong. It's easy to drink, but sipper beware. This was so good, we may need to go back just to order another one.
Hokkaido Nights – $14
44 North Nectarine vodka, lemongrass syrup, fresh basil and mint, cucumber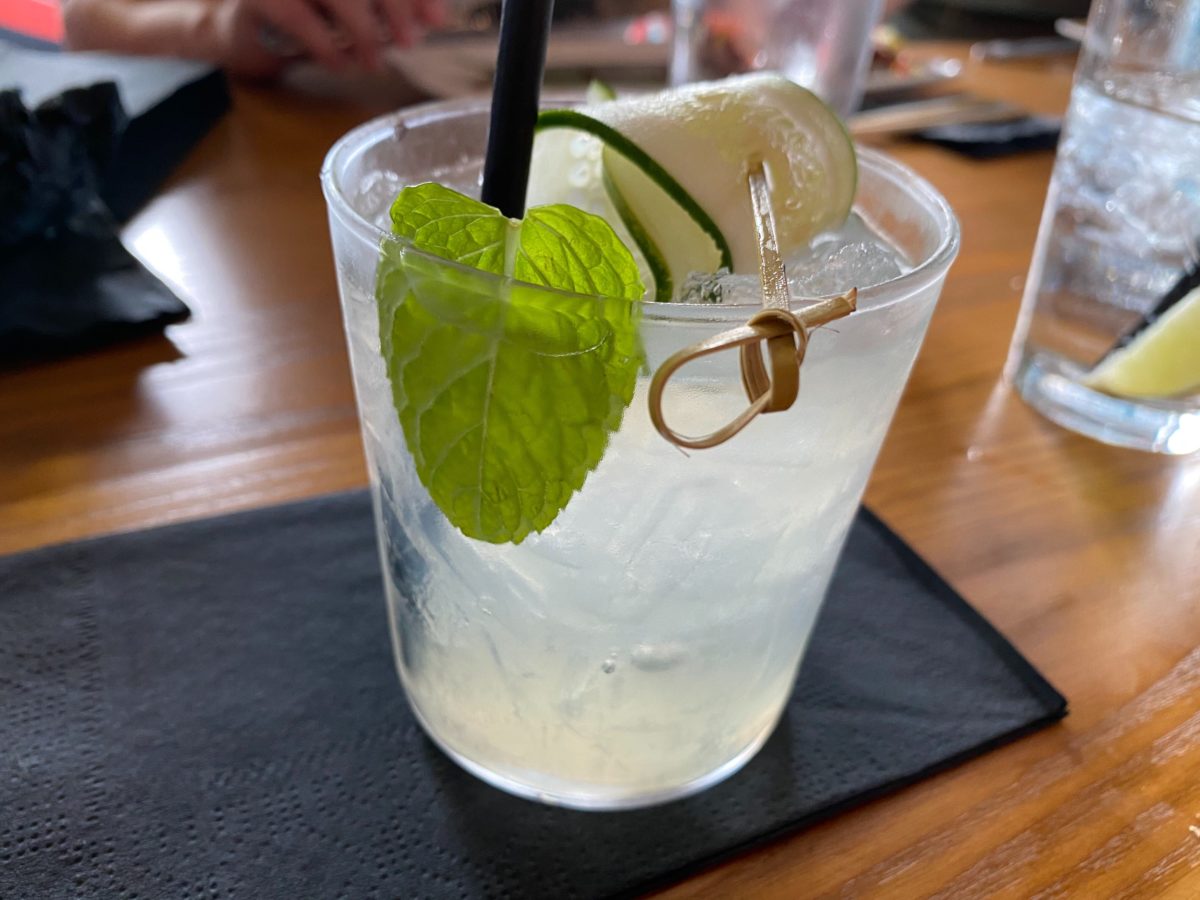 Today, we have thoughts from our very own cocktail connoisseur, Pete Carney, of "Liquid Magic" fame on WDW News Tonight: Super interesting and beautifully refreshing.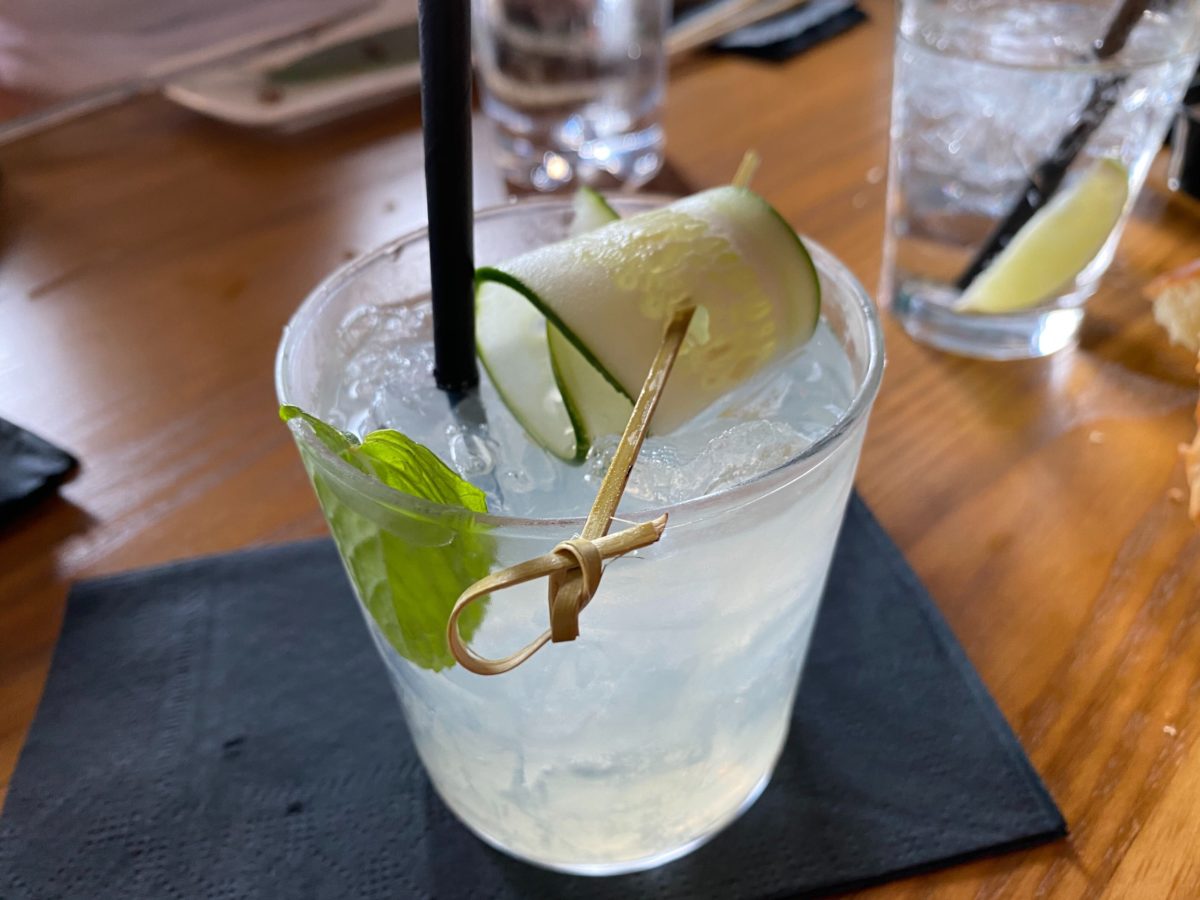 This combo of vodka, lemongrass syrup, basil, mint and cucumber tasted of mostly lemongrass and cucumber, but we did get hints of the other ingredients.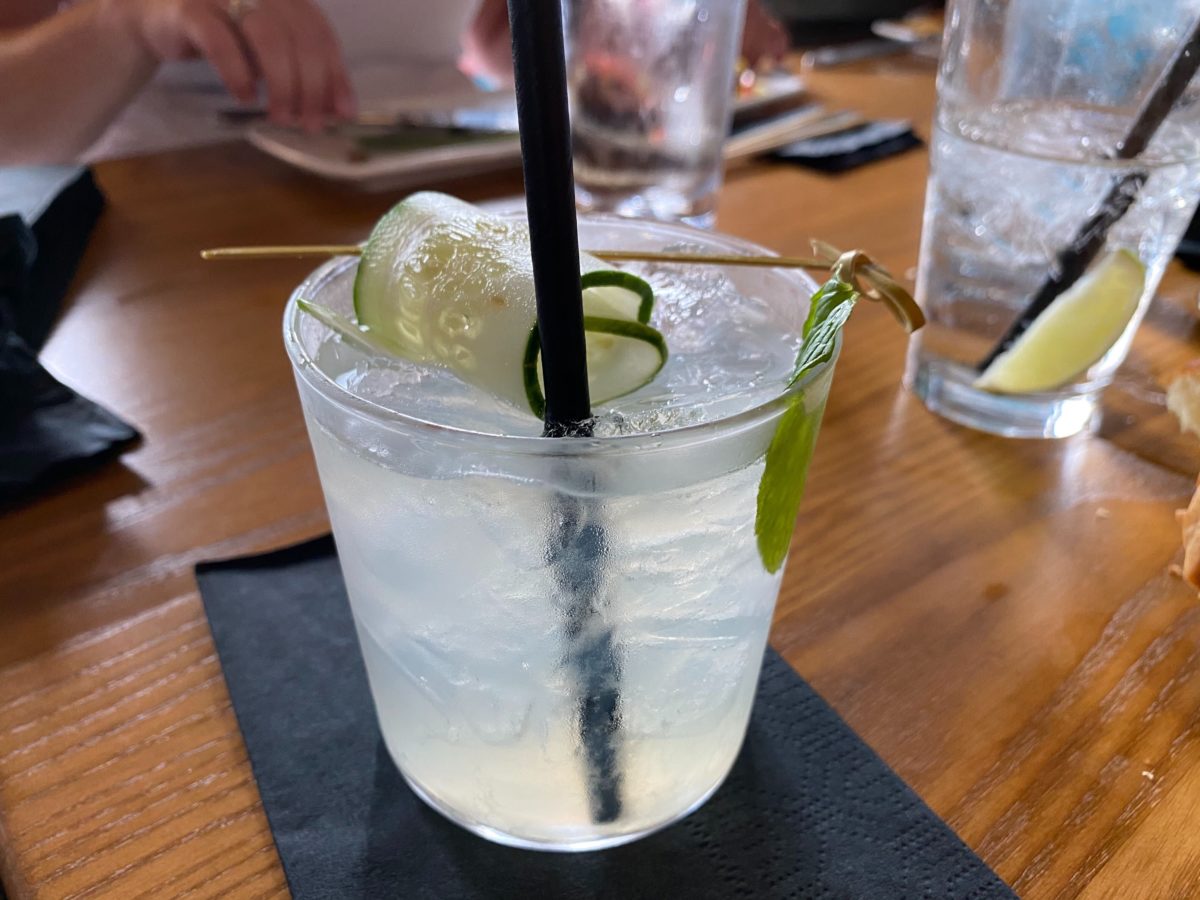 This is a great complement to the cold dishes and sushi served here or for any warm Florida day!
Ruby Panther – $14
Deep Eddy Ruby vodka, simple syrup, lemon juice, pink lemonade, raspberries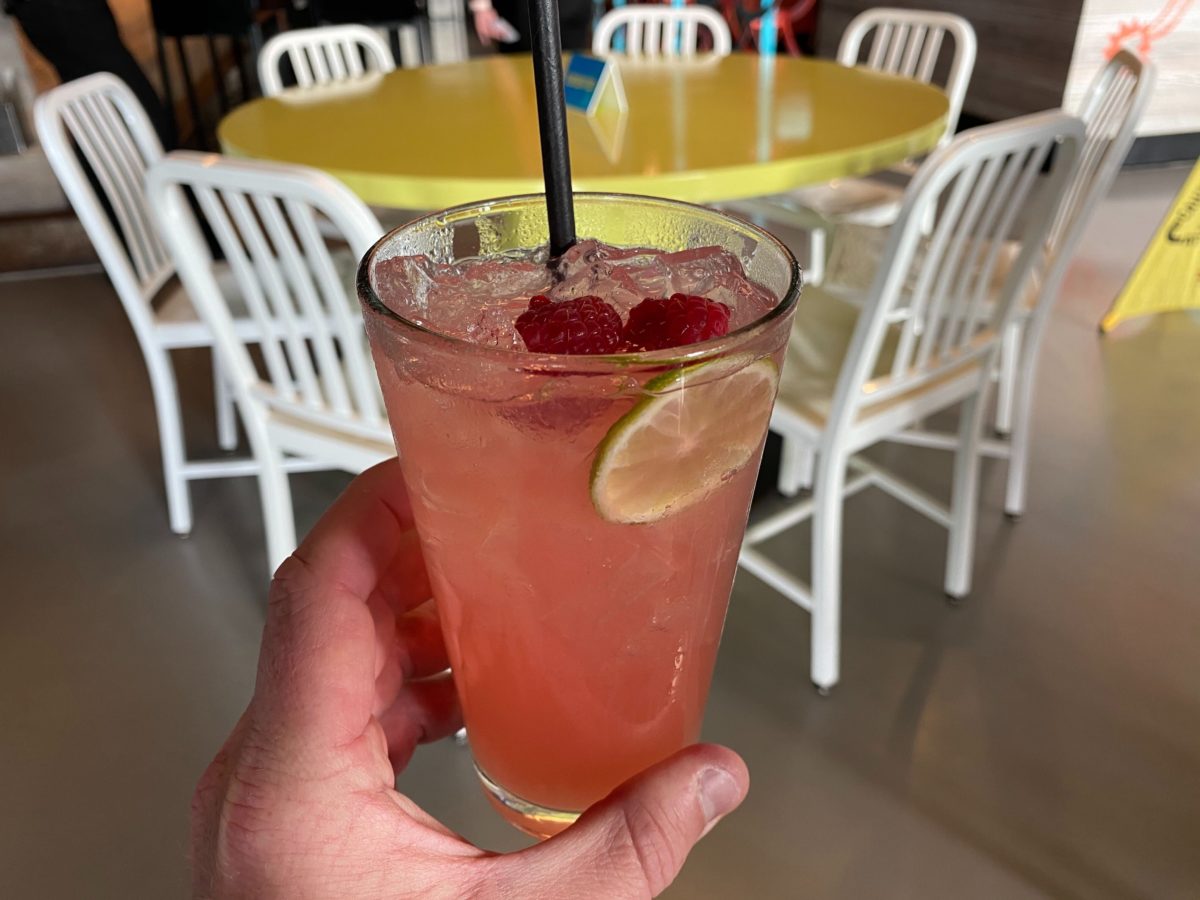 We thought this was going to very overly sweet based on the description, however this is very well done.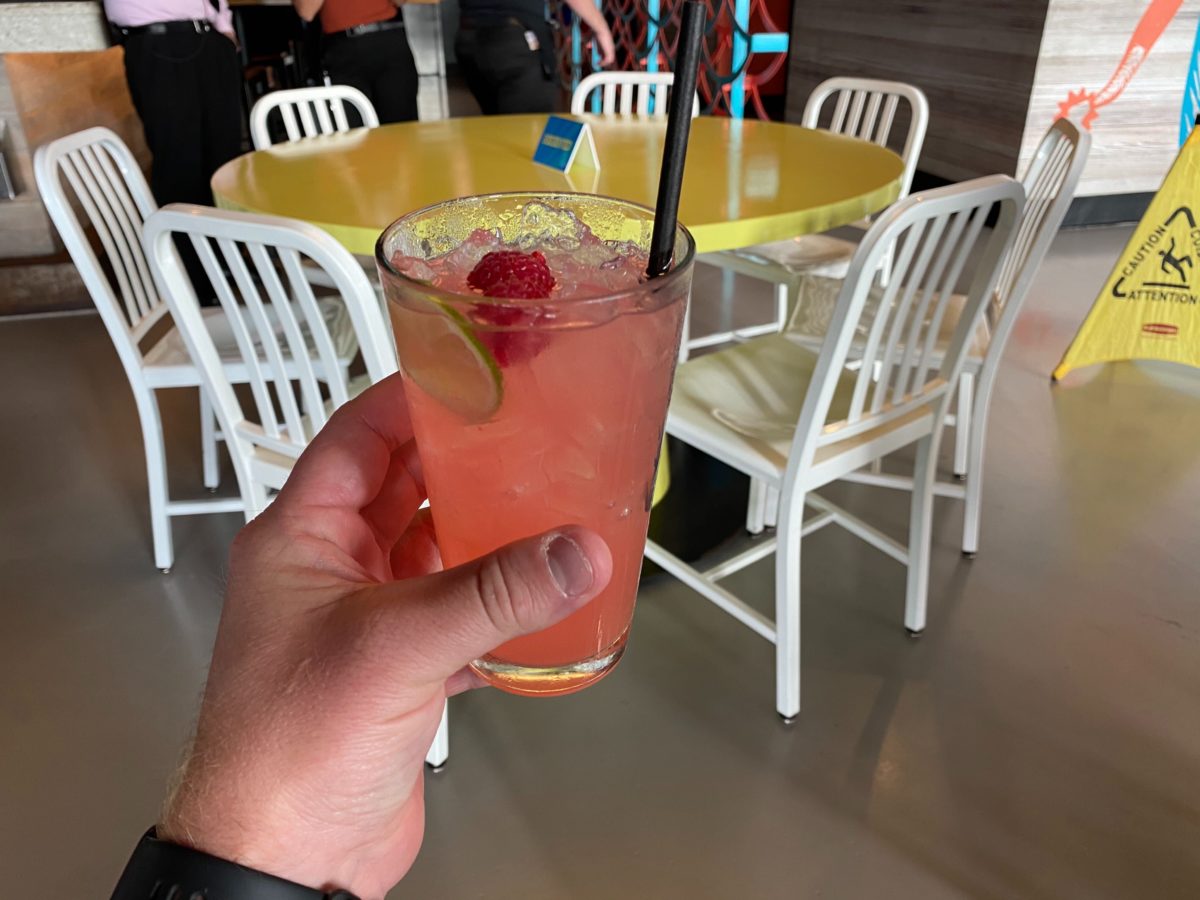 The small amount of lemonade and grapefruit brings some nice citrus notes, which cuts the sweetness beautifully. This is a fantastic beverage!
Buffalos and Bacon – $14
Buffalo Trace bourbon, cherry liqueur, angostura and orange bitters, honey, candied bacon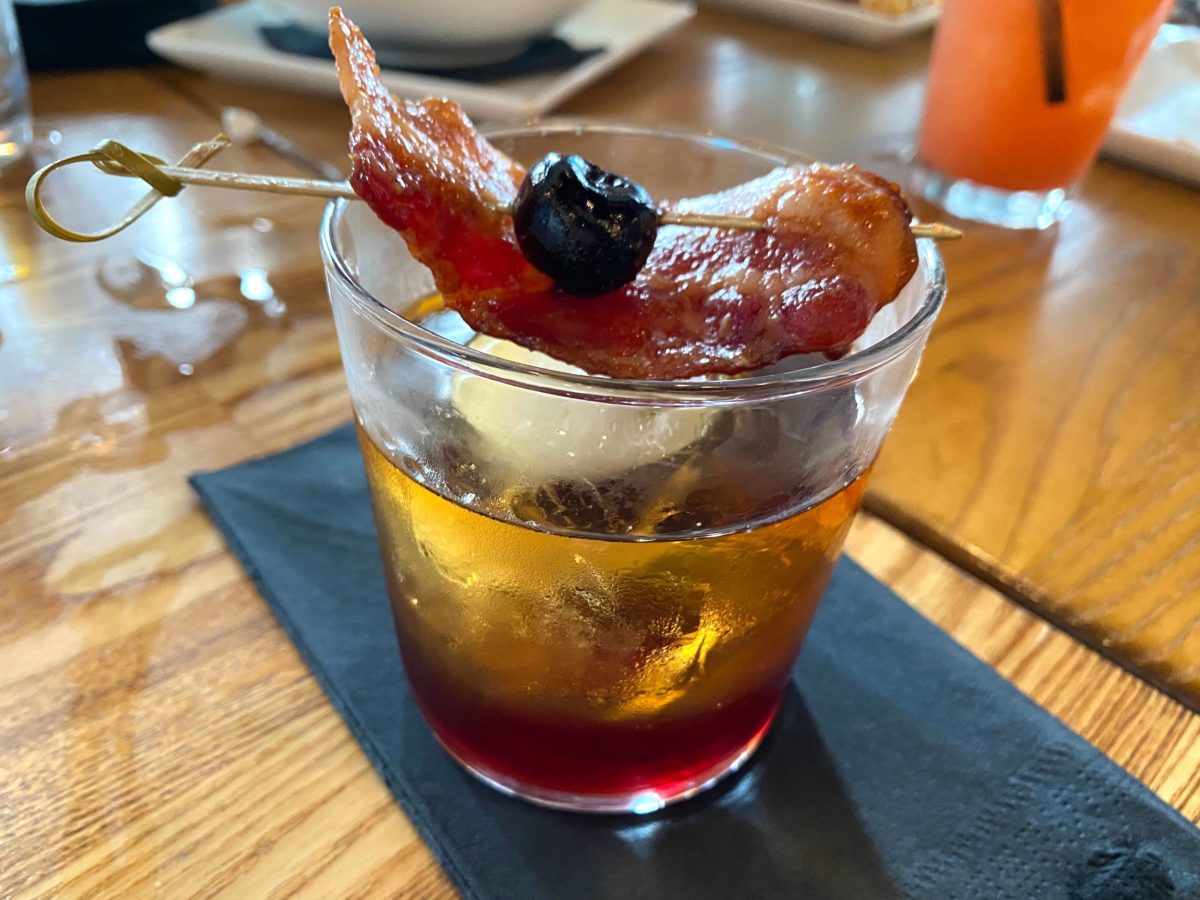 This name is very misleading. This drink has no flavor or taste of buffalo or bacon… but they do use "Buffalo" Trace bourbon, and it has a bacon garnish on top of the glass.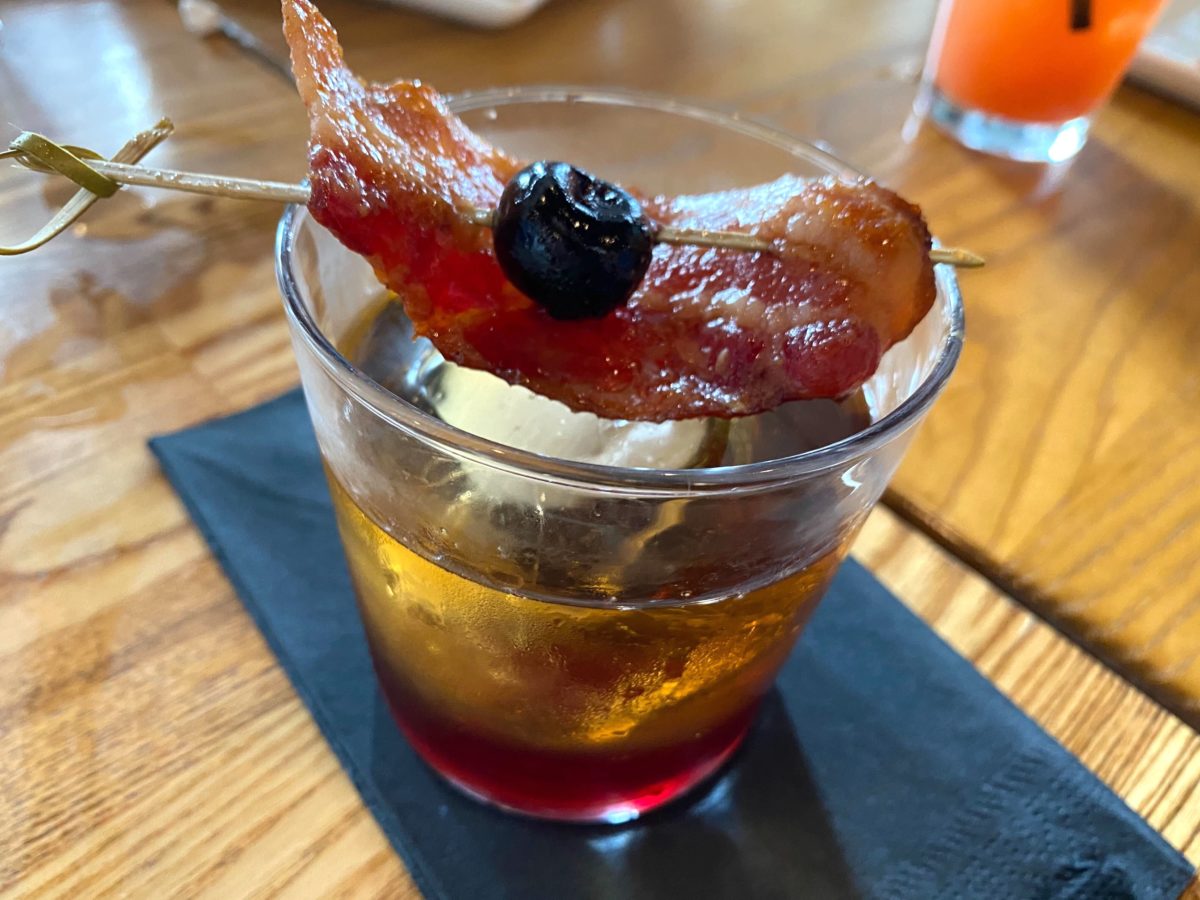 Once you get into the drink itself, this is a pretty standard bourbon with bitters. We didn't get any notes of honey or the cherry liqueur, but others we dined with who have had this before noted that this cocktail is usually "normally much more well-balanced", so it could be that this is just a one-off fluke.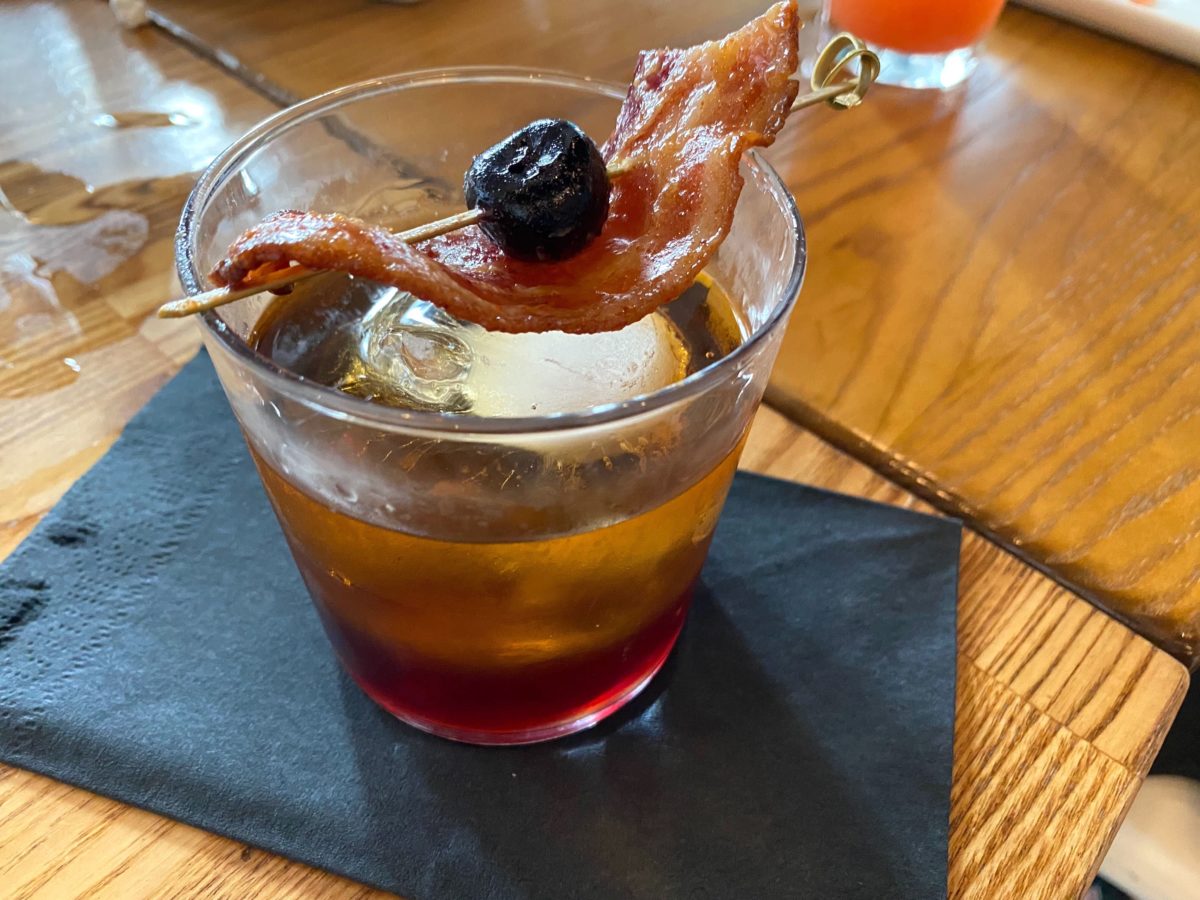 If you like bourbon, you can't go wrong, but just note you aren't getting much buffalo or bacon flavor in this beverage.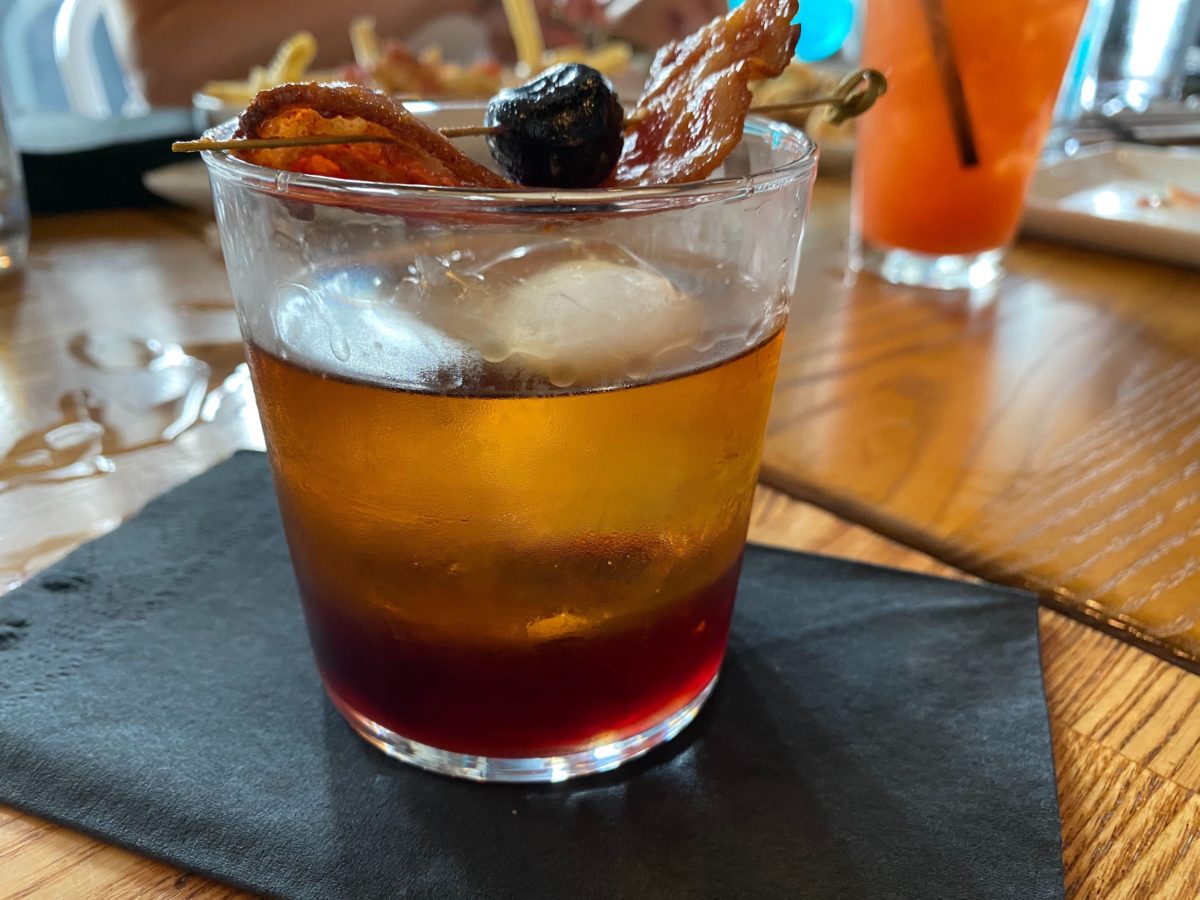 We'll just call it what it is: Bourbon with Bitters.
Rising Sun Margarita – $14
Corazon Blanco tequila, fresh lime juice, orange juice, blood orange syrup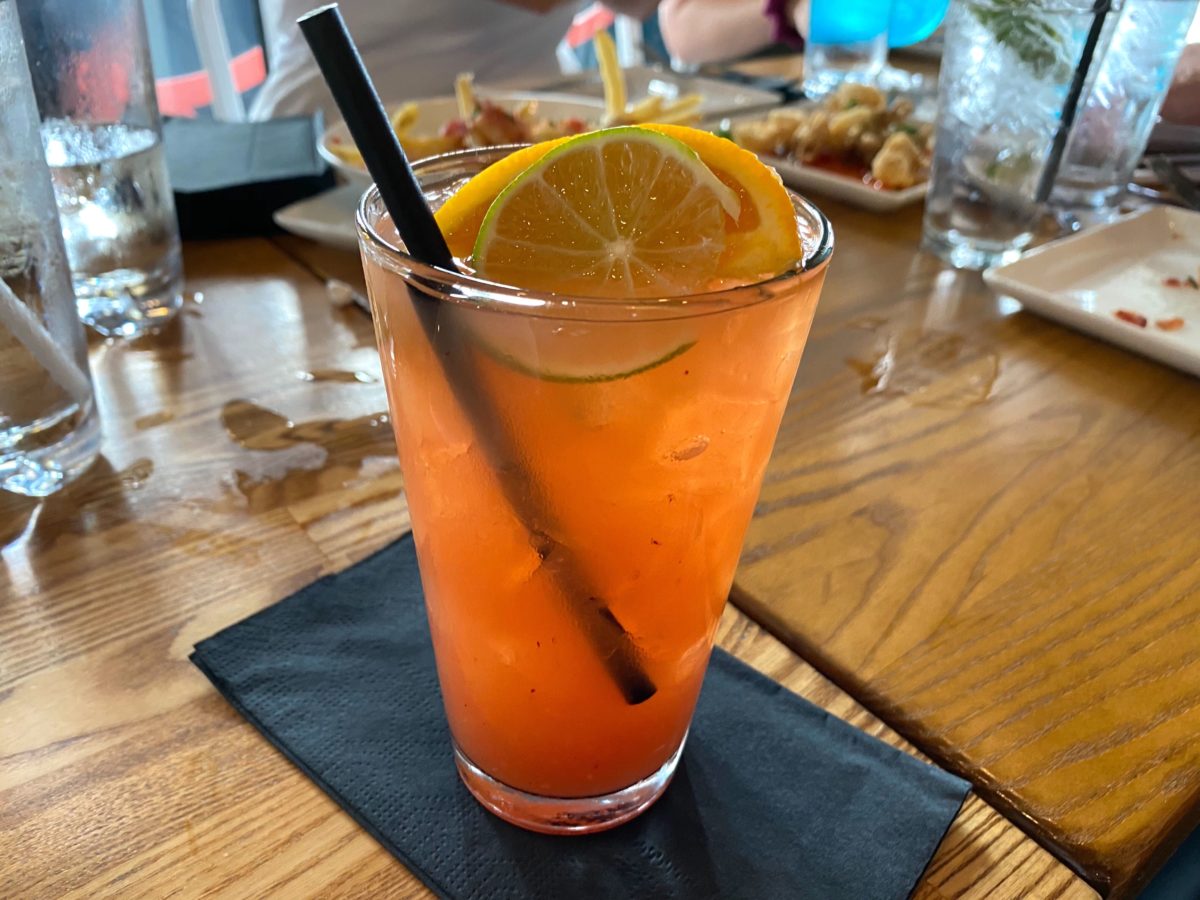 This is a refreshing take on a Blood Orange Margarita.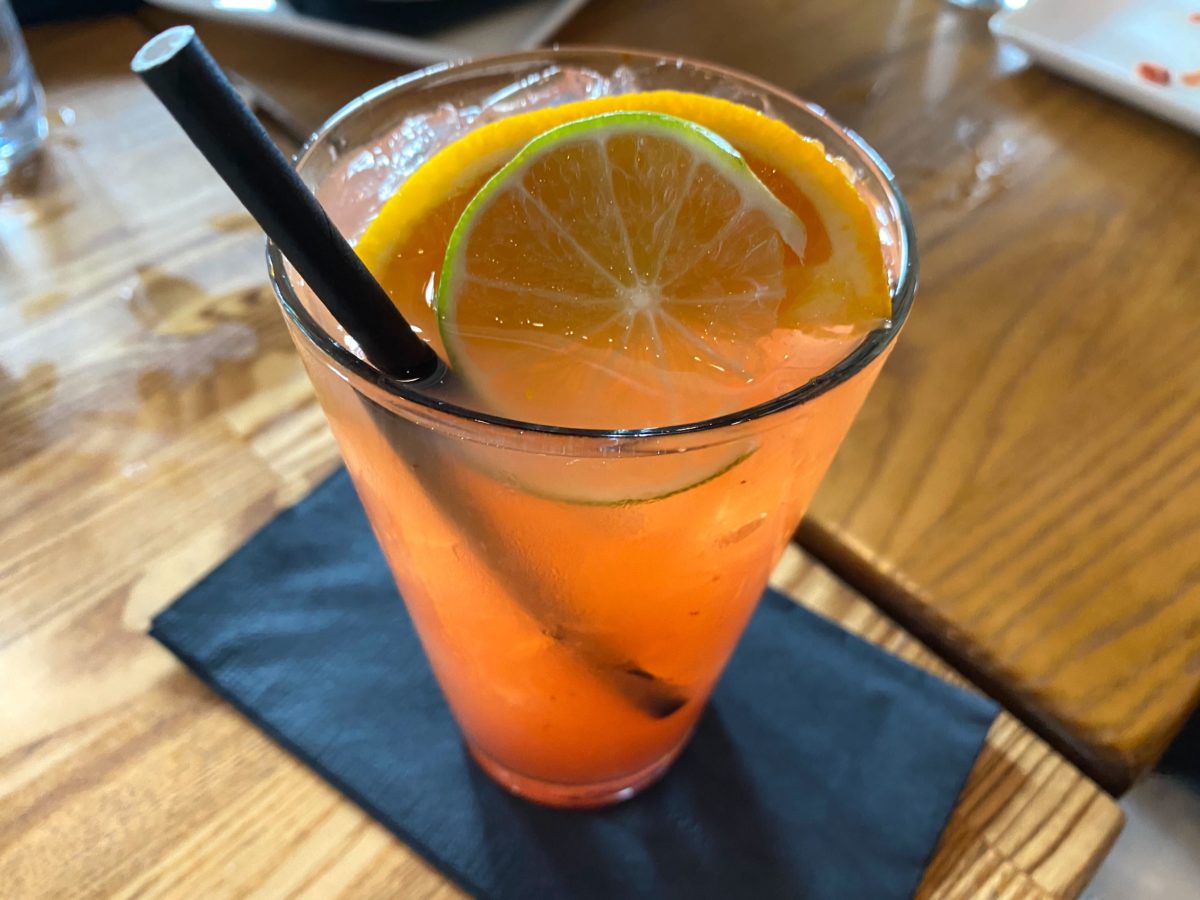 It's slightly on the sweeter side, so those margarita drinkers who are looking for that tequila flavor may find it lacking. However, it is a well-rounded margarita, making it approachable for those looking to try something new, yet still good enough for the veteran margarita drinker.
The Cowfish – Burgers and Sushi
The Boursin Bacon Burger – $16
Beef burger, garlic & herb Boursin cheese, applewood bacon, sautéed mushrooms, grilled onions, lettuce, tomato, onion roll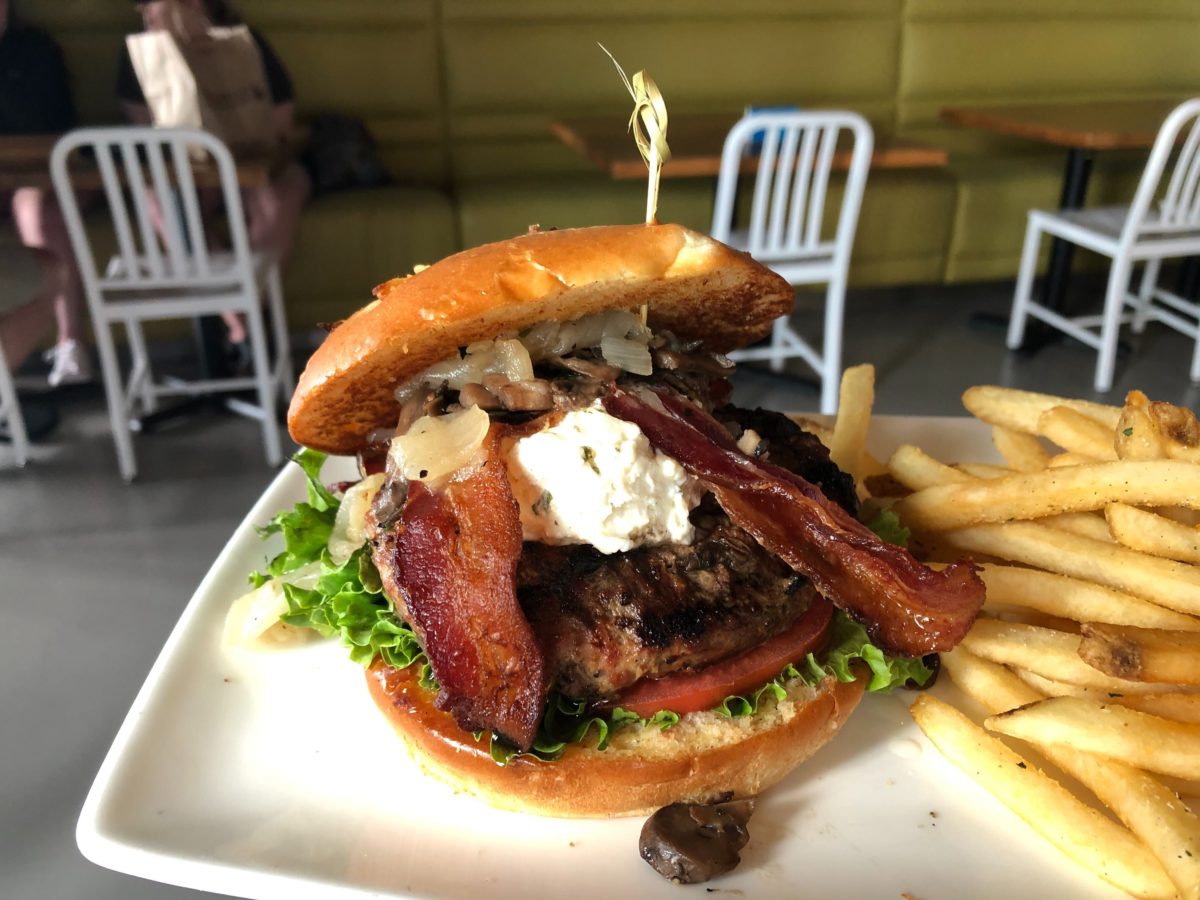 There's a reason why burgers are a specialty here, and it's because they're absolutely delicious and perfectly cooked.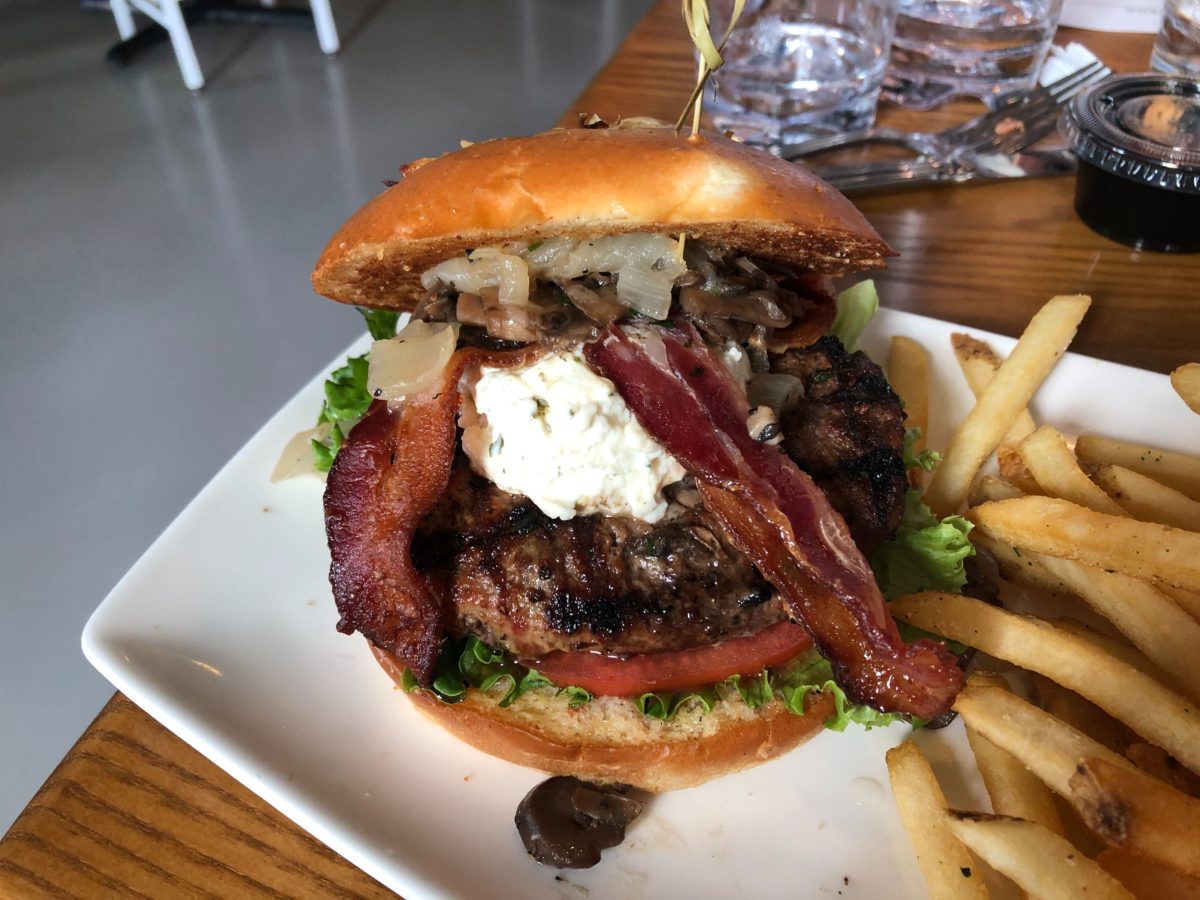 The beef patty is topped with a heaping mound of garlic Boursin cheese spread. Honestly, they should just have that cheese spread with chips as an appetizer, just because it's so creamy and flavorful.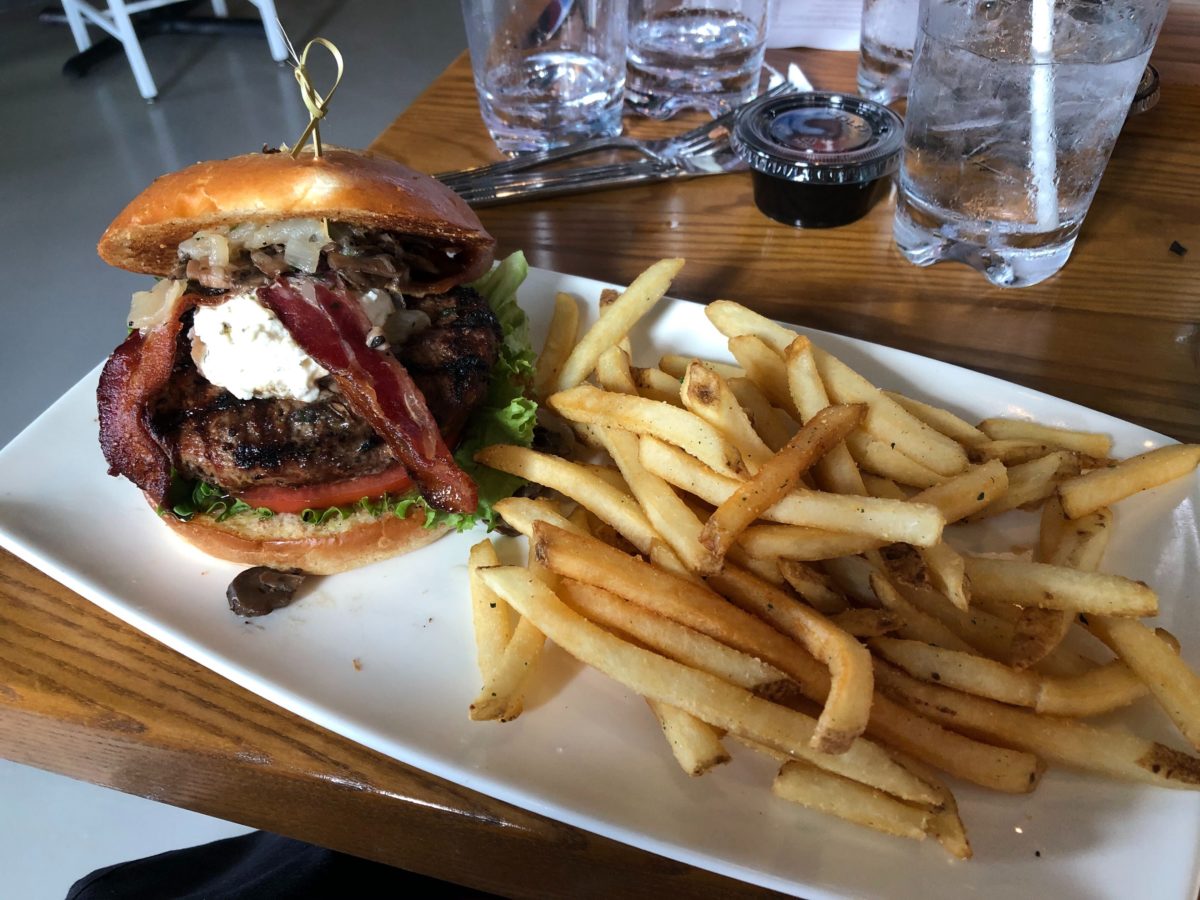 The garlic isn't overpowering, so you won't have too much regret once the time comes to put your face mask back on.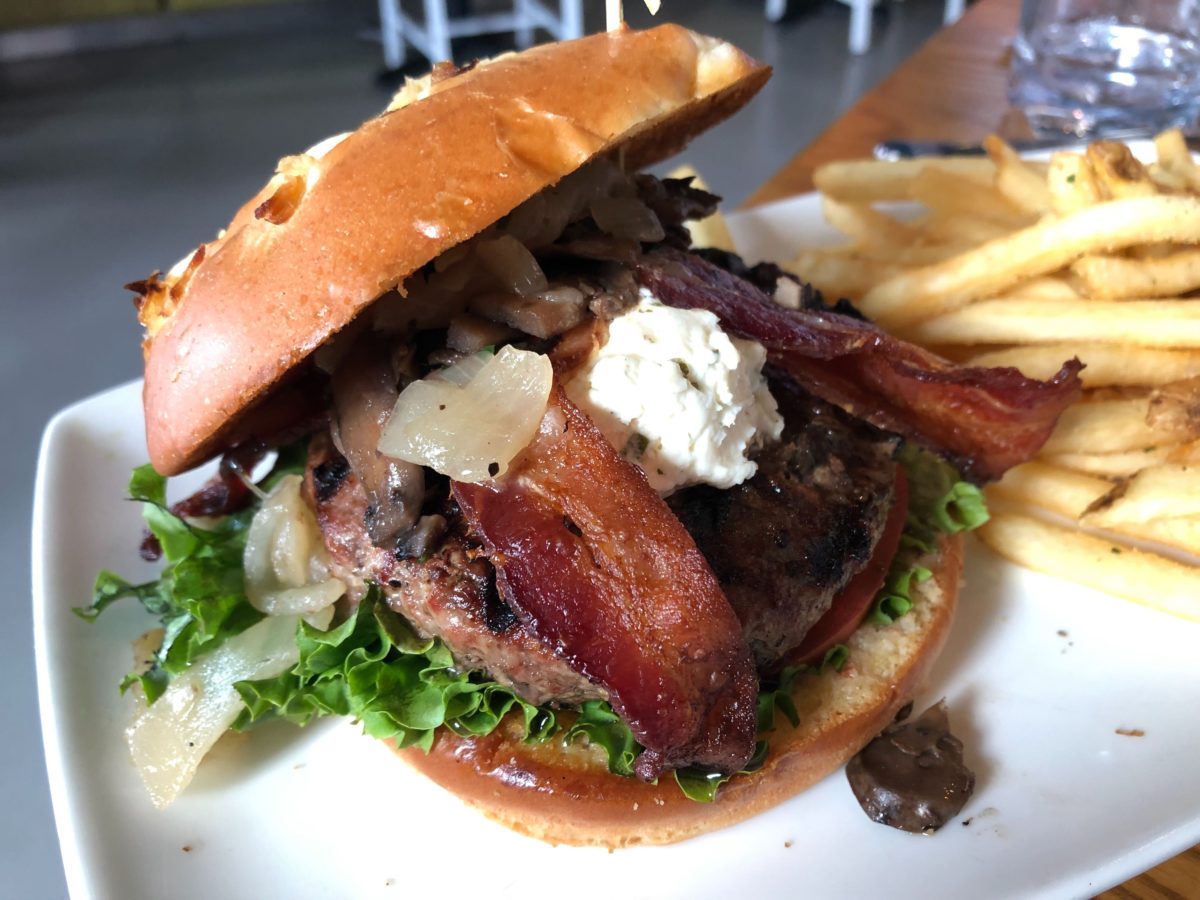 The sautéd mushrooms and grilled onions were hard to taste over the cheese, but that's not really a complaint, the cheese is just very strong.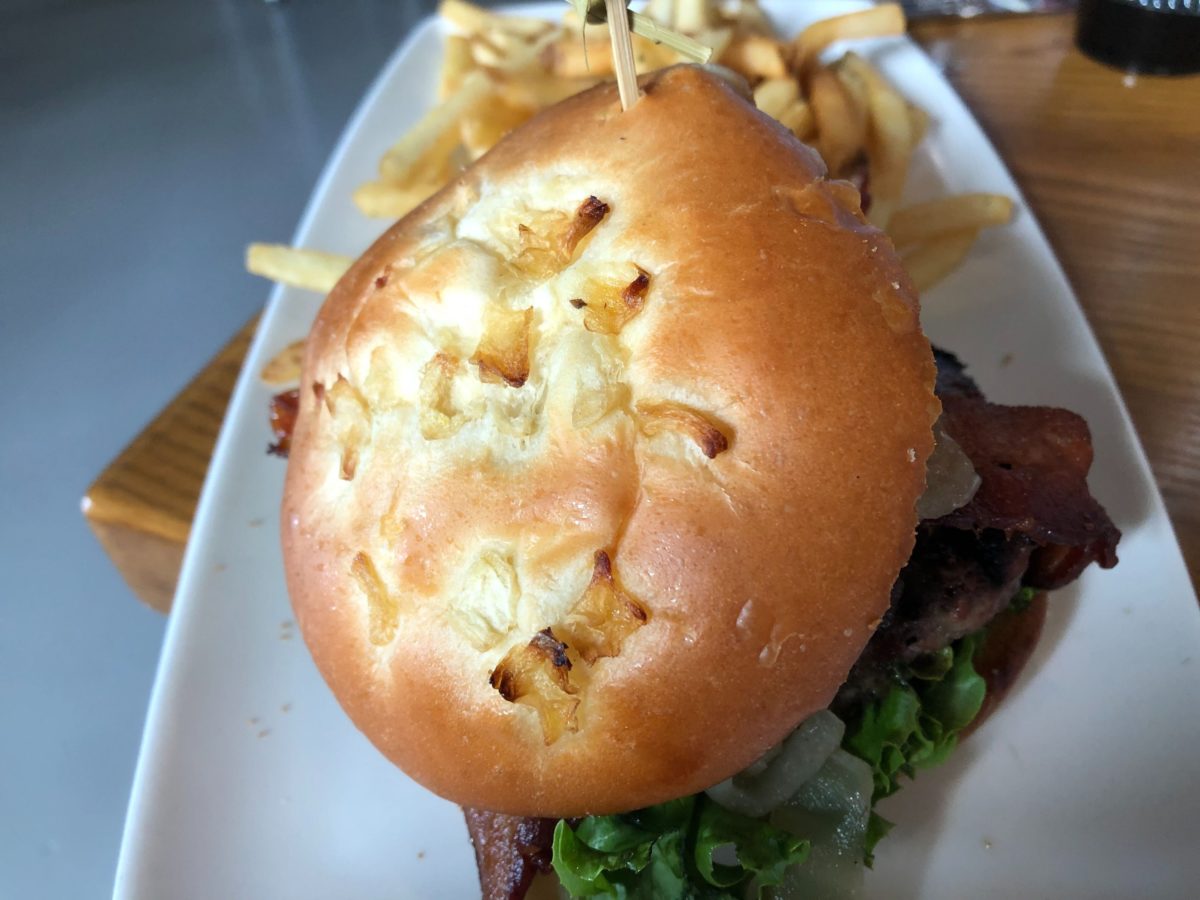 The onion roll bread was very fluffy and light, and incredibly fresh.
The Jalapeño Popper Show-Stopper – $15
Beef burger, jalapeño-infused cream cheese, jalapeño bacon, fried jalapeños, jalapeño citrus aioli, lettuce, tomato, fresh sliced jalapeños, brioche bun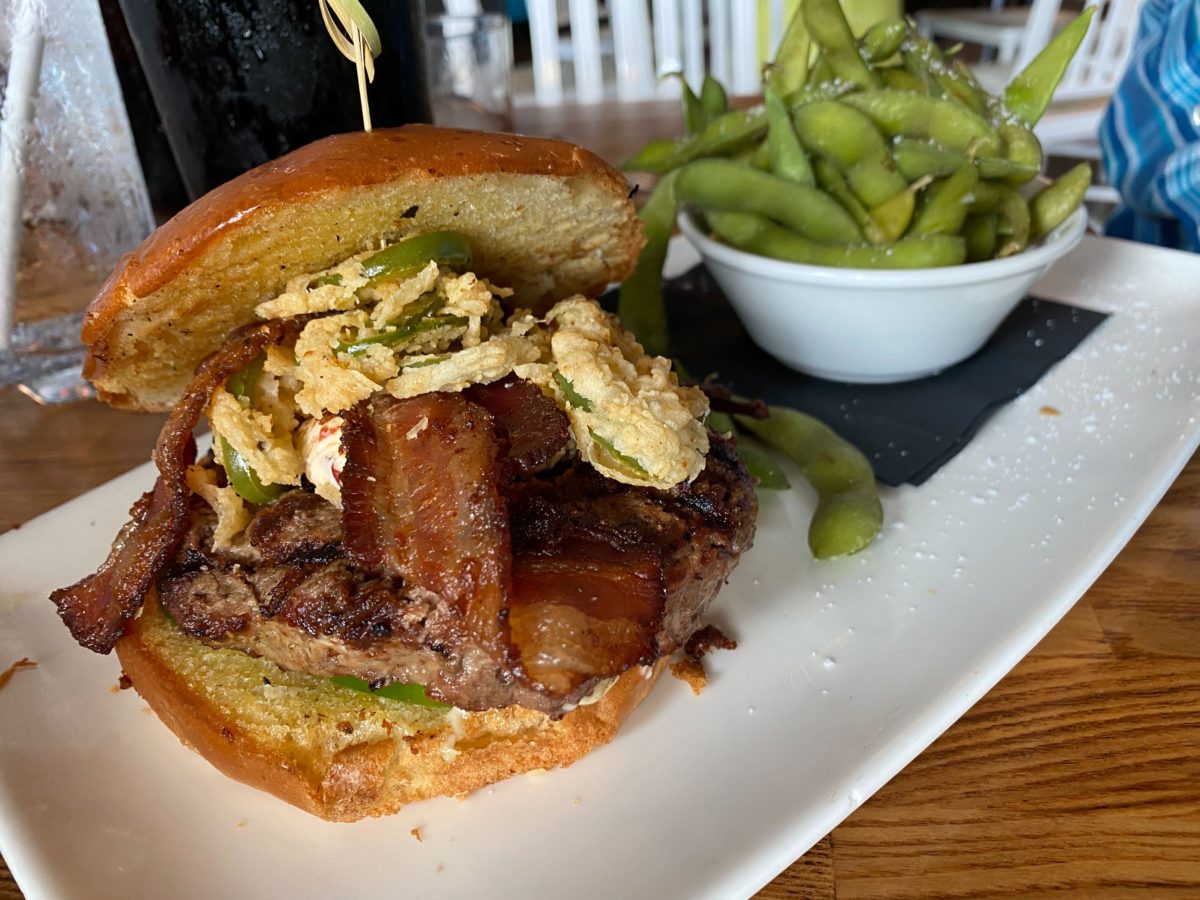 Now, this was a perfectly cooked hamburger, topped with a mound of fried jalapeños and cradled in a soft bun.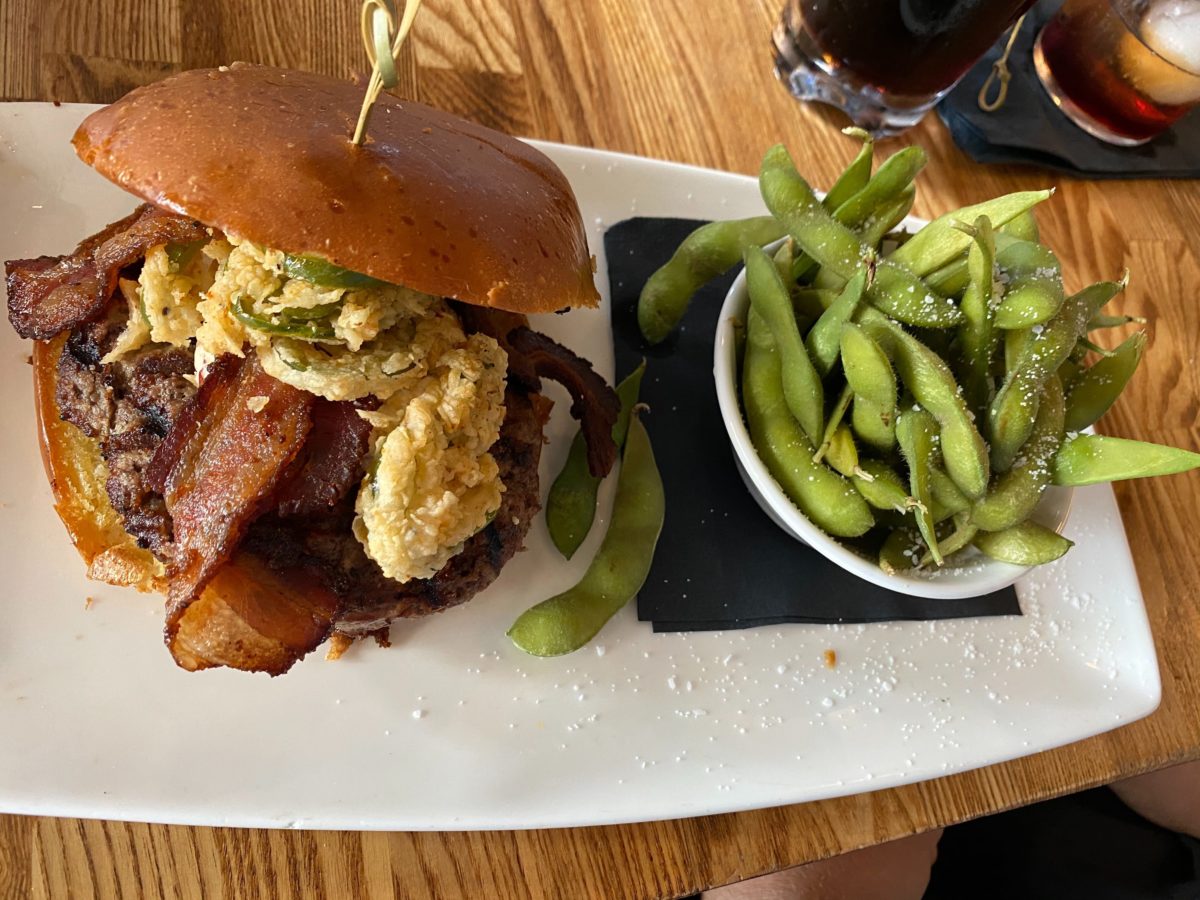 Every bite was full of jalapeño flavor, with the crispy bacon adding a nice crunch. If you like spicy food and want a spicy hamburger, this is your go-to for a spicy hamburger here at Universal.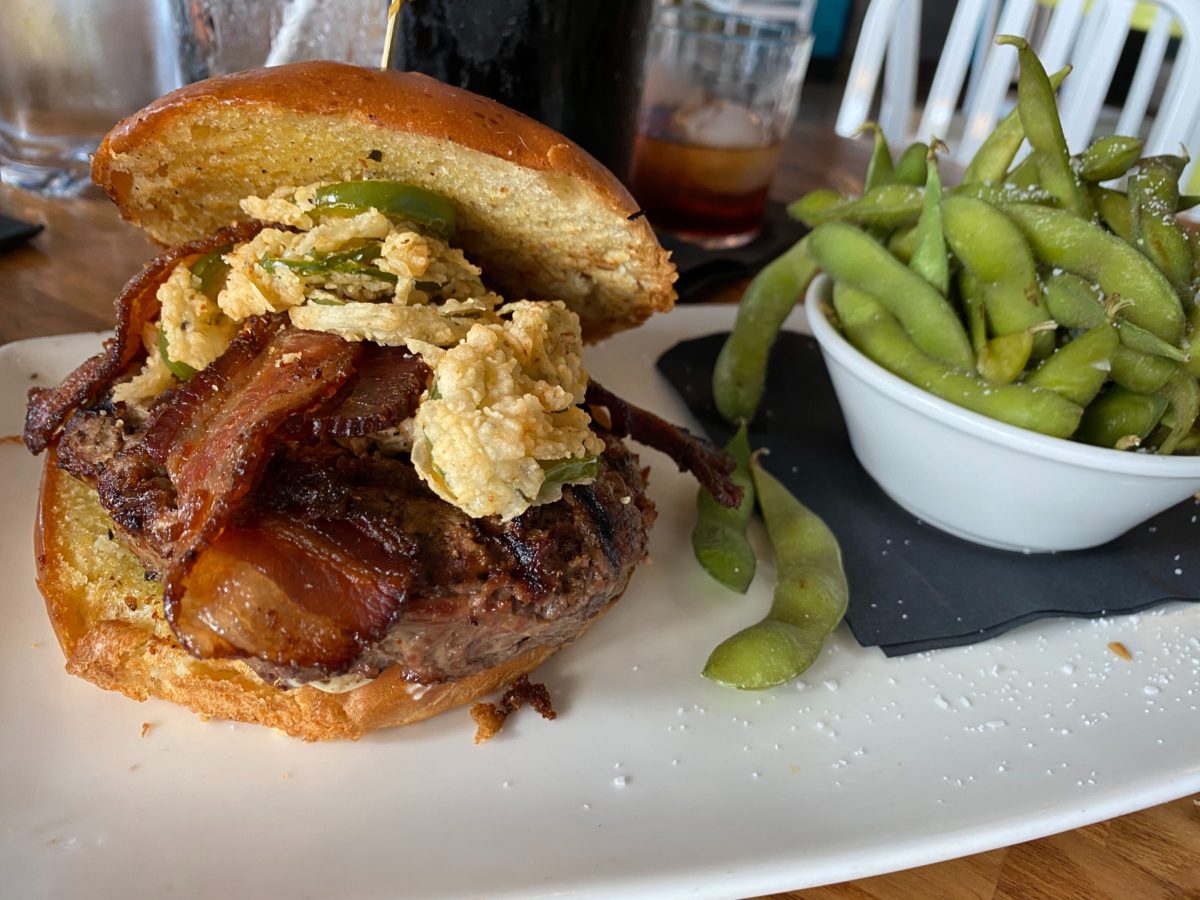 It's a huge burger, so we got edamame on the side instead of fries to lighten up the dish somewhat—you really don't need fries with this one. Each bite has a great crunchy, hot flavor. Our reviewer absolutely loved it!
Chicken Bacon Avocado – $15
Grilled all natural chicken, applewood bacon, avocado, lettuce, tomato, wasabi mayo, brioche bun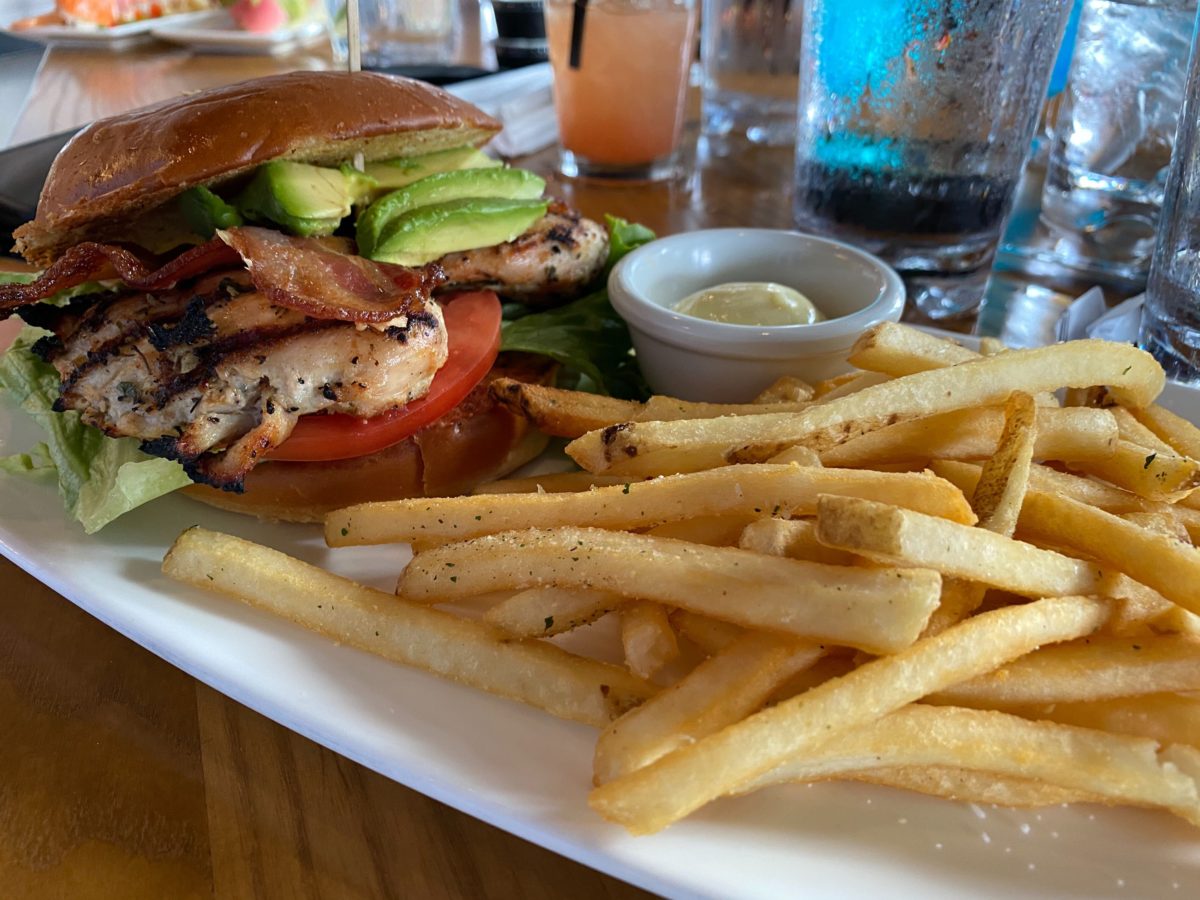 Chicken Bacon Avocado sandwich is just average. That's the key word here: Average.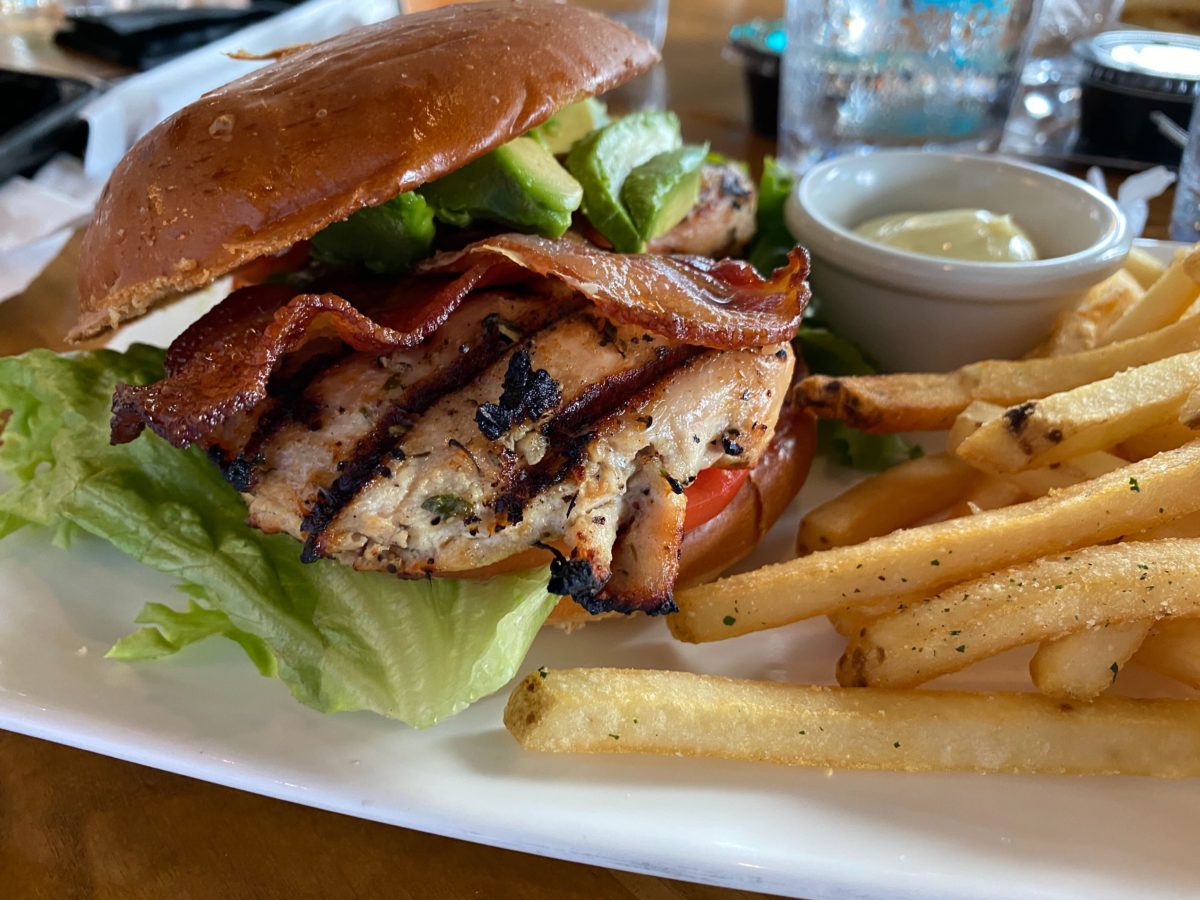 It wasn't bad, but wasn't exactly great, and we wouldn't really recommend it. It's exactly what you'd expect from a basic chicken sandwich—a little chewy, not much flavor besides the toppings. Skip this and go for one of the restaurant's specialties with burger or sushi.
Doug's Filet Roll – $17
Avocado, kani, cream cheese inside, topped with thin slices of seared filet mignon, spicy mayo, scallions, masago. Served with a side of pounded ginger sauce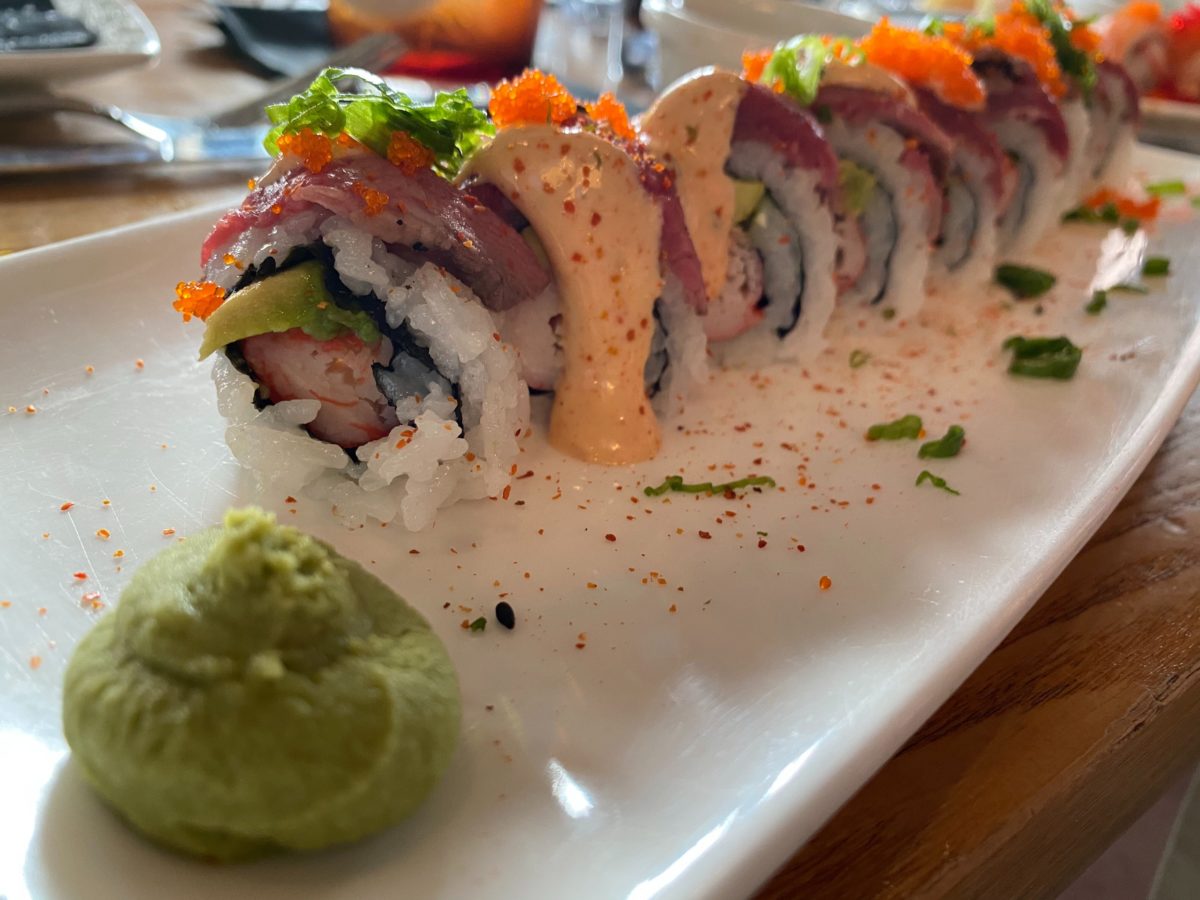 For an item with the word filet in it, you'd think it wouldn't need gobs of spicy mayo to amp up the flavor, but here we are. Our reviewer found this roll to be somewhat disappointing, with the spicy mayo overpowering the dish and saturating each roll way too much.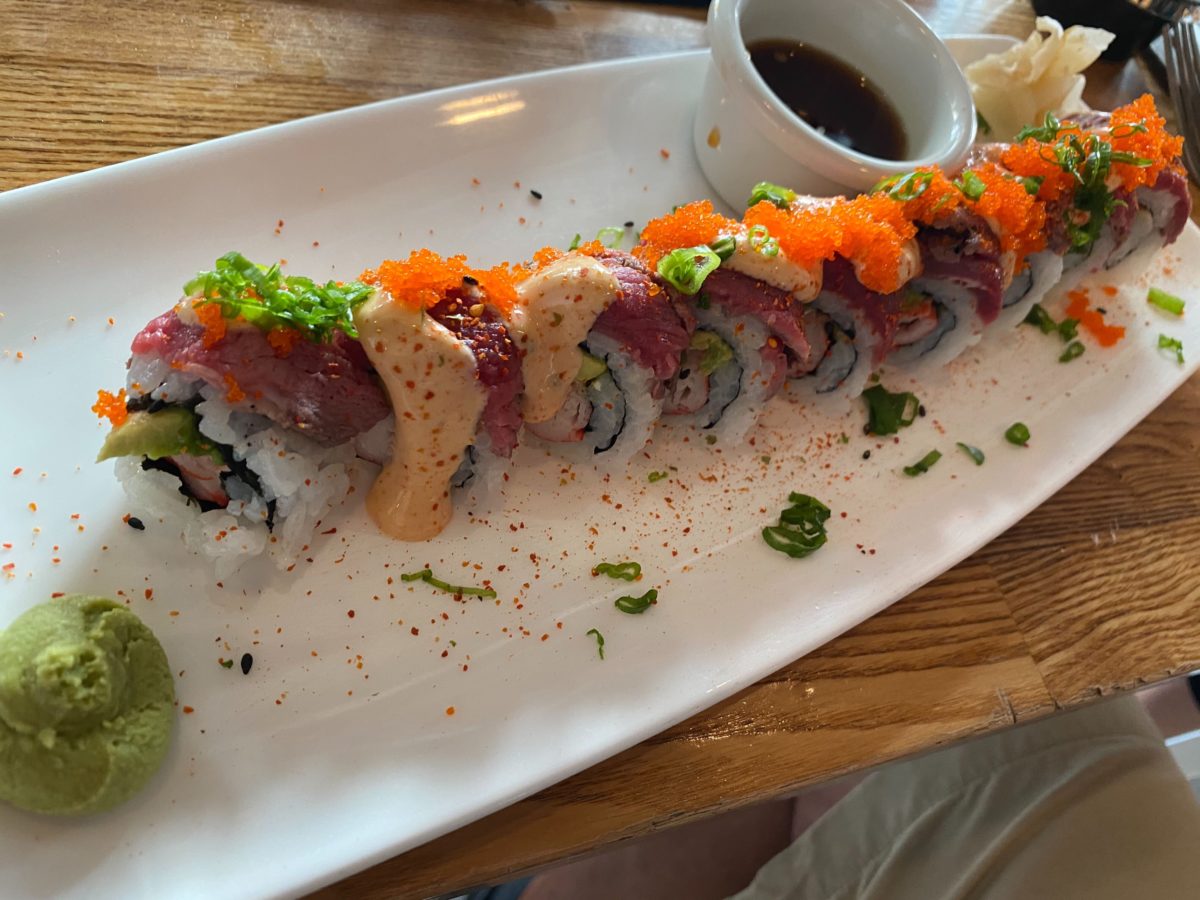 Our suggestion if you want to try this is to maybe opt for the spicy mayo on the side, so you can control how saucy you want the roll to be.
The All-American Bacon Double Cheeseburgooshi – $16
Seasoned premium black angus beef, yellow cheddar cheese, white cheddar cheese, and applewood bacon wrapped in soy paper and potato strings, then flash fried. Topped with dill pickle, red onion, Roma tomato, and Cowfish sauce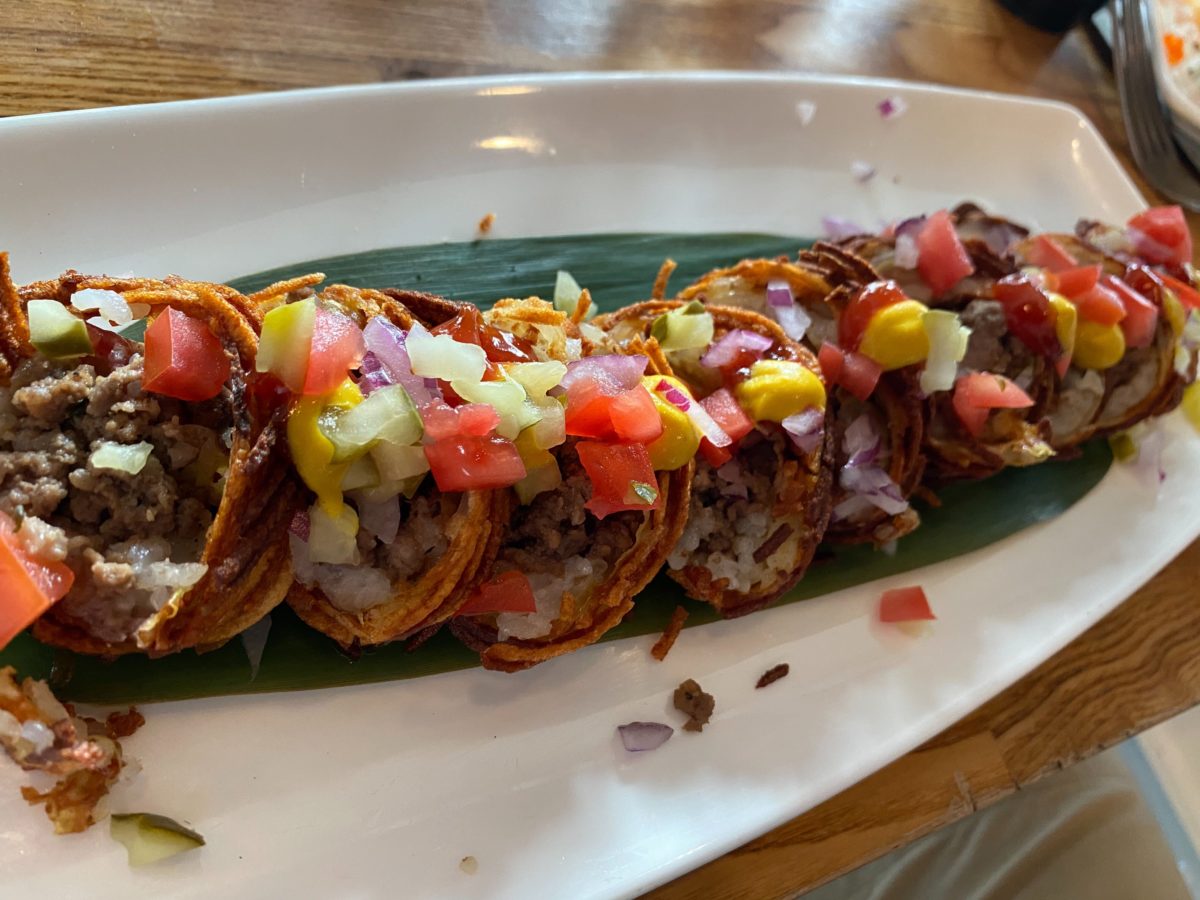 We're usually huge fans of the Burgushi here, but today, the Cheeseburgooshi was a thumbs down.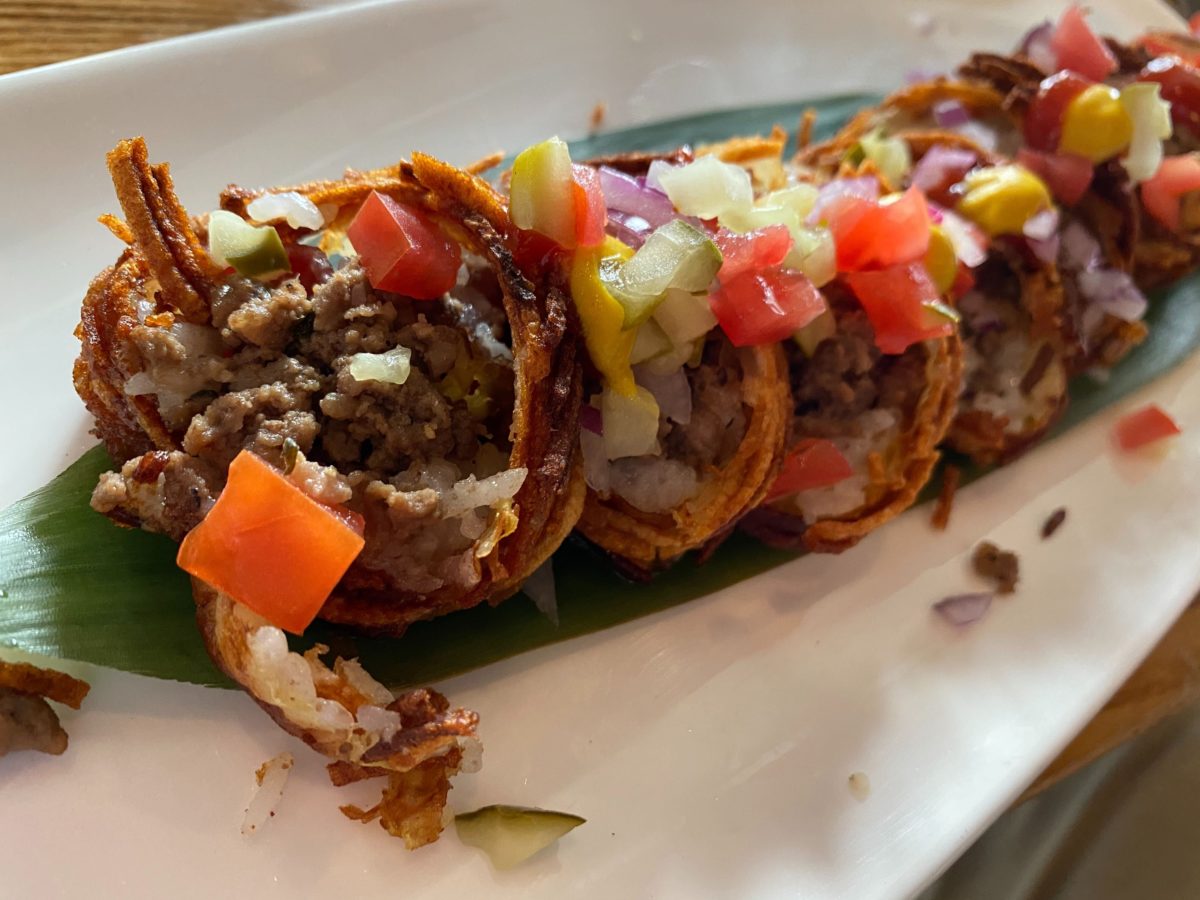 The All-American Bacon Double Cheeseburgooshi was lacking in sauce and the meat was exceptionally dry today.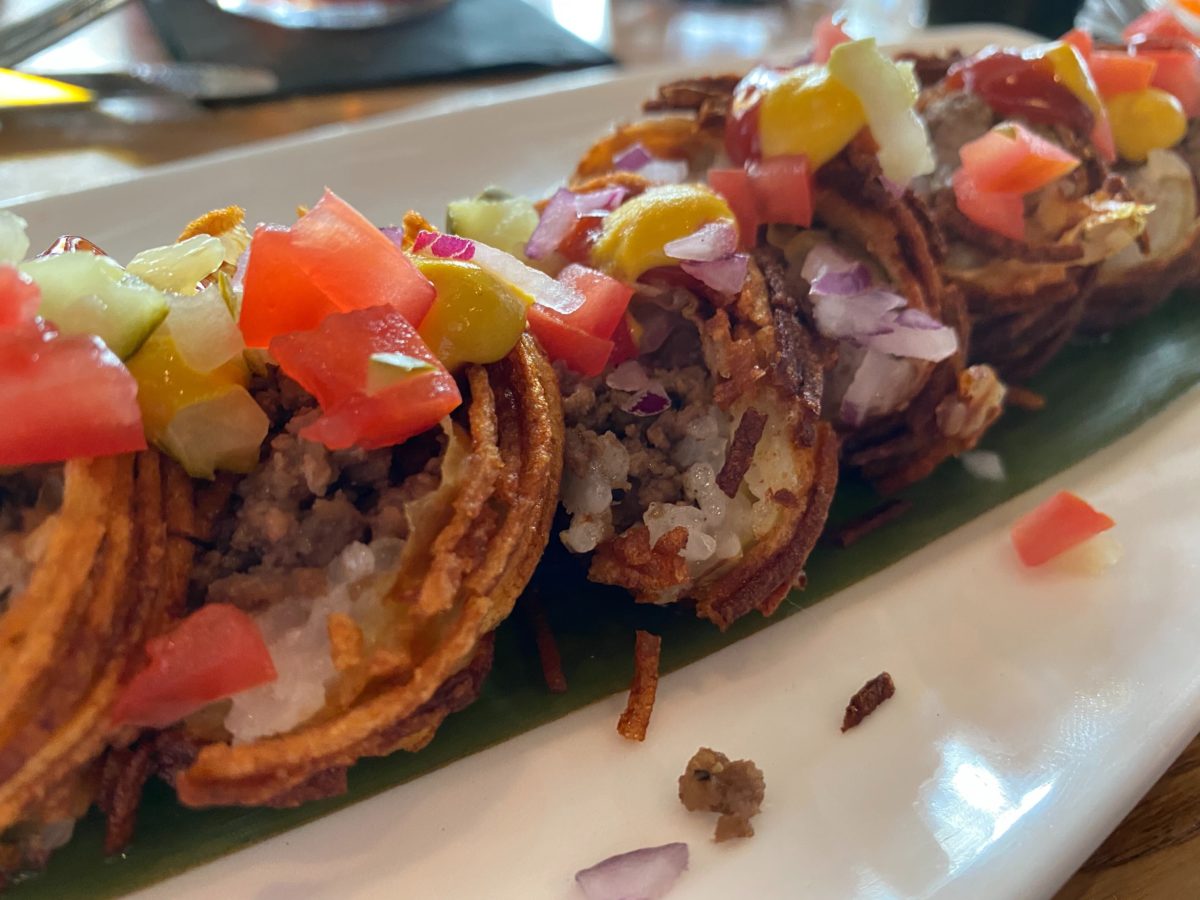 Knowing how good this usually is, we'd be willing to order it again on a future visit, but if we were to base our knowledge of Burgushi on this experience, we'd be pretty disappointed.
The Boss – $19
Spicy yellowfin tuna, kani, English cucumber inside, coated in tempura flakes. Topped with avocado, premium tuna, wasabi tobiko and wasabi mayo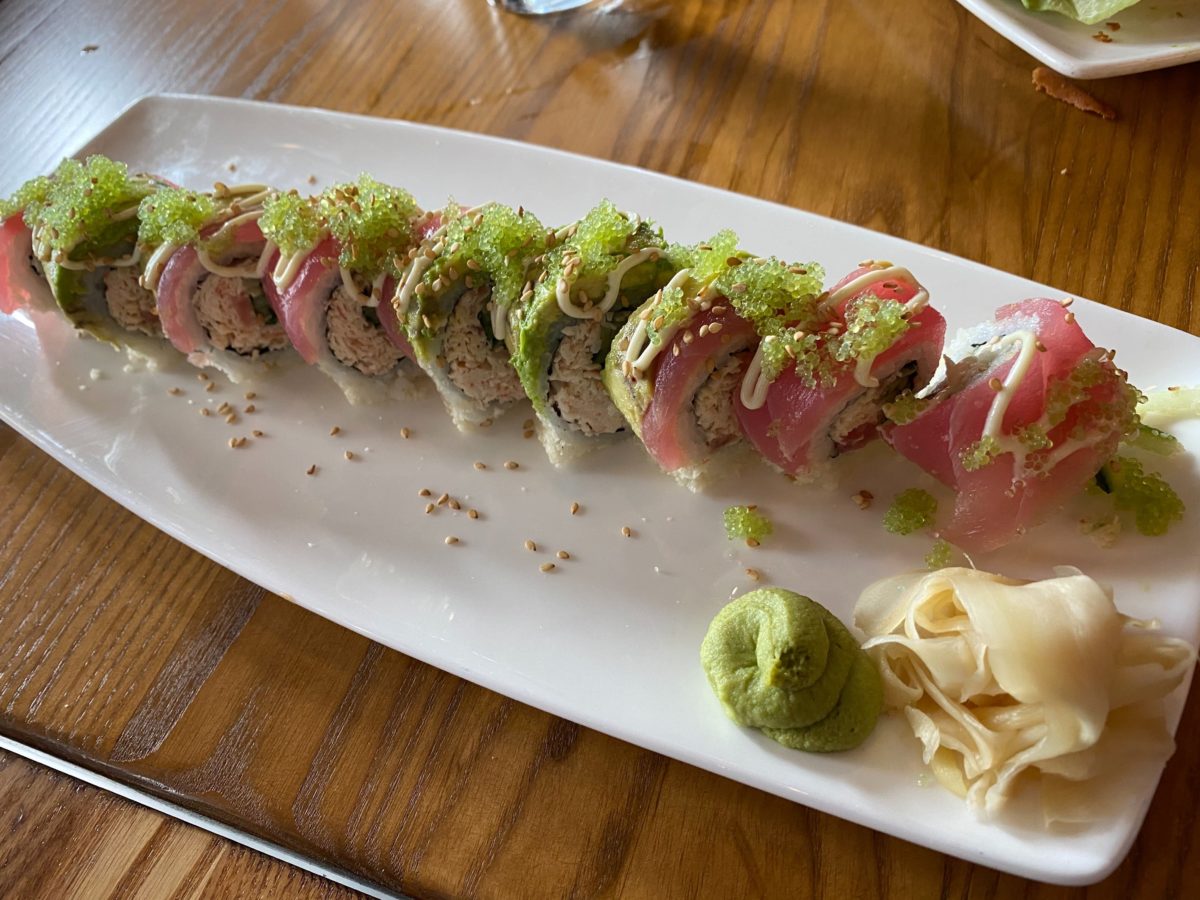 You've heard his thoughts on drinks, now here's Pete's take on this sushi roll: This was a very delicious roll (for Florida sushi, anyway.)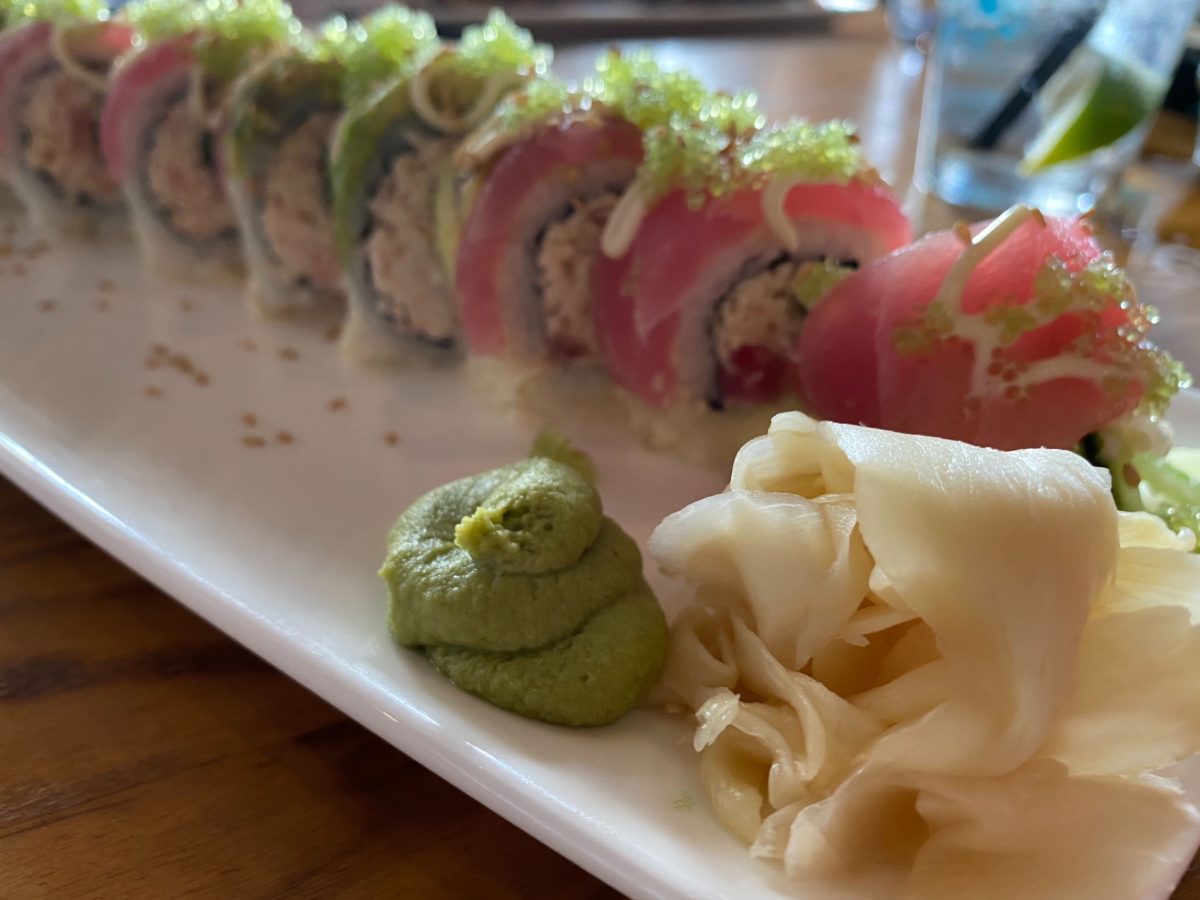 This is high praise coming from a big sushi lover from New York like Pete. His words on the roll: "To be honest, I've now tried almost 20 sushi restaurants in the Orlando area, and this was the best so far. An 8.1 for Orlando (and a 6.8 in NY.)"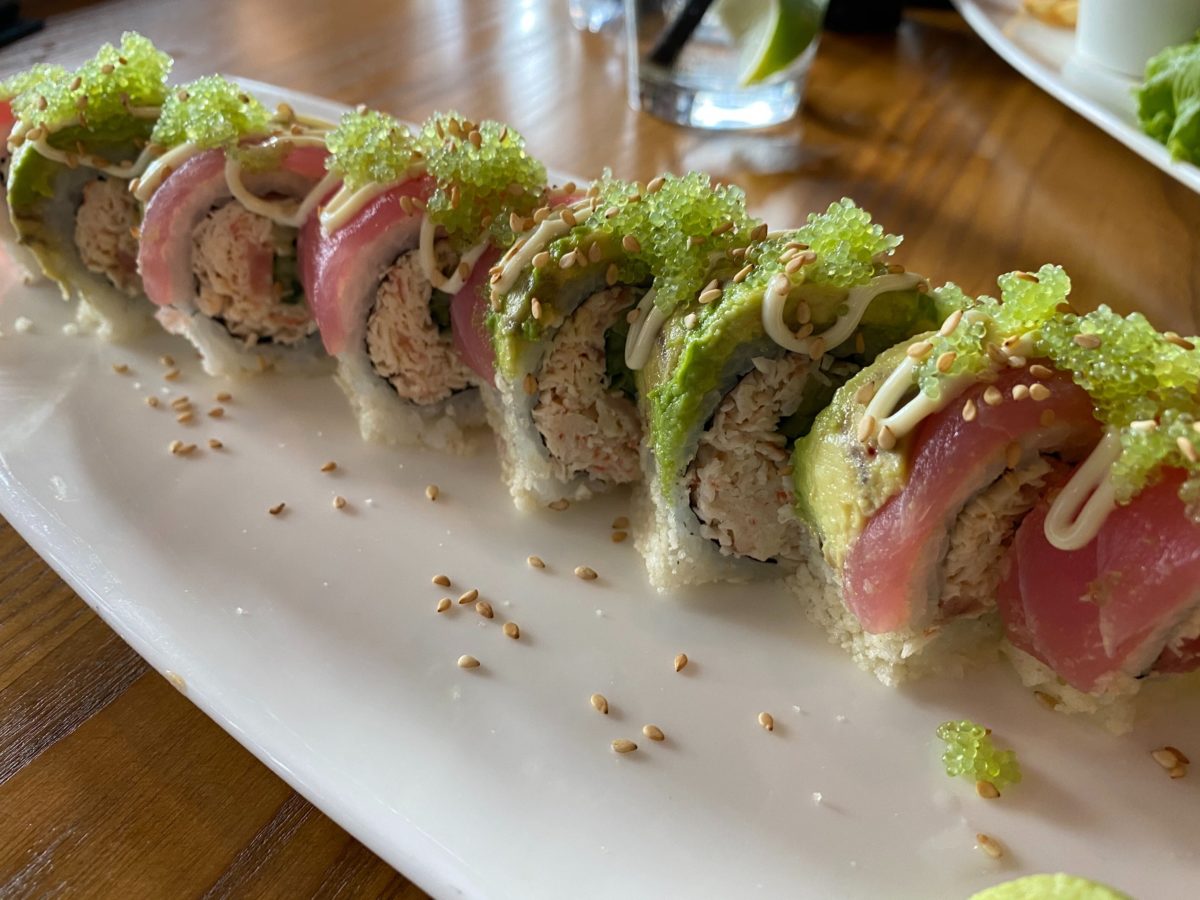 We do wish there was just a bit more fresh raw fish in the roll. However, we'd definitely order this again.
Firecracker Roll – $17
Shrimp tempura, kani inside coated with tempura flakes, topped with yellowtail, salmon, spicy mayo, masago, tobiko and scallions. Served with ponzu dipping sauce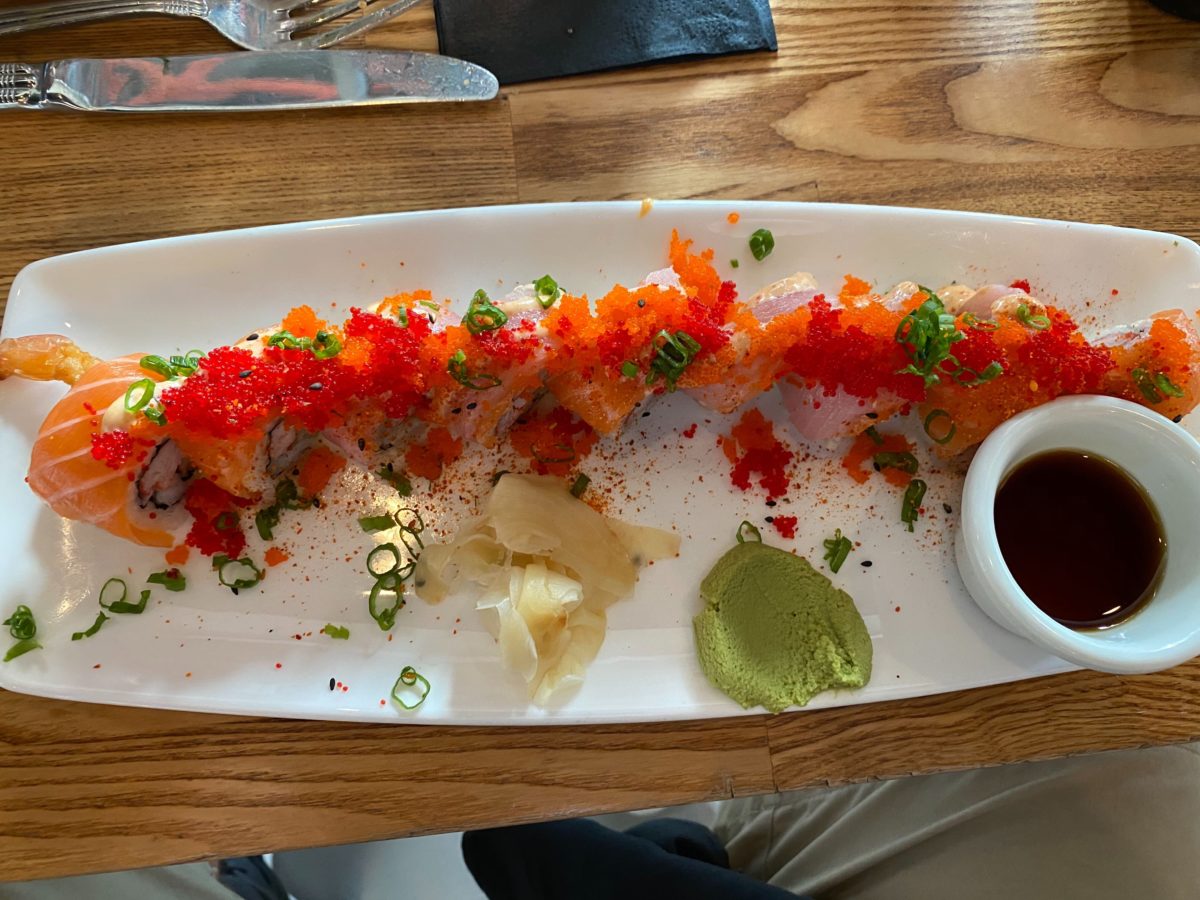 Here, the shrimp's just for looks, as you really only get two meager shrimp traversing the whole roll, plus the fancy fried tails out each end.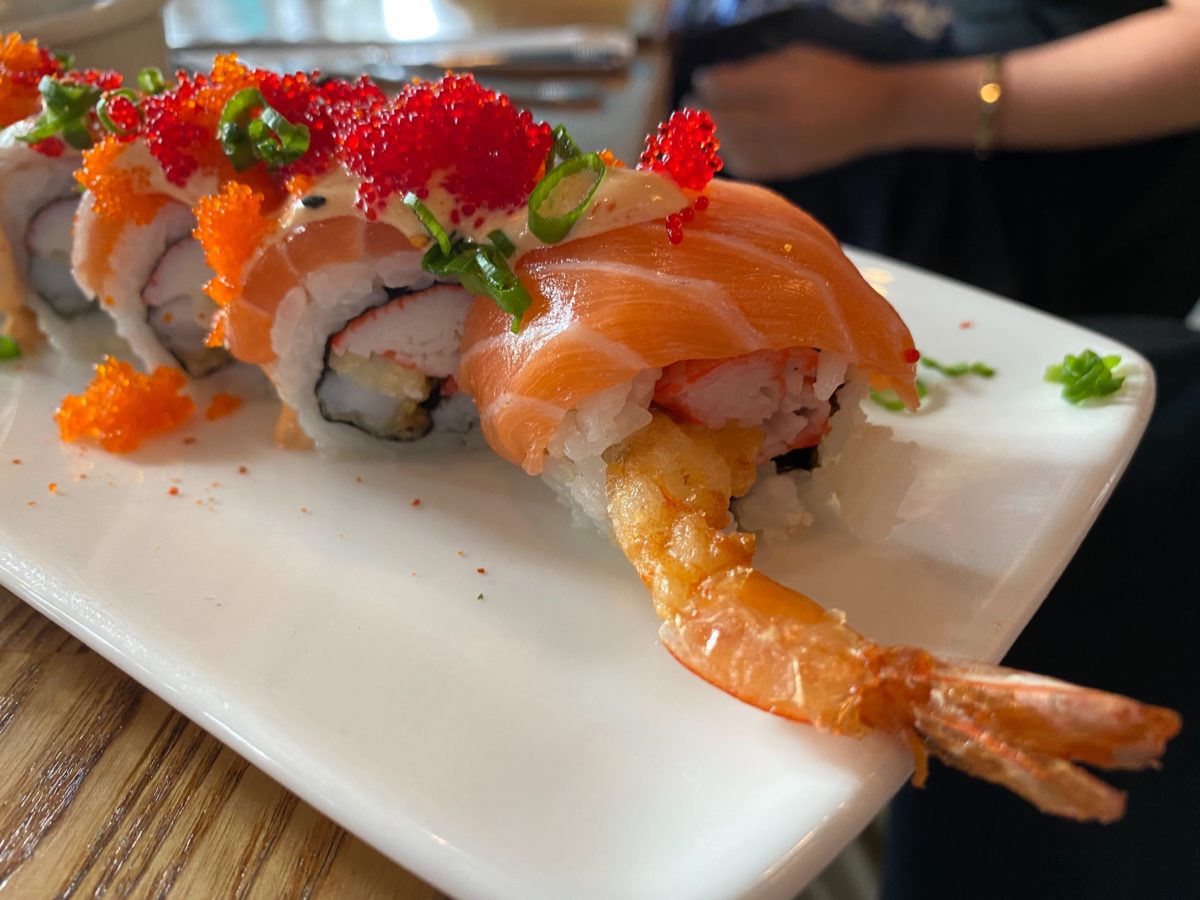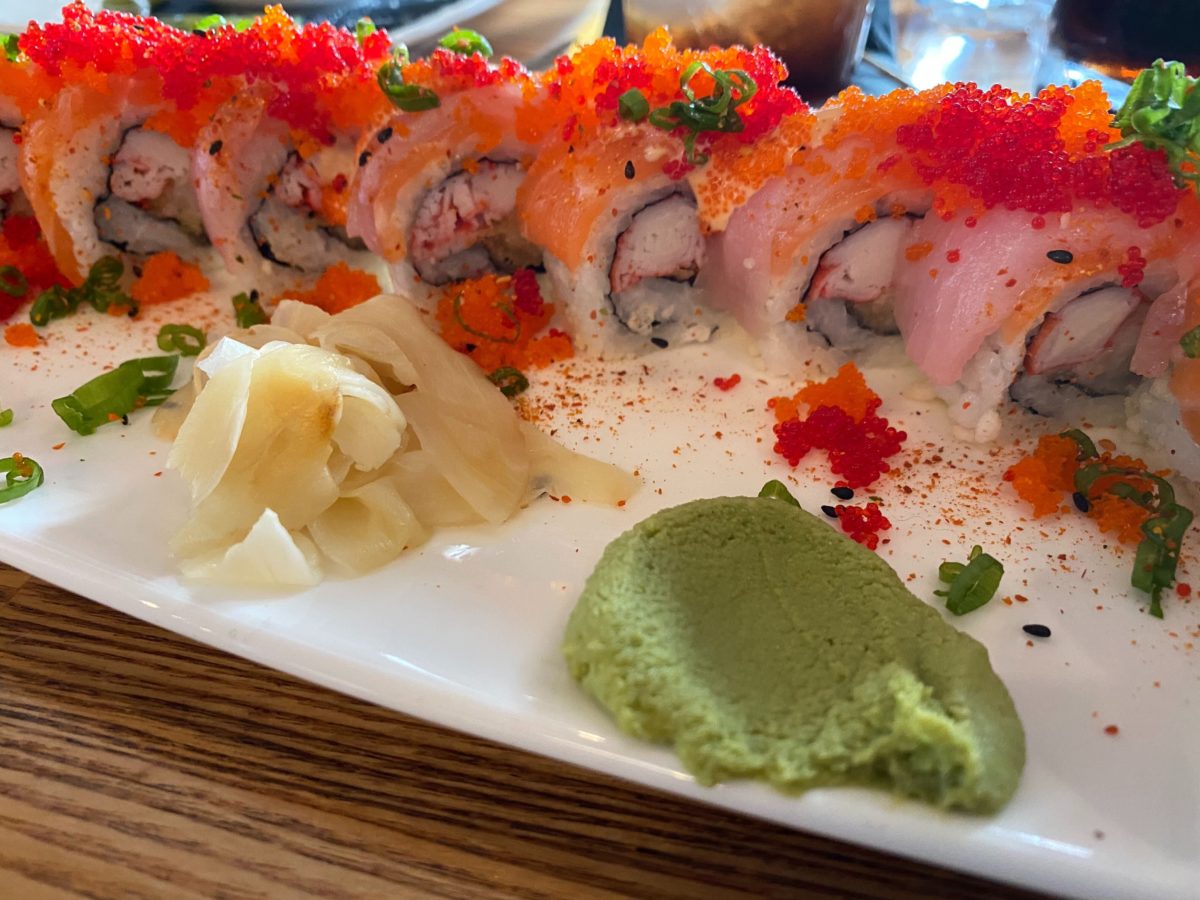 Consider this a souped-up basic roll, with the addition of masago and scallions. It's a fresh option.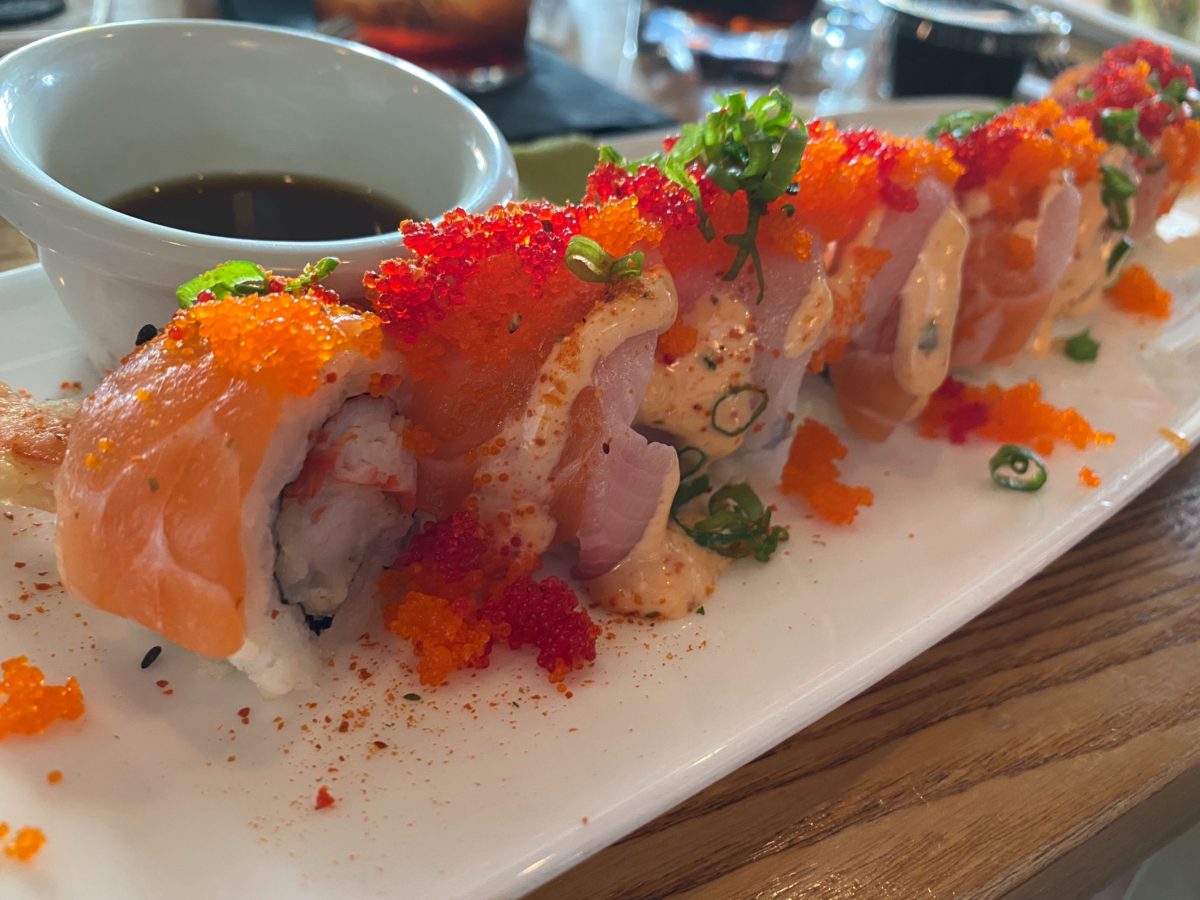 The Cowfish – Milk Shakes
Cookies & Cream – $12
Vanilla ice cream with crushed Oreo cookies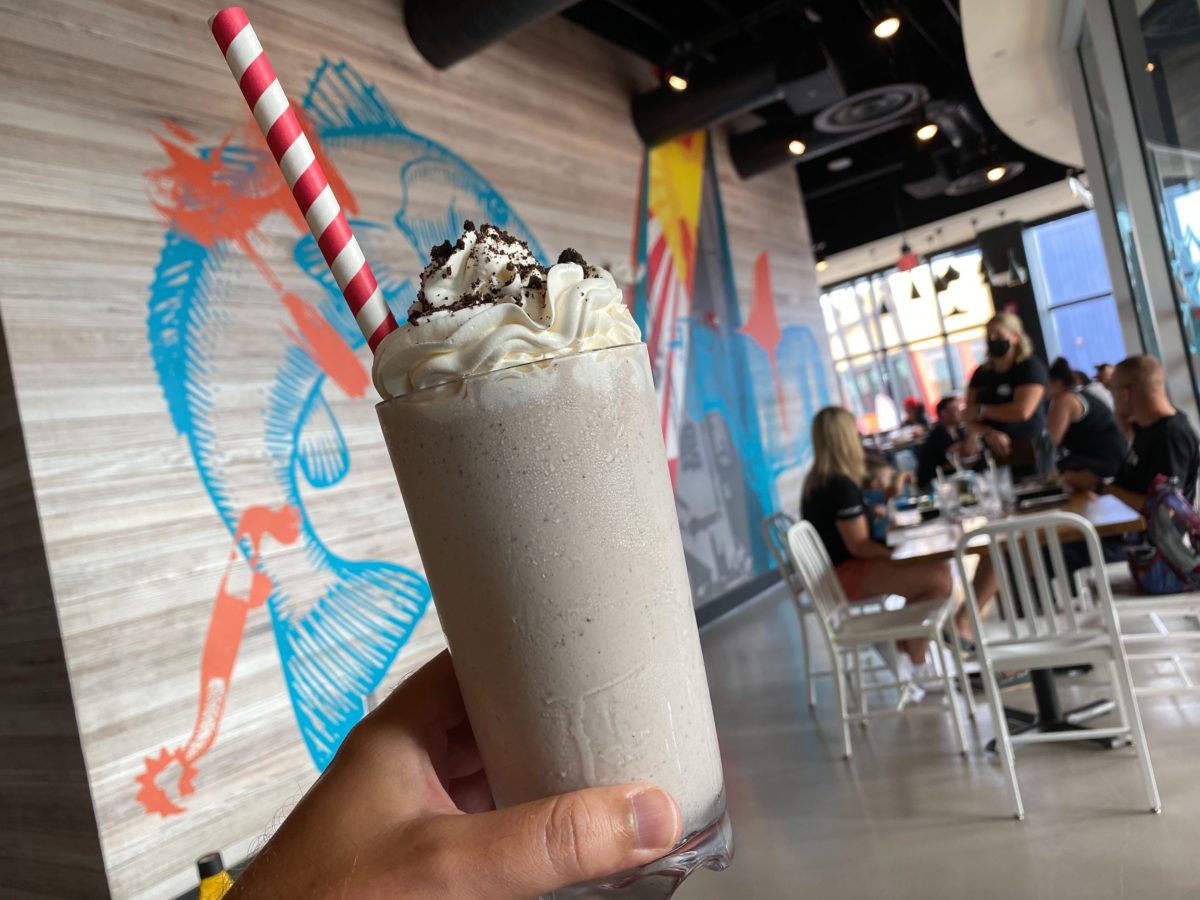 We aren't trying to start a CityWalk restaurant feud, but the milkshakes at Cowfish are simply better than the ones at Toothsome Chocolate Emporium, hands-down.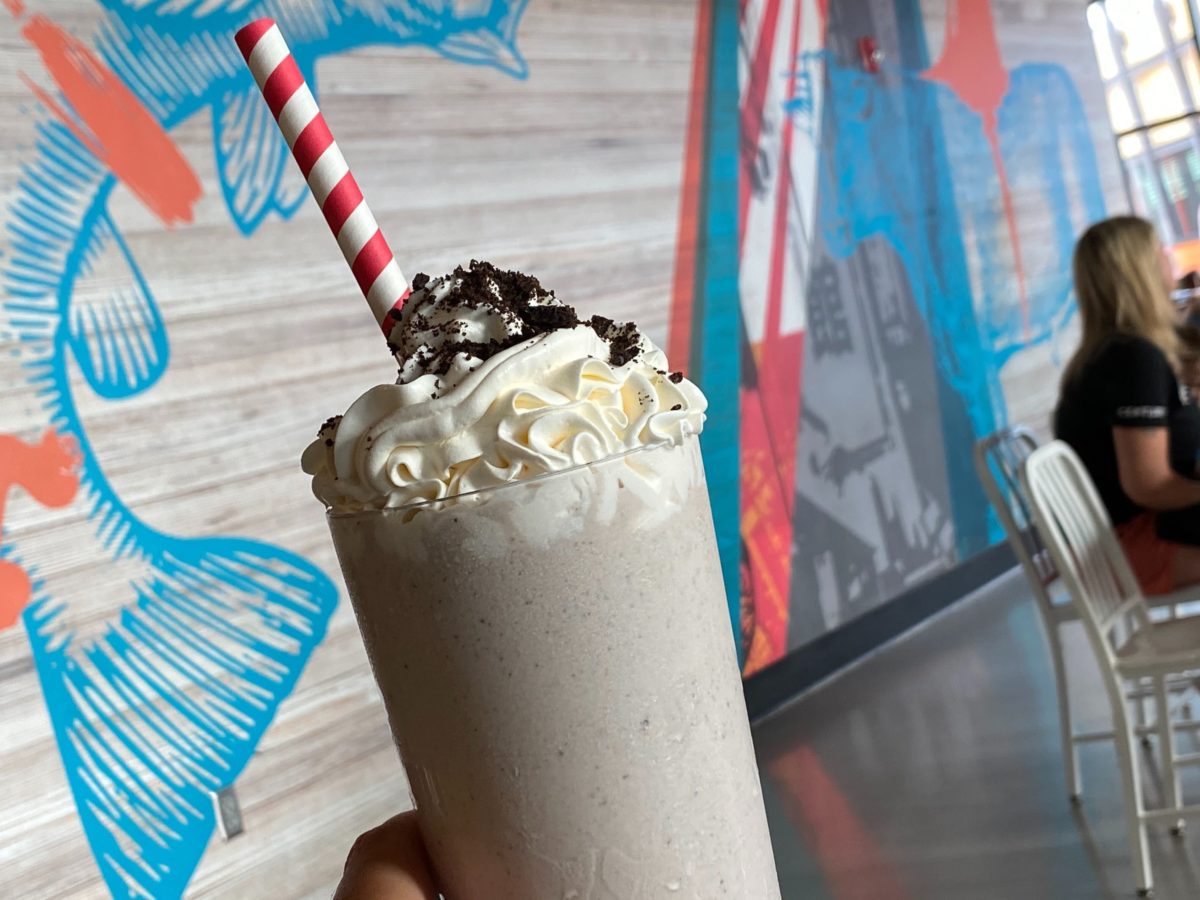 Here we have the Cookies and Cream shake, which is thick and topped with dense whipped cream and Oreo cookie crumbles. Few places make a milkshake this solid. Skip dessert and just order a milkshake to top off your meal.
The Marshmallow Crisp – $12
Rice Krispies and mallow cream with vanilla ice cream. Topped with crispy toasted marshmallows
Another incredible concoction, the Marshmallow Crisp shake tastes like a liquified Rice Krispy treat.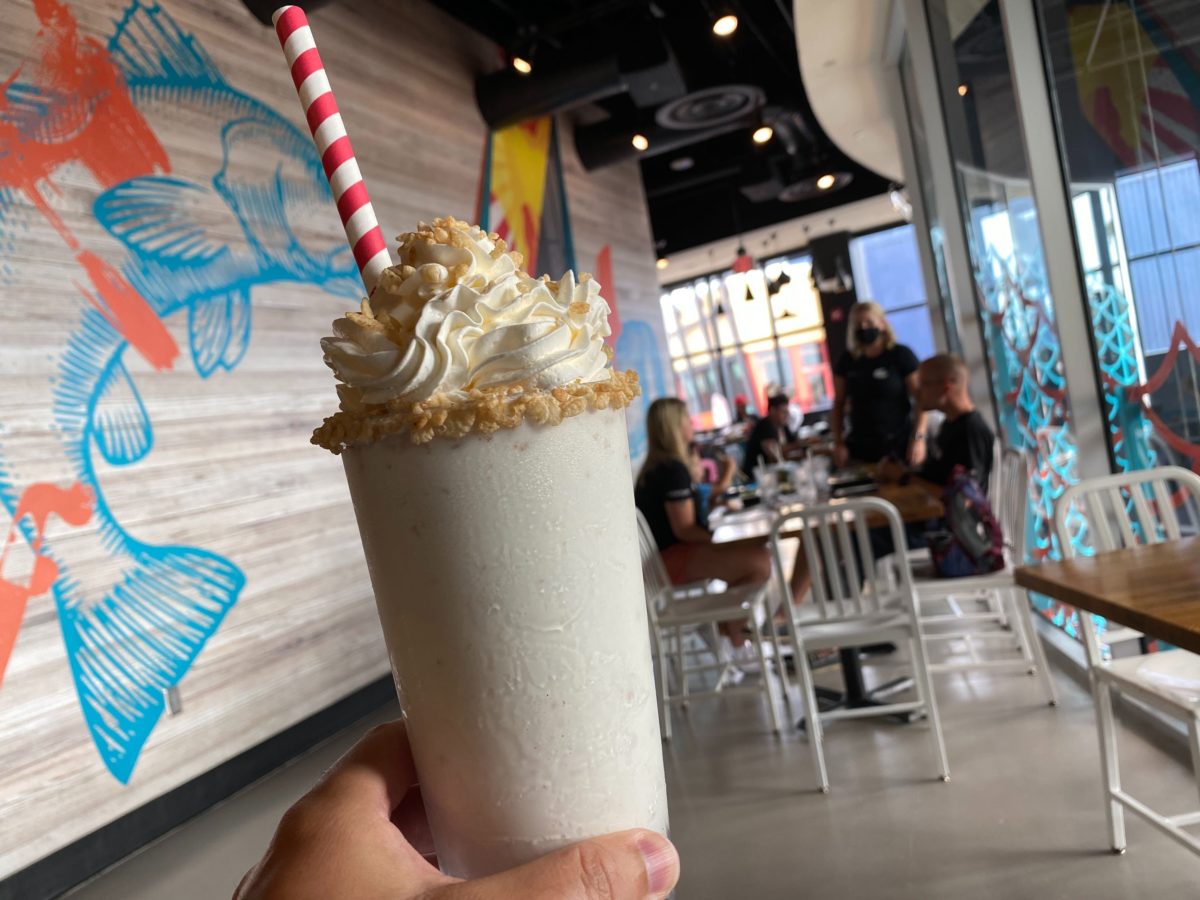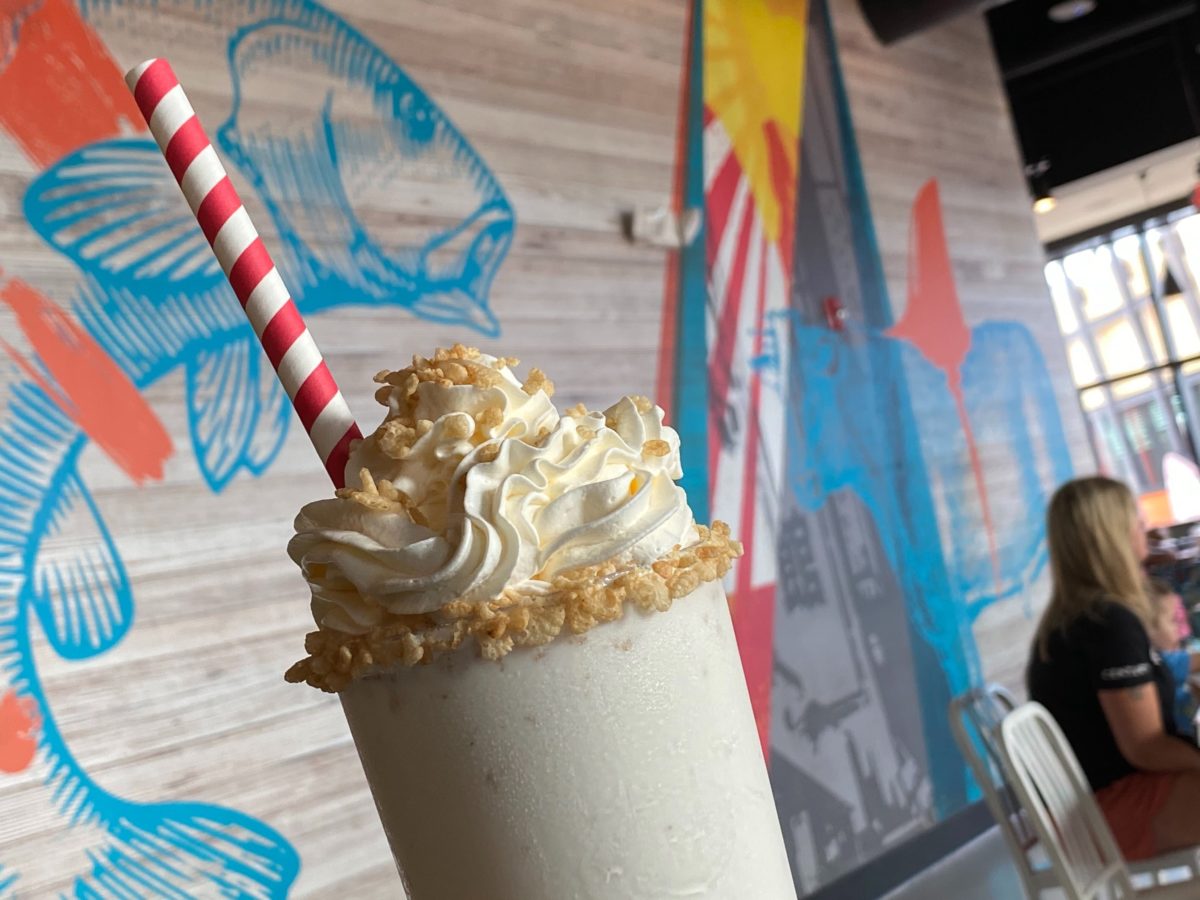 Not only is the milkshake topped with Rice Krispies, it also has a coated rim of the beloved cereal, and there are little bits throughout the shake as well.
The Cowfish – Overall
Overall, despite a few misses with cocktails and the often-hyped Burgushi, we had an excellent meal at The Cowfish, and look forward to many more meals here in the coming months. The service here is always incredible, and although the menu's been tapered down a bit, we can't wait for it to be restored to its former glory as the phased reopening progresses. We highly recommend The Cowfish as a post-park meal before you head back home or to your resort, and with Halloween Horror Nights scheduled to start soon, it's our go-to spot to fuel up before a night of frights.
Will you be visiting The Cowfish soon? What's your favorite burger or sushi roll here? Let us know in the comments below!