This post may contain affiliate links; please read the disclosure for more information.
Some may think that Disney releasing new holiday merchandise at this time of the year is something to do with the "Christmas in July" celebrations. It might be because half-holiday has in the past been celebrated in Walt Disney World before. Others, however, will immediately recognize that in the Magic Kingdom's Ye Olde Christmas Shoppe and Disney Springs' Disney's Days of Christmas every day is Christmas. And the release of new holiday homeware can only mean one thing… Santa is coming! A new collection of cozy new merchandise items has been released in each store, perfect for bringing Christmas cheer home even in the height of summer.
Season's Greetings Reversible Pillow – $34.99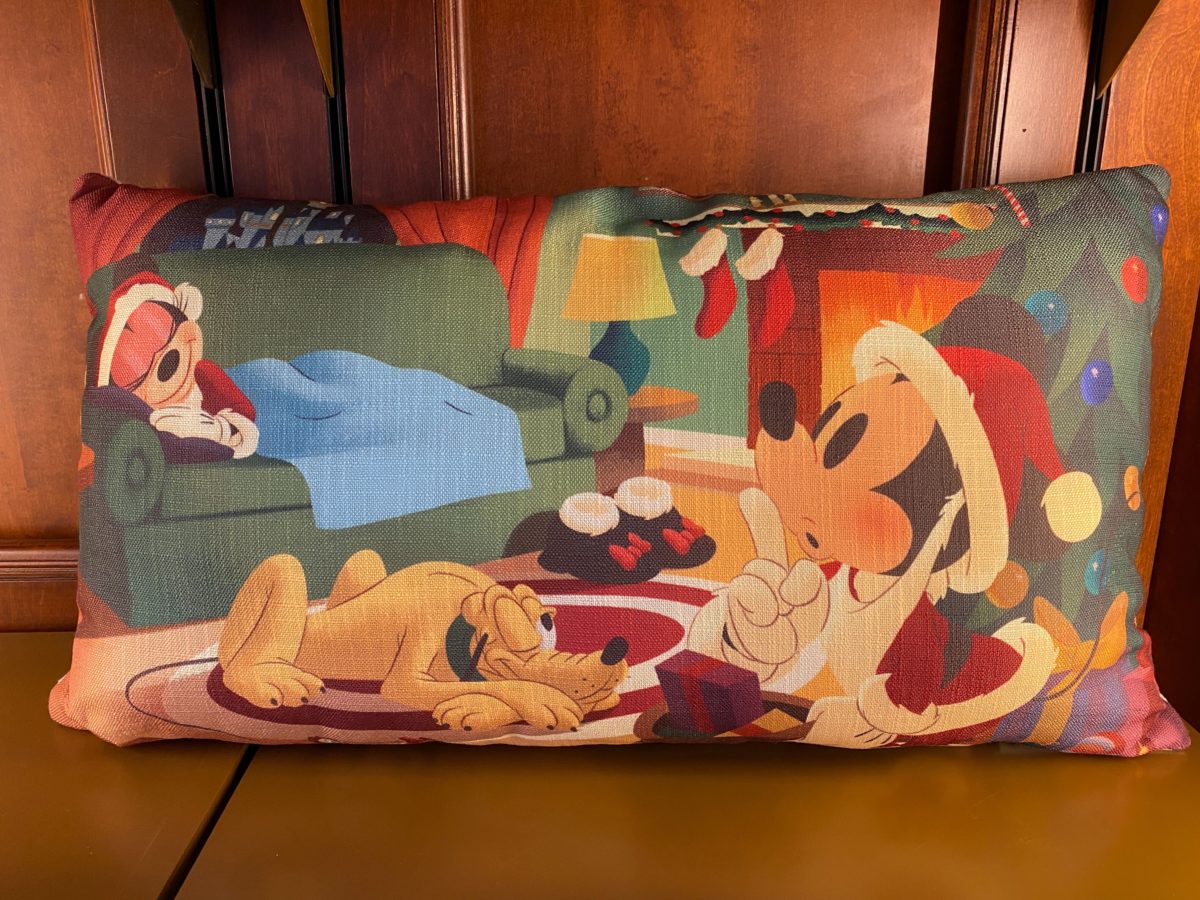 This new reversible bolster pillow is bursting with holiday magic. On one side is a printed Christmas Eve image, depicting Mickey in his Father Christmas outfit, carefully holding one finger to his lips as he unpacks presents beneath a glowing tree, careful not to wake the snoozing Minnie and Pluto.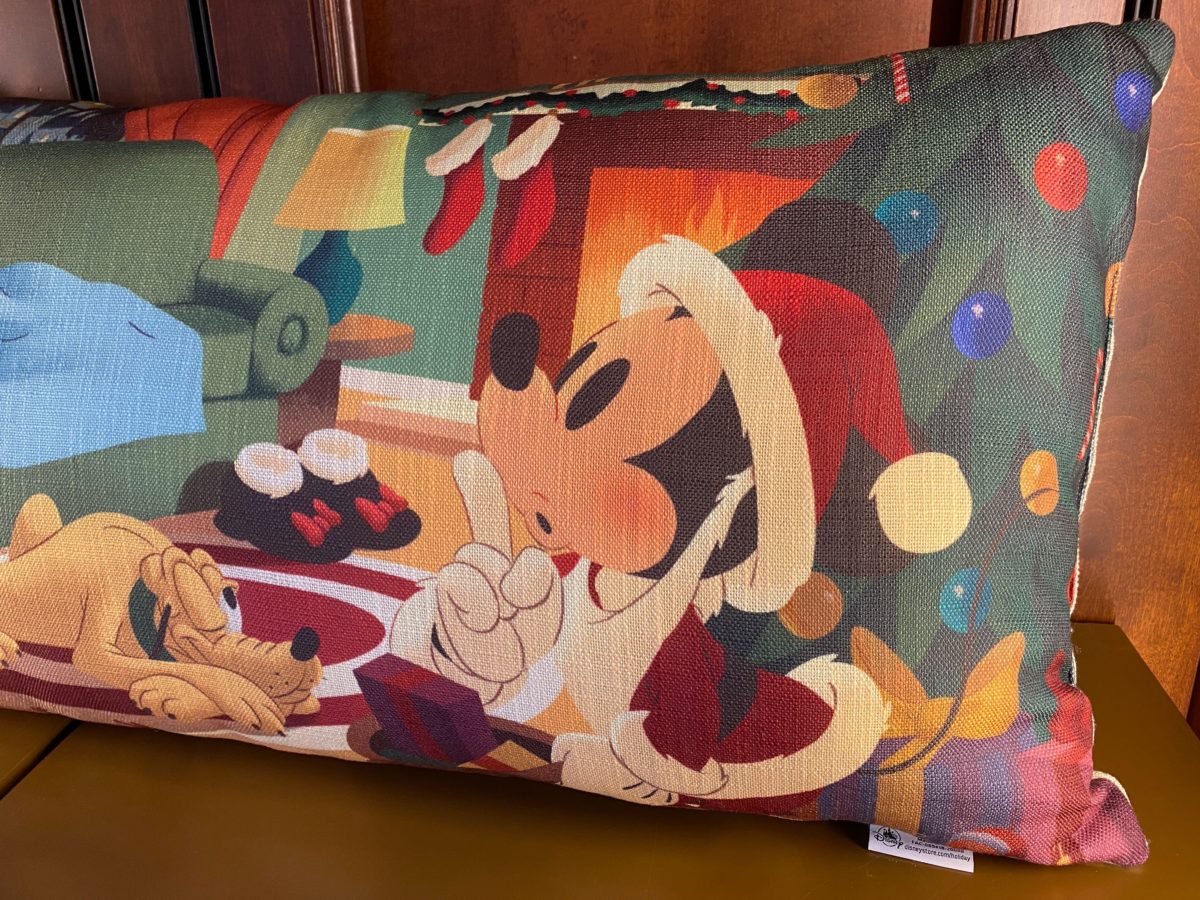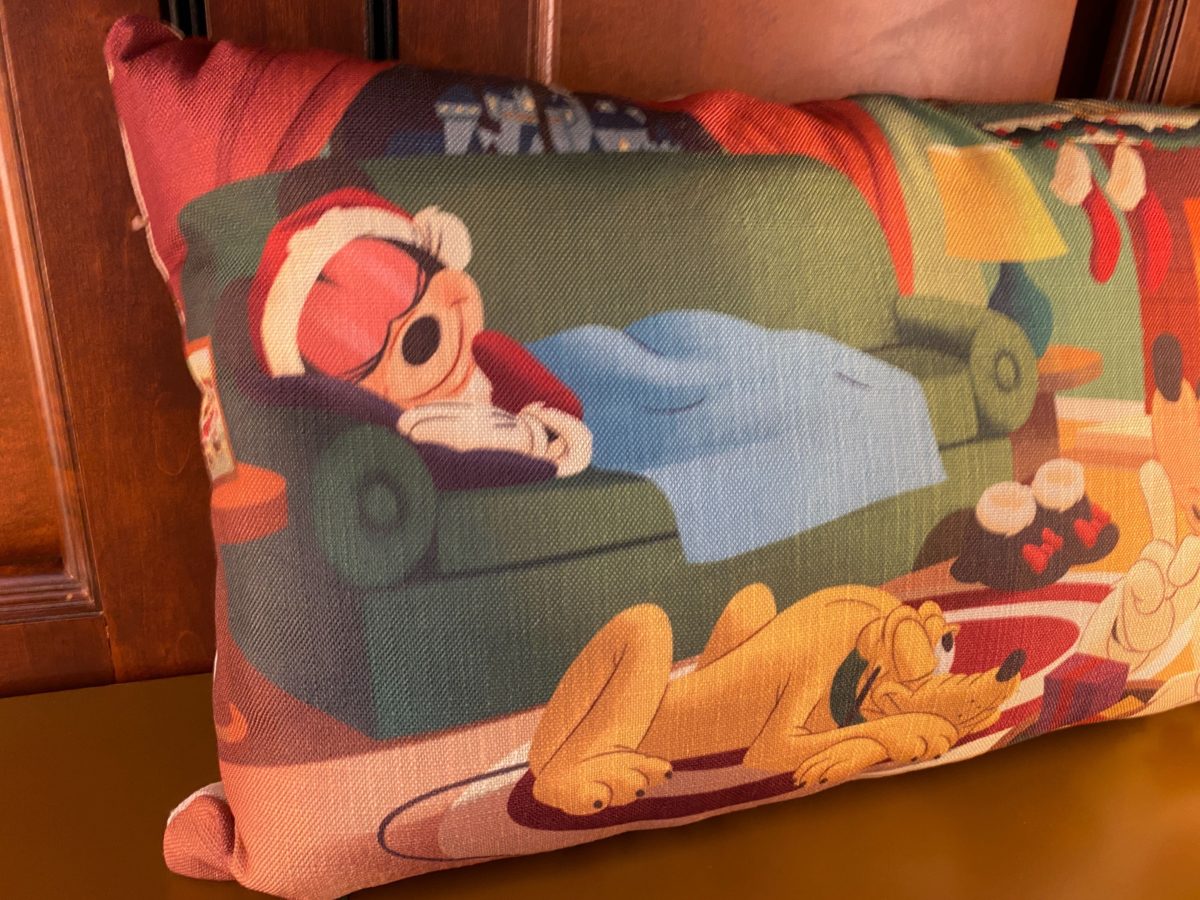 The details are what make this image even more adorable, from Pluto's cheeky one eye open, Minnie's fur-lined slippers, and the glowing view of Cinderella Castle through their window.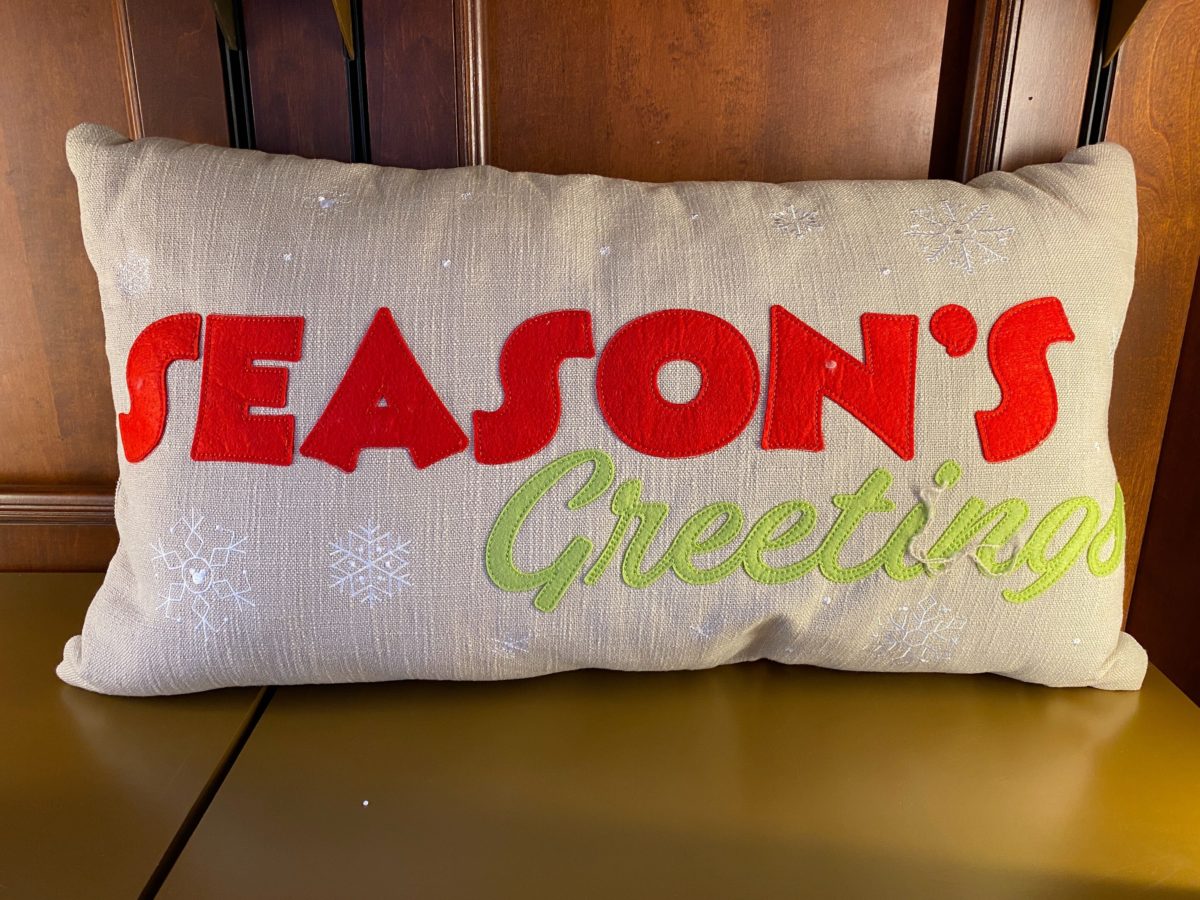 On the reverse of the cushion is a bold "Season's Greetings", spelled out in festive red and green felt. Embroidered are snowflakes, each featuring tiny Hidden Mickeys.
This cushion costs $34.99 and was found in Ye Olde Christmas Shoppe in the Magic Kingdom.
"Season's Greetings" Reversible Throw Blanket – $59.99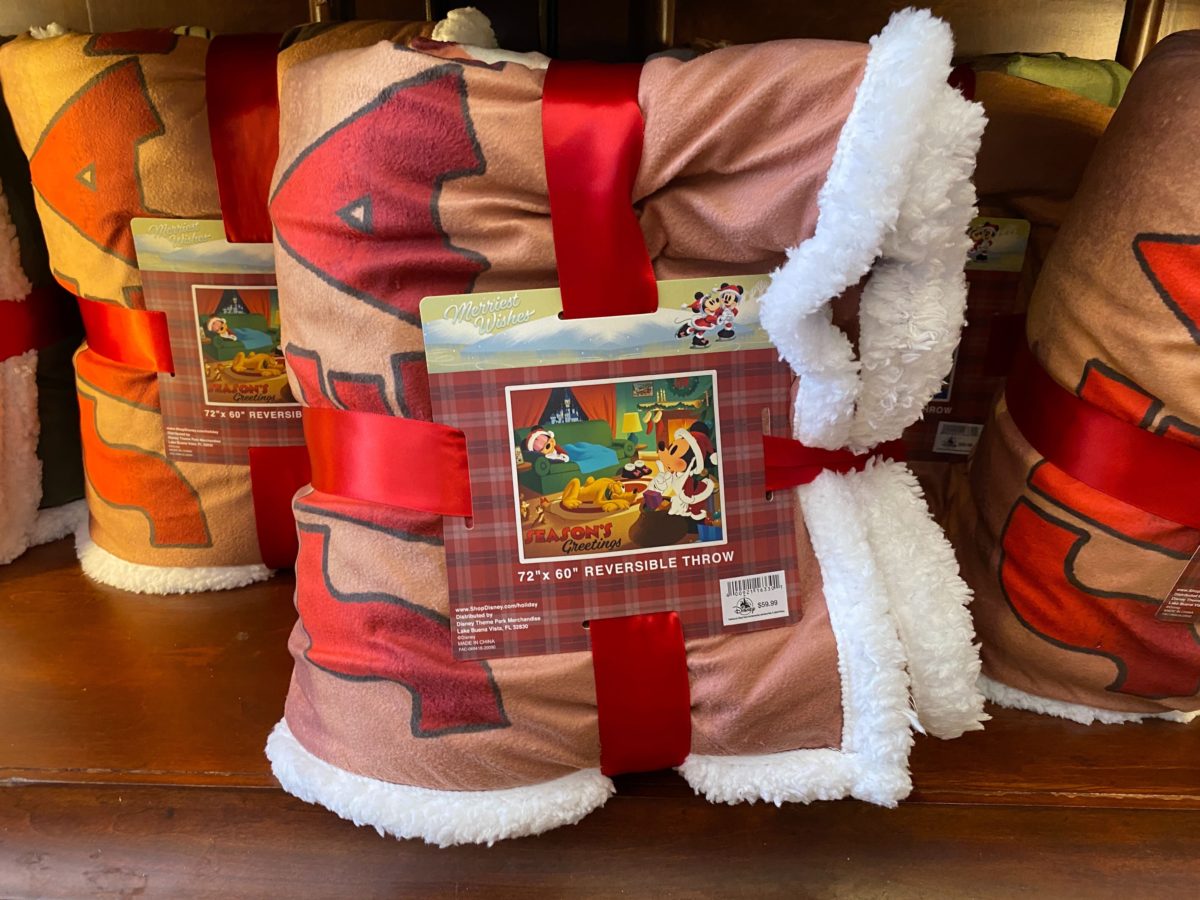 Next up is this adorably festive throw blanket, with a reversible pattern, 72″ by 60″ in size.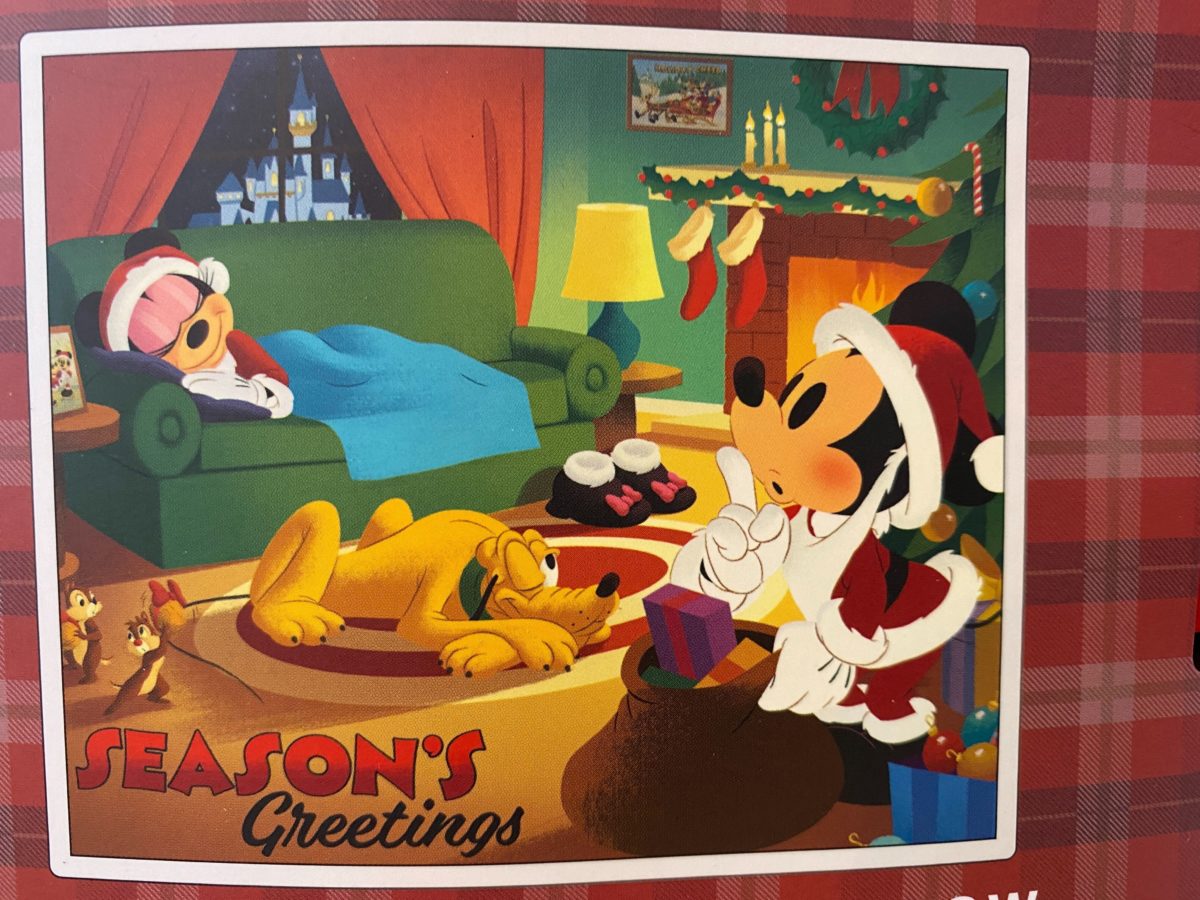 One side of the design has the same image as the pillow, however with the fun addition of Chip and Dale lurking around Pluto's tail. It was them Mickey was shushing after all!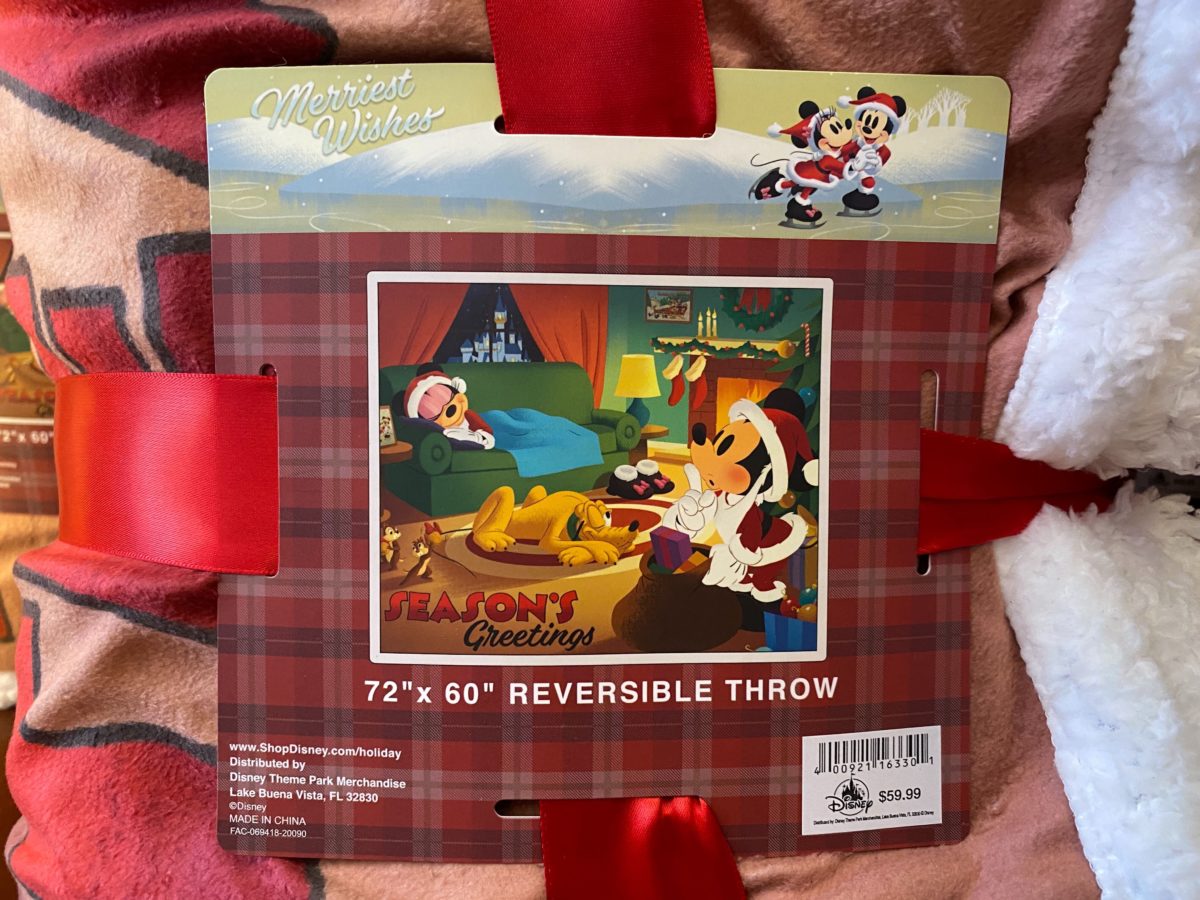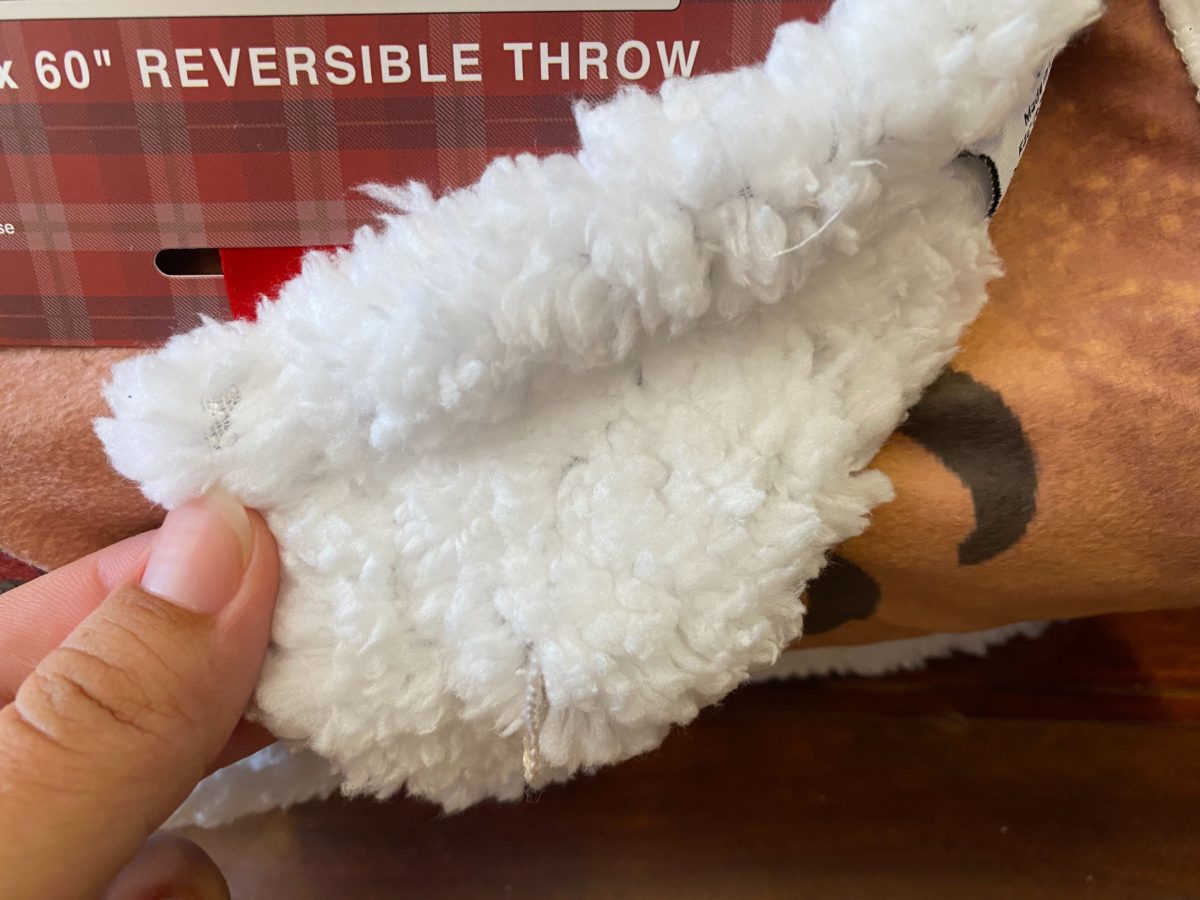 The throw is generously fleece-lined for cozy nights in and costs $59.99. We found this item at Ye Olde Christmas Shoppe in the Magic Kingdom.
Metal Puzzle Ornament – $19.99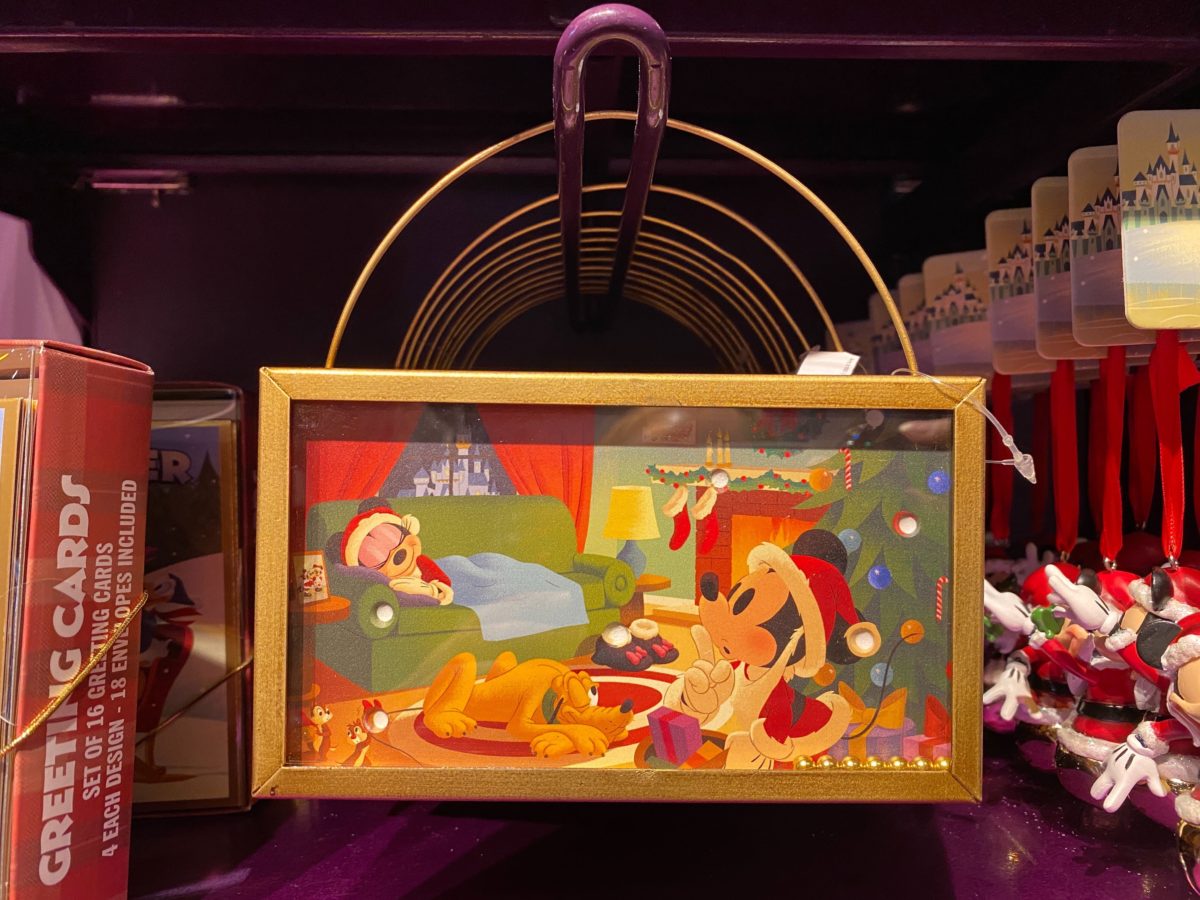 Matching the festive pattern of the above pillow and throw is this sweet hanging puzzle ornament. The trick here is to get each tiny metal ball to fall into the cut-out holes within the picture.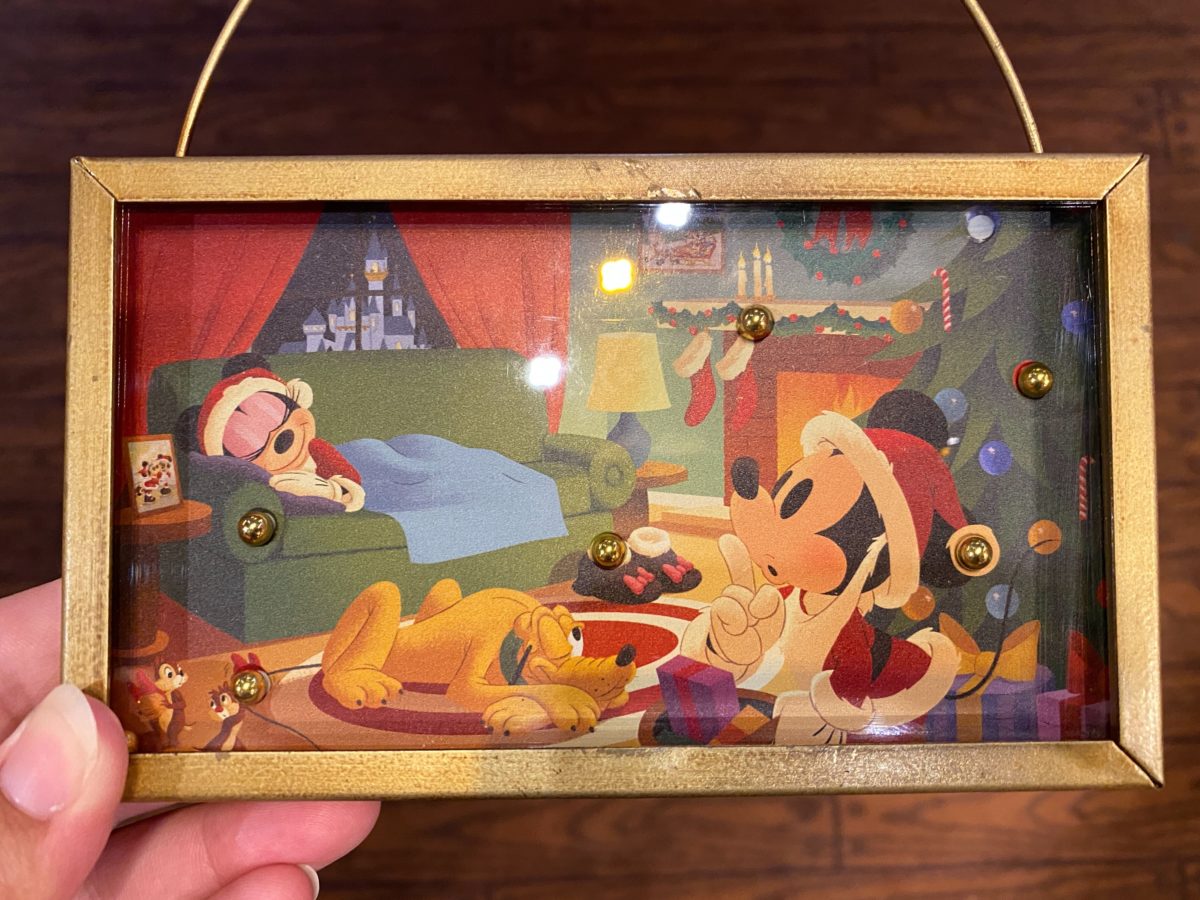 We couldn't resist having a go, and completing the puzzle!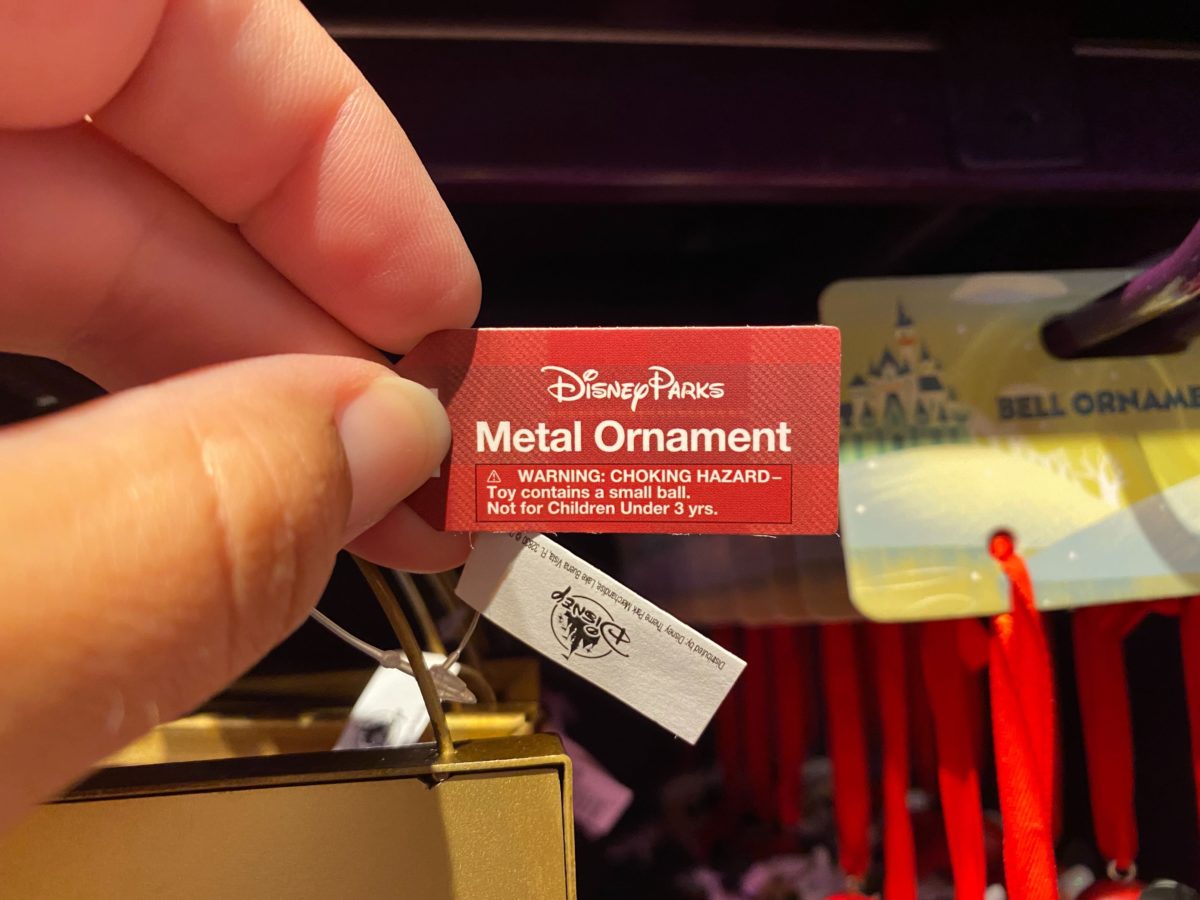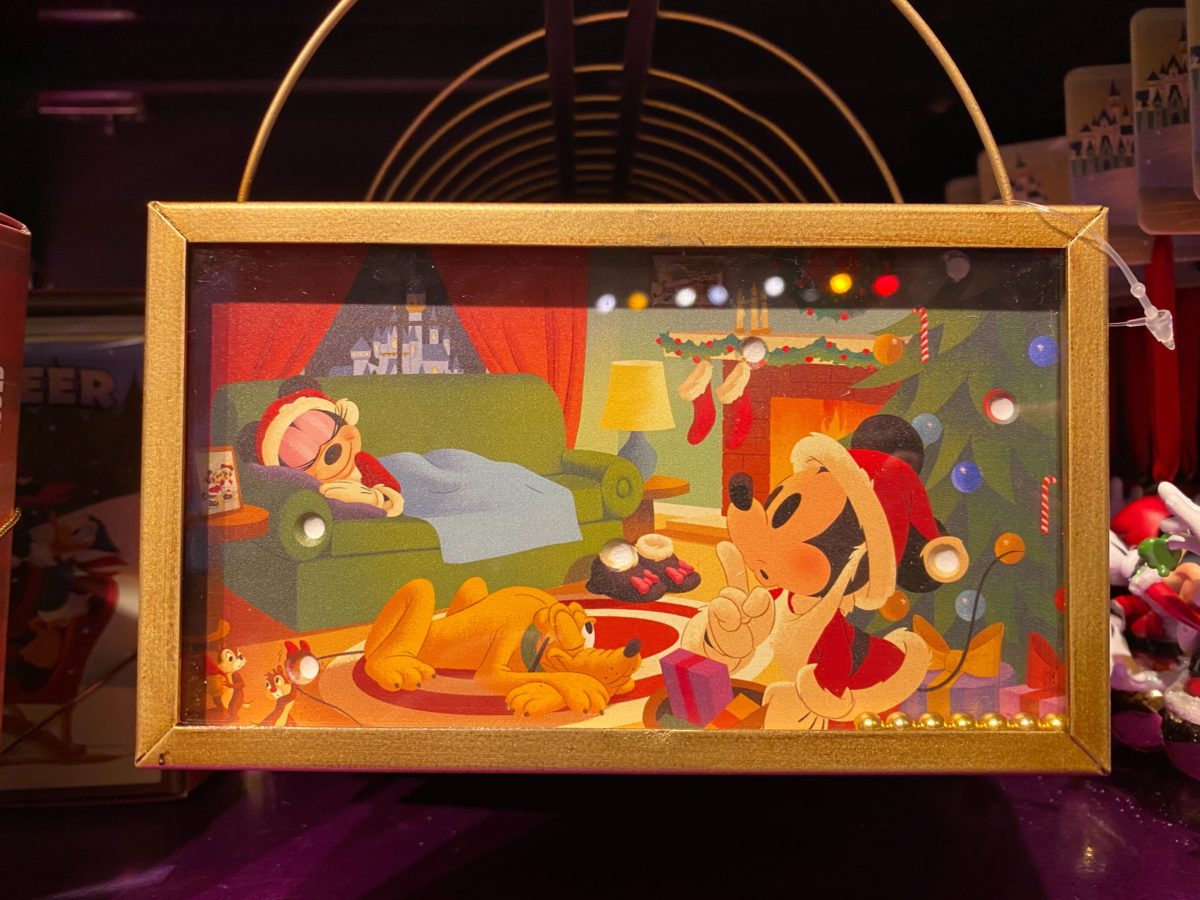 This metal ornament can be found in either Disney's Days of Christmas store in Disney Springs or Ye Olde Christmas Shoppe in the Magic Kingdom.
Greetings Cards Box – $19.99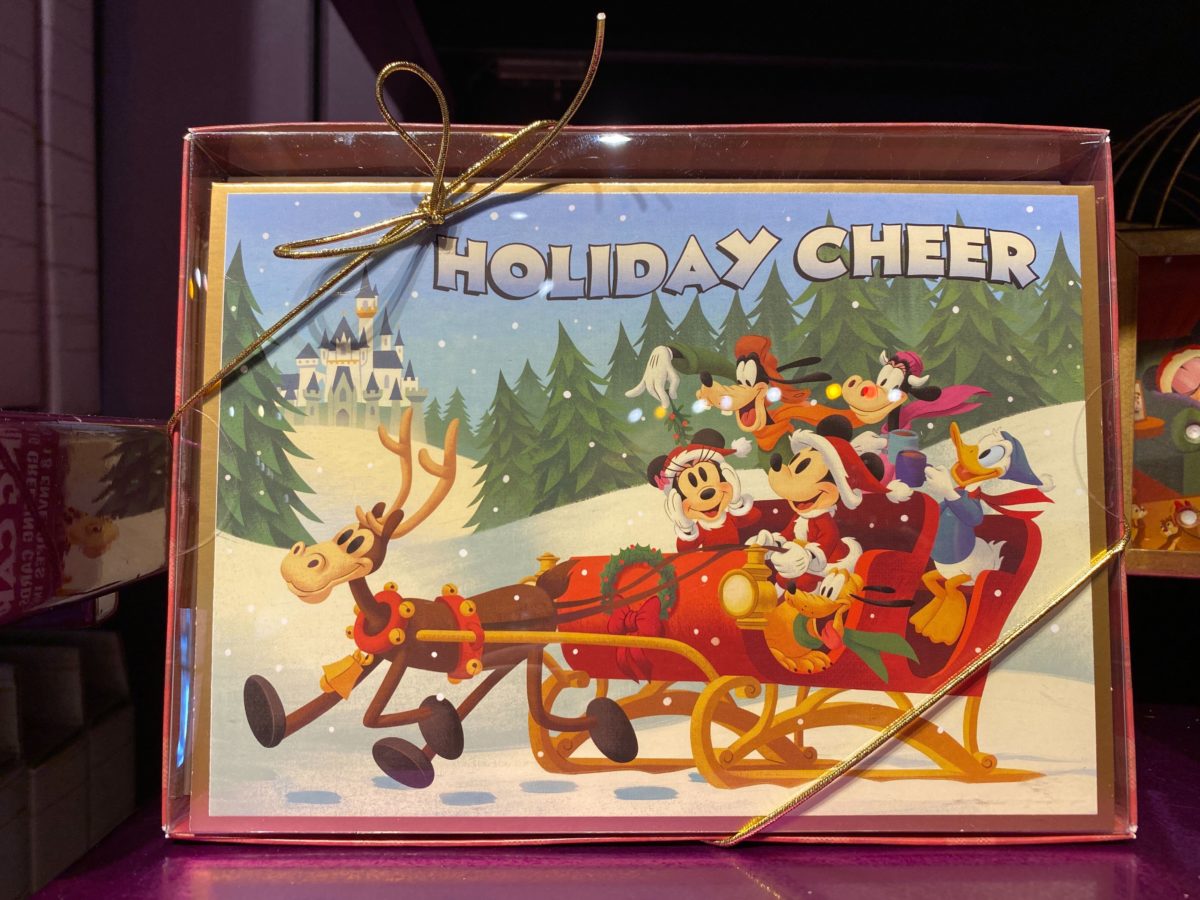 Everybody loves receiving a touching greetings card during the holidays, and you can write to all your friends and family with this brand-new set of notecards.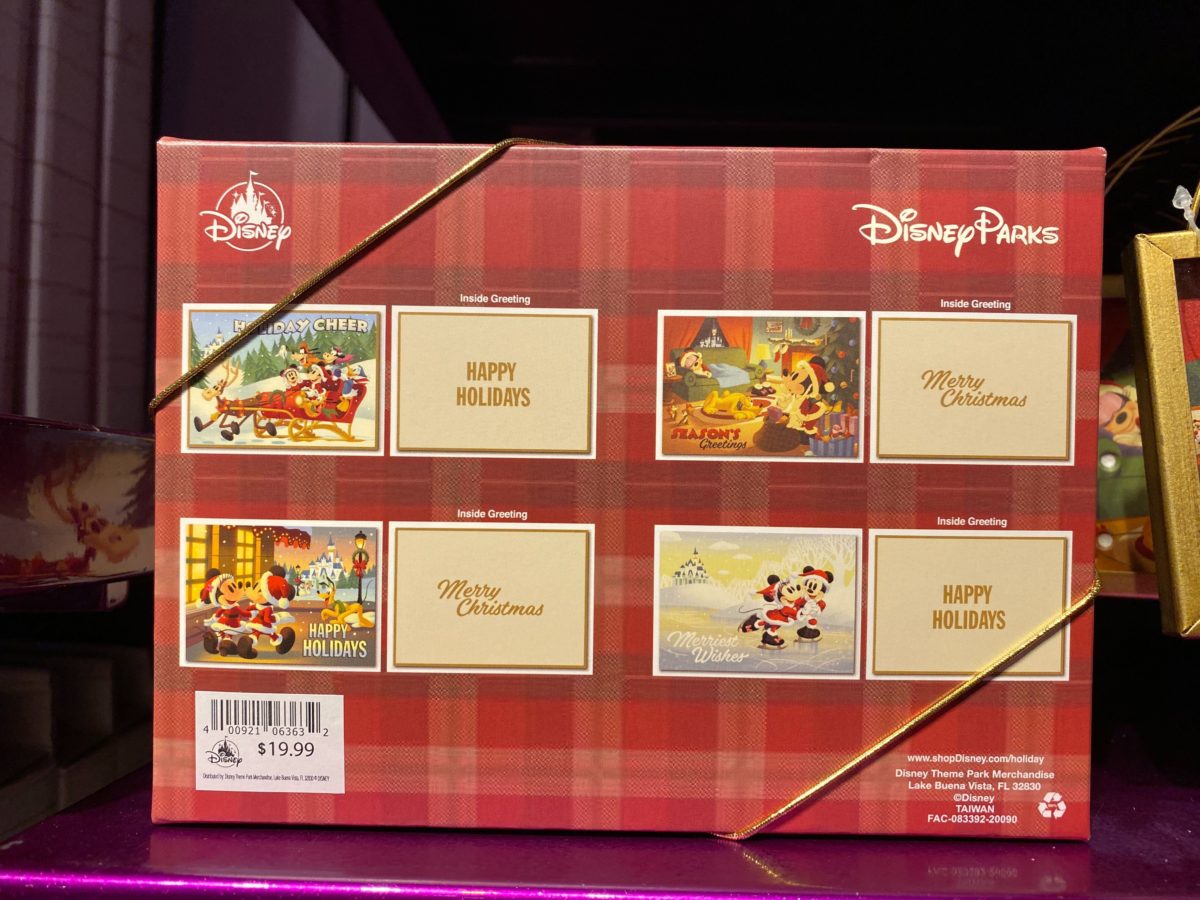 Four designs are included here, each featuring Mickey, Minnie, and friends enjoying festive fun. The message inside each reads either "Merry Christmas" or "Happy Holidays".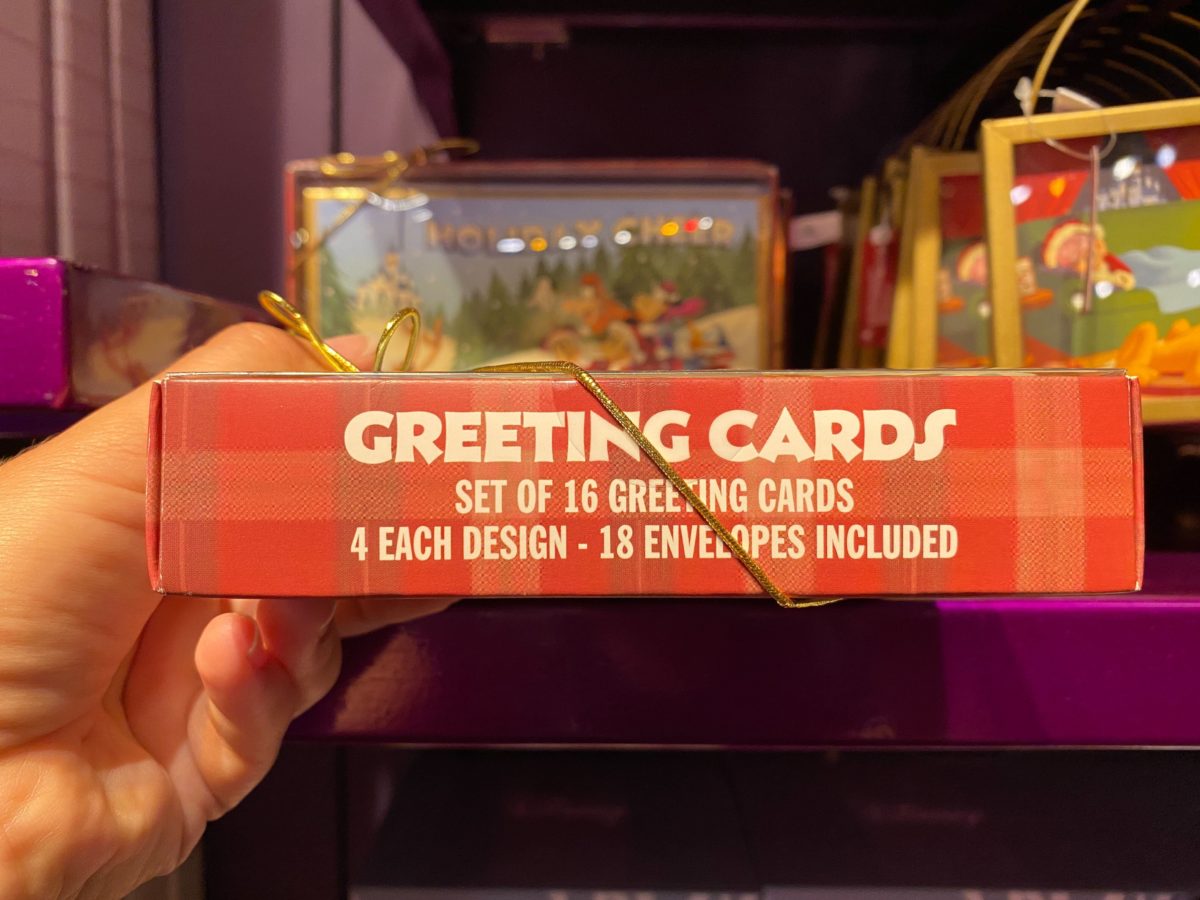 There are sixteen cards included in the box, making four of each design. Eighteen envelopes are included, meaning that two are spare in case of mistakes! This set can also be found in Disney's Days of Christmas in Disney Springs or Ye Olde Christmas Shoppe at the Magic Kingdom.
Mickey and Minnie Light-Up Figurine – $39.99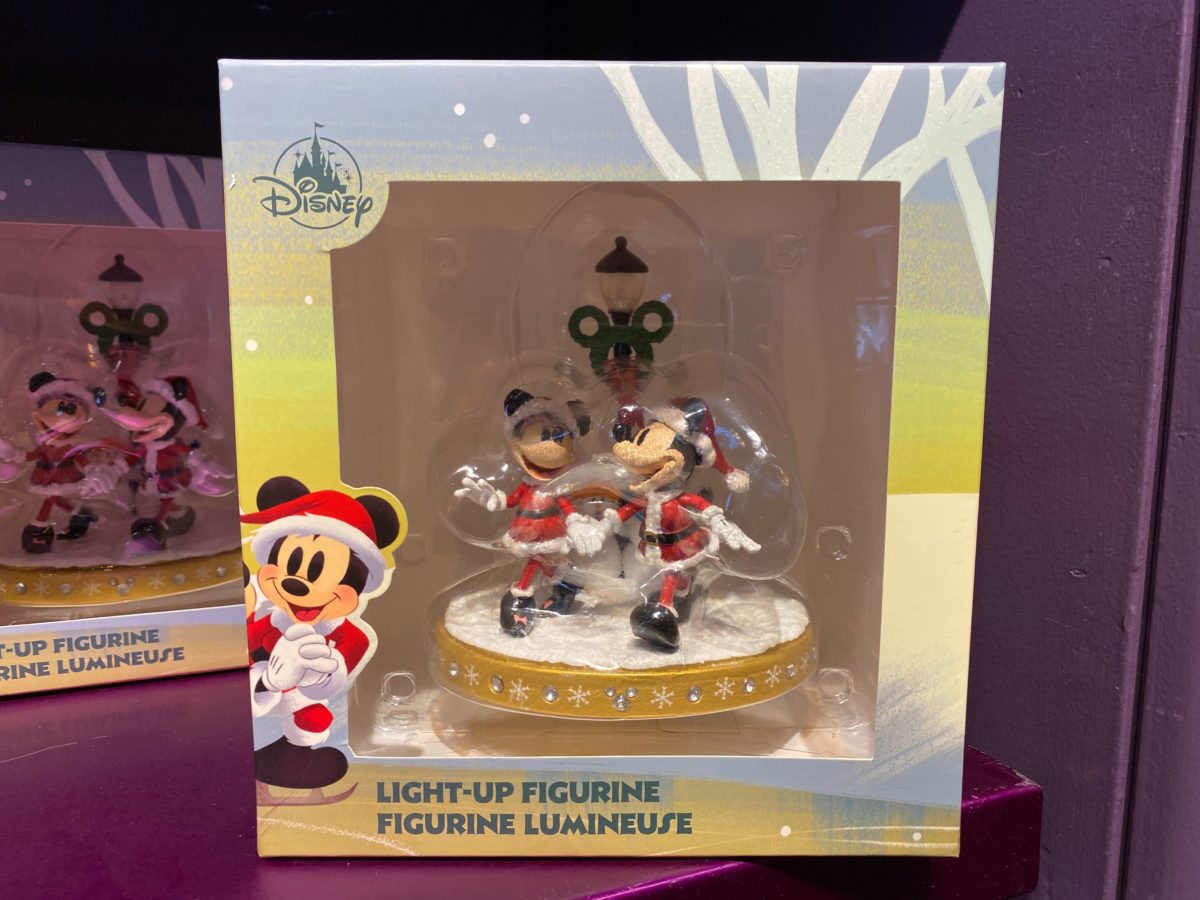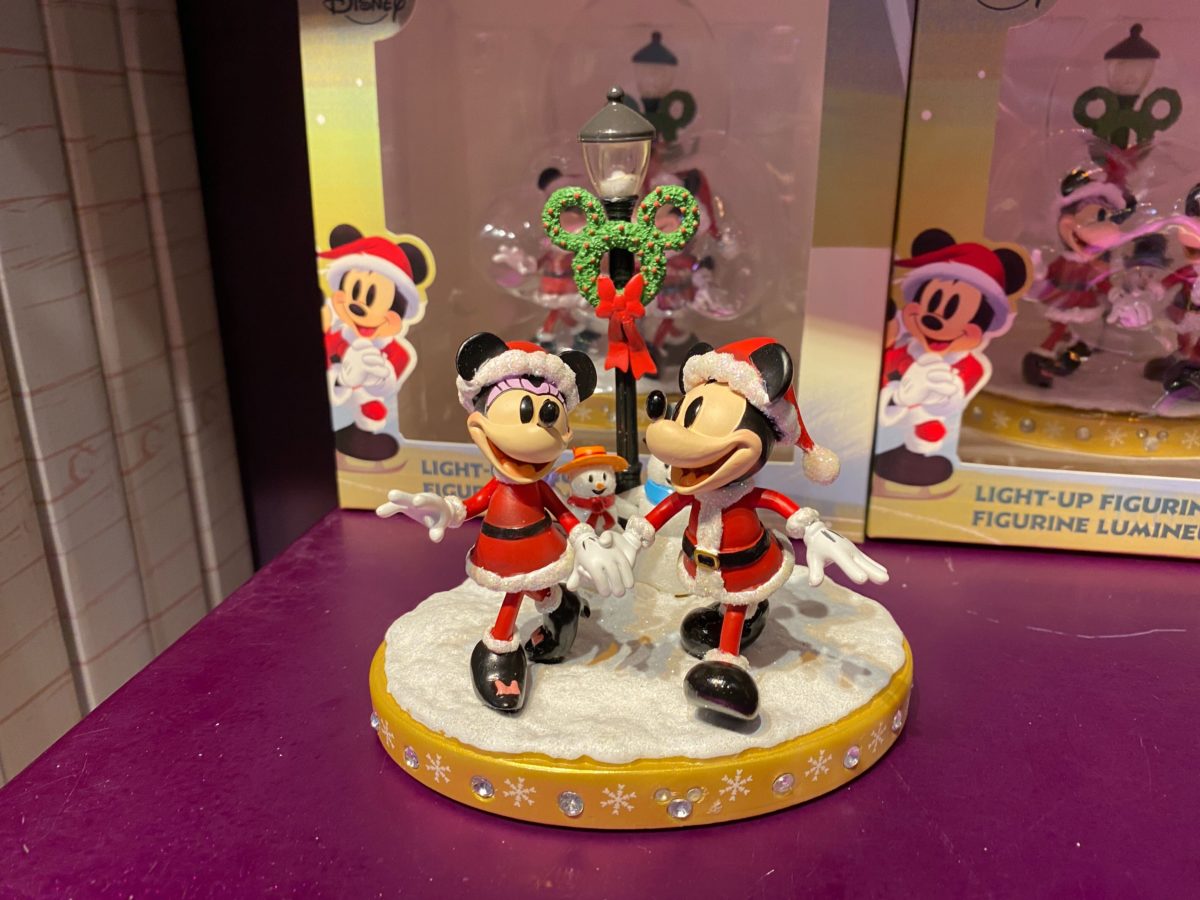 This magical figurine depicts Mickey and Minnie Mouse, dressed in their finest Christmas outfits, dancing under a wreath-decorated street lamp with two smiling snowmen. The base of the figurine is decorated with sparkling gems, snowflakes, and Hidden Mickeys.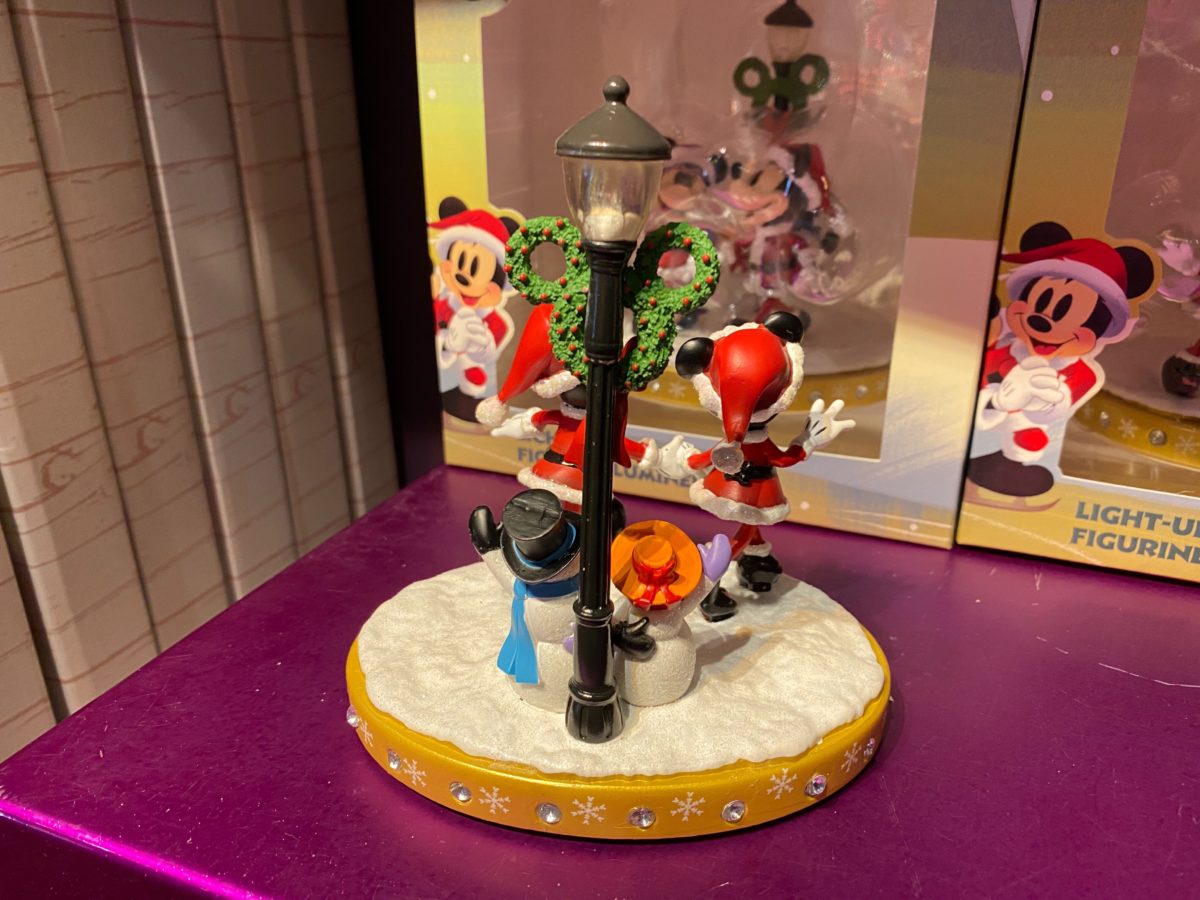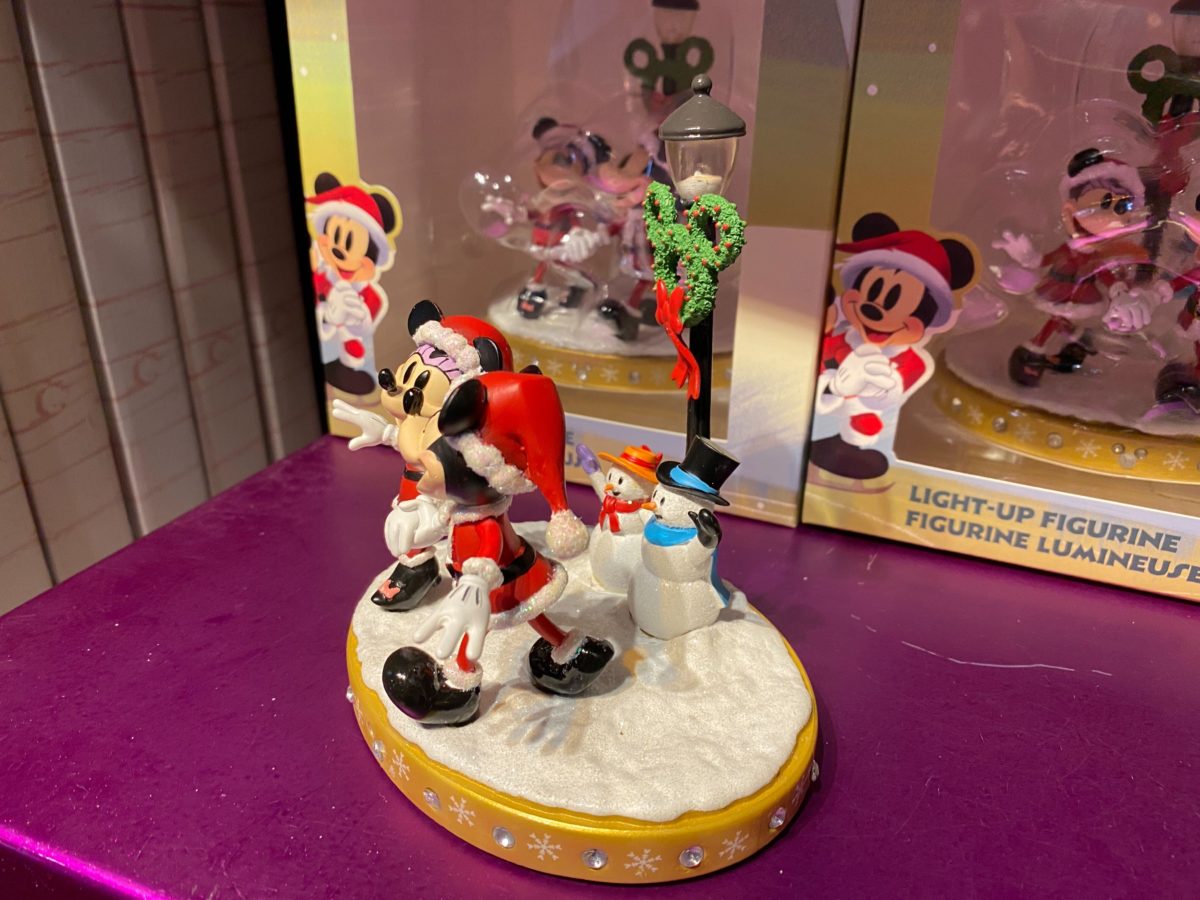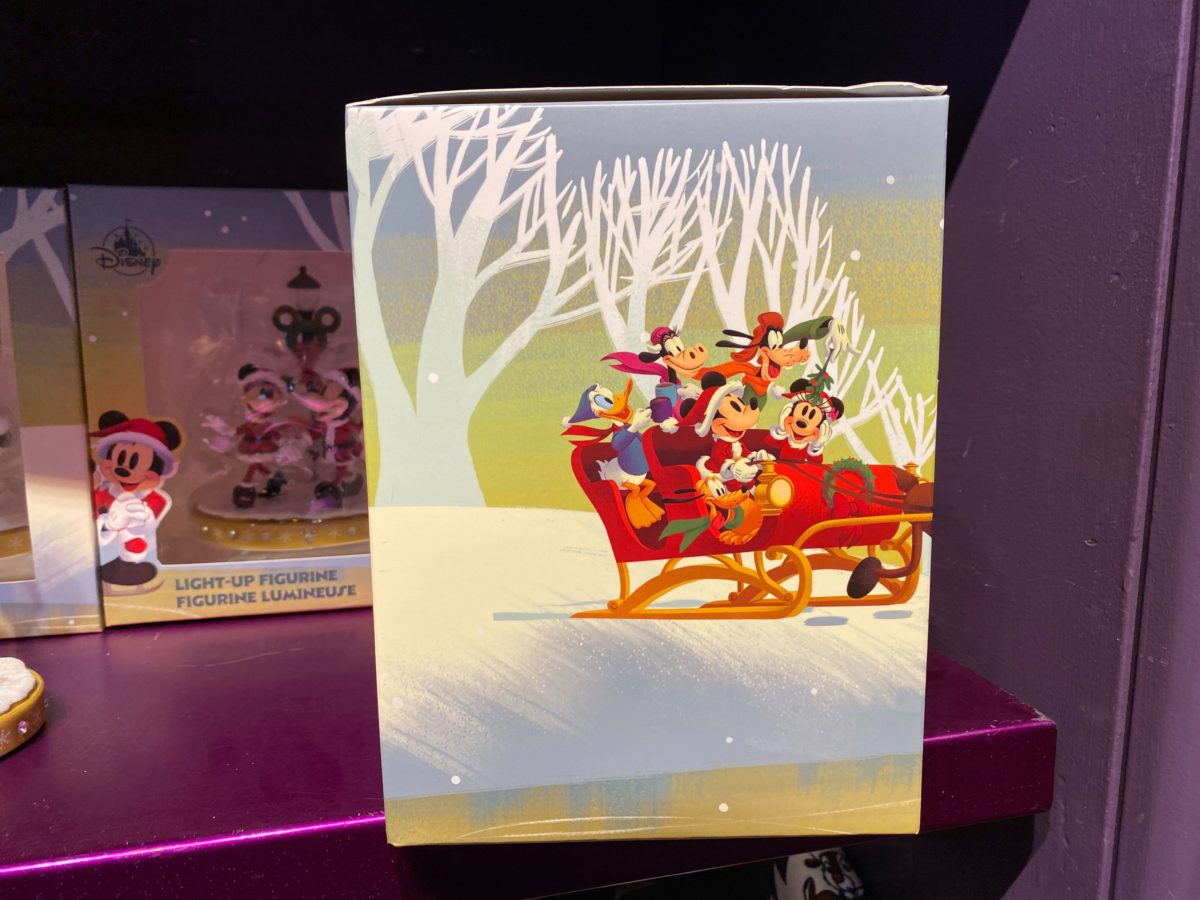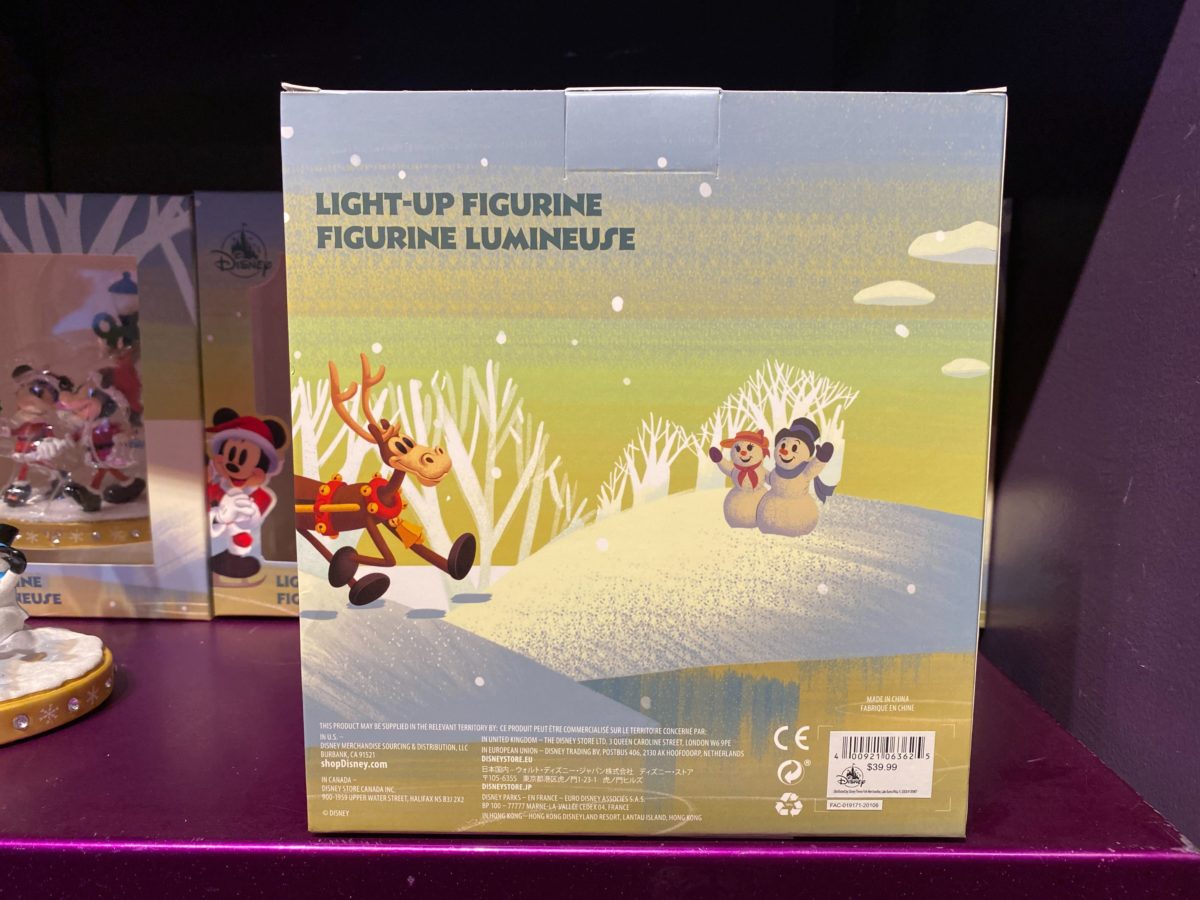 The statue is boxed and would be a generous gift to look beautiful on any fireplace. It can also be found in Disney's Days of Christmas at Disney Springs.
Mickey and Minnie Bell Ornaments – $19.99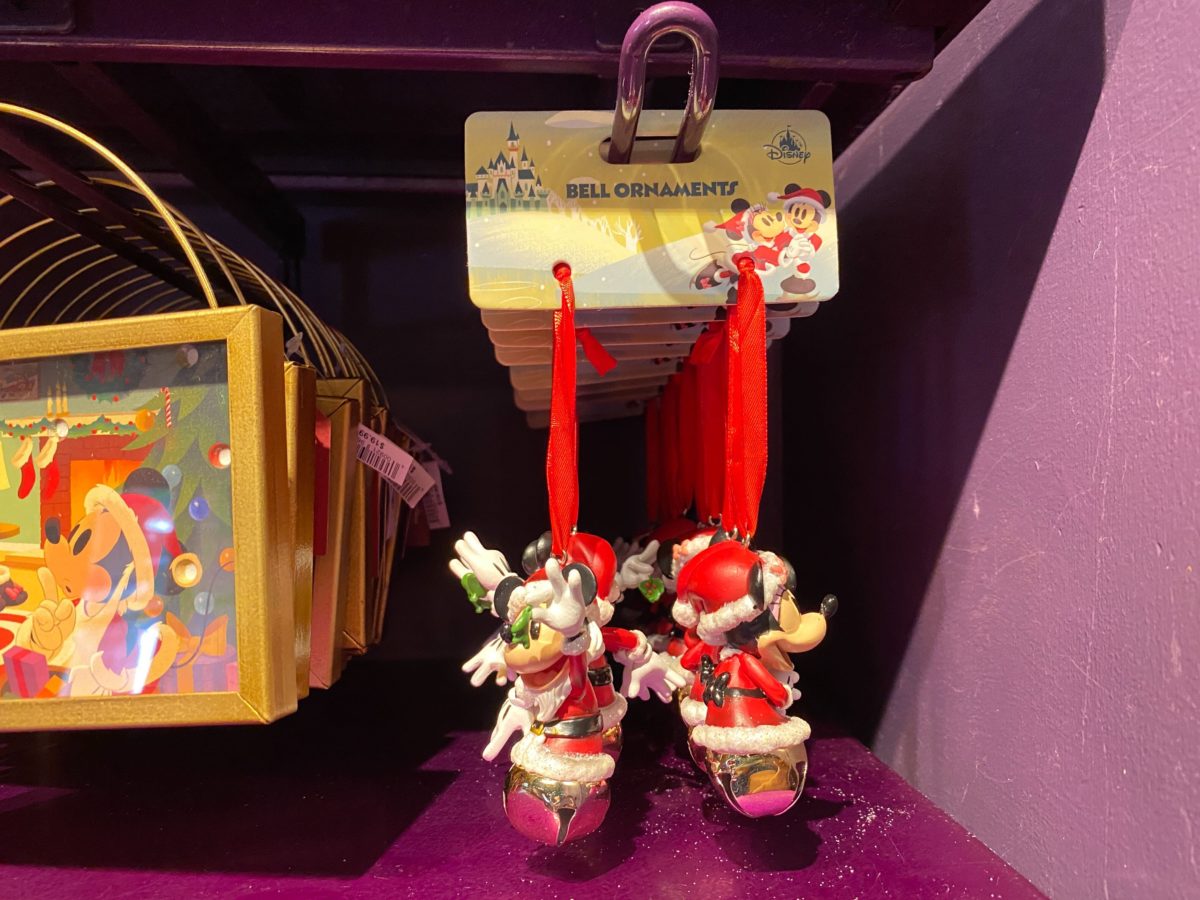 Last up is this set of two beautiful ornaments, featuring Mickey and Minnie Mouse on top of shiny silver jingle bells.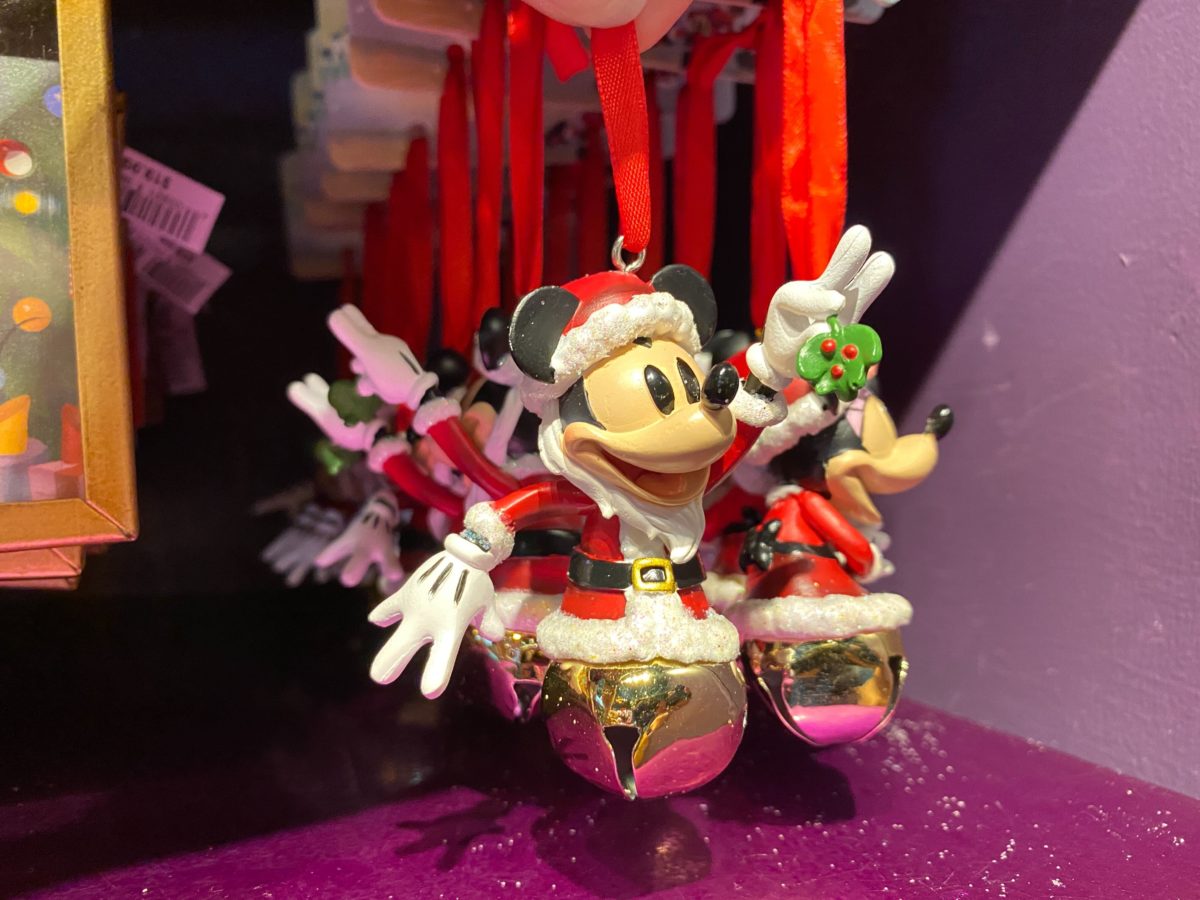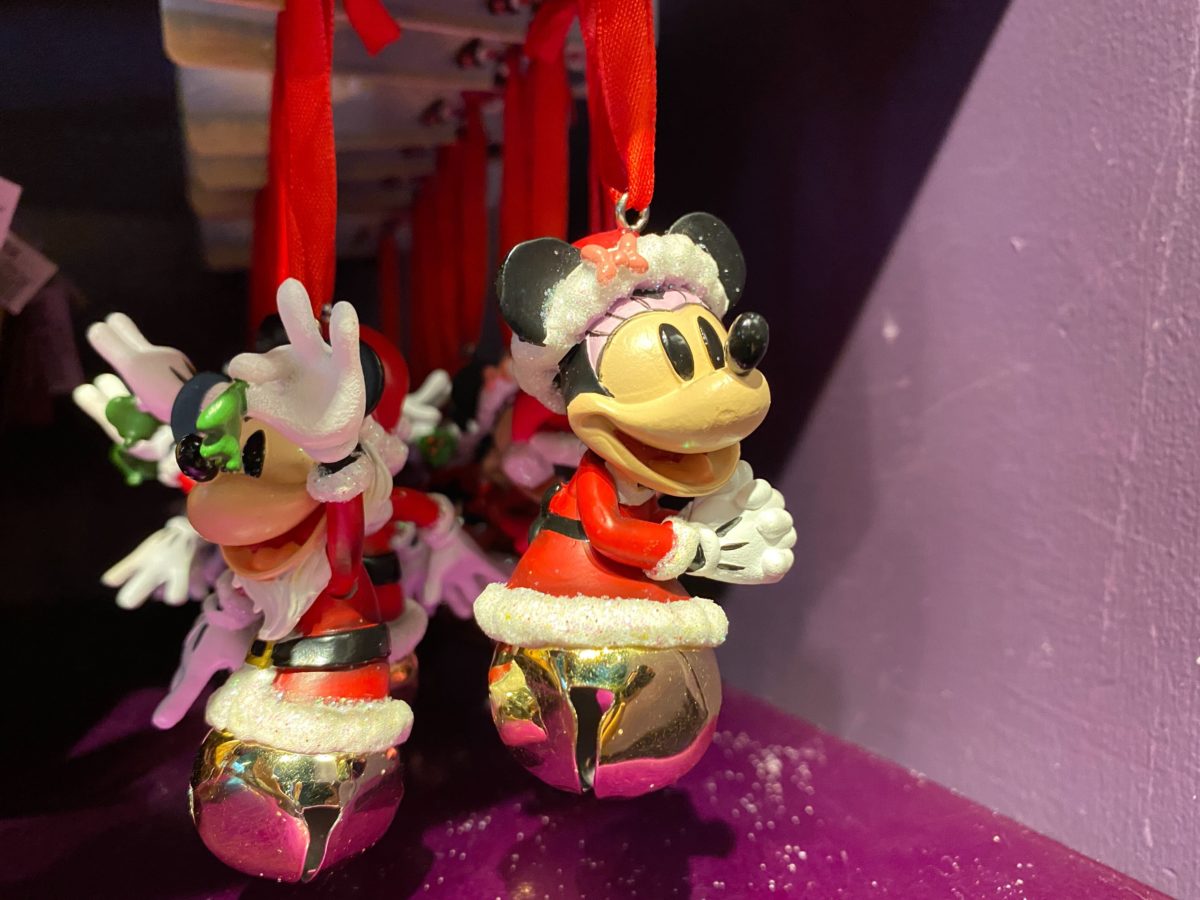 We love how Mickey is waving and Minnie is posing on these ornaments. Both are dressed in their finest festive attire, with glitter detail and a red ribbon hanging for each.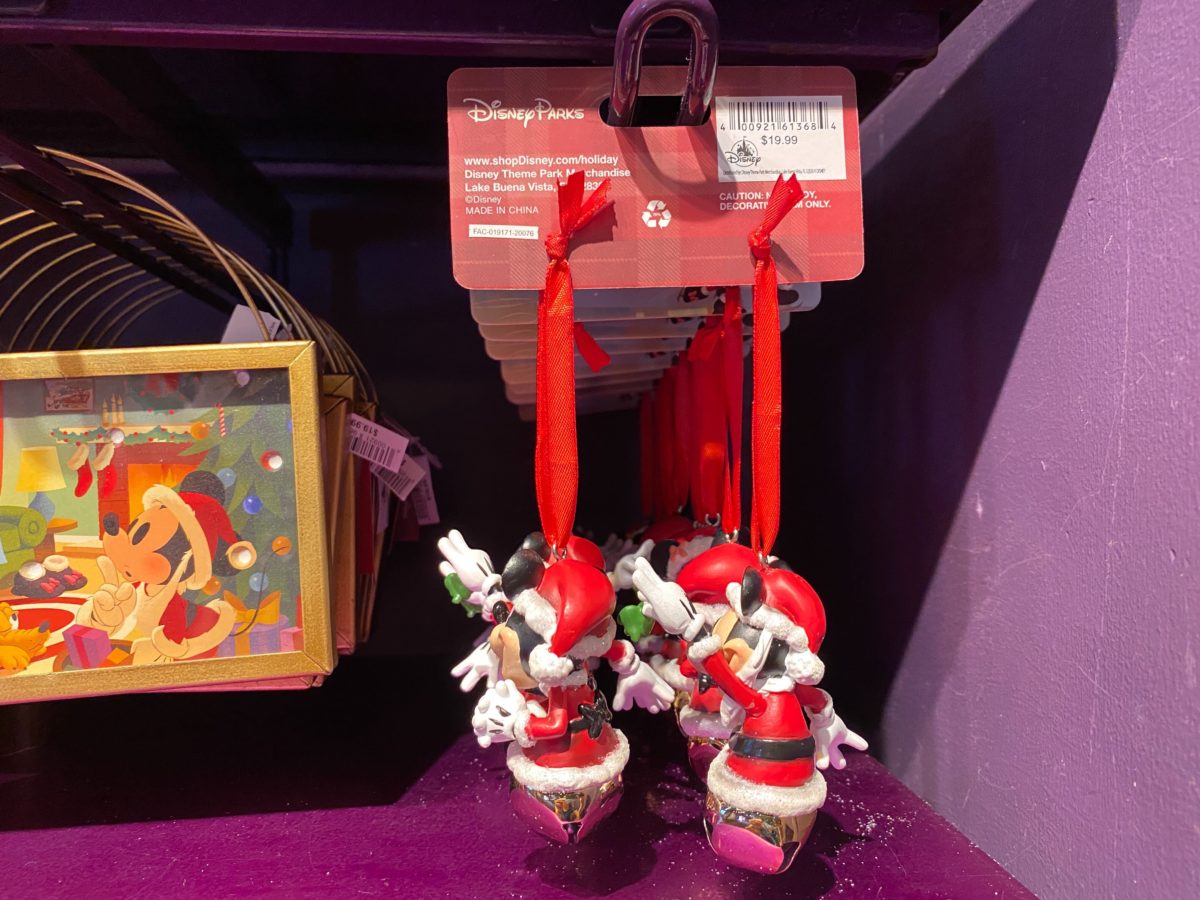 The set of two ornaments cost $19.99, and can be purchased from Disney's Days of Christmas at Disney Springs.
Will you be sprucing up your home for the holidays with either of these new items? You can check out all the Christmas merchandise released last year here. Happy holidays!